For most people, the idea of a dedicated headset for hands-free calling seems a bit outdated. With modern wireless earbuds, there's no need to own one. You simply take out one earbud so you can hear the road, and you've got your headset. But for professional drivers, that's not always practical. For one thing, earbuds are sometimes uncomfortable when worn for long periods. If you're going to wear your headset all day, it needs to be very comfortable. For another thing, most earbud batteries won't last long enough to get through an entire work day. At the very least, you need at least eight hours. But if your truck is a sleeper, you might want to keep wearing your headset even after you're done driving.
Battery life and comfort are just a couple of the things that separate good truck driver headsets from others. Noise cancellation, audio clarity, and even signal range are all factors you'll have to take into consideration. Different features will be more important for different people, so it's tough to name one "best" headset. Instead, it's best to look at a few of the best options, so you have some variety to choose from.
Note: At no extra cost to you, we may earn a commission for purchases using our links. Learn more.
We're about to look at three of the best Bluetooth headsets for truck drivers. We'll begin with the BlueParrott B450-XT. This is a professional-grade headset with an incredible 300-foot range. Next, we'll look at the TECKNET Bluetooth Trucker Headset. This headset is exceptionally comfortable, with a breathable protein leather ear cup. Finally, we'll examine the AfterShokz OpenComm. These bone-conducting headphones provide stereo for music without blocking out outside noise. Which one is going to be the best choice for you? To find out, we'll need to look a little closer at each of our options. Let's get started!
Features to Look For
Before anything else, you'll want to make sure you're getting good audio quality. In most cases, "audio quality" means voice quality. After all, you're using this headset for voice communications, not for listening to music. You want to be able to hear the other person clearly and understand what they're saying. Conversely, you also want them to understand you. All of this means you need to look for well-engineered speakers and microphones.
At the same time, it's important not to get distracted by specific manufacturer claims. They'll often throw out numbers like "99% noise cancellation." In practice, most people would be hard-pressed to tell the difference between 95 and 99 percent. Far more important is the overall sound. If your voice sounds fuzzy to begin with, an extra four percent noise isolation isn't going to be much help.
Another important metric to consider is battery life. Many consumer-grade headsets will last for around six to eight hours. This might be fine if you're a local delivery driver. But if you're an open road trucker, you'll need a headset that lasts for at least 12 to 16 hours. Anything less, and you risk running out of juice just as you need to make an important call.
One thing that often gets lost in the mix is comfort, mostly because there's no metric to use. A headset can't provide "10 comfort units." It's a purely subjective measurement, and it's a matter of preference. Some people spend a lot of time in the heat and need a sweat wicking ear cup. Others spend almost all their time in an air-conditioned cab. Some have big heads, others have smaller heads. The point being, you want your headset to be something you can wear all day without it getting uncomfortable.
You probably won't have to worry about range as much as you will about other considerations. Even the weakest wireless signals will connect inside your cab, or while you're getting gas. That said, you might want to grab dinner or take a walk without taking off your headset. In that case, a set with a more powerful signal is going to be your best bet. Now, let's look closer at each of these Bluetooth headsets.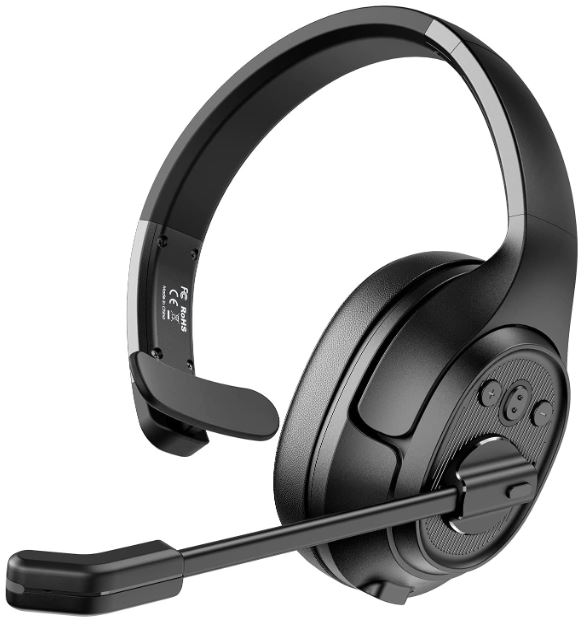 EKSA H1 Noise Canceling Trucker Bluetooth Headset
The EKSA H1 Noise Canceling Trucker Bluetooth Headset is an affordable, yet well-featured option. It features an oversized left earcup with an ample amount of padding for long-term comfort.
Being that it's fully adjustable, it's ideal for any size head. Additionally, the earcups are removable, making them simple to clean if ever needed. Although they're made of a pleather material, they feel soft, supple and easy on the skin.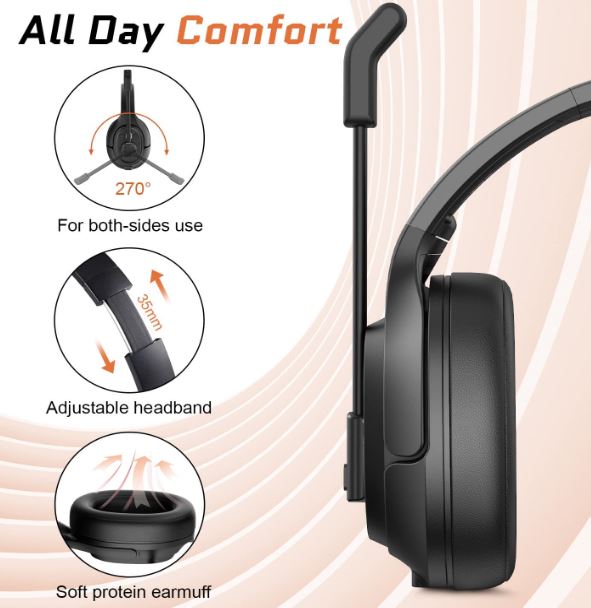 The exterior of the earcup contains all of the functionality that you'll need. Here, there are buttons to adjust the volume and mute the microphone if need be. The elongated microphone seems to be the ideal length, too. Although it's not extendable, it can pivot a total of 270 degrees.
The result of this is the ability to move it completely out of the way when not needed. Best of all, the earcup and microphone is completely reversible. That said, you can easily use the headset on your left or right ear, whichever you prefer.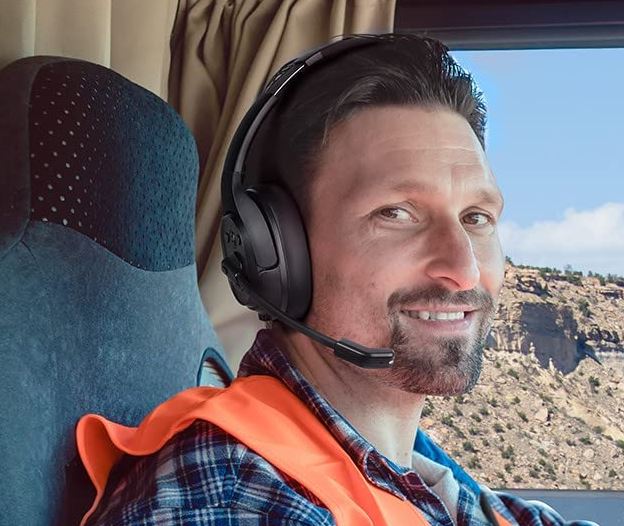 A wonderful feature that's worth mentioning is the dual connectivity. With it, you can pair two devices to the headset simultaneously. As a result, for example, you can connect to your CB radio and your smartphone at the same time!
Speaking of, the headset boasts an impressive 50 meter range. This is over 160 feet of wireless transmission in a best case scenario. In reality, you can be outside towards the end of your truck and still communicate clearly with the paired device that's in your cab.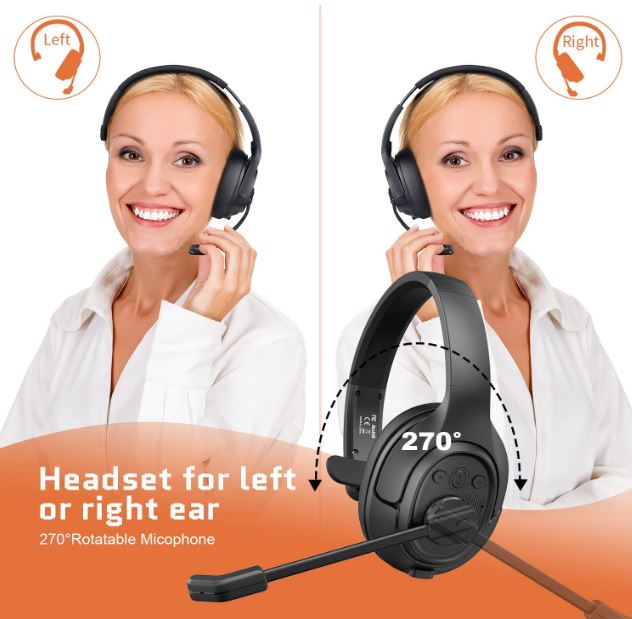 Battery Life and Audio Quality
The EKSA H1 Trucker headset is equipped with an adaptive environmental noise-canceling chipset. It works by intelligently listening to the current background noise for unwanted distractions. When it detects noise, it instantly produces the opposite signal – effectively cancelling out the distracting sounds all together. On paper, it's a wonderful feature. In reality, it thankfully works as well as it's advertised. In fact, the noise cancelling ability is by far, our favorite feature. It really seems to assist with clear audio transmission on both ends.
As far as the overall audio quality goes, we were quite impressed. The earcup provides total isolation on one ear so it's easy to legibly hear while simultaneously driving down a busy interstate. Since only one ear is completely isolated, you're still able to be aware of your surroundings without much distraction. Distortion never seemed to be an issue. Even with the volume cranked up to the maximum, we never encountered any muffled noise, fuzziness or displeasing effects.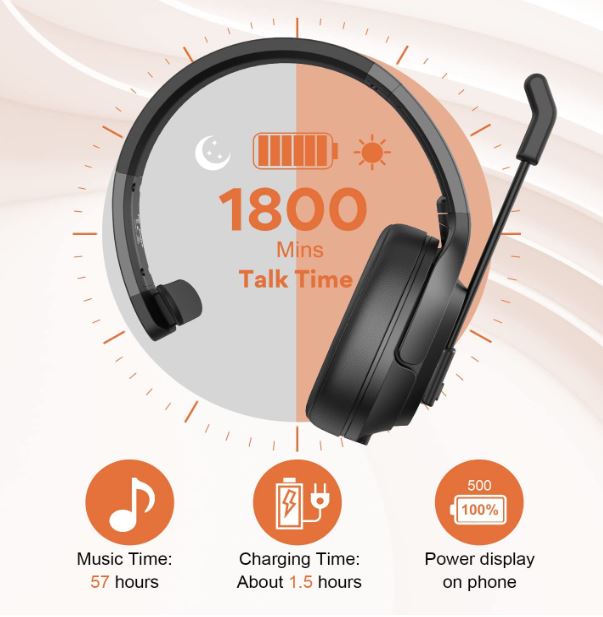 In terms of battery life, the EKSA H1 has a built-in rechargeable battery. Although the exact mAh capacity isn't listed, you can use the headset for up to 30 hours of talk time with a single charge. For music listening, it's even more impressive; up to 57 hours! Best of all, re-charge times are fantastic. From a 0% charge, it only takes about 90 minutes for the battery to be fully replenished while charging.
We tested these claims in reality and found them to be mostly accurate. The only instance where the battery life didn't meet our expectations was when we kept the volume close to a maximum level. Regardless, the EKSA H1 boasts a whole lot to love at a very affordable price point.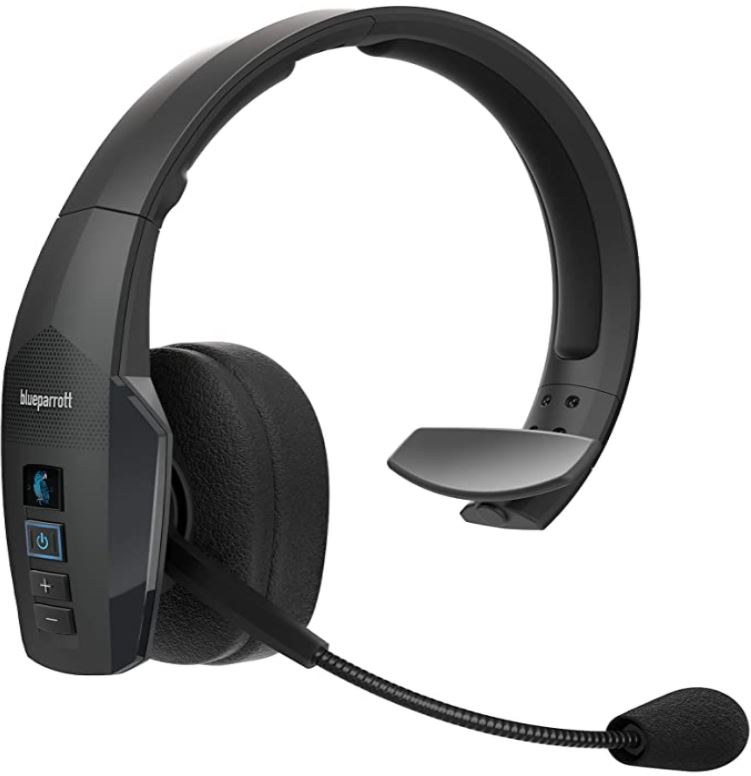 BlueParrott B450-XT
The BlueParrot B450-XT is a beefy headset built specifically for truck drivers. It has a fat, adjustable head band with a soft cushion along the inside to prevent creating pressure points. It's also adjustable, and can be stretched to fit almost any head. There are actually two options for ear cups.
It ships with a faux leather ear cup pre-attached, which is well-padded and comfortable. It won't flatten out or lose its shape even after several hours, and conforms well to your face. That said, it can collect sweat in hot environments. The alternative foam ear cup is breathable and just as comfortable. However, it can muffle your audio somewhat.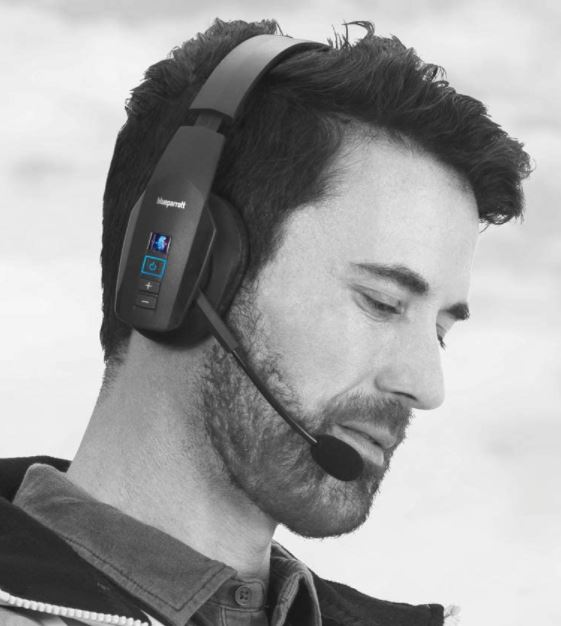 This headset is IP54-rated for water and dust-resistance. You wouldn't want to wear it while showering, but you can wear it when you step out in the rain. It also has an impressive 300-foot range. This is far more than the norm, so you won't be tied to your cab.
On the same side as the ear cup, you'll find four buttons. The bottom two control the volume, and the third is a power button. The top button is the Parrot button, which is found on all BlueParrot headsets. This button can be programmed to perform any function your smartphone can handle. It can also be used as a push-to-talk function, to reach up to four people simultaneously.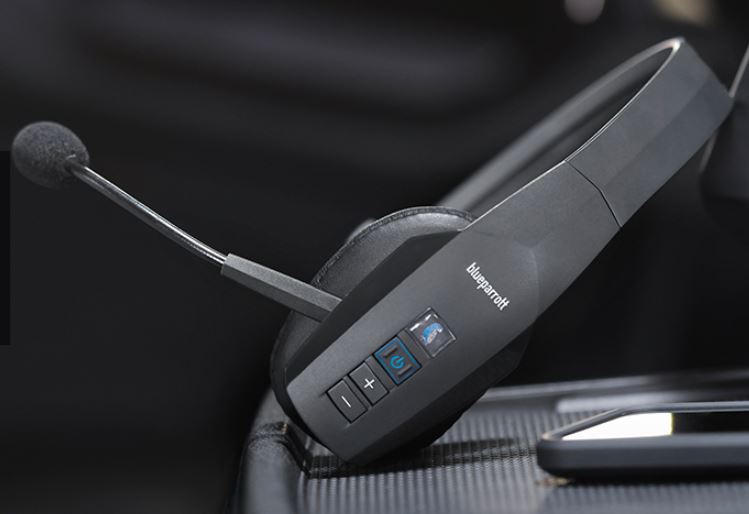 Battery Life and Audio Quality
The B450-XT's battery will last for 24 hours of talk time. That's talk time, not total operating time. But unless you're literally yakking for 24 hours straight, you can get a few days' use on a single charge. The charging cable is a USB Type-C, and works on any USB charger. If the battery has been fully depleted, it will take about two hours to recharge. If you plug it in every night, you'll never be out of power.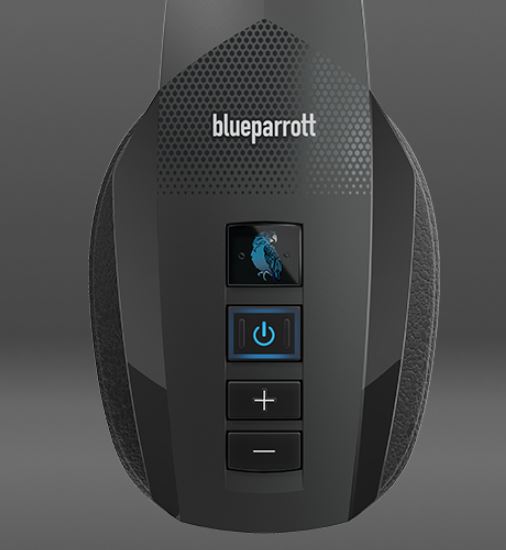 The audio quality is crystal clear on both ends. BlueParrot advertises a noise cancellation effectiveness of 96 percent. You won't be broadcasting background noise, even if you're in a loud environment. For normal road noise, you'll sound perfectly natural. If you're in a very loud environment like a machine shop, you may sound like you're on speakerphone. Even so, you can be heard clearly and distinctly under almost any circumstances. The quality of the sound you hear will depend on the other person's mic as much as anything. But the BlueParrot speakers provide plenty of clarity. That said, they tend to be a bit loud if your phone is at full volume. You'll want to turn down the headset a few clicks before you use it the first time.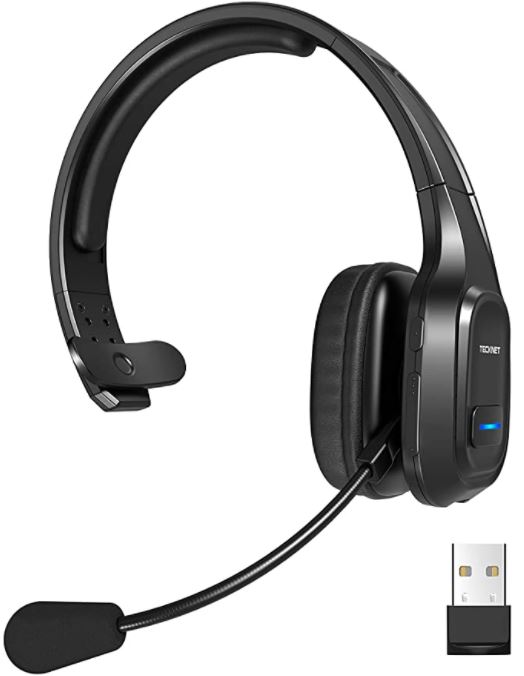 TECKNET Bluetooth Trucker Headset
The TECKNET Bluetooth Trucker Headset is similar in many respects to the BlueParrot set. It has a sturdy plastic frame with soft padding on the inside for comfort. The ear cup in particular is exceptionally comfortable. It's fashioned from protein leather, which helps wick away sweat instead of it collecting around the your ear. The inner padding is also breathable, and conforms well to your face while maintaining its shape well.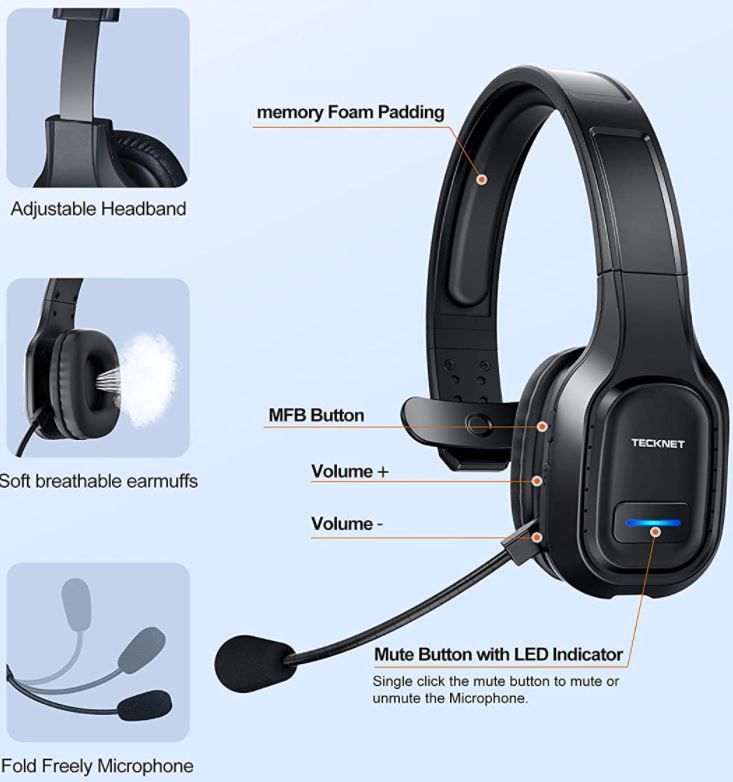 On the outside of the ear cup, you'll find a large mute button. This will glow blue when you're on an active call, and turn red when you're muted. On the front edge of the cup, there's a pair of volume buttons, along with a multi-function button. The multi-function button can be programmed to answer or end calls, or perform any task you want. You can even program it to call up your phone's voice assistant if you want to do something more complicated. That said, there's no push-to-talk feature like the BlueParrot's.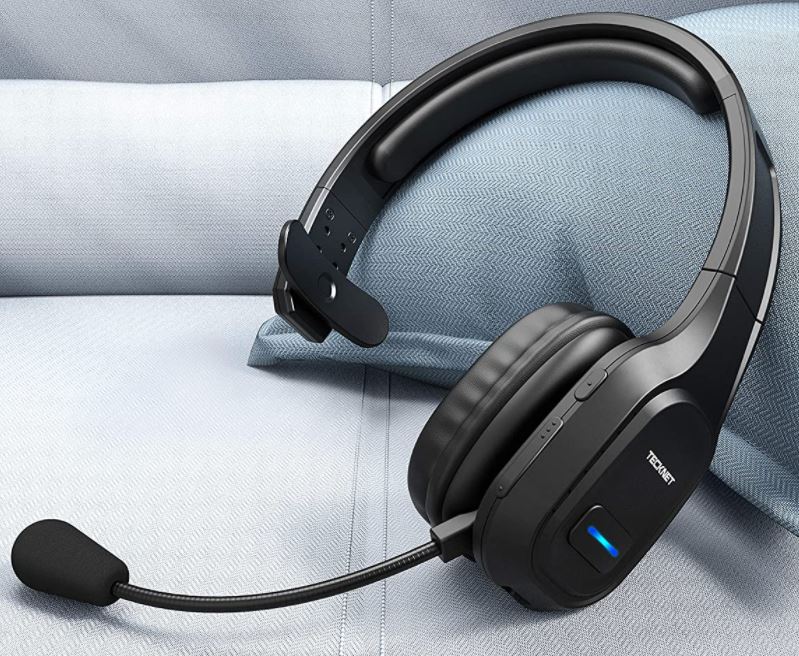 The TECKNET headset's range is the Bluetooth 5.0 standard of 33 feet. This is just fine inside your cab, or for stepping out to pump gas. However, if you want to roam around, you'll need to bring your phone with you. The package also includes a Bluetooth dongle for connecting to laptops and other devices that lack Bluetooth.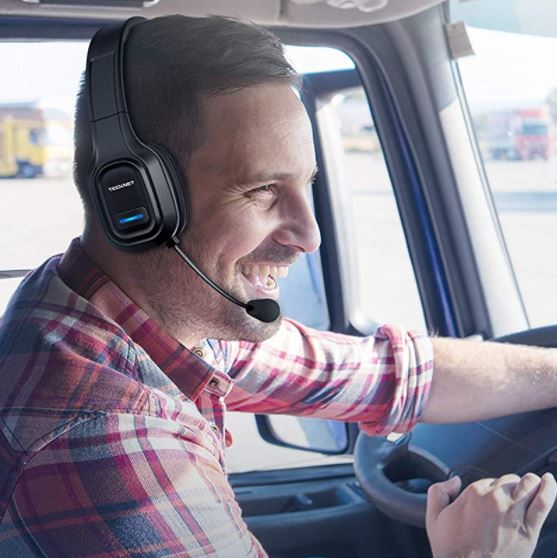 Battery Life and Audio Quality
The TECKNET headset provides a whopping 30 to 32 hours of talk time, and more than a week of idle time. No matter how you cut it, that's a ton of battery power, and it's probably more than you'll ever need. Then again, isn't that the point? If you never need that much, you'll never run out of juice, period. In addition to that, the battery also charges quickly. Using the USB Type-C charging cable, it will go from empty to full in about an hour.
The background noise reduction is nominally better, at more than 99 percent. But as we keep saying, the overall audio profile is more important than any noise reduction number. The point is, it works very well, but we didn't notice more or less noise than with the BlueParrot. You also clearly hear the other person, provided they have a decent mic.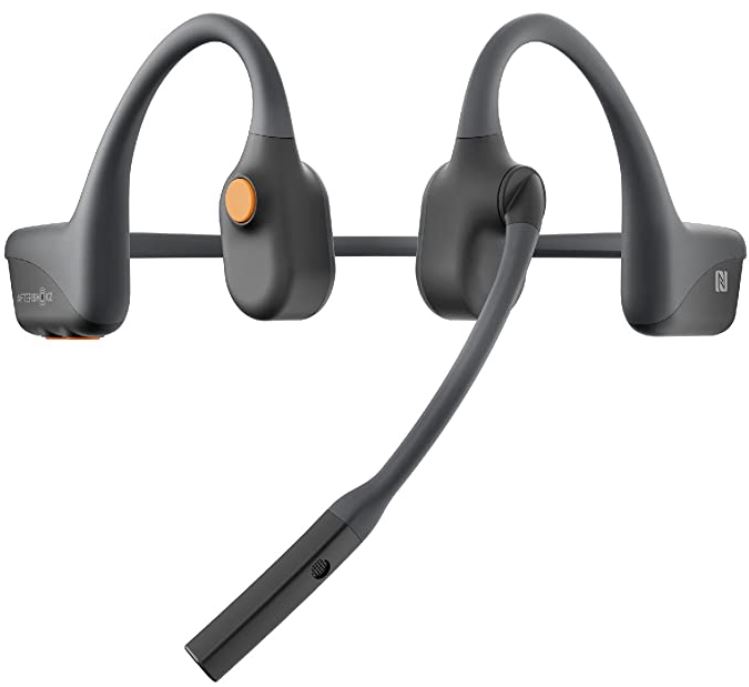 AfterShokz OpenComm
The AfterShockz OpenComm is a bit different from our last two options. It's a set of bone-conducting headphones that transmits sound directly through your skull. As a result, you don't actually have to insert anything into your ears. You can freely listen to music and take calls, and still remain aware of your environment. They come in black or grey, with an ultra-slim titanium frame that weighs just over one ounce. As a result, there doesn't need to be a lot of padding. There's just some soft rubber where the frame clamps onto your head.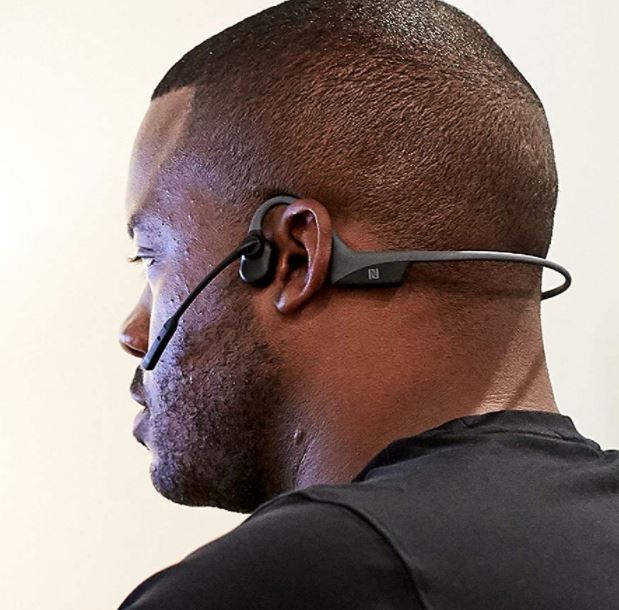 The boom mic is on the left, with a multifunction button on the right. This single button is used for answering and ending calls, as well as your voice assistant. Since your voice assistant can do literally anything else, your bases are pretty well covered. The headset has a weather-resistance rating of IP55, so it's rain-proof and dust-proof.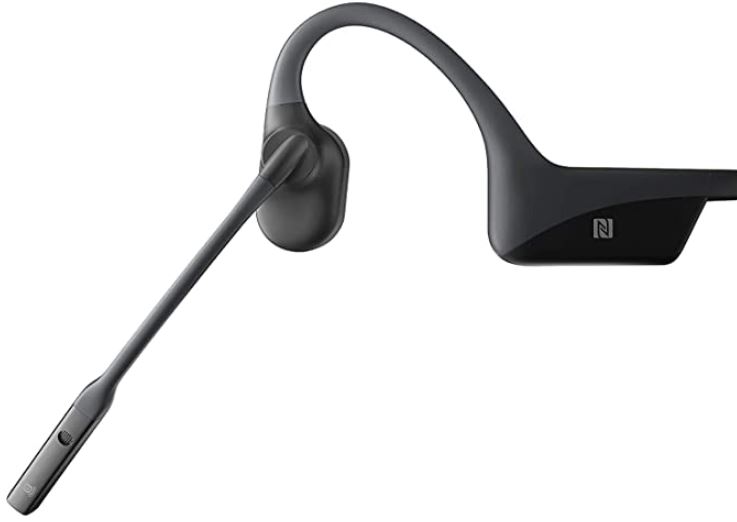 Battery Life and Audio Quality
Because the OpenComm is a set of headphones as much as a communications headset, the battery life varies. If you're talking, you'll get about 16 hours. If you're listening to audio content, you'll get more in the area of eight hours. Standby time is several days, so you don't have to worry about constantly keeping it charged. There's also a 5-minute quick charge option that gives you two hours of talk time. On the downside, the proprietary charging cable as a bit disappointing. There's no excuse not to be using USB these days.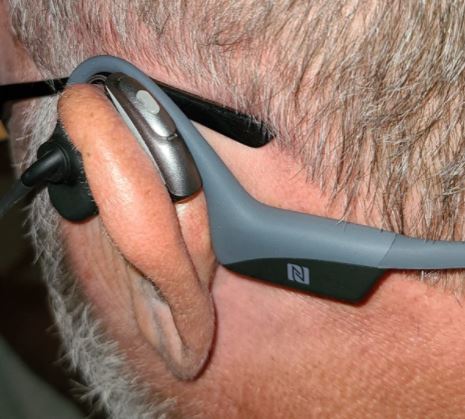 The audio quality is reasonably lifelike. You obviously won't get the same quality as you would with over-the-ear speakers. But you'll be able to hear the world around you. There's no official noise cancellation rating, but it works reasonably well. Other people won't have trouble hearing you over the sound of traffic and wind.
Final Verdict
So, which of these headsets should you use? In terms of functionality, the BlueParrott B450-XT has the most to offer. The main standout feature is the push-to-talk function, which is great if you work with a team. We also liked the extra-long range, as well as the long-lasting battery. There's a lot to like about this headset, particularly for open road truckers. Audio quality is also good, although we would have liked to see a sweat-wicking ear cup.
The TECKNET Bluetooth Trucker Headset offers the best comfort of all three sets. The protein leather ear cup allows for plenty of ventilation and conform perfectly to your face. As an added bonus, you get extraordinary battery life. The Bluetooth dongle is also a nice touch, depending on what you want to connect to. The shorter connection range was a bit disappointing, but shouldn't be a problem for most people.
The AfterShokz OpenComm is a different beast altogether. Built for music and audiobooks as much as communications, it's exceptionally lightweight. The battery life is fine if all you're doing is talking, but long-haul drivers will need a bit more juice. Even so, the versatility alone makes the OpenComm well worth considering.
The EKSA H1 is another fantastic choice. Being that it's quite affordable, one may think it's worth a pass. But in all honesty, we found it to perform just as well, if not better than options that cost twice as much.
Note: At no extra cost to you, we may earn a commission for purchases using our links. Learn more.