When it comes to spending long hours on the road, having devices that help make things like phone calls are a must. As a trucker, there's a lot that goes into the profession besides "keeping it between the lines."
It's important to find ways to leverage technology to reduce the amount of distractions and get more done with less time. That's where Bluetooth headsets come into the picture.
Note: At no extra cost to you, we may earn a commission for purchases using our links. Learn more.
The Importance of Bluetooth Headsets as a Trucker
It's against the law to be on your phone while driving in most states. Bluetooth Headsets let truck drivers make calls without having to touch their phone.
They also enhances call quality with features like noise canceling and background noise shielding. Noise canceling helps to keep loud or distracting noise out of your ears so that you can focus on talking and driving simultaneously. Background noise filtering makes sure that the person you're speaking to hears your voice and not the loud noise going on around you.
Truck drivers require Bluetooth headsets that provide all day comfort. On the road for long periods, they need to be light enough to be effective while staying out of the way. In this profession, everything needs to be able to take a beating. A hands-free headset is no different.
Beyond making phone calls, Bluetooth headsets can provide a wireless connection into the world of your Android or Apple device. You can access GPS, music, audiobooks and weather forecasts by simply using your voice.
We know that it can be time consuming to research and test devices in search of the perfect one. You probably have better things to do than to scour online forums and read technical data. To help, our team has done the monotonous work for you and compiled an updated list of the best Bluetooth Headsets for Truck Drivers.
How We Made Our Selections
Our team of experts spent hours reviewing dozens of the best Bluetooth trucker headsets on the market. We looked at units that demonstrated a superior ability to meet a truck driver's needs in unique ways.
You'll see that our list is more than just the most expensive, flashy headsets on the market. There are options at different price points that fit different sets of needs. Despite their differences, each of the options were chosen based on a wide range of factors and considerations. These include:
Build Quality: Durability is a major consideration. Headsets are a high-ticket investment that need to last. High quality materials also help with comfort. There's nothing worse than getting a rash from having cheap plastic pressed against your skin.
Weight and Comfort: A quality headset needs to be jam packed with features while being exceptionally light.
Noise Isolation and Background Cancellation: Trucking can be one of the noisiest professions around. Most people don't realize how much of their attention can get pulled away from the road when there's a lot going on. We consider noise enhancing effects to be fairly important.
Voice Controls: The beauty of Bluetooth headsets is that they're hands free. We put tremendous value on units that were not only voice activated but could work with Siri and Amazon Alexa as well.
Battery Life: Life happens and having time to charge your device may not happen on a regular basis. This is why we selected units that had exceptionally long battery life to hold you over.
Best Overall: BlueParrott B550-XT Bluetooth Headset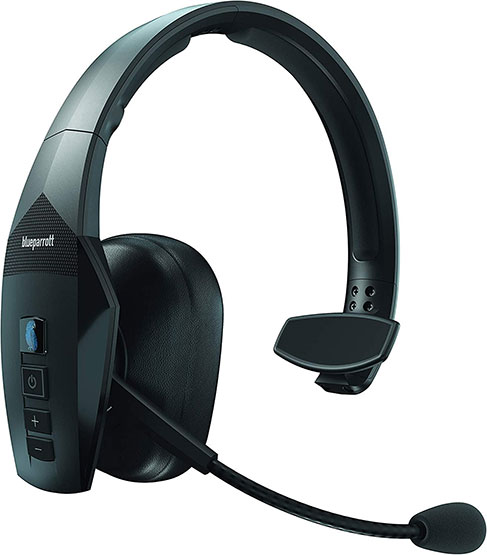 Key Features:
24-hour Battery.
Noise Cancellation.
Background Noise Filtering.
220 Hours of Standby Per Charge.
Customizable Buttons.
Siri and Alexa Enabled.
BlueParrott has been manufacturing headsets since the late 80's. Since that time they've refined their form factor and internal engineering to be some of the best in the industry. The reputation of the brand is a big reason why we chose the BlueParrot B550-XT as the best overall Bluetooth headset.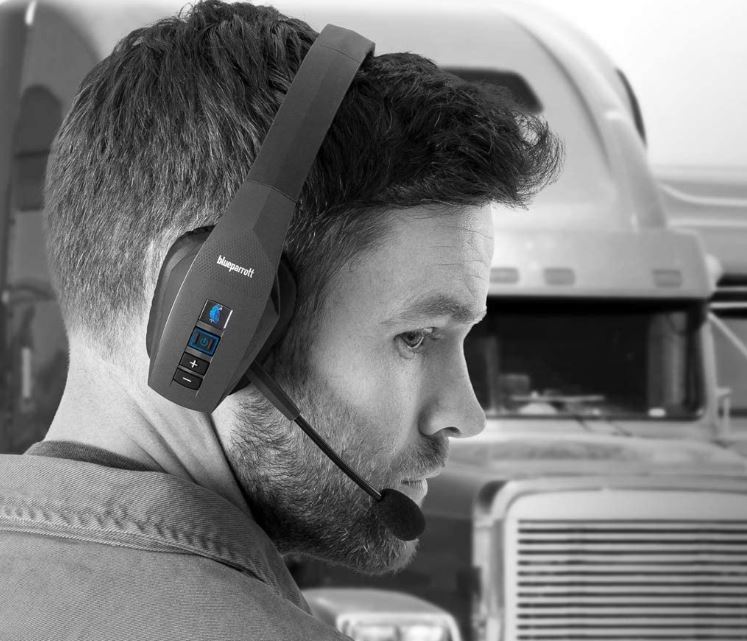 The moment we put them on, our team was met with a robust sound profile. Running music tests, the speakers produced a well balanced mix of highs, mids and lows. Proper EQ on headsets prevent ear fatigue. Several users report that they are able to play music or audio for hours without getting tired, which is ideal when you spend long stretches on the road.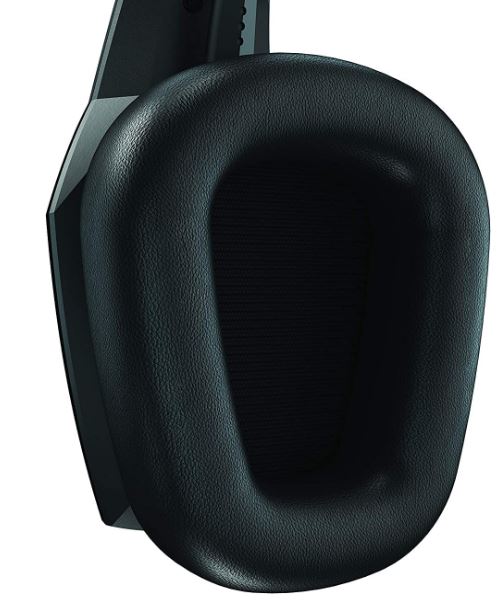 BlueParrott headsets are some of the best at noise canceling. Based on hundreds of verified user reviews and our own testing, we found that the noise canceling was very close to the advertised 96% reduction. Background cancellation does a good job at isolating the voice and keeping background noise out. When it comes to road noise and traffic-based sounds, the BlueParrott did very well. According to some users, the only sounds it has problems with are construction or percussion noises like how a jackhammer sounds. Even then, it only produced mild distortion and some noise bleed-through.
Voice assistants like Amazon Alexa and Apple Siri are compatible with the B550-XT. Paired with its on-board voice activated controls, truck drivers can have a fully hands-free experience for making phone calls, interacting with the GPS and a host of other smartphone features. One of the physical buttons on the headset is programmable, meaning that you can customize it to trigger one of your most used features.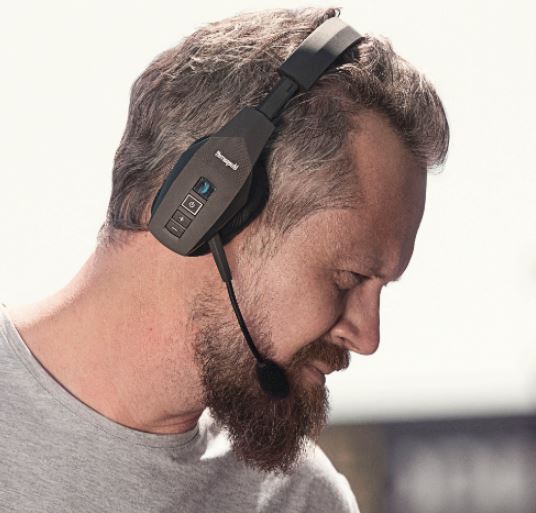 Our team spent a lot of time testing the battery life of the BlueParrott. We ran the B550-XT through multiple phone calls, hours of music and audiobooks all while keeping the noise canceling on. We were able to get an average of 22 hours of battery life which is phenomenal considering the work we put it through.
What We Liked:
Programmable button for custom control.
Best-in-class noise cancellation.
Long battery life.
Lightweight and comfortable.
Voice activated controls.
Voice assistant compatible.
What We Didn't Like:
More programmable buttons would be a plus.
A bit expensive.
Best Runner-Up: BlueParrott B450-XT Bluetooth Headset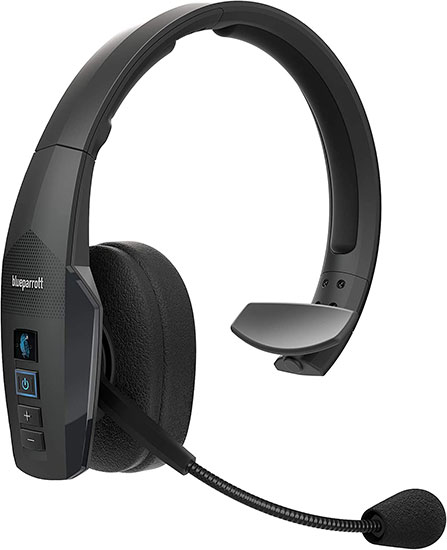 Key Features:
Noise Canceling.
Wireless Range Up to 300 Feet.
Padded Headband and Cushioned Earcups.
Customizable Button.
USB-C Charging.
Our best runner up also comes from BlueParrott. The B450-XT has a sleek, minimal form factor that doesn't look like a typical headset you'd pick up at a service station. At first glance you can tell it pulls some design influences from brands like Bose and Apple.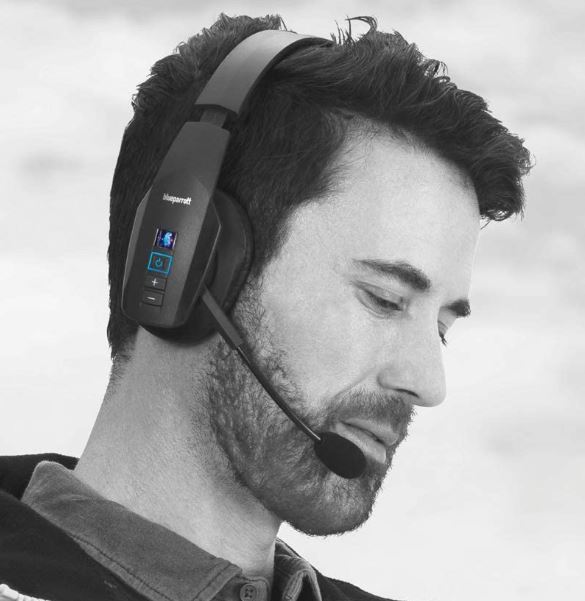 The included mobile app makes this unit very easy to customize and install firmware updates without having to plug it into a PC. Just like its big brother, the B450-XT boasts powerful noise canceling that can stand up against very loud environments.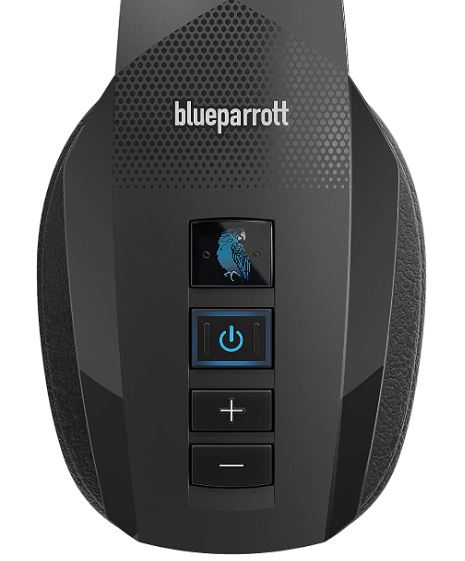 Putting them on, they're surprisingly lightweight. Many truck drivers even claim they sometimes forget they're wearing them. In addition, they're extremely comfortable. The padded material on the headband is made of a material that helps to wick moisture away.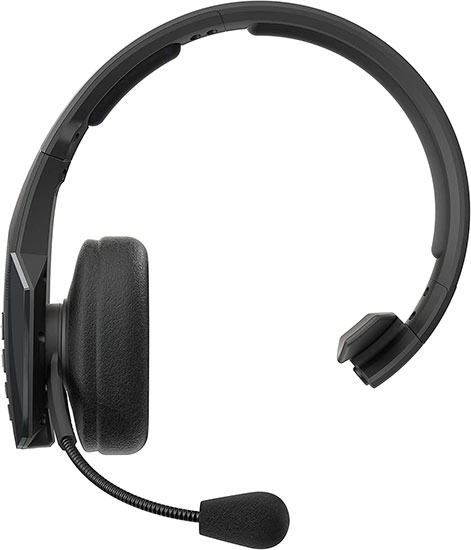 You might be wondering what the difference is between the B450-XT and the B550-XT from earlier. The answer is found in the ear cups. The B550 comes with an over-ear headphone design while the B450 is an on-ear style. While both provide great noise cancellation, the physical encasing of your ears with the other model gives an ever-so-slight edge when it comes to noise cancellation and comfort.
What We Liked:
Many of the same features in the more expensive B550-XT.
Great noise canceling.
Extensive wireless range.
Long battery life.
What We Didn't Like:
On-ear design can put excess pressure on the some ears.
Best Budget: LEVN Bluetooth Truck Driver Headset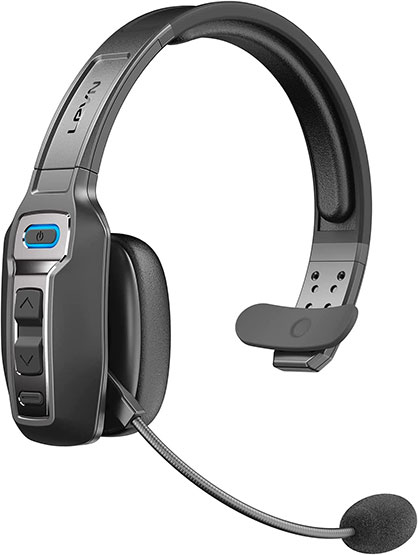 Key Features:
Adaptive Environment Noise Canceling.
60 Hours of Battery Life for Work/Music.
35 Hours Talk Time.
Can Be Paired With Two Devices Simultaneously.
Physical Mute Switch.
Bluetooth 5.2.
Charge Time is 2 Hours.
We examined over a dozen Bluetooth headsets in the budget category. Of the ones we looked at, the LEVN Bluetooth Headset was head and shoulders above the rest in a multitude of areas. Manufacturers at these lower price points tend to cut corners on the quality of the internal components in order to stay competitive. Sadly, it's the consumers that end up paying the price with headsets that perform far below what was promised.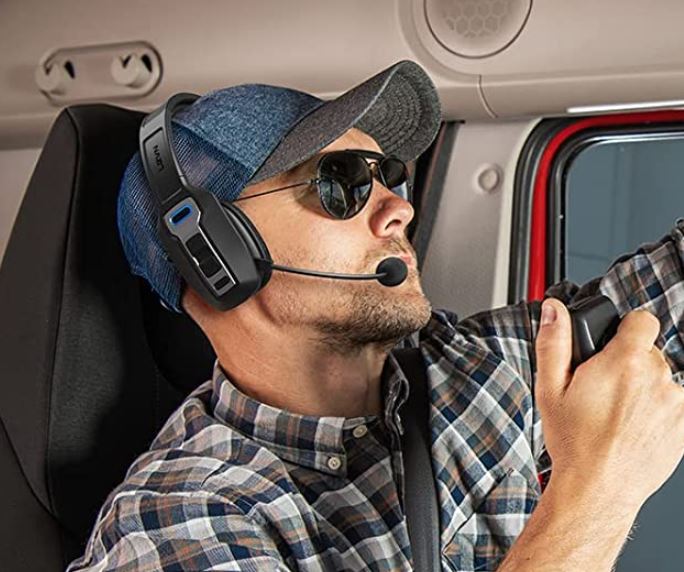 It's why we went with the LEVN headset. Instead of compromising on quality, their approach was to build a headset that had fewer features but did them extremely well. In this case, they focused on noise cancellation, battery life and sound quality. LEVN's adaptive environmental noise cancellation is normally found in headsets that cost four times more, suppressing 92% of distracting noises.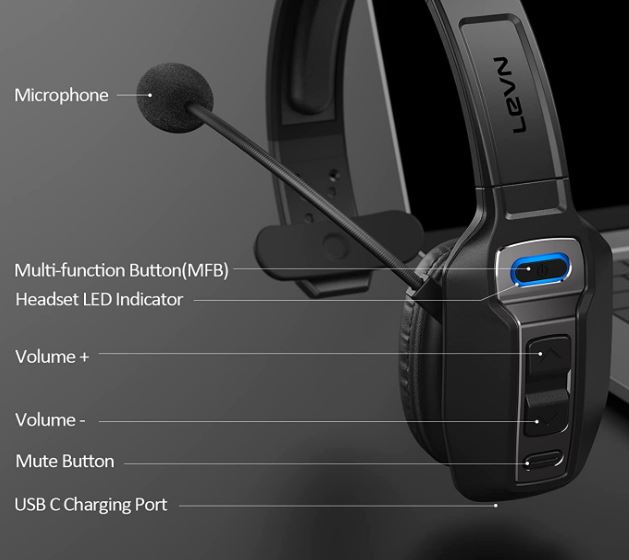 With 60 hours of work/music and 35 hours of talk time, it's safe to say that they deliver extreme battery life. Last but not least is sound quality. Although there's a noticeable difference between the speakers in the LEVN compared to something more high-end like the BlueParrott B550-XT, they still delivers a full audio experience.
What We Liked:
Tactile physical buttons provide good feedback.
Strong noise cancellation.
Budget-friendly.
Long battery life.
What We Didn't Like:
Can feel heavy and unbalanced after long hours of use.
Best Alternative: Shokz OpenComm Bone Conduction Bluetooth Headset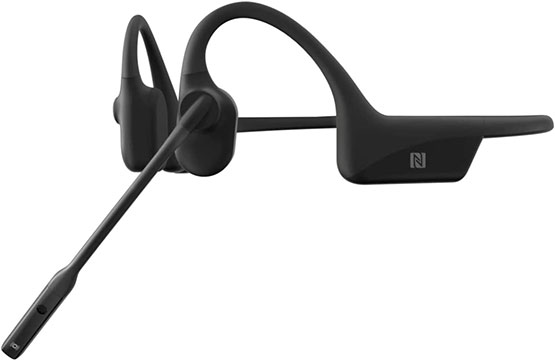 Key Features:
Open-Ear Design.
Uses Bone Conduction Technology.
Noise Canceling Boom Mic.
Bluetooth 5.1.
A departure from the noise canceling, on-ear headsets is the Shokz OpenComm Bone Conduction Headset which gets our vote for the best alternative. While it's nice to have noise canceling, there are some that still want to be aware of their surroundings and engage with it.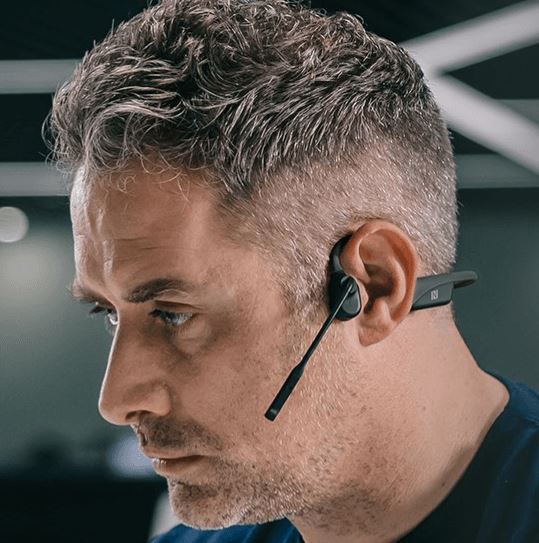 For them, having an over-the-ear Bluetooth headset may not be ideal. The Shokz OpenComm seeks to provide an alternative that keeps your ears free. Instead, it transmits sound using bone conduction technology. The tips don't actually go into your ears. Rather, they utilize an open-ear design that transmits audio using the unique method of bone conduction.
This works by transmitting sound vibrations along the bones in your head, instead of through the air. The result is a truly different and captivating experience. If you haven't tried bone conduction headphones, you might be missing out. Overall, they give you much more awareness to your surroundings.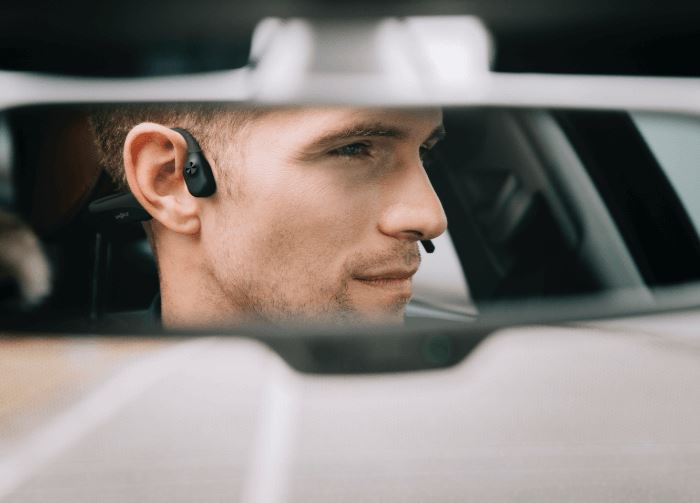 It retains noise canceling technology for the onboard microphone to make sure that the person on the other side of your calls gets crisp, clean audio with no background noise. When it comes to battery life, the Shokz OpenComm delivers 16 hours of talk time and up to 8 hours of listening time. A nice feature is the 5 minute quick charge that can give you up to two extra hours of battery.
What We Liked:
Keeps ears free.
Great noise canceling microphone.
Comfortable for all-day wear.
What We Didn't Like:
Battery life is on the shorter side.
Open-ear design may not be for everyone.
Best Portability: Conambo Bluetooth Headset for Truck Driving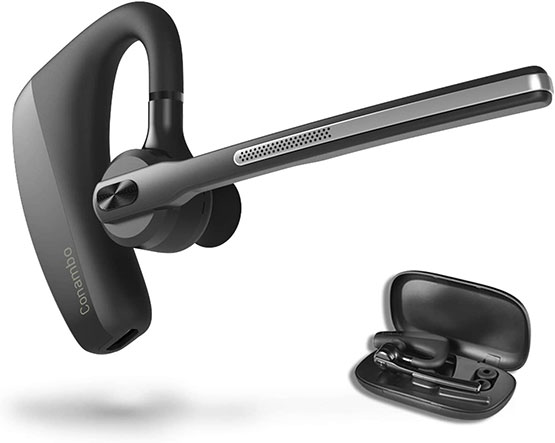 Key Features:
16 Hours of Talk Time.
CVC 8.0 Noise Canceling.
Ear Hook Design.
0.6oz Weight.
The Conambo Bluetooth Headset takes the best portability category due to its powerful features stuffed into a tiny form factor. Many truck drivers that don't like wearing headsets all the time enjoy the flexibility of having a small, single in-ear headset instead.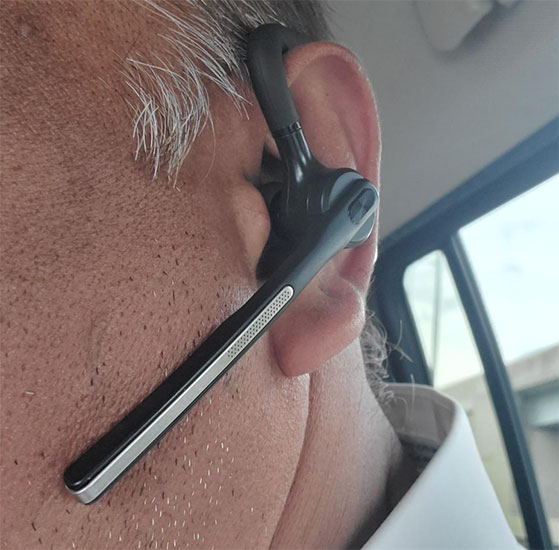 Don't let the small size fool you. The Conambo packs a high concentration of tech into its tiny frame. Our team was impressed with the top-tier noise canceling microphone. The quality of the voice on the other end was pristine and in a way, enhanced to sound more full.
It comes included with a small carrying case, but it as a charger. Once you place the headset within, it'll automatically charge it up so it's always ready at a moments notice. You then, directly charge the case via USB after it's replenished the headset multiple times.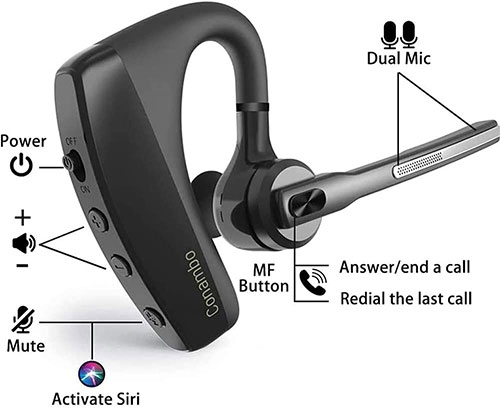 While it may not have some of the neat, hands-free features that other headsets have, it's an extremely portable option that is there when you need it and easy to tuck away when you don't. In addition, it's relatively affordable as well.
What We Liked:
Small size, easily portable
Great noise canceling microphone
Lets you connect to two devices
Low latency transmission mean reduced video/audio lag
Great price.
What We Didn't Like:
Battery life could be longer.
Some may not like the single-ear design.
Please consider sharing:
Note: At no extra cost to you, we may earn a commission for purchases using our links. Learn more.