Using a Bluetooth headset in a two-door sedan isn't the same thing as using it inside of an 18-wheeler. If you're spending extended amounts of time on the road, then you don't have time to stop and charge your headset every 100 miles. And when you're wearing a headset for hours on end, day-in and day-out, you need it to be just as durable as the truck beneath you. Plenty of headsets that would work great for casual driving aren't going to hold up to heavy use.
As you face down versatile driving conditions more often than ordinary drivers, you're in a battle against the noise of bumpy roads, wind, and the roar of your own engine. Truckers need a headset that won't take the noise around and make it someone else's problem. Many of the headsets that are fine for standard vehicles aren't designed to handle these extra-tough conditions gracefully.
Choosing a Bluetooth Headset for Trucking
The headset supporting hands-free operation should go without saying. Past that, your first concern should be audio quality. You don't want voices to sound flat, and you don't want to struggle to understand what someone is saying on the other end of the line. That's especially true for truckers who may find themselves driving into remote areas with inferior cellular reception. When you combine a headset with low quality sound and a troubled phone connection, you're going to end up with nothing but static on both ends of the call.
Sound Quality and Comfort
The next thing to consider is the audio quality of the headset's microphone, so the people you're talking to can hear you just as well as you're able to hear them. Microphone quality is difficult to gauge without use, meaning you'll generally have to rely on reviews for that information.
Comfort is another quality that's difficult to gauge without using a particular headset because everyone is built a little differently. For long-distance driving, you want a headset that isn't going to feel uncomfortable after you've had it on for a few hours. Along with many headsets that are designed for extended use, you can find ergonomic designs that will stay comfortable with hours of wear.
Connectivity and Noise Cancellation
Another necessary feature for all truckers is noise cancellation. However, the quality of noise cancellation varies widely depending on how it's implemented. While some manufacturers provide metrics like "95% noise cancellation", these inscrutable numbers won't get you any closer to understanding how good the cancellation really feels. Once again, this is a feature where you need an experienced review to really gauge whether or not the cancellation is up to snuff.
For the most part, truckers don't have to worry about connectivity range because your phone will never be very far from your truck. But if you're looking for the ability to stay on your headset even when you're grabbing breakfast at a diner or stretching your legs at a gas station, then you'll want range that won't have you tied down to your cab.
And you'll want to keep a close eye on how long a headset can hold charge. The whole idea behind Bluetooth is to help you avoid dealing with cables and spare batteries. If your headset is only geared up for half-a-day, that will be a non-starter for most truckers.
In short, you're looking for a Bluetooth headset that's lightweight enough to where you don't realize you're even wearing it. You want noise cancellation that's good enough to ensure your calls don't sound like you're barreling down a highway, even when that's exactly what you're doing. And you want a Bluetooth headset that can hold up through the hundreds of hours of use that truckers are going to put it through, without breaking in the process.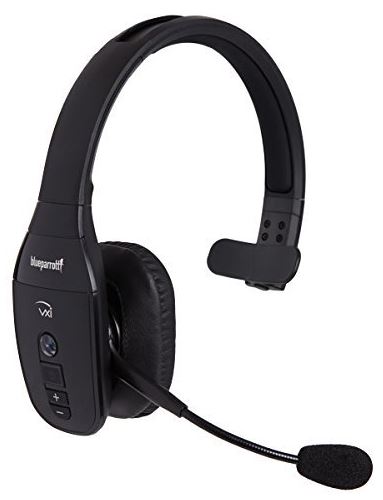 VXi BlueParrott B450-XT Noise Canceling Headset
In terms of sheer technical ability, the B450-XT is the most advanced headset a trucker could ever want. You'll get essential features like noise cancellation and voice control for hands-free calls, but the B450-XT goes far beyond the basics. With support for a massive 300-foot range, you'll never have trouble keeping your headset connected to your Bluetooth devices. Supporting both A2DP for listening to music and high definition voice microphone, this headset offers everything you could ask for.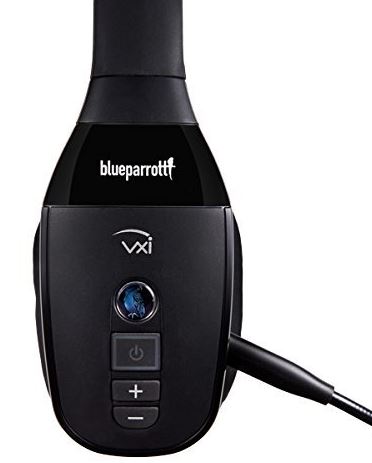 Quick Review of Features
One of the most useful features you'll find on a BlueParrott headset is the Parrot button, which can be programmed to do a number of things through your smartphone. Out of the box, the Parrott button is set to mute the microphone. But through the use of their free app, you can configure this button to become speed dial, to set up a push-to-talk button, or even have it launch an application from your phone. The Parrott button is basically a means for you to fully customize your headset in the image of your personal needs on the road.
Great at filtering out random unwanted sounds, you'll won't end up hearing unwanted sounds like jingling keys. The headband is sturdy, and relative to most headsets the B450-XT is light. However relative to Bluetooth headsets, this headset is somewhat bulky. But that extra bulk is necessary for the range and battery life, so if those are features you're looking for, there's no getting around a little extra size.
And anyone on the road for a long time will appreciate being able to get over 24 hours of use out of one single charge, which is exactly what this headset offers. And the 300-foot range gives you plenty of freedom to get out of your truck and stretch your legs without losing your connection.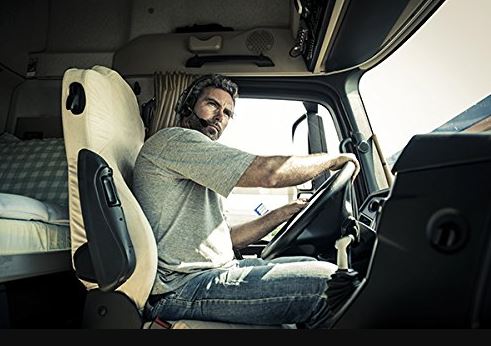 Microphone and Comfort
The microphone has an unlimited range of motion and is fully reversible. Driving down the road with your radio playing on higher volumes, your voice still come through clearly. Although some noise can get through, callers won't have a problem understanding you. That excellent clarity makes the B450's support for voice assistants like Cortana and Siri that much more valuable.
Additionally, the earpiece is a made of a large padded headband that's lightweight and comfortable, but not so light you'll forget it's there. The type of leatherette foam cushions used are designed to hold up under heavy use for about three years, meaning your padding will probably give out long before the device does.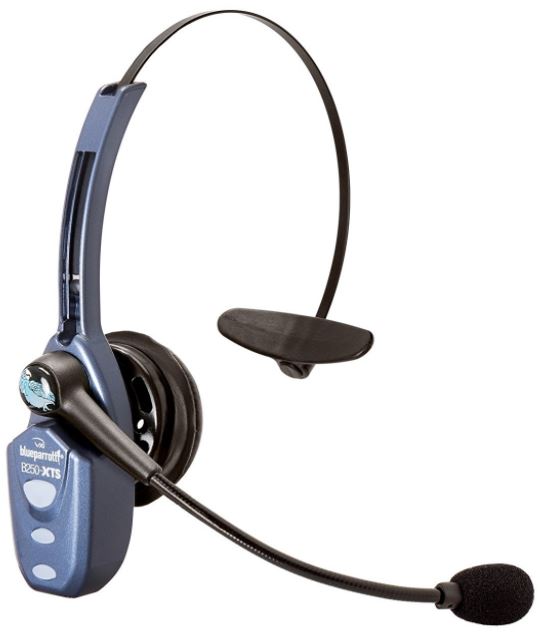 VXI BlueParrott B250-XTS Bluetooth Headset USB Charging
Using the same powerful noise canceling technology in the BlueParrott headset listed above, the B250-XTS is a lightweight alternative to its sister. With a much more lightweight and invisible design compared to the B450-XT, this model uses a narrower headband that many people will find less encumbering to wear. Two additional differences to note are the included USB charging cable, as well this model including a replacement ear cushion and microphone windscreen.
Quick Review of Features
The 66-foot range of this device is comparably weaker to the 300-foot range of the B450-XT, but it maintains the 20+ hours of battery performance that you're looking for out of a trucker's headset. More importantly you'll be able to charge from any device with a USB port, keeping your headset online virtually indefinitely.
In technical terms, the B250-XTS has marginally worse noise cancellation than the B450-XT, an ordinary user won't notice a palatable difference except in the very specific circumstances. For ordinary use in a truck cab, either device will provide sufficient noise cancellation to keep your sounds crystal clear.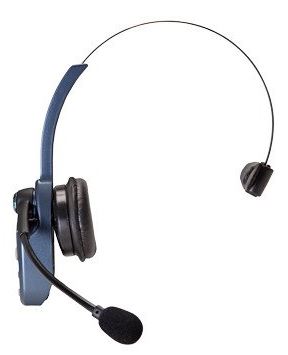 Microphone and Comfort
If you're looking to make calls and have them heard with the same clarity you'd get from inside on a landline, then this is the headset for you. Microphone and sound quality will live up to high standards, but regrettably the B250-XTS doesn't support A2DP. In other words, you can't connect to music players, GPS, or other Bluetooth functions beyond making calls.
After a few hundred hours of use, you'll come to appreciate the spare cushions that are included. Headphone cushions are one thing that will wear-and-tear somewhat quickly no matter how great your device is, so being able to replace them can add another two or three years to the lifespan of your device.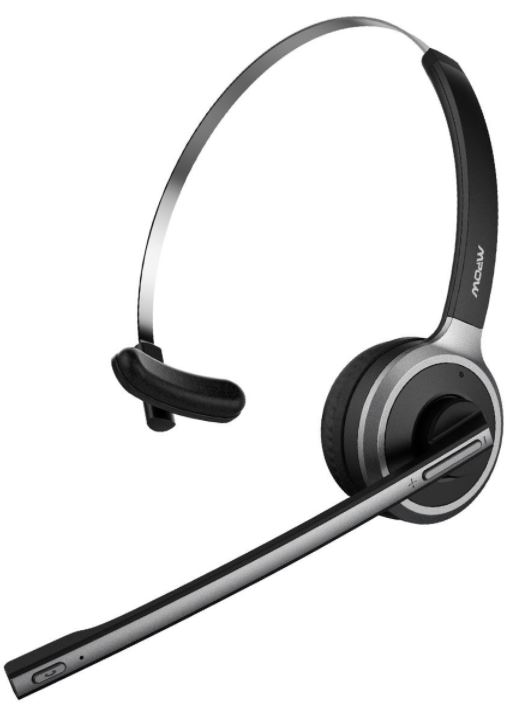 Mpow Truck Driver Headset
Directional microphones are hit-and-miss when it comes to noise reduction, but this Mpow headset comes through with excellent call quality even if you're got an orchestra playing on the flatbed of your truck. Made to be worn day-in and day-out, this headset utilizes a lightweight design that's roughly the weight of an egg. And using a breathable circular ear design, you won't have to worry about becoming sweaty or uncomfortable from wearing your headset for hours.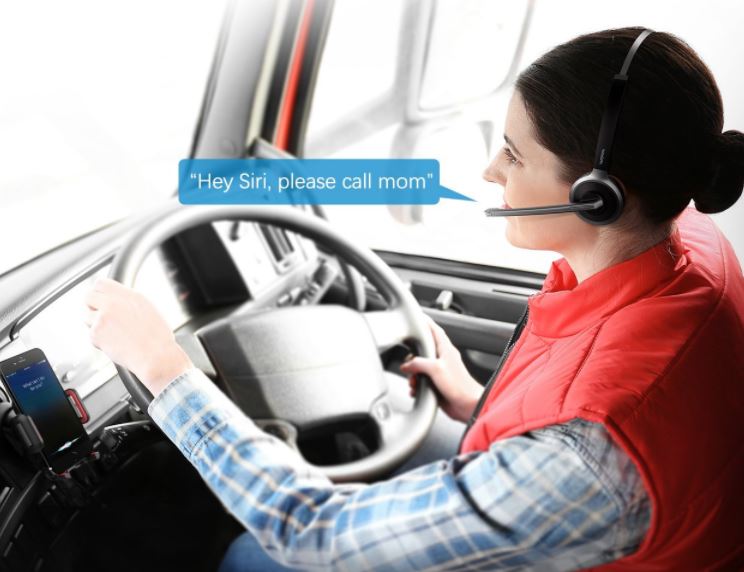 Quick Review of Features
With a maximum 13-hours talk time, 11 hours of music, and 160 hours of standby, this headset may not last quite as long as the BlueParrott products above, but for most truckers it won't leave you wanting. You'll get the standard 33 feet of range that comes with a typical Bluetooth 4.1 headset, a two-hour charge time, and independent volume control options so you won't always be reaching for your phone every time you need to make an adjustment.
Like with the B450-XT, this Mpow headset includes voice commands for true hands-free calling. You'll be able to ask Siri or Cortana to make calls for you, and you'll be able to hang up or answer with one button or command. Minor conveniences like these add up — things like being able to double-click the call button to redial the last number you've called, or getting a call reminder when you're listening to music. Having a low-battery reminder is another thing that's easy to appreciate because it helps ensure you won't get cut off in the middle of a conversation.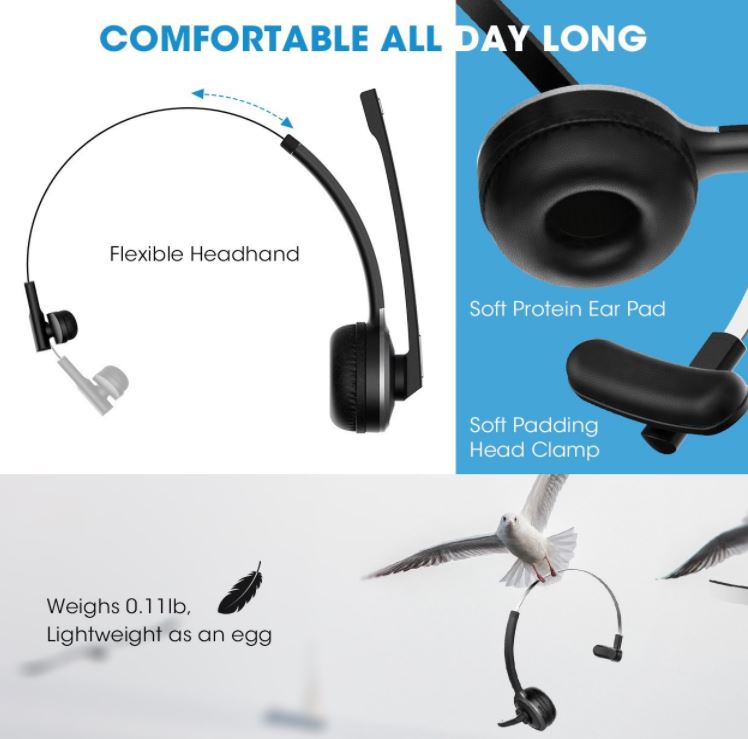 Microphone and Comfort
The mic on this Mpow headset doesn't include the foam windscreen you see on many devices. Generally speaking, windscreens aren't needed, and often times don't survive well in rough-and-tumble conditions anyway. In microphones that choose not to use windscreens entirely, like this Mpow has been designed, you'll find the windscreen effect has been implemented into the calibration of the microphone. In other words, this microphone will pick up sound as good as devices with a windscreen, provided only that you don't stick it one inch from your mouth and start breathing heavily.
Using extremely lightweight design, you'll be able to wear this headset invisibly and learn to forget it's there in no time. Geared for calls and music, you'll have no problem connecting two devices simultaneously, and the person on the other line of your call will have no problem hearing you.
Choosing Between 3 Great Bluetooth Headsets
If you're not interested in getting music through your headset, then the BlueParrott B250-XTS is a lean headset that will get the job done for you. The narrow headband is lightweight and will rest comfortably on your head all day. The battery is ready for a full day on the road, and the replacement foam parts will ensure your headset is rated to last.
If you're looking for something a little more standard, then you'll be satisfied with Mpow's Bluetooth Trucker Headset. Their battery life of 13 hours is a little on the low side, but rated for the road, you'll have no complaints about the quality of the sound or microphone. And if you don't need special features like a 20-hour charge or amazingly long distance connections, then you'll be especially satisfied with the quality that you're getting relative to its price.
And if you're looking for the best of the best, then you want the BlueParrott B450-XT. In addition to all the essential headset features for truckers, it comes with that outstanding 300-foot range and full 24-hour charge. You'll be able to pull into a diner and keep your music or conversation going without thinking about it, or keep your music going while you relieve yourself at a rest stop. As long as a little extra bulk doesn't bother you, the headset should rest comfortably on your head indefinitely.