With the rise of technology, there has also been an increase in one issue. How do you power all your device? Power strips and surge protectors have long been an answer, but they're bulky and take up a lot of space. These days we have a better solution with USB desktop charging station hubs.
What is a USB Desktop Charging Station Hub?
These hubs are built to provide power to your USB-powered devices. They range in size and features included but serve the primary function of powering or charging devices with USB cables.
Why should I want a USB Desktop Charging Station Hub?
One of the main reasons you would want one of these USB charging station hubs is that they're designed for their use case. Using surge protectors and power strips works, but they take up a lot of unnecessary space when trying to charge a USB device. Rather than simply plugging it into a USB port, you would have to find the charging block and plug that into a standard outlet.
How many ports do they have?
The number of ports will vary depending on the device you choose. Some only have one or two that are a mix of USB-A, USB-C, and Micro USB. However, others can provide nearly ten different outlets. Additionally, a lot of these charging stations have standard plugs to provide power to regular devices. While this increases their bulk, it also increases their functionality.
Are they going to take up a ton of space?
This is another feature that will vary depending on which charging hub you go with. Options that have fewer ports overall will generally be on the smaller side, making them easy to hide out of your way. Options with more ports and additional standard plugins will be bigger.
Best Overall: iSwift PowerCloud USB-C Desktop Charging Station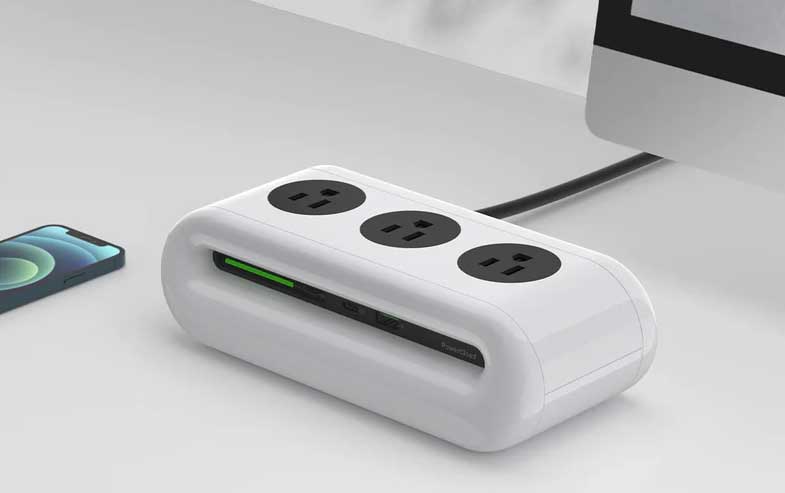 Key Features:
6 Ports
4.9-foot power cord
Up to 65W USB-C charging
The iSwift PowerCloud is clearly one of the best USB-C desktop charging hubs on the market. It has a sleek, modern design that is sure to elevate the look of your desk setup. The design is compact, with dimensions of 7.9 x 3.4 x 2.4 inches. This allows you to easily keep it out of your way. As for colors, it's available in only white with black accents.
This desktop charging station has six different outlets to provide power to your devices. On the top, you can find three AC outlets. Each outlet is capable of outputting 2500W of power. The front of the charging hub is where iSwift has put the various USB plugins.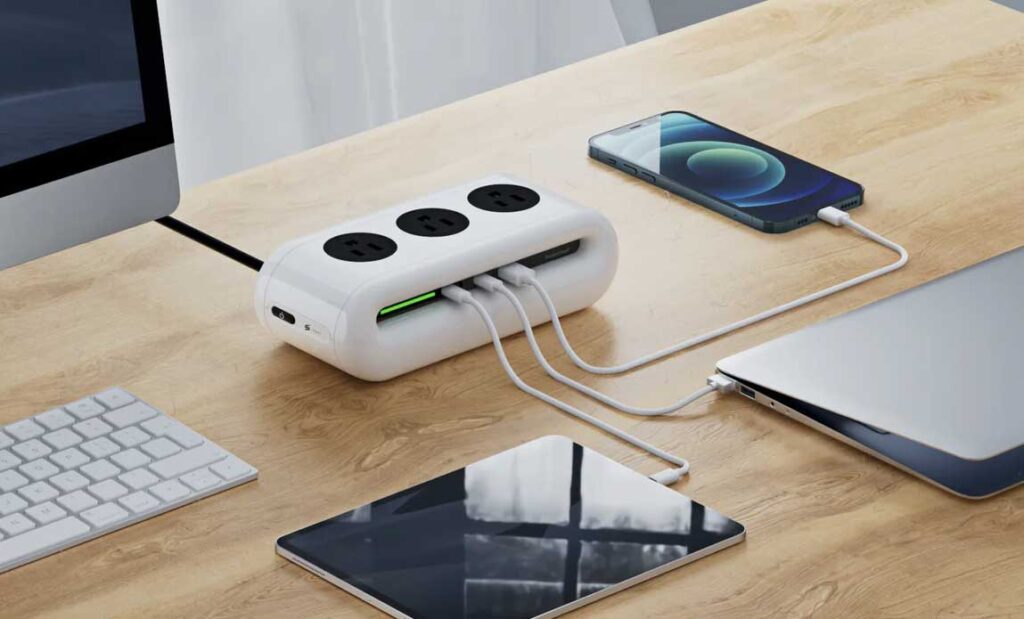 There are two USB-C ports and one USB-A port for various devices. One of the USB-C ports can fast charge your laptop at 65W with only cable and no adapter. The other can handle 20W. The USB-A port outputs at 18W. These ports give you a variety to be able to charge your laptop, phone, and more all at the same time.
Another cool feature of the iSwift PowerCloud is safety. Included in the charging station is a 10-fold military-grade protection design. Additionally, it has an AI system that monitors power outputs every three seconds. It also has surge protection capabilities. These features ensure that both the charging station and your devices are safe while in use.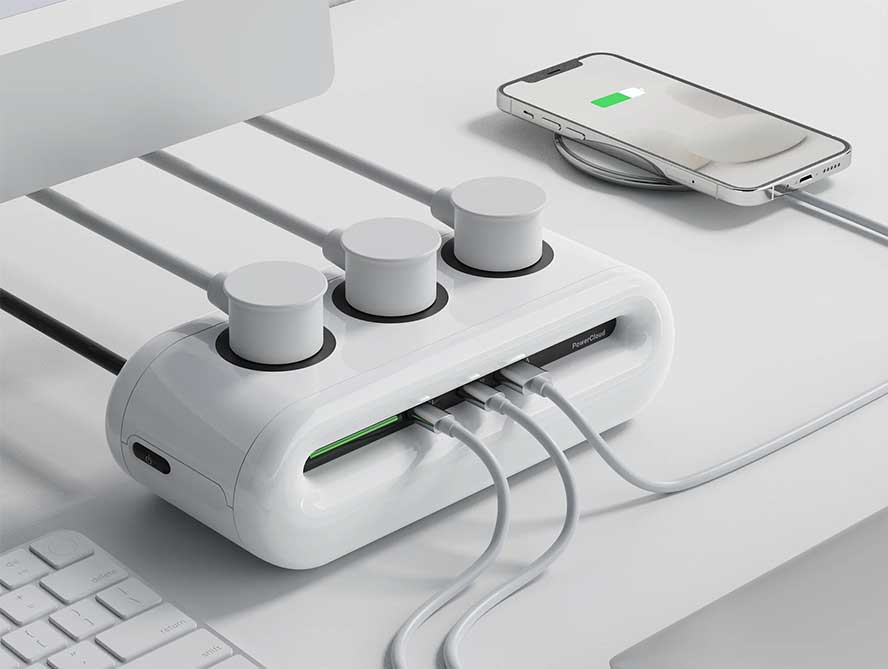 In our opinion, the iSwift PowerCloud is one of the best you'll find. Its modern design, paired with dual functionality, is tough to beat. Best of all, the front USB-C port that charges at 65W is the world's first to do so. This sets it up nicely to pair with the shift towards standardizing USB-C as much as possible.
Pros:
65W USB-C port
AI safety features
Modern design
Cons:
Highest cost on the list.
Best Alternative: BEVA Power Strip Tower Surge Protector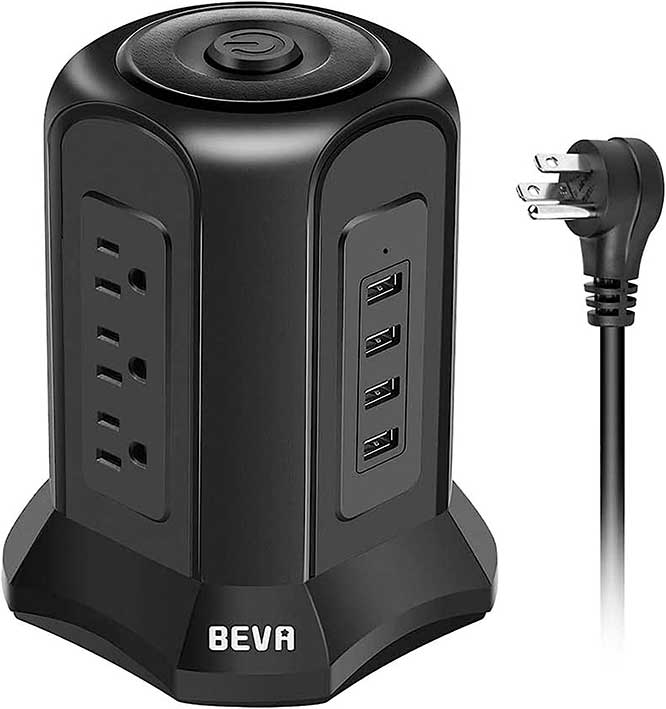 Key Features:
13 ports
Up to 10-foot-long power cord
Up to 1250W of power output
The BEVA Power Strip Tower Surge Protector is a device that can handle a ton of charging needs. It's one of the bulkier options on the list, with dimensions of 6.5 x 5.5 x 5.5 inches. Most of its size is in its height. However, it's designed to blend in nicely, with color options of either all black or white and blue.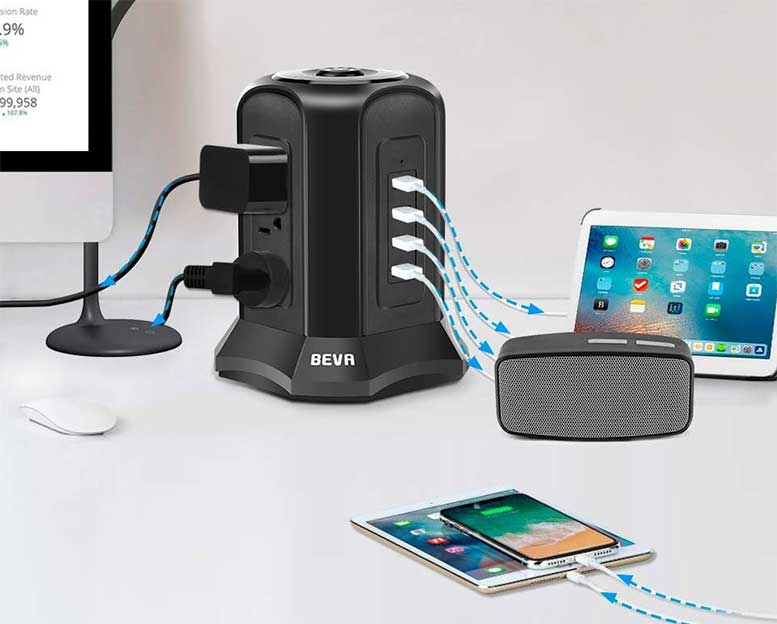 Included ports and charging capabilities: This charging station has the most charging capabilities of any option on this list. One side of the hub has four USB-A ports. The other three sides each have three standard AC ports. This allows you to power plenty of devices, even with a high-end gaming desk setup. Each USB port has 5V and 3.1A for power. Each AC outlet can provide 1250W and 10A of power.
One cool feature of the BEVA is its safety capabilities. It's been designed with all these included:
Surge protection
Short circuit protection
Over current protection
Over load protection
Lightning protection
Overheating protection
Fire-retardant materials
These safety measures help keep your charging hub, devices, and your home safe while in use.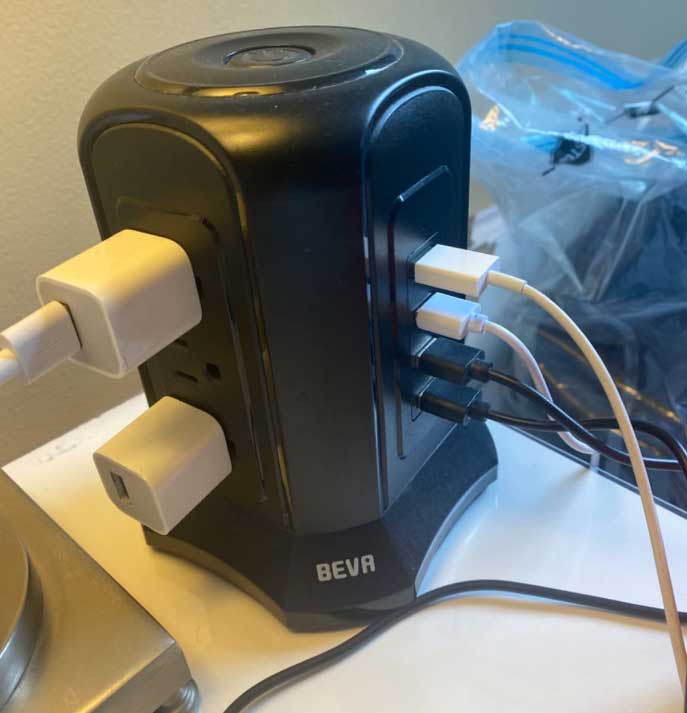 As for cord length, the BEVA has two options. You can get it with a 6.5-foot cord or a 10-foot cord. This allows you to have plenty of flexibility on how far away from the outlet you want to put it. If you want a power hub that can charge your USB devices and also plenty of standard devices, the BEVA might be the one for you.
Pros:
13 power ports
Tons of safety features
Cons:
Takes up a good amount of space
Best For Travel: OneBeat USB-C Power Strip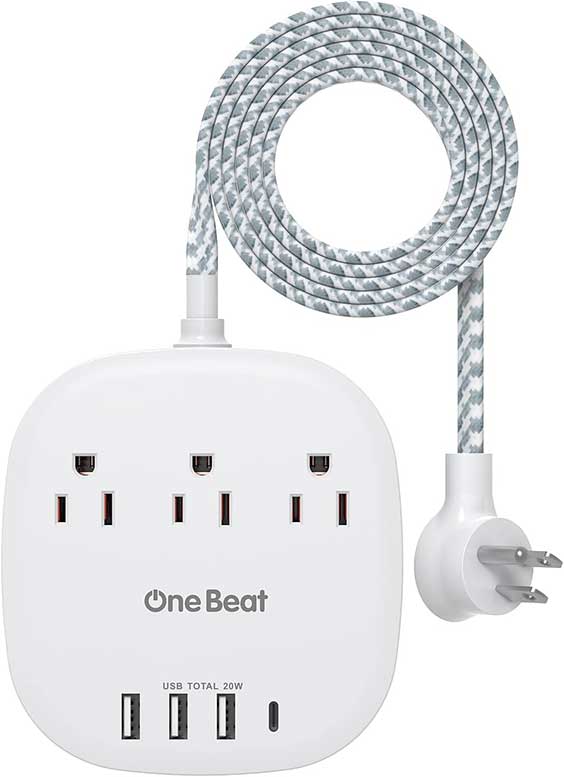 Key Features:
7 power ports
5-foot long cord
20W USB power
The OneBeat USB-C Power Strip is one of the smaller options available. It comes with a 5-foot-long cord and a compact body. The dimensions are 4.6 x 4.3 x 1.1 inches, making it perfect for using at home or taking with you on the go. Aesthetically, it's pretty plain. This power hub is only available in white, with a white and grey power cord.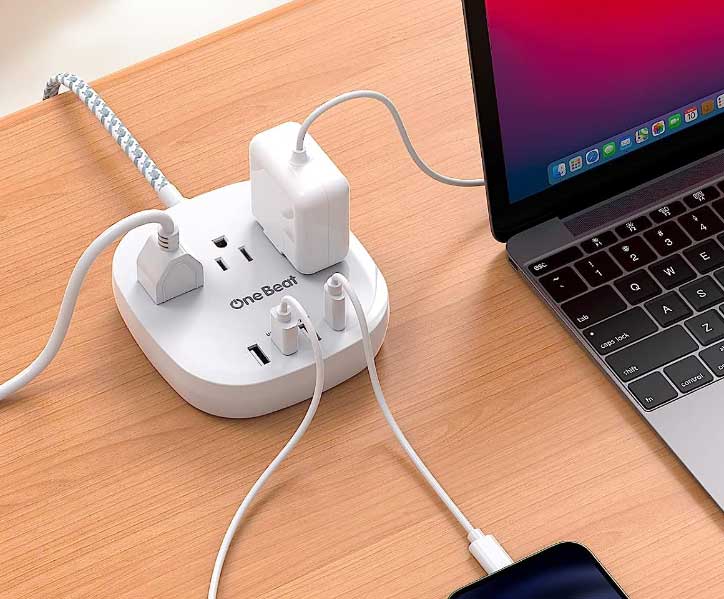 Included in this charging hub are seven total power ports. There are three standard AC outlets, three USB-A ports, and one USB-C port. Each standard port can output 1875W of power. The total output of all the USB-A and USB-C ports is 20W. This gives it an overall smaller power output than options like the iSwift PowerCloud, but still plenty enough to power your mobile devices.
As for safety features, it has some great ones but is lacking in others. It includes short circuit protection, over-current protection, over-voltage protection, and over-charging protection. The body is also made out of fireproof material. However, this device will not function as a surge protector, so keep that in mind if you plan to plug in high-end electronics for long periods of time.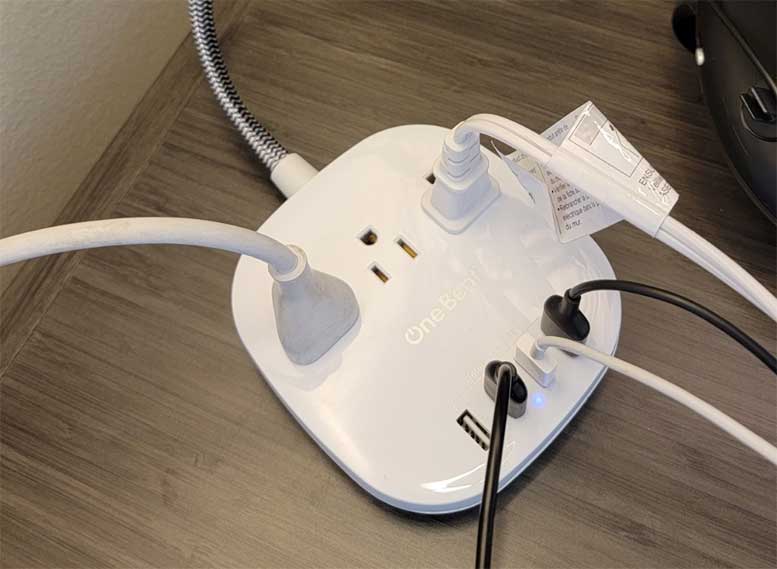 While the lack of surge protection may seem like a downside at first, it was built that way intentionally. This allows the OneBeat to be cruise ship approved. When using power hubs such as this on a cruise ship, cruise lines require that they do not have surge protection for safety reasons. To comply with this, OneBeat left it out, making it a great choice if you plan to travel on a cruise and want more charging capabilities.
Pros:
It can be used on cruise lines
Multiple safety features
A solid mix of charging ports
Cons:
Lack of surge protection isn't ideal for long-term home use
Best USB Only: BOVICAS USB-C Charger Block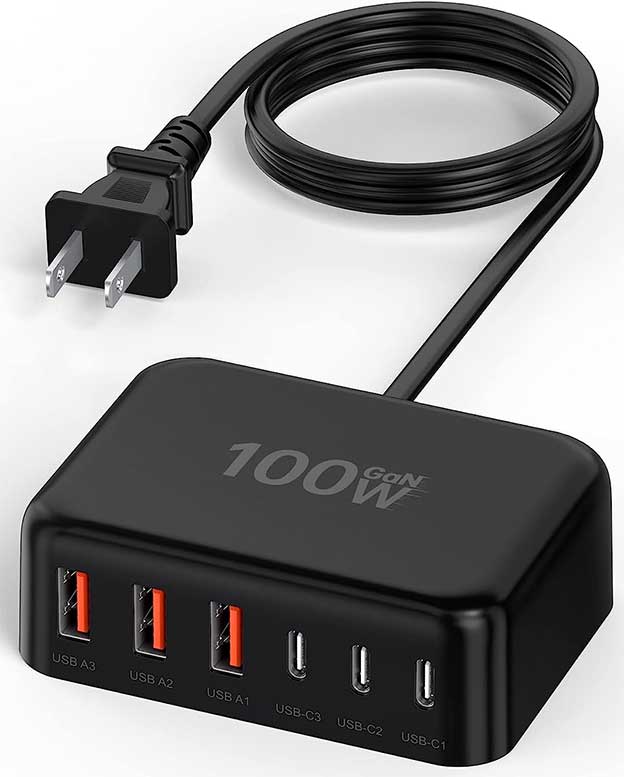 Key Features:
6 power ports
5-foot cord
Up to 100W power output
The Bovicas USB-C Charger Block is an extremely compact charging solution. It comes with a 5-foot-long power cord with a two-prong plug. The body of this charger is 3.14 x 2.2 x 1.06 inches, and the whole package only weighs .6 ounces. Better yet, you get plenty of color options to make sure it fits your style. The BOVICAS is available in white, black, blue, green, and purple.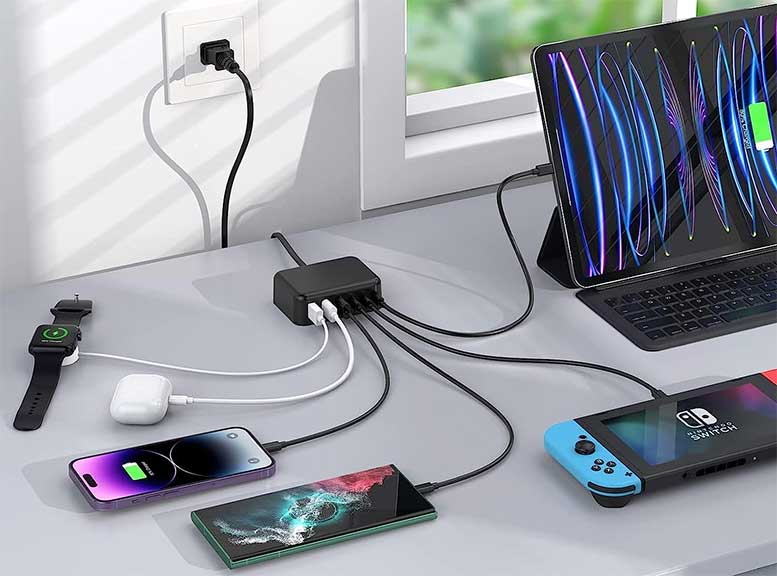 This charging station has a sole focus on USB power. There are six total power outlets on this device. Three of them are USB-A, and three are USB-C. The total power output across all six ports is 100W. Each USB-A port maxes out at 18W of output, and each USB-C port maxes out at 20W of output. This makes the BOVICAS an extremely fast charging device.
When it comes to safety features, there are multiple to feel safe with. They include:
Over-temp protection
Over-charge protection
Over-voltage protection
Fireproof material construction
Smart IC Chip protection
Over-current protection
However, there is no mention of surge protection, so keep that in mind.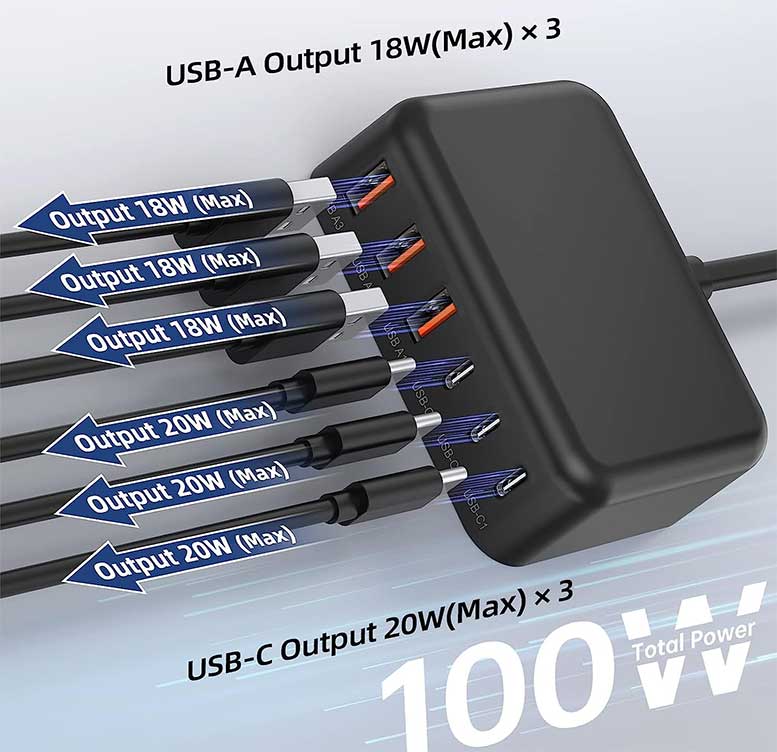 If you're looking for a compact device that does a great job at providing power to USB-powered devices, this is the perfect charging hub for you. With a great mix of USB-A and USB-C ports, you'll be sure to have options. Additionally, its small size and variety of color choices make it a great pick for living on compact desks or taking with you on the go.
Pros:
Compact design
Ample charging capabilities for USB devices
Variety of color options
Cons:
Doesn't have standard power outlets
Best Wireless Charging: ASOMETECH USB Charger Hub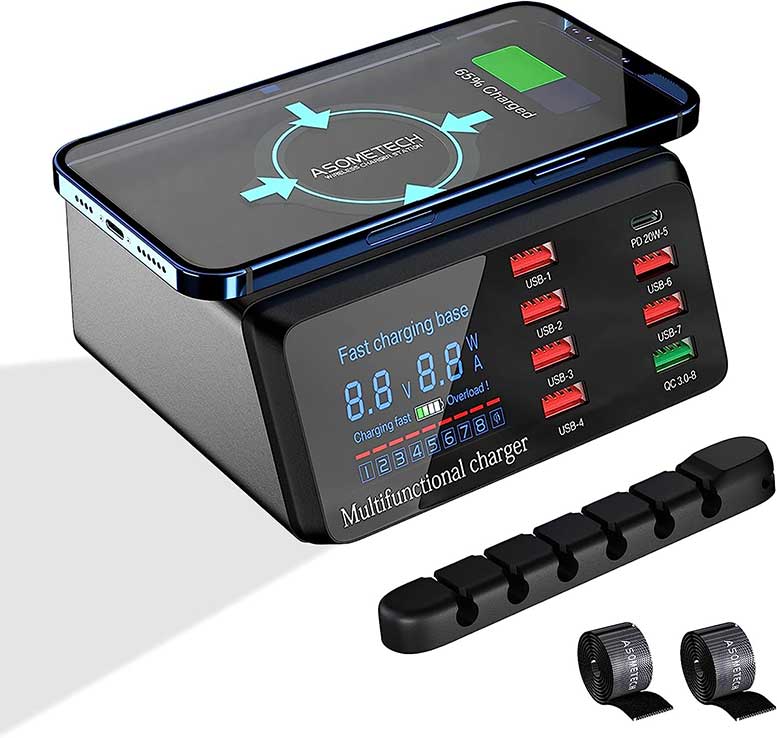 Key Features:
8 power ports
3.9-foot power cord
100W power output
The ASOMETECH USB Charger Hub is one of the most unique options available. It's a bit on the bulkier side, with dimensions of 4.72 x 3.54 x 1.96 inches. Additionally, the power cord is on the shorter side at just under 4 feet long. As for color options, it's only available in black.
This charging station has a ton of charging features. On the front, you will find one USB-C port, one fast-charge USB-A port, and six standard USB-A ports. Additionally, the top of the charging hub has wireless charging capabilities. The USB-C port can output 20W of power, and one USB-A port can output 18W of power. The remaining six USB-A ports are each capable of 5V and 2.4A. As for the wireless charger, it can output up to 10W of power but has intelligent switching to choose between 2.5W, 5W, 7.5W, and 10W.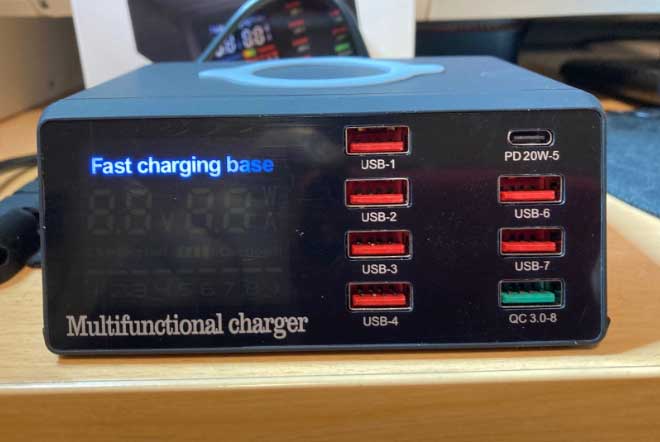 As for safety features, the ASOMETECH is in line with other options on this list. It includes:
Intelligent protection system
Over-voltage protection
Overheating protection
Over-current protection
Short-circuit protection
Flame-retardant materials
Similar to the BOVICAS, there is no mention of surge protection.
The most notable extra feature on this charging hub is the included screen. This screen displays power info such as voltage and watts, as well as how many of the ports are in use. Additionally, it will display how fast it is charging and if it is nearing overload. This gives you information and helps you keep your devices safe.
Pros:
Included screen
Wireless charging capabilities
Cons:
The shortest power cord on the list