When it comes to the safety of your home and family, you can't be too careful. We spend a lot of time talking about home security devices. And it's true that these kinds of gadgets can go a long way towards keeping your home safe. Sometimes, the simple deterrence factor is enough. But there are far more serious concerns than potential burglars. For example, a fire could break out, or someone could suffer a medical emergency. In those cases, we rely on emergency services to arrive as quickly as possible. But what happens if the fire department or paramedics can't find your home? That could be bad news, and it's something you obviously want to avoid.
Illuminated address numbers are a great way to improve your home's visibility. A set of large, backlit numbers, visible from the street, make it easy to find your home by day or night. They're also good for a lot more than just helping out emergency services. Have you ever had a delivery driver call you because they couldn't find your house? If you had visible address numbers, they wouldn't have been driving around, and your pizza would still be hot. If you're having a party and people need to find your house, do you want to play traffic director? If your address is brightly lit, you won't have to. People will find it on their own.
Today, we're going to review the four best backlit address numbers. We'll start with the LumaNumbers Backlit LED Address Numbers. These are simple solid plastic address numbers with LED backlighting. Next, we'll take a look at the LUXYARD Backlit LED House Numbers. These are rugged stainless steel house numbers with similar LED backlighting. Third up on our list are the JBD Signature Solar House Numbers. These are solar-powered house numbers with a shine-through LED cutout. Finally, we'll examine the Sunface Solar House Number Plaque. This is a full-sized solar-powered backlit plaque for mounting numbers on top of. Which one is right for you? Let's take a deeper dive into all four options, and see how they stack up!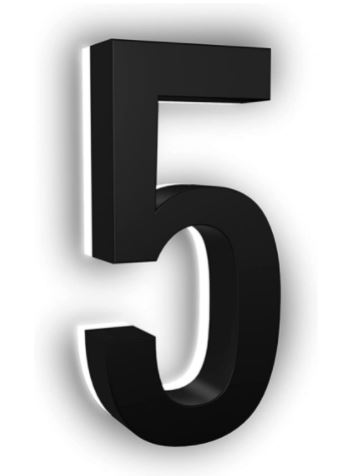 LumaNumbers Backlit LED Address Numbers
The LumaNumbers Backlit LED Address Numbers are straightforward numbers with an attractive font. The front halves of the numbers are constructed from ABS plastic, which is durable, weather-resistant, and fade-resistant. You can order them in three colors: black, bronze, or silver. That said, the back portion of each number is made from clear acrylic. This allows the LED lighting to shine through clearly, and create a backlighting effect. This beautifully highlights all of your numbers, making them easy to read by day or night. Keep in mind that these numbers are sold individually. So if your address is "1234," you'd need to order a one, a two, a three, and a four.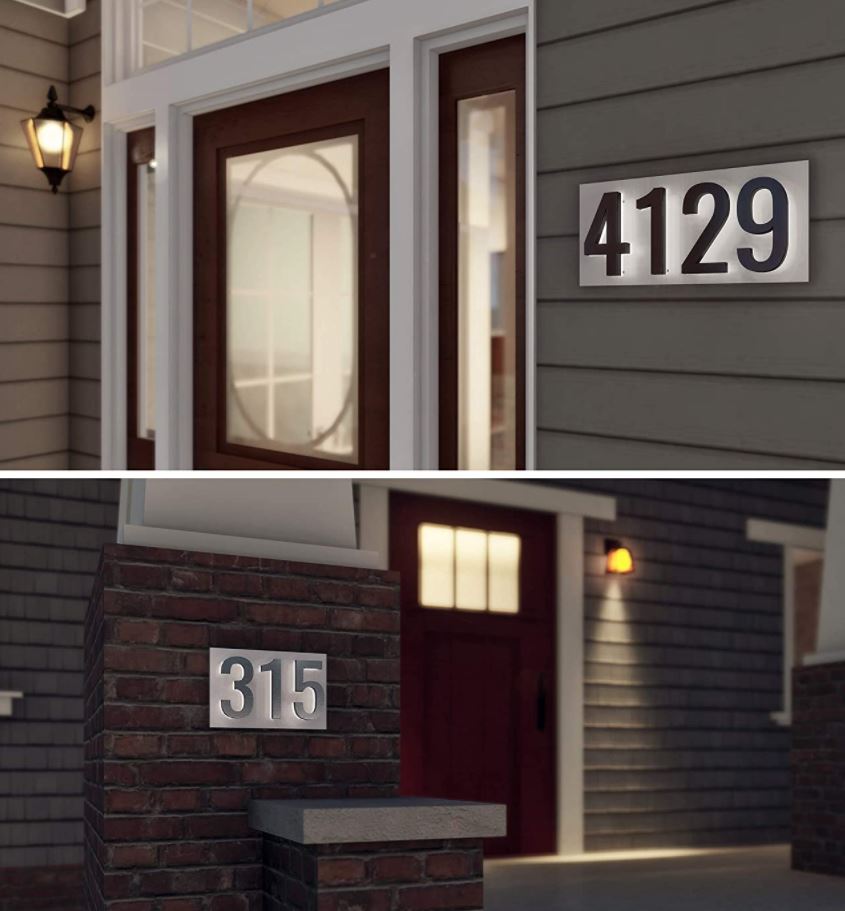 The total dimensions of each number are 5 inches high, with a thickness of two inches. The maximum width is 2.5 inches, but this can be smaller for the narrower numbers. Each one secures to your wall with a set of two screws; one at the top, and one at the bottom. The kit includes multiple sets of spacers in different lengths. That way, you can choose how far the numbers stick out from your wall. The longer the spacing, the more the light will spread out, and the more intense the effect will be. Conversely, shorter spacers – or no spacers at all – will reduce the extent of the backlighting.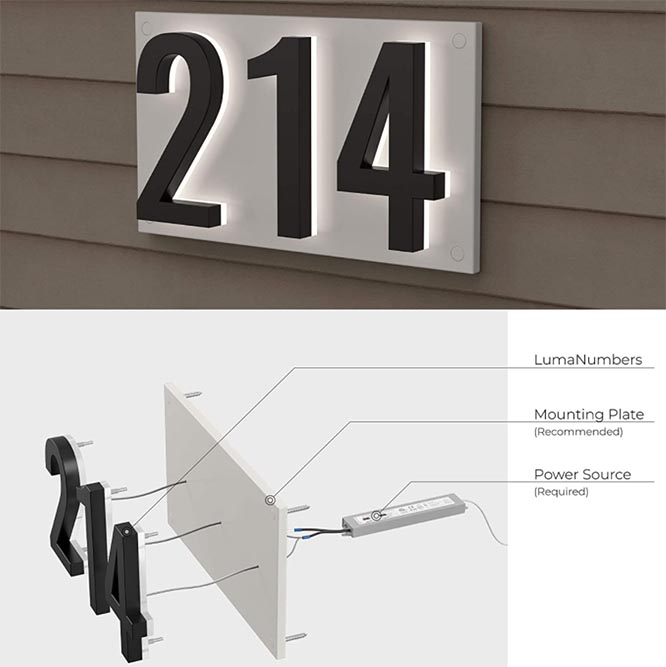 These numbers are hardwired, which has its own costs and benefits. On the one hand, you don't have to keep any solar collectors free of snow, or worry about them getting dirty. On the other hand, your backlighting goes out when your power goes out. Not only that, but if you're not electrically handy, you'll need to hire a professional. Installation requires a power supply and wiring harness, which is sold separately. There are actually two different versions, depending on how many numbers you're installing. The 12-watt version will power up to two digits, while the 24-watt version is required for three or more digits.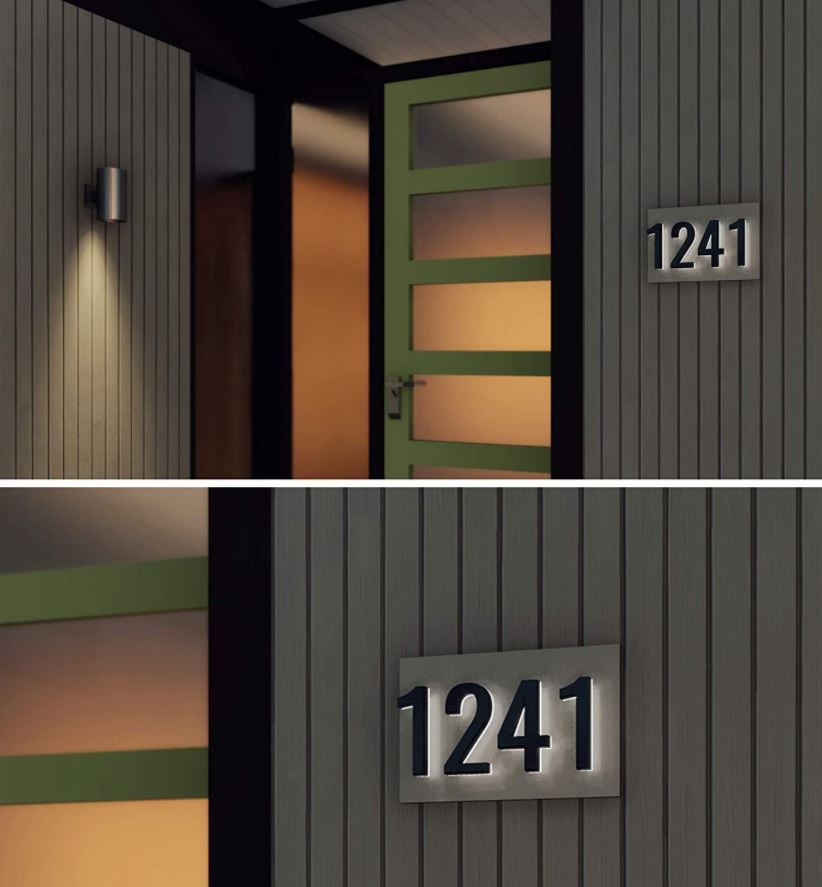 There's another add-on we should mention, although unlike the power supply, this is purely optional. LumaNumbers offers a mounting plate, which can sit between your numbers and the wall. This isn't strictly required, and the numbers will install just fine without it. That said, there are a couple of reasons you might want to use it. First, it provides a smooth background for the backlighting, unlike textured siding or masonry. Second, it hides the wires, which might otherwise be visible behind the numbers. The mounting plate is available in three colors: off white, bronze, and grey. It's screwed directly into the house, with little caps to cover the screw holes. And it's wide enough for up to five numbers, so it's suitable for long addresses.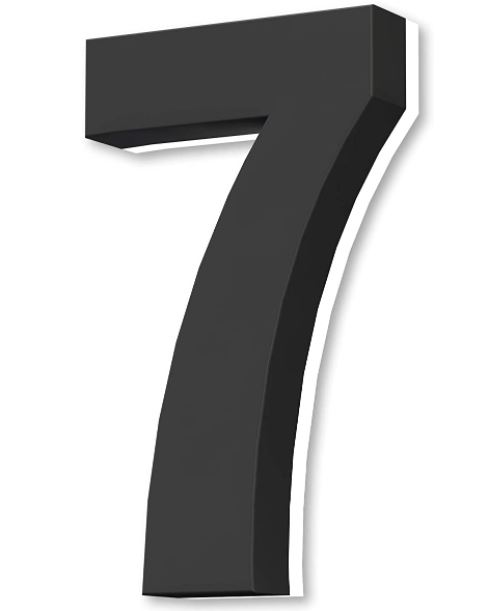 LUXYARD Backlit LED House Numbers
The LUXYARD Backlit LED House Numbers have a lot in common with the LumaNumbers. To begin with, they're individual numbers, not a complete set. For another thing, the fronts of the numbers are solid, while the backs are backlit. That said, there are some significant differences that are worth pointing out. For one thing, while the backs of the numbers are clear acrylic, the fronts are stainless steel, not plastic. This makes them more durable, and less likely to get cracked or damaged.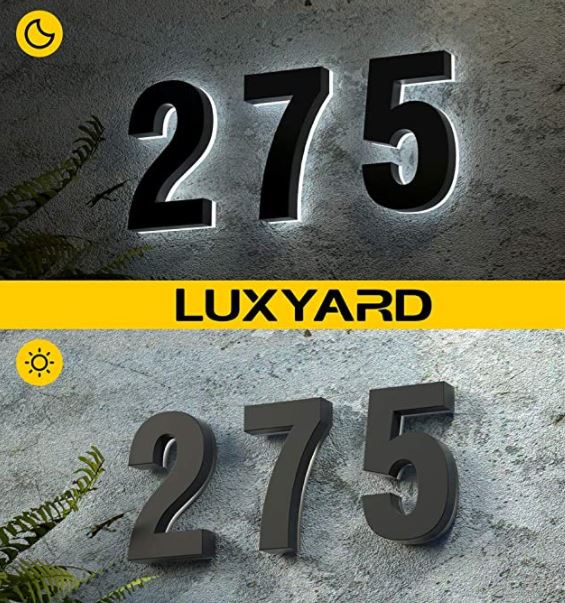 From a cosmetic perspective, the differences are even more pronounced. The most important thing to note is that they're only available in black. For most people, this won't be a problem, since black provides a natural contrast against most houses. That said, black numbering may not fit with your overall decorative scheme. In that case, you'd need to choose a different set of numbers. On the plus side, you can order these in three sizes. All sizes are 1.15 inches thick, but the height can be 5, 7, or 8 inches depending on your needs. Larger is generally better for visibility, but smaller numbers can fit in smaller spaces. The widths, as before, are variable. But they max out at 2.95 inches, 4.1 inches, and 4.7 inches respectively.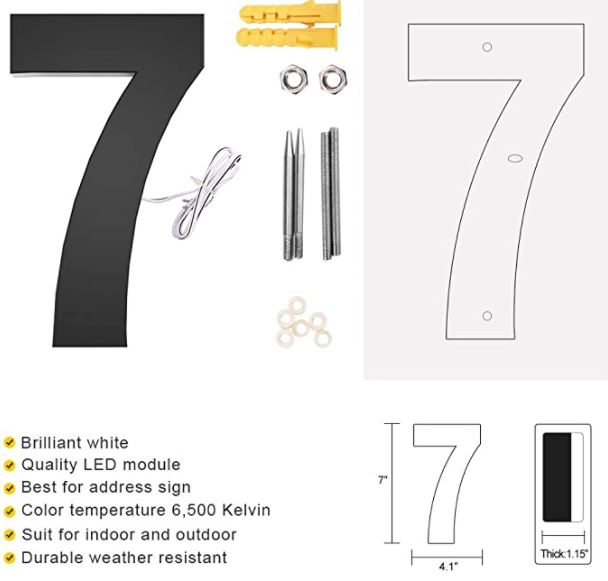 The kit includes everything you need to get the numbers mounted. You get mounting screws, wall anchors, and even a little template to help you drill your holes. You also get three sets of spacers, in three different lengths. As with the LumaNumbers, these spacers can be used to modify the backlighting effect. The longer the spacers, the more intense and broad the backlighting will be. With all of that being said, you'll still need a power supply in order to wire the numbers into your house. This is sold separately, and can power up to four 8-inch numbers.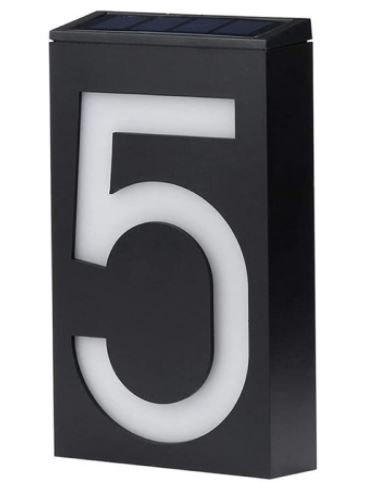 JBD Signature Solar House Numbers
The JBD Signature Solar House Numbers are a different beast entirely. The other lights have solid numbering, with LED backlights, but these are just the opposite. Each "number" is a little box, with an internal LED light. The actual number is a cutout on the front, where the LED lighting shines through. One side effect of this design is that all numbers are the same size. Each panel is 7 inches high, 3.85 inches wide, and 0.55 inches thick. They're constructed almost entirely from ABS plastic, but the numbered cutouts are clear polycarbonate. One thing that annoyed us, though was the font. Most of the numbers look just fine, but they're styled as if you were using a paint stencil. As a result, the 8, 0, 6, and 9 have annoying bars running through them.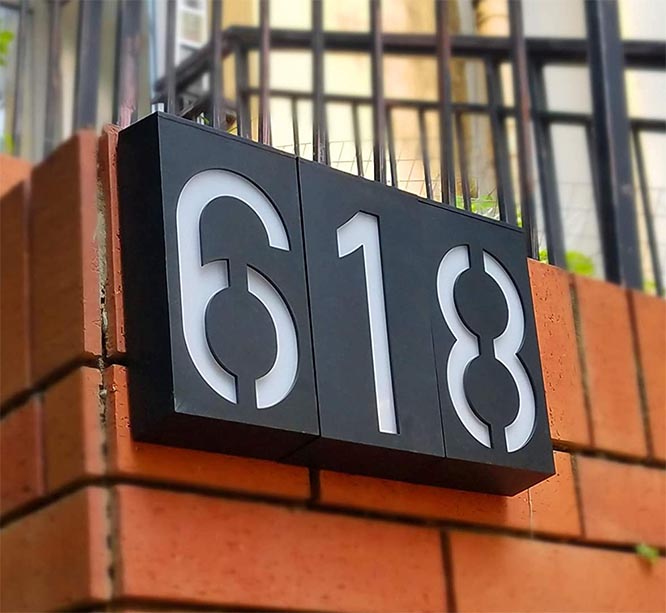 Each number is powered by its own little solar panel. This panel is located on the top of the housing, and is angled slightly outwards. As a result, you don't have to worry about any wiring during installation. If you're a DIYer, you'll no doubt be ecstatic about not having to install wires or a power supply. Instead, all you have to do is pre-drill two holes, and screw your numbers into the wall. The kit includes two screws, as well as masonry anchors for going into brick or stone. Once the numbers are mounted, you're all ready to go.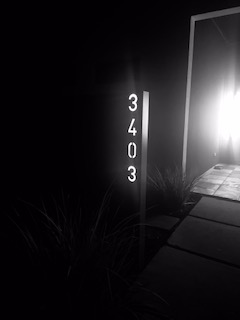 Each number comes with a rechargeable AA battery, which needs to be installed before you set them up. Once installed, the battery will automatically charge whenever the numbers are in sunlight. When the solar panels sense a drop in input, the lights will automatically illuminate. In the morning, they'll automatically shut down again. You can mount them even in shady areas, and they'll still get enough power to work. That said, if one number is in extreme shade and another is bright sun, you'll see a difference in intensity.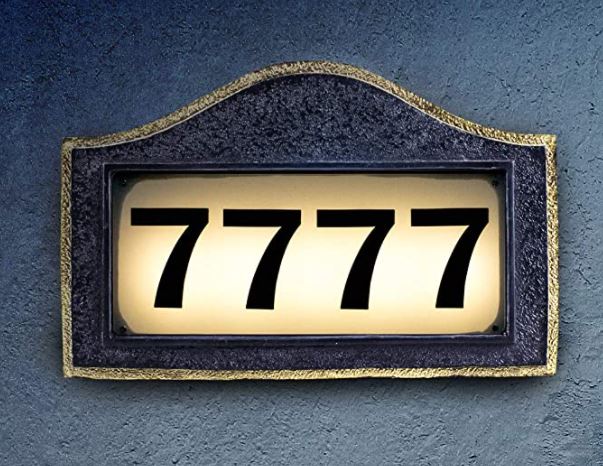 Sunface Solar House Number Plaque
The Sunface Solar House Number Plaque is not a single number. Instead, it's a backlit plaque, where you can mount multiple numbers. As a result, it represents an excellent value. Instead of paying for multiple backlit numbers, you only have to buy the single plaque. The plaque itself is an arched frame, with a faux-hammered resin housing. The main portion of the frame measures 11.8 inches wide, 5.7 inches high, and 2.2 inches thick. The arch on the top adds an additional two inches, for a total height of 7.7 inches. Most of the housing has a black finish, but there's a gold outline around the border. The solar bars are located in the top sides of the arch, so they're mostly concealed.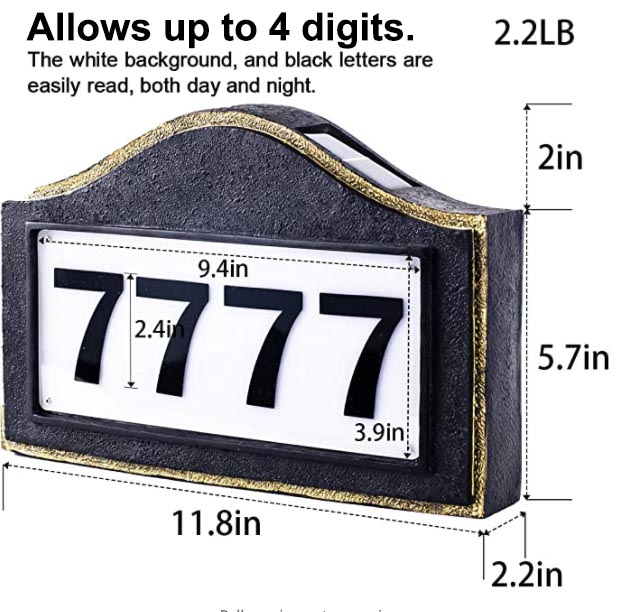 The housing is surprisingly sturdy, and the resin material can stand up to most environmental conditions. Snow, rain, and intense heat are no problem. Mounting is straightforward, with only a pair of screws required. That said, if you're going into brick or stone, you'll have to provide your own masonry anchors. Like the JBD numbers, the Sunface plaque requires a AA rechargeable battery, which is included. Just insert it in the battery compartment, and you'll be ready to start charging. The solar performance is pretty good, and charges the battery even on a cloudy day.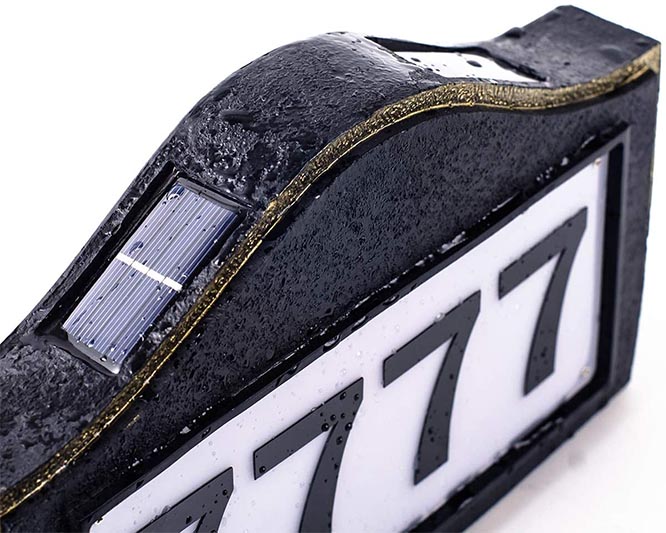 The center of the plaque is a yellowed antique light panel, where you mount your numbers. There are 30 plastic numbers included in the kit, with three of each digit. So unless your address is something like "9999," you'll have all the numbers you need. Each number is 2.36 inches tall, and you can mount up to four of them in the plaque. They have a simple adhesive backing that makes them very easy to attach. The kit even includes a set of placement templates, so you can line the numbers up exactly.
Final Verdict
As you can see, each of these address numbers is unique, with its own benefits and drawbacks. But which one is the best of the bunch? Let's go over what we've learned.
The LumaNumbers Backlit LED Address Numbers are a great choice if you're installing on an irregular surface. That's because you can order a backing plate, which smooths out the backlighting and cuts down on shadows. That said, the installation requires hardwiring, which might be a downside. The numbers themselves are also plastic, which is a bit disappointing, given the price.
The LUXYARD Backlit LED House Numbers are far more sturdy, with a mostly-steel design. They're also available in multiple sizes, which can suit different install locations. Then again, there's no backing plate, and you can only order them in black. If you prefer a different color number, you're out of luck.
The JBD Signature Solar House Numbers are the most unique of the bunch. By inverting the light pattern, they create a striking visual display when it's dark out. We weren't huge fans of the stencil-style font choice, but that's a matter of personal preference. On the plus side, they're solar powered, so they work even when your power is out.
The Sunface Solar House Number Plaque also has a different design. Instead of individual numbers, this is a lighted plaque where you apply numbers on top. Its classic, antiqued design is a good fit for many architectural styles, and it's very easy to install. It's also the most affordable of the bunch, since you get an entire kit, not just a single number.
Meet Derek, "TechGuru," a 34-year-old technology enthusiast with a deep passion for tech innovations. With extensive experience, he specializes in gaming hardware and software, and has expertise in gadgets, custom PCs, and audio.
Besides writing about tech and reviewing new products, Derek enjoys traveling, hiking, and photography. Committed to keeping up with the latest industry trends, he aims to guide readers in making informed tech decisions.