Easter is 10 days away and BLUETTI is celebrating with steep discounts on all of their most popular products. Whether you're getting together with family or enjoying some time alone in nature, BLUETTI likely has the portable power solutions for off-grid enjoyment.
For over 10 years, BLUETTI has been at the forefront of portable power. That said, they're offering heavy discounts starting today and running all the way until April 18th. Today, we're discussing what specific products they're offering at discount prices. Let's get right into it!
BLUETTI AC300 + B300 Combo
Widely known as one of the best expandable, modular power station, the AC300 + B300 Combo is a popular offering. While the AC300 has no built-in battery storage, the idea is that you can expand it with several B300 battery units. Ultimately, this offers a completely expandable solution to those who need reliable battery backup with a huge capacity.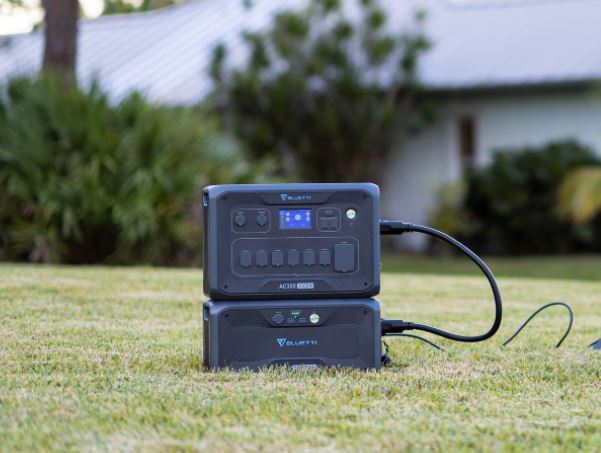 In fact, you can pair up to 4 individual B300 modules with one AC300 base unit. This will offer 12,288Wh of usable battery capacity. Need even more? Incorporate BLUETTI's Fusion Box Pro and you're able to expand the batteries even further. By wiring them in series, you can boost the overall usable battery capacity to 24,576Wh, 6000W at 24V. That's a massive amount of power. Surely enough for multi-day excursions and/or long-term off-grid living.
BLUETTI AC200MAX
Recently released in the past year, the BLUETTI AC200MAX is a popular expandable power station with a 2,200W pure sine wave inverter and massive 2,048Wh capacity. Similarly to the AC300, users are able to expand the capacity all the way up to 8,192Wh by using two B300 modules.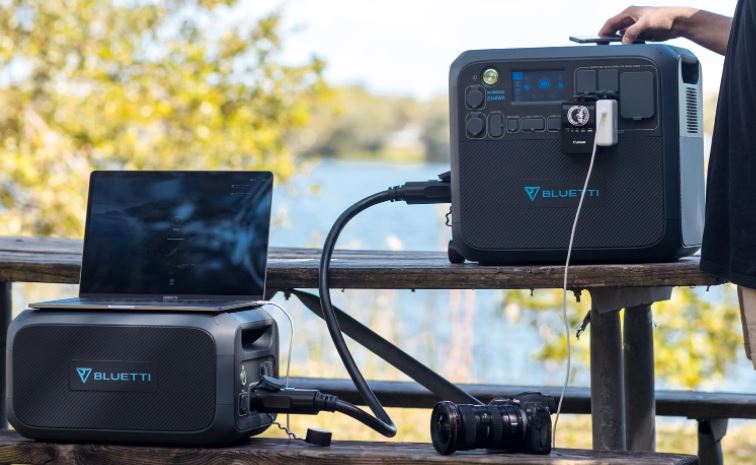 Best of all, the AC200MAX is of the LifePO4 variety. Ultimately, this means its unique battery chemistry can provide up to 3,500+ life cycles at 80% of the original capacity. In addition, it offers 7 different methods of charging and an incredible 1300W maximum fast dual charging when you utilize AC and solar simultaneously. Featuring 16 different power outputs, you can operate virtually any device you need to charge or power.
BLUETTI EP500 Home Backup Power Station
Although it's quite expensive, the EP500 Power Station is a complete solution for those needing unparalleled power backup in their home. It's a unit that's so large it has built-in wheels to push it around. While it may be much too large for camping or weekend excursions, homeowners who need reliable off-grid power or instant battery-backup are the ideal consumer for the EP500.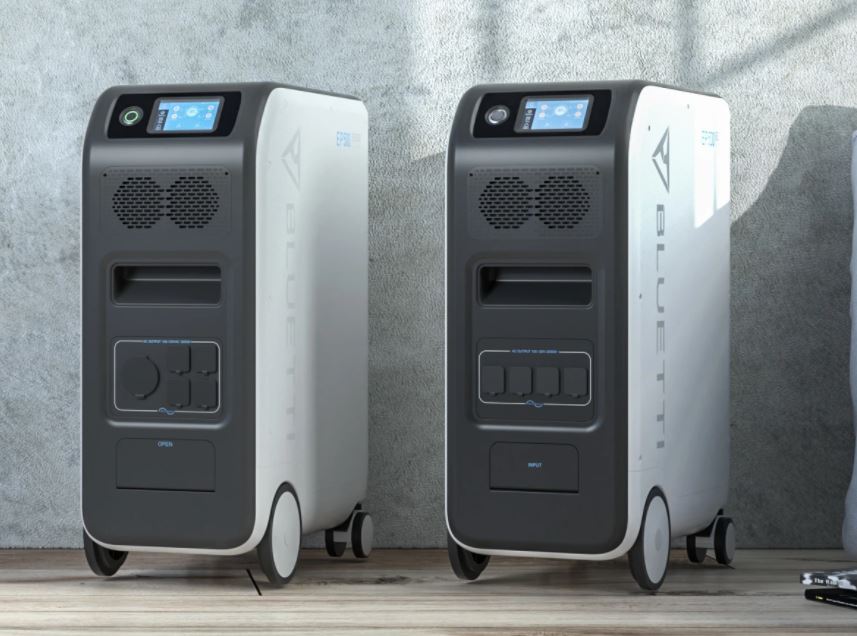 With the use of BLUETTI's very-own "Smart Home Panel," the EP500 can easily be integrated into the power grid. This way, you're given a 24/7 uninterrupted power supply that's ready to automatically boot-on if power failure has occurred. In addition, users can pair their smartphone or tablet with Bluetooth or WiFi to remotely monitor, control and update any firmware, if available.
BLUETTI EB55 and EB70
As one of BLUETTI's most popular portable power stations, the EB55 and EB70 are perfect solutions for off-grid camping or weekend trips. Each one is relatively lightweight, given the small physical size of each. On top, there's a built-in handle for easy-carrying, along with a wide array of charging inputs/outputs on the front panel. In terms of capacity, the EB55 and EB70 both have four pure sine wave AC outlets with a built-in inverter capacity of 700W. However, the capacity is 547Wh and 716Wh, respectively, with a 1400W surge-rating.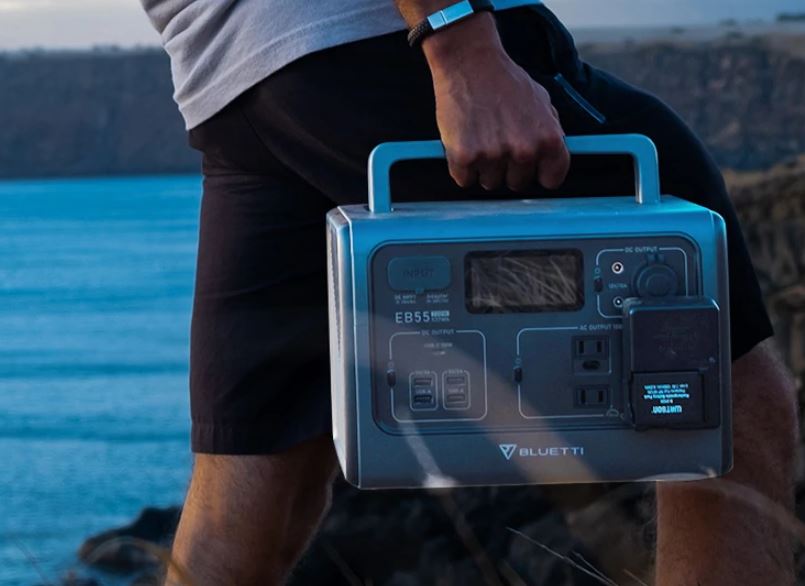 Being that the EB55 and EB70 are both powered by LifePO4 internal batteries, they're rated for a much better lifespan than any traditional lithium-ion power bank. In addition, you can easily pair it with either the PV120 or PV200 solar panels for charging in the sun. All in all, the EB55 and EB70 are built to provide a perfect solution for users who need a reliable source of portable power.
BLUETTI PV350 Solar Panel
For those who need the largest, most-reliable source of "green" charging, look no further than the BLUETTI PV350 Solar Panel. As the largest solar panel they offer, it's highly compatible with nearly every power station. In fact, it works best with BLUETTI's AC200P, AC200MAX, AC300, AC300, EP500, EP500PRO, EB240 and EB150. However, you can also use it with the majority of other-brand solar generators on the market. Although it's rated for 350 watts, it has a 23.4% conversion rate, which is considered highly efficient.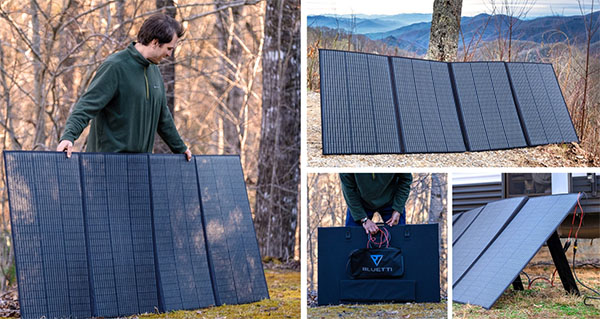 Although it tips the scale at 30+ lbs, the PV350 is relatively portable. It folds up into a suitcase with a small handle on top for easy carrying. Folding it open reveals a set of legs that act as a tripod to keep it propped up at an angle. Additionally, it's made from an advanced laminated technology. The surface is made from a ETFE material that adds an extra layer of durability. In fact, it's highly scratch-resistant and simple to clean. As a bonus, this makes it easy to wipe clean with a simple wet-cloth. Speaking of, it's also highly water-resistant with an IP65 rating.
Final Thoughts
As you can see, BLUETTI does indeed offer some of the best solutions to off-grid power. As stated, the Easter Sale runs from now until one day after Easter, April 18th. In that time, all of the aformentioned BLUETTI products are offered at steep discounts. In addition, other popular models are also discounted. See below:
AC200P – $300 off @ $1,499.
AB300+2*B300 – $400 off @ $5,399.
B300 – $100 off @ $1,899.
B230 – $100 off @ $1,299.
PV200 – $40 off @ $429.
All other additional deals can be found at BluettiPower.com. If you've been waiting to splurge on a new power station or solar-charging solution, now is the time to make the commitment. Which BLUETTI offering looks the most enticing to you? Have any specific thoughts on any of their products? Let us know by dropping a comment below. We'd love to hear from you!
Meet Derek, "TechGuru," a 34-year-old technology enthusiast with a deep passion for tech innovations. With extensive experience, he specializes in gaming hardware and software, and has expertise in gadgets, custom PCs, and audio.
Besides writing about tech and reviewing new products, Derek enjoys traveling, hiking, and photography. Committed to keeping up with the latest industry trends, he aims to guide readers in making informed tech decisions.