When you're trying to prepare a perfect piece of meat, getting the right temperature is key. And unlike other types of food, it's not always easy to tell when meat is done. With bread, for example, you set a timer, and see if it's golden-brown.
With meat, you can't know just by looking. You have to know the internal temperature at the center part of the cut. Cook your roast to too high a temperature, and it comes out dry and tough. Undercook your chicken, and you could end up with a case of salmonella. In order to make sure you're at the right temperature, you need to use a meat thermometer.
A good meat thermometer needs to meet a number of requirements. Number one, it needs to have a sharp probe that can penetrate all the way to the center of the cut. It's not enough to use an infrared thermometer, for example, because you'd only be measuring the surface temperature.
On a similar note, a meat thermometer needs to be designed to measure in the appropriate temperature range. An ordinary room thermometer generally won't work at the kinds of temperatures we're talking about. In other words, you're going to need a thermometer that's purpose-built for the task.
We're about to compare three of the best digital probe meat thermometers that we could find. These thermometers all have digital displays, which makes them easy to read. They also work to a high degree of accuracy, so you know you're getting good information.
On the other hand, there are also some significant differences between the three. To make a proper comparison, we'll have to talk about each thermometer's physical design. We'll have to look at how they're used, and how you can monitor the temperature. We'll also talk about their batteries, and any other relevant features. Let's take a closer look, and see how they stack up!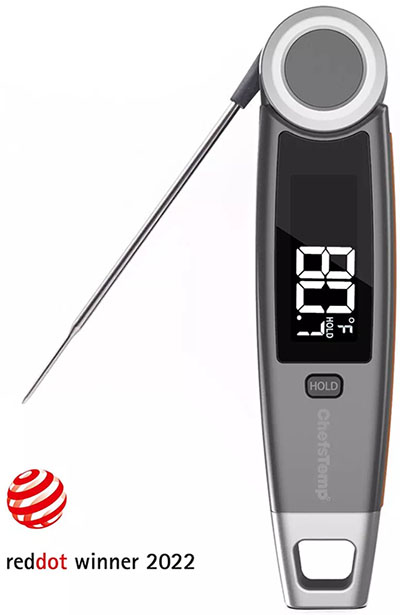 Best Overall: ChefsTemp Finaltouch X10
The ChefsTemp Finaltouch X10 has a big, beefy profile that's designed to fit comfortably in your palm. The grey housing has an easy-to-clean matte finish, and measures 6.69 inches in length. It's slightly bowed in shape, with a maximum width of 1.57 inches. The overall thickness is just a hair under an inch. At one end, there's a silver butt-plate, with a hole for hanging it on a peg or a hook. At the front end, there's a four-inch metal probe, which is pointed at the tip. This probe can swivel 270 degrees, so it takes up less space, and can be used from any angle.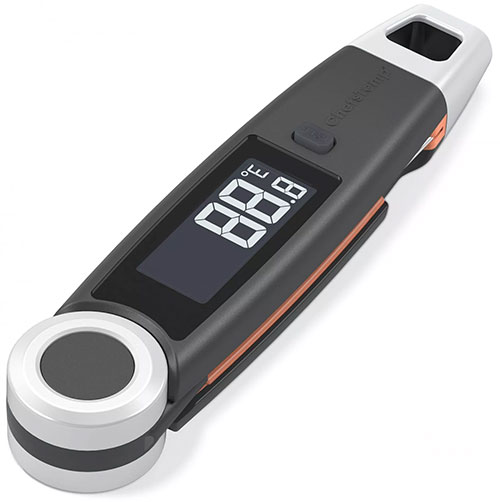 The LCD takes full advantage of the broad design, with tall, wide numbers that are very easy to read. It has a resolution of 0.1°, and there's a hold function for locking in a reading. You can also activate a backlight, which will light up for 60 seconds. No matter what the lighting, you won't have any trouble making out your meat's temperature.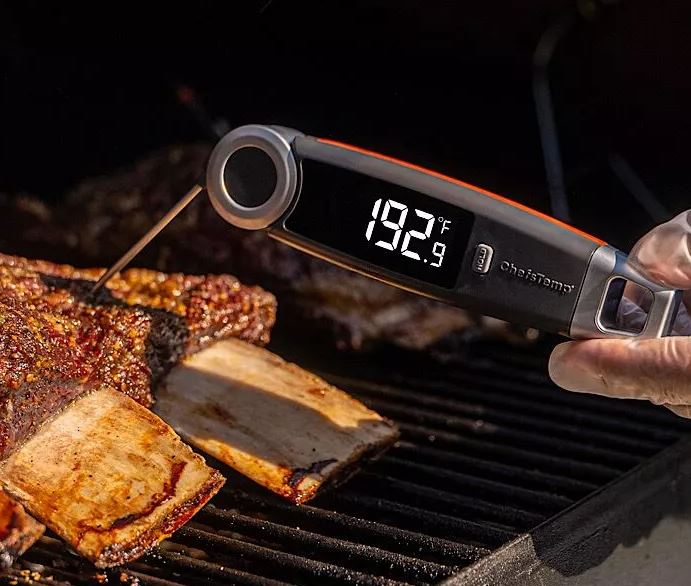 The Finaltouch X10 has a waterproof rating of IP67. Now, we normally wouldn't think about water-resistance when we think of a meat thermometer, but this rating is significant. Because it's submersion proof, the X10 is safe to clean in a sink. Just make sure to wash it by hand and do not place it in the dishwasher.
This thermometer is powered by a pair of AAA batteries, which are included in the box. This is yet another advantage of the broad design. Many similar, but narrower thermometers can only accept a single battery. With its dual batteries, the X10 is rated for 3,000 hours of use. Depending on your usage patterns, you may not need to change them for up to five years.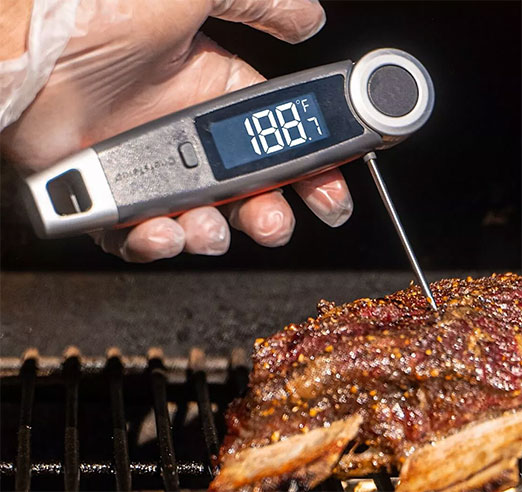 Performance and Extras
The Finaltouch X10 has a wider temperature range than you'll probably ever need. In total, it can measure anything from -22 to 572°F, or -30 to 300°C. The exact accuracy depends on where the temperature falls within that range. Between -22 and 392°F (-30 to 199.9°C), it's accurate to +/- 0.7°F (+/-0.4°C). Beyond that, the accuracy drops to +/1.8°F (+/-1°C). You'll never need to go that hot, at least for meat. But if you want to use the meat thermometer for other applications, you'll be able to.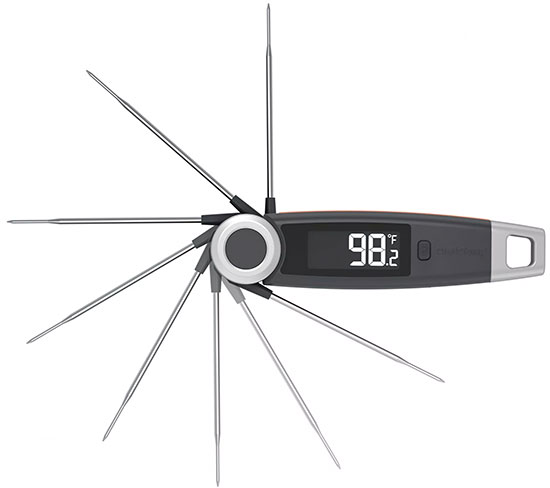 This thermometer has a response time of only around one second. This means that within one second of putting it into your roast, you'll have an accurate temperature. ChefsTemp does note that if you're using it to measure hot oil, the response time will be somewhat longer.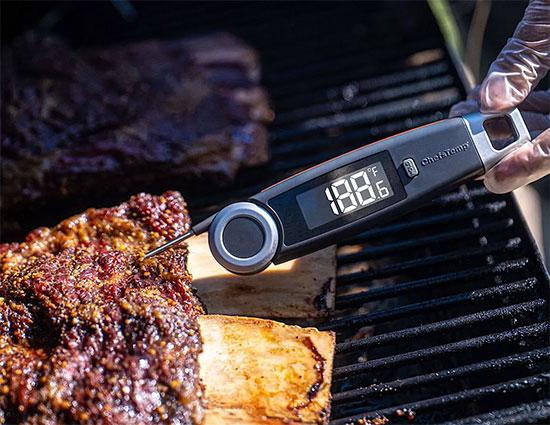 It's also worth noting a couple of the X10's bonus features. To begin with, it has a magnetic backing. This makes it easy to keep on the side of your fridge or oven. It also sports an auto-rotating display. No matter which way the thermometer is oriented, the temperature readout will always be vertical.
Best of all, the Finaltouch X10 was recently awarded the Red Dot Design Award for 2022. As one of the most prestigious design-competitions in the world, it's a badge of exceptional product design and quality. Ultimately, it's another bit of evidence that the X10 is indeed one of the best options in the 2022 market.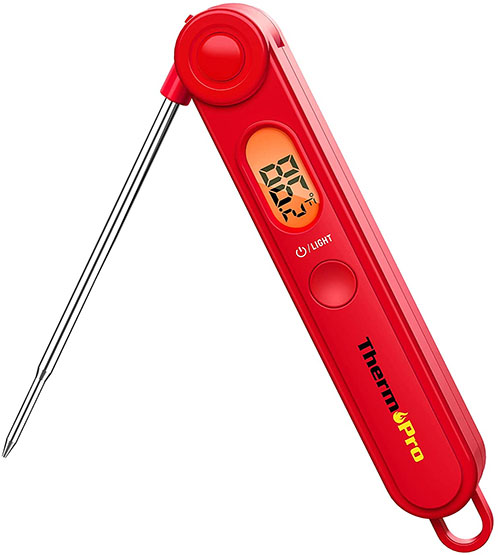 Best Runner-Up: ThermoPro TP03
The ThermoPro TP03 has a slimmer design, with a smooth plastic housing. It's available in red or orange for high visibility, or in black for a more laid back look. It's also available in a 2-pack, in case you're working with more than one cut. The housing is 6.5 inches long, with an extended oval shape that slips easily into your pocket. The 3.9-inch probe is stepped down at the tip, which helps provide easier penetration. Like the ChefsTemp's probe, it folds down; however, it only folds in one direction, not both.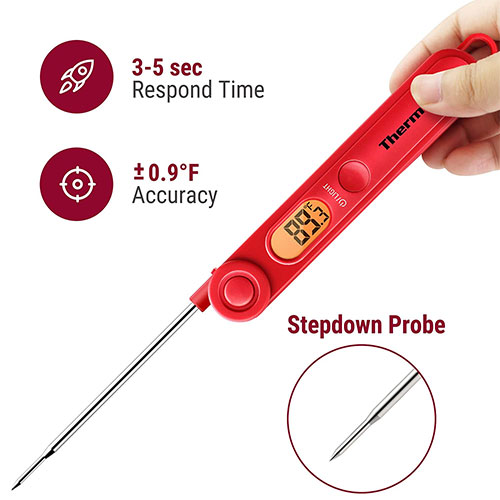 The LCD display is also oval in shape, with black numbering and a pale, peach-colored backlight. The backlight is activated by a button, which can also be used to switch between Fahrenheit and Centigrade. In either scale, the display has a resolution of 0.1°, so you'll be able to track small temperature changes.
This thermometer takes a single AAA battery, which is included. It won't last quite as long as the ChefsTemp's, but it will last pretty long, and it's easy to change.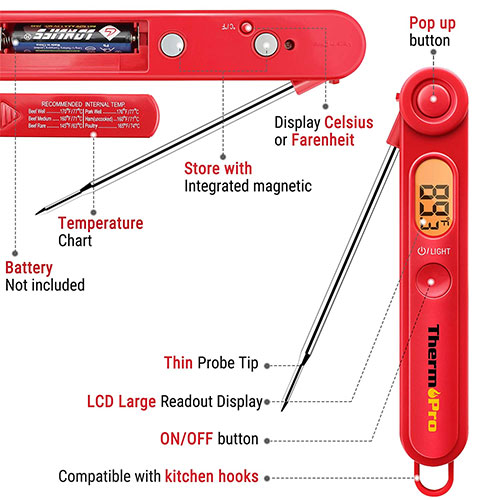 Performance and Extras
The TP03 actually has the widest temperature range of all of today's offerings. It can accurately detect temperatures of -58 to 572 °F (-50 to 300°C). Not only that, but it's accurate to +/-0.9°F (-/-0.5°C). The temperature readout will appear in between three to five seconds, which is reasonably fast.
As for extra features, there's a 10-minute automatic shutoff function. If you forget to shut the thermometer off before returning it to your drawer, you won't kill your battery. Moreover, there's a nifty cooking temperature chart on the back. It has temperatures listed for poultry, ham, pork, and rare, medium, and well-done beef.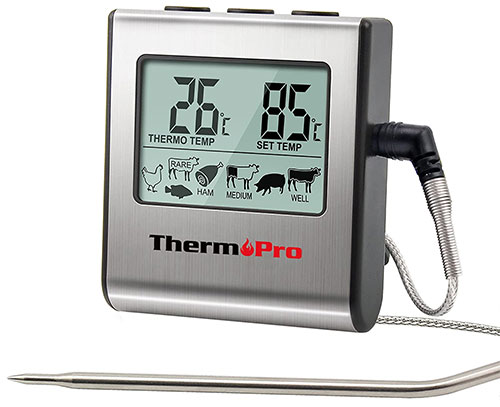 Best Alternative: ThermoPro TP-16
The ThermoPro TP-16 has a very different design from the last two thermometers. Instead of an all-in-one design, it consists of two parts. The first is a monitoring station with an LCD display. The second is a cable with a temperature probe at the end. The idea is to keep the monitor outside your oven or grill, and leave the probe inside. The cable itself is 40 inches in length, and can withstand temperatures as high as 716 degrees. And at 6.5 inches, the probe is long enough for even the largest cuts of meat.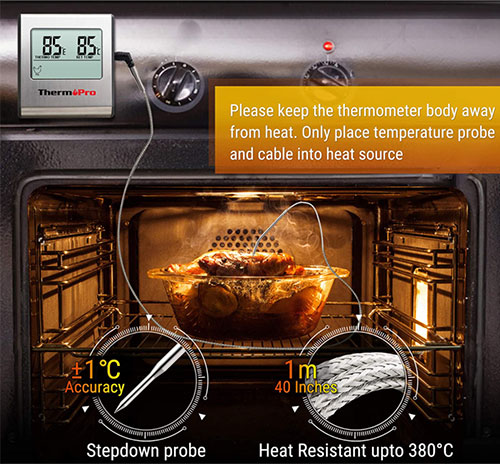 The monitoring station has a faux aluminum housing, with a large LCD display on the front. This shows your meat's actual temperature, as well as your desired cooking temperature. There are also little graphics for the bottom for your presets, which we'll talk about more in a second. A set of three buttons on the top are used for operation, and positioning the monitor is easy. It has a magnetic back to attach right to the front of your oven, and a slot for screw-mounting to your wall. Or, you can set it on your counter, and use the built-in kickstand to prop it up. It's powered by a AAA battery, which comes in the package.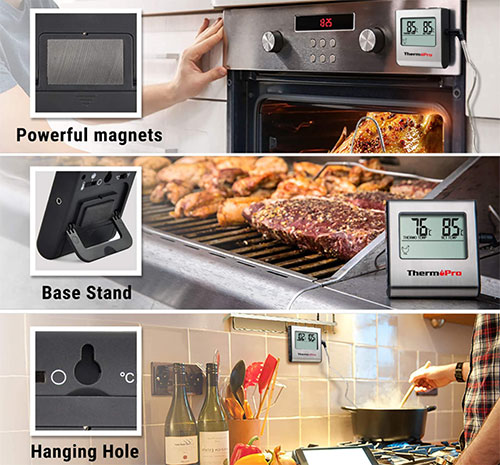 Performance and Extras
The TP-16 works with temperatures of 32 to 572°F, equivalent to 0 to 300°C. That's wide enough for any meet, with room to spare. The accuracy is only +/-1.8°F (+/-1°C), but that's still a reasonably accurate measurement. Not only that, but you don't have to worry about any reading time delay. You're getting a constant live readout of the temperature.
This thermometer comes with a number of preset temperatures, which are used for different kinds of meat. The visual display will show you options for poultry, pork/veal, ham, fish, and different types of beef. All you have to do is select your option, and insert the probe. When your meat comes up to temperature, the screen will flash and an audible alarm will beep. Alternatively, you can manually set a custom target temperature.
Choosing the Best Digital Probe Meat Thermometer
Let's go over some of the basics. Why would you choose one meat thermometer as opposed to another? Here are some of the features you should be looking for when you're weighing your decision.
Temperature Accuracy
The number one thing you want out of any thermometer is accuracy. That's true for scientific thermometers, room thermometers, and medical thermometers, and it's equally true for meat thermometers. A good meat thermometer should be accurate to within two degrees or less. Obviously, less is better. But if you're within two degrees, your temperature reading is going to be "good enough."
Depending on where you live, you probably have a preference for either Fahrenheit or Centigrade temperature units. If you don't want to be disappointed, make sure the thermometer works in the unit of your choice. In most cases, it makes sense to choose a thermometer that works with both scales. That way, you can work with recipes from overseas without having to do any unit conversions.
Interface
When you look at the display, ask yourself if it seems readable. Remember, you're probably going to be bent over, looking into an oven, with the oven light in your face. Some thermometers compensate for this with a display that sits outside the oven. Others have backlights that allow you to see the temperature more clearly.
A related consideration is the size of the display. The bigger the numbers, the easier time you'll have of reading it. Of course, a bigger display also makes for a larger housing, which takes up more space in your kitchen drawer.
Monitoring Features
Some meat thermometers do more than just check your temperature, and act as monitors. You can set your desired cooking temperature, and they'll alert you when the meat is ready to take out. If this is what you need, see if there are any presets on the thermometer. Having presets can be helpful if you want a foolproof way of cooking common meats. Then again, it's still nice to be able to set the temperature manually. This lets you cook a wider variety of foods with a minimum of fuss.
Final Verdict – Which Digital Probe Meat Thermometer is Best?
As you can see, these are all excellent, top-rated digital meat thermometers. But which one is the best choice for your needs?
The ChefsTemp Finaltouch X10 was first on our list, and it's a lot pricier than the other two. That said, it's also the most accurate, and it comes with a lot of premium features, making it the overall best choice. In fact, it was even recently given the Red Dot Award for 2022 for its fantastic design. With two AAA batteries, it's reliable enough for everyday use. And with its magnetic backing and hanging hole, it's easy to keep close at hand. If you plan to use your meat thermometer all the time, this one is worth the investment.
The ThermoPro TP03 is a similarly-designed folding thermometer, but with a slimmer housing. The display is a bit smaller, and the probe only folds one way, but the price is much cheaper. At normal meat cooking temperatures, it's nearly as accurate as the X10. As a matter of fact, for very high temperatures, it's actually a smidge more accurate.
The ThermoPro TP-16 isn't quite as accurate as our other options. But it's well-designed and easy to use, with an extra-long probe. Moreover, it actually monitors your meat's temperature, and alerts you when it's ready to eat. That's a great feature for busy chefs with a lot of things cooking at once.
Meet Derek, "TechGuru," a 34-year-old technology enthusiast with a deep passion for tech innovations. With extensive experience, he specializes in gaming hardware and software, and has expertise in gadgets, custom PCs, and audio.
Besides writing about tech and reviewing new products, Derek enjoys traveling, hiking, and photography. Committed to keeping up with the latest industry trends, he aims to guide readers in making informed tech decisions.