Whether you're driving, motorcycling, or manually cycling, your tires are literally where the rubber meets the road. If they're not in top condition, you're not getting the best possible performance. First and foremost, this means having your tires rotated, and changing them when they get worn. But wear and tear is something you only have to address every once in a while. On a day to day basis, the number one thing you need to be concerned about is your tire pressure. Improperly inflated tires can reduce your efficiency, and can even pose a safety hazard.
Underinflated tires are one of the leading causes of fuel inefficiency. If your tires are too soft, they require more energy to turn and propel your vehicle. In a car, this means reduced gas mileage, while for bicyclists, it means it's harder to pedal. On a motorcycle, soft tires are actually a safety hazard, since they make it harder to corner. For this reason, it makes sense to check your tire pressure periodically. Most cars nowadays even have a warning light that lets you know your pressure is low. On the flip side, overinflated tires can also pose a safety hazard, since they're more at risk of a blowout. That's why it's important to use a good quality tire inflator.
We're about to review three of the best cordless portable tire inflators on today's market. These are designed for drivers, bikers, and cyclists who want to stay topped up on the go. We looked for tire inflators with a long battery life, that can retain a charge while they're in storage. At the same time, we tried to stick with options that are compact. For one thing, this is helpful if you want to store your tire inflator in your glove box. For another thing, it's essential for cyclists, who need to worry about every ounce. We'll look at those aspects, as well as the physical design and much more. After that, we'll be able to make a fair comparison between the three. Let's begin!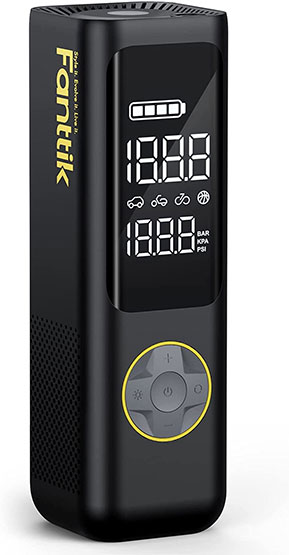 Best Overall: Fanttik X8 APEX
Fanttik is another well-known name in the industry. Not long ago, we reviewed the Fanttik T8 APEX, their compact portable jump starter. We came away pretty impressed, so we decided to give their cordless portable tire inflator a try.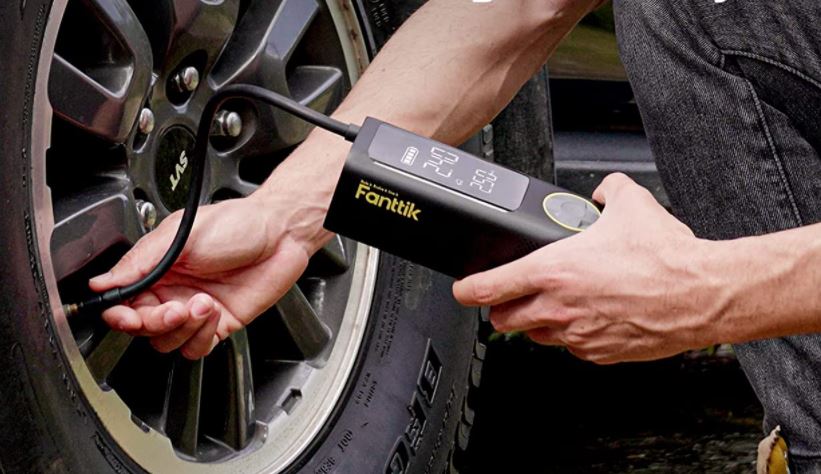 The Fanttik X8 APEX constructed from a matte black plastic, but it's shorter and fatter. The length is 7.78 inches, and it measures 2.5 inches to a side. At 2.92 pounds, it's got a little bit of heft to it, but it's still not excessively heavy. We particularly appreciated the oversized LCD display. Along with a large battery meter, you see two air pressure counters. One shows you the actual pressure in your tire, while the other shows your preset pressure.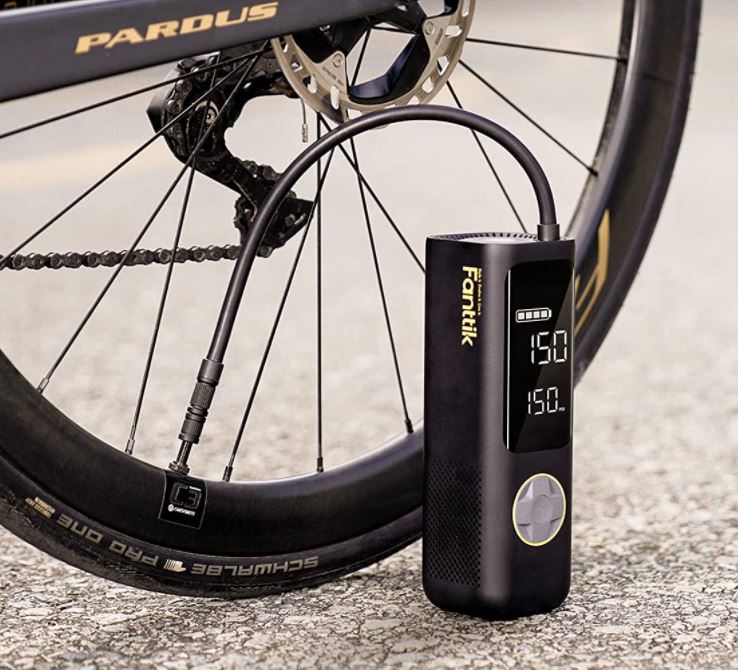 The maximum pressure level of 150 PSI is probably more than you'll ever need. That said, you get a high level of air flow, at up to 32 liters per minute. This is enough to completely fill a totally flat, average-sized car tire in under six minutes. As with the last inflator we looked at, you first set your desired pressure level, then connect to the tire. When the tire reaches the appropriate pressure, the X8 APEX will automatically shut off.
When choosing your pressure level, you can choose from four preset pressure levels. There's one for cars, one for motorcycles, one for bicycles, and one for sports balls. This makes it easy to get a roughly-accurate pressure level for whatever you're filling. However, it's not necessarily right for a particular tire. In order to get the exact right level, you'll still want to set it manually.
The X8 APEX has a built-in flashlight with continuous and strobe lighting modes. Moreover, it doubles as a power bank. There's a 10-watt USB port, and the total capacity is 7,800mAh. That's enough to charge an iPhone 13 twice. It's also enough for 40 hours of use as a tire inflator.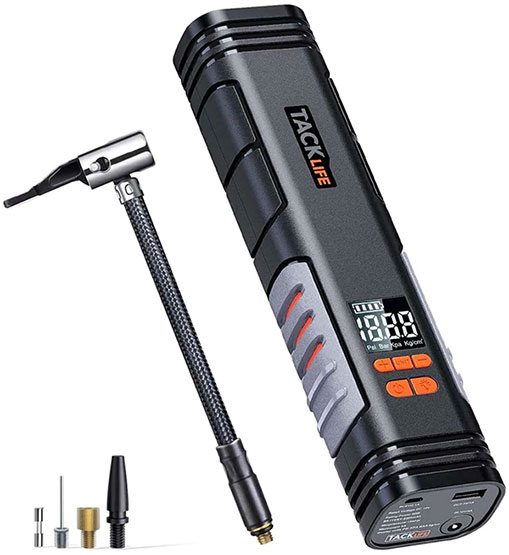 Best Runner-Up: Tacklife X1
Tacklife is well known for manufacturing a variety of battery powered devices. Among other things, we've reviewed their Tacklife P50 Portable Power Station. It's one of the top performers in its class, as are most of their products. So when we were looking for portable tire inflators, it made sense to take a look at theirs.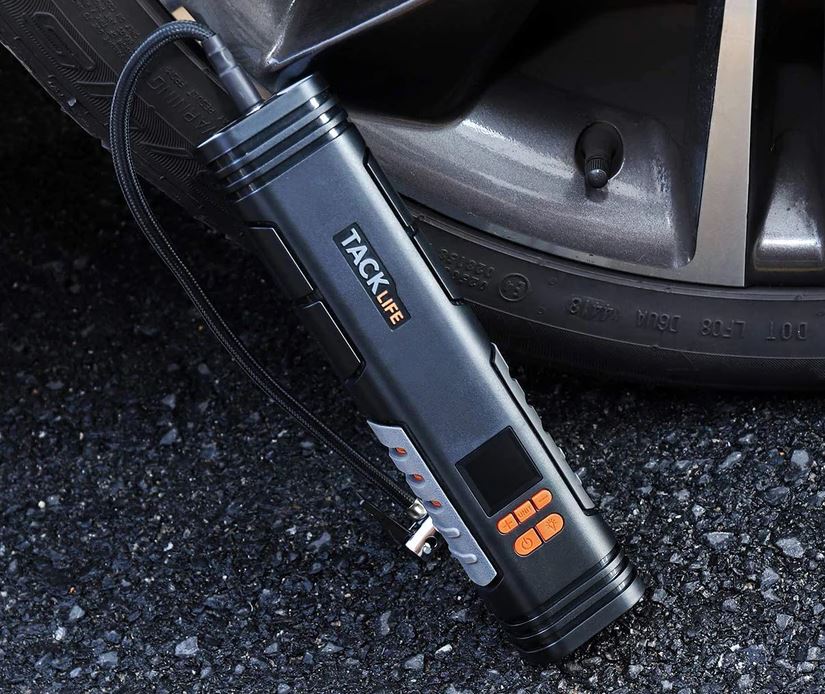 The Tacklife X1 has a rectangular housing, constructed from a matte black plastic. It measures 9.7 inches long, 2.3 inches wide, and 1.7 inches thick, perfect for holding in your hand. At 1.47 pounds, it's also lightweight, which is great for cyclists in particular. On the front surface, there's an LCD display with a little battery meter. It also shows you the PSI level of your tire, along with other useful information. The actual hose and tire attachment are detachable for easier storage. When you want to use the tire inflator, just screw the base of the hose into the front of the unit.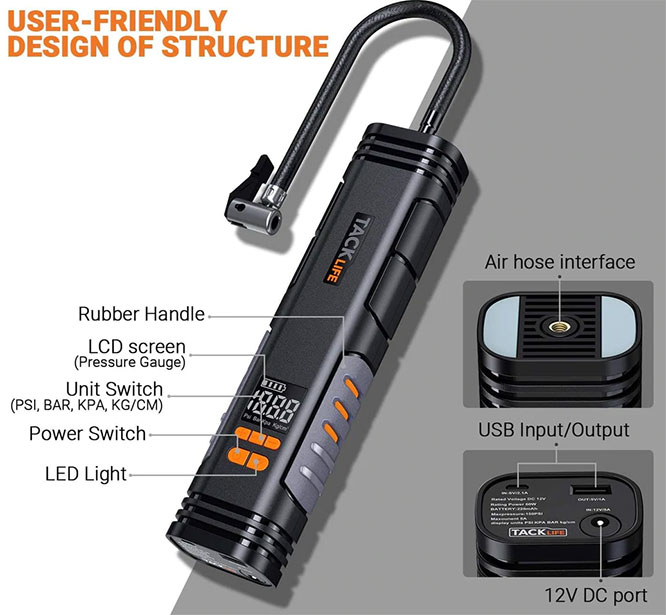 This tire inflator has a maximum pressure of 80 PSI, with a flow rate of 30 liters per minute. That's a little less power than most inflators, but it can still top off a soft car tire in under five minutes. To use it, you first set your desired pressure, using the control buttons. Attach it to your tire, start the inflation process, and watch the meter go up. When your tire reaches your specified pressure, the compressor will automatically shut off. Then, you're ready to set off on your next adventure.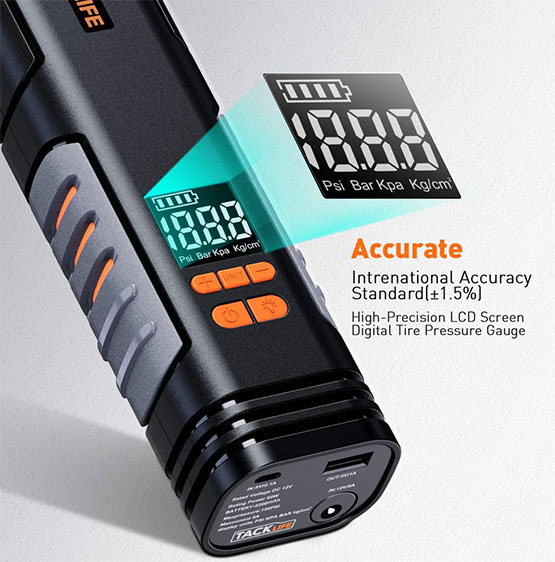 In addition to your tires, the X1 can also be used for balls, pool inflatables, and balloons. The kit includes a needle as well as a hard plastic tip, so you've got plenty of versatility. In addition, there's an LED flashlight built into the front end. It's surprisingly bright, and can be set to a strobe mode as well as a constant light.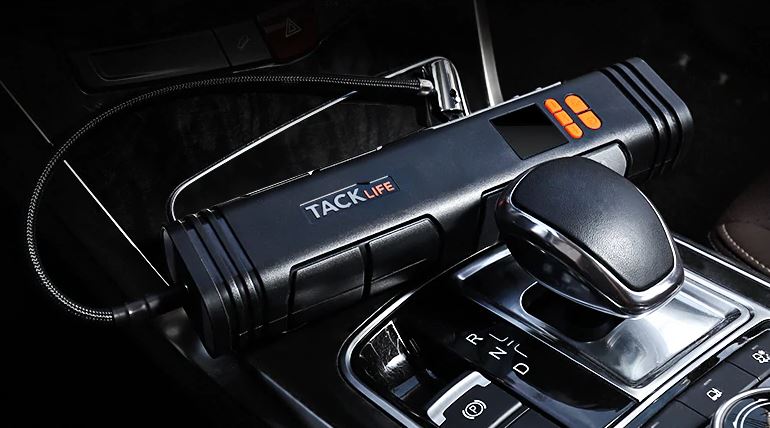 On the back end of the housing, there's a set of power ports. There's a barrel-style input port for the AC wall adapter, which is included in the package. You can also charge via Micro USB, which lets you charge the battery from your car's USB port. The two USB Type-A ports are actually power out ports that can be used for charging your phone. With 2,200mAh, there's not even enough battery life to fully charge an iPhone 13. But if you're in an emergency and need to get at least some amount of charge, you're covered. The X1 is covered by a 2-year manufacturer's warranty, so you're safe from any premature failure.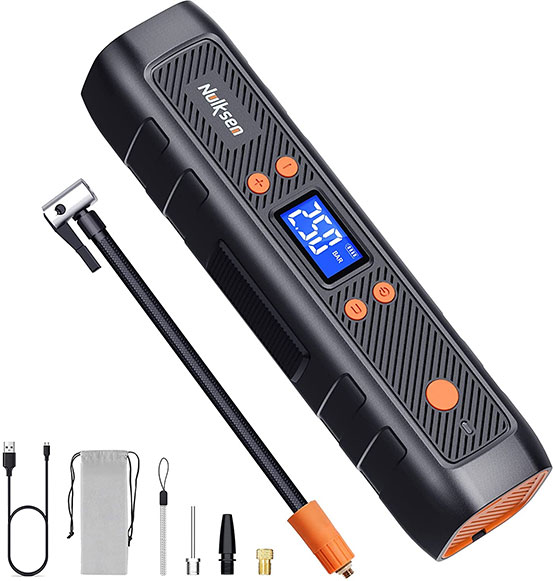 Best Alternative: Nulksen Tire Inflator
The Nulksen Tire Inflator has a black plastic housing with an orange front and back panel. It's 9.45 inches long and 1.97 inches square, which is a comfortable size for handheld use. It's also easy to carry, at only 1.2 pounds, and there's a little carrying landlord on one end. As with the other two options, the hose and tire connector are detachable, and screw into the front end.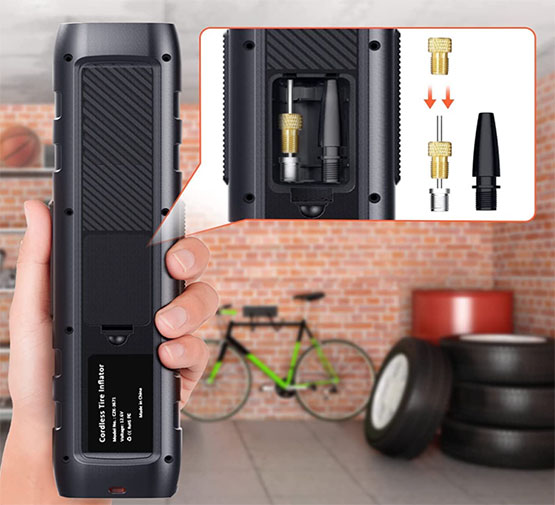 This tire inflator has a maximum pressure of 150 PSI. This is very high, enough for pretty much any tire. That said, the maximum air flow of 20 liters per minute is relatively slow. It can take as long as seven or eight minutes to top off a tire that's gotten a little flabby. Then again, if you're a cyclist, you'll still be able to top of in no time at all.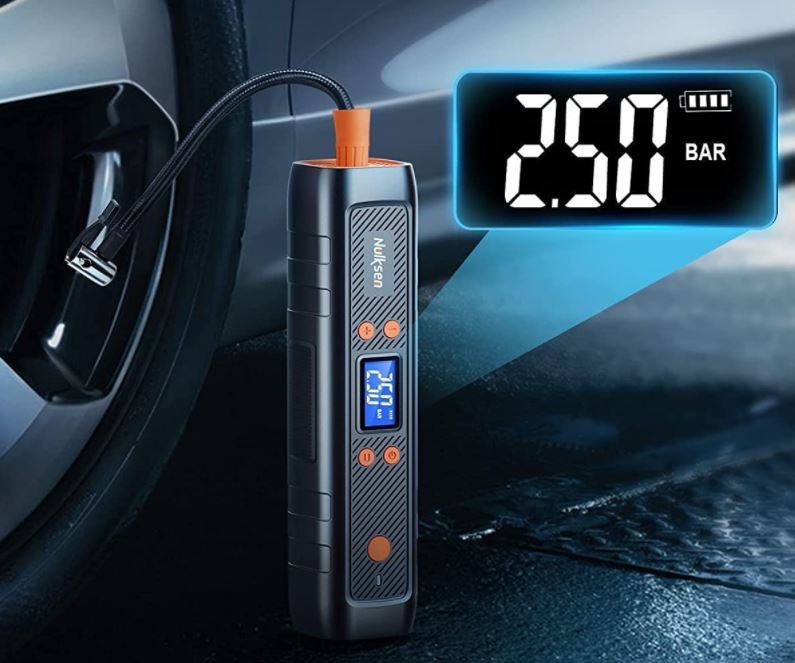 The Nulksen Tire Inflator has an LED light on the front end, and a USB power port on the back end. This supplies a standard USB Type-A power, and the battery has a capacity of 6,000mAh. That's more than enough to charge any modern smartphone, with a big chunk left over.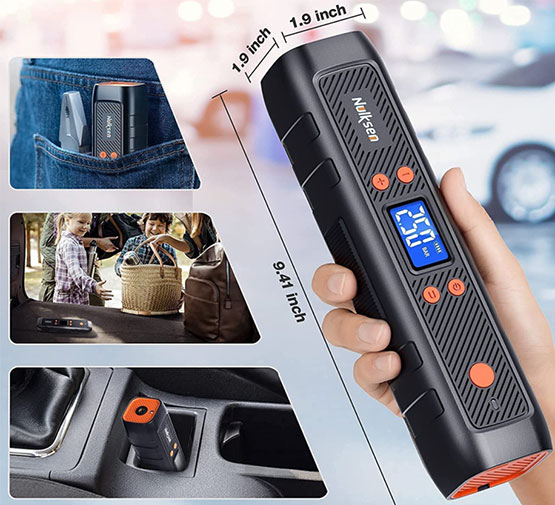 One thing we really liked about this inflator is the back storage compartment. Like the other inflators we looked at today, it comes with both a needle and a plastic tip. However, the back of the housing has a removable cover that pops open to reveal a hidden compartment. There are little clips inside, where the needle and plastic tip snap easily into place. This makes it way easier to keep track of your attachments. All of this is covered by a 12-month warranty, as well as a 60-day return window. If it arrives and you decide you don't like it, you can send it right back.
Choosing the Best Portable Tire Inflator
So, why would you choose one portable tire inflator over another? There are many different factors, but a few of them are key to making the right decision. Here's a quick overview of the things you should be looking at.
Pressure and Inflation Time
Some people mistakenly confuse an inflator's pressure rating with the filling speed. This isn't necessarily the case, though. The rate of air flow is dependent on many factors, and the air pressure is only one of them. The aperture size, hose, and other factors are also important. In general, if you're filling car tires, you want an air flow rate of at least 25 liters per minute. Anything less than that, and your tires will take a while to fill. This is less of a concern for cyclists, because you're using much smaller tires.
This isn't to say that the PSI rating doesn't matter, though. For cyclists, particularly those with very narrow tires, it can be extremely important. Some narrow street tires require as much as 130 PSI! For cars and motorcycles, it generally isn't a factor. Even a relatively low PSI rating will be enough.
Battery and Charging
When it comes to battery life, it depends on what you need. If you're only using the inflator in emergencies, it's generally less of a concern. As long as the battery will hold its charge, any inflator will have plenty to fill up your spare tire. On the other hand, if you're going to use the inflator on a daily basis, you'll want a battery with a little bit more juice.
When it comes to the type of battery, we strongly recommend an inflator that's USB-rechargeable. If your inflator takes replaceable batteries, Murphy's law is liable to kick in, and they'll be dead. If your rechargeable battery is dead, you can simply use your car to charge it.
Pressure Monitoring
A good tire inflator should also double as a pressure meter. We looked for inflators with bright digital displays, so you can easily see your current pressure level. Another good feature to have is an automatic shutoff. With this feature, you can use the controls to select your desired pressure level. When the tire reaches that pressure, the inflator stops working to avoid over-inflation.
Which is the Best Cordless Air Compressor Tire Inflator?
So, which of these cordless portable tire inflators is the best choice for you?
The Fanttik X8 APEX is the most powerful of the three. With 150 PSI of maximum pressure and 32 liters per minute of air flow, it can fill your tire in no time. It's a bit heavier than the others, so competitive cyclists may want a smaller option. Then again, that extra weight comes with significant battery capacity, for plenty of inflating time.
We then looked at the Tacklife X1, with its mid-sized design. It's easy to use, with a slick display and straightforward controls. With a maximum of 80 PSI, it has the lowest maximum pressure of the bunch. But with 30 liters per minute of air flow, it can still fill a tire reasonably quickly. The two-year warranty, meanwhile, is the best of all today's offerings.
The Nulksen Tire Inflator is more compact and lightweight, but also maintains a high capacity. This makes it a great choice for long-distance cyclists. Then again, motorists might want to go with one of the other options, because of the slower air flow rate. On the upside, it's great for athletes; the back storage compartment is to cool a feature to pass up.
Meet Derek, "TechGuru," a 34-year-old technology enthusiast with a deep passion for tech innovations. With extensive experience, he specializes in gaming hardware and software, and has expertise in gadgets, custom PCs, and audio.
Besides writing about tech and reviewing new products, Derek enjoys traveling, hiking, and photography. Committed to keeping up with the latest industry trends, he aims to guide readers in making informed tech decisions.