TACKLIFE P50
Pros
Large battery capacity.
Charges 10 devices simultaneously.
Relatively compact and portable.
Safe for CPAP machines.
Wireless charger built-in to top panel.
Cons
Relatively low-wattage AC.
Relatively slow solar charging.
Nowadays, we rely on our electronics for many aspects of our daily lives. For a good example of this, look no further than your smartphone. Sure, it's a means of communication, but it's a whole lot more than that. Thanks to a proliferation of apps, it's also used for a host of other things. You can use it for banking, entertainment, ordering food, or even hailing a rideshare. This has improved our lives in many respects. For instance, instead of driving to the bank to deposit a check, you can do it through your app. At the same time, it leaves you in an uncomfortable position. If you don't have access to power, how are you going to stay charged?
This becomes particularly problematic when you're on the road. If you're camping or spending the weekend at an off-grid cabin, you need an alternative way of staying charged. This isn't just true for your phone, either. It's the same for your laptop, powered cooler, drone, camera, and any other equipment. For charging all of these things, a portable power station can be an excellent solution. But different power stations come with different capabilities. They have different sized batteries, and different types and numbers of power ports. They charge differently, and they can be harder or easier to transport. In other words, it's smart to shop around and educate yourself before making a purchase.
Today, we're going to review the TACKLIFE P50 500Wh Portable Power Station. This is a compact, portable power station with a surprisingly high battery capacity for the size. It provides USB, DC, and AC power, and the AC power is even safe for CPAP machines. But how well does it compare to other, comparable power stations? To find out, we'll need to look much deeper. We'll need to talk about the physical design, and how durable and portable it is. In addition, we'll have to look at the size of the battery, and what it can be used to charge. We'll also have to talk about how it's charged, and any relevant safety features. At that point, we'll have enough information to render a verdict. Let's get started, and see what we learn!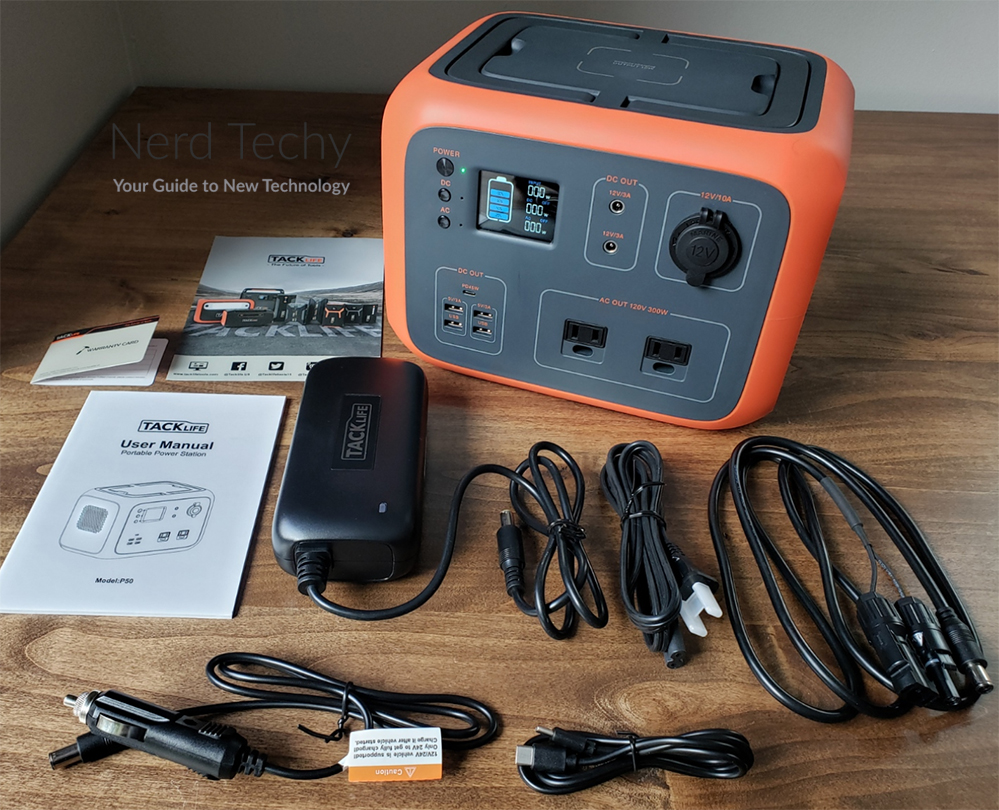 Overall Design
The TACKLIFE P50 has a beefy plastic housing with a two-tone design. The top, front, back, and side panels are all a matte gray. The edges are fatter, and made from a softer orange plastic that provides a little bit of cushion. In fact, the total size is 10.2 inches wide, 7.8 inches tall, and 7.7 inches thick. At 13.6 pounds, it's relatively lightweight, albeit surprisingly heavy for the size. Even so, it's easy enough to move around. There's even a pair of folding handles built into the top. These can be collapsed during normal use, or used to carry around the power station in one hand.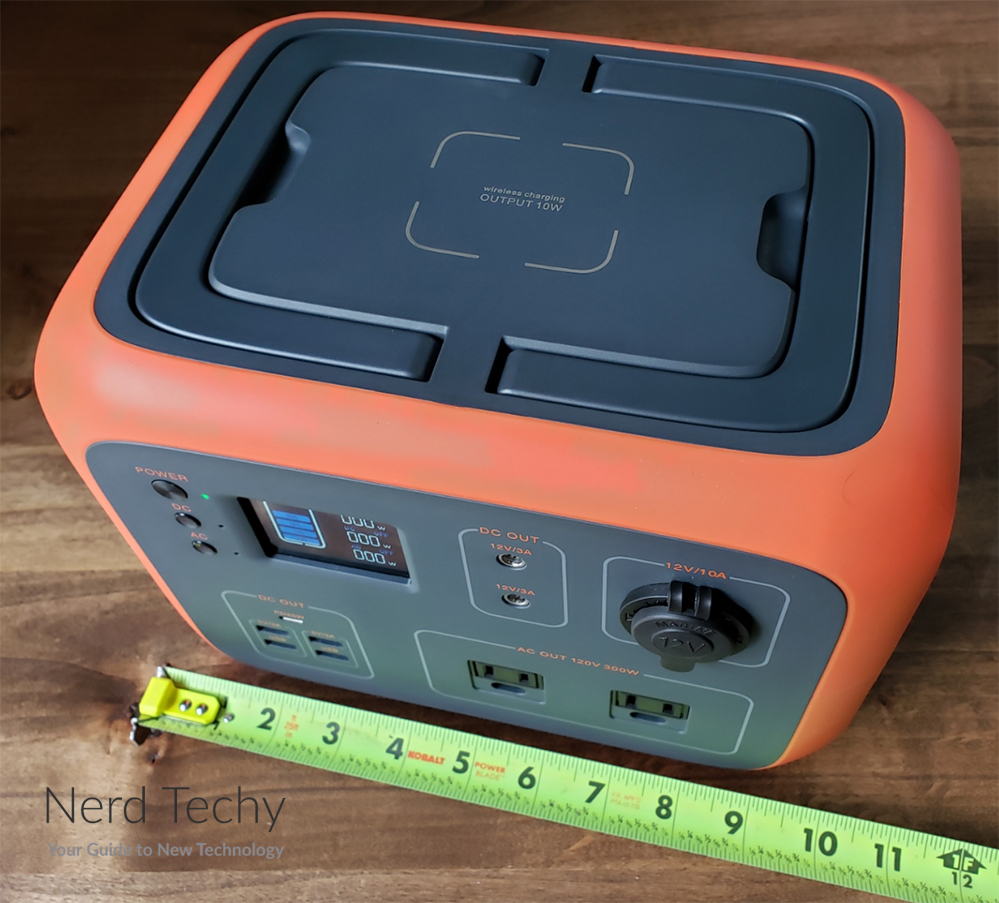 The sides of the housing are vented, with rows of circular holes to allow plenty of air flow. An internal fan automatically spools up when the temperature rises, in order to keep the components cool. It's not unreasonably loud, but it produces an audible whir that you'll notice in a quiet setting.
The front panel is where most of the action is at. At the very top left, there's a column of three black plastic buttons, which form the bulk of your controls. The top controls the power for the entire power bank. The second and third buttons toggle the AC and DC power respectively. By turning off ports that aren't in use, you prevent passive power drain and extend your overall battery life.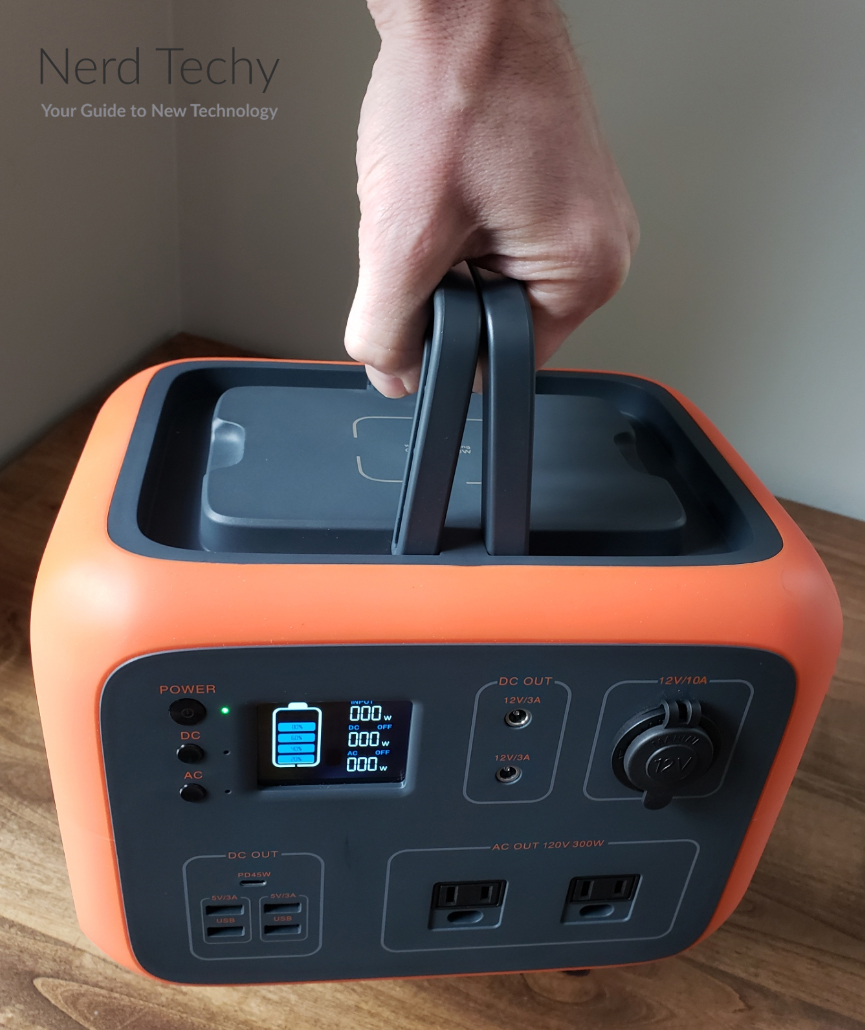 Directly next to the control buttons, there's a monochrome blue LCD display. This turns on when the power station is active, and shows you some important information. Primarily, there's a visual battery meter, which shows your current charge level in 20% increments. It also shows you the incoming wattage, along with the outgoing AC and DC wattage. That way, you know how much power you're using, how you're using it, and how fast you're charging your battery.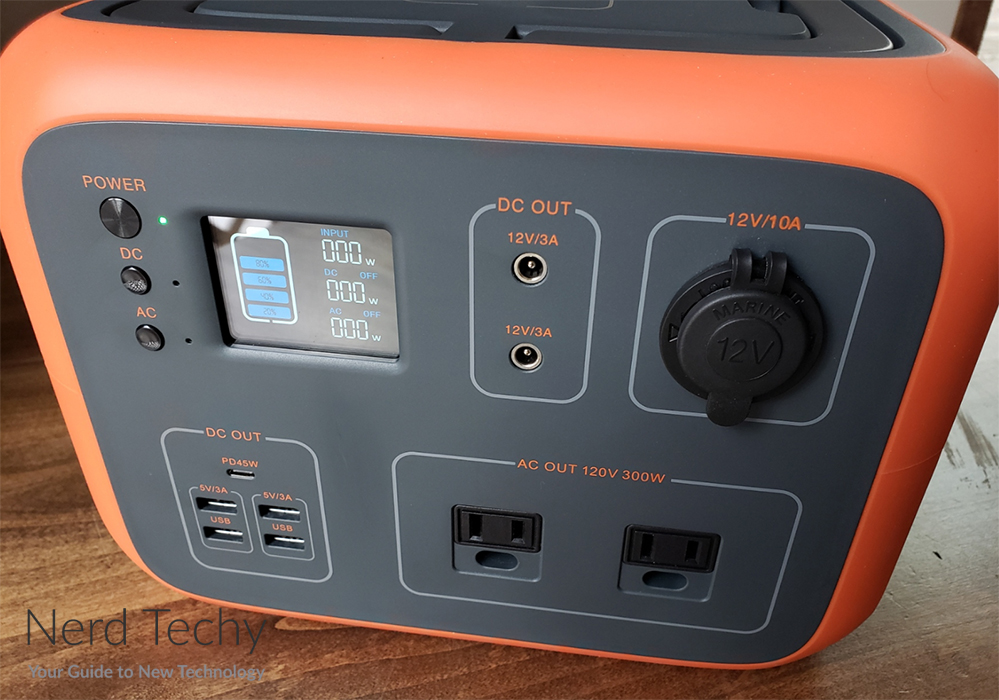 The power ports are also located on the front of the housing. At the bottom left, there's a cluster of USB ports. There, you'll see a single USB Type-C port, with four USB Type-A ports located underneath it. The other DC power ports are located at the top right. There's a pair of barrel-style DC outlets, along with a standard automotive-style outlet. The AC power outlets are at the bottom right. These are two polarized three-prong outlets that will work with any North American-wired electronics.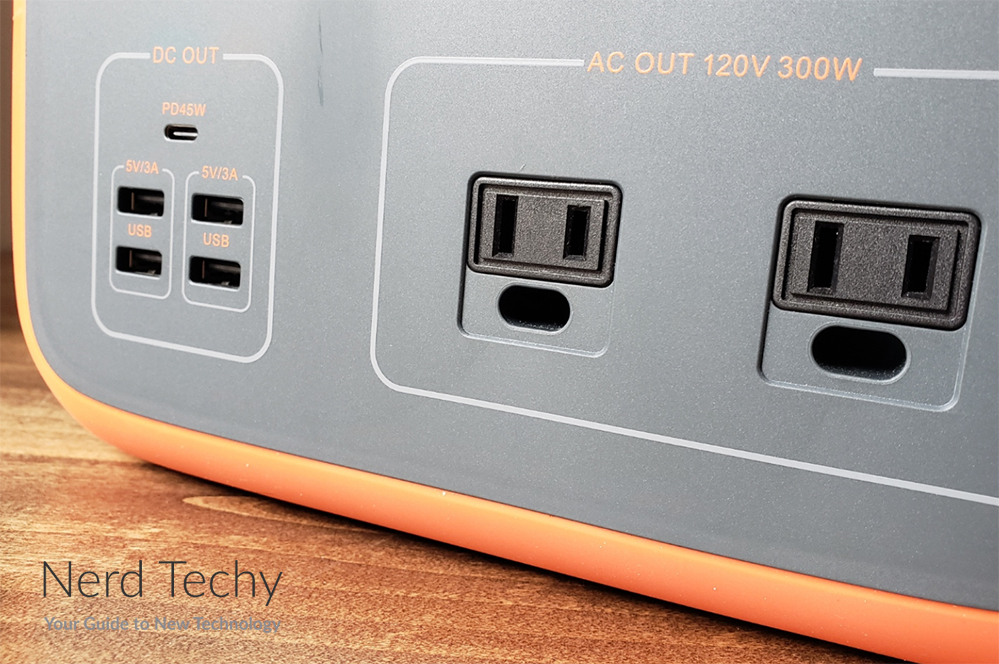 On the back of the housing, you'll find an LED light bar. This bar is very bright, and can be used to illuminate a fairly large area. There's a power button at the left to turn the light on and off. The other button on the right switches between three different modes. Press it to cycle through constant, SOS, and strobe modes for different applications.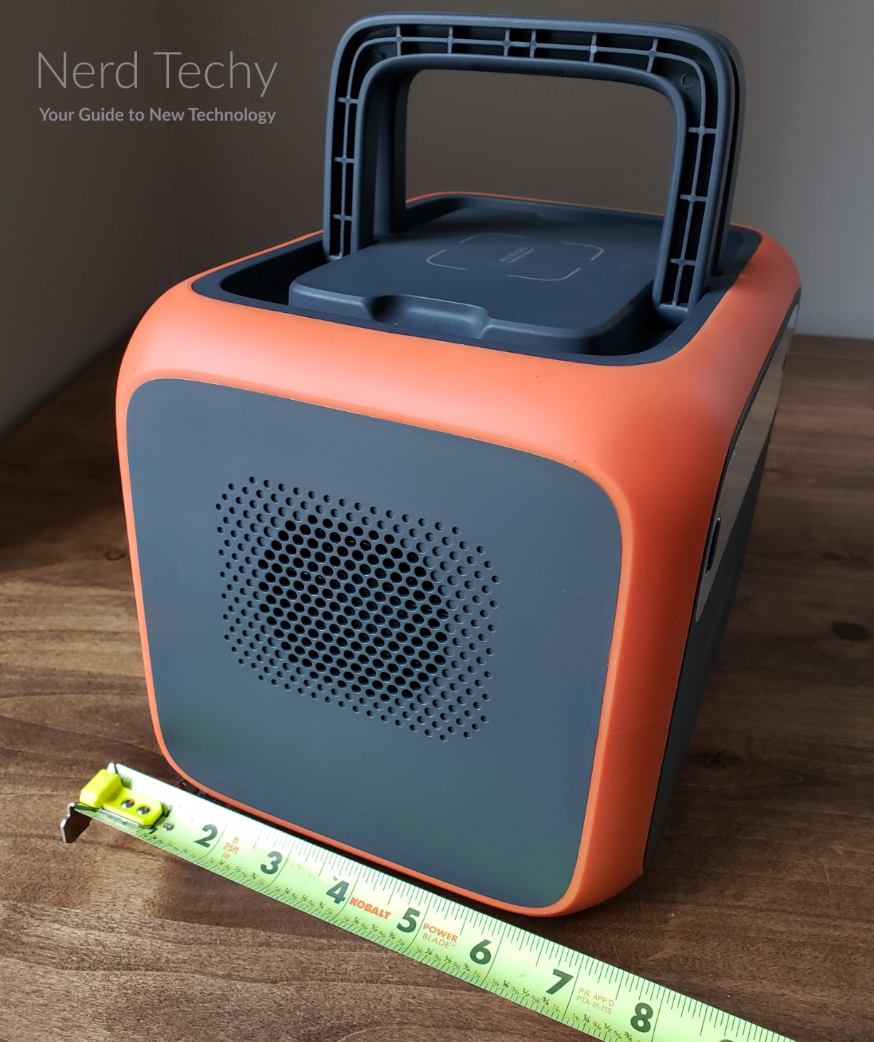 Along with the power station, the kit also includes everything you need to get started. There's an AC charging cable for plugging into your wall outlet and a DC automotive cable for charging on the road. There's also an MC4 solar cable for connecting to any MC4 solar panel. You even get a USB Type-C cable for charging your devices. All of this is protected by a 24-month manufacturer's warranty. If there are any defects in materials or workmanship, you'll get a free replacement or a full refund. That way, you're protected from any premature failures.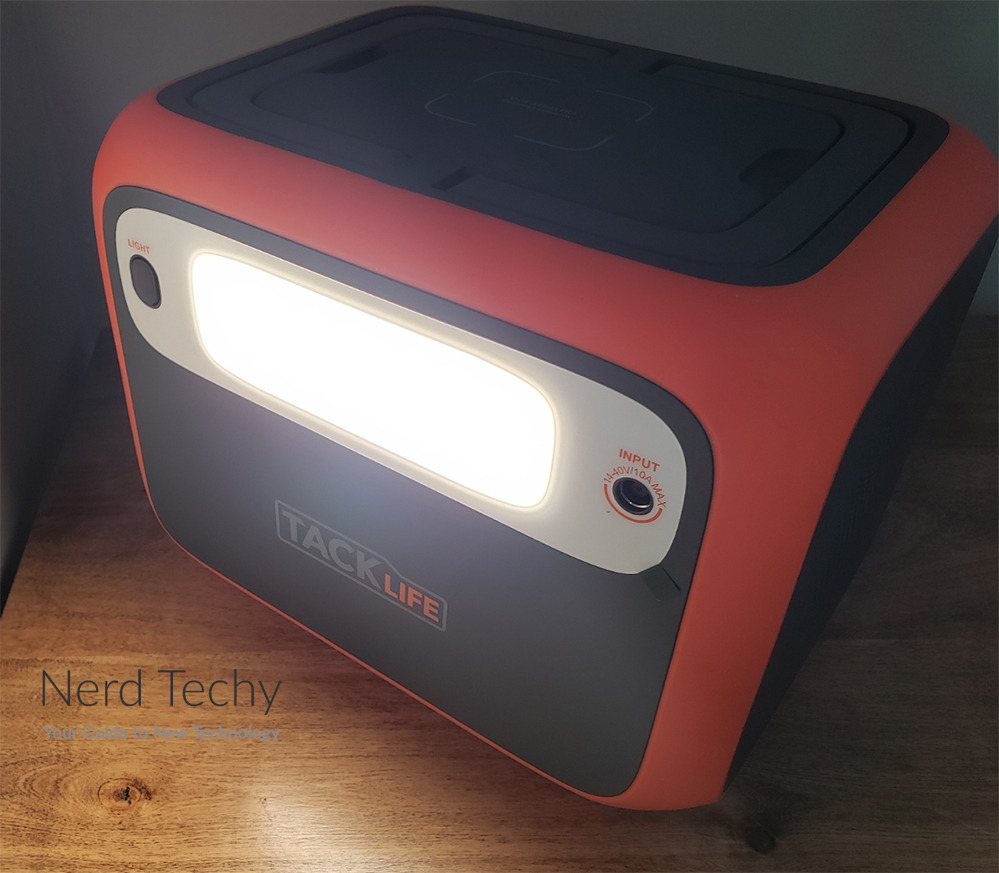 Battery Performance and Capacity
Ultimately, a power station is only as effective as the built-in battery. In this regard, the TACKLIFE P50 did not disappoint us. Its battery has a capacity of 45,000mAh, or 500 Watt-hours. That's a ton of power for such a small device, and it can do a lot of work.
So, exactly how much charging are we looking at? A lot depends on what you're trying to recharge. On the high end, a small rechargeable head lamp could be charged as much as 80 times. Depending on your smartphone, you can get up to 50 recharges, depending on the model. With a laptop, you can get between 5 and 7 charges, again depending on the model. You can even run a mini fridge for around 8 hours. Of course, this is subject to certain wattage limitations, which we'll get into in a second.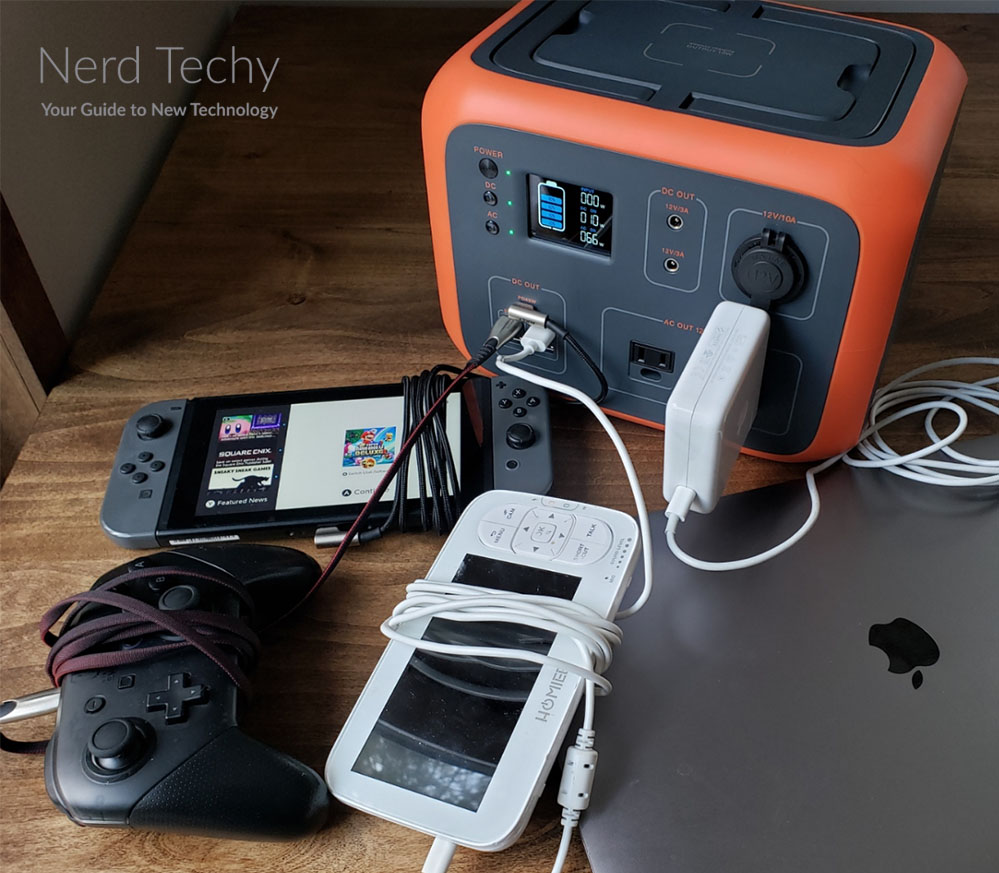 But what if you need a power station with even more capacity? If that's what you're looking for, consider the EcoFlow DELTA Max. It has four times the power of the P50, and it also supports dual charging for faster recharge times. Then again, it's significantly bigger and bulkier, which makes it tougher to move around.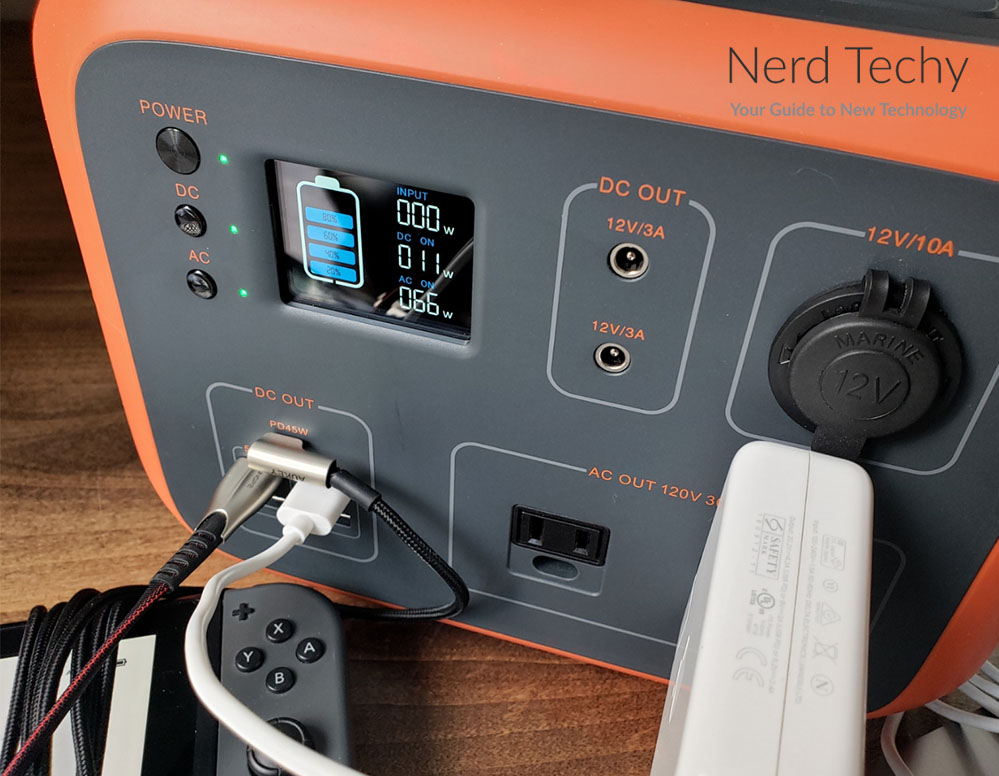 As for charging, the P50 can be charged via AC wall power, automotive power, or solar power. This makes it easy to charge, no matter where you are. That said, your actual charging time will vary significantly depending on your charging method. Using wall power is by far the fastest method. With a wall outlet, you can expect to get a full charge in about eight hours. An automotive outlet, meanwhile, will take more like 12 hours to fully charge the battery. Using a 100-watt solar panel, you can theoretically charge just as quickly, in about 12 hours. That said, solar charging is typically slower, which is a bit disappointing. But unless you're using solar charging, this won't be an issue.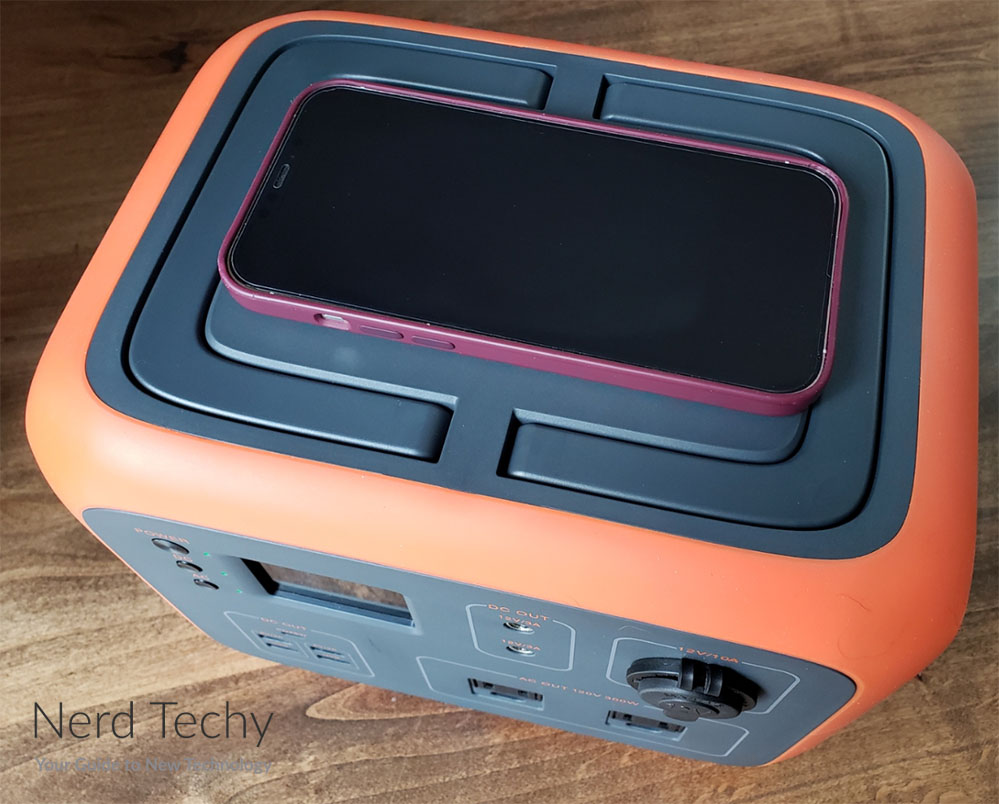 Charging and Safety
Now that we know the TACKLIFE P50's capacity, it's time to look at the charging performance. Specifically, what kinds of devices can you power, and how quickly can you charge them? Let's start with the AC ports. These deliver a standard North American 110 volts of current, but at a maximum rate of 300 watts. That's about 1/5th of the power you'd get from a standard wall outlet. As a result, you can only run lower-wattage devices that draw less than 300 watts. Keep in mind that this 300 watts is shared across both outlets. If you're drawing 50 watts on one outlet, the other will be capped at 250 watts. On the other hand, you get 450 watts of surge power. This lets you run compressor-driven devices like small electric coolers.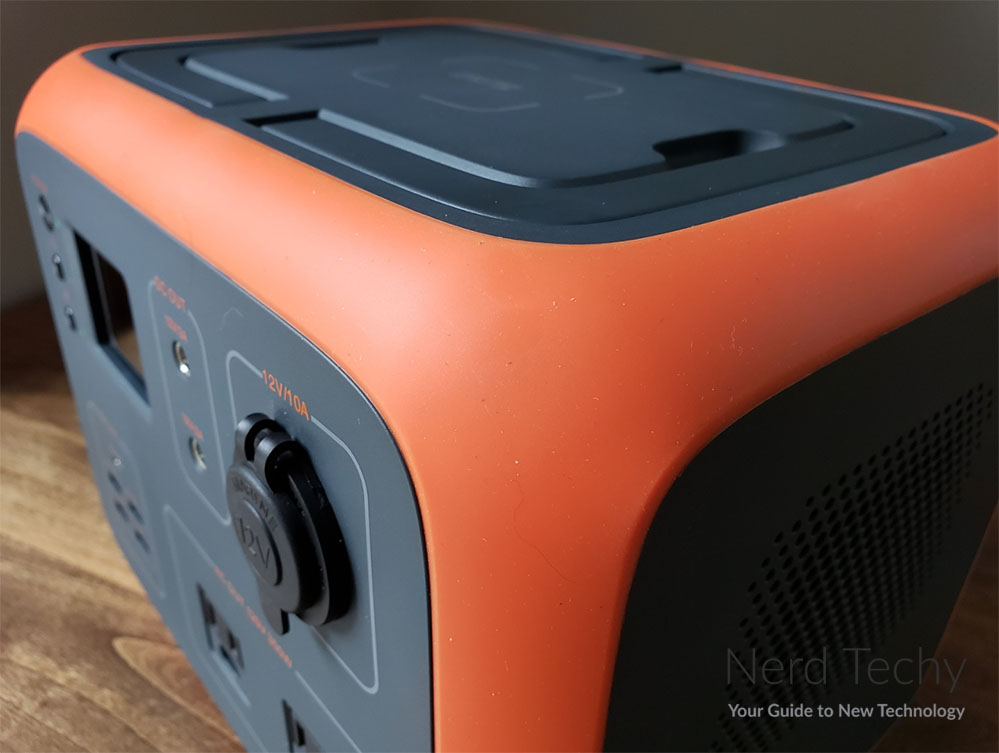 But let's say you need to run a high-wattage device. In that case, you're going to need a higher-wattage power bank, like the Jackery Explorer 1500. This power bank has 1,800 watts of maximum total power delivery, with 3,600 peak watts. That said, it's pricey and loud, so it's a bit much if you only need lower wattages.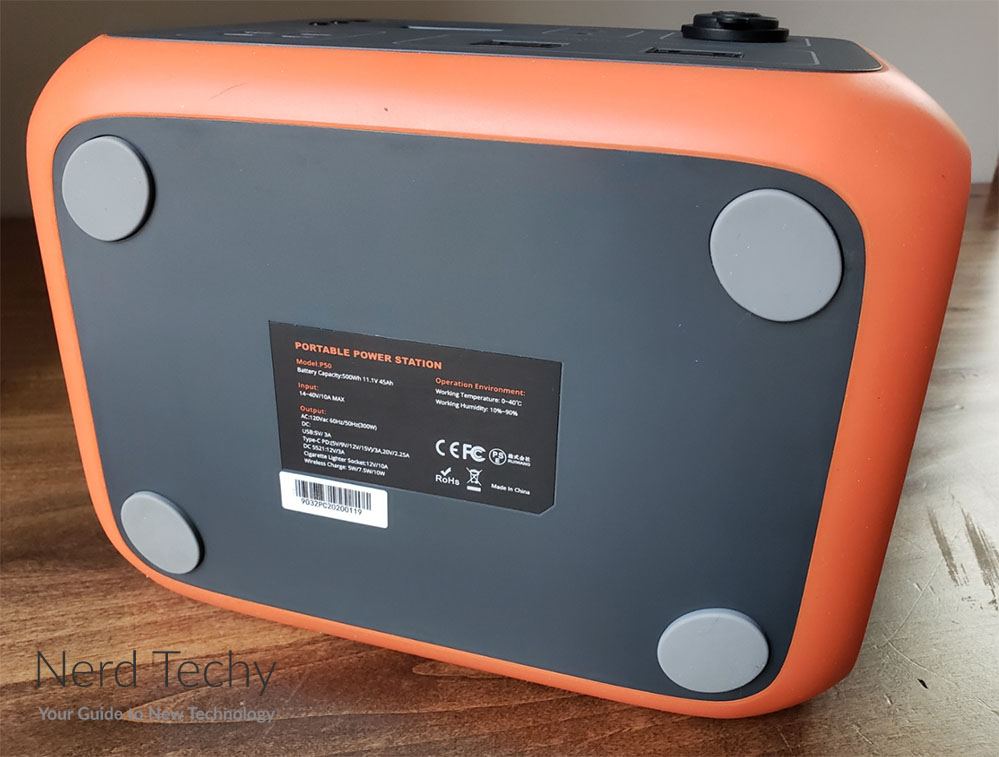 Moving on, the P50's DC ports all provide a standard 12-volt current, so no surprises there. You can charge most drones and cameras, and any automotive-powered device. The USB Type-C ports provides 45 watts of PD power, enough for most modern laptops. You won't be able to play and charge on a larger machine like a MacBook Pro. But even so, you'll be able to charge just fine while the machine is powered down. The USB Type-A ports provide 15 watts of power. This isn't incredibly fast, but it's a bit higher than a standard 12-watt USB port. In addition, the top of the housing has a built-in wireless Qi charging pad. This supplies up to 10 watts of power, depending on your phone case and other factors.
For safety, the P50 has built-in surge protection, short-circuit protection, and over-voltage and over-temperature protection. This keeps your devices and the power station safe from most types of mishaps. In addition, the AC power is pure sine wave, so it's suitable for sensitive devices. If you need to power your CPAP machine, you'll be just fine.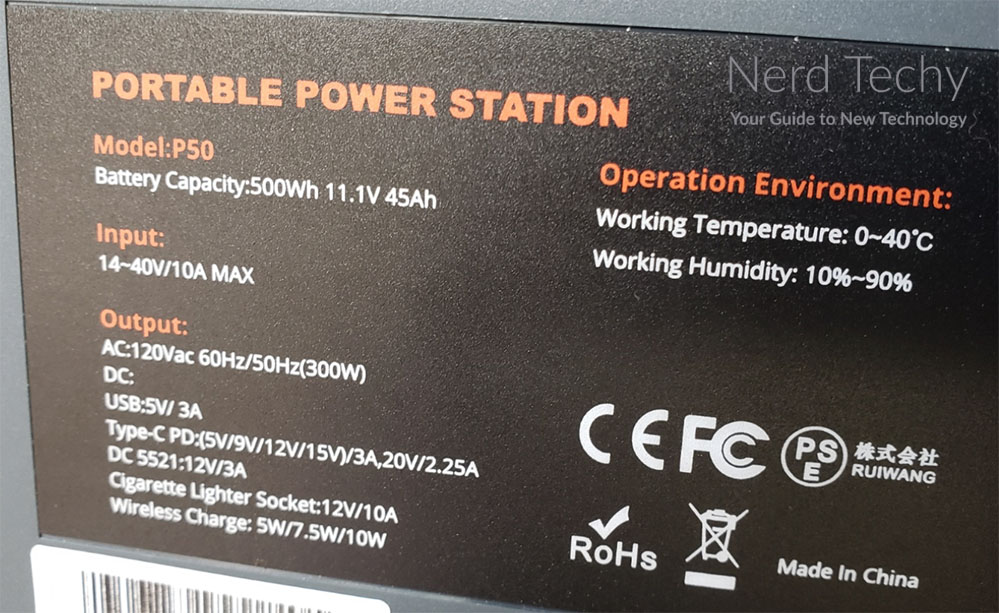 Final Verdict
As you can see, the TACKLIFE P50 500Wh Portable Power Station is a compact, robust machine. It's suitable for charging just about anything, and can power most low-wattage devices. It's easy to transport, easy to charge, and easy to store. And with plenty of safety features, you don't have to worry about it causing any damage.