If you're concerned about your home's indoor air quality, you're not the only one. You're part of a growing trend of people who worry about particles and chemicals in their indoor spaces. This trend has been growing lately for a couple of reasons. For one thing, people nowadays are just more health-conscious in general. We're working out more, watching our diets, and smoking at lower rates than ever. It only makes sense that we'd be taking more interest in our indoor air.
For another things, modern energy-efficiency innovations have had an unintended consequence. With our houses sealed up for much of the year, not a lot of air is going in or out. If there are chemicals, allergens, or other contaminants, they're not getting blown outside. As a result, it makes more sense than ever to invest in a home air purifier.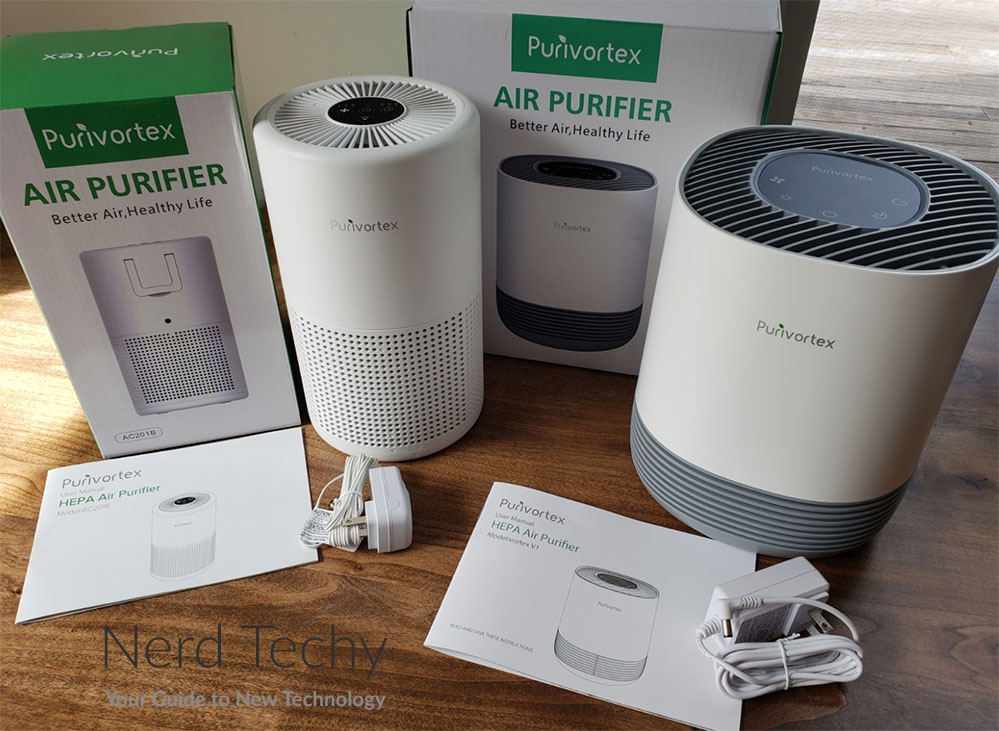 Of course, different air purifiers are designed to achieve different tasks. One of the most important distinctions is how much air they can purify. The faster the motor and larger the filter, the more air you can clean. This, in turn, means you can purify a larger space. Then again, a more powerful purifier will also tend to be larger, so you're looking at a tradeoff. Another thing to consider is the type of filter itself. Even different HEPA filters are built to different standards. It's important to know what your filter will remove, and what it won't. In other words, it pays to take your time and do your homework.
We're about to review two of the best smaller air filters around, the Purivortex Vortex 1 and Mini 2.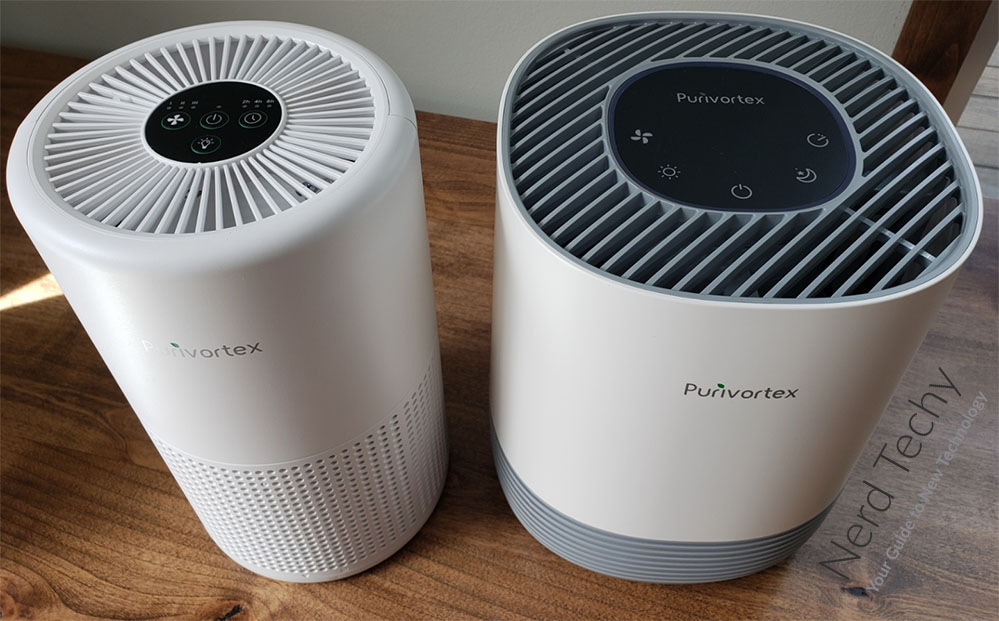 These are both affordably-priced air purifiers, with small profiles and coverage areas. That said, there are also some significant differences between the two. They have different operating features and capacities. Most importantly, they have different filter systems, so they perform different tasks. We'll go over all aspects of both machines, from the physical build to the maximum square footage. Once we've given them a thorough comparison, we'll be ready to make a final comparison. Let's get started, and see how both of these air purifiers perform!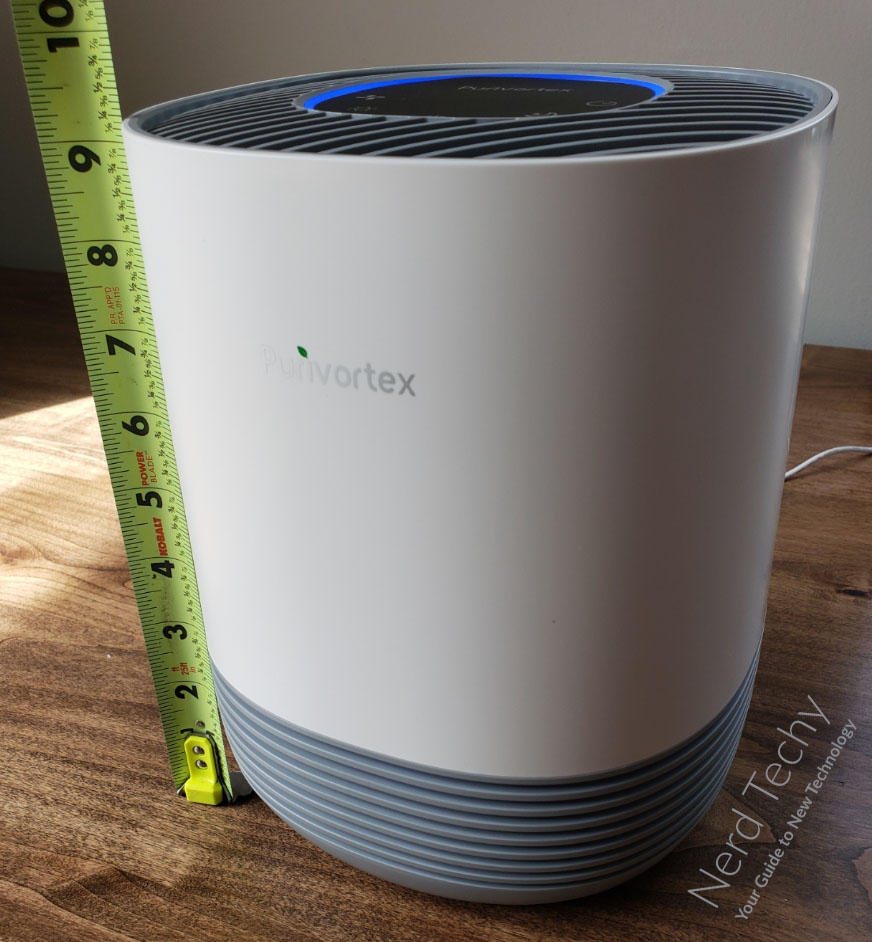 Purivortex Vortex 1
The Purivortex Vortex 1 is a roughly rectangular air purifier, but with rounded edges and corners. The footprint is 7.5 inches square, which takes up minimal space. It's even small enough to keep on your desk. At 9 inches tall and only 1.6 pounds, it's also easily portable. If you want a personal filter to carry from room to room, this is a viable option.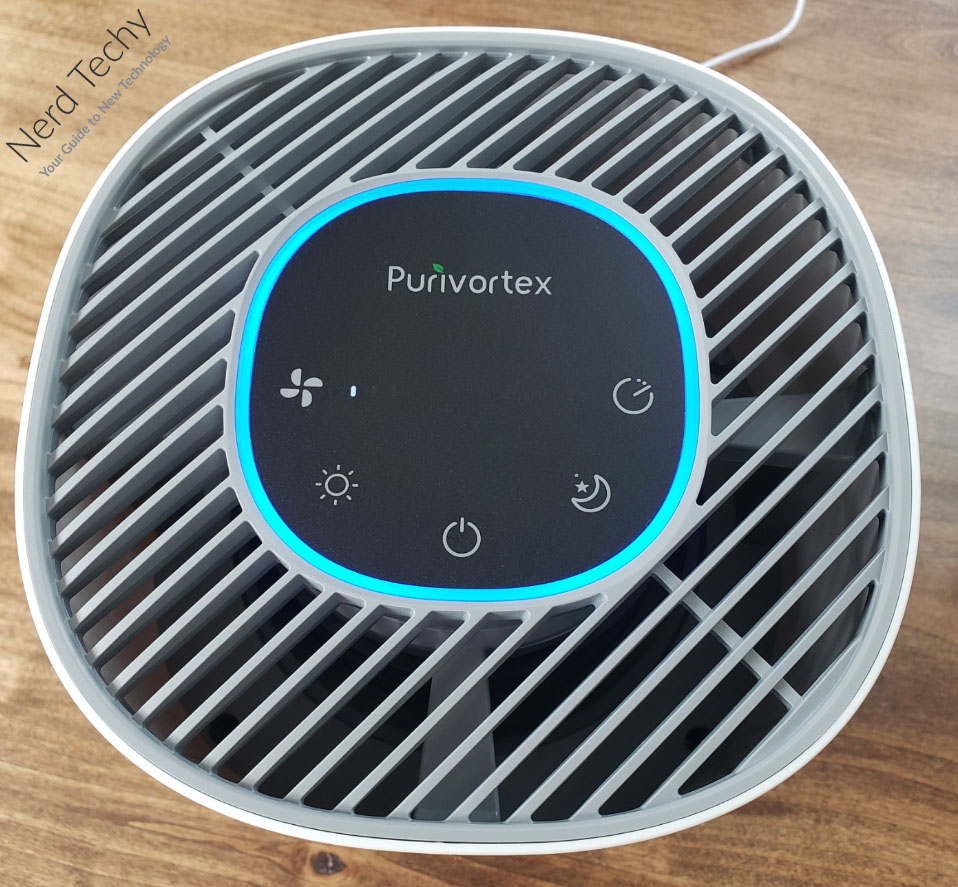 The upper three quarters or so of the housing is constructed from a light grey plastic. It has a smooth matte finish that's easy to keep clean, with a Purivortex imprint on the front center. Other than that, it's totally plain. The bottom quarter or so of the housing is a darker grey plastic, with vents running around the entire circumference. This vent serves as an air intake, which sucks in air from all directions. To get the best performance, you want at least several inches of clearance on all sides. There's also a dark grey vent in the top, which blows directly upwards. This is the outflow vent, and it distributes air evenly throughout the room.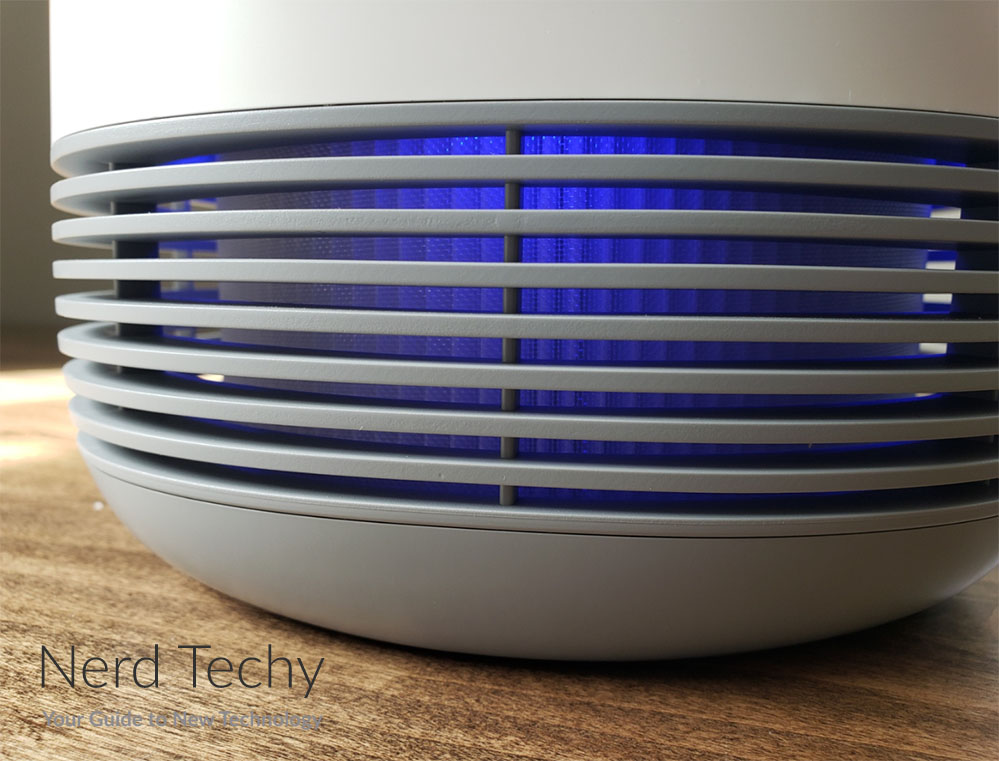 The controls are located on top of the housing, in a glossy oblong panel in the center. There, five buttons are arranged in an arc along the bottom half of the panel. These buttons have a soft touch design, and are easy to operate. The one to the far left cycles through the three fan speeds, and is accompanied by a row of three indicator lights. The next button turns the night light on and off, and the middle button is a power button. The fourth button turns sleep mode on and off. The fifth button, at the top right, controls the timer. Similar to the fan control, it has a row of indicator lights next to it. These let you know how much time is remaining.
When this filter is running, it produces as little as 24dB in sleep mode. That's just a soft whir, about the volume of a PC fan when it's idling. Even the maximum volume of 50dB is fairly quiet. You can carry on a conversation in the same room, without raising your voice.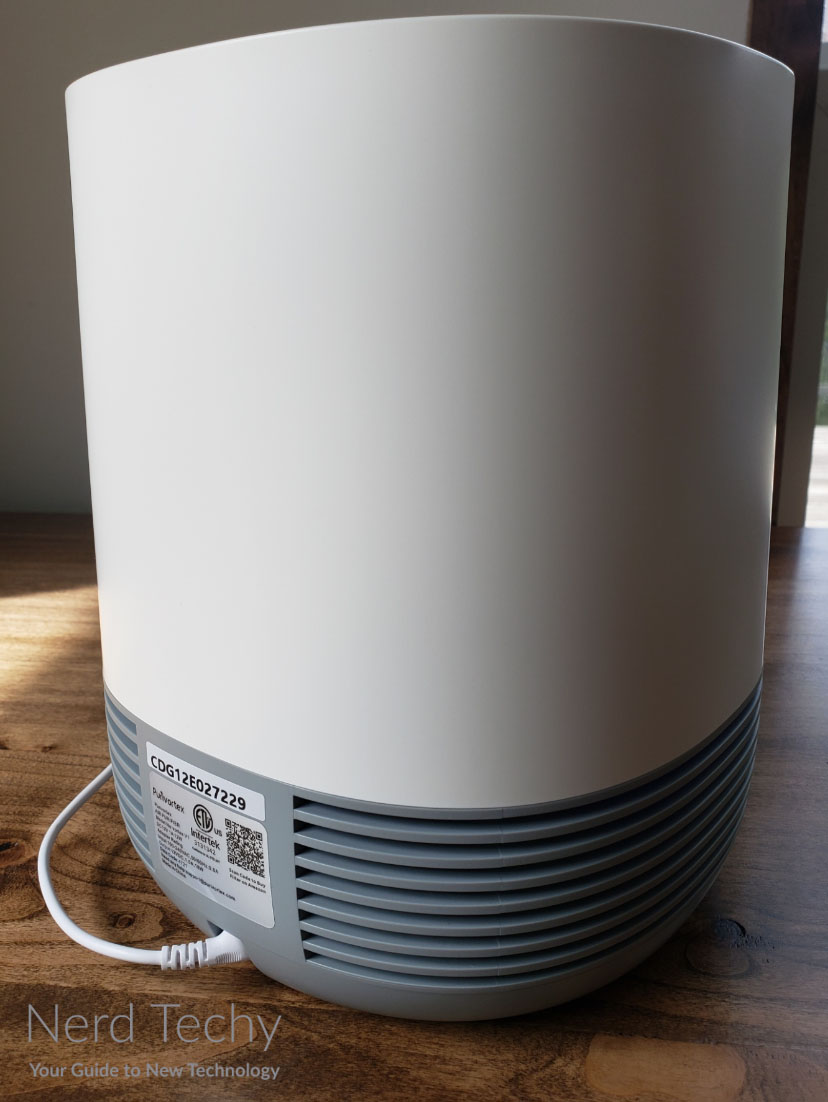 Filtration System & Effectiveness
The Purivortex Vortex 1 is capable of treating up to 270 square feet of space. This number assumes that you have standard eight-foot ceilings. If you have a cathedral ceiling, you'll get less coverage. If you're in an RV or another shorter space, you'll get a bit more coverage. Regardless, you're looking at one or two rooms worth of coverage, depending on the room. This is more than enough for bedrooms, offices, or even smaller living rooms.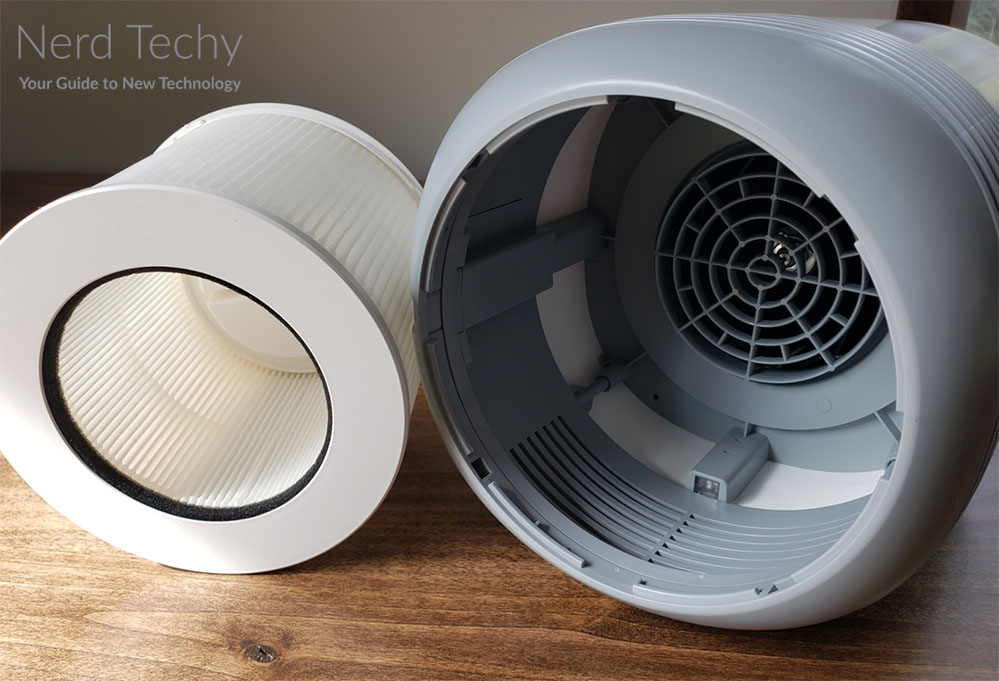 But what if you want to cover a larger floor space? In that case, consider the Mi Air Purifier 3C. It can cover 409 square feet of space, and it nonetheless runs very quiet. On the downside, it's fairly big and bulky, and the replacement filters are fairly pricey.
A lot will also depend on the Vortex 1's motor setting. The higher your motor setting, the higher the effectiveness. In sleep mode, you're more or less just maintaining the current air quality. That said, we did appreciate that the sleep mode is controlled separately from the LED lighting. The LEDs are an attractive blue backlight behind all the vents, and they make a great night light. Then again, you can always leave them off if you prefer total darkness.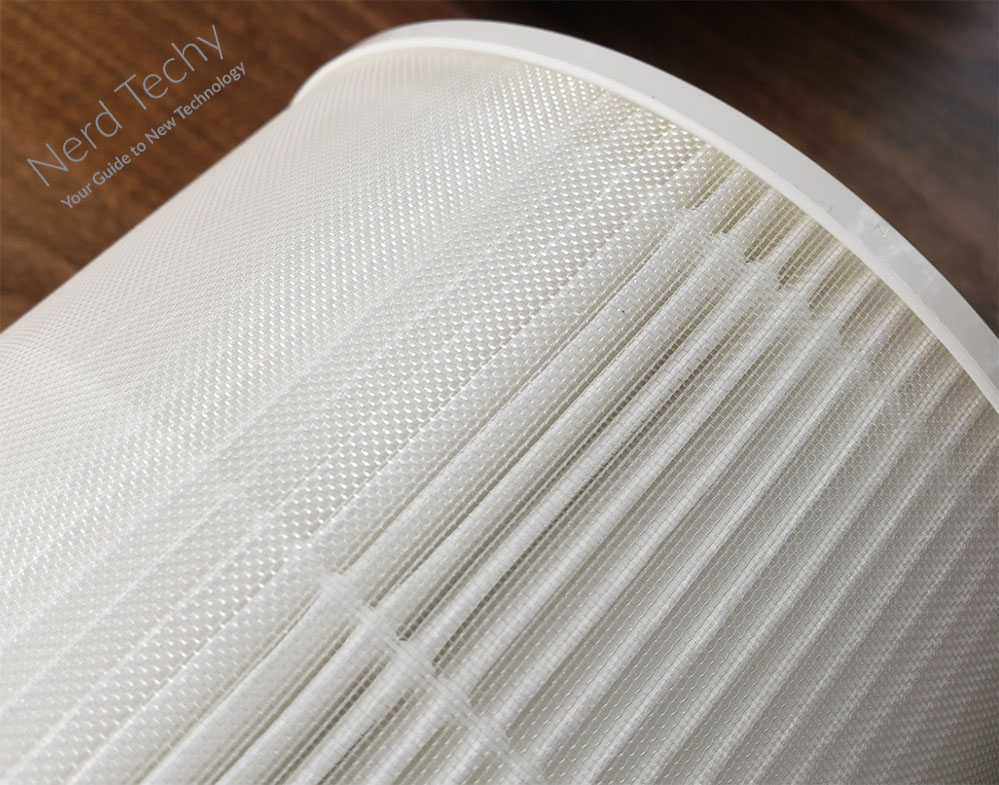 The filter works in two different stages. The outer layer is a washable mesh material, and acts as a pre-filter. It's meant to remove larger contaminants like animal hair and bigger pieces of dust. The inner layer is a cylindrical, accordion-style H13 HEPA filter. This filter removes 99.97% of particles as small as 0.3 microns. That includes pollen, mold spores, smoke, and even some larger bacteria. All in all, you're getting rid of the vast majority of allergens and particulate irritants.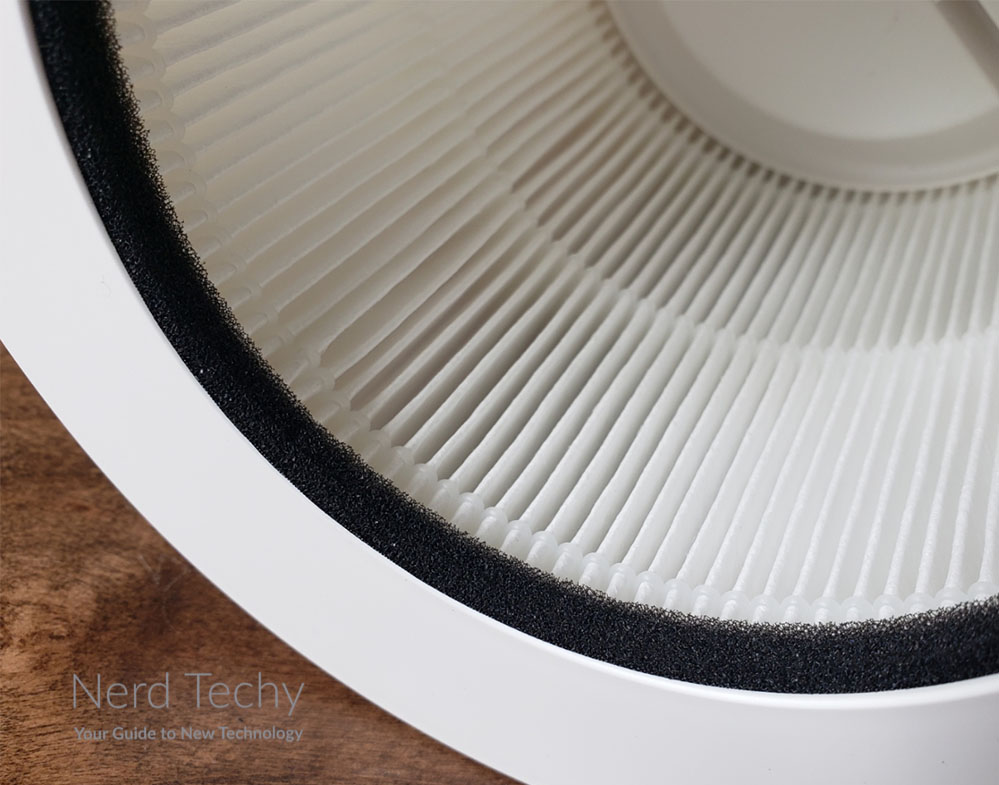 One thing you aren't getting rid of, though, is odor. And if you've got mold, you're not killing the underlying mold. If that's what you need, take a look at the Airthereal MA10K-PRO Smart Ozone Generator. It removes odor, and kills mold and bacteria. Then again, it also produces ozone, so you have to follow careful safety procedures while using it.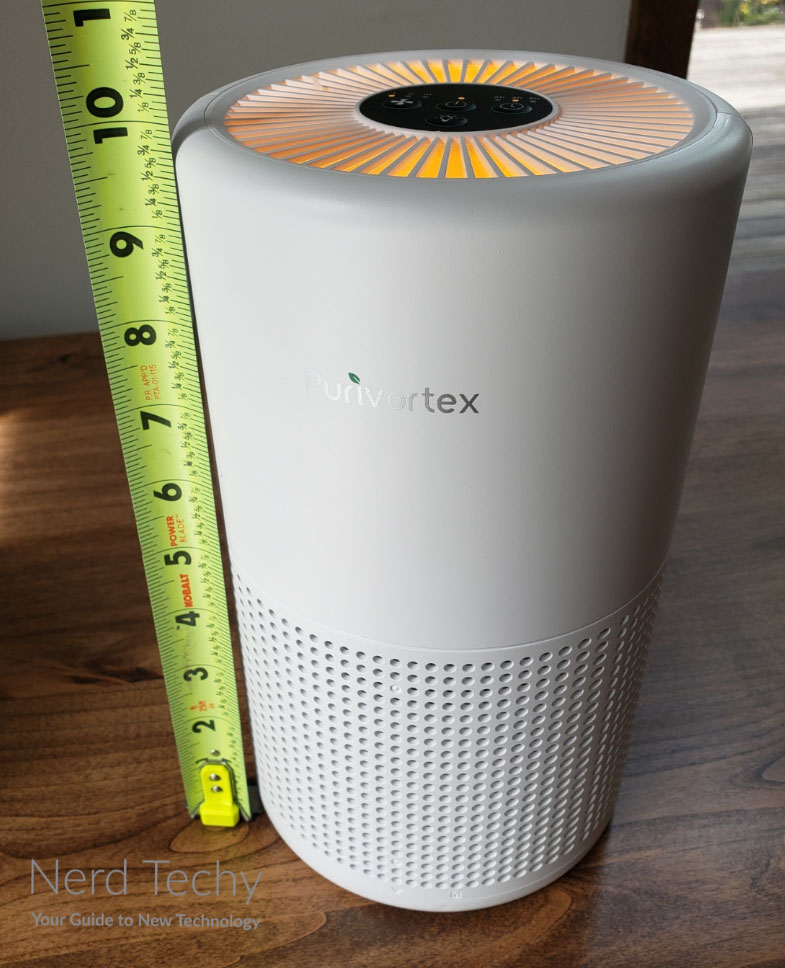 Purivortex Mini 2
The Purivortex Mini 2 has a cylindrical shape, with a matte black or white plastic housing. With a diameter of only 5.5 inches, it has a smaller footprint than the Vortex 1. It's also slightly shorter, at just 8.5 inches, but it weighs the same 1.6 pounds. Then again, there's a little handle that flips out of the side. This makes it easier to carry than a plain round cylinder. Not only that, but the handle can be locked open to act as a kickstand. If you want to point the top of the purifier in a particular direction, you can.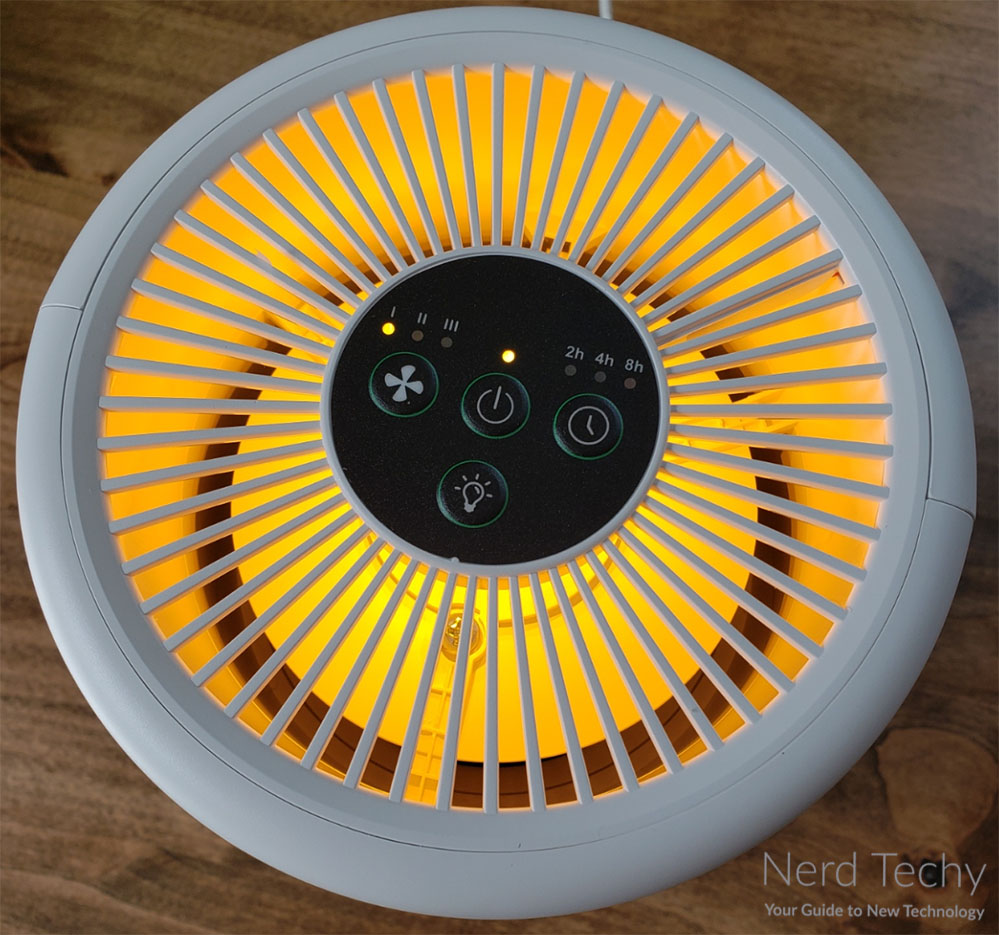 That's all for the good, because the top panel mostly consists of a large vent. By laying the purifier down, you're directing the outward air flow in the direction you choose. The intake vent consists of a grid of round holes all around the bottom half of the housing. When you're using the kickstand, you won't necessarily get optimal efficiency. Part of the vent will be pointed downwards. But it's still reasonably effective, and you get 360-degree air collection when the purifier is vertical. As always, make sure to leave your vents unobstructed for best results.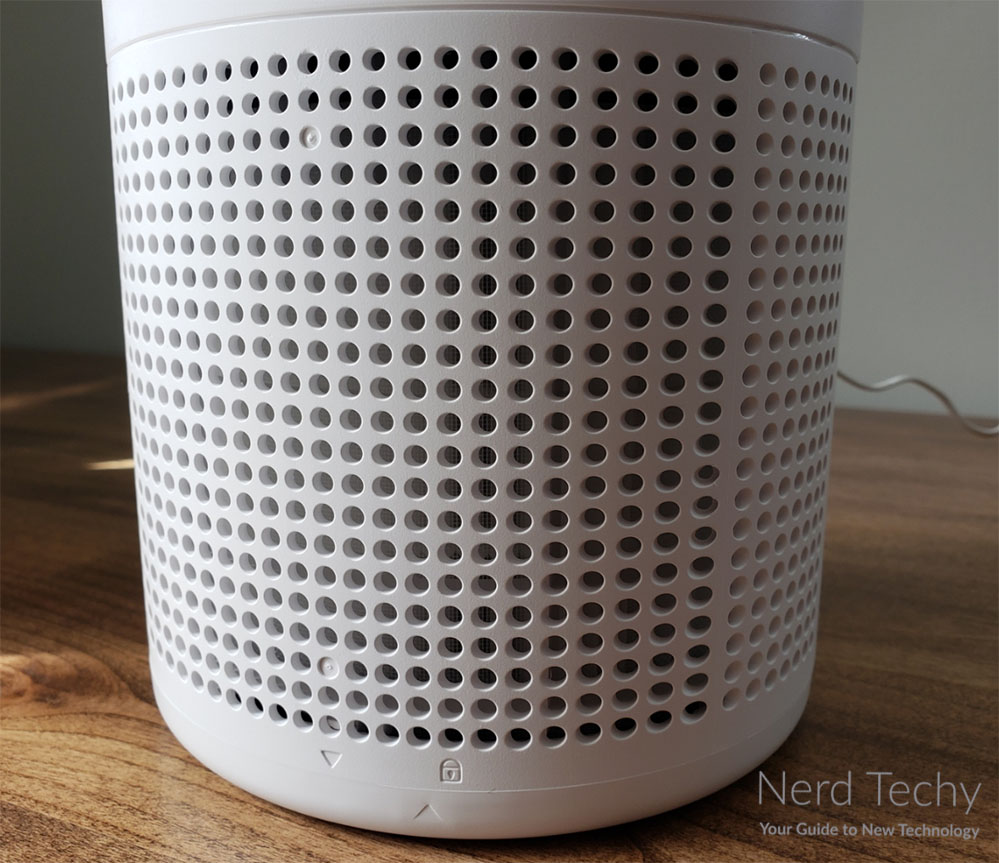 The controls are located in a small circular panel in the middle of the top. There are four controls altogether, with a power button smack in the center. All are a bit squishy, and give reasonably good tactile feedback. The left button adjusts between three fan speeds, and has a corresponding set of indicator lights. The right button sets the timer, with five possible settings and corresponding indicators.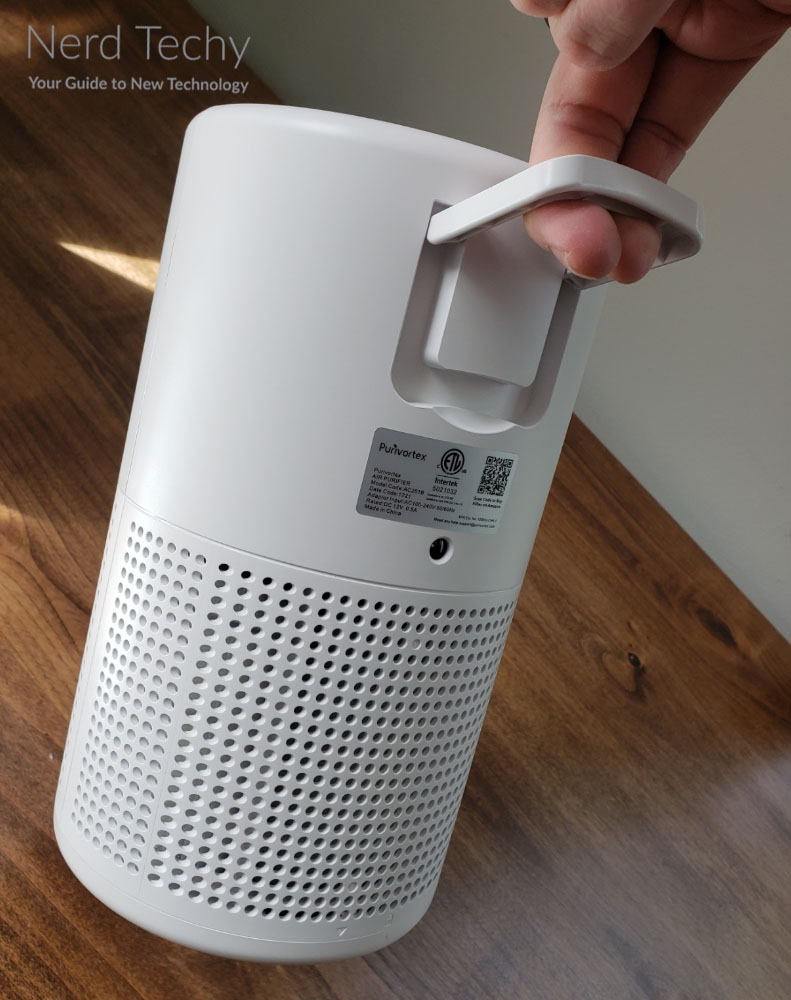 The button at the bottom controls the LED backlight. This is a soft orange light that shines from beneath the top vent. It works as a night light, or just for decoration, but you can simply leave it off if you don't like it.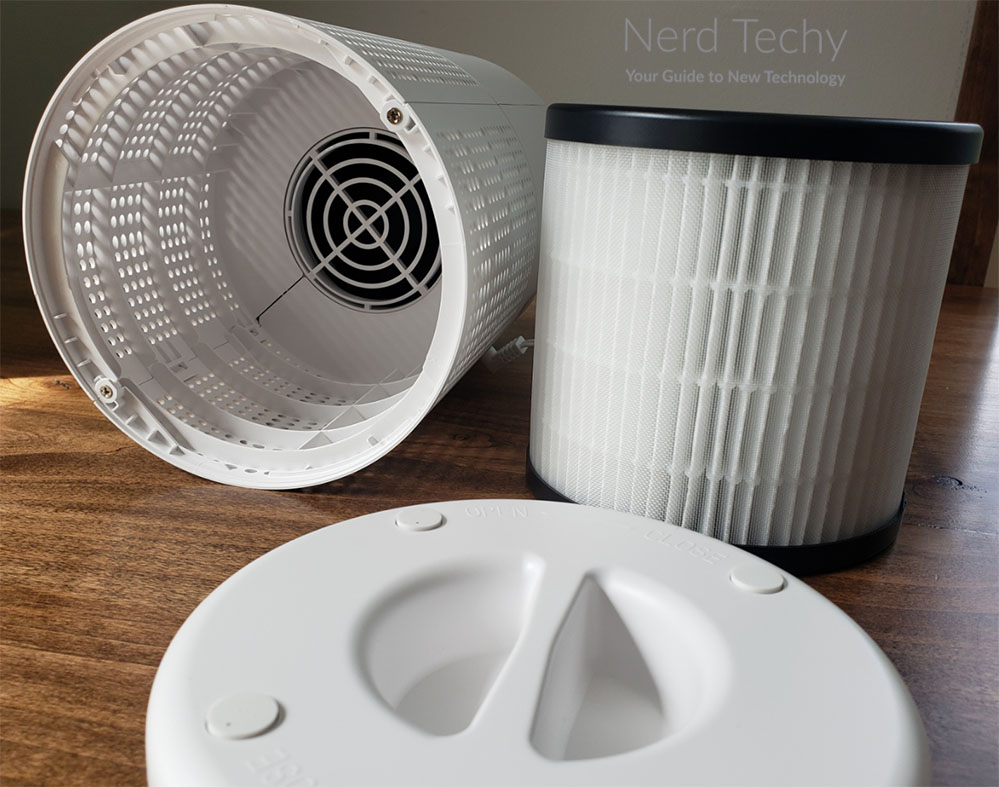 Filtration System & Effectiveness
The Purivortex Mini 2 can filter up to 215 square feet worth of air. Obviously, this will depend on the motor setting, but even the highest setting isn't all that loud. If you want a reasonably powerful all-night purifier, you're looking at it. Then again, maybe you want to cover a very large area indeed. If that's the case, check out the Okaysou Apollo 718. It can cover an impressive 800 square feet, larger than many apartments. Then again, it's significantly bigger and louder than today's offerings.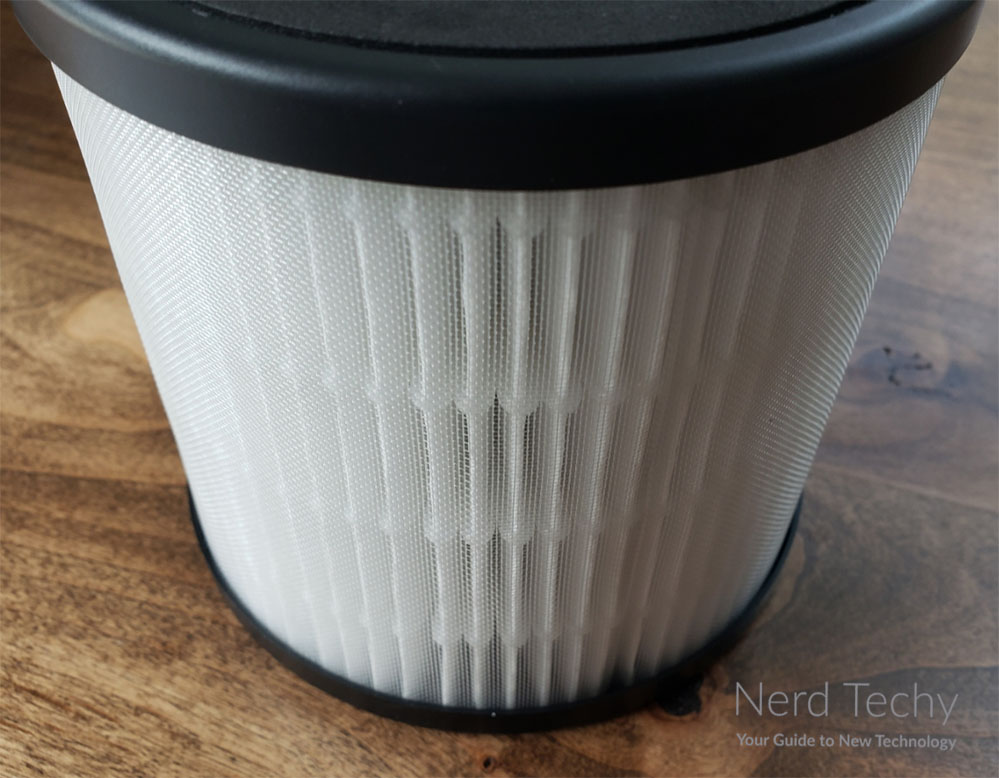 The Mini 2's three-stage filter is a bit different from the Vortex 1. It starts with a similar pre-filter, which does much the same thing. However, it uses a different filter cylinder, with a different grade of HEPA filter. This HEPA filter is a bit less powerful, and removes "only" 99.95% of 0.3-micron particles. On the other hand, there's an inner charcoal filter on this cartridge. This removes pet odors, food odors, and even some chemicals such as formaldehyde and similar VOCs.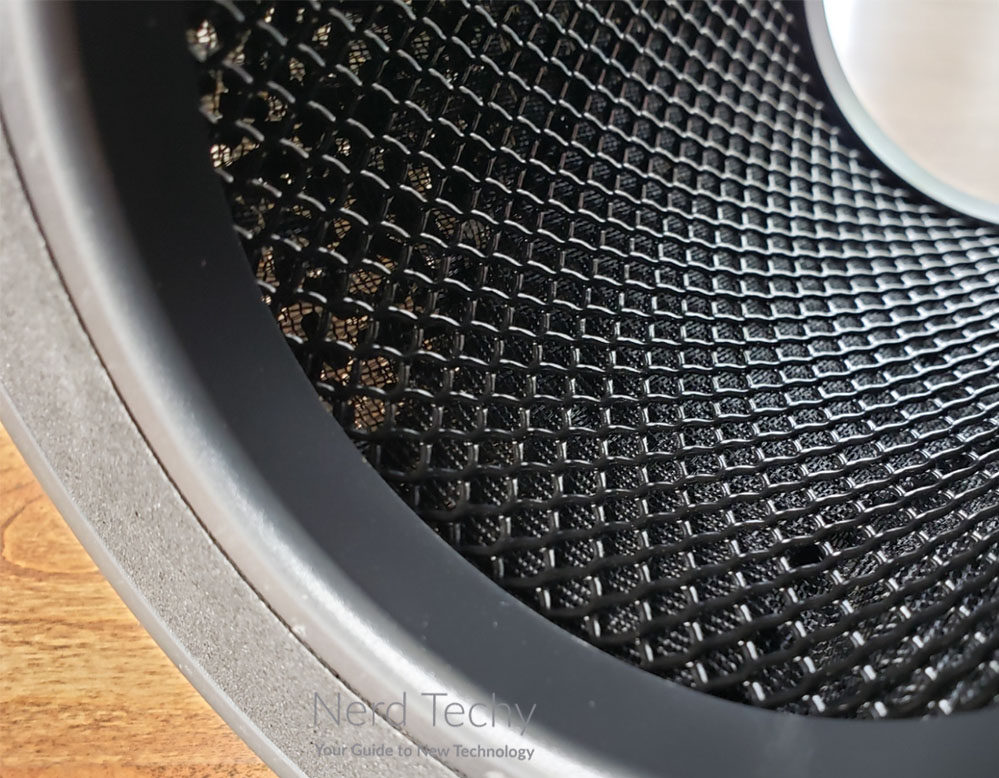 Final Verdict
So, which of these air purifiers is the right choice for you? Let's go over what we've learned. The Purivortex Vortex 1 takes the cake when it comes to coverage area. It has a little more than 25% more coverage than the Mini 2, which is significant. It also has a more powerful HEPA filter, removing 99.97% of 0.3-micron particles. Then again, it doesn't remove odor.
The Purivortex Mini 2 is smaller and more affordable. On the downside, it only covers 215 square feet of space, and the HEPA filter is slightly lower grade. On the upside, the activated carbon filter does a great job at odor elimination. If you need a balance of odor and particulate removal, you're looking at a solid choice.
Meet Derek, "TechGuru," a 34-year-old technology enthusiast with a deep passion for tech innovations. With extensive experience, he specializes in gaming hardware and software, and has expertise in gadgets, custom PCs, and audio.
Besides writing about tech and reviewing new products, Derek enjoys traveling, hiking, and photography. Committed to keeping up with the latest industry trends, he aims to guide readers in making informed tech decisions.