Haylou GST
Pros
Rugged zinc alloy design.
Highly weather-resistant.
Multiple monitoring and sports modes.
Long-lasting battery.
Very affordable.
Cons
Date and temperature formats are locked to metric.
Proprietary charging cable.
Lackluster texting and calling features.
A smart watch is a unique combination of old and new technology. On the "old" side, it's a wrist watch. During the early part of the 2000s, it seemed as if wrist watches would soon be as dead as the dinosaurs. Yes, certain brands could still maintain sales as luxury items. But for the most part, people were using their smartphones for telling the time. Who needed an archaic timekeeping device strapped to their wrist. Smart phones are the answer to that question. Sure, they tell you the time, but that's just the beginning. They're also used for getting phone notifications, fitness tracking, and other useful features.
That said, there's as much variation between smart watches as there is between traditional watches. Some, for example, are optimized for communication. They come with nifty features like voice to text and built-in hands-free calling. Others are made for fitness, and come with heart rate tracking and other similar features. Still others are made for running apps, or even less demanding mobile games. Point being, there's no single metric for what makes a good smart watch. A lot depends on who you are, what you're doing, and what you're trying to achieve. It pays to shop around a little, and find the one that's best for your needs.
We're about to review the Haylou GST Smart Watch. This is a fitness-oriented smart watch with a durable zinc alloy housing. It's easy to pair with your phone, and can be worn while you're showering or swimming. But those are just some of the things we'll need to look at. We'll have to talk about the screen, and the quality of the display. We'll have to discuss the battery capacity, charging, and the pairing process. In addition, we'll need to look at the various fitness functions, and even the strap and other details. After we've gone over all these things and more, we'll be ready to render our verdict. Let's get going!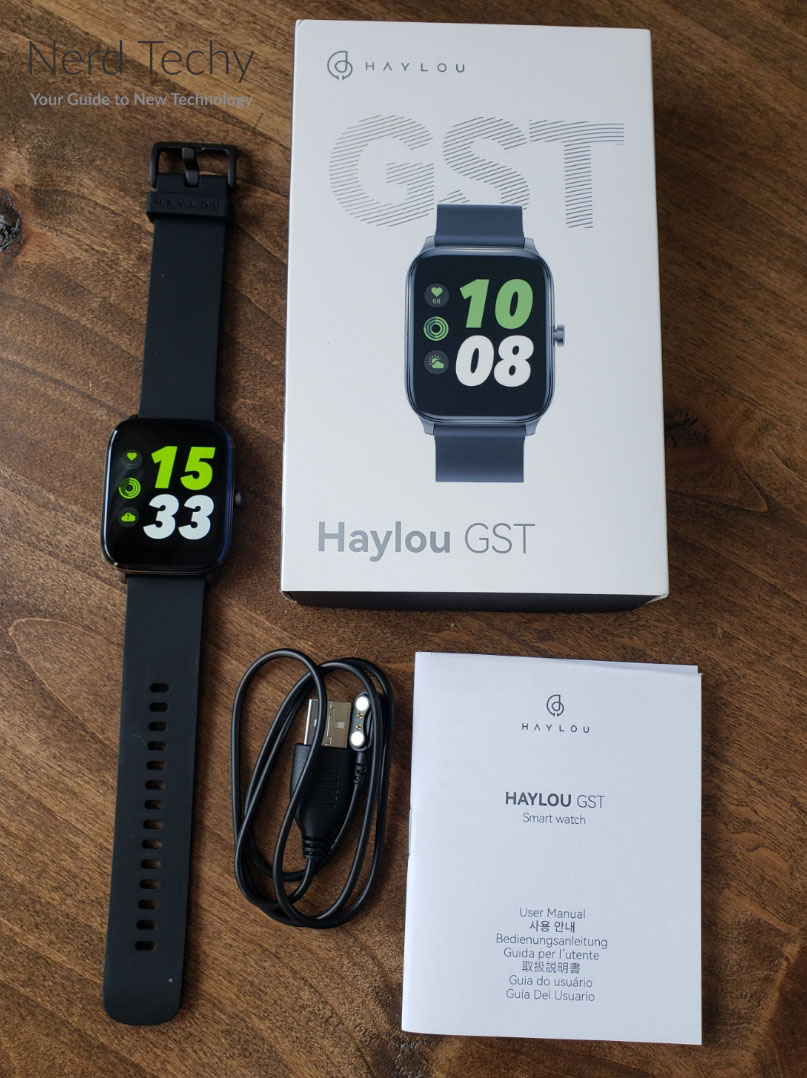 Overall Design
The Haylou GST Smart Watch is an affordable watch, but you wouldn't know it from the construction. The case is constructed from a zinc alloy, which is an extremely tough metal that's shock- and impact-resistant. The overall shape is rectangular, although the edges of the case and screen are rounded off. There aren't any sharp corners to stab you or catch on your clothing. The edges are slightly bowed, with a small bezel that rises to meet the sides of the domed display. There's a physical crown on the right, which adds some retro appeal, and allows for simple control.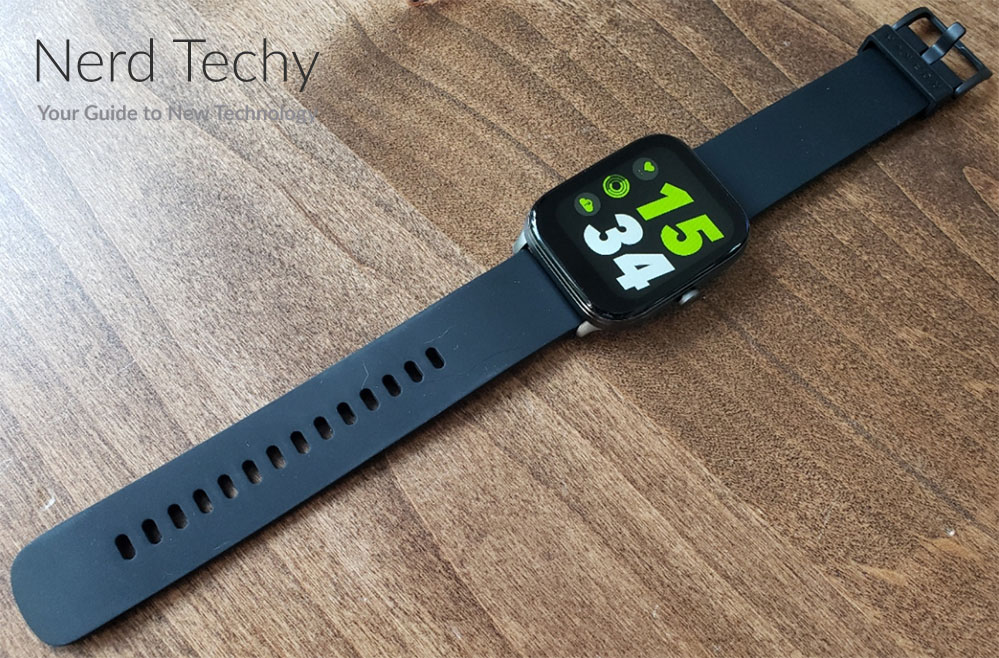 The overall size of the watch is 1.38 inches wide by 1.77 inches high. This gives it a medium wrist presence that's comparable to many traditional watches. The lugs have a width of 0.87 inches, which is equivalent to 22mm. 22mm is one of the more common watch strap sizes, so the strap is easy to replace. That said, you may not want to do any replacing. The Haylou GST already comes with a black silicone strap that matches the charcoal grey case. It's comfortable and secure, with a standard clasp and plenty of sizing holes.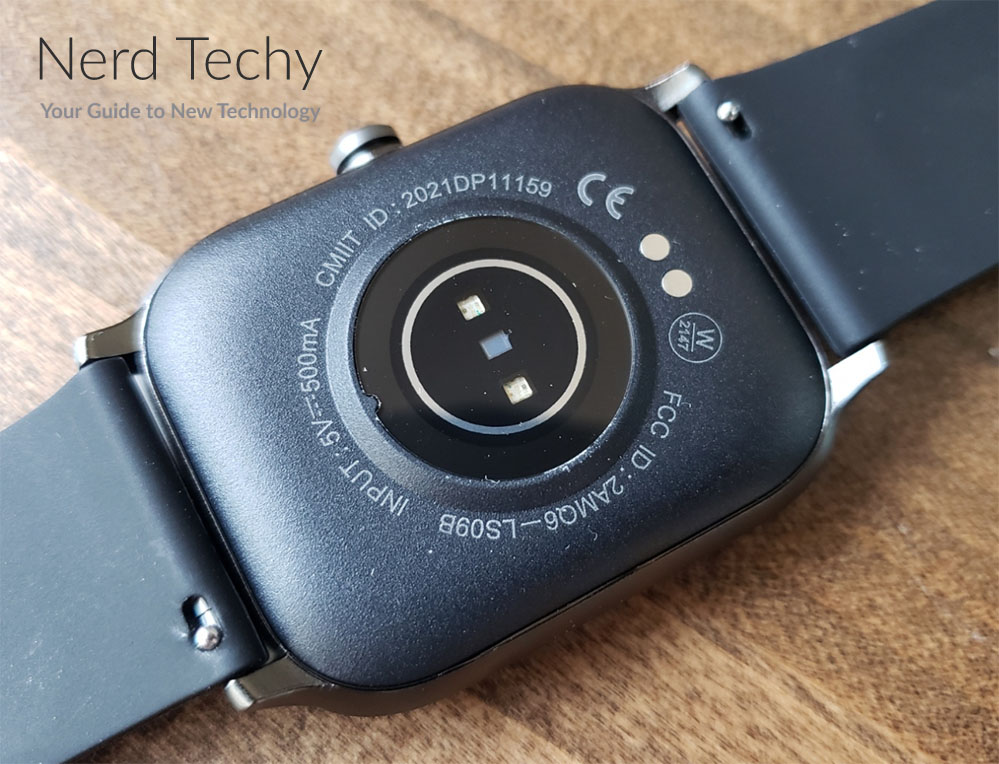 The screen itself measures 1.69 inches on the diagonal, which is large enough for easy visibility. At 240 x 280 pixels, it's not the highest resolution. Even so, considering the size, you're looking at a crisp, clean display. It's bright enough for easy viewing, even under bright lighting conditions. Not only that, but colors are vibrant and true. All in all, we were pleased with the screen quality and visibility.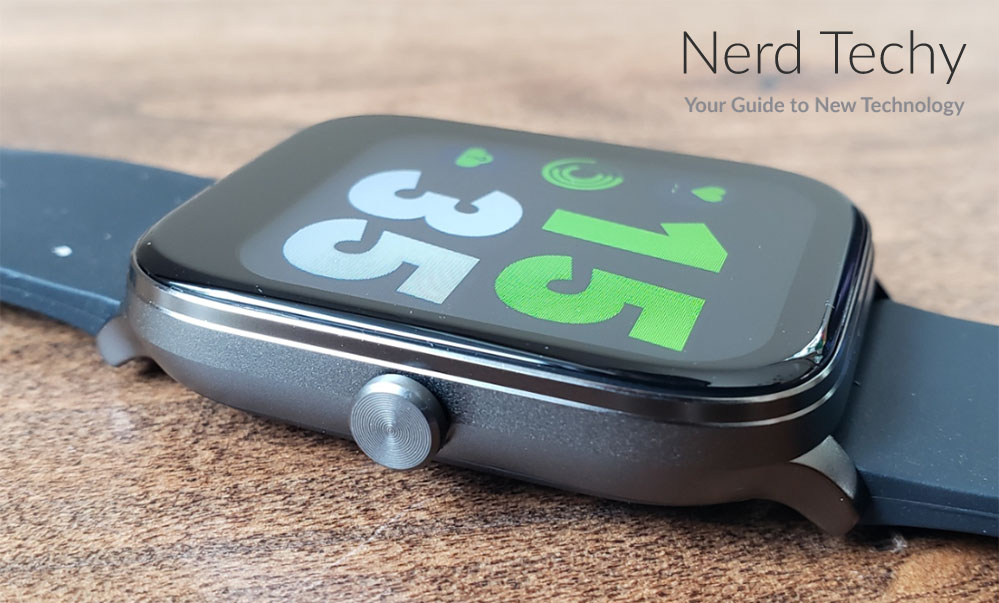 There are multiple different display modes on the Haylou GST, so you can adjust it to fit your needs. Most of these are high-contrast digital displays, but there are a few attractive faux-analog displays. Similarly, some of them are clean, and only show the time. Others show you all kinds of data. Depending on which mode you choose, you can see your daily steps, heart rate, calories burned, blood oxygen, and more. All of the display modes are built in, so you can change things up any time you want to.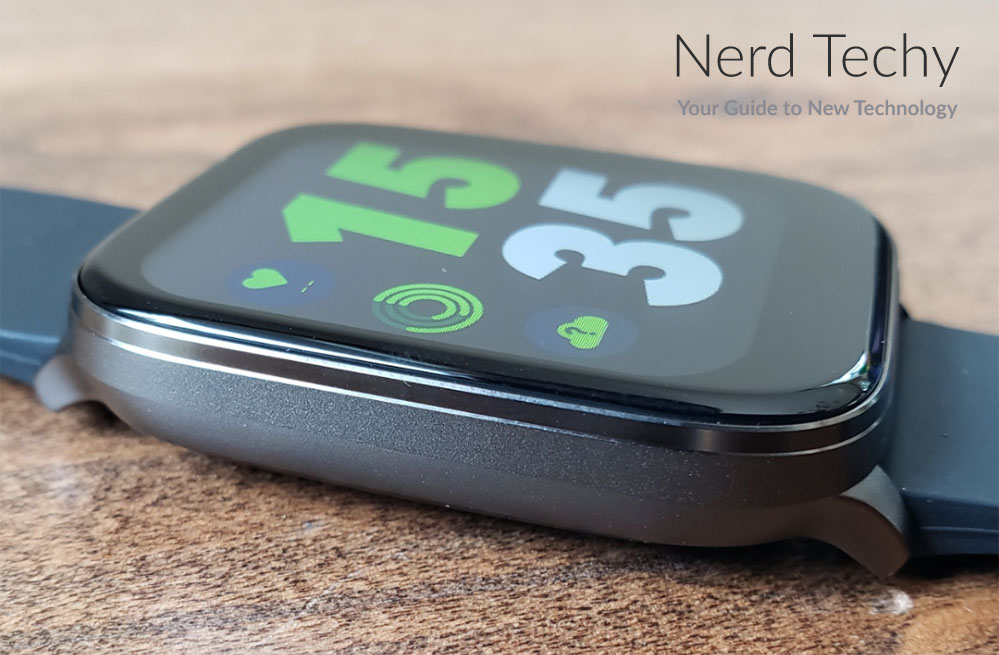 The watch housing has a weather-resistance rating of IP68. The 6 in this rating means that it meets the highest possible standards for dust-resistance. That's great news, but the 8 is more important for our purposes. This indicates an exceptional level of water-resistance, but it's impossible to say for sure exactly what. The standard for a 7 rating is that a device must last under 1 meter of water for at least 30 minutes. The standard for an 8 rating is that it must meet custom standards exceeding a 7. We're guessing this isn't suitable for diving, or Haylou would advertise that. But it's perfectly safe for showering, swimming, and other everyday uses.
If you want an even more rugged watch, check out the KOSPET TANK M1. It's exceptionally durable, with a water-resistance rating of 50 meters. Then again, it has a big, bulky design that could turn a lot of people off.
Battery & Connectivity
The Haylou GST Smart Watch has a battery capacity of 220mAh. This works out to about 10 days of average use. That said, this is more of a rough guess than a hard and fast number. There are simply too many factors that go into determining the battery life. To begin with, a lot depends on how often you're using the watch. It draws very little power when it's just idling on your wrist. It draws a lot more power when the screen is active and draining the battery. Additionally, it also depends on what features you're using, how many notifications you're getting, and other factors.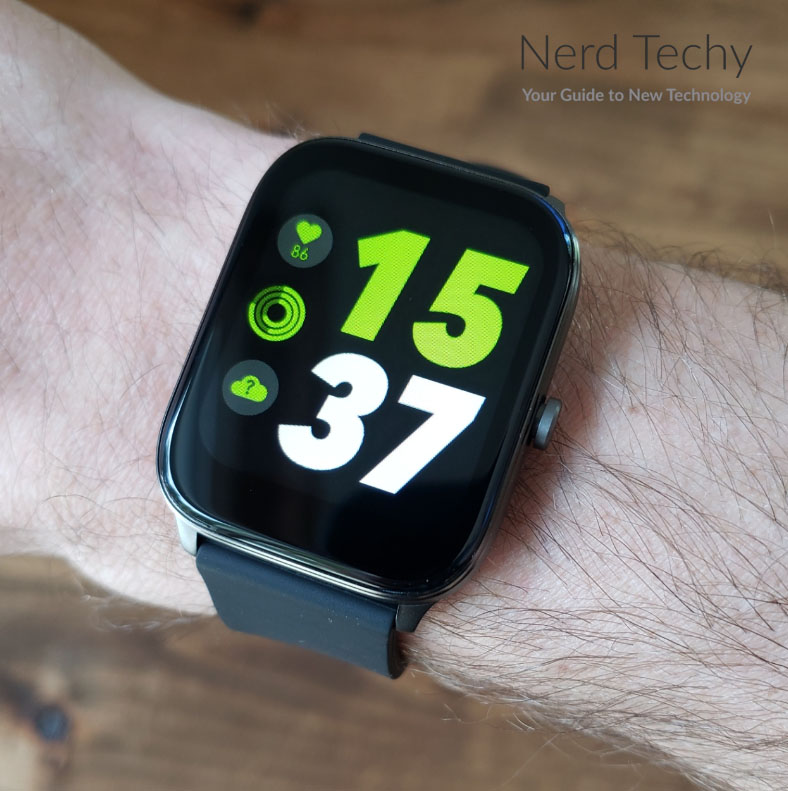 Even if you work your smart watch very hard, you won't really have to worry about battery life. It charges in only two hours, so there's no reason to run out of juice. Just plug it in when you go to bed, and you'll be ready to go in the morning. Even if you only charge every few days, you'll be just fine. The charging cable uses a proprietary magnetic connection that's easy to attach. The downside is that it could be annoying to replace. If it gets damaged, or you need a spare, you'll have to buy one from Haylou. Then again, this design negates the need for a USB port, which would reduce the watch's water-resistance.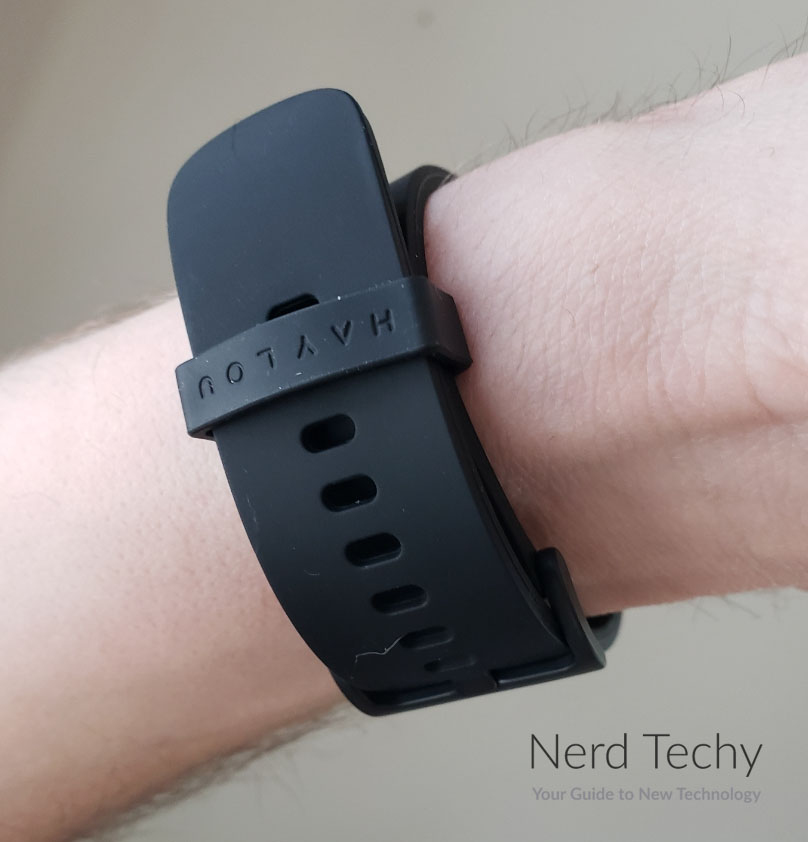 One thing we liked about this watch is how easy it is to configure and set up. It works on Android 6.0 and up, as well as iOS 11 and up. This covers almost any modern smartphone, even ones that are several years old. You'll need the app to connect to your phone, but it's free and easy to download. You can either search for it, or press and hold the crown on the watch to display a QR code. Once the app is installed, open it and click "Device." It will quickly scan the surrounding area, and will ask you to turn on your Bluetooth if it's not on already. Connect your watch, and you'll be ready to go.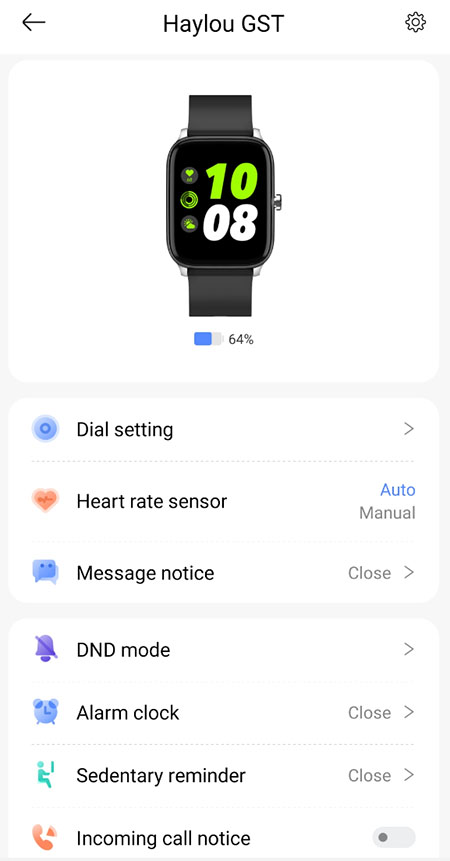 Once you're connected, you'll be able to receive notifications from all your favorite apps. You'll also be able to receive and read texts, and get call notifications with caller ID. That said, you won't be able to answer your texts, even with voice-to-text. And you won't be able to take calls via your smart watch.
If hands-free calling is important to you, consider the IDONDRDO Fitness Smartwatch. It can answer texts with voice to text, and handle hands-free calls. It also offers an impressive 24 sports modes. Then again, it's not very durable, which could be an issue for some.
Apps & Extras
So far, we've covered all of the basics. But what does the Haylou GST Smart Watch do besides just keeping time? To begin with, it monitors your heart rate, and provides other useful biometric data. To aid with this, it has 12 different sport modes. These allow you to set the watch for anything from light walking to basketball, soccer, and rowing. By choosing the mode that's closest to your activity, you'll get the best possible calories burned estimate.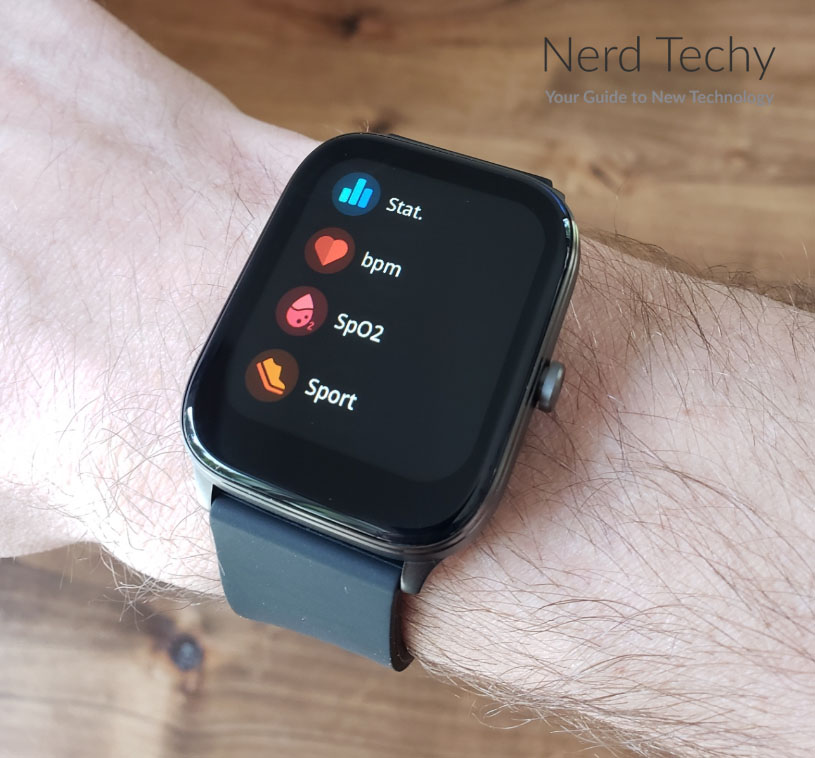 In addition, this watch can be set to alert you if you've been sedentary for too long. This reminds you to get up and move for a few minutes, and it's a great feature for office workers. On the flip side, you can take advantage of sleep monitoring. This will track not just how many hours you sleep, but also the quality of your sleep. You can even monitor your progress over time, and make adjustments to your schedule as needed.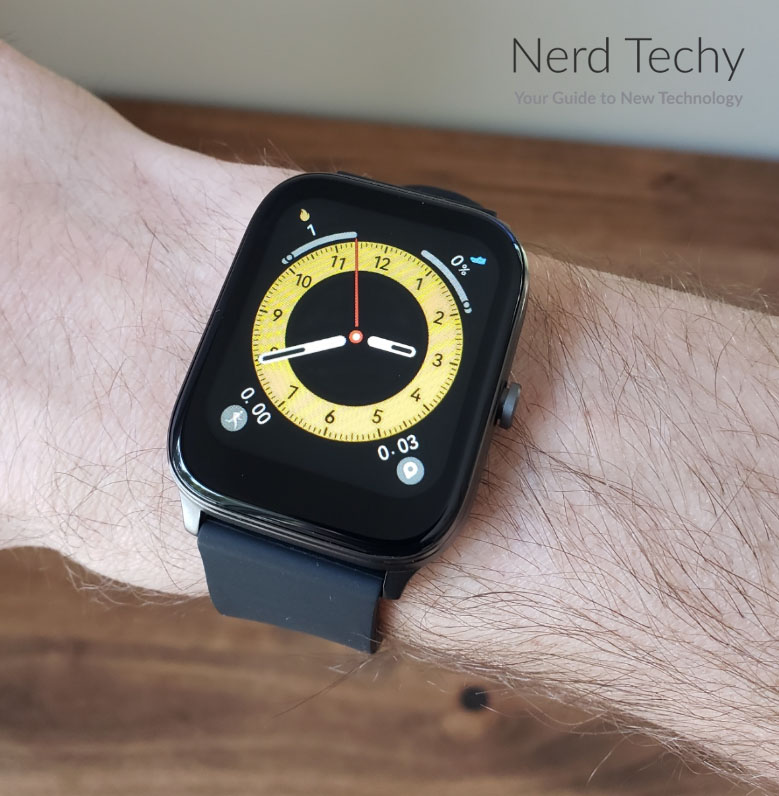 Along with the health features, you can use the watch itself to set an alarm. Assuming your phone is nearby, this feature is more or less redundant. But it's nice to have the option at your fingertips in a pinch. There's also a weather tracking app, and you can leave the weather displayed on the screen. Unfortunately, the temperature scale is locked to centigrade, and there doesn't seem to be any way to change it. The same is true for the calendar app, which is locked to a European date format.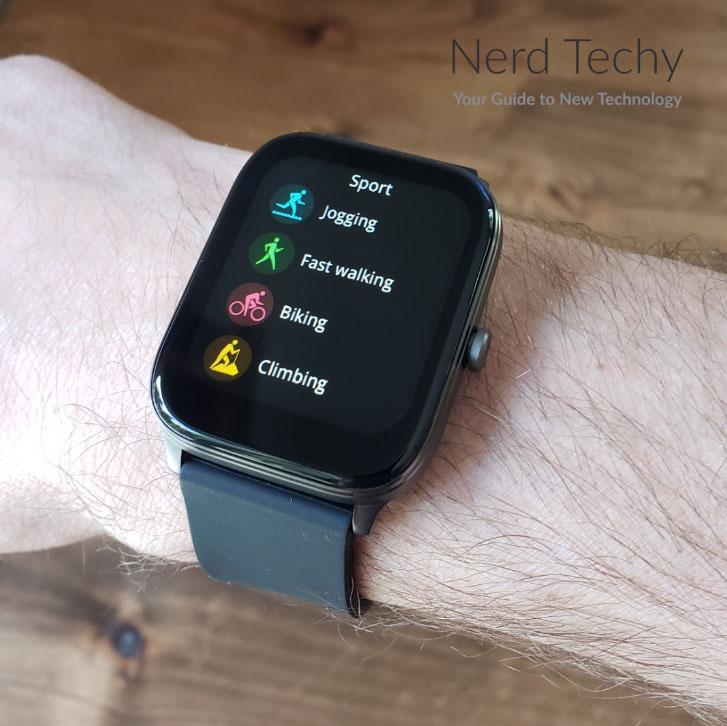 If you're looking for something altogether different, take a look at the KOSPET OPTIMUS 2. It boasts a 13-megapixel camera, even better than the iPhone 12. Its processor and other components can run most mobile games, and it sports a 400 x 400-pixel display. Then again, it's very large, and it doesn't have any water-resistance rating whatsoever.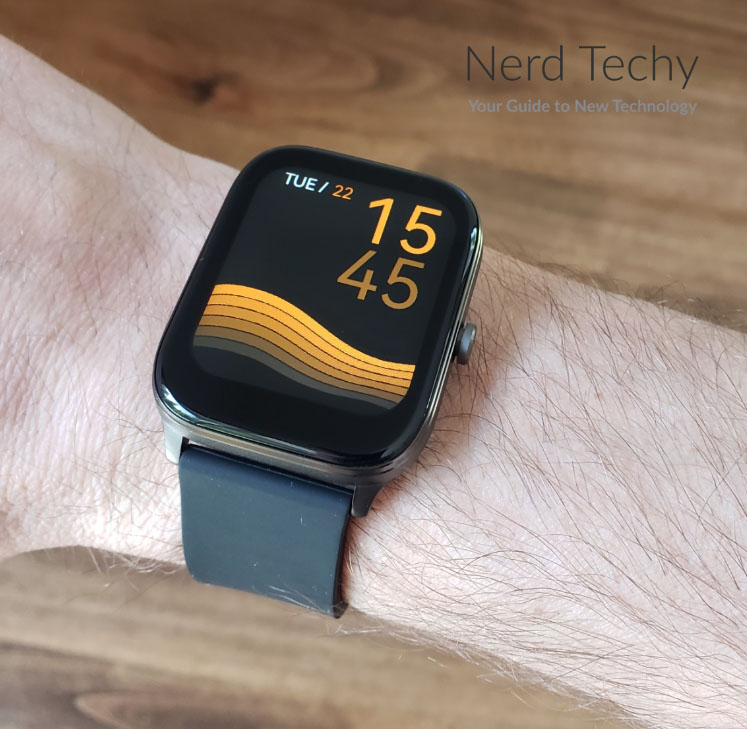 Final Verdict
The Haylou GST Smart Watch is an affordable, well-rounded watch with a lot to offer. The zinc alloy case is very tough and durable, as well as water-resistant. The battery is reasonably long-lasting, and it's easy to connect with your smartphone. And with plenty of biometrics, you'll have a powerful tool to aid with your health and fitness.
Overall, we feel it's well-made, properly designed and affordable. It may not have all the extra bells and whistles that more expensive options have, but it offers a great amount of value for the price. Highly recommended.
Meet Derek, "TechGuru," a 34-year-old technology enthusiast with a deep passion for tech innovations. With extensive experience, he specializes in gaming hardware and software, and has expertise in gadgets, custom PCs, and audio.
Besides writing about tech and reviewing new products, Derek enjoys traveling, hiking, and photography. Committed to keeping up with the latest industry trends, he aims to guide readers in making informed tech decisions.