IDONDRDO UT001
Pros
Bright, attractive screen with many display options.
24 different sports modes.
Tracks blood pressure, heart rate, sleep, and more.
Receive app alerts and texts.
Very affordable.
Cons
Proprietary charging cable.
No screen protector.
If you were to take a time machine back to the 1990s, you'd notice that everyone was wearing a watch. It was just part of being a responsible adult, and of making sure you weren't late all the time. But throughout the 2000s, fewer and fewer people wore them. Many millennials and Gen Z'ers have never even owned an ordinary watch. That's because of the ubiquity of smartphones. Since you have the time on your phone screen, there's no reason to use any other device. For a few years, it looked like wristwatches were destined to become nothing more than a fashion statement.
But then, in 2015, Apple released the Apple Watch. Smartwatches had actually been around for several years. And digital fitness watches date back all the way to the 1980s. But those early models were big and bulky. As often happens, Apple came out with the perfect marriage of user-friendly design and functionality. This led to a resurgence in the overall market, and it's easy to see why. A smartwatch is much more than just a timepiece. It's a fitness monitor, and a gateway to your phone's apps and other functions. And depending on which model you buy, you can get even more features.
We're about to review the IDONDRDO Fitness Smartwatch. This is an attractive watch with a large, bright display. It tracks a number of vital stats, and comes with 24 different sports modes to provide accurate data. You can even use it for texting, or to reject or end a phone call. But there are many other things you need to look for in a quality smartwatch. You want a watch with plenty of battery life, and one that's easy to charge. You also want to look for features like durability and water resistance. So, we'll start with the physical build and design, and work from there. After we've considered all of these factors, we'll have enough information to render a fair verdict. Let's get started!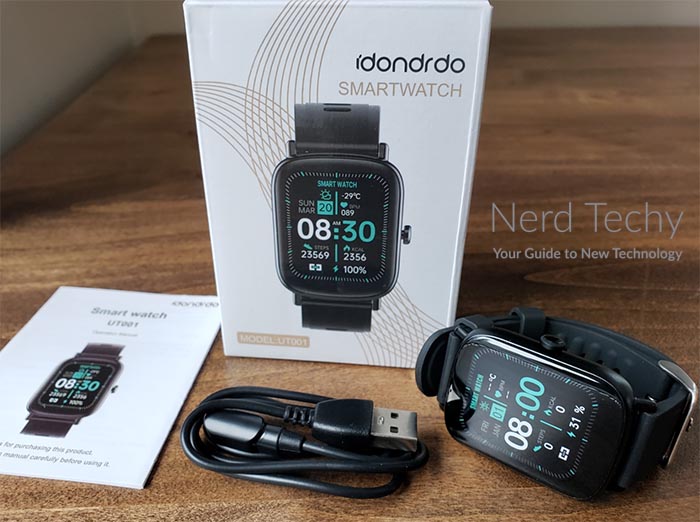 Overall Design
The IDONDRDO Fitness Smartwatch has a black plastic case. It measures a total of 1.7 inches in height, which corresponds to a watch size of 43mm. This lends it a medium-large wrist presence, albeit not super-huge. The lugs are spaced at 22 inches, which is one of the more common sizes. The included rubberized band is soft and flexible, with a total length of 9.85 inches. However, it can adjust all the way down to 5.5 inches if you have a smaller wrist. The screen orientation is vertical, and the watch has a rectangular shape. The sides are smooth and slightly convex, and don't distract from the screen.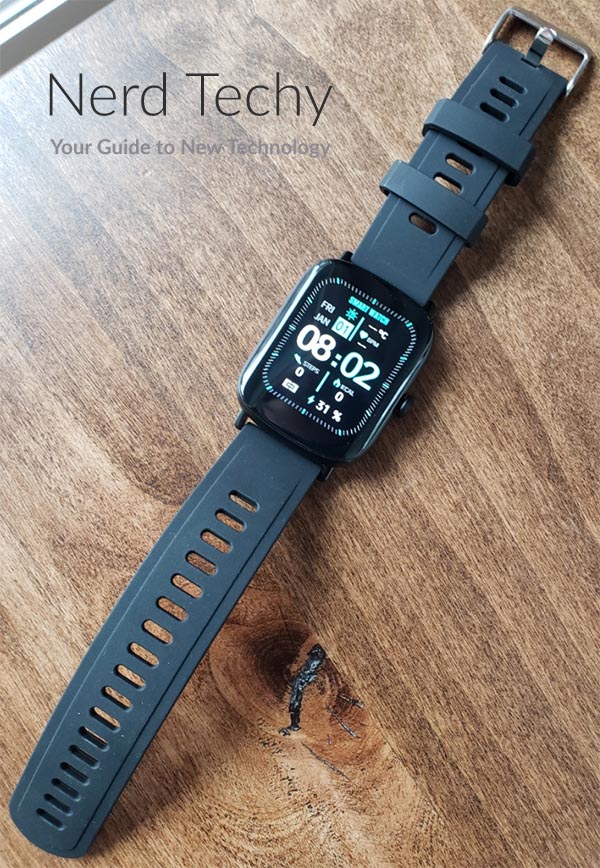 In terms of durability, the IDONDRDO watch is a bit of a mixed bag. On the one hand, it's IP68 weather-resistant, which a lot of smartwatches aren't. The 6 means that it's exceptionally dust-resistant, almost completely impervious to the tiniest particles. The 8 indicates that it's submersion-resistant. This isn't a full-on dive watch or anything. But you can wear it in the shower or even swim – on the surface – without any concerns. With all of that being said, there's no bezel whatsoever. The screen is very exposed, and could be easy to damage. Granted, this is an affordable watch, but you'll still want to apply a screen protector.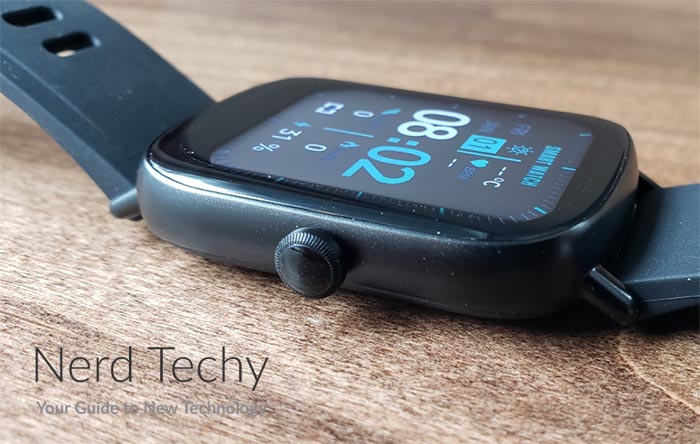 But what if you're looking for something a little more durable? In that case, you should consider the KOSPET TANK M1. It has an ultra-rugged design, with extreme weather, heat, and cold resistance. It's also waterproof to a depth of 50 meters, but it has limited built-in capabilities.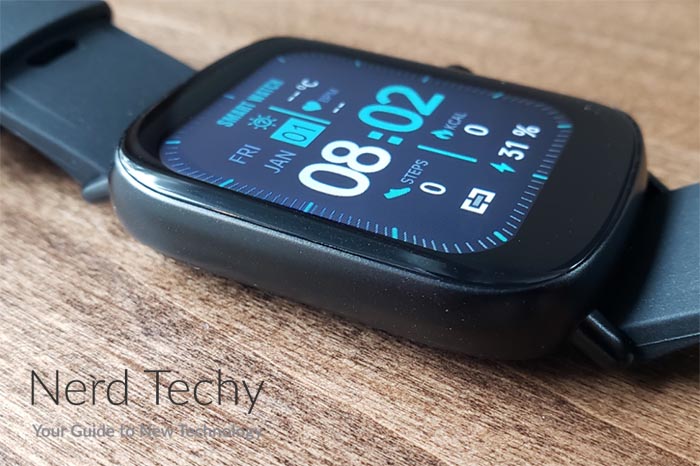 The IDONDRDO watch's screen has a diagonal measurement of 2 inches, which is a fairly generous area. The resolution isn't listed, but it looks nice and sharp. Just as importantly, the display is bright and clear, so it's easy to read under any lighting conditions. Within the companion GloryFit app, you can download and install more than 80 different watch faces. These range from plain analog to complex digital designs, with plenty of hybrid options in-between. You can also upload your own background for many of the designs.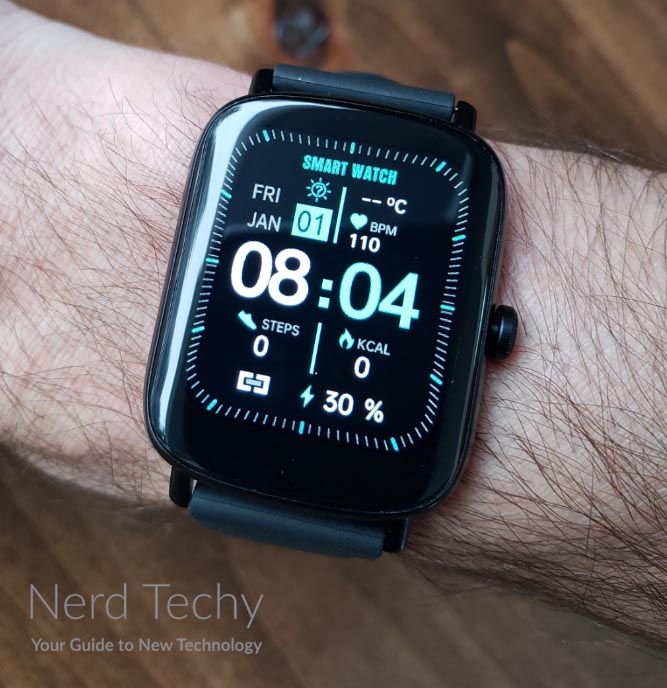 Different designs will show different elements. Typically, you'll see at least the time, and often the date and the day of week. You'll also see some combination of your heart rate, steps taken, and calories burned for the day. Controlling the watch is easy. Along with the touchscreen display, there's a single button on the right side. Between the two, you can activate all kinds of functions. You can access an alarm clock, timer, stopwatch, and control your phone's music playback. There's even a nifty "find phone" function that causes your phone to sound an alarm. If that's not enough, you can also activate a weather display, provided you're synced with your phone.
This is all very slick and modern. But what if you want a watch with a somewhat more traditional profile? If that's what you're looking for, check out the Ticwatch. It's compact and understated, with attractive, traditional round design. That said, the on-board features are significantly more limited.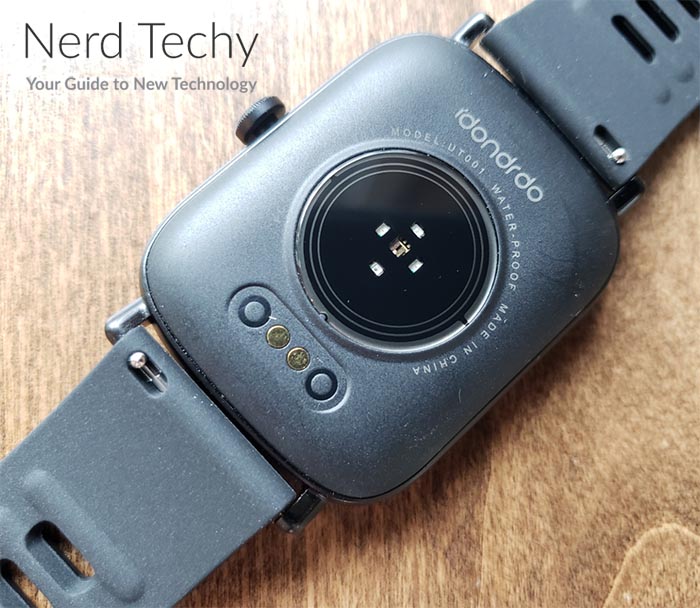 Battery & Connectivity
Ultimately, a smartwatch is only useful as long as the battery lasts. The IDONDRDO watch's battery performance is surprisingly good. It will last 5-7 days of regular use, depending on how exactly you use it. In standby mode – meaning it's just sitting there – the battery will last for a full 30 days. All in all, this compares favorably to many other popular smartwatches.
Charging is simple and straightforward. The kit includes a proprietary charging cable, with a magnetic tip. It snaps easily into place, and fully charging a dead battery takes only about 2 hours. In just a few minutes, you can get enough charge to run your watch for a full day. The only downside here is that you can't use any old USB cable. If the cable gets lost, you'll have to buy a replacement from IDONDRDO.
As far as compatibility goes, you can use this watch with just about any modern smartphone. It supports Android 4.4 or later, as well as iOS 9.0 or later. Unless you're still using the phone you bought in 2015, you'll probably be just fine. The literature doesn't state which version of Bluetooth the IDONDRDO watch uses. But based on the long-lasting battery, we imagine it's a combination of Bluetooth 4.2 and 5.0. Bluetooth 4.2 uses far less energy, but has a lower bandwidth, and the watch can switch to 5.0 as needed.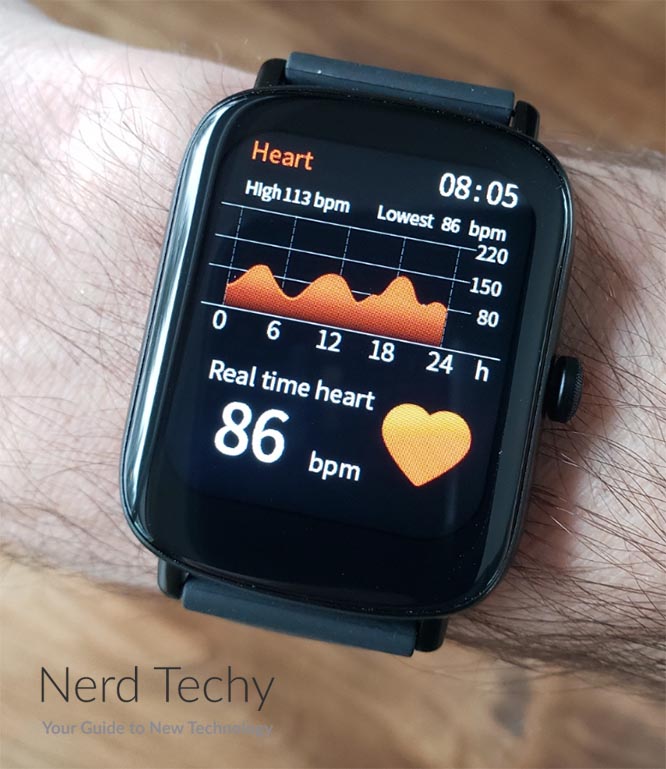 Apps & Extras
There are a number of built-in sensors to help you track your health and fitness. You can view your heart rate, which is important both for exercise and for general health. In fact, you can actually set an alert to sound in case your heart rate gets too high during a workout. You can view your blood oxygen level, and get an alarm when it drops too low. You can view how many steps you've taken and how much distance you've traveled. You can also view an estimate of how many calories you've burned.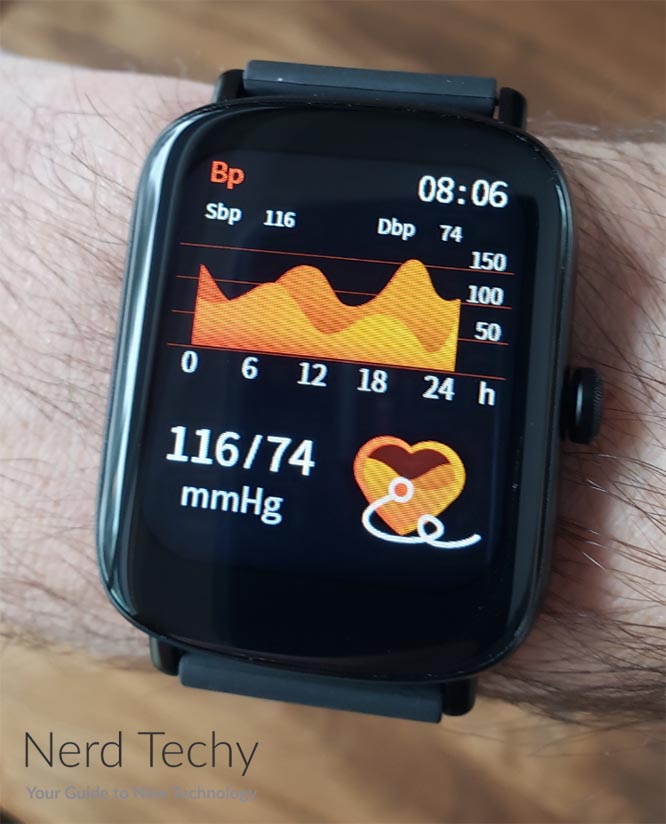 Many of these functions work better if the watch has some idea of what you're doing. You make different movements when your running, for example, then when you're walking. Similarly, you burn more calories if you're hiking up and down hills than if you're walking around the street. In order to be as accurate as possible, this watch can select between 24 different activity modes. You can choose between sports like baseball, basketball, soccer, tennis, hockey, and volleyball. Other activities include walking, running, biking, and swimming. By choosing the correct mode, you'll get the most accurate information on calories and other data.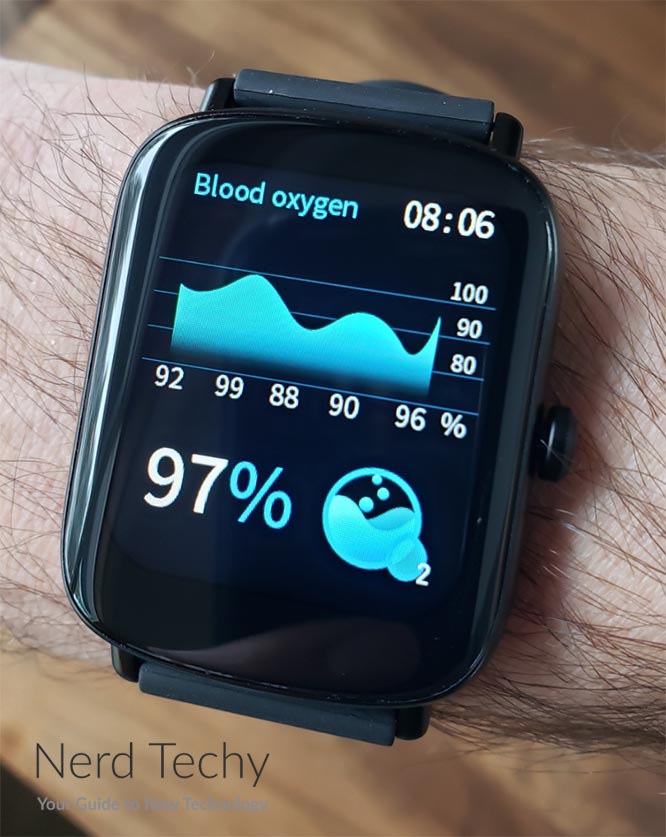 To get the most out of the IDONDRDO Fitness Smartwatch, you'll want to install the GloryFit companion app. This app is free to download, and is available both in the Apple Store and on Google Play. With the app installed, you'll be able to get far more information than you can with the watch alone. For one thing, you can view historical data on your vital statistics. You can see how your heart rate and calorie burn compare to last week or last month. Along the same lines, the app can track your sleep patterns, including light and deep sleep cycles. This can be helpful for adjusting your bedtime habits, and getting better quality rest.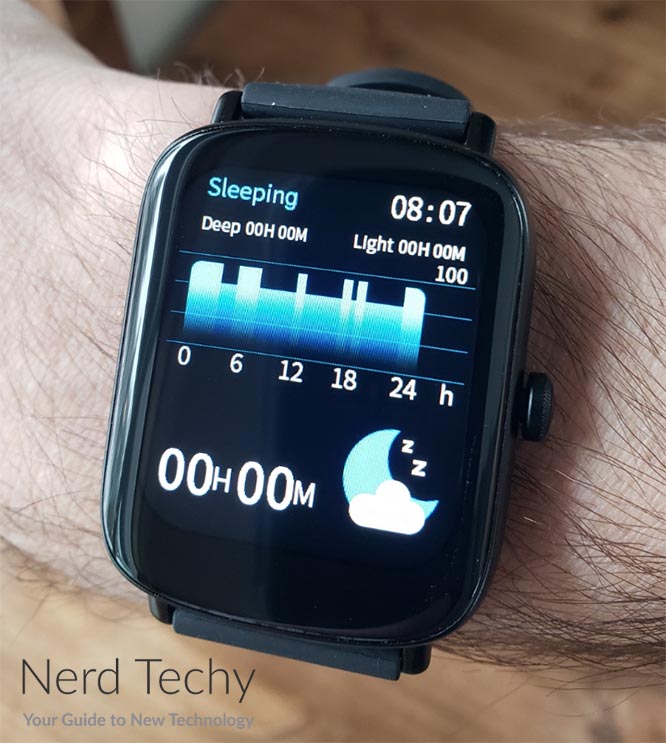 In addition to all the fitness functions, the IDONDRDO also makes it easier to interact with your smartphone. You can receive texts, and respond via voice-to-text. You won't be able to make calls, but you can reject a call, or hang up while you're using your phone. You can also receive notifications from your other apps. Within the GloryFit app, you can bring up a list of all your other apps, and enable or disable notifications. That way, you'll only receive notifications from the apps you want to deal with. In addition, you can use the app to set do not disturb hours. You can shut your notifications off overnight, and still receive them during the day.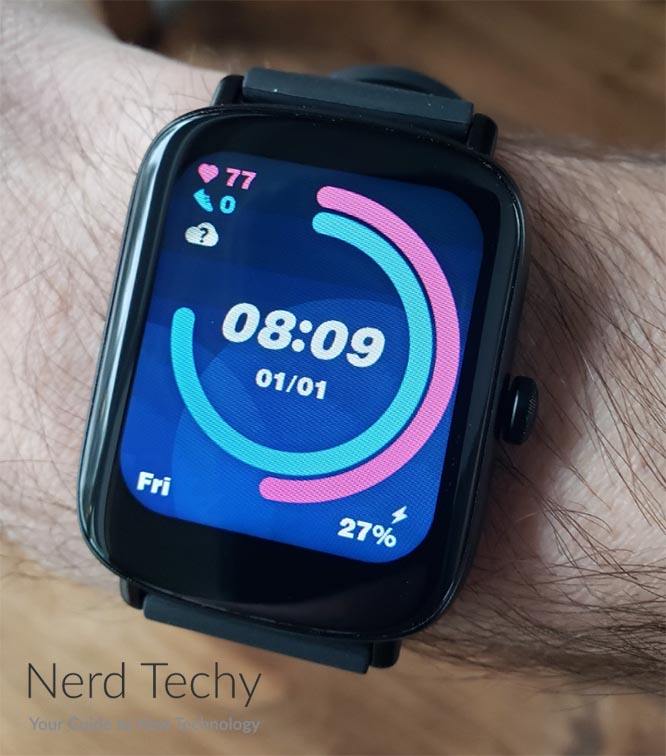 Final Verdict
The IDONDRDO Fitness Smartwatch has a number of attractive features. We would have appreciated a more durable design, but it's easy on the eyes and comfortable to wear. The screen is clear and bright, with enough face options to please anybody. Controls are simple, with both a touchscreen and a button, and the battery life is respectable. The fitness tracking features are excellent, particularly if you use the correct activity mode. And with sleep tracking and ordinary phone features, you'll get everything you need.