In some ways, the smartwatch boom has come and gone. When these iconic wearables first hit the market, every new generation of products came with tons of added functionality. Today, innovation has slowed down a little bit. Vendors and manufacturers are starting to find their stride, producing simple upgrades to platforms that are already popular. But the tech industry never rests, and it was only a matter of time before the next truly innovative product hit the market.
Mobvio, a Chinese startup, has always had high aspirations. Their first smartwatches used a custom OS that was completely developed from the ground up. These watches experienced mild success, but the platform is somewhat limiting for consumers who want more.
With the Ticwatch S & E, the innovative company has gone mainstream. These watches are based off the Android Wear platform, giving consumers access to an established ecosystem. Will this be just another Android Wear smartwatch, or has Mobvoi used their experience building their own platform to create some unique features? To find out, we decided to put these watches to the test.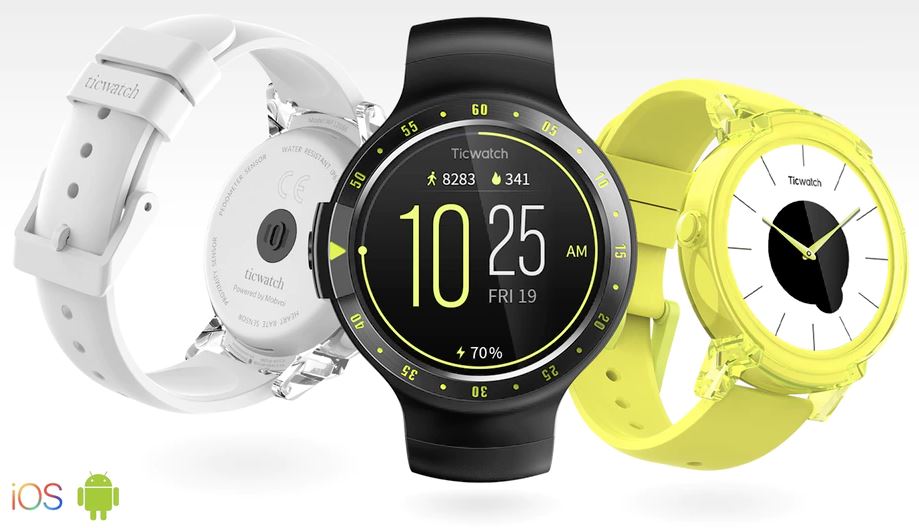 First Look
The latest Ticwatch models come in two different varieties. The S is the sports model, featuring a wrist band that's better suited for athletic activity as well as a sportier look. The Ticwatch E has a more refined look, and is priced a little lower than the S. That being said, both watches are incredibly affordable, and provide all the basic functionality we'd look for on a modern smartwatch.
Design
Both watches opt for a simplistic modern design. This can be challenging to do well. When you've only got a few key visual elements drawing in the eye, flaws or poor build are immediately visible. Considering the low price, we didn't expect to see such an attractive pair of watches.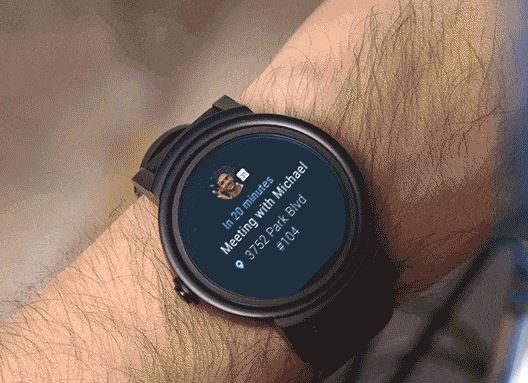 The Ticwatch E (express) features a large 44mm watch face an a simple silicon strap. The watch comes in shadow (black,) lemon (yellow,) and ice (white.) They ship with straps of the same color, although they are interchangeable. If you want to upgrade, more colors such as teal and gray are available.
The E has a very thin bezel, so your eye isn't drawn away from the large display. On the S, the bezel is slightly thicker and features a chronograph to help you time your workouts. The display is a tiny bit larger (45mm) although this isn't very noticeable in the real world.
While the design is simple, software helps you create something that stands out. There are dozens of eye-catching watch faces built in. These aren't the standard Android wear faces, they're custom designed to match the different colors available.
Because the display is so large, the watch features only a single button for interacting with it. Considering that modern Android Wear is so touchscreen heavy, we don't see this as being a disadvantage.
Software
This isn't just a bone-stock release of Android Wear. A number of applications have been ported over from the manufacturers custom operating system, and a number of new apps have been developed as well.
For starters, Android's calculator, alarm, and flashlight applications have been replaced with Mobvoi's custom written versions. All of these apps were simple to use, and felt extremely efficient. They were snappy, and performed actions almost instantly.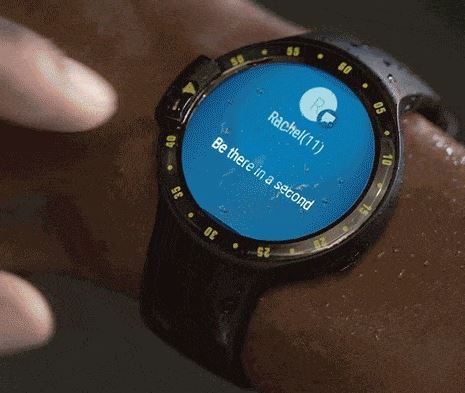 Even if you buy the express model, you still have access to the Tic Fitness application. This app has an extremely simple interface, but provides a ton of helpful functionality. You can map your workout via GPS, track your heart rate, and log your workout times to track your progress. Based on the data logged, the fitness app can tell you how many calories you've burned. If you want to take better advantage of this feature, you can also track caloric intake to balance the two out. The Tic Fitness app has a built in music player, so you can stream audio to Bluetooth earbuds while you work out.
Of course, you also have access to all of the Google Play apps such as Google Fit. If you prefer this platform, there is no reason you can't use it. However, we found ourselves quite fond of the custom apps. They're heavily optimized, so they run quite efficiently on this little watch. It's extremely responsive, and makes it feel like you're using a watch that is much more powerful. Laggy software is one of the biggest drawbacks with affordable smartwatches, so it's impressive to see that the Ticwatches are so highly optimized.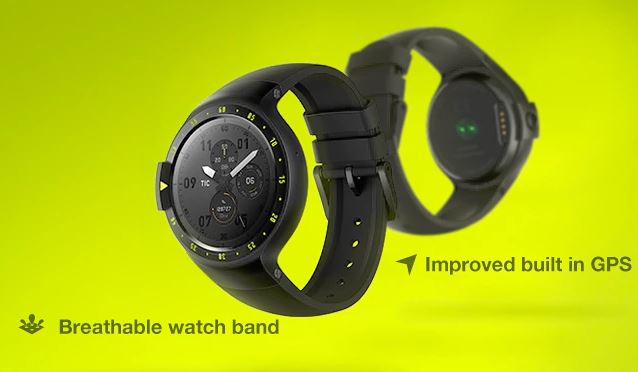 Hardware
Gazing at the spec sheet, it's pretty clear that you're getting a lot for your money. Most notable is the GPS – this is something that you rarely find at this price point. If you were to go shopping today, you could spend a lot more money and still come home with a watch that doesn't include GPS.
The GPS system is different in both the S and E. On the E, the GPS is mounted inside the watch face. On the S, the antenna runs through the watch band. This helps give a more accurate read. If you're just using the watch to navigate, there isn't much advantage to the improve accuracy. But when you're trying to track your speed, distance, and route during a run, the improved accuracy has a big impact.
The watch runs on a Mediatek 1.2 GHz dual core chipset. This is definitely an affordable option. If you're looking a benchmarks, higher priced options from Qualcomm usually outpace it. That being said, the impressive amount of optimization done in this watch allows the performance to remain snappy, even in comparison to watches that are technically more powerful. One advantage to this chipset is that it's fairly low power. You'll easily get 48 hours of battery life, so you don't have to worry about throwing it on the charger every night.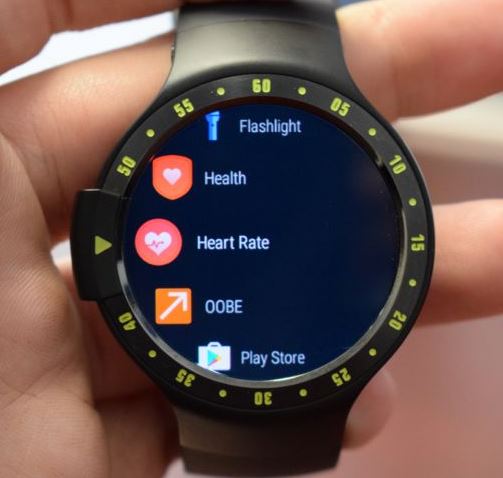 The watch sports 512 Mb of memory and 4 gigs of internal storage – more than enough to store your apps and your favorite workout playlist. It's got Bluetooth, a proximity sensor, an Accelerometer, a Gyroscope, and a digital compass. It's clear that there were very few compromises made when designing this watch.
Purely from a specifications standpoint, the Ticwatch doesn't appear to be all that impressive. What is impressive to us is just how well it performs considering it's moderately limited hardware. You'd be hard pressed to find a watch that works as well as it with these specifications. But what really stands out to us isn't the internal components, but the external ones.
The enclosure is IP67 rated, the highest waterproofing standard available. This means that you can wear this watch in all weather, or even take it swimming. It is depth limited, so you're not going to take it diving. But short of being decked out in full scuba gear, this watch will go wherever you want it to.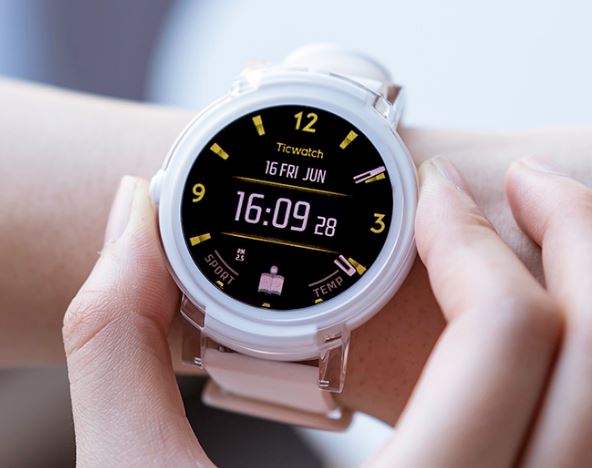 Disadvantages
The only qualm we have with this watch is the heart rate monitor. It's not designed to be used all the time. When in the fitness app, you can pause and take a measurement. But if you're using it while running, the reading won't be totally accurate. There are some fitness watches that take your heart rate in real time, but these come at a pretty significant price. For the money, this is as good as you'll find.
Final Verdict
The Ticwatch is a very impressive piece of hardware. Despite having somewhat anemic components, it performs as well as many smartwatches that cost several times it's price. All of the core functionality is there, so there is very little that you'll be missing out on.
In our eyes, the Ticwatch is an incredibly innovative product. We're not saying this because of some new feature we've never seen before, nor is it because this is cutting edge technology. We consider it innovative because of the way the watch was designed. User experience was kept as a priority. Both the core android applications as well as the custom software are an absolute delight to use. There is no lag, and no frustrating wait times.
We'd recommend this watch to anyone who's looking for an affordable way to break into the wearables market. Whether you're just trying to check your Facebook messages while on the go or looking to take your workouts to the next level, the Ticwatch S & E provide the features you need.
Are you looking for a serious athletic watch? The Ticwatch scratches the surface of what's possible with a sport watch, but there are many higher end options on the market. We recently took a look at the Garmin Forerunner 935, and would recommend it to any consumers who feel that the Ticwatch S doesn't cut it.