KOSPET TANK M1
Pros
Literally built like a tank.
Water-resistant to 50 meters.
Smartphone app with multiple fitness tracking features.
Long-lasting battery.
Beautiful screen quality.
Cons
Proprietary charging cable.
Cannot install or run apps.
Slightly bulky.
After the introduction of the smartphone, many people predicted the death of the traditional wristwatch. After all, we all have a little pocket watch on our smartphone screens. Who needs another one on their wrist? For a few years, it seemed that the only market for watches would be expensive fashion pieces. But then, the smartwatch was invented. The first smartwatches were basically glorified blood pressure monitors, with a basic digital display. But over the years, manufacturers have started adding more features. Nowadays, there are many types of smartwatch, for all kinds of activities.
One good example is calling and texting. Many smart watches can be used to make and receive calls, or even for voice-to-text. Other smart watches are designed for running advanced apps, or with more complex fitness features. But one major challenge of smartwatches is durability. It's hard enough to make an old-school watch tough and durable. But there are so many ways for a smartwatch to get damaged that they're virtually impossible to protect. That said, virtually impossible is not the same as totally impossible. With the right engineering approach, it can be done.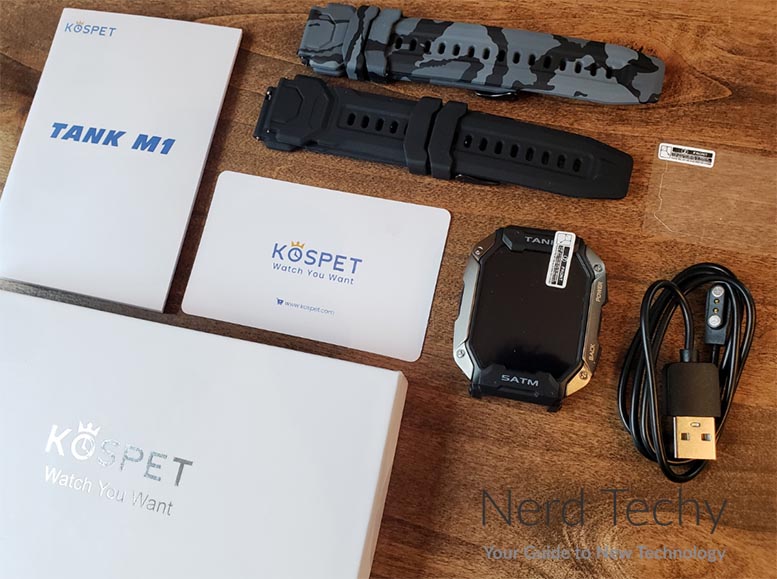 In our search for an exceedingly durable smartwatch, we came across the KOSPET TANK M1. This is a military-grade watch that can stand up to some of the world's most extreme conditions. It's water-resistant, it can survive any temperature conditions, and it's practically drop-proof. If that's not enough, it also comes with a number of health and fitness tracking features. But those are just a couple of features. To truly understand this smartwatch, we'll have to take a look at the bigger picture. How long does the battery last, and how does it charge? What kinds of apps can it run, and what does the display look like? By answering these and other questions, we'll get a complete understanding of the watch. At that point, we'll be prepared to render our verdict. Let's get started!
Overall Design
The KOSPET TANK M1 is constructed from a mixture of durable plastic and steel. Above and below the screen is plastic, and you can choose between a black or an olive green version. The two sides of the case are dark brushed steel that's nearly black in color. The total width is 43mm, which gives the watch a large wrist presence, like most smartwatches. That said, the lug width is 22mm, which is a common size. If you want to attach your own band, you'll have plenty of options. The watch is also thick, with a tall, fat, angled bezel that provides excellent protection to the screen. Despite all this, the TANK M1 weighs only 2.3 ounces, less than many "dumb" watches. It's a bit "big" on a skinny person's wrist, but fits well, snug and cozy no matter what your body type is.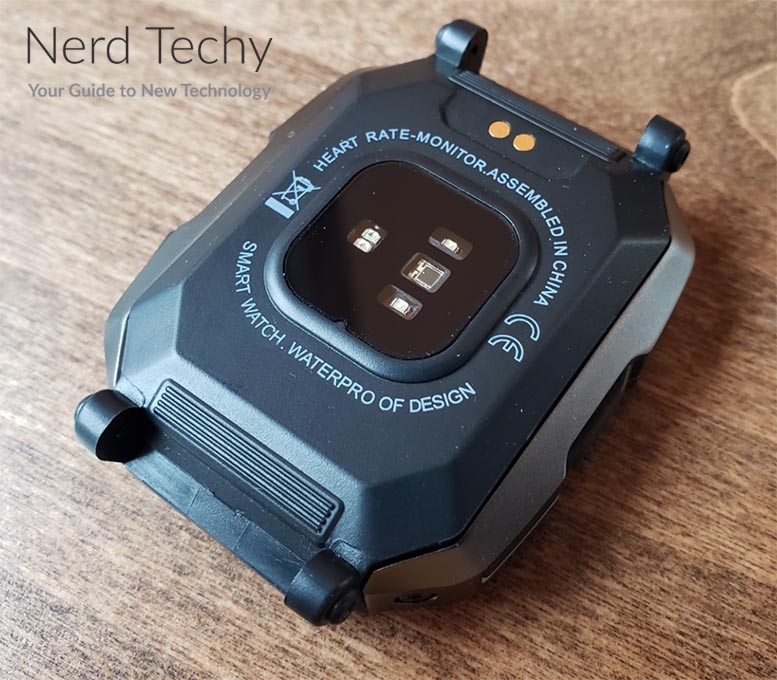 The TANK M1 is nearly indestructible. To begin with, it's been certified MIL-STD-810G 516.6. We actually had to look this up, but here's what that means. This means it's been lab-tested, and dropped multiple times onto a concrete floor. It's been dropped on every corner and edge 26 times from a height of four feet. Clearly, this watch is no shrinking violet, but it's also rated to work in extreme environments. A lot of touch displays start to malfunction when it's too cold or hot. This one keeps on working down to a temperature of -40 degrees, or up to an insane high of 158.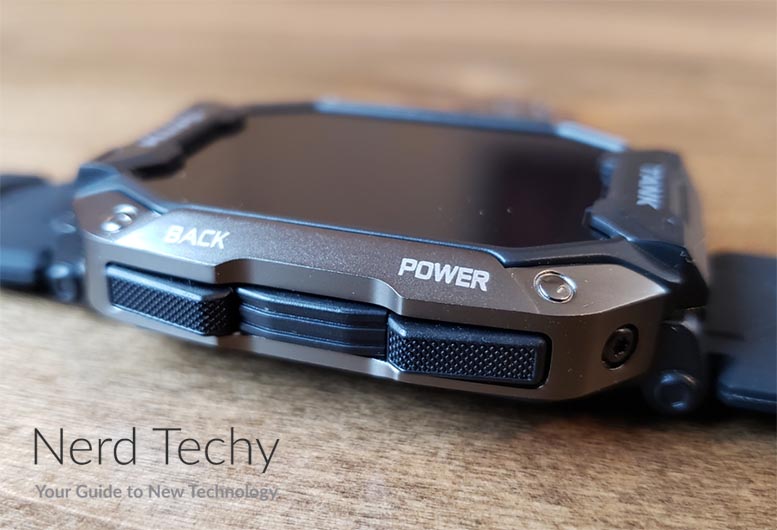 Another common concern with smartwatches is weather-resistance, but that isn't an issue here. The TANK M1 has a weather-resistance rating of IP69K. The 6 in this context indicates the highest possible level of dust-resistance. Meanwhile, the 9K represents a very high level of water-resistance. To achieve this level, a device must be able to withstand a sustained, close-range spray of hot, high-pressure water. Not only that, but the watch can also be submerged. It has a submersion rating of 50 meters, which means it's fine for showering, swimming, or even snorkeling.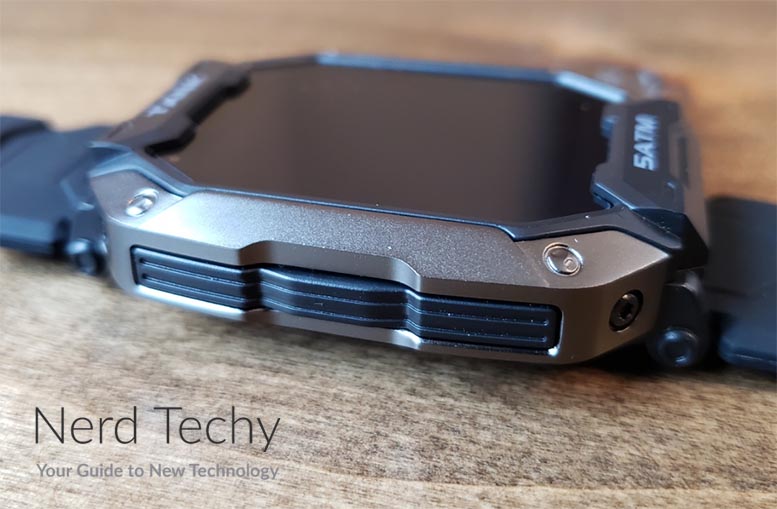 The display itself has a diagonal measurement of 1.72 inches. It's an IPS panel, which means it can be viewed from a very wide angle, even from almost 90 degrees. This makes it easier to view than a display that fades out when you move to the sides. The total resolution is 280 x 320 pixels, which is reasonably high for the size. It's not exactly ultra HD, but it looks pretty nice; clear and vivid. The colors are also bright and vibrant, so you can easily read the watch. Also included is a screen protector, which will keep you safe from any potential scratches.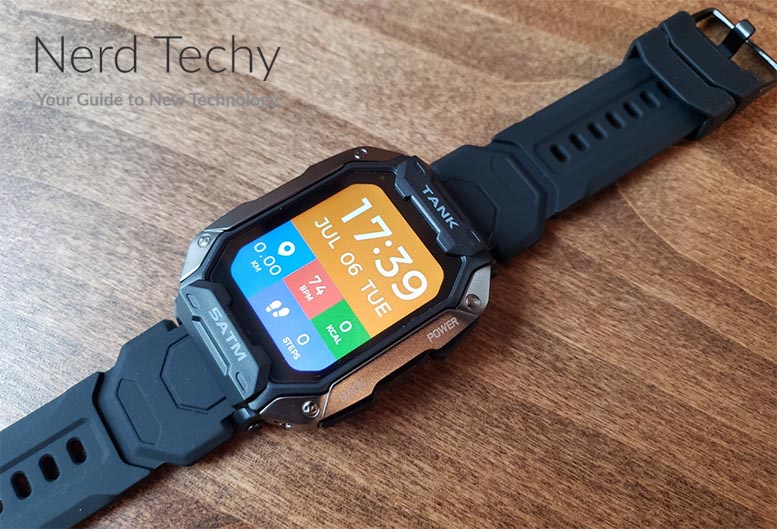 The display has 10 different modes pre-installed, and you can download more free dials for free. In total, it can display the time, day, date, steps taken, miles walked, heart rate, and calories burned. In practice, few of the display modes show all of this information at once. Most of them are less busy. Some are bare analog displays, with nothing but the time. Some have a more industrial look, with analog hands combined with digital elements. Still others are all-digital, with slick, modern, all-digital displays. Point being, you can customize the TANK M1 to look like whatever you want it to look like.
Use code "KOSPETTM22" for a 10% discount when you order the TANK M1 from the KOSPET Official Website.
For controls, you'll have the touchscreen, of course. But you'll also have a pair of black plastic buttons on the side. These work a lot like standard watch buttons, so you can perform basic functions. In particular, you can switch between different workout modes, which we'll discuss momentarily.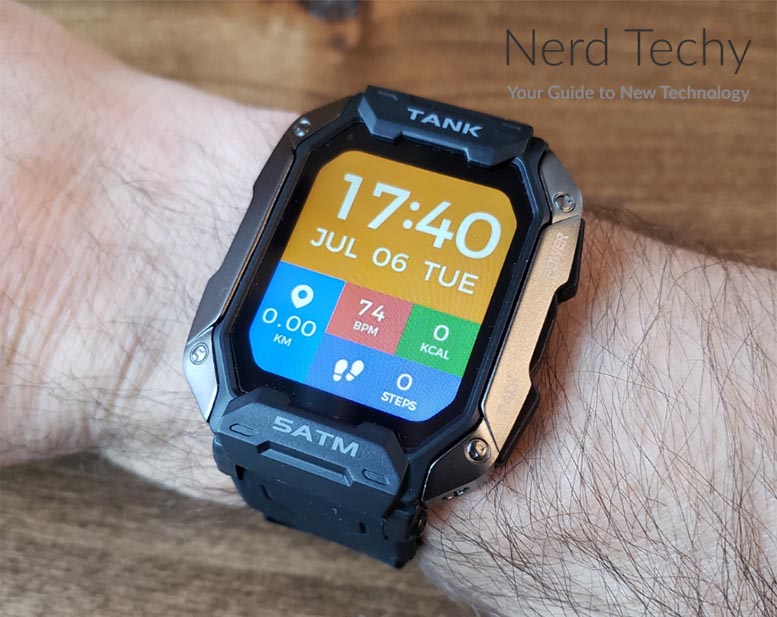 You can order a bare watch if you want, but you'll probably want to add a strap. KOSPET provides two different add-ons: an olive green and a black camo. The olive green matches the green watch, and the black camo matches the black watch. That said, you're free to mix and match. The straps are made from TPU rubber, which is a highly flexible material that's resistant to grease and abrasion. The total length of the strap and watch is 10.6 inches, so it can accommodate even a large wrist. That said, there are holes along the entire length, so it will fit on small wrists just as easily.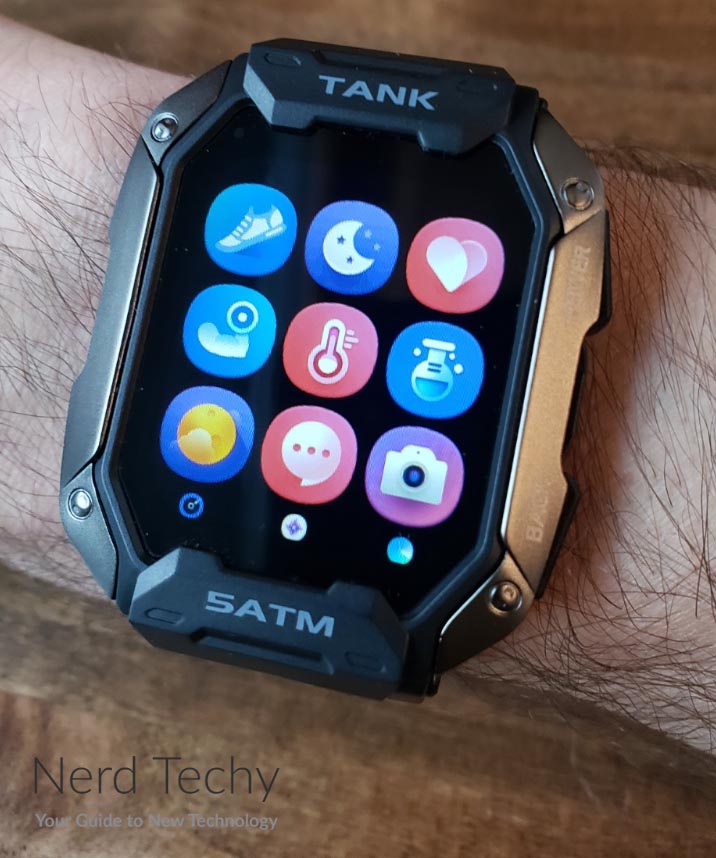 Battery & Connectivity
The KOSPET TANK M1 has a battery capacity of 380mAh. Exactly how long that will last will depend on how much you're using it. If you're constantly bringing up the screen and checking your vitals, it will only last for a few days. If you're using it as much as the average person uses their watch, it will last for around two weeks. However, if it's just sitting there doing nothing, it will last for up to 50 days. The battery charges via a proprietary cable, which snaps onto magnetic contacts on the back. This is a bit annoying, since if you lose the cable, you'll have to replace it directly from KOSPET. Then again, it charges the battery in 2 hours, and the design is necessary to maintain a closed, waterproof case.
The TANK M1 connects via the Bluetooth 5.0 wireless protocol. This is the current standard used by most smartphones, so you get near-universal compatibility. You can connect to Android phones running Android 5.1 or later, and iPhones running iOS 10.0 and up. This includes almost any phone in use today.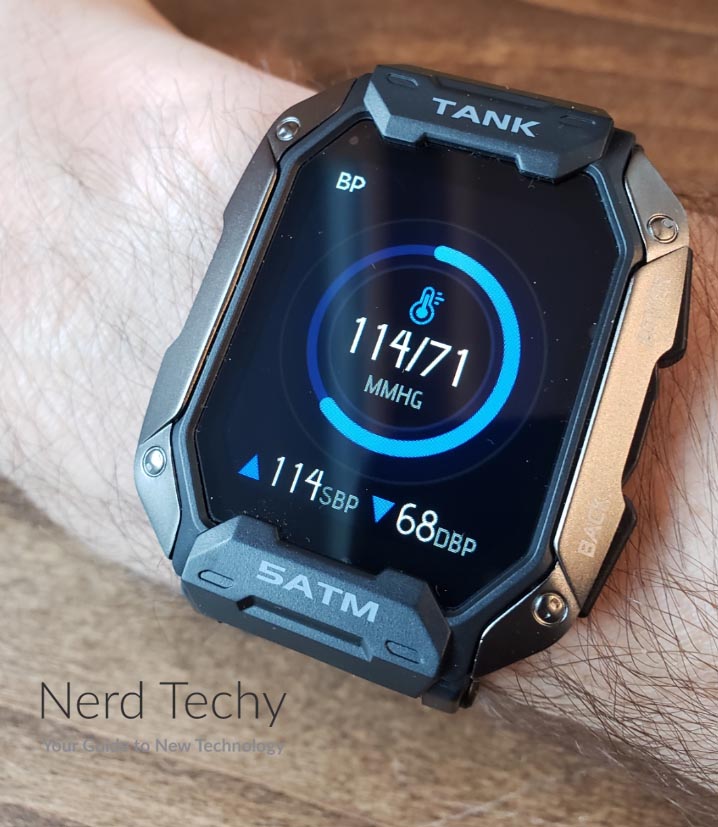 Apps & Extras
Beyond just showing you the date and time, the TANK M1 can also track some of your vital stats. We already mentioned that it will keep track of your steps taken and calories burned. But the sensors can also display your blood pressure and blood oxygen level. There's even a sleep monitoring function that lets you track how much quality rest you're getting. To view and track this information, you'll need to download the Da Fit app, which is free on Android and iOS. Once the app is installed , you can pair with your watch and watch your stats. You can also view historical data, and track your information over time.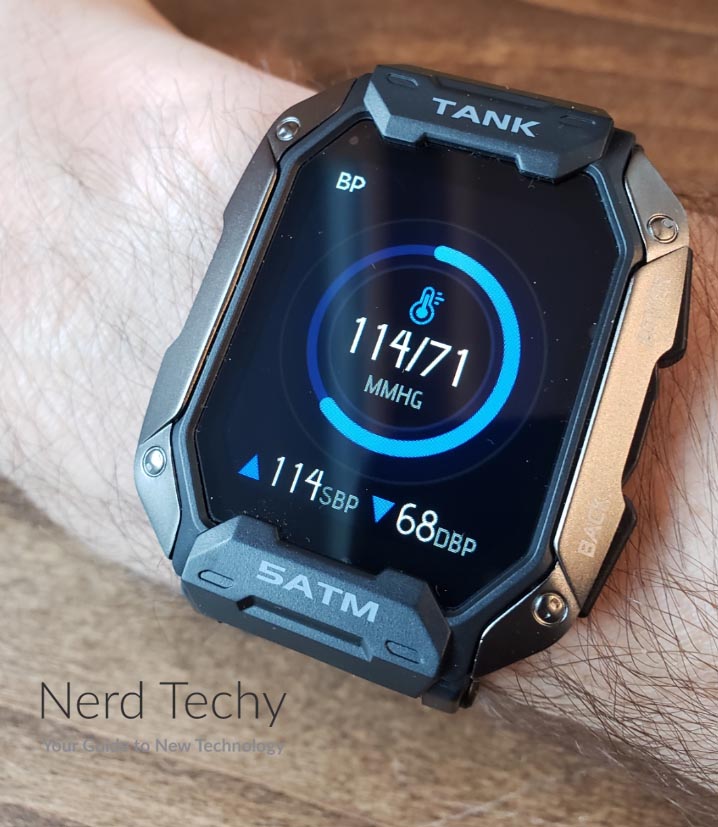 This watch has 24 different sports modes. These includes sports like basketball, tennis, soccer, swimming, and other common activities. There are even different modes for walking, running, or hiking. The purpose of all these different modes is simple. Depending on the mode, the TANK M1 will interpret your movements differently, and make calculations accordingly.
One thing to be aware of is that this watch only has 128MB of storage space and 64KB of RAM. It can't run any third-party apps, and the only things you can install are alternative watch faces. So if you want to install a GPS app or something like that, you won't be able to.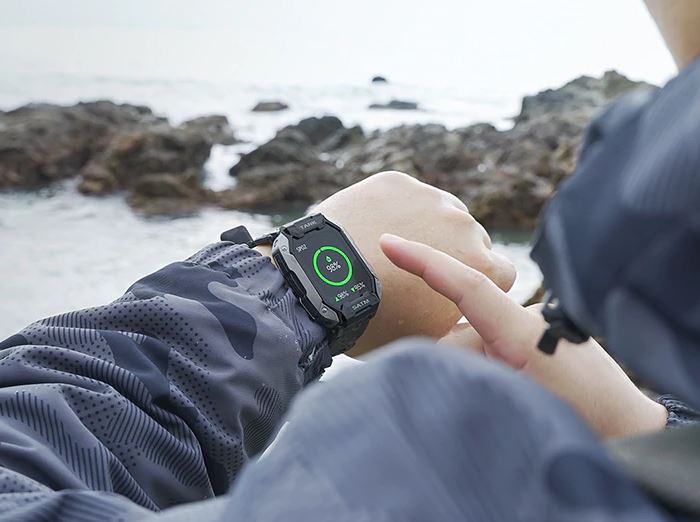 Final Verdict
The KOSPET TANK M1 lives up to its name. It just might be the toughest smartwatch on the market. It's drop-resistant, water-resistant, and you can even take it into arctic conditions. The battery lasts for around two weeks, which is truly spectacular. We would have liked to be able to install our own apps, but the native features are pretty robust. With all the different health tracking options, it's an ideal workout companion. Considering how tough it is, you can take it into the wilderness or the gym with equal reliability. It seems to be built well, full of great features, and priced affordably for most people. Overall, highly recommended!