Remember standard definition televisions? Unless you're very young, you probably do. Do you ever wish we could go back to the day when that was the best standard? Probably not. The change from standard definition to high definition was a game changer for all kinds of entertainment. For example, watching a hockey game in standard definition was a guessing game. Most of the time, you couldn't see the puck! In HD, you can watch that little sucker fly across the ice just as well as you can in the stadium.
The SDI video cable has been in use since the late 1980s, so many older versions use standard definition. Newer versions have been upgraded to HD to support newer cameras and other similar devices. However, the plug has remained the same for the purposes of interfacing with older hardware. But what if you want to connect your SDI device to a standard HD display like a TV or monitor? In that case, you're going to need an SDI to HDMI converter. We've reviewed several converters in the past, including RCA, Nintendo 64, and original Xbox to HDMI. So we were excited to take a crack at this other old school standard.
We're about to review three of the best SDI to HDMI converters on the market. First up, we'll check out the Blackmagic Design Micro Converter HDMI to SDI. It converts HDMI to SDI and not the other way around, which is useful for a variety of applications. Next, we'll review the AmazonBasics SDI to HDMI converter. This is a more affordable converter that will only support 720p and higher inputs. Finally, we'll look at the Anber-Tech SDI to HDMI Converter Adapter. It supports very long SDI cable runs, as long as 1,000 feet. Let's take a closer look at each of them!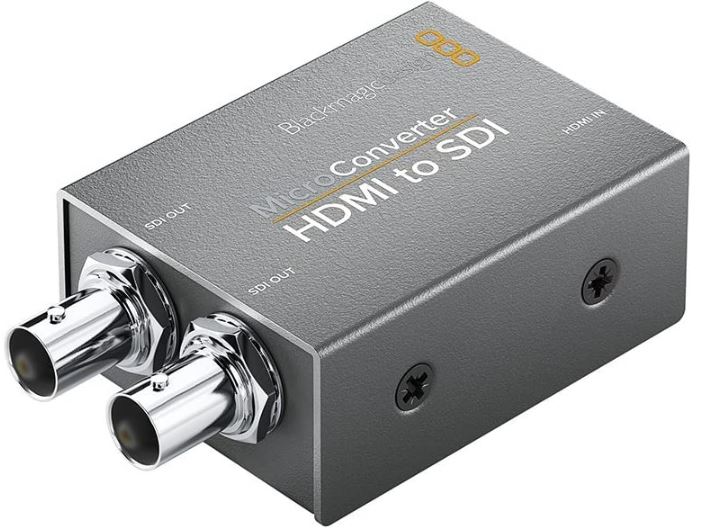 Blackmagic Design Micro Converter HDMI to SDI
The Blackmagic Design Micro Converter HDMI to SDI is the most compact converter on our list. It measures 3.01 inches long, 1.8 inches wide, and 0.98 inches thick. This compact form factor makes it easy to fit just about anywhere. This makes it particularly useful if you're installing an adapter in a tight space. And at only 5.3 ounces, it's not going to put much strain on the end of an SDI cable if it's hanging.
The case is constructed from anodized aluminum, which makes it nice and sturdy. The powder-coated finish is easy on the eyes, with an attractive grey finish. One thing we really appreciated about the design is the fact that it's held together with standard #2 Philips screws. This makes it easy to service the inside of the converter in the event that you drop it and a wire comes loose. Not that that should be an issue for most people; the Blackmagic Design Micro Converter is built like a tank.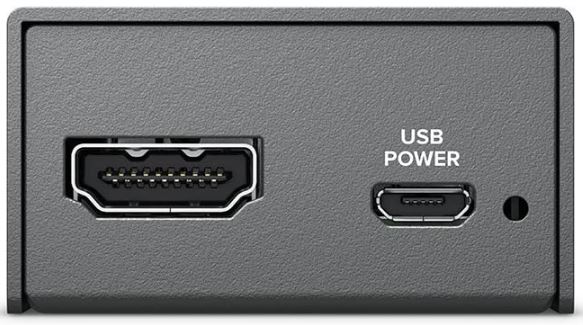 On top of the unit, you'll see a Blackmagic Design logo, along with the words "HDMI to SDI". If it ends up in a box of miscellaneous parts, you won't be scratching your head, wondering what it is. The HDMI input is located on the right side of the unit, and the dual SDI outputs are located on the left. Next to the HDMI port, you'll find a Micro USB port for providing power. Disappointingly, there's no USB cable included in the box; you'll need to provide your own.
How it Works
As we mentioned, the Blackmagic Design Micro Converter is a bit different than the other two options on our list. Rather than converting an SDI signal to HDMI, it does the reverse. It will support up to a 300-foot SDI run, so you can push a signal across a very large building. It will automatically detect the type of signal input. For example, it will detect whether your HDMI device is outputting in 720p, 1080p, 1080i, 4K, and so on. It simply passes the signal through, and does not downscale or upscale. As a result, you'll need to make sure your SDI device is set to receive at the same resolution. Otherwise, you're not going to see any picture. That said, this is necessary, since SDI doesn't have any one single standard for resolution.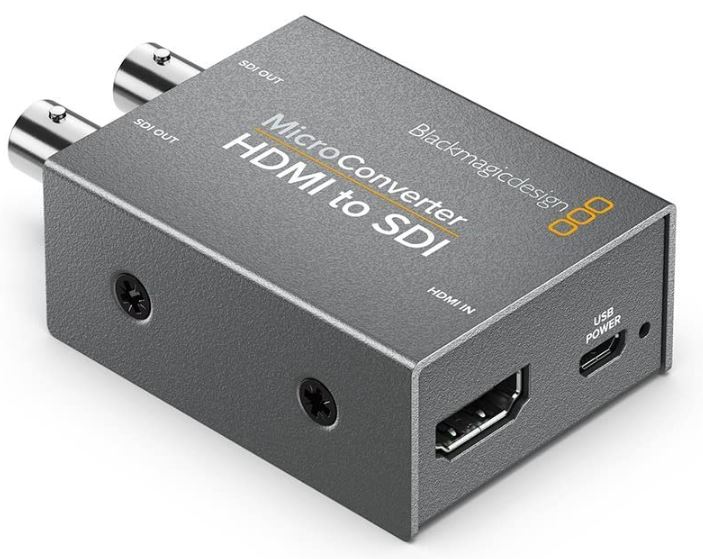 You can output to two SDI devices at once, which is a great added value. For example, suppose you're trying to record multiple DVD copies of a video. With two different writers connected, you can double your rate of production without additional converters.
The Blackmagic Design converter does require a little bit of setup before you can put it to use. It requires a firmware install before it will actually function. This is an unusual decision, although it does ensure that you'll have the latest version of the firmware. To install the firmware, you'll first need to navigate to Blackmagic Design's website. Click the "Support" link at the top of the page. Then select the link for "Broadcast and ATEM converters". Then scroll through the list on the left until you find the latest update for this particular converter. The model number search is broken, so there's no way to just jump to that page. We'd provide you with a link if we could, but it wouldn't be much help once they roll out the next update.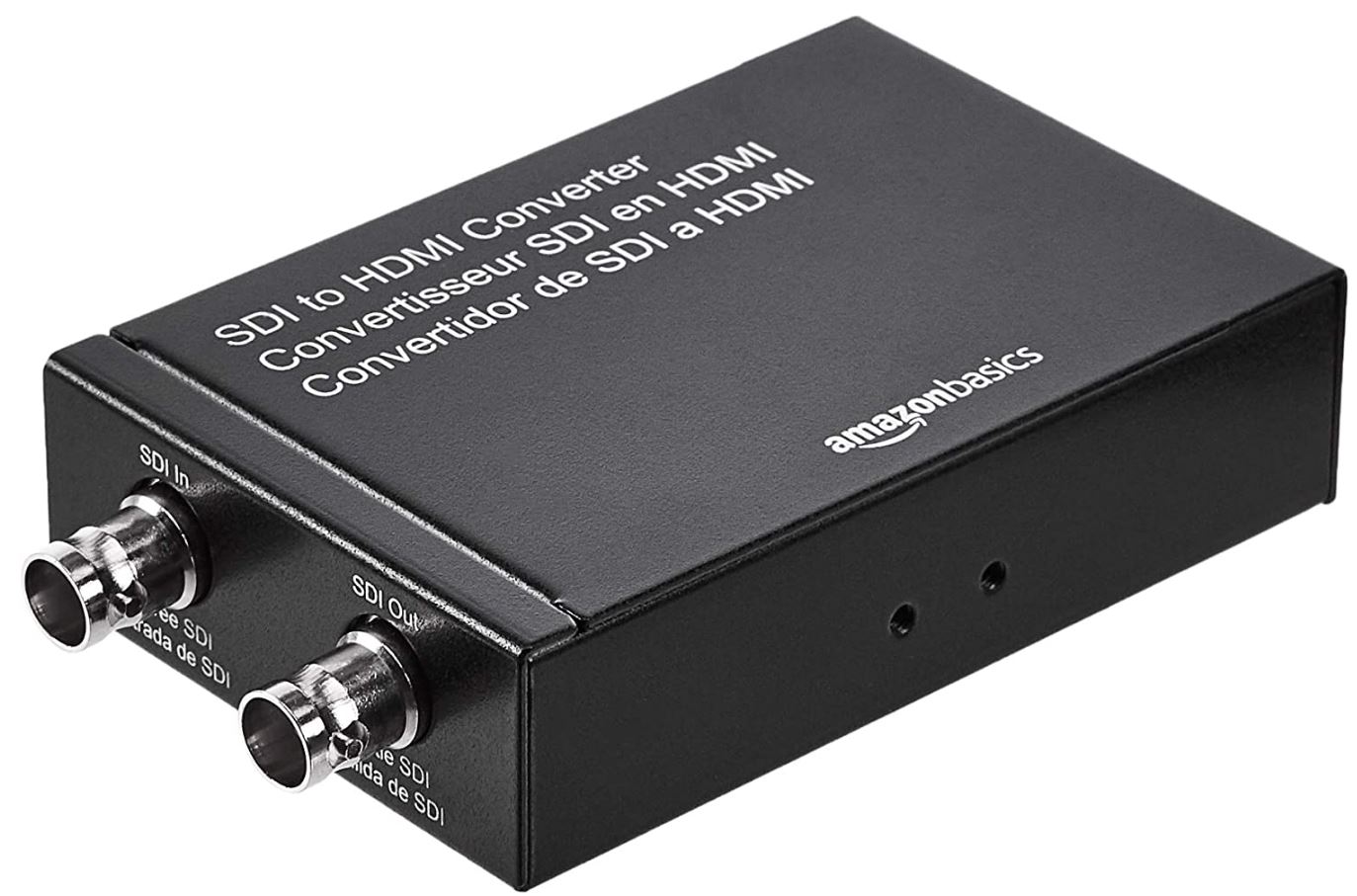 AmazonBasics SDI to HDMI Converter
The AmazonBasics is a simple SDI to HDMI converter that comes at a very reasonable price. If you don't need a lot of extra features, you're looking at a fantastic value. It's slightly larger than the Blackmagic Design converter, measuring 4.45 inches long, 2.56 inches wide, and 1.02 inches thick. That said, this is still relatively compact. You won't have to worry about finding space for it on a small shelf or behind an equipment rack. That said, at 8.5 ounces, it's a bit heavy for the size. You probably don't want it to be hanging in the middle of a cable.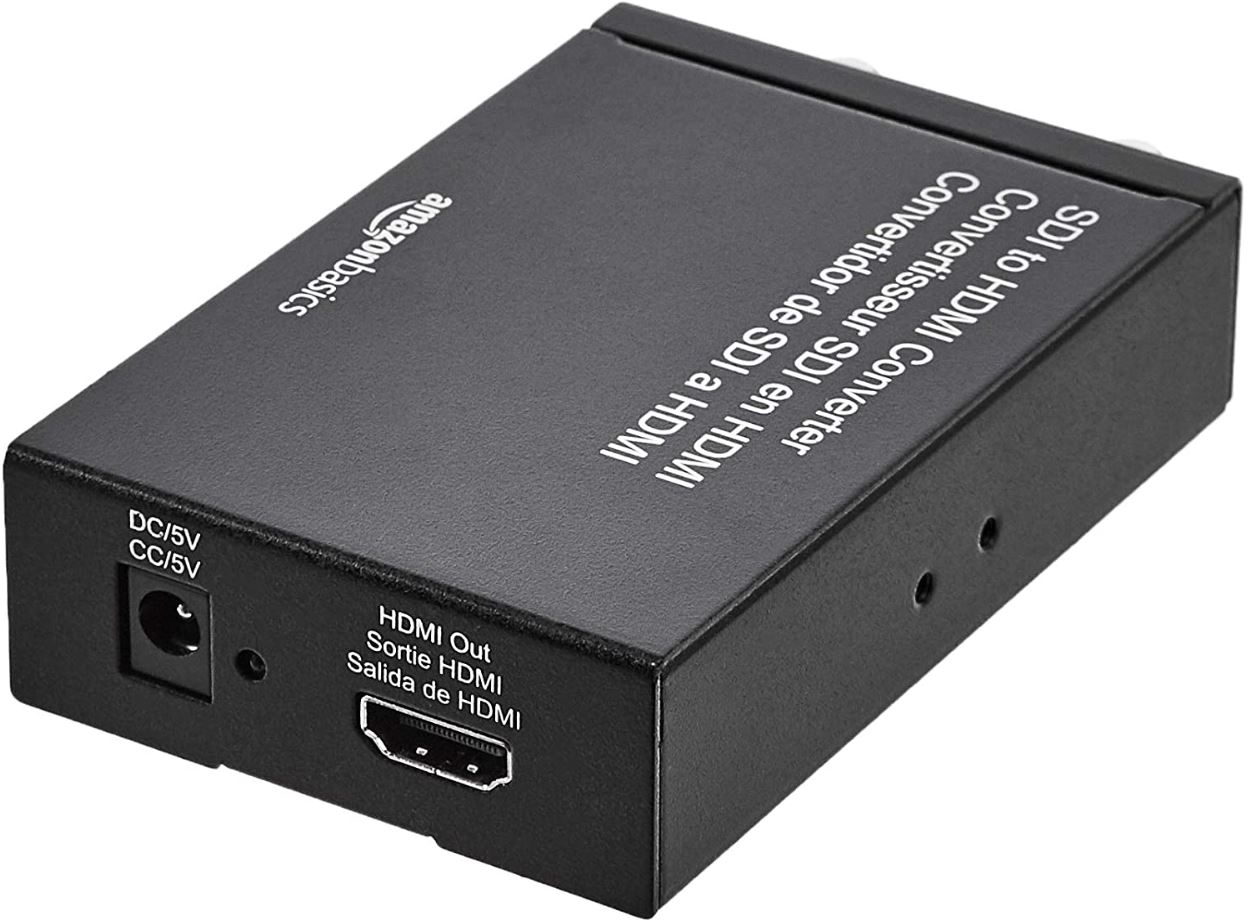 The case is constructed from a rugged black anodized aluminum. It's not much to look at, but it will get the job done. If you're fumbling around during installation, it's not likely to get damaged. On the top, you'll see the AmazonBasics logo printed in a sharp white print. It also says "SDI to HDMI Converter", so you'll know exactly what it is. On the right, you'll see a pair of SDI ports. On the right, you'll find an HDMI port, along with a 5-volt DC power port. All of these ports are labeled. Obviously, you know what the HDMI and power ports are for. But it's important to know which SDI port is which.
Along with the converter itself, you also get a USB to DC power adapter. The cord is only three feet long, so you'll need a USB power supply nearby. If your video source has a USB port, this should not be a problem.

How it Works
The AmazonBasics converter is relatively basics, befitting the budget price point. It only supports 720p, 1080i, and 1080p video resolutions. And in 1080p, your framerate will be limited to 30 frames per second. To be fair, these are the most common HD standards. But if you're dealing with a standard definition signal or an oddball format, you'll need another option. That said, setup is easy and painless. You don't need to worry about installing any drivers or changing any settings. Just plug in all the cables, and you're good to go.
The signal quality is also excellent. You don't have to worry about any noticeable loss in quality. Images are crisp and clear, with top-notch color fidelity. Audio also comes across very well, without any distortion. So even at this low price, there's no issue with quality.
The second SDI port is an output port, not an input port. The system is not bi-directional. That said, if it's useful if you want to pass the signal through to a second SDI device. The converter supports a cable run of up to 300 feet, so you'll have plenty of power for most spaces. If you need to lay down a run of more than 300 feet, you're going to need a signal booster.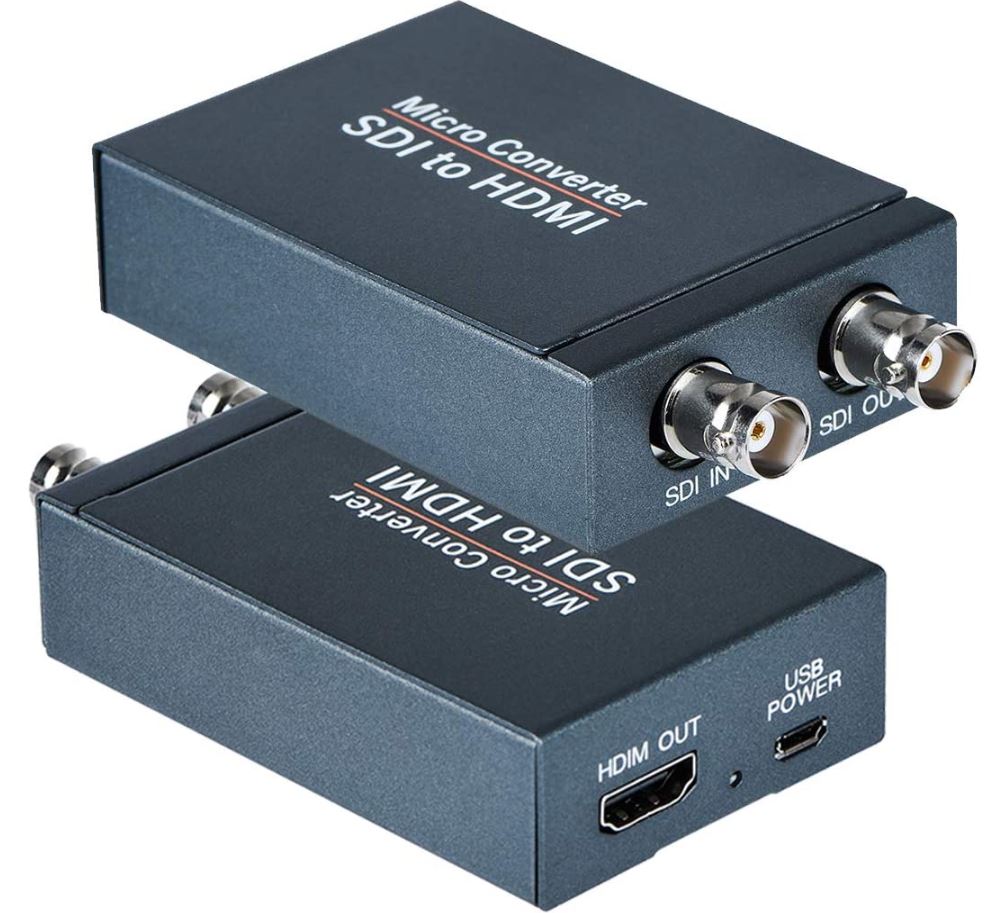 Anber-Tech SDI to HDMI Converter Adapter
If you need an SDI to HDMI converter with more features, consider the Anber-Tech SDI to HDMI Converter Adapter. It has a big, beefy design, measuring 4.3 inches long, 3.6 inches wide, and 2.5 inches thick. This makes it relatively large for applications where space is limited. That said, it only weighs 6.1 ounces. This is actually lighter than the AmazonBasics converter, but only by two ounces. Effectively, they're the same weight.
The Anber-Tech converter feels nice and sturdy in your hand, with an attractive blue-grey anodized aluminum case. Alternatively, you can also order a more laid-back black variant. On both versions, the words "Micro Converter SDI to HDMI" are printed on the top. So if the converter goes into storage for 10 years, you won't need to remember what it is. On the right side of the unit, there's a pair of SDI ports, labeled in and out respectively. On the left, there's an HDMI port, along with a USB power port.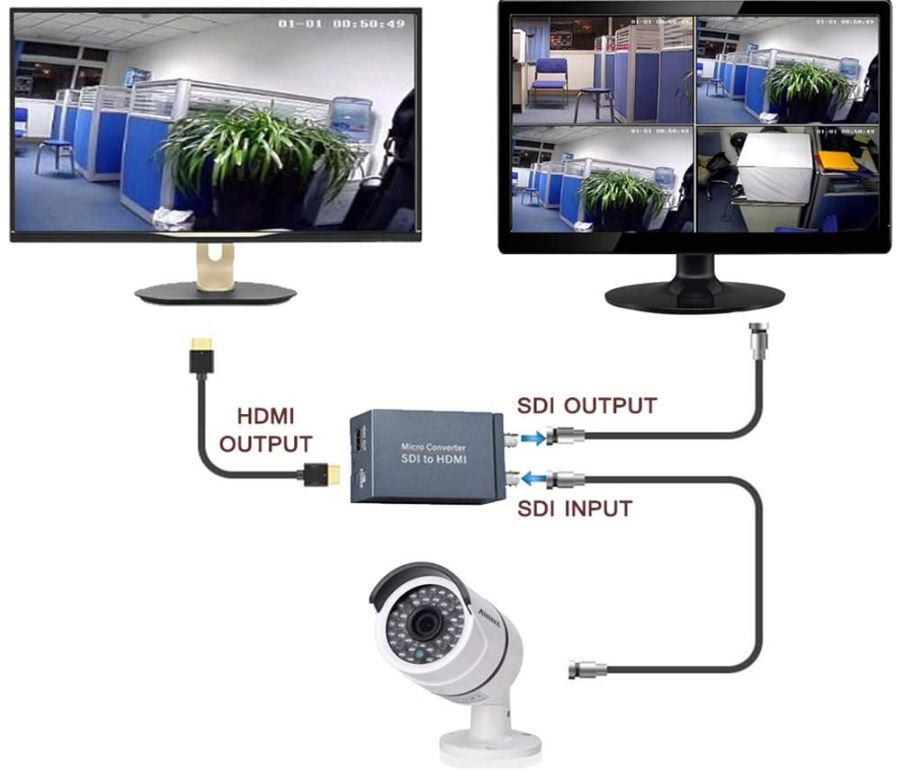 Along with the unit itself you also get a Micro USB power cord. You can plug it directly into a device, or use the included AC adapter to plug into a wall outlet. In addition, you get Anber-Tech's 24-hour customer service. If you have any technical issues, it's easy to get help.
How it Works
The Anber-Tech SDI to HDMI Converter Adapter is exceptionally smart. If your signal is already in HD, it will pass the signal along as is. So 1080i, 1080p, and 720p signals will come through directly as intended. If the original single was in standard definition, the converter will automatically upscale it to 1080p. This makes it a fantastic choice for older SDI devices that output in standard definition. It's also compatible with both NTSC and PAL systems.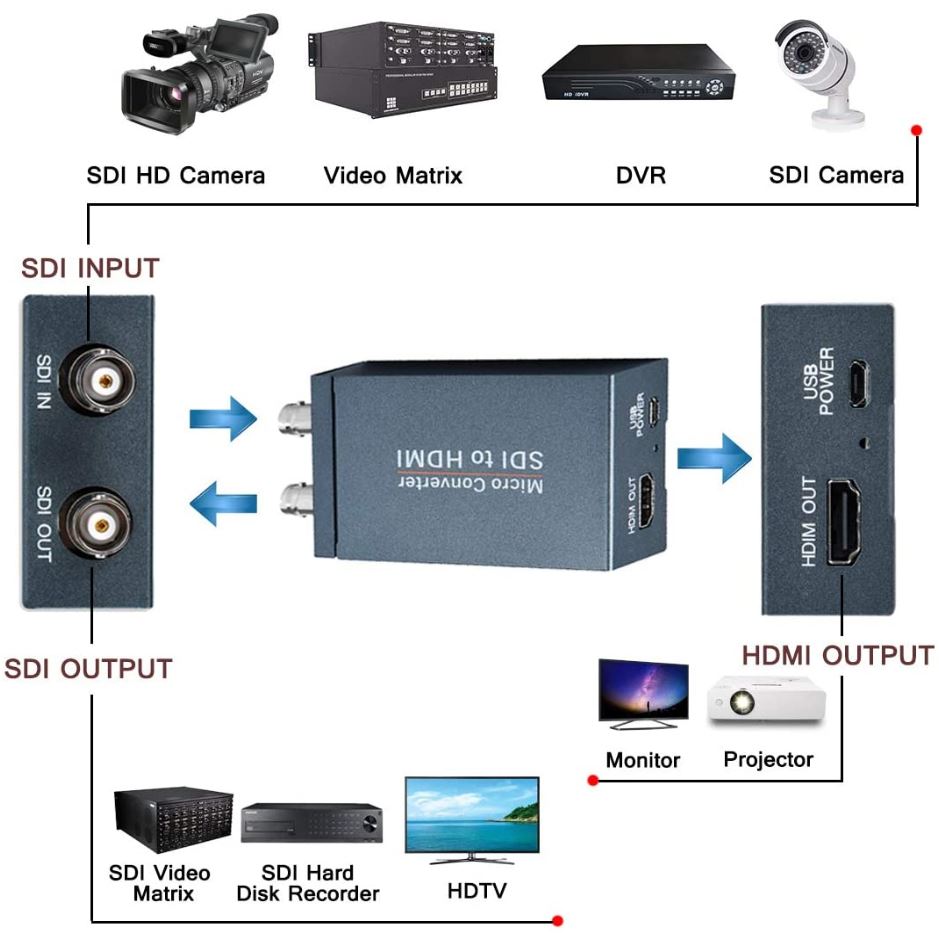 Video quality is excellent. You can transfer data at up to 2.97Gbps. Audio quality is also top notch, with support for up to 8 channels of 48KHz audio. That said, the cable run length will depend on the data transfer rate. For example, with a 2.97Gbps signal, you'll be limited to "only" 300 feet. On the other hand, with an old-school 270Mbps standard definition signal, you'll get a whopping 1,000 feet.
Like the AmazonBasics converter, the Anber-Tech converter supports pass-through. As a result, you can attach it in the middle of an SDI run to output to an HDMI device. Then you can run another cable to your next SDI device.
Final Verdict
As is usually the case, which one of these converters is the best choice will depend on what you need. To begin with, the Blackmagic Design Micro Converter HDMI to SDI is an excellent choice for converting HDMI to SDI. It won't work the other way around. But for this unusual application, it's one of the few viable options on the market. That said, be prepared to spend some time setting it up.
The AmazonBasics SDI to HDMI Converter works well if you need HD conversion on a short to medium run. With a 300-foot range, it's not ideal for large-scale applications. But for most purposes, you're going to have more than enough range. In addition, the video and audio quality are both excellent. You don't need to worry about quality loss just because you're using an inexpensive adapter.
Finally, the Anber-Tech SDI to HDMI Converter Adapter is the most full-featured converter we looked at. In addition to HD video, it also supports standard definition signals. If you're trying to convert a signal from an older SDI device, you're looking at an excellent choice. Moreover, you also get very good video and audio quality. And with the ability to output over a 1,000-foot run, you can use this converter in large-scale applications.