Betamax. Coaxial. VHF. HD-DVD. What do all of these formats have in common? Not only are they all dead, but during their inception their creators hoped for them to become a format that would rule all others.
This is the same logic behind app stores, operating systems, or virtually any other tech standard companies put in place. They want everyone to use their standard. They don't just want their slice of the pie, they want to be the pie.
Even though we've spent years moving towards unifying standards, it seems like there is always something new on the horizon. At some point, manufacturers have to make the choice to drop old standards in favor of new ones. If there is a TV on the market that has every connection on it from the past 20 years, they'd be priced out by affordable TVs that give the people what they want. After all, would you pay an extra $50 for a TV with a SCART input?
Sometimes adapters are simple. Other times they are complicated. Generally, once an external adapter gets cheap enough to be accessible, manufacturers feel comfortable dropping outdated standards. All of us are likely familiar with composite inputs, and we might even have a piece of hardware that uses it. But if you're looking to plug this old analog standard into a new modern TV, you might be surprised to learn that the port is there. Or, even worse, you might find that the converter built into your TV is so poor that it ruins your media.
Today, we'll be looking at the best composite to HDMI converters. We'll help you understand the differences between them, and find the one that best suits your application.
GANA Mini Audio/Video Converter
Specializing in imported goods from overseas manufacturers, GANA is cutting out the distributor middleman. Often, you'll find that their products are the same things you can get on local store shelves, but at a much lower price. What sets them apart from many other online vendors is the quality control. They might not be the cheapest that you can find online, but they do a pretty good job of weeding out the low-quality products and sticking with the high-end models.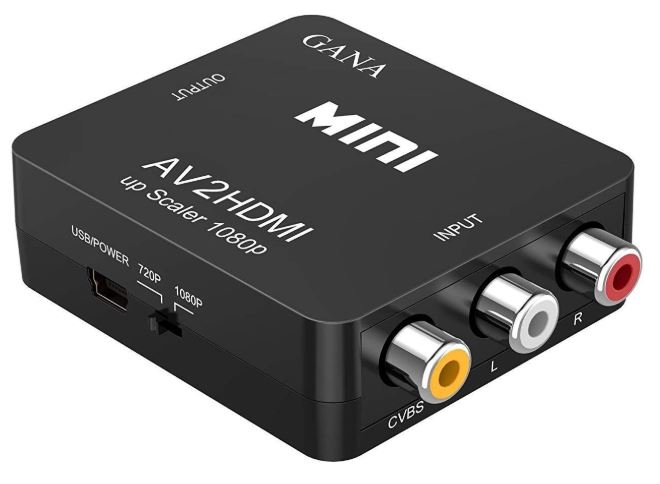 Design
They kept the appearance of the GANA Mini Audio/Video Converter pretty simple. It's a black box with a number of different connectors and switches on each side. On the left, you've got your three RCA inputs for video and audio. On the opposite end, you've got your HDMI input. If this is going to get chucked into a box of cables and adapters, you it will be easy to tell that this is an upscaling converter and now a downscaling model as the "input" and "output" sides are labelled.
At the top, you'll find a mini (not micro) USB input. The cable and power adapter are included, and this is required to power the upscaling equipment. This is because HDMI broadcast requires a power feed, but RCA doesn't supply it. So this power needs to come from somewhere. There is also a switch that lets you choose between 720p and 1080p upscaling. For best results, you should choose the mode that best matches your TV.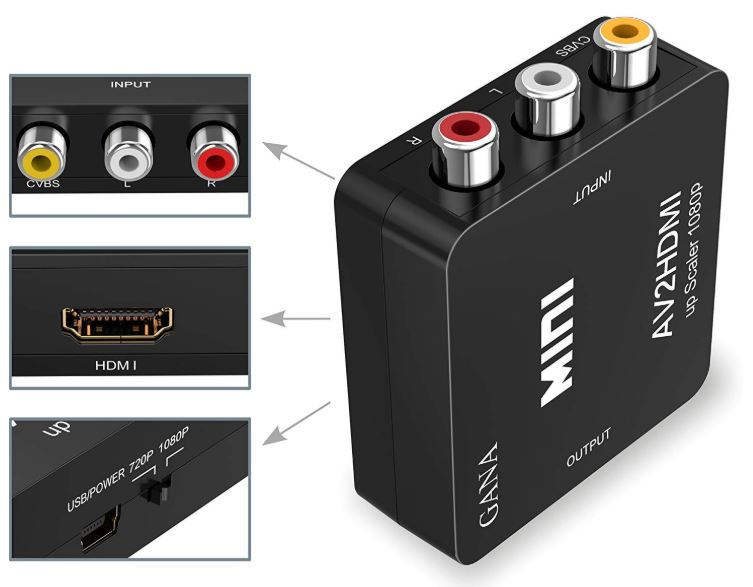 Compatibility
Composite input was used for a very long time, in many different parts of the world. Because of this, there were many different signal types transmitted over it. Just because you can plug something in, doesn't necessarily mean that it will work. If you just imported that rare Japanese edition of Star Wars on VHS, you'll also have to make sure that you use with with a Japanese VCR. This is because they use different video formats. Overseas, many countries use the PAL standard. This had a slightly different aspect ratio, frame rate, and color encoding. In North America, we use NTSC. But there are multiple versions of NTSC. Older hardware uses 3.58, newer hardware uses 4.43. Some countries use SECAM, and there were also several different variants of PAL for different regions.
Fortunately, this adapter will let all of these standards work with your modern HDTV. It supports PAL, NTSC 3.58, 4.43, SECAM, PAL/M, and PAL/N. The switch on the side will enable you to allow choose the correct resolution to scale to, but even if this is set inaccurately your TV can do a pretty good job of figuring out the rest.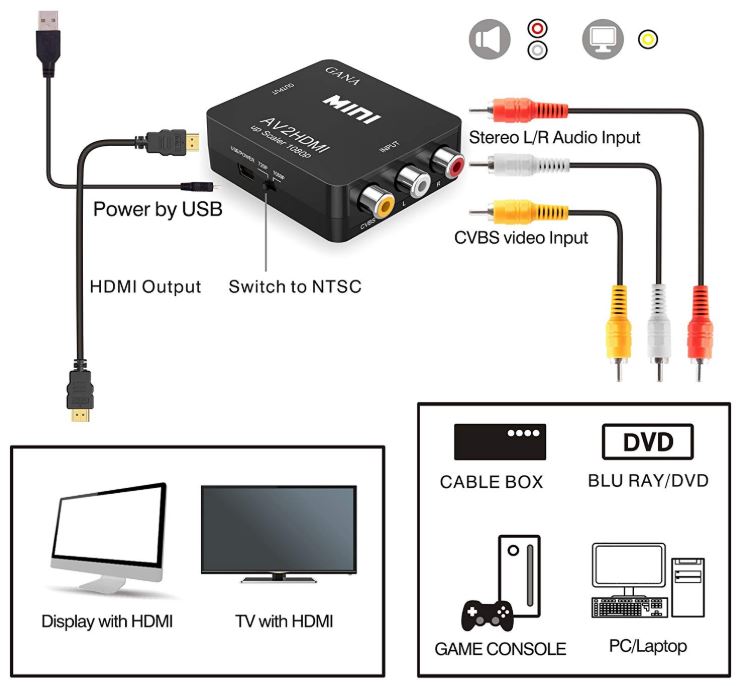 Video Quality
To test this system out, we used a few different configurations. For starters, we hooked up our Super Nintendo to revisit some of our favorite games. The Super Nintendo is a great system to test these kinds of adapters for a few different reasons. The low resolution means that there are lots of sharp pixels. If the upscaling engine is prone to errors, these pixels will look skewed. The SNES also has a large color palette, and some advanced (for the time) visual effects that many upscaling engines tend to have a hard time with.
Overall, we were quite impressed. The image was very crisp and clear, and it did a great job of handling the more challenging visual effects.
There was one feature that could be good or bad depending on how you feel about video. When using this adapter, the image is stretched to fit your screen. In most circumstances, this means taking a 4:3 video and stretching it out to fit a 16:9 widescreen display. In our eyes, this is preferable to using black bars on each side. But this will be something you'll want to decide for yourself.
Neoteck Alloy Composite AV to HDMI Adapter
With most of their business built around analog to digital converters, selling fully packaged consumer adapters was a logical step. Their hardware has been used in many different televisions for a long time, and now this technology is available as an add-on to your existing home media center.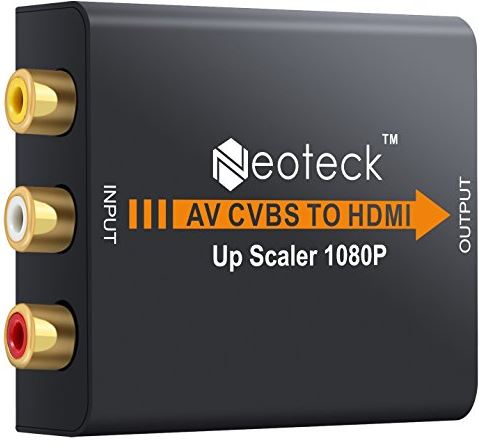 Design
The Neoteck Alloy Composite AV to HDMI Adapter is definitely one of the more attractive converters on the market. It's a tabletop model, allowing it to sit comfortable in front of your media center. That being said, it's still small and lightweight enough to tuck in behind where nobody can see it. The latter situation is preferable to those of you who prefer to keep your cables neat and organized.
If you do prefer to keep it out front, you'll appreciate the stylish enclosure. The top is embossed with a logo that looks strikingly similar to chrome, with a green screen-printed Akale logo in the center. The RCA ports are located in the front, gently recessed into the plastic enclosure. The HDMI port is located on the back, along with the micro-USB input. This model doesn't require that you select 1080p or 720p output modes, however you do need to select PAL or NTSC input from the back via a small rocker switch.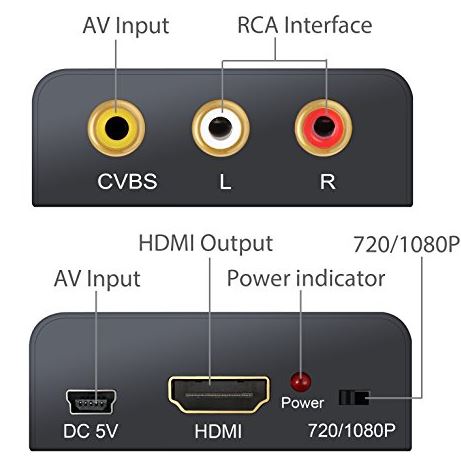 Compatibility
One of the main reasons we chose this particular converter is the fact that it supports every analog standard, whether it's modern or dated. Like the previous model, you get all versions of NTCS, all separate regions of PAL, and even rarer formats like SECAM.
It works with both 1080p and 720p televisions, and the correct resolution is automatically selected after negotiating with your television. We found this feature to work very well, with one small exception. There are some TVs on the market that shipped with nonstandard resolutions. This is especially common with plasmas, many of which were 768p. These TVs have to report a standard resolution, so they usually report themselves as 1080p. This causes the adapter to upscale to 1080p, then they downscale to 768p. This isn't ideal, but doesn't really make a huge difference. If this is the case with your TV, we'd recommend going with a different model.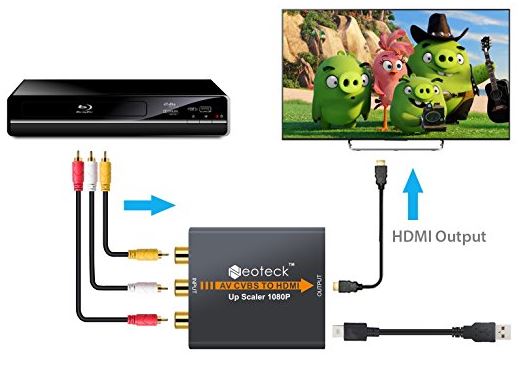 Video Quality
Akale did a great job with the noise reduction circuit on this particular converter. You'll likely have noticed that there is some odd fuzzy lines around sharp color changes when using composite video. But there is circuitry inside this converter that can almost entirely remove it. This filter is resolution dependent, so that is why you have to choose PAL or NTSC on the back. Technically, it will still work if you have the wrong option selected. But selecting the right option will improve the video quality a little bit.
One of the things we liked about this converter is that it broadcasts video in 4:3. By standard, you'll have black bars on the side of your TV, but the image won't appear stretched. If you don't like this, most TVs have a stretching feature built in, so you can usually change this if you like.
enKo Mini HDMI to AV/RCA
Some people just want to hook up their old VHS tapes and revisit some of their favorite classic movies. This is done out of simplicity. Why buy the DVD, when you already have the tape sitting right next to you? In some circumstances, it's not convenience that motivates our use of technology, it's respect. Star wars, for example, only released one copy of the video that was true to the original on LaserDisk.
Other media, such as video games, is never quite as enjoyable as it is on the original console. If you're looking for an experience that you just can't get on digital, you want to make sure you have the best possible representation of that game. In this case, enKo's AV to HDMI converter is for you. It's the best hardware available, and offers the most accurate conversion possible.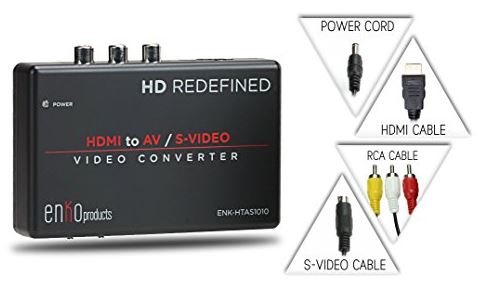 Design
While the enKo Mini HDMI to AV/RCA Converter costs a few dollars more than competing models, the quality is evident in the design. The enclosure is made from a very rigid plastic, and feels incredibly sturdy in the hand. The analog connectors are mounted solidly in the case, and stick out like the classic connectors you're used to. They're not tucked away, and they're made from highly conductive material that does not add any noise. All of the cables that you need are available, including both RCA and HDMI.
There are several versions of this adapter available, including ones that offer you an S-video port in addition to the AV ports, so any analog media you have can be properly converted for use on your HDTV.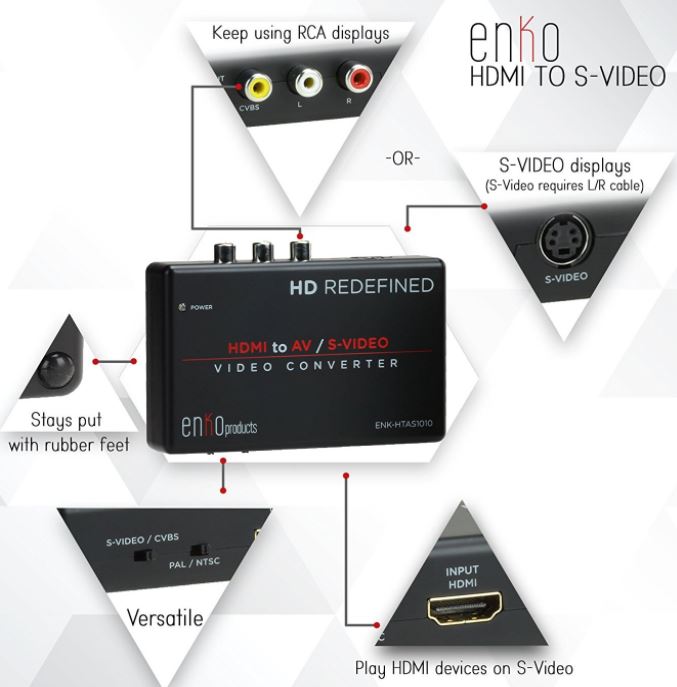 Compatibility
You'll notice that there are several versions of this adapter available. It's important that you read the descriptions carefully, as some of them are used for converting digital HD signal to analog composite. But as long as you're aware of that, there is a version of this adapter to support any conversion. The default model converts any analog composite video to HDMI. It supports NTSC, PAL, SECAM, and all local revisions. You can also get one with optional support for Svideo, or Coaxial output. While the same basic conversion chipset is used, the noise filtering chipset is unique to the type of video you select. This is especially important with analog signals, as noise is highly dependent on the media.
You do need to select between PAL or NTSC on the side, but the HD resolution is always negotiated automatically. This converter defaults to 1080p, unless you plug in a TV that is 720p only. This means that if you're using a 4K TV, it will automatically be up scaled twice. Once by the adapter, and once by your TV.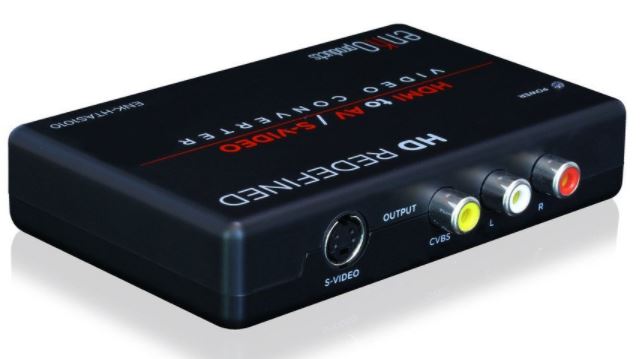 Video Quality
This is the one area where the adapter really shines. The first thing we noticed about it was how incredible the colors looked. They were rich, vibrant, and incredibly true to life. Most digital video has a higher bit-depth than analog. This isn't to say that digital TVs always produce brighter colors, that is only the case with HDR content. It's just that there is a wider color band, and more information is required to get the ultra-rich color palettes. Even if your TV has an analog input, the color will often look muted compared to what you'd see on a high-end tube TV.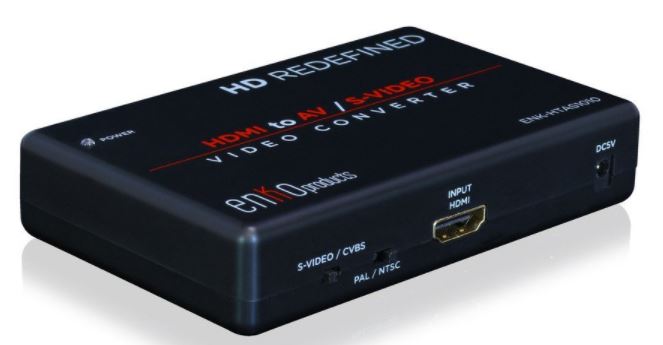 But this adapter compensates for that, and produces one of the most accurate reproductions we've seen. The noise filtering is impeccable. Pixels are razor sharp, and there is virtually no distortion to be seen. Of course, the image doesn't look anywhere near HD quality. But it brought our classic games to live, giving us visuals that we never though possible. It's as if we were playing our games while wearing glasses for the first time. We constantly caught ourselves thinking "ah, that's what it was supposed to look like!"
If you spend your childhood playing NES on dated TV discarded by your parents, you owe it to yourself to relive those experiences the way they were meant to be seen.
Which Composite Converter is Right for Me?
If you just want a simple way to use old media with a new TV, any one of these options will work. But there are a few key differences between them that will likely factor into your decision making.
First, you need to ask yourself why you are buying the converter. Is the one built into your TV not adequate for your needs? Or, does your TV not have an AV input and you want the best experience possible? In this case, look no further than the enKo Mini HDMI to AV/RCA Converter. The noise filtering in this model is above average, and will give you the most accurate representation of your analog signals that you can get.
Do you have a TV with a strange non-standard resolution? The GANA Mini Audio/Video Converter is the best option here. It has a 1080p/720p switch on the side, so you can select what resolution you'd like to output. This model is also used by people who are not happy with the resolution scaling system in their TV. By choosing an output that matches your TV, you can bypass this system altogether.
Not too concerned about quality? There is nothing inherently wrong with the Neoteck Alloy Composite AV to HDMI Converter. In fact, many users will not even notice a difference with the higher end models. If you're just trying to get some old media on a modern TV, then this converter will compensate for the connections you're missing. But the best part is the fact that you'll save a couple bucks doing it.