High-definition (HD) video has revolutionized how we enjoy our home entertainment. Back in the early 2000s and earlier, we used to watch TV, movies, and games in blurry 480×640 resolution. This made it tough to make out details. As an extreme example, most of the time, you couldn't see a hockey puck on live TV. Instead, hockey fans had to rely on other visual cues and knowledge of the game to decipher the puck's location. Low resolution also limited your screen size. Not long ago, a 27-inch screen was considered big. Beyond that size, the image looked blurry at any close distance. You'd only see 70-inch screens in sports bars, where patrons watched from several yards away.
HD video changed all of that. Now, it's not unusual to see a 70-inch — or larger — screen in somebody's living room. But the new format required a better input. Older televisions used a component input called AV, or RCA. There were three small cables: one for video, and one for each audio channel. HD signals require an HDMI input. But simply converting the signal isn't always enough. To get a better picture from your old device, you also need to upscale the image to 720p or 1080p.
Today, we'll be looking at three RCA to HDMI converters. Each of them will get the job done. But there are some differences that make each one unique in its own way. Let's take a closer look, and see what they all have to offer.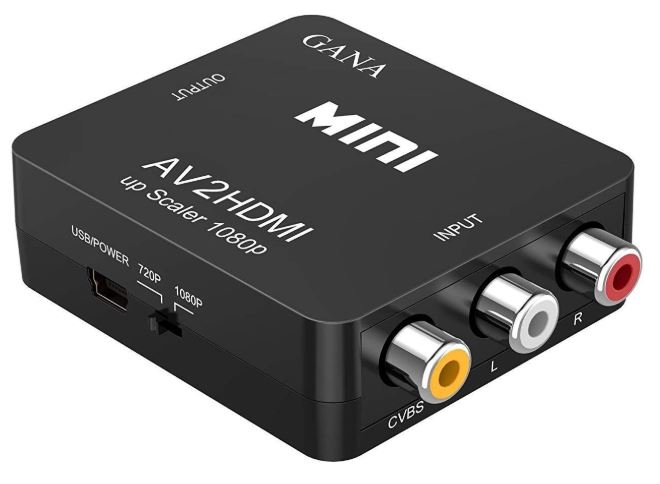 GANA Mini Audio/Video Converter
First up on our list is the GANA Mini Audio/Video Converter. It's a cell phone-sized device that measures 6.1 inches long, 3.5 inches wide, and 0.8 inches thick. This converter weighs only 1.28 ounces; it won't put strain on your cables if it's hanging from your TV.
The case is constructed from a glossy black ABS plastic. On one side, you'll find the RCA inputs for video and audio. On the other side, you'll find your HDMI output port. On the top, the words "GANA Mini" are printed in white text. The input and output ports are also conveniently labeled as "input" and "output" respectively. This ensures that you won't forget which one is which. If it gets thrown in a box for your next move, you won't end up confusing it with a downscaler.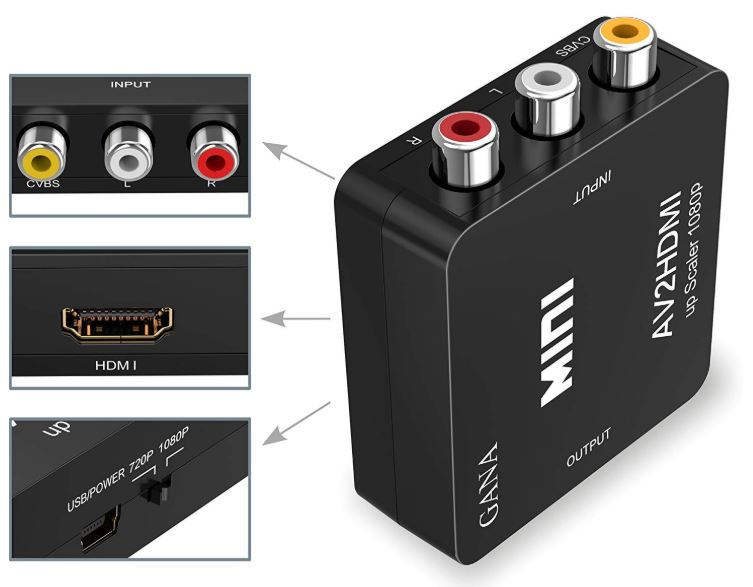 On the front, there's a Mini USB power input. This is necessary, since HDMI signals need to be powered, and RCA cables don't supply any power. An AC adapter is included in the kit, so you can easily plug it into your wall. Next to the power input, you'll find a small switch for selecting 720p or 1080p output. This ensures that it's compatible with older, 720p HDTVs as well as newer 1080p screens.
Compatibility & Video Quality
The gold standards for compatibility are fourth-generation video game consoles like the Sega Genesis and Super Nintendo. The reason for that is that these are some of the most advanced devices to use an RCA output. Forget about simple TV broadcasts or video cassettes. These systems use relatively advanced rendering, and they have very sharp pixels. As a result, a low-quality converter is going to look blurry when upscaling the signals. Rest assured, the GANA can handle these effects without any significant problems. It can also switch between 720p and 1080p. Make sure to choose the option that's best for your TV, or you might end up with some artifacts.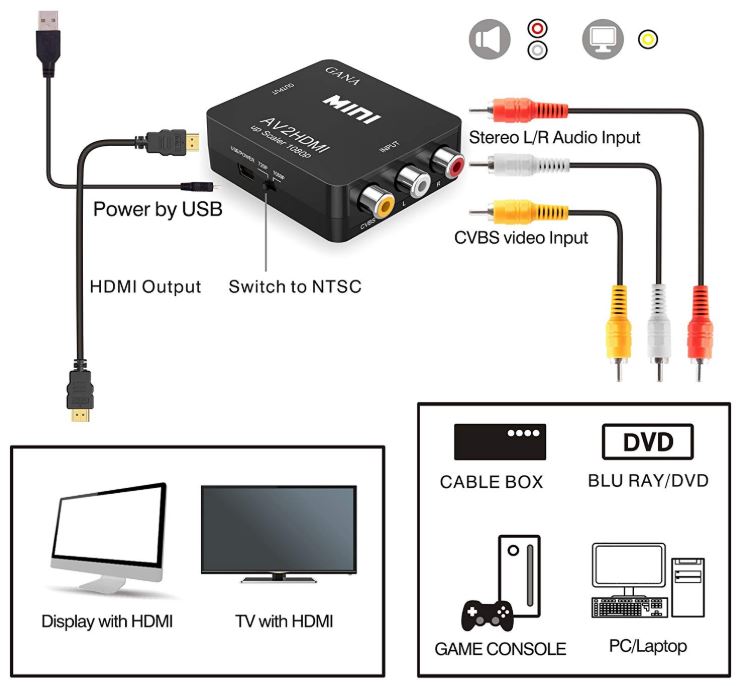 The downside of the GANA is that it stretches a 480×640 image to fit a larger screen. The original aspect ratio is 4:3, while newer displays have an aspect ratio of 16:9. As a result, the image is going to be stretched wider to fit the new aspect ratio. Most HDTVs have a setting to switch the aspect ratio to 4:3. Yes, this will put the infamous "black bars" on both sides of the screen. However, it's going to give you the correct aspect ratio. You really don't want to play Sonic the Hedgehog in 16:9. The action is already fast and furious enough without Sonic getting stretched into a short, wide parody of Doctor Robotnik.
One nice feature of the GANA converter is that it accepts a variety of formats. In addition to North American NTSC signals, it also handles PAL, SECAM, PAL/M, and PAL/N. This makes the GANA compatible with devices from all around the world. Anime fans will especially appreciate this feature, since you can still watch your favorite Japanese imports.
For newer — but still old — game systems, you might want to use a different converter. One of these systems is the original Xbox, which has a proprietary port on the back side. If that's what you need, check out our review of the best original Xbox to HDMI converters. At least one of them is sure to meet your needs.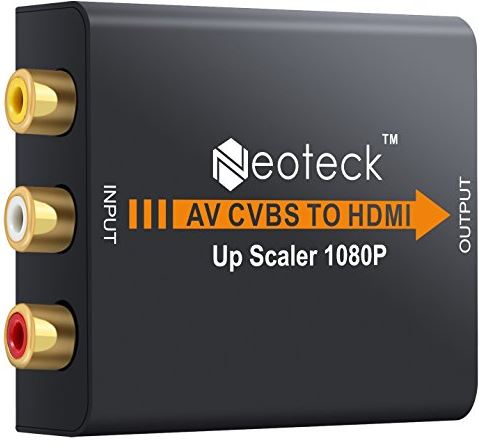 Neoteck Alloy Composite AV to HDMI Adapter
The Neoteck Alloy Composite AV to HDMI Adapter is more compact than the last GANA adapter. At 2.4 inches wide, 2.2 inches deep, and 0.8 inches thick, it's small enough to fit anywhere. That said, it's a bit heavier, tipping the scales at 3.04 ounces. This might cause some trouble if it hangs from a cable on the bottom of your TV. On the other hand, there's an upside. The added weight is due to a durable, anodized aluminum construction. If you're a bit rough with your electronics, you don't need to worry about the Neoteck adapter getting damaged.
It has a simple, pass-through design. On one side, RCA ports are positioned for easy connection. On the other side, you'll find all the other ports and controls. There's an HDMI output in the middle, with a DC power input to its left. To the right of the HDMI output, you'll find a selector switch to choose between 720p and 1080p output. This makes it compatible with a wide variety of TVs. There's also a small red power light that lets you know the adapter is plugged in. The top of the unit is emblazoned with a white Neoteck logo. There's also a bright orange arrow, which reminds you that it's an upscaler, not a downscaler.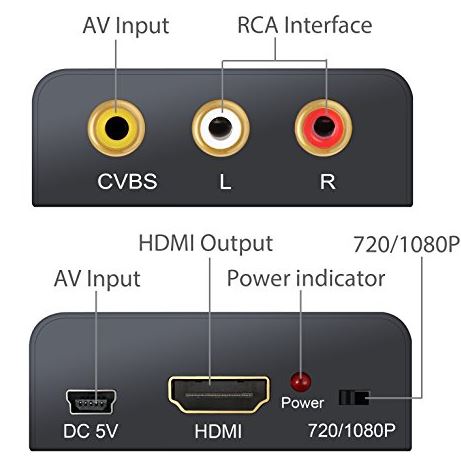 Compatibility & Video Quality
The feature we appreciated most about the Neoteck converter is that it preserves the original 4:3 aspect ratio. This means your old-school games and VHS tapes will display as originally intended, without any stretching. On the other hand, you're going to have black bars on the side of your screen. If this is a deal-breaker for you, most HDTVs have a setting to stretch 4:3 video to 16:9. But for our money, we'll take a distortion-free image any day of the week.
Like the GANA converter, the Neoteck converts virtually every video format. Of course, it handles standard North American NTSC signals just fine. But it also handles PAL, SECAM, PAL/M, and PAL/N, along with some other less common formats. If you're a fan of foreign films and video games, you won't have any issues getting a clear display. The selector switch also ensures that the Neoteck is compatible with both 720p and 1080p TVs.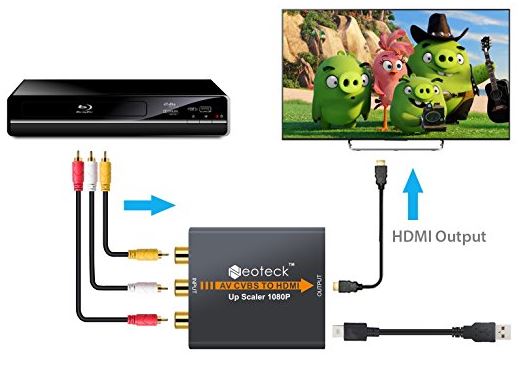 The Neoteck converter also uses advanced noise-reduction circuitry. This allows for clean, crisp color changes when processing composite inputs. Many older systems struggle with changes between different colors, and you get some fuzziness around the edges. With the Neoteck, this issue completely disappears. If you love classic, colorful game systems like the Sega Genesis or Super Nintendo, you'll love this feature.
Of course, not all classic game systems require an RCA to HDMI converter. Some, like the N64 and Nintendo GameCube, use a proprietary output port. To convert video from one of those systems, read our review of the best N64 and GameCube HDMI converters. Any of those options will get the job done without a lot of fuss.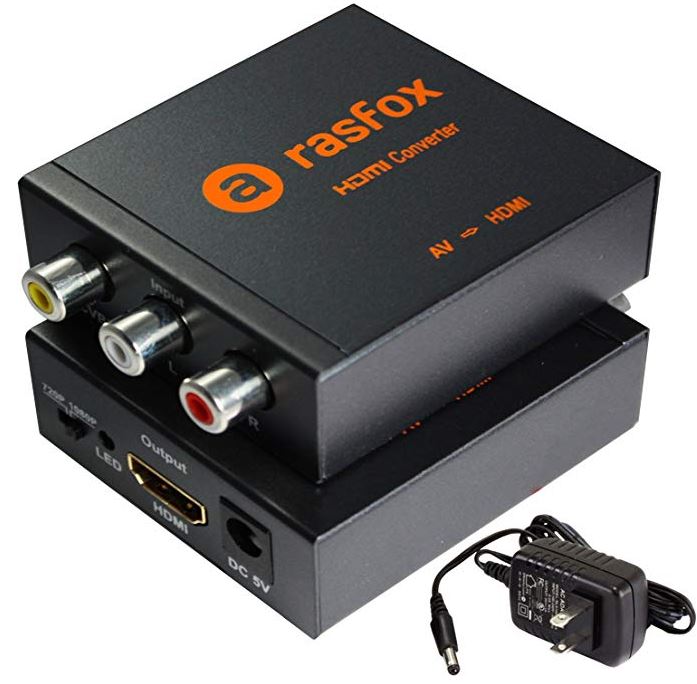 Rasfox Powered AV/RCA to HDMI Converter
The Rasfox Powered AV/RCA to HDMI converter is about as compact as the Neoteck converter. It measures 2.4 inches wide, 2.2 inches deep, and 0.8 inches thick. At 5 ounces in weight, it's also a bit heavy for the size. That said, the weight is due to the anodized aluminum construction. This makes the Rasfox considerably more durable than your average ABS plastic converter. However, it's a bit heavy to be hanging from a cord off your TV. You'll need to set it on a shelf in your entertainment center or on your TV stand.
On one side of the unit, you'll find a set of sturdy RCA inputs. On the other side, you'll find an HDMI output. Alongside the HDMI port, there's a selector switch that lets you easily choose between 720p and 1080p outputs. Regardless of your television, you'll have a signal that provides the proper resolution. There's also a small LED, which indicates when the Rastox converter is powered up. Finally, you'll see a DC power input, which accepts power from the included AC/DC adapter. On top of the unit, there's a bright orange Rasfox logo. You'll also see a small AV to HDMI marker, ensuring that you don't forget what kind of converter this is.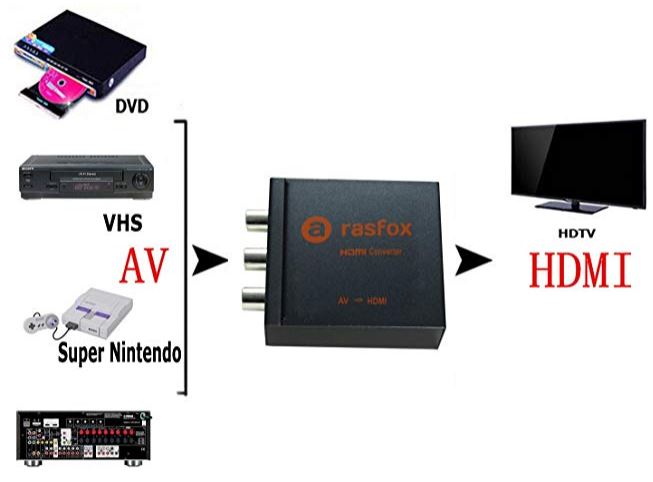 Compatibility & Video Quality
The Rasfox outperforms the competition when it comes to video quality. There's a built-in noise reduction chip, which eliminates fuzziness and blurring. This eliminates signal issues from older systems, which can sometimes have issues with rapid color changes. For old-school gamers, this is a dream come true. You can play Sonic or Super Mario Brothers without the kind of distortion that can result from using cheaper upscalers. You can also play on either a 720p or 1080p, thanks to the resolution selector switch.
The Rasfox converter can also handle a wide variety of input formats. PAL, NTSC3.58, NTSC4.43, SECAM, PAL/M, and PAL/N signals will all come through without any issues. Use standard North American media or use your favorite imports. It doesn't matter. You'll get a great signal either way. The downside? This converter stretches any 4:3 input to a 16:9. On the one hand, this will eliminate the black bars on the side of your screen. On the other hand, it will severely distort the image. This won't be a problem with most HDTVs. You can simply change your display settings to 4:3. But if you're using a recording device to convert older VHS tapes to DVDs, you're going to have some issues.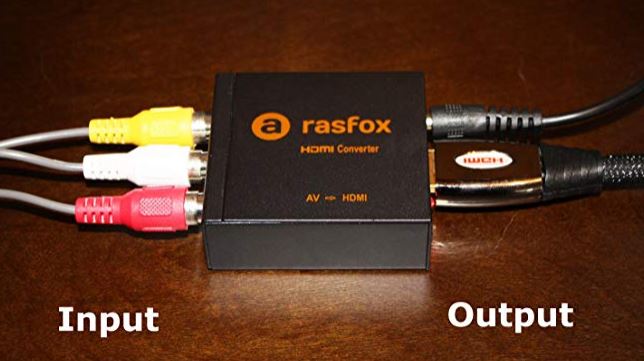 Some older systems don't require an RCA to HDMI converter. Instead, you can use a converter that's compatible with their own proprietary outputs. For example, if you want to upscale your Nintendo Wii games, read our guide to the best Wii to HDMI converter. All of those converters are high quality, and they're custom-made to work with the Wii's unique output.
Final Verdict
So, which of these RCA to HDMI converters is the best? As with many similar devices, it depends on your own needs and preferences. The GANA Mini Audio/Video Converter is a great choice for wall-mounted TVs. It weighs virtually nothing, so it can hang on the end of a cord without pulling the cord out of your TV. On the other hand, it will stretch your 4:3 input to 16:9, requiring you to change your TV's settings.
Alternatively, you could use the Neoteck Alloy Composite AV to HDMI Adapter. This device will give you a 4:3 image that's true to the original. It's also constructed from anodized aluminum, which makes it rugged and durable. On the other hand, the heavier weight means you'll need a shelf on which to set it.
Finally, the Rasfox Powered AV/RCA to HDMI Converter gives you a different combination of features. It has the aluminum construction — and accompanying weight — of the Neoteck unit. But it also converts your 4:3 video to 16:9. This is a bad choice if you abhor stretching. But it's a good one if you're willing to do anything to get rid of those pesky black bars.