Accent lighting used to be something you only applied sparingly, and for good reason. Old-school incandescent bulbs drew a lot of power, got hot, and burned out quickly. You might put some lights in an alcove or use mood lighting in your kitchen on special occasions. But that was about it. LED technology has entirely changed the game, and made accent lighting practical almost everywhere.
If you spend a lot of time at your desk, it can be a great place to start decorating. There's nothing like a light strip under the edge of your desk to flesh out your gaming rig. You can even use LED strips to save power. With enough light around your desk, you can shut off your primary room light.
We're about to review five of the best LED strip lights for your desk. We'll take a good close look at each of them, but if you're in a hurry, here's the short and sweet version:
Ready to find out more about all these strip lights? Let's take a deep dive, and see what we come up with!
Daybetter LED Strip Lights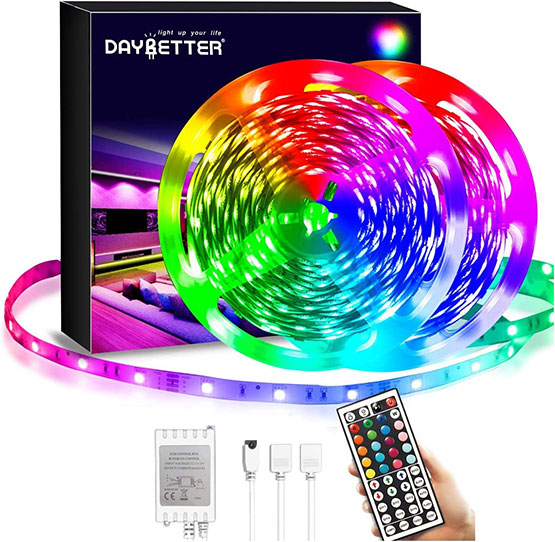 Key features:
16.4', 20', 32.8', 40', 65.6', 100' or 130' light strip.
20 colors and 8 light modes.
Cuttable.
The Daybetter LED Strip Lights come in a few different versions, which in turn come in different sizes. All variants are cuttable, with a mark every three LED diodes to indicate where you can cut. The backs of the strips have intermittent 3M adhesive patches with a peel-away backing. This makes them easy to install on almost any surface, provided you clean the area beforehand. Just wipe the surface down with rubbing alcohol and you should be good to go.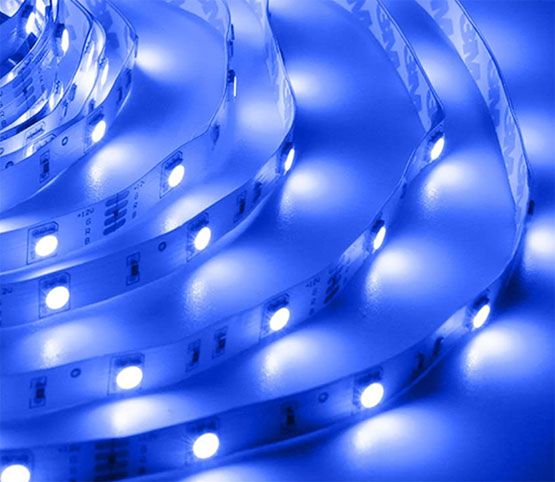 The first variant of the Daybetter light is the remote-controlled version. It features RGB lighting with 20 different color options. You can also cycle between eight different lighting modes with various cycling and color-changing patterns. The handheld remote has 44 keys, with the ability to adjust the brightness and program up to six additional custom colors. It's very slim and powered by a watch battery.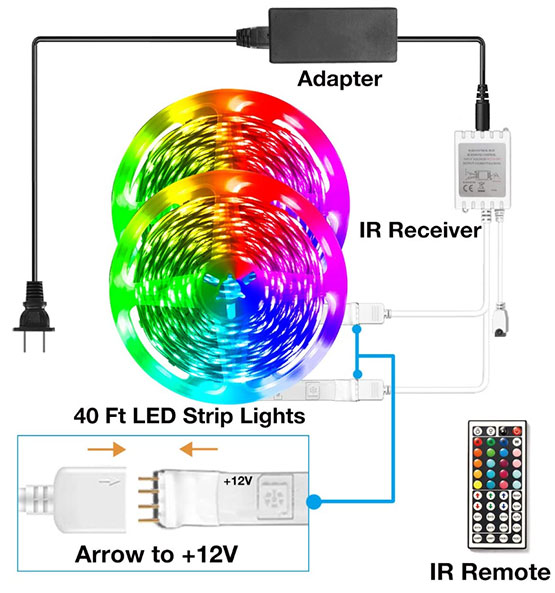 The strip, meanwhile, comes in three lengths. There's a single-reel 20-foot strip, and a 40-foot version with a pair of 20-foot strips and a single power connection. You can also order a 130-foot version with two 65-foot strips. That's probably overkill for your desk, but who are we to judge?
The second version of the Daybetter strip is the WiFi-controlled version. In addition to the line-of-sight remote, you download and install a smartphone app and pair it with your lights. Using 2.4GHz WiFi, you can then turn the lights on and off, adjust the brightness, and change colors. You can also create custom colors and choose different lighting cycles. When you activate the music mode, a built-in mic will create patterns based on the ambient sound.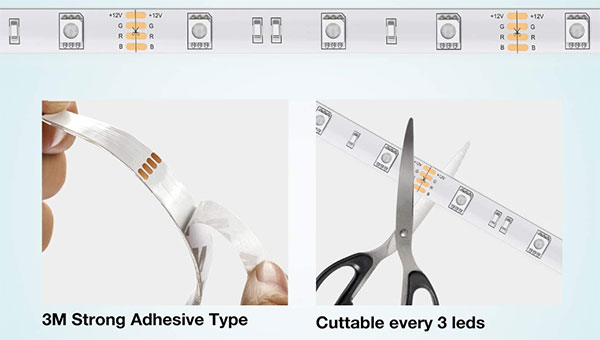 You can order the WiFi-controlled strip in two sizes. There's a single-reel 16.4-foot length, as well as a 32.8-foot length with two reels.
The last version of Daybetter's light strip is the Dream Color version. This version has individually addressable LED diodes. This allows for advanced color cycling and patterns with multiple colors on the same strip. You can program chasing patterns and other complex modes that aren't possible on most light strips. This variant comes in a 65.6-foot version with two 32.8-foot reels, and a 100-foot version with three reels.
Daybetter is a popular manufacturer of LED lighting equipment. We recently reviewed their outdoor LED light strip, and we were pretty impressed. So when we started looking for indoor LED strips, they seemed like an obvious place to turn.
Govee Smart LED Strip Lights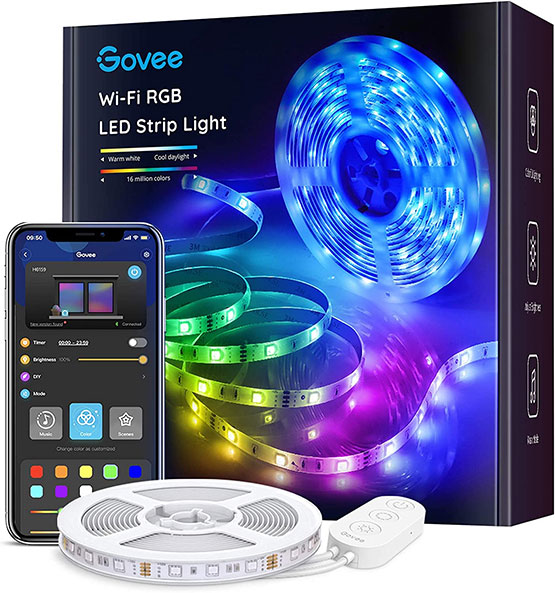 Key features:
16.4', 32.8', 65.6', or 100' light strip.
16 million colors and 67 lighting modes.
In-line and WiFi controls.
Cuttable.
The Govee Smart LED Strip Lights come in four different sizes. To begin with, there's a 16.4-foot version that comes as a single strip. The longer versions come as dual strips with Y-shaped junctions near the power supply. These come in 32.8-foot, 65.6-foot, and 100-foot lengths. The smaller size should be enough for most desk-sized applications.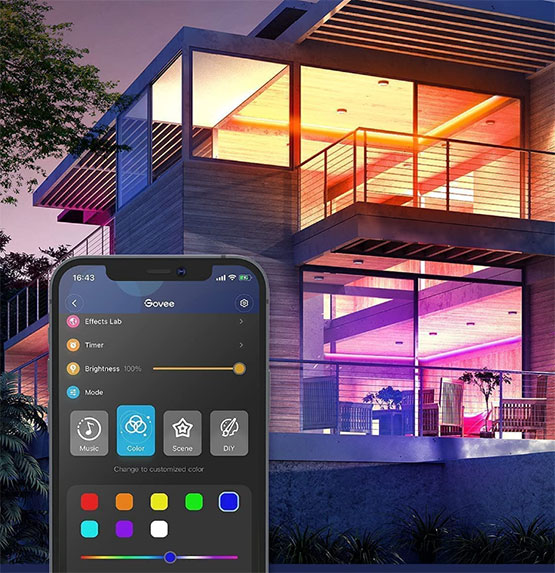 These lights are controlled via a smartphone app, which is free to download and easy to set up. Once you've paired your phone with the lights, you'll have a ton of options to choose from. To begin with, there are 64 different animation modes, with an additional three music modes.
You can choose from 16 million colors by using the sliders or programming RGB values. If you prefer a simpler control scheme, you can just use the in-line fob, which has three buttons. One is for power, another is to cycle through preset colors, and the third is for choosing various animations.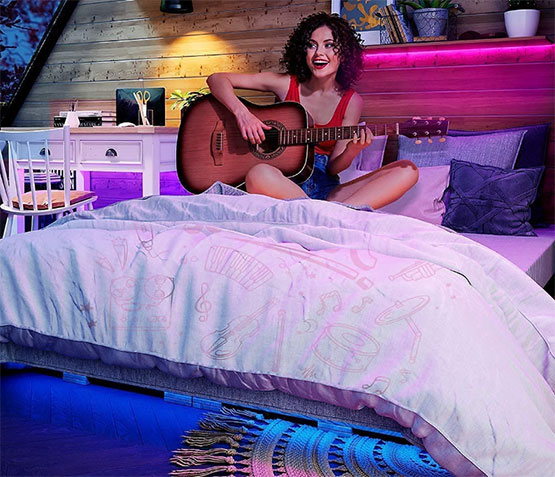 The Govee Smart lights have an adhesive backing that makes them easy to adhere to almost any surface. The kit also includes a set of five mounting clips that can keep the strip secure. Best of all, they're cutable to virtually any length.
Govee is another manufacturer we've reviewed in the past. Just a few weeks ago, we reviewed their interior LED car lights. These LED strips install under your dash board and the backs of your front seats. They make quite an impression, and Govee impressed us with their overall quality.
Govee Neon Rope Lights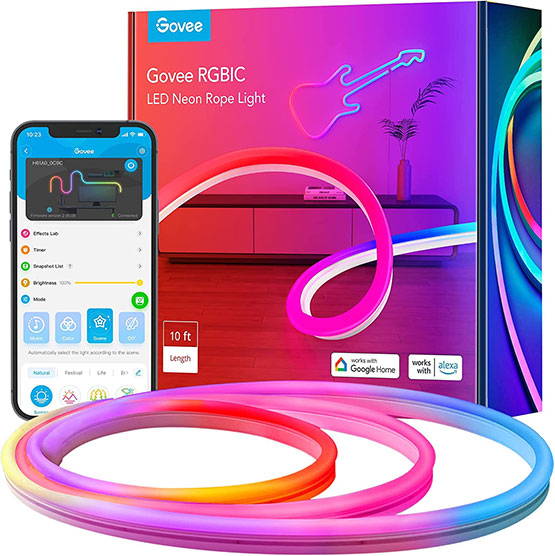 Key features:
10' or 32.8' LED rope light.
16 million colors and 75 lighting modes.
IP67 water-resistant.
The Govee Neon Rope Lights are entirely different from our other options. Instead of a flat strip with individual diodes, this is a rubbery rope light with the diodes inside. You can't actually see the individual diodes, but the light bleeds together from one to the next. The neat thing about the rubbery, bendy design is that you can use it to create shapes and patterns. That's something you can't do with a light strip, which has very limited flexibility.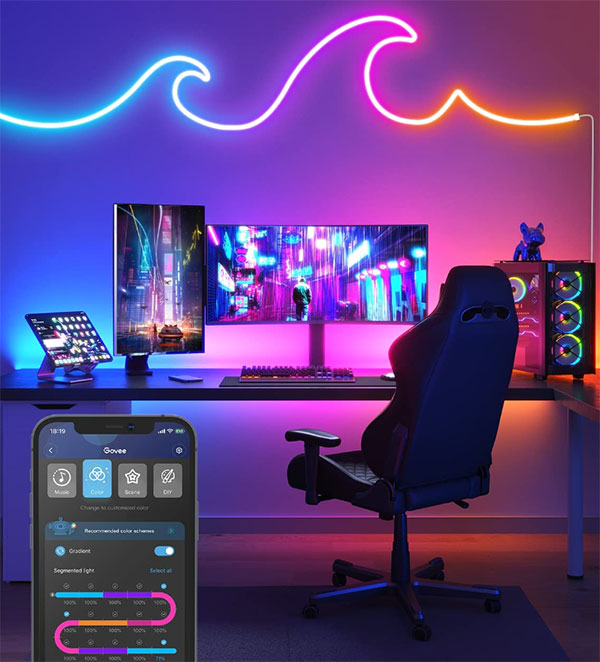 Like the Govee Smart lights, the Govee rope lights are controlled via a smartphone app. It's easy to set up, and allows you to customize the color throughout all 16 million RGB colors. You'll get 64 different animations and a whopping 11 music modes. If that's not enough, there's an on-board timer function that shuts your lights off after enough time has passed. And with Google and Alexa voice controls, you can change up your atmosphere without touching any controller.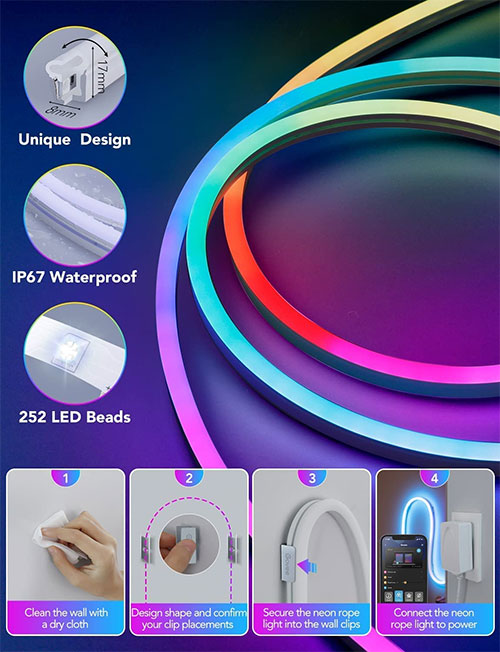 This light is available in two different lengths. You can order it in 10 feet or 32.8 feet for different-sized applications. It's also waterproof, with a weather-resistance rating of IP67. This means it can be submerged for short periods of time. It's not underwater lighting by any stretch of the imagination. But you can set it up on your outside patio or next to your hot tub. The kit includes all the necessary installation software. The 10-foot version comes with 10 clips and 10 screws, while the long version comes with 50 of each.
HitLights LED Strip Lights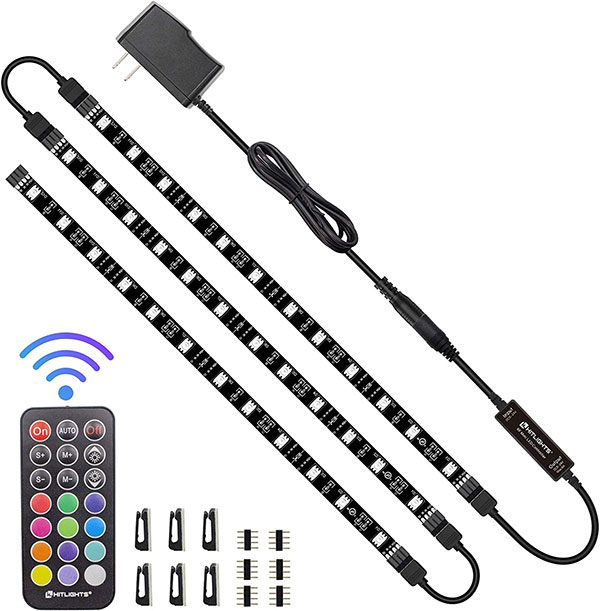 Key features:
36" strip light.
12 colors and 19 lighting modes.
Two built-in breakaways.
The HitLights LED Strip Lights are purpose-built for small applications. These lights consist of three 12-inch strips that can link together to form a total length of up to 36 inches. There's a set of plug connectors in the package, which will create a continuous strip. Alternatively, you can use the 12-inch pigtail connectors. These can create two or three separate 1-foot strips that are all linked together.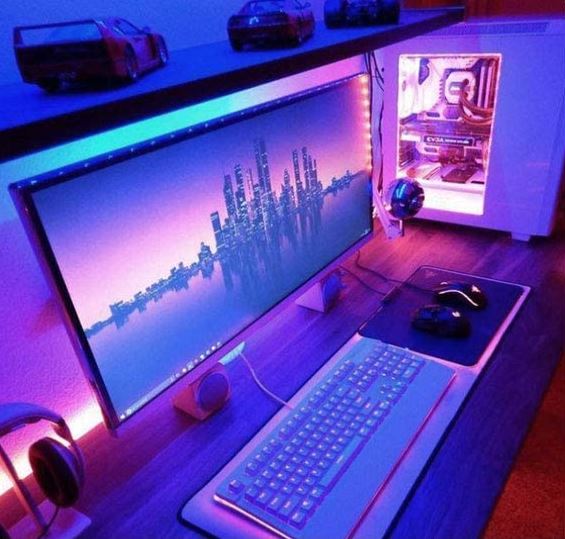 Installation is very simple. The lights ship with a set of six small clips, each of which has an adhesive backing. Clean the surface you want to mount them to, stick on the clips, and attach the light strips. That's about as straightforward as it gets.
Along with the lights, you get a slim remote control with a number of functions. You can choose between 12 preset colors and 19 color-changing modes. You can also adjust the brightness and the speed of the animations. The remote has a long range of more than 50 feet, but it only works with a clear line of sight. HitLights backs their light strip with a 12-month manufacturer's warranty. If there are defects in parts or labor, you'll get a refund or replacement.
TrueColor USB-Powered LED Light Bar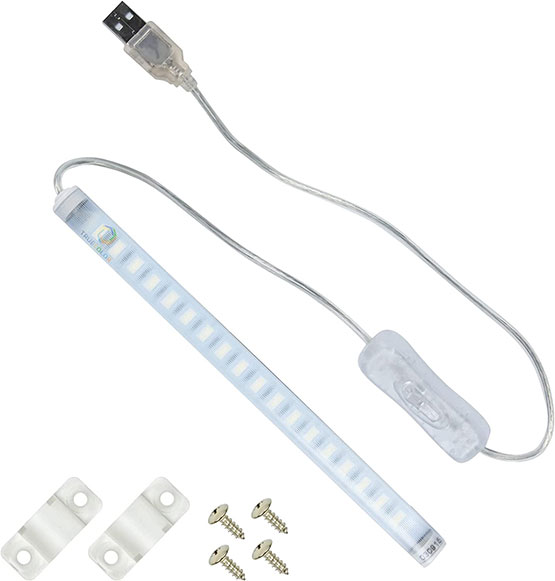 Key features:
8", 12", 18", or 24" rigid light bar.
6,000K daylight or 3,000K soft white.
Runs on USB power.
Instead of a strip or a rope, the TrueColor USB-Powered LED Light Bar is a rigid bar light. It's available in four lengths: 8", 12", 18", and 24". You also have your choice of a 6,000K daylight white and a 3,000K soft white. The kit includes a set of peel-and-stick adhesive strips, along with screws and a mounting bracket.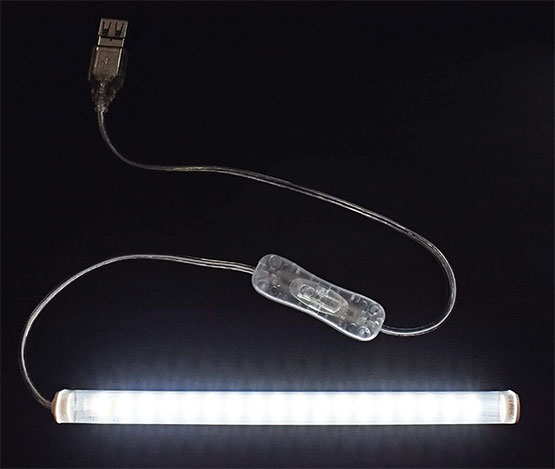 Attached to one end of the bar is a 20" power cord with a USB plug on the end. You can plug it into the USB port on your display and the bar will light right up. It's rated for 100,000 hours, and it's backed by a five-year warranty.
This light is designed to brighten the area behind your display. This can reduce strain on your eyes when compared to a bright monitor against a dark background.
What are the Best LED Lights for Your Desk?
All five of these LED light strips have a lot to offer. But which option is the best choice for your desk? Let's go over what we've learned today.
We started out by looking at the Daybetter LED Strip Lights. These strip lights come in three variants: remote-controlled, WiFi-controlled, and Dream Color. Which one you need will depend on what you want. For a desk light, the remote option worked just fine for us. What we really liked was the ability to cut the strip in intervals of three diodes. This is perfect for a desk, where excess lighting can be tough to hide away. You can cut exactly the length you need – no more, no less.
Next, we checked out the Govee Smart LED Strip Lights. These lights don't come with quite as many options, although you do get four choices of length. What makes them stand out is the powerful and intuitive app controls. You can easily set custom colors with the sliders, and choose between 64 animations. We also liked the ability to choose from three different music modes.
The Govee Neon Rope Lights were third on our list. These lights are incredibly flexible, and you can twist them into all kinds of interesting shapes and patterns. They're a lot of fun if you want to create an illuminated symbol on your wall. You get the same awesome app controls you do with Govee's other lights. And with at least one clip for each foot of rope light, installation is a breeze.
Fourth up, we had the HitLights LED Strip Lights. This kit consists of three 1-foot strips that can be linked together directly or with a set of pigtails. It's operated by a handheld wireless remote, with plenty of colors and animations. It's also easy to install, with a set of adhesive clips instead of a built-in backing.
We finished up by reviewing the TrueColor USB-Powered LED Light Bar. This light bar isn't quite as versatile as our other options, but it's great for monitor backlighting. If you just want to reduce contrast between your monitor and the background, this may be the best option.