Handheld lighters have been around for decades. If you count refillable lighters with wicks, they've been around for more than a century. But your typical butane lighter has some distinct downsides. To begin with, most aren't refillable. When they run out, the whole lighter goes into the landfill. And even if your lighter is refillable, you're still relying on butane, which is a fossil fuel.
An electric lighter is the perfect solution to that problem. Electric lighters don't burn fossil fuel, so they're better for the environment. Not only that, but you can charge them again and again. The same lighter can last you for years, saving a significant amount of landfill waste. It's no wonder that more and more people are switching to electric lighters.
We're about to review four of the best rechargeable electric lighters for candles and fireworks that we could find. If you just want the quick and dirty version, here's a brief overview:
Which one of these electric lighters is the best of the bunch? Let's dive in, and see what we discover!
Best All-Around: REIDEA Electronic Candle Lighter
Key features:
Shielded lighting element.
Built-in child safety lock.
Available in a 2-pack.
The REIDEA Electronic Candle Lighter is a cylinder that looks a lot like a little vape pen. It's tapered at the front, with a flat, slotted opening that almost looks like a mouthpiece. This is actually a guard that covers the lighter element when it's not in use. The back end of the housing is flat, with a micro USB charging port.
The overall size is 7.48 inches long and 0.98-inch in diameter. It's available in five color options: white, black, silver, champagne gold, and rose gold. You can also choose to order it in either a 1-pack or a 2-pack. The 2-pack is a great deal, with an incredible discount on the second lighter.
There are a few safety features that are important enough to bear mentioning. To begin with, the lighter housing is constructed from zinc alloy, which is incredibly durable and heat-resistant. Not only that, but it cools down very quickly. You don't have to worry about damaging the lighter with repeated use.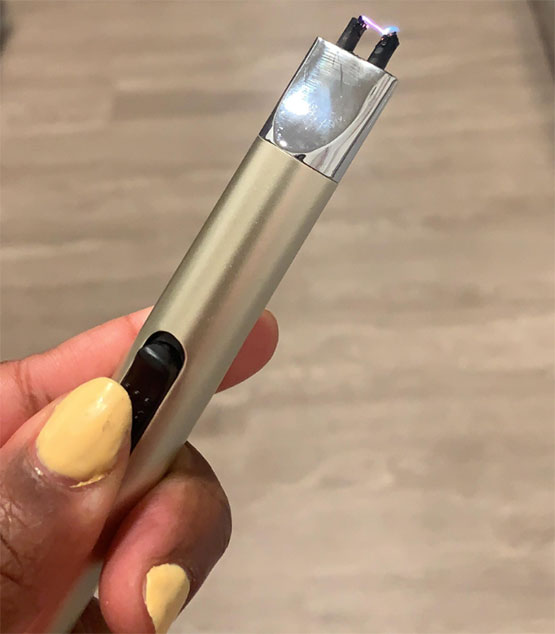 Another useful feature is the 10-second safety shutoff. After 10 seconds of use, the electric arc will automatically turn off. This is designed to prevent overheating, but it doesn't have to limit you. Just activate the control switch again and the electric arc will return.
The controls are both simple and safe. On the back of the housing is a child lock switch, without which you can't light anything. Turn the switch off, and an indicator light will come on. Then press the slider forward and a pair of prongs will emerge from the front. The electric arc between them is very hot, but it's also very loud. It snaps and crackles like a taser.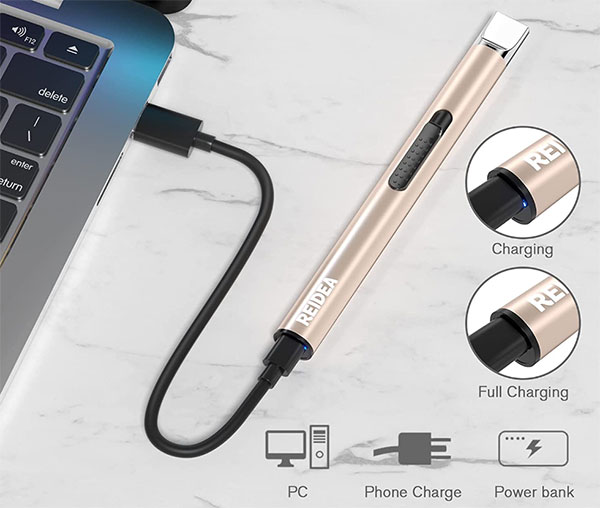 The internal battery can be used for around 60 lighting cycles, depending on how long you hold the slider. This isn't all that impressive, but it's also plenty for any reasonably-sized task. It's also easy to recharge via Micro USB, and a cable is included. The battery is rated for 300 duty cycles, which means 300 full charges and discharges.
What we liked:
Safe design with shielded tip.
Reliable activation switch.
10-second safety auto shutoff.
Durable zinc alloy design.
What we didn't like:
Best Runner-Up: LEUEK Electric Candle Lighter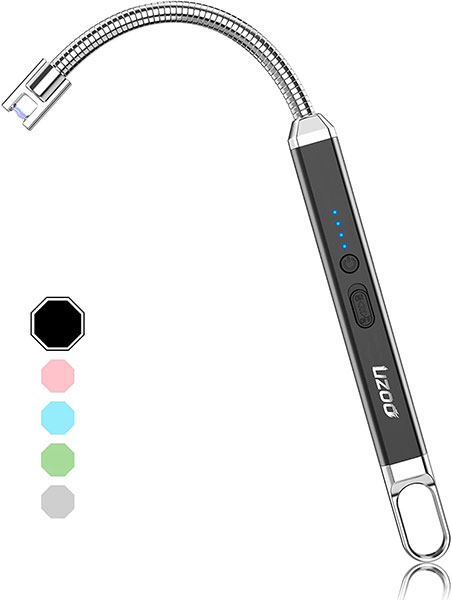 Key features:
Plastic lighter with gooseneck tip.
Dual controls with safety slider switch.
Four battery indicator pips on the housing.
The LEUEK Electric Candle Lighter is much longer than the REIDEA. It's constructed from plastic, with an 0.6-inch slender body that measures 10 inches long. The gooseneck at the tip extends that total length to make it several inches longer. More to the point, it gives you the reach to light wicks that are otherwise hard to access. The most obvious application is for jar candles, but it's always nice to have a little bit of flexibility.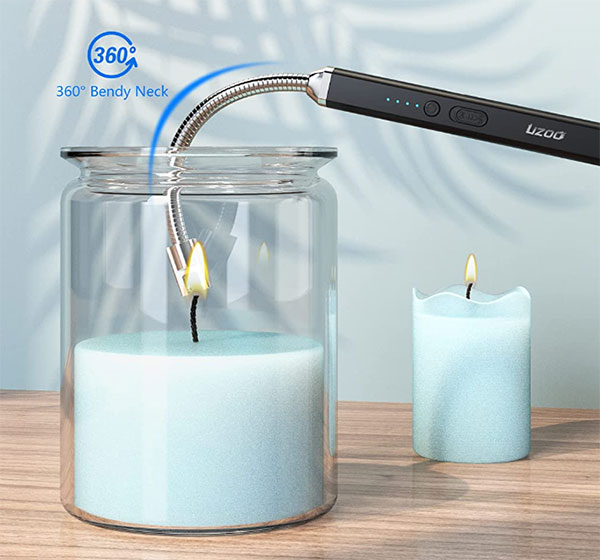 One thing we particularly liked was the ring-shaped frame at the bottom of the housing. It can be used to attach the lighter to a lanyard, or to hang it from a hook near your grill. One thing we didn't like was the plastic tip. It's heat-resistant plastic, but even so there are limits. Leave the lighter running for too long without letting it cool off, and the tip can melt and scorch.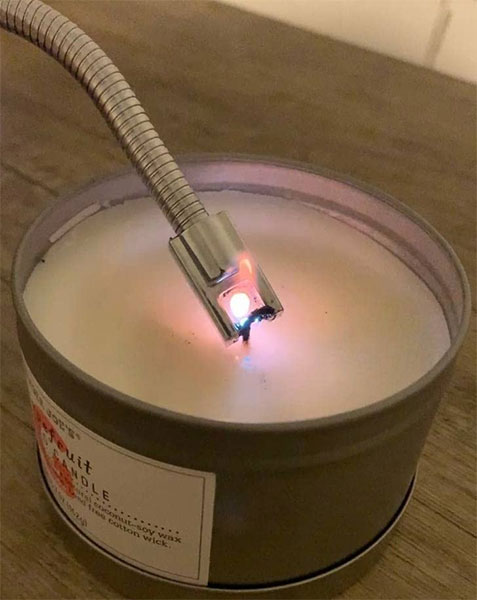 The controls require two steps for safety purposes. First, there's a slider near the bottom of the housing that you have to push forward. Then press and hold the power button in front of the slider and the arc will ignite.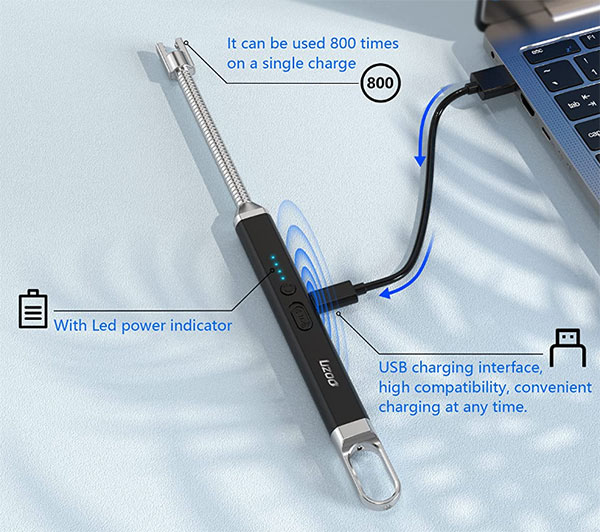 There's a Micro USB charge port in the side, where you can insert the included charging cable. The battery is rated for 800 duty cycles, which is pretty impressive. Then again, it only lasts for around 25 to 30 uses per charge. On the plus side, there's a set of four blue indicator pips to let you know the current status. That way, you always know when it's time to recharge.
What we liked:
Gooseneck design is great for jar candles.
Straightforward controls with safety switch.
Available in multiple colors.
Battery rated for 800 duty cycles.
What we didn't like:
Poor battery life.
Plastic gooseneck tip can melt from excessive use.
Best Alternative: MEIRUBY Electric Candle Lighter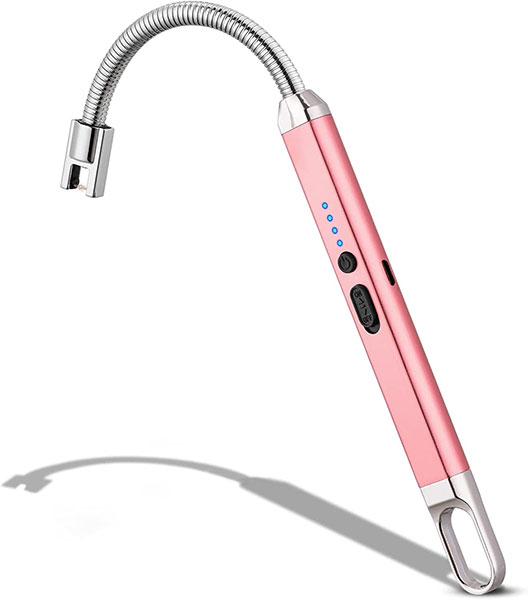 Key features:
Gooseneck-style lighter.
Dual controls with safety slider switch.
Four battery indicator pips on the housing.
Rated for 600 uses per charge.
The MEIRUBY Electric Candle Lighter is similar in many ways to the last one. It has a long handle with a gooseneck, although the handle is ever so slightly longer at around 11 inches. You'll also notice that there's a wide color selection. In addition to plain black, you can choose blue, green, purple, red, silver, or rose gold. There's a ring at the back of the lighter for hanging or attaching to a lanyard, which is a nice added touch.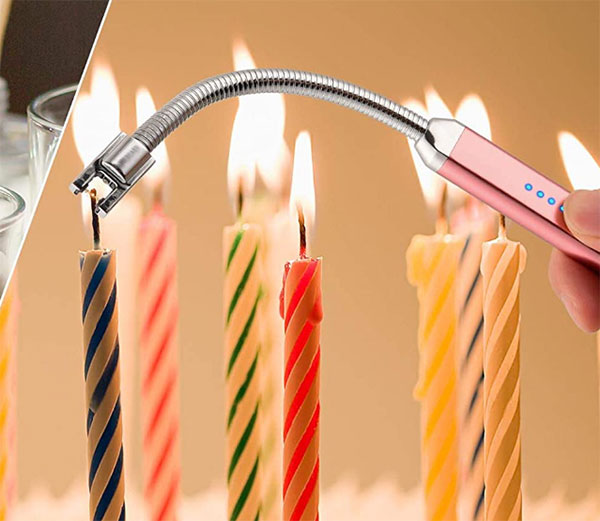 As with the LEUEK lighter, the MEIRUBY lighter has a plastic guard at the tip. As a result, you need to be careful about running the heating element for an extended period. That said, the electric arc is extremely hot, and will light a candle almost instantaneously. The only drawback is that it seems to put out a high-pitched noise. Adults wont notice it, but it drives children and pets nuts.
The dual control scheme is both simple and safe. The slider near the bottom acts as a safety, and needs to be pushed forward for operation. Then all you have to do is press and hold the power button.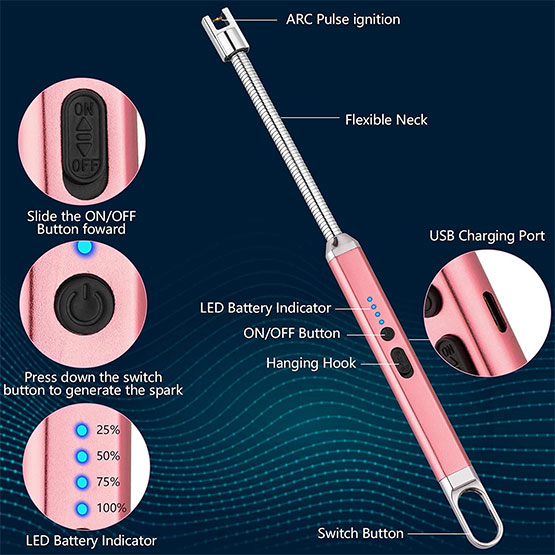 The battery is rated for 600 uses per charge, although a lot depends on how long you hold down the button. Regardless, you're looking at a long-lasting battery that rarely needs charging. You can track the status by watching the four blue indicator pips on the front of the housing.
What we liked:
Perfect for hard-to-reach places.
Long-lasting battery.
Available in several colors.
Simple, safe operation.
What we didn't like:
High-pitched noise can irritate pets and small children.
Plastic gooseneck tip can melt from excessive use.
Best High-End: The Motli Light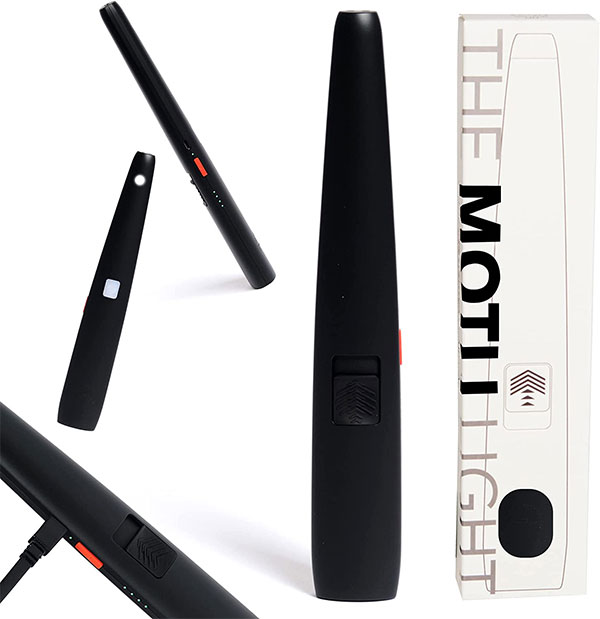 Key features:
Recessed prongs in a safety tip.
Available in 26 colors and patterns.
Four battery indicator pips.
Rated for 1,000 uses per charge.
The Motli Light has a wide and tapered housing that looks kind of like a kazoo. It measures 9.1 inches long, 0.75-inch thick, and 1.18 inches wide at its widest point. You can order it in 26 different colors and patterns, ranging from plain black to a bold leopard print. With that many options, you can match it with any personal aesthetic.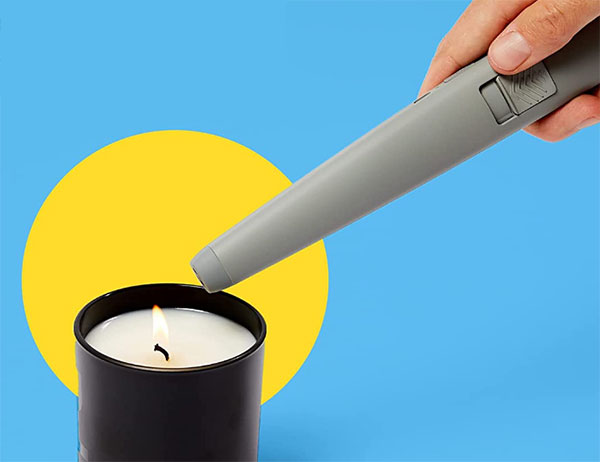 On the side of the housing is a small power button with an indicator light next to it. With the light on, press forward on the slide on the front of the housing. A pair of prongs will pop out of the tip, with an electric arc between them. The tips are shielded inside the housing when they're not active, which is a great safety feature. Our only quibble is with the strength of the arc. It's strong enough to light a candle in a few seconds, but that's about it.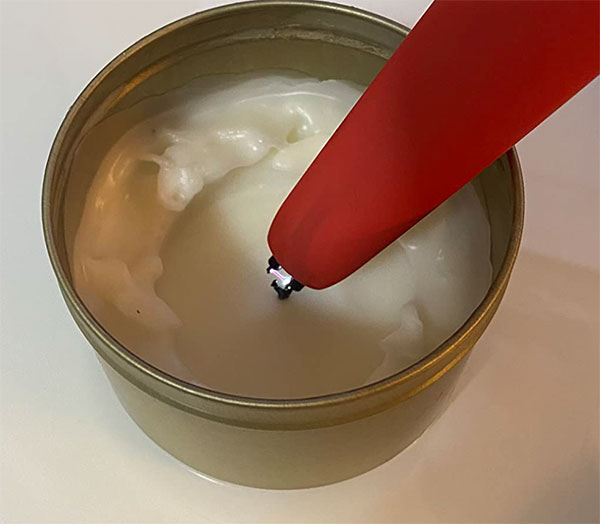 We were particularly impressed with the battery life on the Motli lighter. It's rated for 1,000 uses per charge, which seems about accurate for lighting candles. There's a Micro USB charging port in the side, and a cable is included in the box. You'll also notice a row of four indicator pips near the charge port to let you know the battery level.
What we liked:
Ergonomic tapered housing.
Four battery indicator lights.
Well-designed safety tip.
Very long-lasting battery.
What we didn't like:
A bit pricey for a single lighter.
Relatively weak arc.
What's an Electric Lighter and Why is it Better Than a Traditional Lighter?
An electric lighter, sometimes called a plasma lighter, creates heat with a high-voltage electric arc. It has two metal prongs at the front, along with an internal battery. When it's activated, a current jumps across the two prongs, creating an arc that's hotter than any flame.
This gives electric lighters a number of benefits. For one thing, they're environmentally-friendly. You can reuse them multiple times, and they don't burn Butane, which produces greenhouse gases. If you're charging them from a green power source they theoretically contribute nothing to global warming.
Another benefit of these lighters is that they're windproof. We've all had the experience of trying to use a traditional lighter on a windy day. It can be frustrating at best, or outright impossible at worst. Wind won't disturb the electrical arc, so it won't have any impact on the lighter's performance.
Finally, electric lighters are safer than regular lighters. There's no flame, which makes it harder to burn yourself or start a fire. There's also no risk of gas leaking and causing an accidental explosion.
Which Electric Candle Lighter is Best?
All four of these lighters could be the best choice, depending on what you're trying to achieve. But which is the right one for your needs? While they all would work well for both candles and fireworks, here's what we've learned about each one.
We started out by reviewing the REIDEA. This lighter is small enough to put in your pocket, and puts out an impressively powerful electrical arc. We particularly appreciated the array of safety features, especially the 10-second auto-shutoff. The zinc alloy design was also a major point in its favor.
Next, we evaluated the LEUEK. This gooseneck-style lighter is an excellent choice for sparking up jar candles and grills. We had some concerns about the plastic tip, but all in all it works pretty well. And while the battery isn't all that long-lasting, it's rated for a whopping 800 duty cycles.
Third on our list was the MEIRUBY, which is another gooseneck-style lighter. It's not an ideal choice if you have pets or small children, since the high-pitched noise can irritate them. Then again, you get enough battery life for around 600 uses; that's a lot of juice!
Finally, we looked at the Motli Light. This lighter has a recessed set of tips that only protrude when it's in use. It's not the most powerful on our list, but it is the longest-lasting, with 1,000 lighting cycles per charge. You also get the choice of 26 colors and patterns, which should be enough options for anybody.