Differences between decent cables and great cables aren't always obvious. But those differences do exist, and they can manifest in the quality of your audio and video. Everyone wishes this kind of thing was as simple as choosing a cable and plugging it in. The good news it doesn't have to be much more difficult than that to find cabling that's great at maintaining the integrity of your signal.
But you'll need to learn a couple of things first. You'll want to account for the length of the cable, the resolution of the content you're trying to display, and the general quality of build. With these things in mind, it's generally easy to choose a reliable DisplayPort to HDMI cable.
Choosing a DisplayPort to HDMI Cable
DisplayPort is mostly used by computer graphics cards and desktop monitors, while HDMI is found on basically everything under the sun. A DisplayPort to HDMI cable is great for PC-to-TV streaming, or taking your signal out to a projector or monitor. One thing to keep in mind is that cables will not be bidirectional. You may find bidirectional adapters, but DisplayPort to HDMI cables will only carry signals in one direction.
Length Limitations
The HDMI format has fairly generous proportions when it comes to length limitations. You can get reasonably strong HDMI signals across 25-feet of cabling. Even pushing out towards 50-feet is sometimes possible, depending on the quality of signal that you're willing to live with. For example, HDMI connection distance can actually be strung out towards 90-feet, if you're willing to tolerate 1080p content.
But DisplayPort isn't quite as generous when it comes to length. If you expect to maintain UHD resolution standards and higher-end bit depth, you'll want to observe a 9-foot maximum. Going substantially over that distance will cause issues. You'll want to keep that in mind as you make your selection, especially if you plan on matching your cable with an extension cable, or another adapter that uses cabling.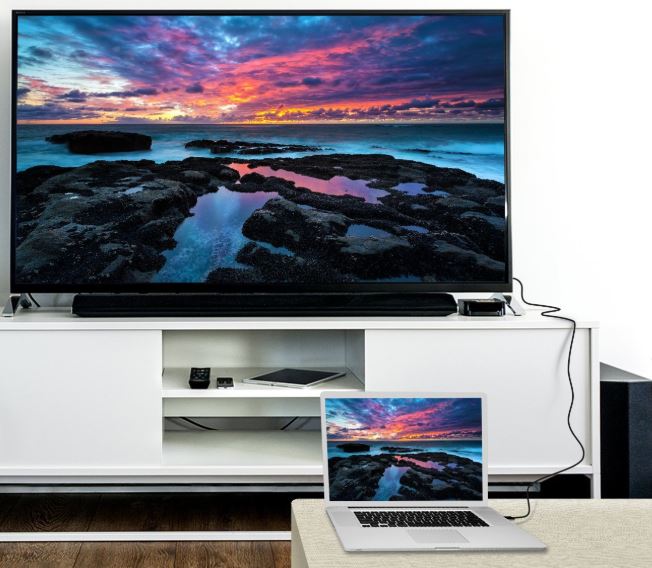 Knowing Format Basics
DisplayPort and HDMI have many things in common. They even look fairly similar from a physical standpoint. The most obvious outward difference between them is HDMI cables generally don't use locking connectors, while DisplayPort cables do. But most of their important similarities are in the features they share. This allows these two formats to share many several features which can't be shared when using similar types of cabling, like HDMI to VGA.
For example, both HDMI and DP can support 4K content, provided the DisplayPort cable is at least version DP 1.2, and the HDMI cabling is at least HDMI 2.0. Both cables support audio content, even allowing for 2, 5.1, and 7.1 channel options. And they support high bandwidth digital content protection, allowing you to play content which needs to be verified against piracy. DisplayPort 1.3 can even handle 8K content played at 60Hz, which far outstrips the capacity of regular HDMI cables.
Overall AV Quality
If you're fine using 1080p content, then DisplayPort to HDMI cables are going to be easy to find and use. If you're shooting for 1440p or 4K content, then you're going to have to be somewhat more discerning in your selection. Not all cables will allow you to carry 4K content, and among those that do, you'll still want to be certain they're transmitting with the refresh rates that you want. Keep in mind, even advertised refresh rate support can be diminished if you don't adhere to the length limitations laid out earlier.
Build Quality
Repeatedly plunging a cable in-and-out places a considerable amount of strain on the connectors of that cable. With time, a regular use will lead to the death of a cable. How long will a cable last? It largely depends on the quality of its construction. Even using the right materials, cables may run into significant problems if the ends of their connection endures corrosion. That's why it's important to look for gold-plated connectors, or some other substance that can help fight those corrosive effects.
Compatibility
Luckily, HDMI and DP cables share almost universal compatibility with all variety of devices and operating systems. As long as you're using electronics with an HDMI and DisplayPort on them, you shouldn't have to fret details like Apple vs Windows vs Android. Your primary concerns are length, the quality of construction, and feature support.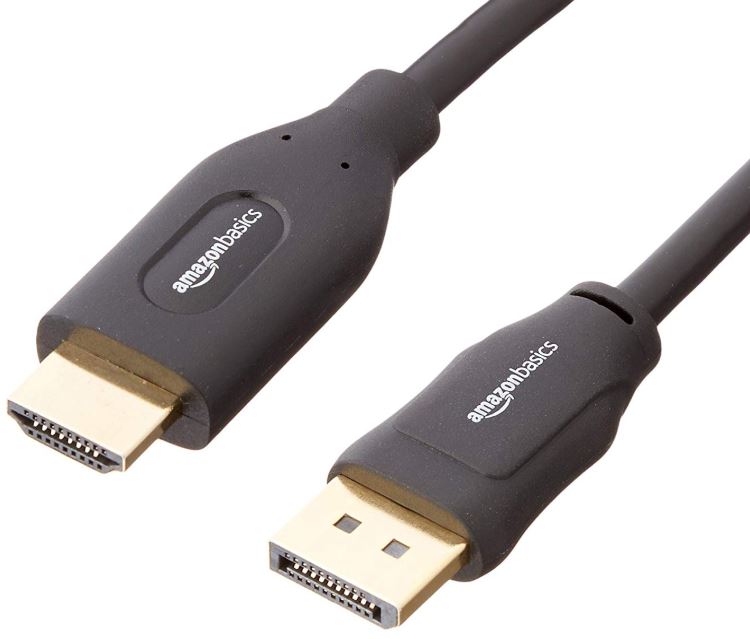 AmazonBasics DisplayPort to HDMI Cable
The AmazonBasics DisplayPort to HDMI cable is about what you'd expect from an AmazonBasics product. Once you've got the cord in your hand, it seems like a perfectly well-built cable, if not a bit ordinary. You plug it in, and it works. But what really makes these AmazonBasics cables stand is the combination of their quality construction, alongside a wide range of cable size selection.
Build Quality & Specifications
AmazonBasics DisplayPort to HDMI cables are available in 3, 6, 10, 15, and 25-feet. Measuring the adapter-end of the cable, the height of each adapter is roughly 0.4 inches. Each bit of cabling is rather thick, with the bare copper conductors being thoroughly protected by layers of braided foil, sealed beneath a smooth plastic exterior. Each end terminates in gold-plated ends connection heads, which are ideal for making repeated contact, and generally defending your plugs against corrosion.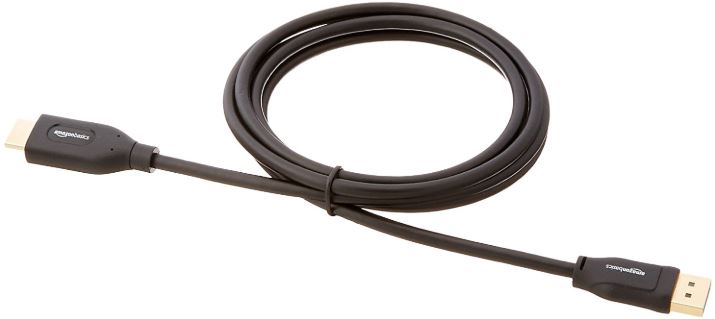 Other Considerations
This cable supports 1080p content, and audio content including 7.1, 5, or 2 channels. That makes it great for using a mirrored display, or configuring a second monitor. But it also means your audio content doesn't get left out, and you won't have to worry about running a bunch of extra cables. Again, it's worth noting this cabling is unidirectional, and moves signals from DP to HDMI, not vice versa.
Having the topside of these cables labeled with the AmazonBasics brand logo might usually be somewhat of an annoyance. But it does serve to indicate which side of the cable is the up-side without having to stare at the end of the connector. Finally, this cable includes a 1-year warranty from AmazonBasics.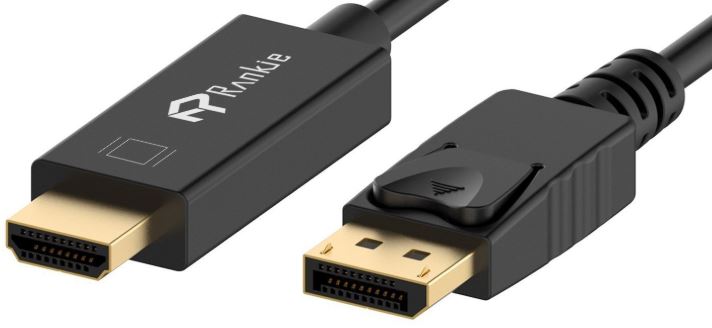 Rankie DisplayPort to HDMI Cable
Rankie DisplayPort to HDMI Cables are suited towards people who are looking for shorter cables. They're available in 3, 6, 10, and 16-feet. The reason these cables are somewhat shorter is because they're intended to provide support for 4K content. Naturally, that includes support for HD audio and standard 1080p content, as well as 7.1 audio channels. But make no mistake, these cables are made specifically for people who are looking to stream high bandwidth content.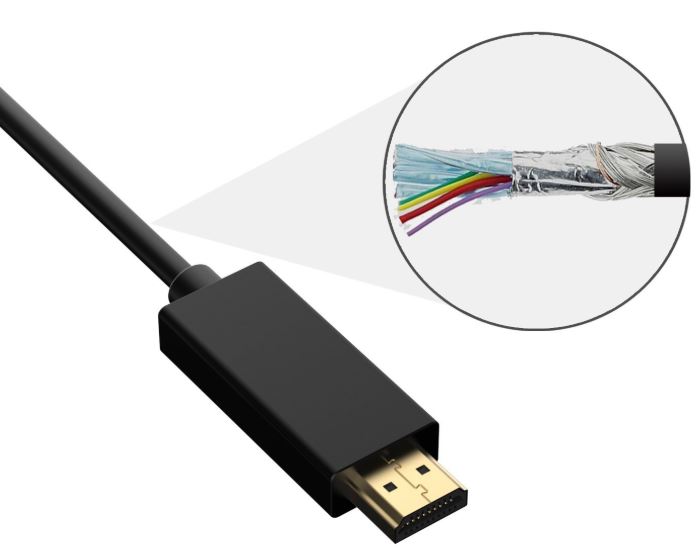 Build Quality & Specifications
Rankie's cables have a generous 0.6-inch diameter, which actually looks quite stalky when paired with one of their shorter cable lengths. The cabling is constructed with double-shielding protection, using braided foils to protect the underlying copper wires and extend the durability of the cable.
As with AmazonBasics cabling, the fairly thick build of these cables terminate in gold-plated connections. That's precisely the build quality you're looking for to provide long-term protection for your cable, and maintain smooth connectivity for 4K content. Whether you're using your DisplayPort to HDMI cable in a portable capacity or otherwise, they're equally equipped for both tasks.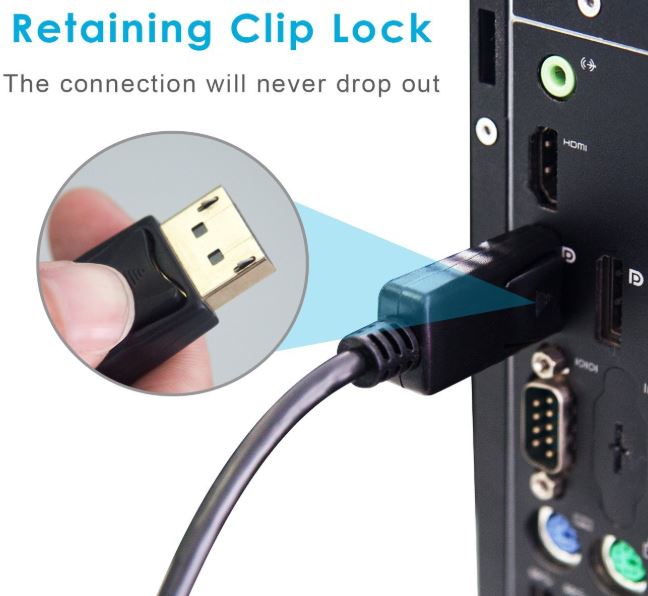 Other Considerations
This isn't a bi-directional cable; it can only send signals in one direction, from DP to HDMI. As with most standard DP cables, the DisplayPort end of this adapter includes a button you need to press to detach the connector. Sometimes these buttons can be frustrating to use because they give little indication of how much pressure is needed to actually release the seal.
But Rankie's DP to HDMI cable provides tactical feedback when you're squeezed enough, which is a nice extra touch to the design. All in all, this cable is perfectly suitable for mirrored displays and extended desktop features. And perhaps best of all, this cable includes a lifetime warranty from Rankie. They're willing to bet their cable will last longer than you'll be using DisplayPort and HDMI, which is if nothing else a fairly clear statement in the confidence they've got in their product.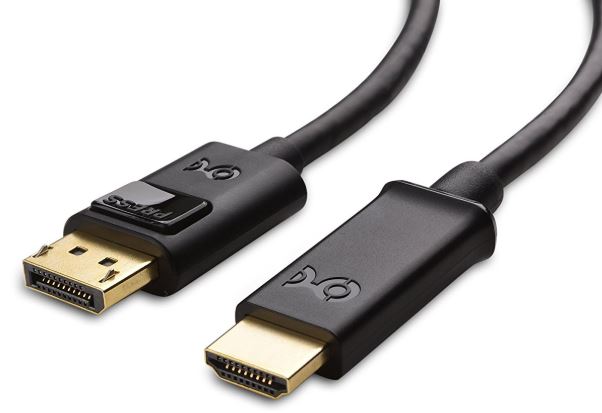 Cable Matters DisplayPort to HDMI Cable
The Cable Matters DisplayPort to HDMI cable yet another unidirectional cable. The DisplayPort end of the cable supports DP, DP++, and DisplayPort++ gear, from televisions to monitors. And once again, it's available in a broad variety of sizes, including 6, 10, 15, 25, and 35-feet. But where most DisplayPort to HDMI cables overlook support for subtle features, Cable Matters provides cabling that makes sure you're able to make the most out of the HDMI and DisplayPort formats.
Build Quality & Specifications
The Cable Matters DP to HDMI cable runs slightly on the thin side, with a 0.5-inch diameter. That's largely to do with the length of these cables, which clearly have been intended to be placed and forgotten rather than moved and packed.
As you want from most of your cables and adapters, the ends of the Cable Matters DisplayPort to HDMI cable terminates in gold-plated connectors. These are paired with bare copper conductors, and protected with braid shielding and foil for a generally strong combination of performance and reliability.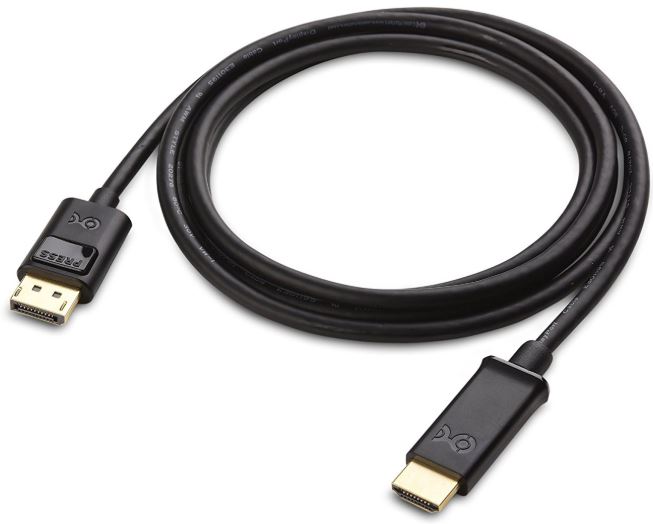 Other Considerations
This cable provides support for 1080p content played at 60Hz, but won't support the higher refresh which are ordinarily possible through DP cables. One bright spot is how you can use AMD Eyefinity to connect several monitors, and you'll need an active cable to support several monitors. From there, you can extend your display, mirror it, or otherwise connect together all your stuff fairly simply.
This cable supports 1080p content, and HD audio across 7.1, 5.1, or 2 channels. While Cable Matters uses a security button on the DisplayPort end of their cable, the button is somewhat flat. This can make it slightly more difficult to remove when you've plugged it into a cramped space. Finally, the Cable Matters DisplayPort to HDMI cable includes a one-year warranty from Cable Matters.
Choosing Between 3 Quality DisplayPort to HDMI Cables
The AmazonBasics DisplayPort to HDMI cable is a fairly safe choice, and certain to be the right choice for most people. These are just about do everything, and they're built to last. From the thickness of the braided wiring to the physical construction of the connections, no part of this cable feels cheap or likely to wear out. Provided you're looking for 1080p content and no higher, the AmazonBasics DisplayPort to HDMI cable is worth picking up.
The Rankie DisplayPort to HDMI cable is your best bet for UHD content. Whether you're trying to use 1440p or 4K, this cable is equipped for the tasks of higher bandwidth transmissions. And the cabling itself is quite sturdy inside and out. You're going to have to end up running shorter distances with the cable, and you'll want to think carefully before you run higher than 10-feet. But for watching UHD content, and for people interested in the lifetime warranty, the Rankie DisplayPort to HDMI cable is a great choice.
Finally, the Cable Matters DisplayPort to HDMI cable is a good choice for people who are trying to use AMD Eyefinity to connect several monitors. You don't need Eyefinity to connect multiple monitors using a DisplayPort to HDMI cable, but if you plan on doing it through AMD, you'll want the Cable Matters DP to HDMI cable. This cable also has the longest options of the bunch, reaching out to an impressive 35-feet. For people who are trying to stretch 1080p content across several rooms, the Cable Matters DisplayPort to HDMI cable is a good call.
Meet Derek, "TechGuru," a 34-year-old technology enthusiast with a deep passion for tech innovations. With extensive experience, he specializes in gaming hardware and software, and has expertise in gadgets, custom PCs, and audio.
Besides writing about tech and reviewing new products, Derek enjoys traveling, hiking, and photography. Committed to keeping up with the latest industry trends, he aims to guide readers in making informed tech decisions.