For most displays, HDMI is the universal standard. However, there are still many projectors, televisions, and monitors that use VGA inputs. You might think that converting one format to the other is simple. After all, converting HDMI to DVI is trivial. However, when you're working with VGA there are some differences. Both DVI and HDMI are digital signals. Changing one format to the other is a simple matter of wiring two connectors together. But VGA is analog, and you need a special chipset to rebroadcast the signal.
A few years ago, this conversion was quite complicated. Today, there are a few budget minded chipsets that give the same great quality for a low price. In this guide, we'll be taking a look at the three best HDMI to VGA converters on the market. We'll help you understand the differences between them, and find the one that's right for you.
UGREEN HDMI to VGA Video Converter
As one of the most popular manufacturers of integrated chipsets, their affordable line of converters and adapters are one of the industries best kept secret. These very same adapters are commonly sold as white label, with vendors chalking up a pretty significant markup. For consumers, buying direct means that you get something built to a high standard, without breaking the bank.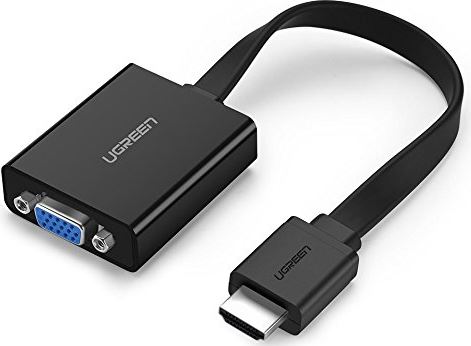 Compatibility
Although there are many passive converters on the market, these devices require a special HDMI chipset that supports analog output. These are rare, making compatibility flakey at best. But the UGREEN HDMI to VGA Converter has an active chipset built right in, which makes them incredibly compatible with virtually all hardware. Anything that supports HDMI can connect to this adapter, and it outputs a standardized VGA signal.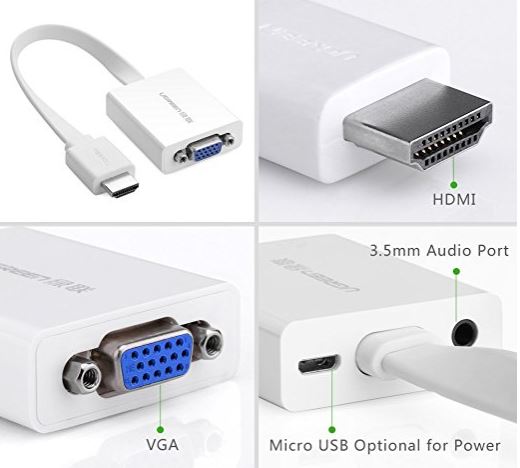 It supports resolutions up to 1080p, and the only thing not supported is HDCP 2.2. This means that your brand new 4K hardware won't work, but everything else under the sun will work. You're also able to daisy-chain these adapters when necessary. You can go from DVI to HDMI, then use this adapter for the HDMI to DVI portion of the conversion. This is a common application. DVI, in some circumstances, can support analog video. This means that most converters on the market don't actively convert the digital DVI signal to VGA. By adding this adapter into your chain, you'll be able to properly convert digital video.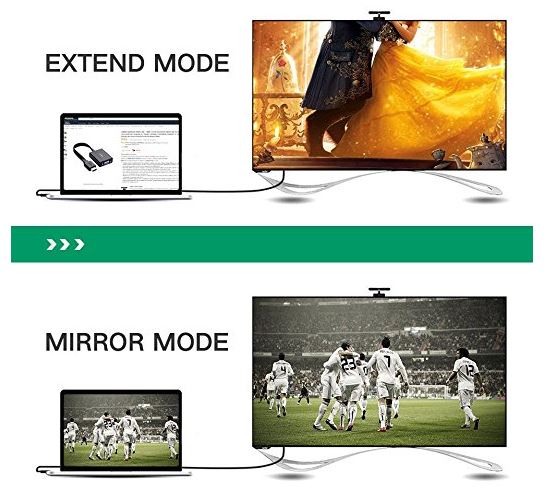 Functionality
It's becoming increasingly common for video sources to output audio through HDMI. Unfortunately, VGA doesn't support audio. This can create problems for people using an adapter. Best case scenario, you'll be able to change the audio output to your 3.5mm output. But if you don't have that ability, this adapter has you covered. There is a 3.5mm audio jack built right into the adapter. If it detects an audio signal, it will output that through the analog port. This allows you to get audio no matter how your video source is configured, giving you a huge advantage.
Video Quality
The ICs used in this chipset are very high quality, and this shows from the video signal. With inexpensive hardware, you notice a lot of noise and distortion at high resolutions. But with this model, the signal was still quite clear. You do notice a small change in the chroma keying, which results in a minor color shift. But these kinds of changes are to be expected with analog video. One of the standout features of this model is that the coloring retains a lot of it's vibrancy, making it a great choice for video or rich media.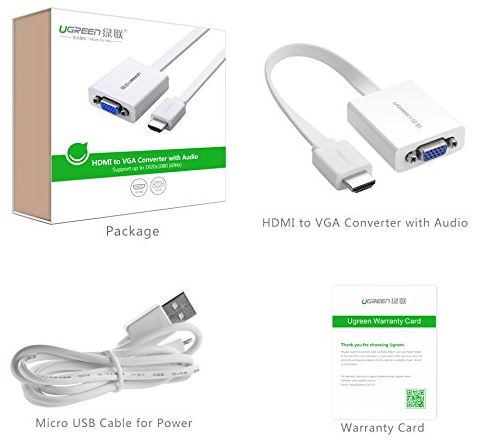 Durability
We are more than impressed with the build quality of UGREEN's HDMI to VGA adapter. For starters, the cable is extremely durable. It's one of those modern flat HDMI cables, and it's very well insulated. Even when bent or twisted, it doesn't allow the wires inside to get torqued beyond their natural range of motion.
Another advantage of this adapter is the port where you plug in your VGA cable. It's well designed, and built inside of a plastic enclosure. This adds a lot more rigidity than most models have.
Personally, we're a fan of these cable style adapters. Although they aren't quite as compact as solid models, there are some significant advantages. When you've got a long adapter plugged directly into your HDMI port, you're putting a lot of pressure on it. This can damage the port, so the cable on this model adds a lot of durability to the whole system.
VicTsing Gold-Plated HDMI to VGA Converter Adapter
As a prominent importer of Asian made goods, VicTsing's store seems to have almost everything under the sun. But when you shop with them, what you're really going for is the price. Everything they make is high quality, but you'll find that they're priced much lower than the competition.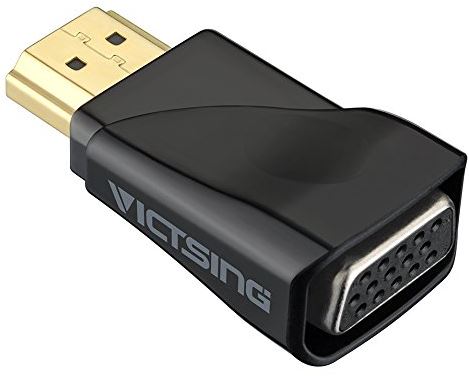 Compatibility
The VicTsing Gold-Plated HDMI to VGA Converter is designed primarily for use with PCs. The main advantage of this model is the higher resolutions supported. You can go up to 1200 pixels in height, which is necessary for 1600 x 1200 displays. For widescreen, you can still go up to 1080p, but there are very few adapters who can reach the full 1200p resolutions. This is managed through the gold plated adapter, which supports the higher data rates needed for these higher resolutions.
We tested this adapter with our desktop and laptop PCs, and it also works with integrated hardware such as Android TV boxes or XBOX one and 350 game consoles. Unfortunately, it's not compatible with Apple or Sony hardware.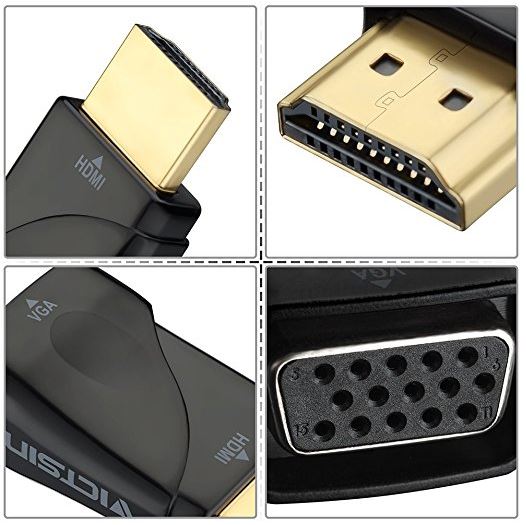 Functionality
This adapter converts signals one way from digital to analog. It automatically determines the resolution, so there is no special configuration necessary. It doesn't support audio, which is common among these adapters. However, it specifies this as part of the handshake process. Your video source will know this, and default to the analog video output. This can save you a ton of time configuring the sound, so you won't be caught without it.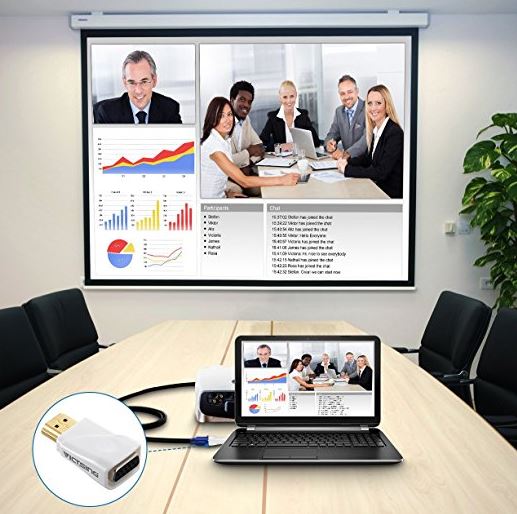 Video Quality
With analog video, there is always some loss when going from one format to another. The internal converter chip can be calibrated or one type of display or another. In our tests, we found that this model was best suited for data. The colors are a little more muted, but there is plenty of contrast. Text and graphics appear crisp and sharp, and you don't get the blurred lines you find with some other models.
You'll find that this adapter offers the best video quality if you're using it as a monitor. Whether you're editing text, giving powerpoint presentations, or any other situation where accuracy is more of a priority than color depth, you won't find a better solution.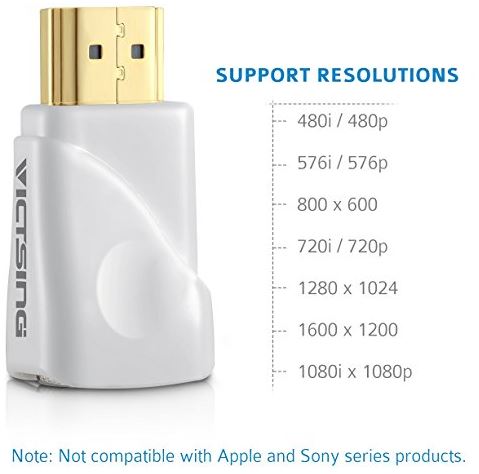 Durability
Anytime that we come across an adapter like this, we're a little skeptical. Adapters that use cables don't put as much strain on your ports. When you've got this connected to your HDMI port, and a VGA cable connected to the end, there is a lot more pressure than that port is designed for. However, there are ways to built these adapters properly, and VicTsing didn't skimp out. The gold plated connector is very well anchored inside, and the internal frame is made from metal. Even with a heavy cable, you're not going to damage your ports, so this is still a great option.
Rankie HDMI to VGA Converter
With a number of affordable computer peripherals on the market, Rankie seems to have their fingers in a lot of pies. On paper, this adapter doesn't seem all that different from competing models. But there are a few key differences between this model and the competition.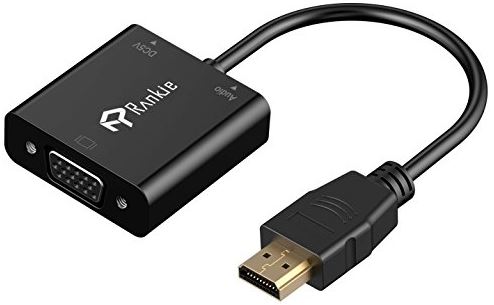 Compatibility
With a build in conversion chipset, the Rankie HDMI to VGA Converter fully conforms to all common video standards. In terms of compatibility, this means that there is a lot of different hardware it can work with. You can expect it to run on anything that the UGREEN model will run, with one key advantage. There is some hardware out there such as the Raspberry Pi, some Chromebooks, and the Intel NUC that have very low power draw. These devices don't output quite as much power onto the HDMI channels as others. Since these converters require power to run, you'll find that these compact integrated devices won't always work. To solve this problem, Rankie gives you an external 5V adapter that powers the converter, allowing it to work with virtually anything on the market.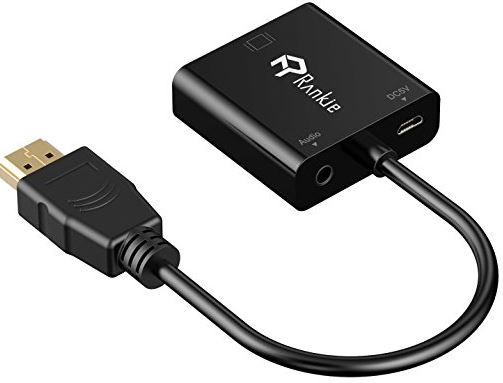 Functionality
In most ways, the functionality of this converter is identical to the UGREEN model. You can plug in your HDMI connector, attach your VGA adapter on the other side, and use the analog 3.5mm output for audio. You don't have to attach the external 5V power supply, but this will help to improve video quality.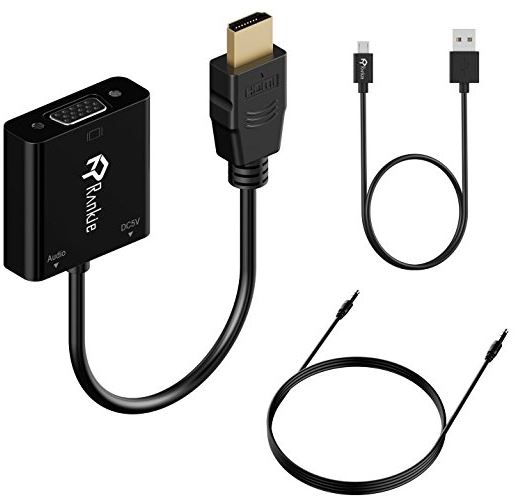 Video Quality
With the power adapter attached, this is one of the cleanest looking video signals we've come across. Even on devices that don't need it, the additional power really helps to reduce video noise. This is always a problem with analog signals at higher resolutions. If you're going to be running your display at 1080p or 1600×1200, the power adapter goes a long way to improving it.
On a high quality monitor, it's almost impossible to tell that you're running off an analog signal. Video of this quality is rare, so we're happy to see it be made available for only a few dollars more than the competition.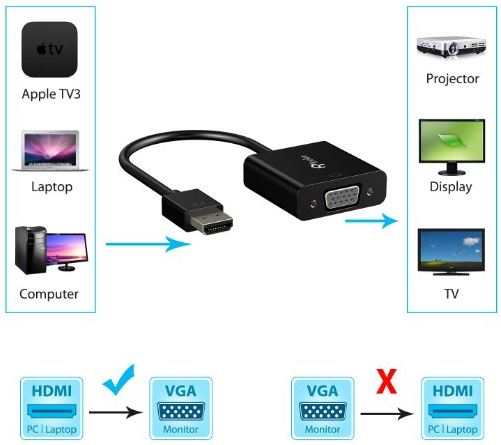 Durability
In many ways, this adapter is definitely a little overbuilt. The most notable feature is the screw holes for your VGA cable. These aren't commonly included, and can help prevent your cable from coming loose if the adapter is torqued or the cable is pulled. Overall, this adapter is a little larger than some. But it's high standard of quality means that it can last a long time. In our eyes, this is worthwhile.
Which HDMI to VGA Converter is Right for Me?
With many types of converters, it really doesn't matter which one you choose to buy. For simple digital to digital conversions, they'll all perform the same. But when you throw an analog signal into the mix, things become a bit more complicated.
No matter how you convert it, there will always be some loss. In some cases it will be almost impossible to see, but it will still be there. For this reason, the converter you choose will depend on what devices you are using, and what resolutions you're going to be running the display at.
For lower resolutions (below 1080p) the UGREEN Gold-Plated HDMI to VGA Video Converter is a good choice. Its chipset works best with video, and produces an excellent color range.
If you're working with a PC and displaying data, the VicTsing Gold-Plated HDMI to VGA Converter Adapter would be our choice. It's not compatible with Apple or Sony devices, but the sharpness of the image is unparalleled.
If you're working with high resolutions, the Rankie HDMI to VGA Converter is our number one choice. This converter comes with a separate power adapter, which allows the internal components to run at a higher power. The end result is a video quality that is second to none, making it the perfect option for challenging environments.