Modern gaming controllers are better designed than ever before. This is a major improvement over early consoles. For gamers of a certain age, it's hard to forget just how awful early game controllers were. For example, the original NES had a tiny square controller that was uncomfortable to hold for long periods. This isn't to rag on the NES. It's a classic console, and it brought home consoles from a fringe hobby into the mainstream. But it just doesn't hold a candle to the modern Xbox, PlayStation, or Nintendo Switch controllers.
These modern controllers are suitable for playing a wide variety of games. Whether you prefer role playing, sports, or fast-paced first-person shooters, they provide plenty of comfort. That said, like most controllers, they fall short when it comes to simulation games. This isn't to say that you can't play Forza or F1 with a controller. You certainly can. But it doesn't provide the same immersive feeling as using a proper racing cockpit. The same goes for mouse and keyboard if you're a PC gamer. They get the job done, but they break the suspension of disbelief. If you want a more immersive feeling, you need a wheel, pedals, and appropriate racing chair.
Today, we'll be looking at three of the top rated racing wheel stands for video games. Each of these stands has its own benefits and features. The first one is the Openwheeler GEN2 Racing Wheel Stand. This is a highly adjustable stand that includes a comfy racing seat and mounts for other hardware. Next up is the Next Level Racing Wheel Stand Racer. This is a more affordable, barebones unit that's designed to be used with an existing seat. Finally, we'll review the Playseat Challenge Racing Video Game Chair. This is a unique cockpit that's designed to be as portable as possible. Let's take a closer look at each of them, and see how they stack up!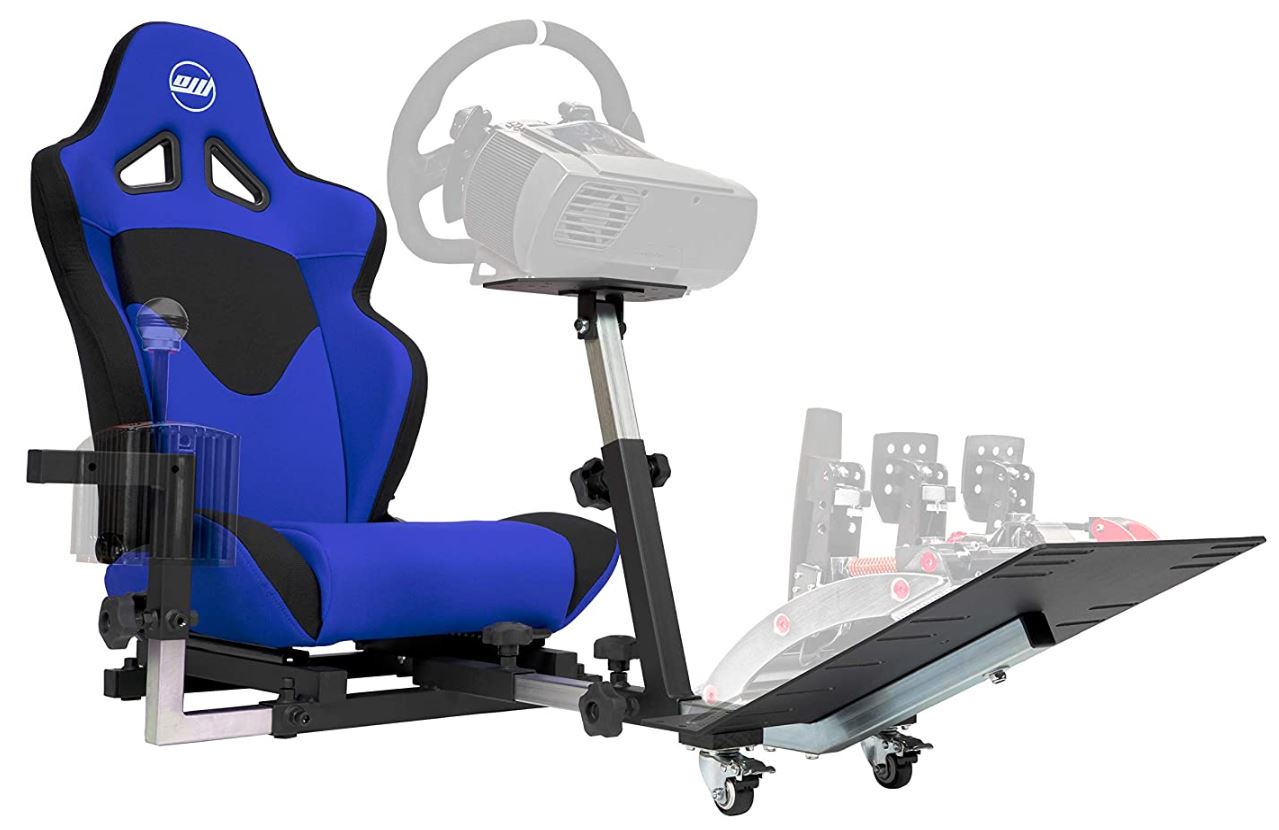 Openwheeler GEN2 Racing Wheel Stand
The Openwheeler GEN2 Racing Wheel Stand is a full-featured stand that provides everything you need. It consists of a sturdy, stainless steel frame that's able to withstand a lot of abuse. Because of this durable design, it should last for many years, even if you use it daily. It's also designed to be easily mobile. The back of the frame rests on rubber skids to keep it in place and prevent it from scratching your floor. However, the front of the frame is supported by a pair of castors. This makes it easy to roll away when you need to. The castors have built-in brakes, which you can set to ensure that the stand remains in place.
On the back of the frame, there's a comfortable, bucket-style racing seat. Most of the upholstery is electric blue, although some black panels provide a touch of color. Including the headrest, the seat measures 33.5 inches in height, so it can accommodate even taller gamers. There's a heavily-padded lumbar support in the center, so you can sit in a comfortable, ergonomic position. The side wings measure 21 inches in width, which provides plenty of comfort and support. You can even lean from side to side as you race if that helps you concentrate. Finally, the seat can be reclined. It can sit anywhere from totally vertical to 45 degrees, so you can race in exactly the position you prefer.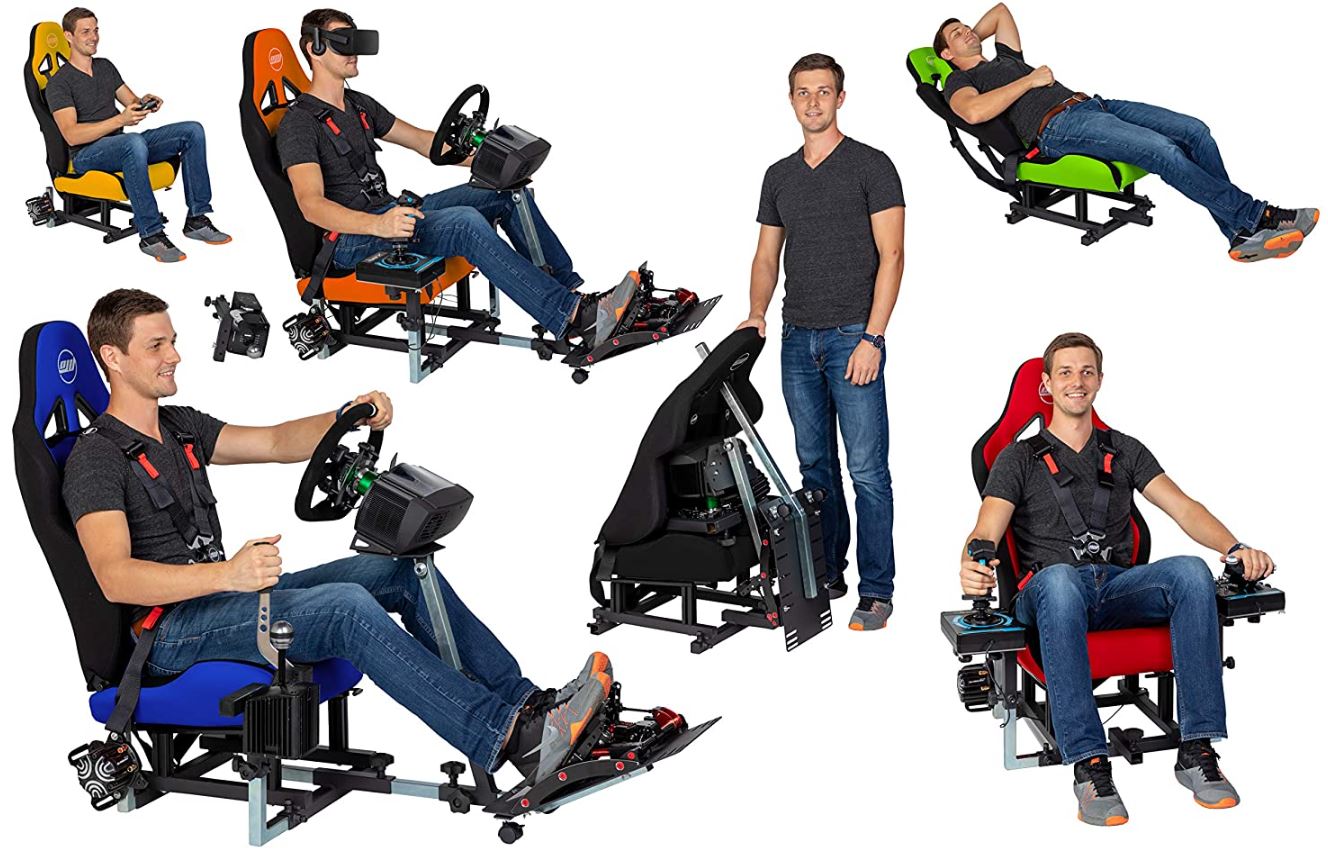 The rest of the stand is similarly adjustable. Both the steering wheel mount and pedal mount are attached on their own sleeves. These sleeves can slide in and out independently on a central steel bar. In total, you can adjust the length from 52 inches to 64 inches. Whether you're on the tall side or the short side, you can easily reach the pedals without cramping up. The gear shift mount is also adjustable. You can pull it in tight for a width of 22 inches, or push it out wider for a width of 32 inches. This allows the stand to accommodate various arm lengths as well as different heights.
The pedal mount is exceptionally sturdy, manufactured from extra thick black stainless steel. This ensures that it won't bend or get damaged, even after years of intense play. Assembly is very easy. All the screws are included, so you can have the whole rig assembled in about 20 minutes.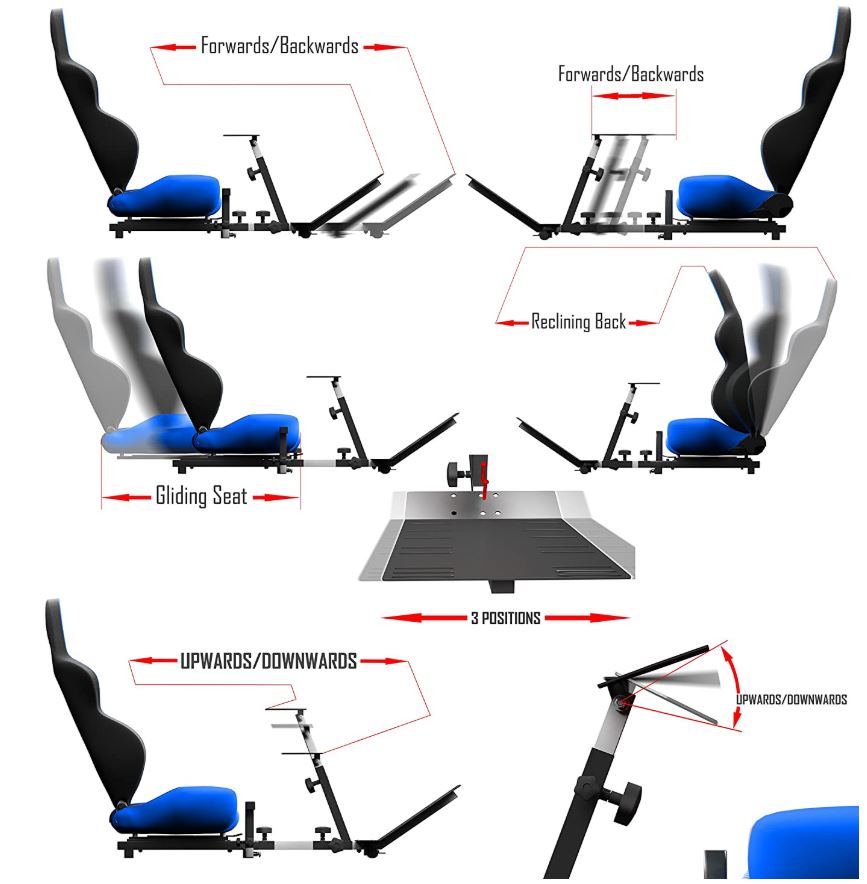 Compatibility & Extra Features
The Openwheeler GEN2 Racing Wheel Stand is perhaps the most versatile cockpit on our list. You can upgrade it with three different accessories: a wheel, a pedal kit, and a gear shifter. You can also mount a racing harness on the seat. As a result, you can get the most immersive possible experience if you install all the upgrades. All the mounts have multiple pre-drilled slots for wide compatibility with most aftermarket accessories. Better yet, Openwheeler will provide additional mounting plates for free if any are needed. For example, the stock mounts are not compatible with HOTAS hardware. But if you send an email to tech support telling them what you need, they'll ship it to you for free.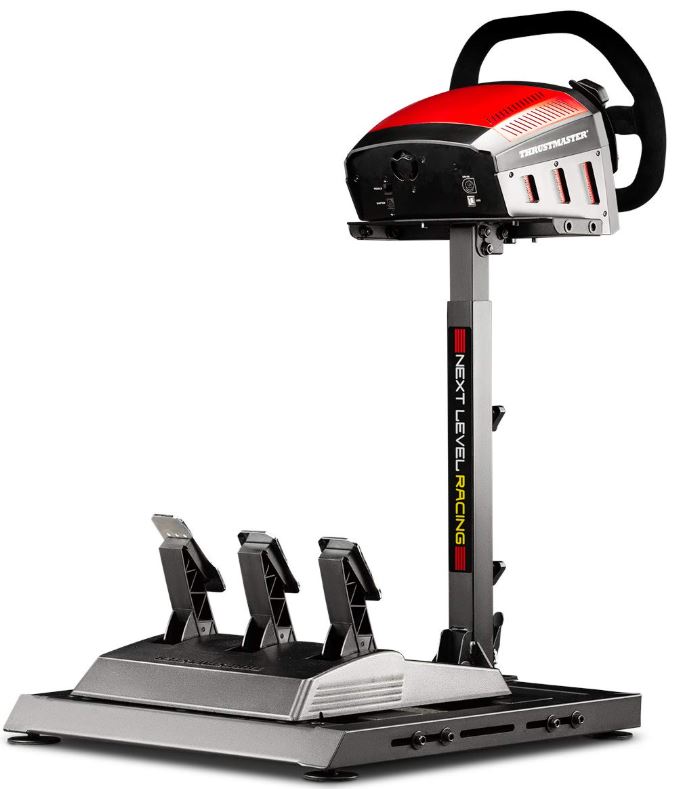 Next Level Racing Wheel Stand Racer
Next Level Racing is a well-known manufacturer in the world of racing games. In fact, we've reviewed some of their products before, including a gearbox shifter and racing wheel. Their Wheel Stand Racer is yet another item in their line of racing accessories. It's a sturdy, powder-coated steel stand that's designed to support a steering wheel and a pedal set. As such, it provides fewer mounting options than the other options on our list. But if you already own a racing chair that you enjoy, it's an excellent choice.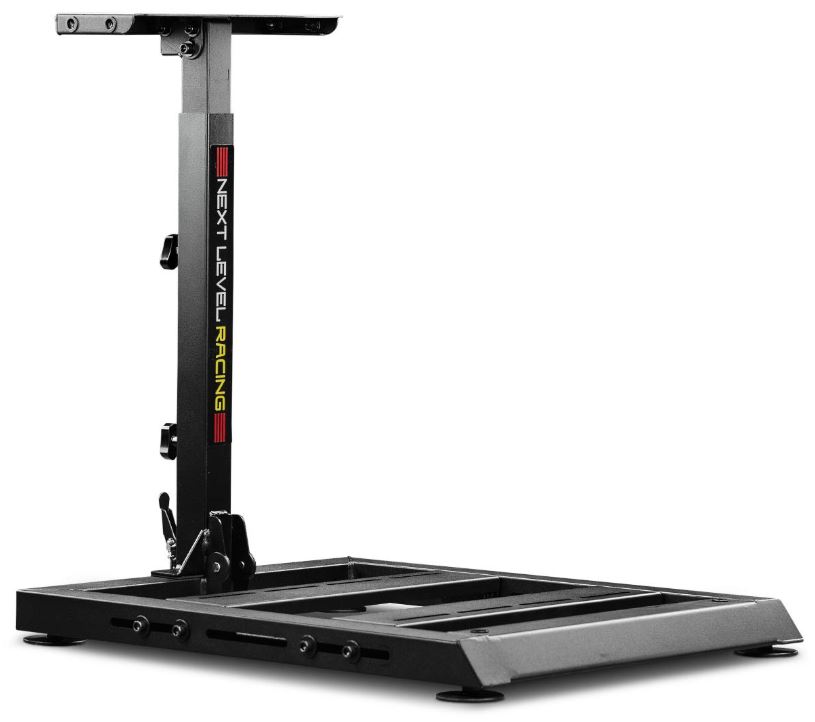 The pedal mount is fully adjustable, both in height and angle. If you want your pedals to sit horizontally, you can do it. If you want them tilted towards your chair, you can also do that. As a result, you can use almost any pedal set on the market, regardless of design. Inside the mount, there are two plates for securing your pedal set. Each plate has a set of horizontal slots that are easy to use for mounting. The plates themselves are secured in a pair of slots on the sides of the mount. You can move them back and forth independently, then screw them into place when they're where they're needed. Because of this design, the pedal mount can be used with pedal sets from virtually every manufacturer.
The upper steering wheel mount is pre-drilled for Logitech, Thrustmaster, and Fanatec steering wheels. Like the pedal mount, it can also be tilted back and forth as needed. The height can also be adjusted, with a pair of large, easy-to-use set screws towards the bottom of the support. Even better, the entire stand is collapsible. If you only want to use your racing cockpit once a week, storage is easy. Just unmount your accessories, fold up the stand, and put it in your closet.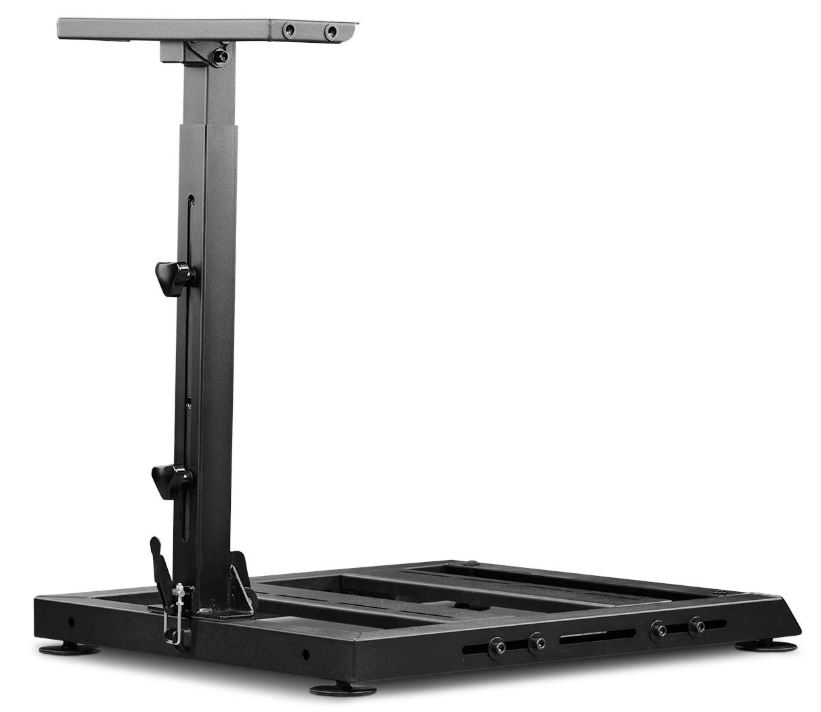 Compatibility & Extra Features
As you can see, the Next Level Racing Wheel Stand Racer doesn't offer as many mounting options as the GEN2. That said, it's considerably more affordable. Out of the box, it will support most steering wheels and pedal sets, which is a great start. If you already have a suitable racing chair, you're good to go. If not, you can add Next Level Racing's Challenger Racing Seat, and bolt the two together. The Challenger Racing Seat also sports a gear shifter mount, which adds even more functionality.
There are also a few other add-ons worth mentioning. First off, you can add a set of castor wheels to the base. This isn't necessary if you're just using the main unit. But if you've bolted it together with a chair, it makes it easier to move the entire cockpit. There's also an optional free-standing mouse and keyboard stand. This won't be useful for console gamers. But for PC gamers, it keeps all your controls and settings close at hand. In addition, you can buy a free-standing monitor stand. This stand has its own set of castors, and can be wheeled closer or further from your eyes as desired. Finally, you can buy a heavy rubberized floor pad to go under the Challenger Racing Seat. This isn't strictly necessary, but it provides extra protection for hardwood floors.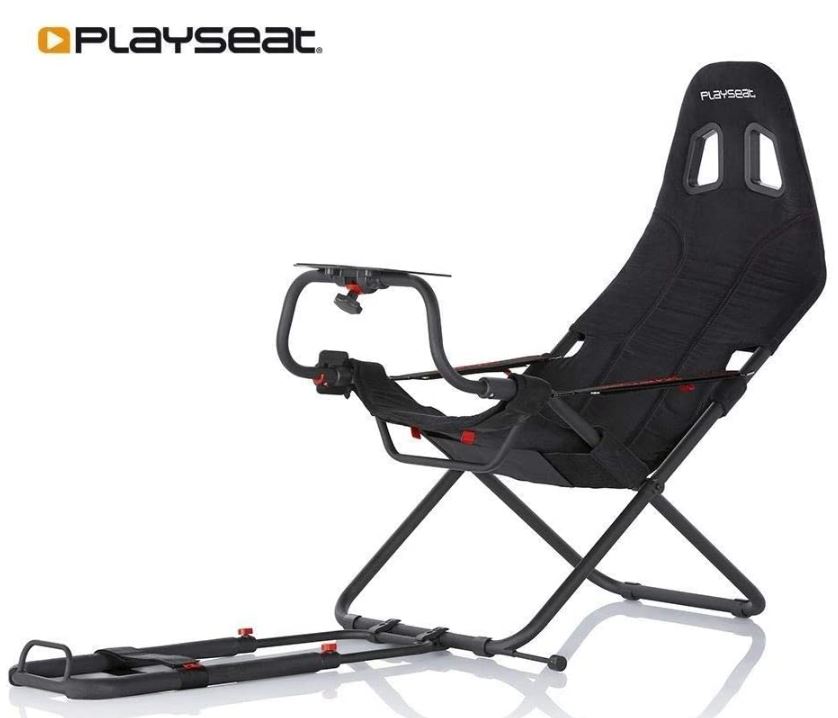 Playseat Challenge Racing Video Game Chair
The last two options we looked at are both well-designed for storage. But if you want the most portable unit possible, the Playseat Challenge Racing Video Game Chair is an excellent choice. Instead of heavy-duty stainless steel, it's built more like a beach chair. The frame is round instead of square, and pivots are made of plastic rather than metal. This makes the entire unit very light, at only 28 pounds. If you want to pick it up and throw it in your car's back seat, you won't have any trouble. The whole thing is collapsible, so you can carry it under one arm if you so desire. You can even fold it up with a steering wheel and pedals still attached. Keep in mind, though, that this will increase the weight.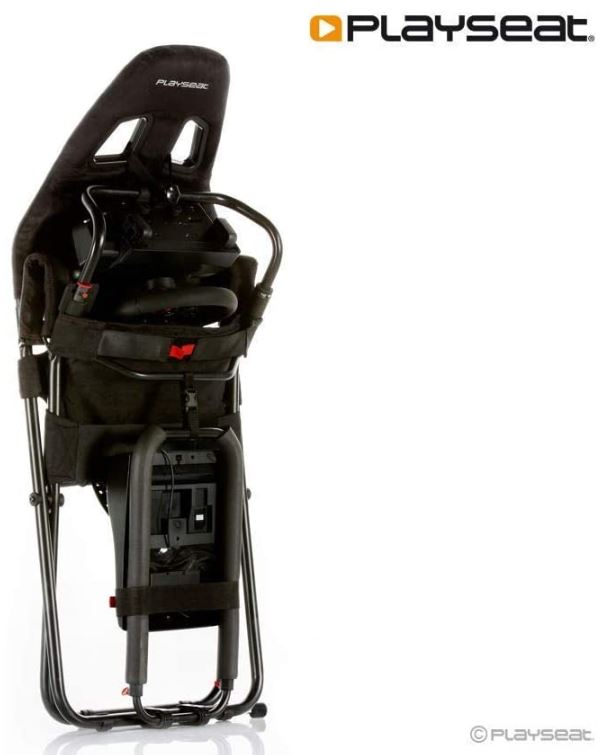 The main part of the unit is the seat itself, which is built in a reclined position. It's constructed from a lightly-padded canvas, comfortable enough for even a long gaming session. There are no big side pads or other unnecessary frills. However, the headrest is a racer-style, and sits high enough to support racers as tall as seven feet. On the downside, the maximum weight capacity is only 200 pounds. Larger individuals are going to need a more robust racing chair.
The steering wheel mount is supported on a crossbar that mounts to the seat. It extends from the armrests, and arches up over your lap. Unless you have very long arms, the ergonomics are excellent. To allow you to get in and out of the seat, the crossbar pivots on one side and latches into the other. You can swing it out of the way to get in and out of the seat. Once you've sat down, simply lock it back into place. The pedal mount is built on a separate frame that's attached to the bottom of the chair. It can be extended in and out by using a pair of easy-to-turn set screws. As a result, you'll have a comfortable pedal position regardless of your height.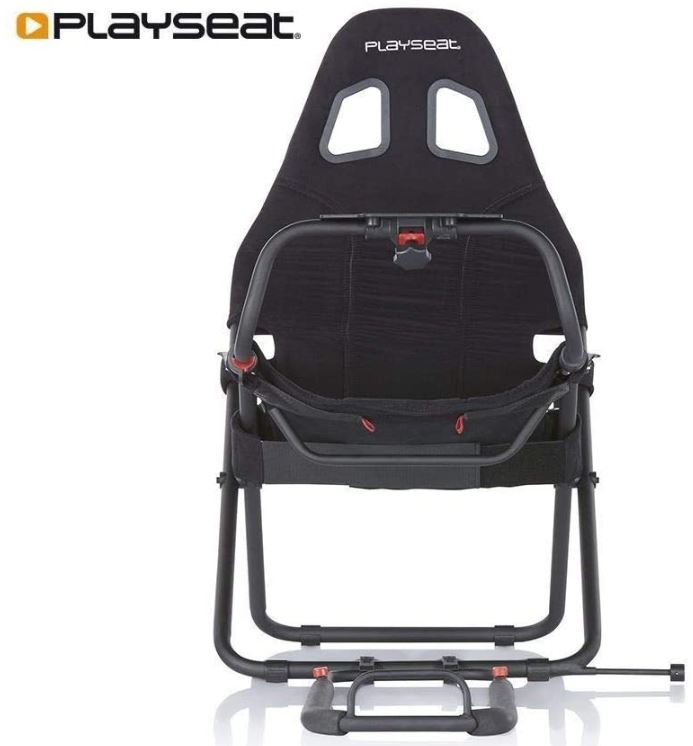 Compatibility & Extra Features
The Playseat Challenge Racing Video Game Chair offers less compatibility than our last two options. This is more a matter of necessity than anything else. After all, you're looking at a very lightweight cockpit set. There's just not a lot of weight to spare for big, heavy plates and complex installation. That said, you can still attach the most popular wheels and pedal sets on the market. The PlaySeat chair will support pedals and wheels from Logitech, Thrustmaster, Fanatec, and MadCatz. If you're a racing enthusiast, you're probably using one of these brands, anyway. So compatibility will be a non-issue for most users.
Final Verdict
So, which one of these racing wheel stands is the best? As is often the case, it depends on what you're looking for. First, we looked at the Openwheeler GEN2 Racing Wheel Stand. This stand is the most robust of the bunch, and is highly adjustable. With a built-in bucket seat, it provides superior comfort for long gaming sessions. And with the ability to mount just about any hardware, you can build your ideal cockpit in no time.
The Next Level Racing Wheel Stand Racer is the most barebones unit of the bunch. It only supports a steering wheel and pedals. However, if you already own a seat, you can complete your build very cheaply. And with many other parts available, you can expand it as needed.
Finally, the Playseat Challenge Racing Video Game Chair is the best choice for portability. It's not as rugged as the last two units. But it gets the job done, and it's easy to fold up and transport when you need to move it.