Recycling isn't just good for the environment; it can also be profitable. Thousands of Americans harvest and sell scrap for a living.
Tens of thousands more sell it as a side gig to bring in some extra cash. It's hard work. You have to go through dumpsters full of trash and find anything of value. Then you have to haul it to a scrapyard and get the best possible price.
Copper wire is one of the most popular scrapping materials. That's because it has an extremely high scrap value.
Scrap steel, for example, averages $0.42 a pound as of November, 2022. Copper wire can net you up to $3 a pound or more depending on the quality. On a per-pound basis, only copper piping and some types of brass are worth more on the scrap market.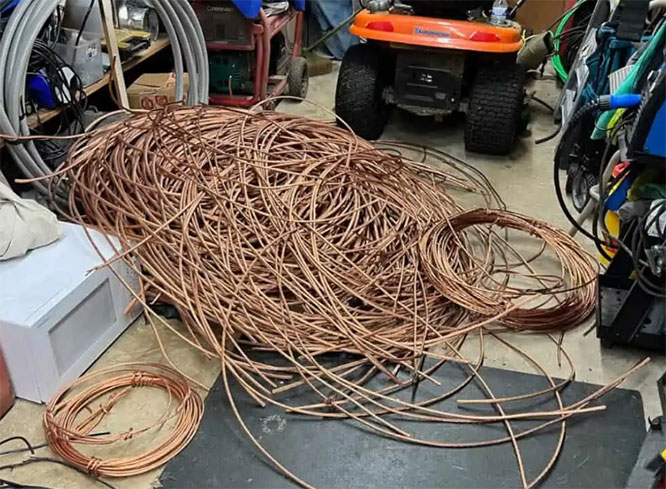 That said, copper wire has a different value depending on how it's handled. In order to be recycled, the insulation first needs to be removed.
Sell scrap wire with the insulation on it, and you'll get less value. Strip the insulation yourself, and you'll be able to charge a premium price. An electric wire stripper is the most efficient way to get the job done.
We're about to review three of the best electric wire stripping machines on today's market. All of these are designed to effortlessly remove the insulation from a variety of wire sizes.
But there are also some major differences between them. To find out which is the best, we'll need to take a close look at each of them. Let's get started, and see how they stack up!
Best Overall: StripMeister E250 Electric Wire Stripper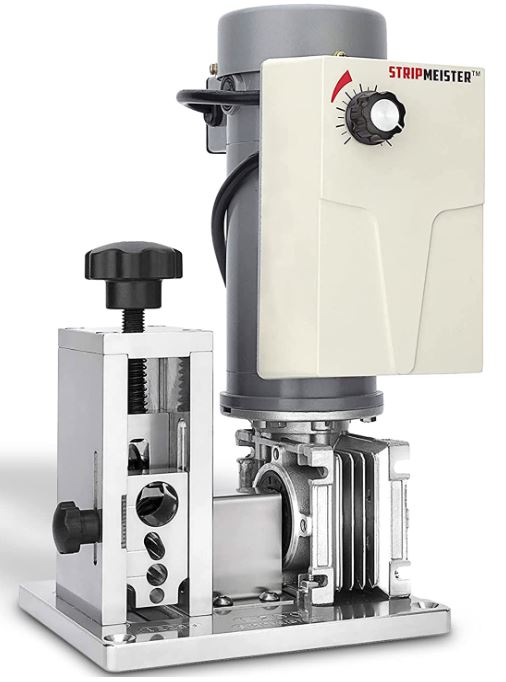 Key features:
Strips 18 AWG to 0.79-inch wires.
Variable speed up to 50 feet per minute.
Heavy-duty feeding mechanism.
Blade rated for 10,000 feet.
The StripMeister E250 Electric Wire Stripper is a beefy little machine. It's constructed primarily from a smooth, polished aluminum with a broad, thick base plate. The plate keeps it stable during operation, so you don't have to worry about it falling over.
The machine has a footprint of 12 inches wide and 10 inches deep, and stands 16 inches tall. And at 19 pounds, it's easy to bring with you on the road. If you have an AC power supply, you can do your stripping right there on the roadside.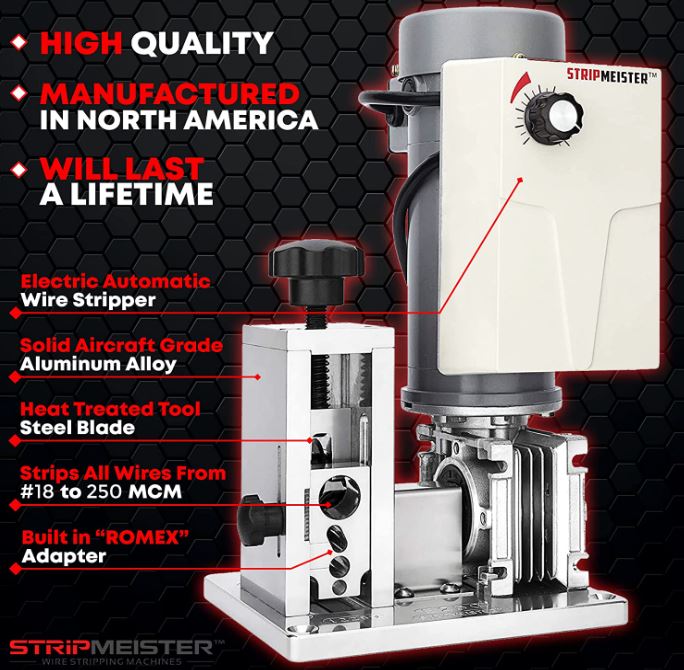 The motor at the right side of the unit, positioned in a vertical cylinder. At the bottom end, it attaches to the gearbox, which itself connects to a drive shaft. You can't see the drive shaft, since it's encased in an aluminum housing. In front of the motor is a control panel, with a StripMeister imprint at the top right. At the top left, you'll find the speed dial. On the right side of the panel is a red toggle switch, which controls the power.
At the left of the unit, you'll see the stripping mechanism. It's housed inside a chunky aluminum block, with a set of four dies on the center. The dies are different sizes for different cords, and one is even designed for ROMEX cables. Using a thumbscrew on the side, you can quickly switch between different dies as needed.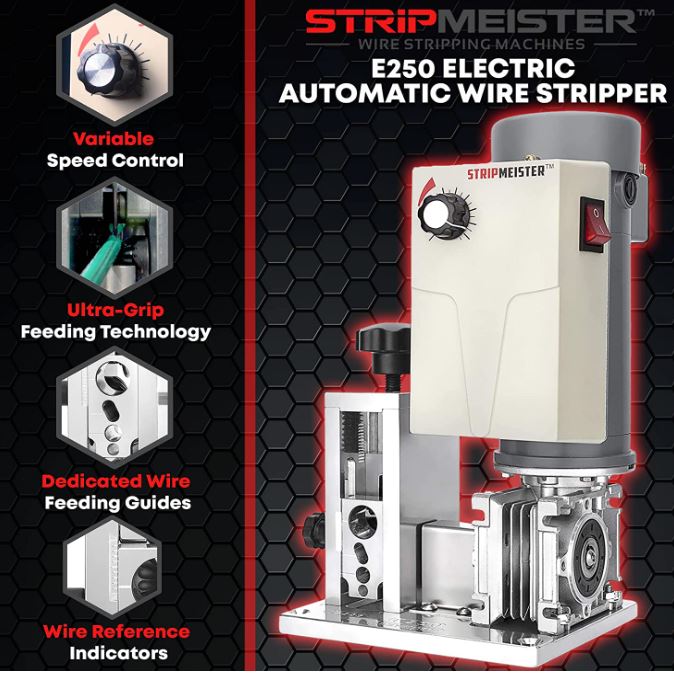 You feed your wires through the front and into a knurled, V-shaped roller. This roller pulls the wire in, where it passes under a vertical blade. When it comes out the back end, all you have to do is peel away the insulation. There's a knob on top of the blade to adjust the height, so it will line up with different types of wire.
Wire Stripping Performance and Operation
Scrap wire isn't usually in the best of condition. It's often full of bends, kinks, and twists. These problem areas can cause many wire strippers to jam up. The E250 can deal with pretty much any wire condition.
The roller does a great job of gripping wires and pulling them through. As the powerful motor draws a wire through the die, it will straighten out perfectly. This can save you a lot of time, since you don't have to stop and straighten out all your wires.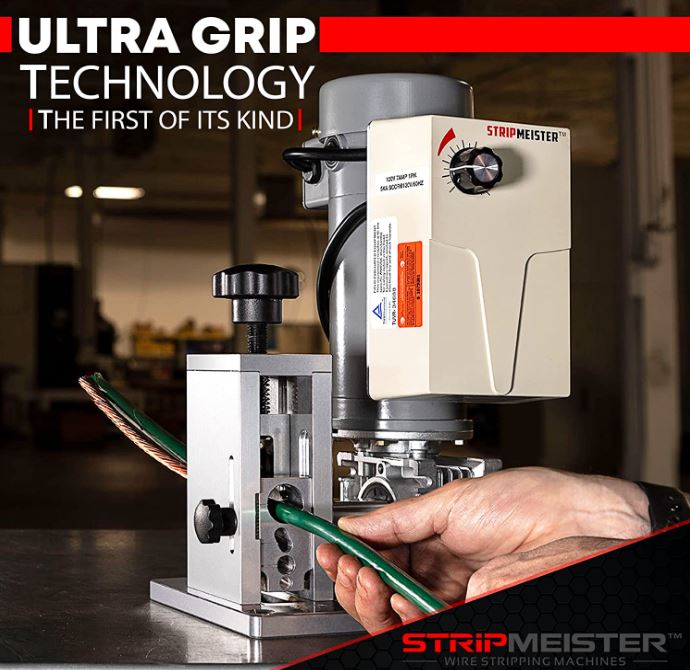 Depending on what die you use, you can feed almost any wire size. At the smallest, the stripper can handle 18 AWG wire. In practice, these small wires aren't worth much, and the blade tends to slip on 16 and 18 AWG. Even so, it's nice to have the capability.
On the larger side, you can feed up to 250 MCM, which is a wire with an 0.79-inch outside diameter. The rectangular die is made for ROMEX cable, but keep in mind that it will require two passes. First, you'll feed through the cable and remove the inner wires. Then you'd strip the inner wires using the smallest die.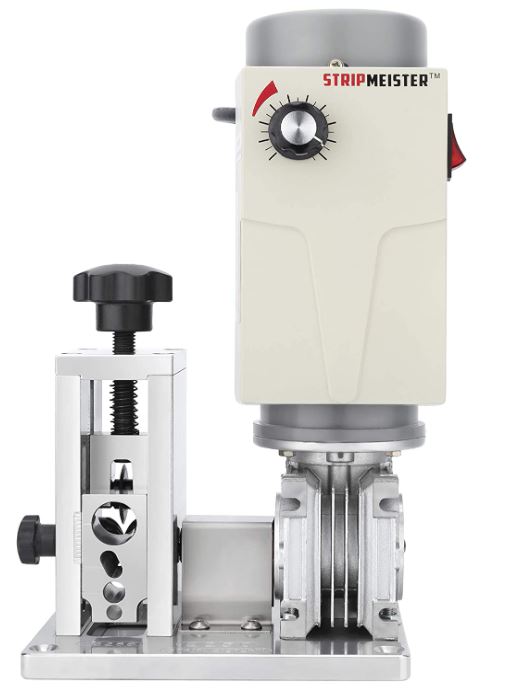 Instead of a simple on/off function, the motor can run at a variable speed. Turn the dial to feed the wires through faster or slower. At its fastest, the StripMeister E250 can strip up to 50 feet of wire per minute. In addition, the blade is made to stand up to long-term use. It's rated to cut 10,000 feet of 250 MCM insulation before requiring a replacement. That's almost two miles of cable!
What We Liked:
Variable speed control.
Strips even the worst kinked cables.
Easy-to-use cutting mechanism.
Long-lasting blade.
What We Didn't Like:
Hard to strip 16 and 18 AWG.
Best Budget: Happybuy Automatic Electric Wire Stripping Machine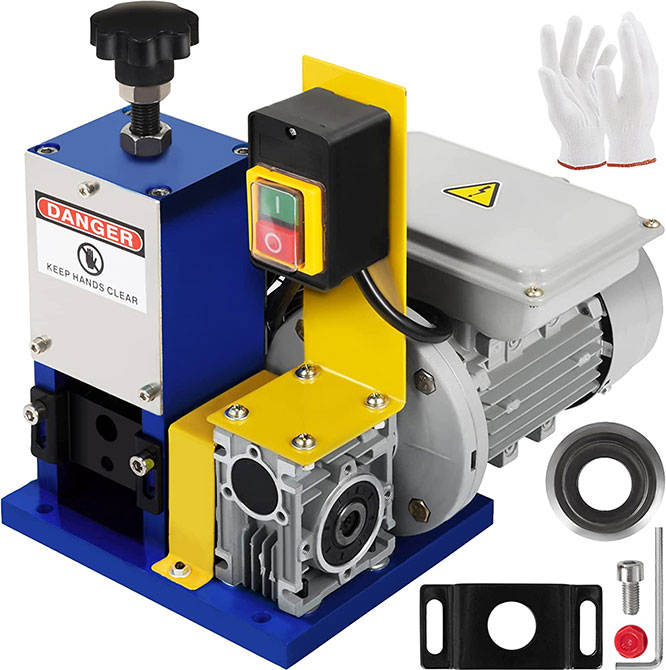 Key Features:
Strips 16 AWG to 0.98-inch wires.
60 feet per minute.
Includes a pair of safety gloves.
The Happybuy Automatic Electric Wire Stripping Machine is a little bit more compact. It measures 9.4 inches wide, 12.6 inches deep, and 12.6 inches tall.
That said, it's somewhat heavier than the StripMeister, tipping the scales at 28.7 pounds. The base plate and frame are manufactured from a blue aluminum alloy. There's a gearbox at the right of the cutting mechanism, with the motor behind it. The motor is mounted horizontally, and sticks out to the back beyond the base plate.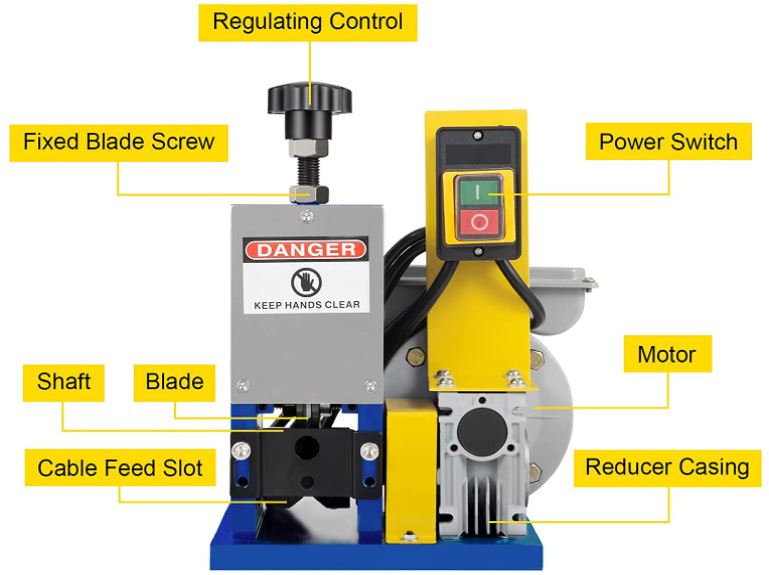 The controls are on top of the gearbox, mounted on an L-shaped yellow metal bracket. The control box is black plastic, with a pair of buttons on the front. The top, green button turns the motor on, and the bottom, red button shuts it off. Both buttons have a transparent plastic bubble cover that keeps dirt or grit from jamming them up.
The stripping mechanism is superficially similar to the one on the StripMeister system. You feed your wires through a hole in the front, where they sit in a V-shaped roller. The motor spins the roller, which pulls the wire through and under a blade. You adjust the blade with a knob that raises or lowers it to the ideal height.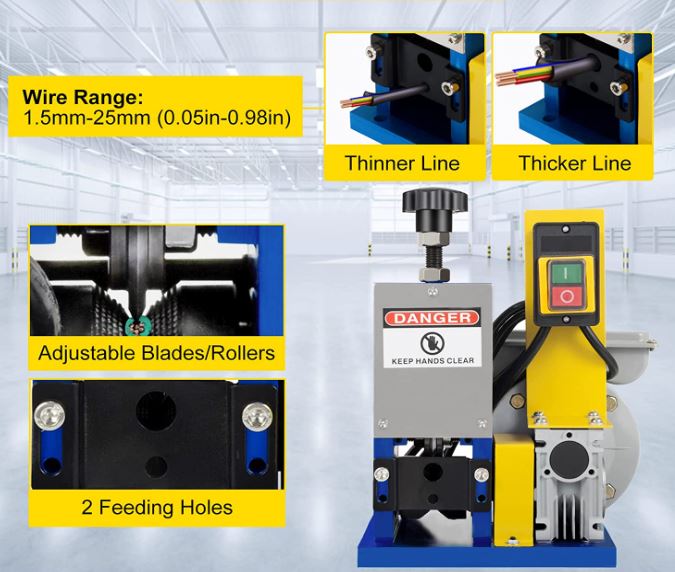 The cable guide on the front has two hole sizes for small and medium wires. It secures in place with a set of Allen screws, and can be adjusted to align either hole. For larger wires, the kit includes a second guide with an even bigger hole. You get an Allen key for making quick adjustments, and an extra screw in case you lose one. You also get a pair of safety gloves to make it easier to feed your wires.
Wire Stripping Performance and Operation
Unlike with the StripMeister machine, there's no printed blade depth guide. You can eyeball it to get it close. But at that point, you'll have to fiddle around a bit to get the perfect depth. That said, you can strip an impressive array of wire sizes. The machine will strip wires anywhere from 16 AWG to 0.98-inches in diameter.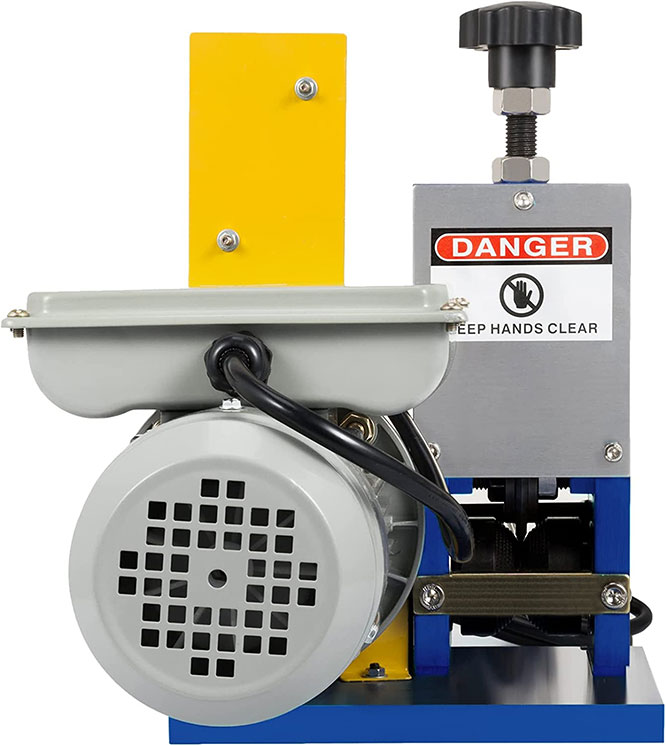 Operation is also reasonably quick. While the Happybuy stripper only runs at a single speed, it strips at 60 feet per minute. That's actually 20% faster than the StripMeister!
What We Liked:
Strips 60 feet of wire per minute.
Wide cable size range.
Simple one-button controls.
What We Didn't Like:
Can be difficult to adjust for different cable thicknesses.
Best High-End: BLUEROCK WS-212 Wire Stripping Machine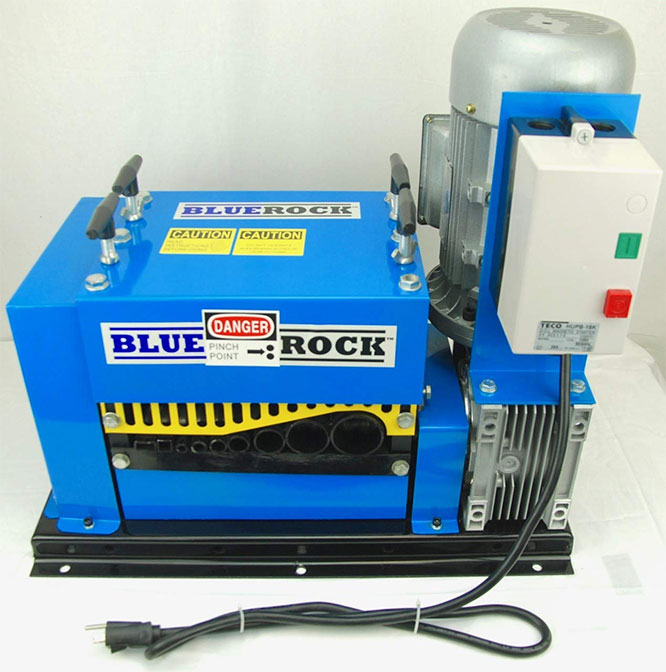 Key Features:
Strips 8 AWG to 1.5-inch wires.
75 feet per minute.
No adjustments required.
Cuts larger wire insulation on the top and bottom.
The BLUEROCK WS-212 Wire Stripping Machine has a blue aluminum frame and a wide black base. The base has holes in it for mounting, which is just as well, because this machine is heavy. It weighs 205 pounds, so it's meant for permanent installation. Despite the weight, though, it's not absurdly large. The total size of the stripper is 23.5 inches wide, 14.5 inches deep, and 21 inches tall.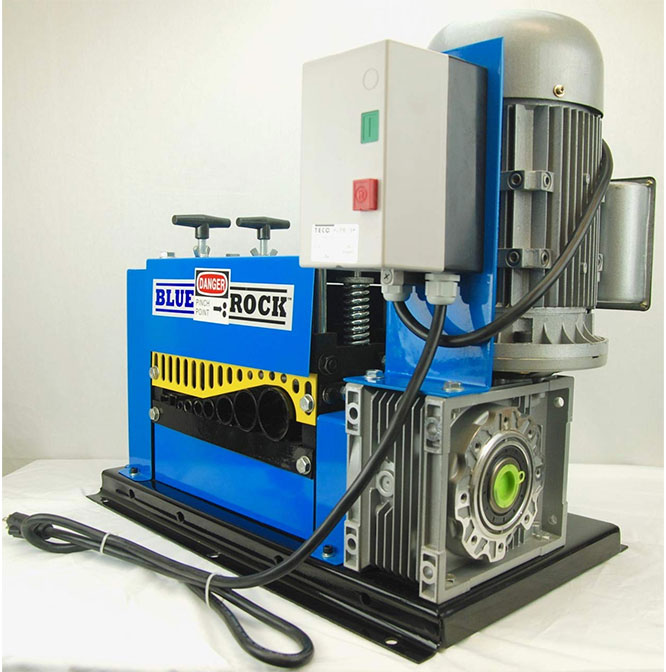 The motor is located to the right of the main housing. It's mounted vertically, and sits on top of the gearbox, towards the back. In front of the motor, also on top of the gearbox, is a large grey power box. There's a green "on" button near the top that sits flush with the housing. The red "off' button is further down, and sticks out prominently. This makes it easy to shut down in an emergency.
The front of the main housing has an enormous BLUEROCK logo near the top. Beneath it is a wide opening with a series of holes in it. The first is small and rectangular, designed for ROMEX cables. The next is small and square. The seven remaining holes are all round, and progress in size from small to very large.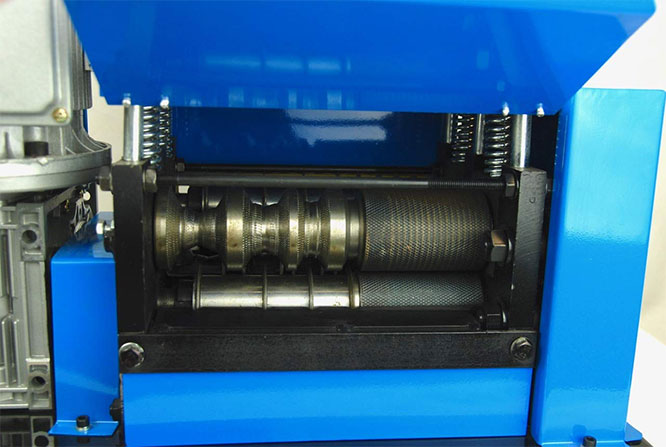 The best thing about the WS-212 is that each hole has its own cutting mechanism. You don't need to make any adjustments when you change wire sizes. Instead, you just feed your wire into the appropriate hole. Each hole has a set of rollers instead of a single one.
As a result, the feeding performance is better than with a single roller. On most of the holes, a single blade slits the top of the insulation. However, on the largest four holes, there are blades both above and below. This makes it far easier to strip the heaviest gauge cables.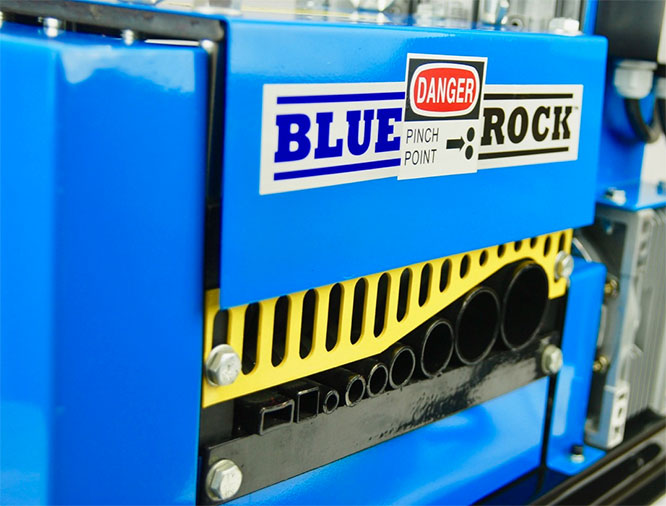 Wire Stripping Performance and Operation
The BLUEROCK WS-212 is a bit more forgiving than the other strippers. Because the hole sizes won't be perfect for every cable, the feeding rollers are spring-loaded. This allows them to adjust to different cable thicknesses. It can also manage twists and bends without binding up. In total, the machine can manage wires between 8 AWG and 1 1/2 inches in diameter.
Even with all of these capabilities, the motor will pull your wires at a rate of 75 feet per minute. That's an incredibly fast rate of stripping, enough for commercial use. The only drawback is that you can't strip smaller residential wire like 10 or 12 AWG.
What We Liked:
Strips a range of cables without the need for adjustments.
Very easy to strip large wires.
Fast stripping performance.
Reliable feeding mechanism.
What We Didn't Like:
Not suitable for smaller wires.
Which is the Best Electric Wire Stripping Machine?
All three of these electric wire stripping machines have something to bring to the table. But which one is the best choice for you?
For most scrappers, the StripMeister E250 Electric Wire Stripper will be the optimal choice. With its beefy knurled roller and powerful motor, it can power through even the most twisted wires. It has a variable speed setting, along with a blade that's rated for 10,000 feet of wire. And despite all this, it's still small enough to take on the road.
The Happybuy Automatic Electric Wire Stripping Machine is far more affordable than the others. And while it can't handle kinked or mangled cables, it does a great job once you've straightened them. It's even capable of stripping larger wires, up to 0.98-inch in diameter.
The BLUEROCK WS-212 Wire Stripping Machine is the most capable of the bunch. With nine different-sized stripping mechanisms, it can automatically adjust to any wire thickness. It runs at 75 feet per minute, which is exceptionally fast. And it's tough enough to use in a commercial recycling operation.
Meet Derek, "TechGuru," a 34-year-old technology enthusiast with a deep passion for tech innovations. With extensive experience, he specializes in gaming hardware and software, and has expertise in gadgets, custom PCs, and audio.
Besides writing about tech and reviewing new products, Derek enjoys traveling, hiking, and photography. Committed to keeping up with the latest industry trends, he aims to guide readers in making informed tech decisions.