When you're working with power tools, it can be difficult to keep things clean. Especially with projects that tend to cause a large mess.
With projects related to woodworking, figuring out a way to clean up your mess while staying focused on the task at hand can be a challenge.
Note: At no extra cost to you, we may earn a commission for purchases using our links. Learn more.
To make matters more difficult, some projects can shoot particles and dust into the air. Ultimately, this makes for a less than healthy work environment.
When you're working on projects in your workshop/garage or amid a large renovation, being ableto mitigate airborne debris becomes essential.
It's why so many people are turning to devices like automatic vacuum switches to help them clean while they work.
What is a Vacuum Switch?
A vacuum switch is a simple to use automated dust collector controller that automatically turns on your shop vacuum whenever the plugged-in power tool to which it's attached is turned on.
Think of it as a conductor putting your vacuum and power tool in sync with one another. With this easy-to-use dust collector switch, it's amazing how much cleaner things can be. Best of all, this means that dust and debris is collected immediately, airborne particles are reduced. And afterwards, clean-up is much easier.
Believe it or not, there are actually a lot of options when it comes to automatic vacuum switches. To help you save time and headaches trying to sift through the dozens of options, we've compiled a list of the 5 best automatic vacuum switches for dust control and power tools.
How We Made Our Selection of the Best Automatic Vacuum Switch
Our group of experts tested several of the top rated automatic vacuum switches currently available. Based on our own testing and the real-world feedback of hundreds of users, we arrived at the options found on this list. They were measured according to the following criteria.
Durability and Longevity: We opted for vacuum switches that demonstrated the ability to take a thrashing while still provide years of dependable performance. This is important, especially when it comes to anything to do with electricity within a home or shop.
Quality Materials and Construction: These two aspects go hand in hand. The products featured on this list have been vetted to ensure that they were built with high-quality components and assembled by a manufacturer with a commitment to excellence.
Value: You'll notice a few expensive options in this vacuum switch roundup. We don't have a problem with products that carry a high ticket price. However, the options that made it onto this list were required to show value that was equal or greater to the retail price.
Safety and Convenience Features: It's important that your automatic vacuum switch comes with some assortment of safety features such as an auto-shutoff in the event something happens. We've included one or two products that contained these kinds of features that simply make life easier.
We don't want to delay presenting our picks any further. If you need additional information or guidance on picking the right automatic vacuum switch, meet us towards the end of this article. We'll provide additional guidance that may help you in your decision-making process. Let's have a look.
Best Overall: Ortis Automatic Vacuum Switch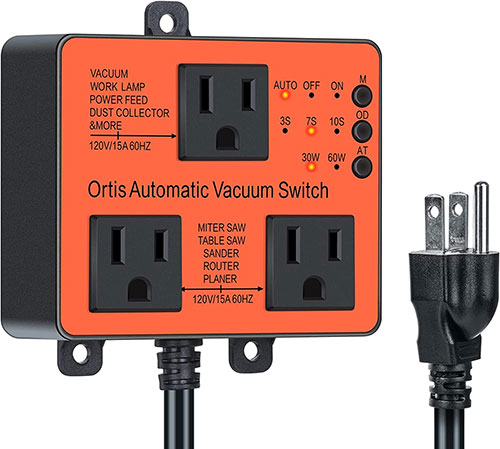 Key Features:
120 Volts.
Rotary Switch Style.
Made of Acrylonitrile Butadiene Styrene, Copper, Polycarbonate.
IP54 International Protection Rating.
This new generation of the Ortis automatic vacuum switch sees the addition of two tool outlets. Thus, eliminating the need for an extra extension socket. Now users can avoid messy cords and save time. Three vacuum run modes – auto, off and on, can be switched freely. The values are clearly displayed with an LED indicator. This makes it easier to check from afar and properly set.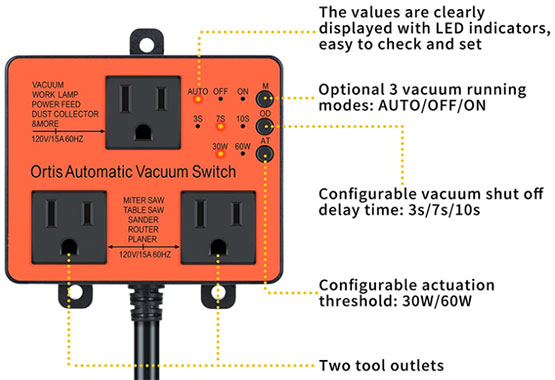 Configurable actuation thresholds of 30W/60W means you can select actuation thresholds according to your current conditions and needs. Speaking of being configurable, this also applies to the built-in automatic shutoff delay times. It's a minor feature that can provide a major benefit in terms of noise reduction and energy efficiency.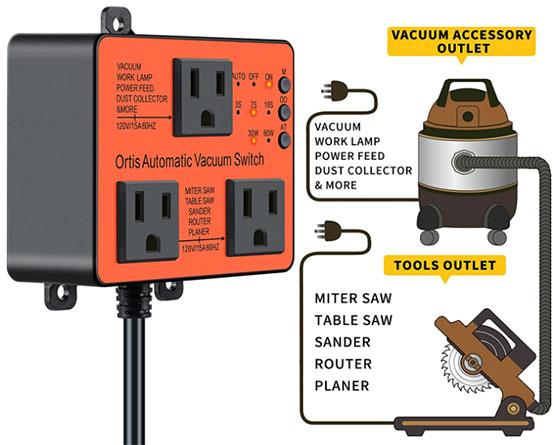 The reason this unit takes our top spot is due to its versatility. It can work with tools ranging from rotary handheld devices to large shop saws such as miter saws, table saws, power sanders, routers, joiners and many more. Our testing showed that this switch could accommodate multiple, high demand products incredibly well. It's for this reason it tops our list as the best overall automatic vacuum switch currently available.
What We Liked:
Configurable actuation thresholds.
Configurable automatic shutoff delay.
Built to eliminate a tremendous amount of clutter.
Multiple tool outlets included.
Build quality and materials.
What We Didn't Like:
Customer support was hard to get a hold of.
Relatively expensive.
Best Runner-Up: iVAC Automated Vacuum Switch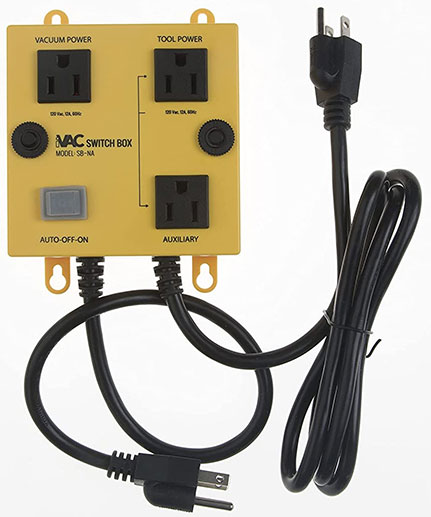 Key Features:
2640 Total Watts.
Turn On Delay.
Turn Off Delay.
3 Modes of Operation.
No Venting Holes.
Our winner in the best runner-up category is the iVAC Automated Vacuum Switch. The iVAC is one of the most feature-rich switches currently available. It features three modes of operation – auto, off and on.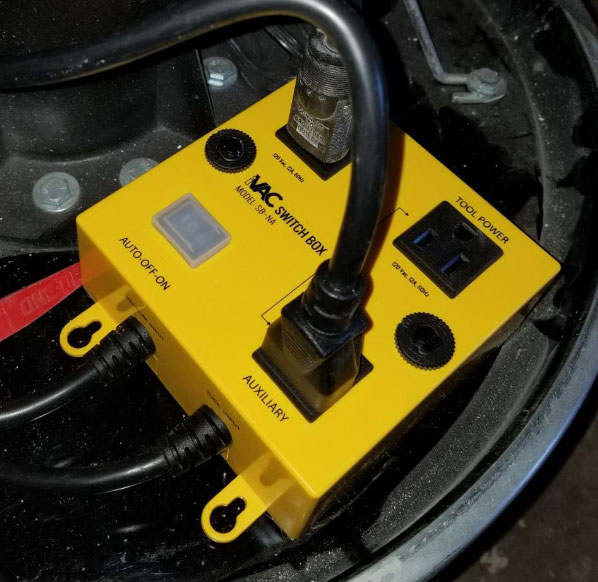 With the turn on delay, users can avoid tripping circuit wires while the turn off delay function takes action. It ensures that there are an extra few seconds of suction after you flip the switch, just to make sure all the debris is cleared. At 2640 total watts, the iVAC can accommodate high power demands.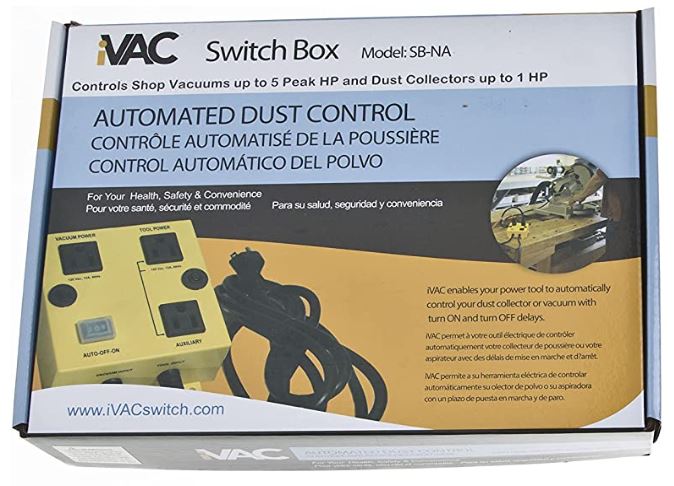 You'll notice that there are no venting holes on this model. This isn't a manufacturing defect. It's actually because the iVAC generates very little heat. This enhances the safety while simultaneously helping keep the workshop or garage a tad cooler.
What We Liked:
Turn on delay.
Turn off delay.
Quite powerful.
What We Didn't Like:
More expensive than other options on the list.
Best Budget: CLEESINK Automatic Vacuum Switch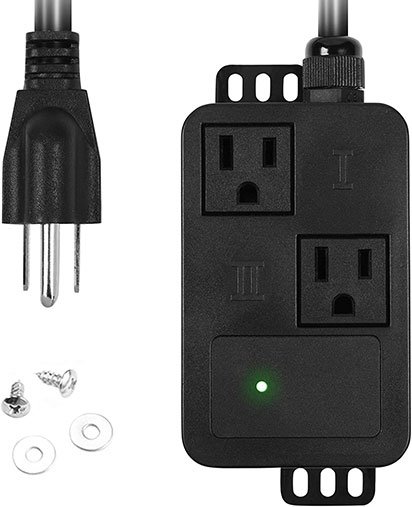 Key Features:
0.25 Amps.
6 x 2.6 x 1.4 inches.
0.5 second Auto Delay Control for Vacuum On.
0.5 second Auto Delay for Vacuum Off.
UL-certified.
If you're looking for something more budget friendly, the CLEESINK automatic vacuum switch may be an option worth considering. This model has fewer outlets than others on this list and boasts a smaller form factor. This allows CLEESINK to produce a lower-priced product without sacrificing the quality of internal components and safety features.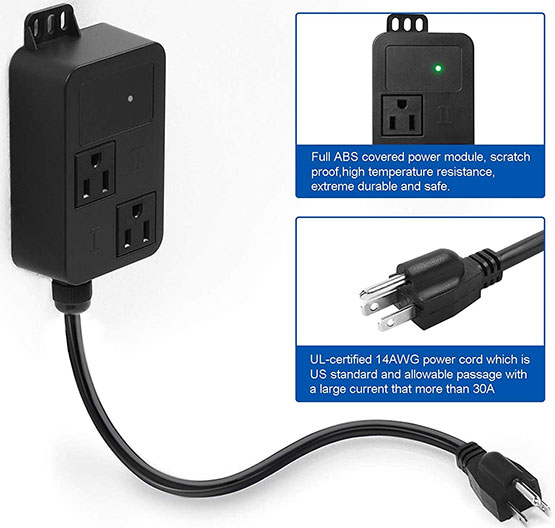 Similar to the iVAC, this switch features auto-delay functions. These are great for added safety. While they are simple features, they make a big difference in how clean you're able to keep the space amid a project.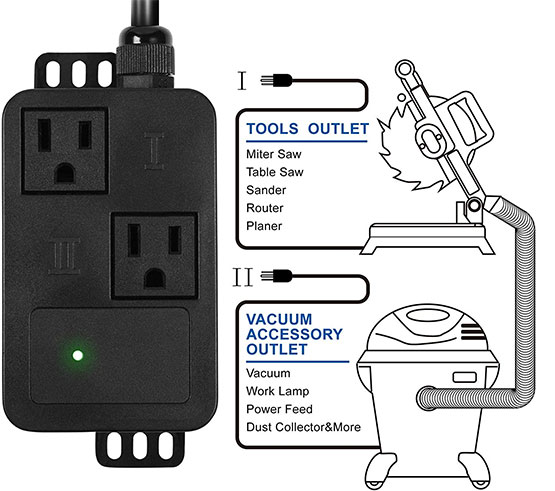 Another strength of the CLEESINK is its wide compatibility. This automatic vacuum switch has a starting threshold of 0.25 amps. Ultimately, this is perfect for medium-sized tools like miter saws, table saw, sanders and routers. Prolonged use of this switch may also extend the life of your vacuum.
Even though it occupies a lower price point, the CLEESINK contains many of the same features that are found in other switches, for twice the price.
What We Liked:
Auto-delay functions are helpful.
Compatible with a wide range of tools and vacuums.
Great price.
What We Didn't Like:
Limited number of outlets means more switching.
Best with Remote: O'SKOOL 110V Wireless Remote Outlet Switch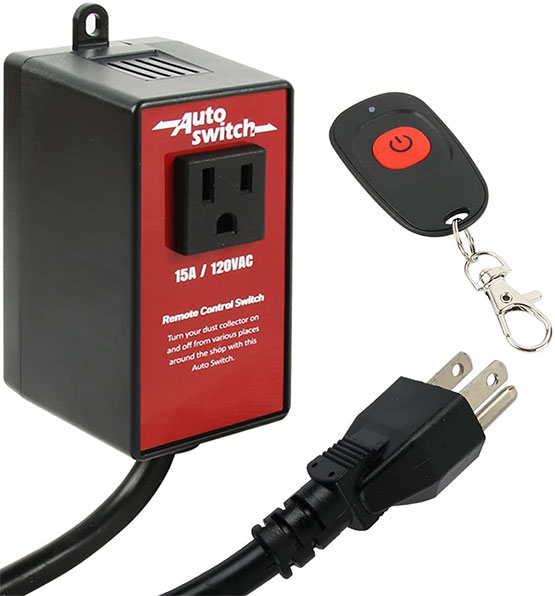 Key Features:
Single Outlet Design.
Comes with Remote Control.
Input Voltage 100 volts.
UL-Certified.
Slightly different from the other vacuum switches in this article, the O'SKOOL 110V Wireless Remote Outlet Switch is different. It's specifically designed to enable control of your vacuum using a remote control.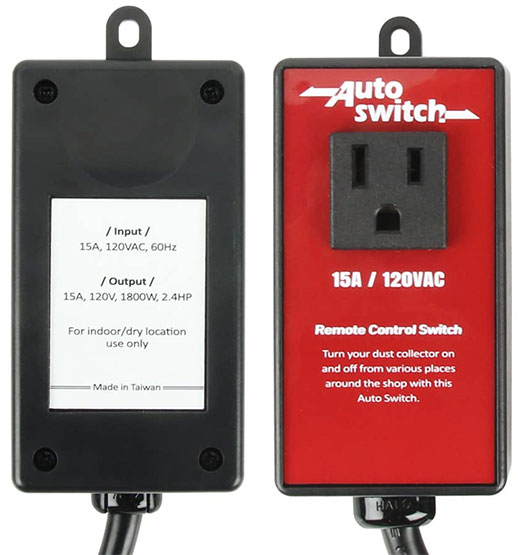 Where other switches synchronize your tools with your vacuum each time it's turned on, this model serves as a kind of smart switch. This allow you to turn your vacuum off from wherever you are in the room.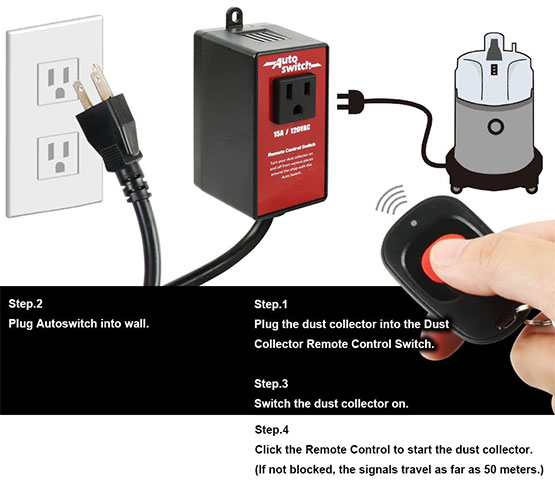 It may not seem fancy like some others, but make no mistake, this product fills a very important role in the workshop. Some people don't want the hassle and complexity of setting up switches that have more features. The O'SKOOL is a no-fuss option that can still make your life easier.
What We Liked:
Powerful remote control.
Comes in a 110V or 220V option.
Durable, long power cable.
What We Didn't Like:
Best Alternative: OONO Automated Vacuum Switch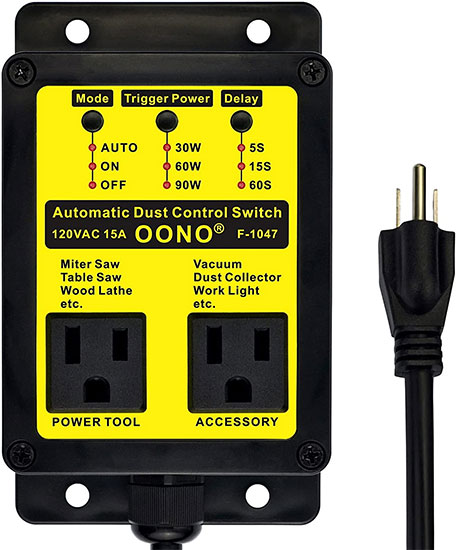 Key Features:
130 Volts.
Auto on/off.
Multiple mode options.
Adjustable delay time for shutoff.
The OONO Automated Vacuum Switch is our pick for the best alternative. It sets itself apart with a focus on flexibility and customization. The OONO has what can be best described as a brain that remembers your settings and preferences even after you've unplugged it. This "brain" is the combination of a microcontroller and sophisticated power detection IC. Therefore, it can free up time since you don't have to input your preferences over and over again.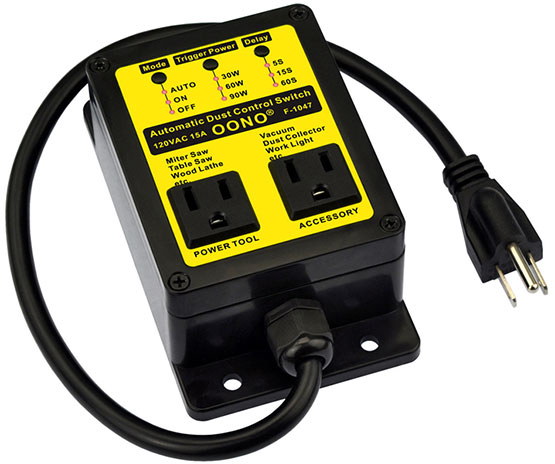 Even though other switches have auto-delay shutoff features, the OONO allows you to configure how much of a delay you want after your power tool is shut off. This can be set to either 5, 15 or 60 seconds.
This switch can accommodate a wide range of tools from low voltage to high. The problem with some other models is that their voltage threshold is too high for lower voltage power tools to trigger the automatic on function for the vacuum. On the OONO, you can select watts from as low as 30 to as high as 90 watts.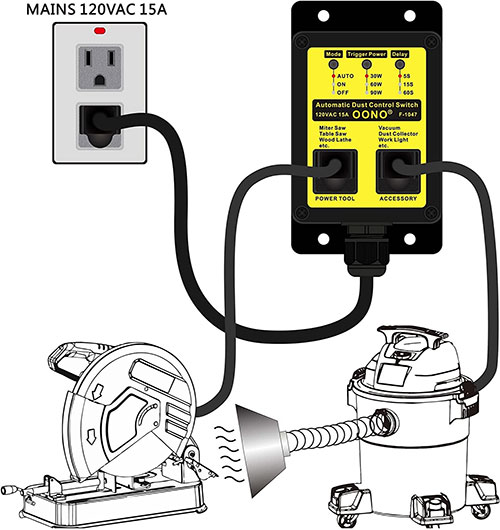 The OONO Automated Vacuum Switch is our ideal choice for the best alternative automatic vacuum switch.
What We Liked:
Adjustable delay time shutoff.
Adjustable voltage threshold.
Auto on/off functionality.
What We Didn't Like:
Power cable could be longer.
How to Select the Best Automatic Vacuum Switch
With so many options, it can be hard to choose the automatic vacuum switch that's right for your needs. As you can see from this article, each switch has its own combination of features, strengths and weaknesses. If you're still having trouble deciding, try to keep the following considerations in mind.
Take Stock of Your Current Situation: It's a good idea to take a step back from projects and renovations and get a bird's eye view of all that you're doing and desire to do. This can give you a clear picture of what your needs are, even as it pertains to a vacuum switch.
Inventory Your Tools: Most of these switches are triggered once the minimum power threshold is met. This means that if your tools are below the minimum threshold of the switch, they won't trigger, rendering the entire setup useless. If you strictly want to use a switch for high voltage power tools, then you should be fine with virtually any model in this article. But if you have an assortment of low, medium and high voltage equipment and want a switch that works with all of them, consider something like the OONO with a variable threshold adjustment.
Prioritize Features: If you take a look at the "key features" listed in this article, you'll get a pretty good idea of what specific models have to offer. It's worth taking a moment to prioritize them based on how they would benefit your situation.
Keep in mind, many users mentioned that they own several different switches to meet the demands of their situation. The same may be the case with you. We hope this roundup has helped you get clarity on which automatic vacuum switches may be best for your specific needs.
Please consider sharing:
Note: At no extra cost to you, we may earn a commission for purchases using our links. Learn more.