Nothing can brighten up the inside of your home like tastefully placed indoor spotlights. Previously reserved for use in hotels and commercial establishments, advances in technology and affordability have made these amazing accent lights accessible to everyday consumers.
Indoor spotlights are a great way to add drama or bring attention to different aspects within the home. Many use them for architecture, artwork, wine collections and plants.
Note: At no extra cost to you, we may earn a commission for purchases using our links. Learn more.
Of the many options to pick from, LED indoor spotlights offer a perfect mix of powerful lighting and energy efficiency.
Keeping energy costs low is a priority for most families. That said, LED lights can further that mission while also delivering light where you want it the most.
One thing that many people come to realize is that not all LED lights are created equal.
This is evident when you compare LED spotlights that are used in an art-galleries or museums versus ones that are used to illuminate your local gas station. Both use LED technology but there's a big difference in the quality.
The same is true even within the LED indoor spotlight sub-genre. There are dozens, if not hundreds of options all claiming to be the best. It can get overwhelming.
In order to help our readers settle on the best indoor LED spotlights for their personal needs, our team has leveraged its years of experience to compile a list of the best options currently available.
How We Selected the Best LED Indoor Spotlights
In order to navigate through advertising and bold claims, our team of experts compared various LED indoor spotlights against the following criteria.
Quality of Materials: Just because they're meant for indoors, it doesn't mean they should be flimsy or lack sturdy construction.
Form Factor: It's important that spotlights are low-profile and unobtrusive. They shouldn't draw attention away from the main things being featured.
Light Quality: Based on internal testing and real-world user feedback, we want to make sure the light quality enhances your environment and doesn't diminish it.
Energy Efficiency: We looked for spotlights that provided data validating their energy efficiency.
Features: Specific features that provide better control and/or flexibility are a big plus. Connectivity to things like Alexa is incredibly valuable and weighed heavily on our selections.
We feel confident that the LED indoor spotlights included on this list will be a great fit for a range of budgets and needs. If you're still having a hard time deciding after this roundup, check out the last section for some additional help.
Best Overall: SUNVIE LED Spot Lights for Indoor Plants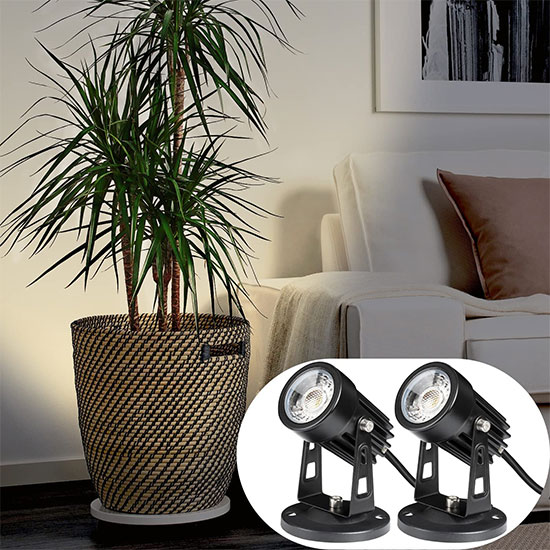 Key Features:
Wired Connection.
Comes in Black.
3000K Warm White Light Color Temperature.
Ideal for Potted Plants.
Foot Switch.
6ft Power Cable.
Multiple Mounting Options.
Aluminum Construction with Softening Glass Lens.
After testing dozens of units, the SUNVIE LED spot lights rose to the top as our best overall pick. The minimal, low-profile aluminum construction is ideal for a wide range of interior design aesthetics. Multiple mounting options, including a mounting base and stake, allow you to install these spotlights virtually anywhere.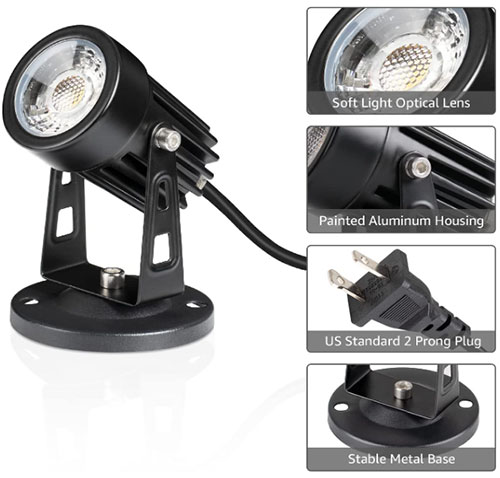 A six foot long power cable with an inline switch provides a decent amount of flexibility in placing your spotlights away from an outlet. Where inflexible cables on other spotlights created issues like tipping over, the power cable for the SUNVIE LEDs had no such problem.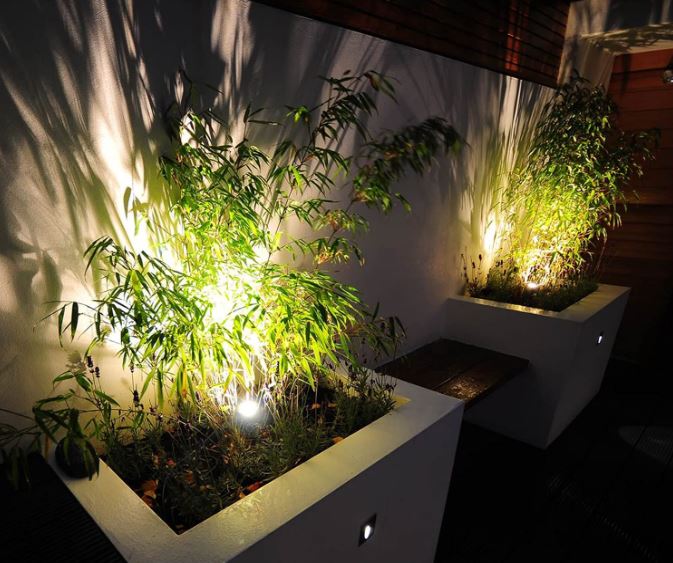 A lot of spotlights fall short because they don't provide a soft enough roll-off of their light. The contrast is too jarring and creates an uncomfortable, aggressive light cast. The SUNVIE LED spotlights are built to produce targeted, soft light by using a warm 3000K warm white light bulb. It's placed behind a glass soft lens for a very buttery, engaging visual experience. We feel that the combination of these two elements is a superior approach compared to its competitors.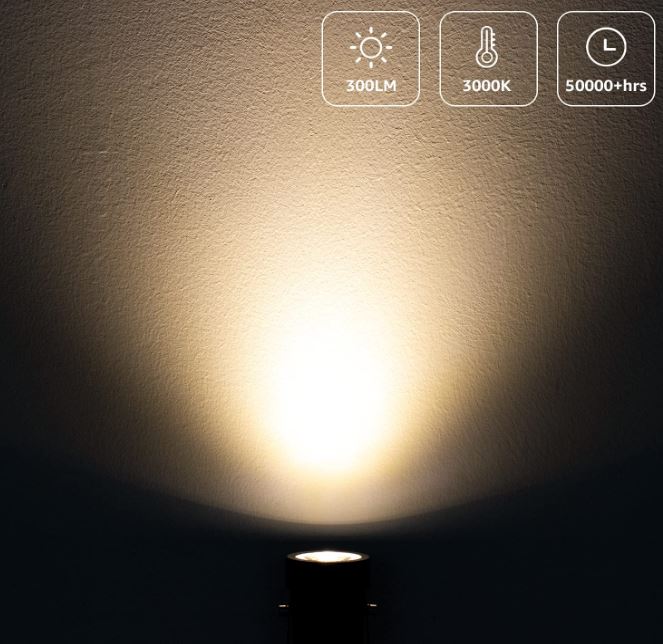 When it comes to angle adjustments, these spotlights can be adjusted from two locations after being mounted. Two adjustment screws connecting the head to the base allow for vertical, y-axis adjustments. There's also a screw at the base is for horizontal, x-axis shifts.
The combination of flexible placement and high light quality make this our choice for best overall LED spotlight.
What We Liked:
Multiple adjustment points.
High quality LED bulb that is replaceable.
Soft light falloff.
What We Didn't Like:
May not be ideal for bright environments as its brightness is medium.
Not dimmable.
Best Runner-Up: URTOM Indoor Spotlight LED Up Lights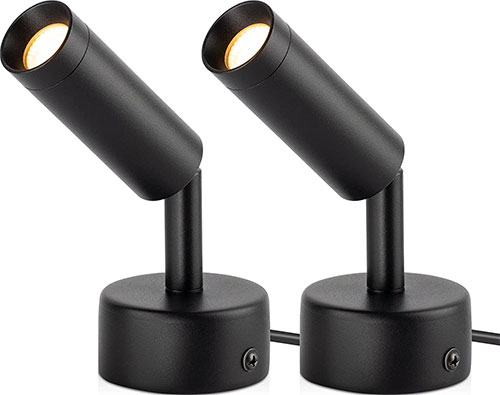 Key Features:
3W LED Bulbs.
3000K Warm White Light.
5.9 ft Power Cable.
Inline Switch.
Comes with Base and Mounting Hardware.
90 Degree Adjustable Lighting Directions.
Falling in line with a more mid-century modern aesthetic, the URTOM indoor spotlights are a great runner-up to the SUNVIE. In terms of hardware, a 5.9 ft power cord and inline power switch give it great flexibility when it comes to placement.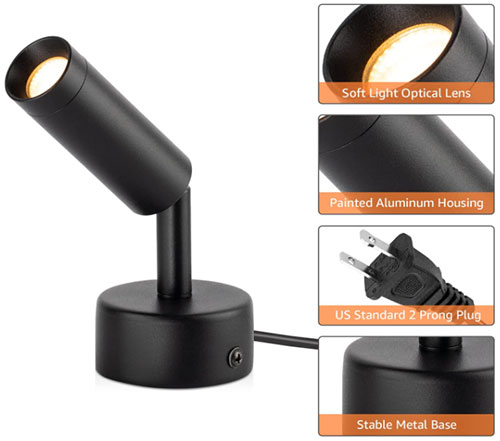 As for the quality of the light, the URTOM sports a 3000K warm white light bulb that puts off a pleasant light tone. One thing you will notice is that the URTOM spotlight is more targeted with a narrower beam compared to other spotlights in our roundup.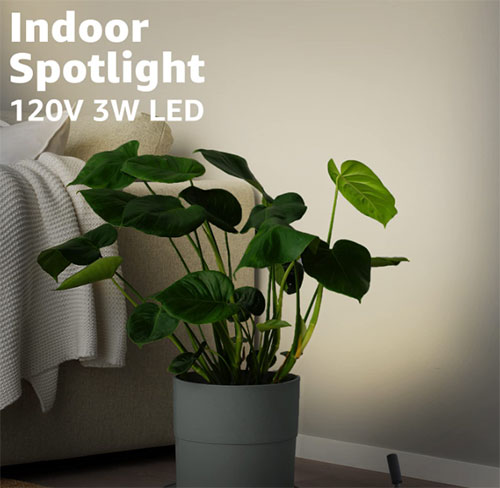 While it isn't for everyone, our team actually appreciated how narrow the beam was. In fact, it fell more in line with what people expect in a spotlight. It's also ideal for smaller spaces that are easily overpowered by wide washing lights.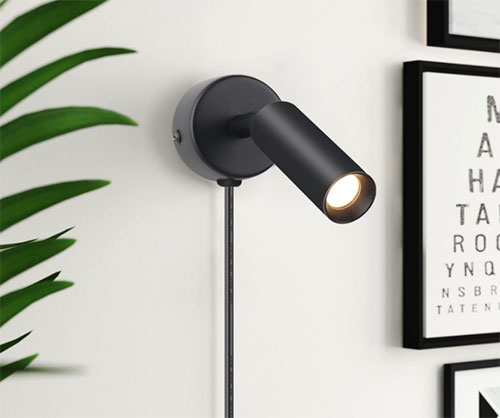 Multiple mounting options including brackets to attach to your wall give you the ability to convert these spotlights into nightstand lamps with very little effort. For light direction, we're big fans of its 90 degree adjustable lighting direction. This allowed us to shine it in virtually every direction, even after being mounted.
What We Liked:
Narrower beam.
Great power cord length.
Sleek, matte, black finish.
Comes with a lot of mounting options.
What We Didn't Like:
Warmer light than expected.
Best Alternative: Lcaoful LED 6W Accent Uplight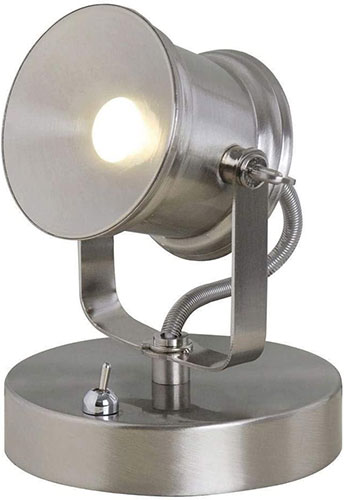 Key Features:
Satin Nickel Finish.
Toggle Power Switch at Base.
Wall and Floor Mount Options.
320 Degree Horizontal Rotation.
180 Degree Vertical Adjustment.
These spotlights from Lcaoful are our pick for best alternative because of they're unique take on indoor LED spotlights. Breaking away from conventional, modern form factors, they embrace a more industrial aesthetic. A satin nickel finish paired with a beefy toggle switch gives them a more-robust look compared to other options.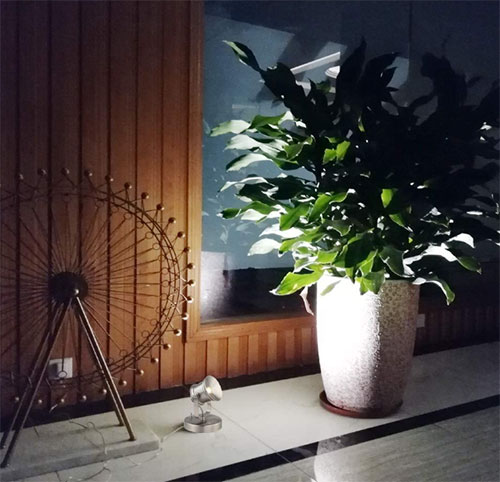 The Lcaoful LED spotlights can be positioned using the heavy base or attached to a wall using the included mounting brackets. Wide adjustment control allows you to hit your subject from whatever angle you choose. Another thing we appreciate is that the power cord matches the color of the spotlight. In addition, it's thinner and more malleable than other spotlights.
Although we enjoy a good foot power switch, the use of an on-base power toggle switch makes them a superior option if you intend to mount it onto a wall. No more having to hunt around on the floor for a power switch.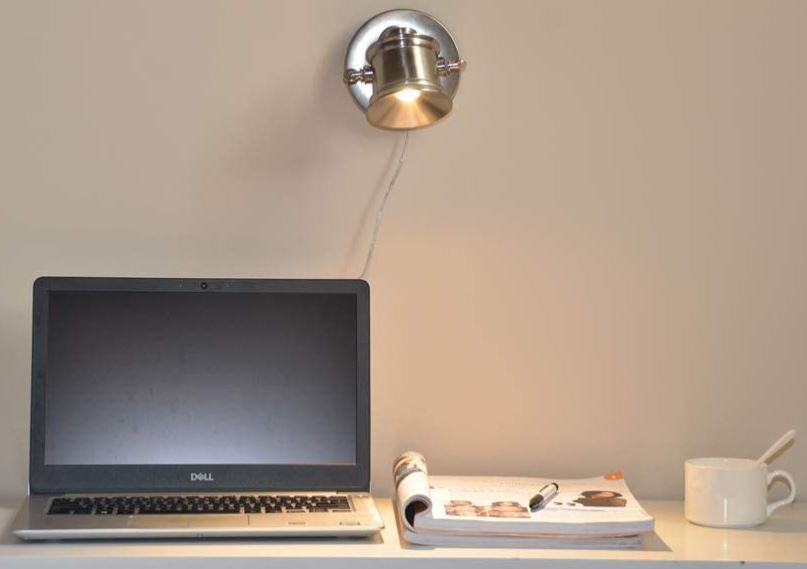 Light quality is above average in terms of quality. A few users report that the color temperature on the bulb seems warmer than the advertised 3000K warm white light temperature. While our personal testing of the unit yielded what we expected, users can simply swap out the bulb for something that matches their preferences.
The form factor is refreshingly ornate in a world where everyone is trying to go low profile and minimal. Overall, we're big fans of Lcaoful's approach to these indoor LED spotlights.
What We Liked:
Satin nickel finish.
Ornate, industrial design.
Power switch is located on the base.
Flexible angle adjustment.
What We Didn't Like:
Cable not quite as sturdy as other spotlights.
Best with Remote: HONWELL Wireless LED Spotlights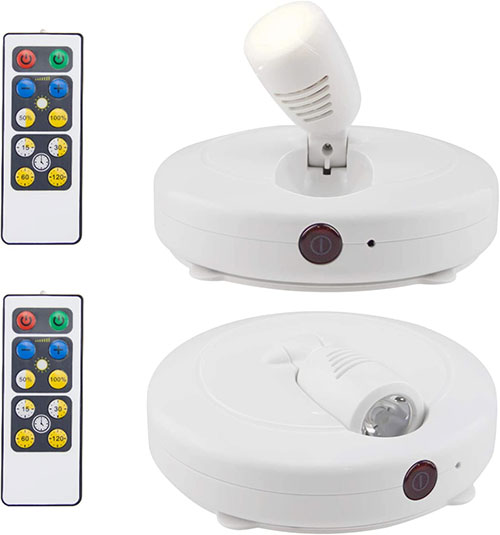 Key Features:
Runs on 3AA Batteries (not included).
Lasts 50 Hours Before Needing to Be Replaced.
Remote Control Included.
Dimmable (Preset and Manual).
Has a Timer Feature.
Plastic Material.
If you live in a larger space or have a lot of spotlights in your home, the last thing you want to do is have to walk to each one to turn it on or off. In cases where convenience is important, indoor LED spotlights with remote controls offer an excellent option. They can be a great way to have the number of spotlights you want without having to use too much effort to manage them. The good news? LED spotlights with remotes are not as expensive as they once were.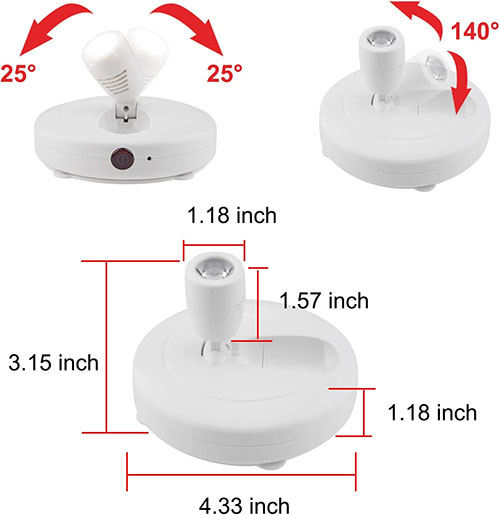 Our team has named the HONWELL LED Spotlights our pick for the best with a remote. Let's talk about the spotlight unit itself. Made of high quality plastic material, these sport a single power button located on the front of each unit. The cabinet light heads are able to swivel back and forth, side to side, accommodating any direction. These spotlights can be mounted using the included double sided tape or screws.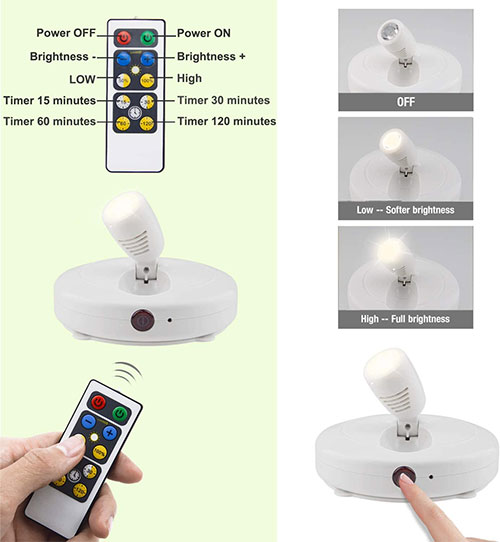 They're wireless, running on 3AA batteries. Simply put, there's no need to look for an outlet when placing these. Although it is a hassle having to swap out batteries, these spotlights are able to get up to 50 hours of light before needing their batteries replaced.
The remote control is an incredible convenience that also unlocks a host of amazing features that are built into them. Besides turning them on and off, your remote is able to set timers, activate dimmer presets and manually adjust the brightness to fit your preferences. We found the range on this remote to be very good.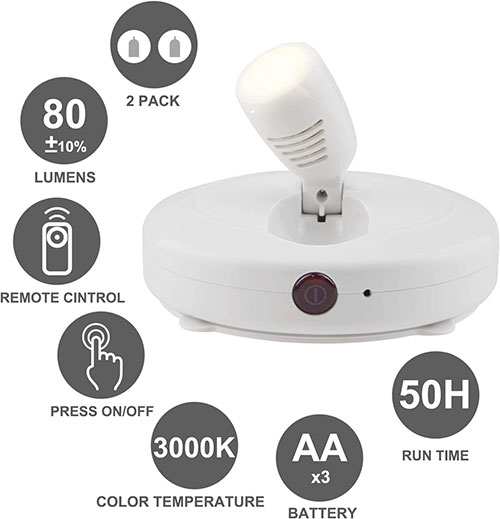 Overall, the HONWELL is a fantastic product that delivers a great remote control spotlight experience with wireless portable power.
What We Liked:
Virtually limitless angle adjustment.
Lightweight for easy mounting.
Remote control works well.
Dimmable.
Battery powered.
What We Didn't Like:
No wired power option in addition to battery power.
Best Budget: One Stop LED Indoor Spot Light for Plants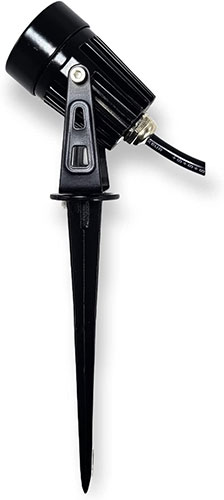 Key Features:
Includes Stake for use with Indoor Plants.
Metal Material.
Warm White LED Light.
Inline On/Off Switch.
2-Prong Power Plug.
For those that need a large number of spotlights, going with a solid budget friendly option may be the best route. The problem is that at this price point, it can be hard to sift through the hundreds of options that simply don't deliver high enough quality. Of the different categories our team researched, the budget category was where we spent the majority of our time.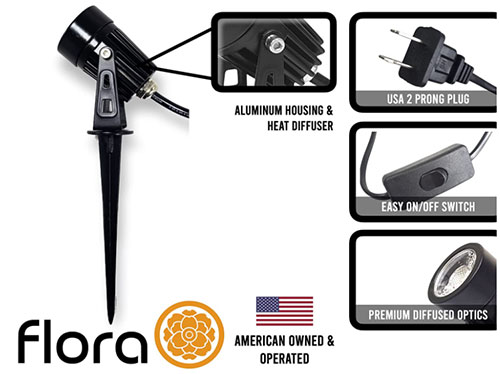 Based on our in-house tests and looking at hundreds of vetted user reviews, the One Stop LED indoor spotlight is our choice for best budget indoor spotlight. Even at this price point, these lights sport a high-quality metal design that feels sturdy in your hands. In addition, it has a good amount of heft to stay in place.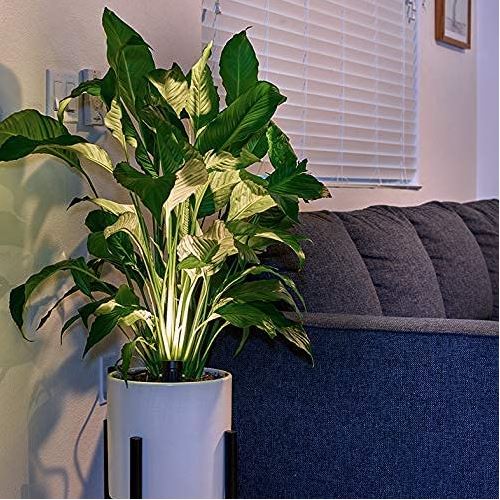 Although you can use it in a variety of applications, they were designed primarily to be plant spotlights. The included stake is sturdy and long enough to keep it in the proper position. Adjusting the angle of the spotlight head is possible but it does require a little more effort compared to some of the other options.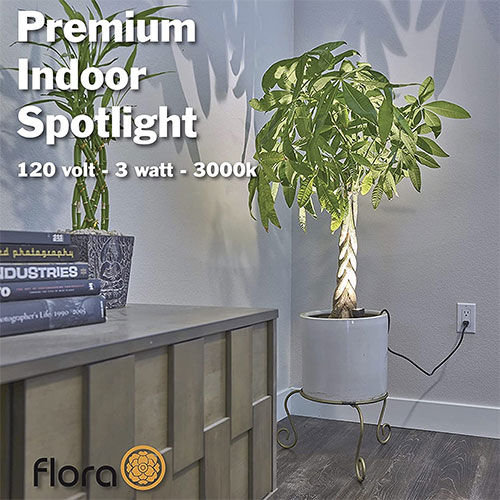 The light coming out of this unit is pretty powerful. However, without a dimmer function, it may be a little too powerful for some situations. We were impressed with the color temperature of this spotlight. We didn't detect any flicker or variance in the color temperature, even after over an hour of leaving it on. If you're looking for a cost effective LED spotlight, the One Stop LED might be the unit you've been looking for.
What We Liked:
Budget friendly.
Comes with a stake.
Low-profile design.
Long power cord.
What We Didn't Like:
Strong lightbulb with no dimmer function.
Some report slight noise coming from spotlight after prolonged use.
What are the Best Indoor Spotlights for You?
With so many options on the market, it might be hard to choose the correct indoor spotlights for your specific needs. To help, keep some of the following considerations in mind.
Budget: At the end of the day, you shouldn't spend more than you're comfortable with. There are quality spotlights at nearly every price point.
Placement: Map out where you intend to place indoor spotlights. Then you can choose the model that work the best for each lighting scenario you have.
Power Source: If you live in a space that's sparse on power outlets, or if your desired placement location doesn't have a plug nearby, you may want to consider the wireless spotlight option. Just be sure to activate any auto-shutoff, energy-saving features you can to avoid having to consistently change out batteries.
We hope this roundup helps make your decision-making process easier as you select the best indoor LED spotlight for your home or office.
Please consider sharing:
Note: At no extra cost to you, we may earn a commission for purchases using our links. Learn more.