Electrical work is full of challenging tasks. You have to run your wires properly and stay up to code. You need to keep up with changing standards and new technology.
There's a reason people are willing to pay good money to a qualified electrician. It's not easy work!
And then, there are the parts of the job that are just plain annoying. On the one hand, anyone can strip a wire. In a pinch, most people can make do with a utility knife or a good pair of scissors.
That's all well and good if you only occasionally strip a wire. But if you strip wires day in and day out, you need a good quality wire stripper. A self-adjusting model will be best, since it can save you the trouble of making adjustments. That way, you can complete big wiring projects quickly and efficiently.
Today, we're going to review four of the best self-adjusting wire strippers on the market. Each of these options is well-engineered, and will make stripping your wires a breeze. But which one is the right choice?
To find out, we'll have to take a much closer look at each of our options. After that, we'll have enough information to deliver a fair verdict. Let's begin!
KAIWEETS KWS-302 Multifunctional Wire Stripper Kit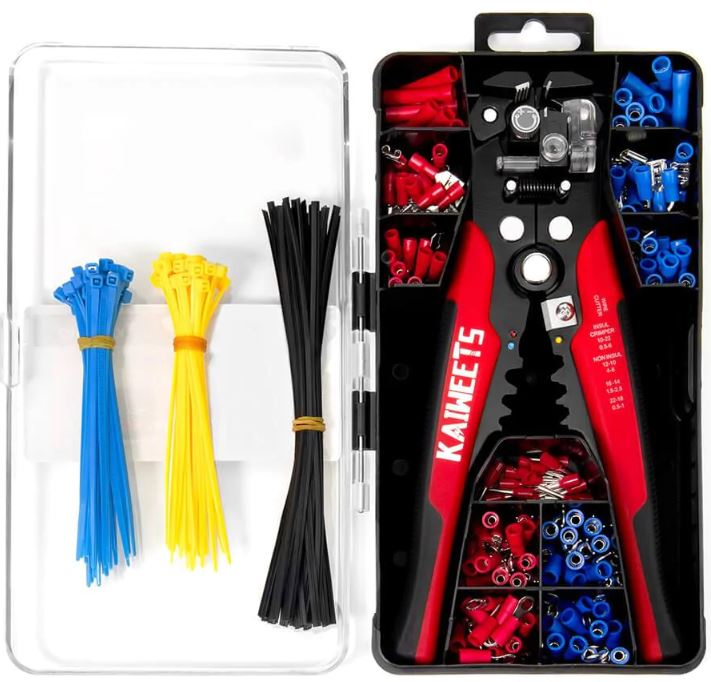 Key features:
3-in-1 stripper, wire cutter, and crimper.
Manual tension adjustment dial.
Includes 90 zip ties and 170 assorted connectors.
Strips 10 to 24 AWG.
KAIWEETS is well-known for their quality electrical tools. We've reviewed a few of them in the past, including a self-leveling laser level. And while previous performance is no guarantee, we're always eager to check out one of their tools.
The KAWIEETS KWS-302 Multifunctional Wire Stripper Kit is, as its name implies, a complete kit. The stripper comes in a little carry case with a number of accessories. You get a set of 90 zip ties, with 30 each in blue, yellow, and black for easy color-coding. There's also an assortment of 170 different electrical connectors.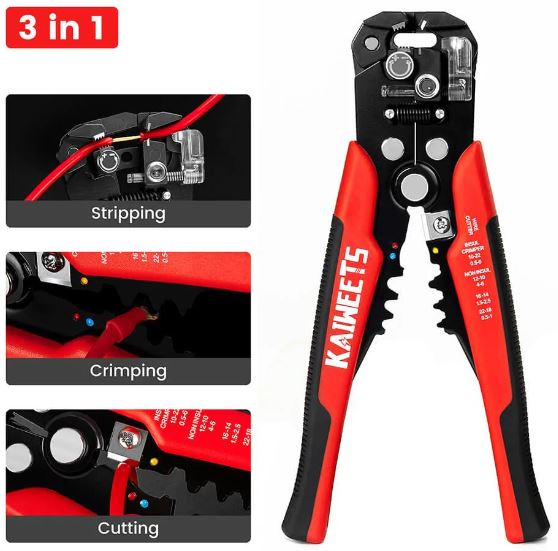 That said, the main attraction is the stripper itself. It has a durable black steel frame with a molded black and red plastic handle. The TPR material provides a secure grip that's also very comfortable. And it's nice and wide, which makes it suitable for large and small hands alike.
This is a three-in-one tool, which functions as a stripper, crimper, and wire cutter. At the front is a set of jaws which sit in front of a stripper blade. When you clamp down on the wire, the jaws will detect resistance and set the blade to the correct distance.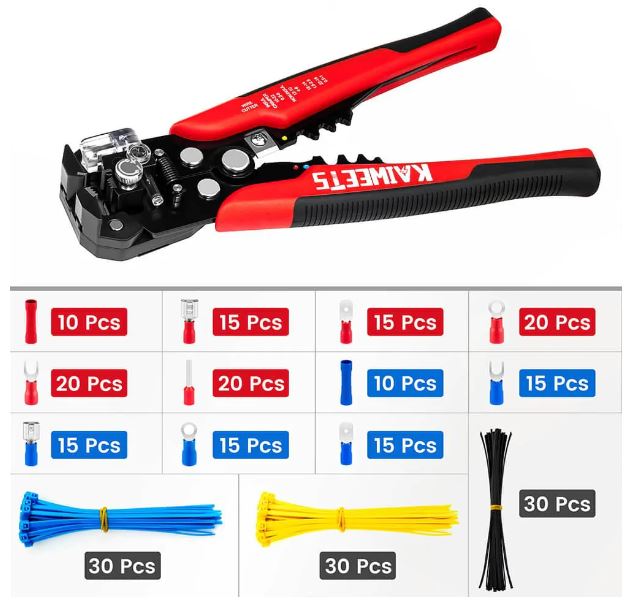 This allows you to effortlessly strip any wire gauge from 10 to 22 AWG. There's also a little metal dial on the side for fine tension adjustment. This can help you compensate for differences in insulation thickness.
Behind the hinge is a row of dips on the inner edge of one handle. The other handle has corresponding bumps. Which can be used to clamp down on terminals and crimp them. Like the stripper mechanism, the holes are sized for wires ranging from 10 to 22 AWG.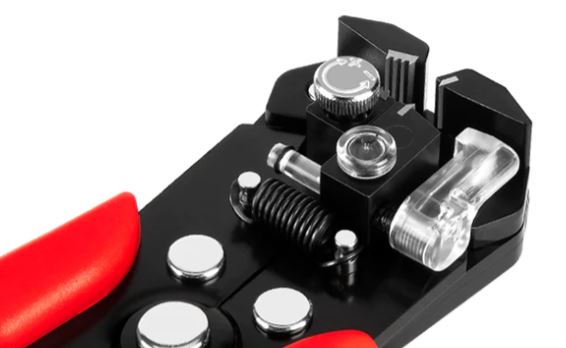 Ahead of the KAIWEETS crimper is a wire cutter, located just behind the hinge. The cutter is very sturdy, and can handle any wires the stripper and crimper can handle.
What We Liked:
Easy to use.
Works with most wire sizes.
Crimper and wire cutters work very well.
Includes plenty of accessories.
What We Didn't Like:
Not as rugged as some other models.
KNIPEX Self-Adjusting Wire Stripper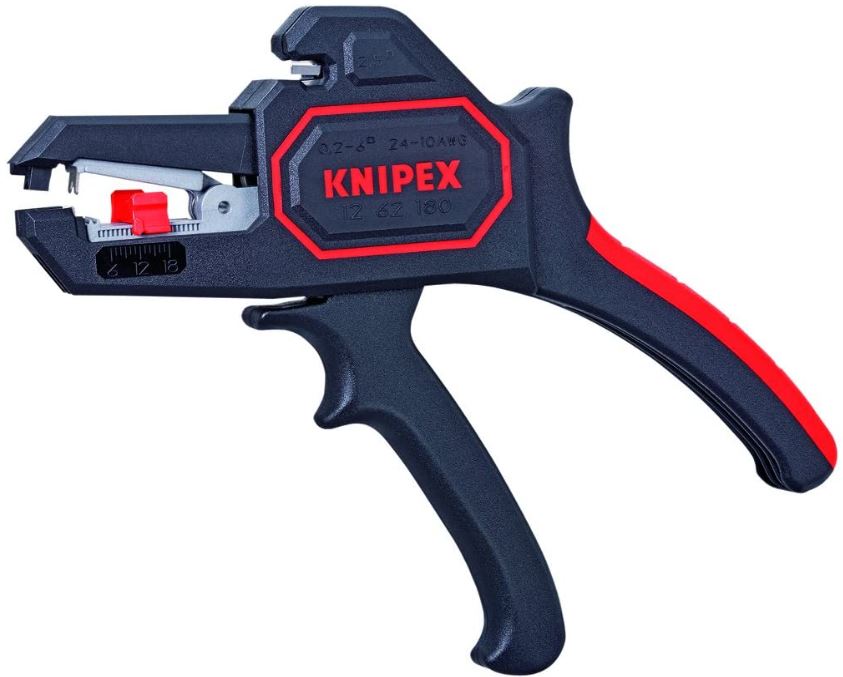 Key Features:
Unique forward-facing stripper.
Strips 10 to 24 AWG.
Adjustable length stop.
Built-in wire cutter.
Tough chromium steel design.
The KNIPEX Self-Adjusting Wire Stripper has an unusual-looking design. Instead of being shaped like a pair of pliers or a set of jaws, it looks almost like a caulk gun. The grip at the back is long, with a curved lever in front of it.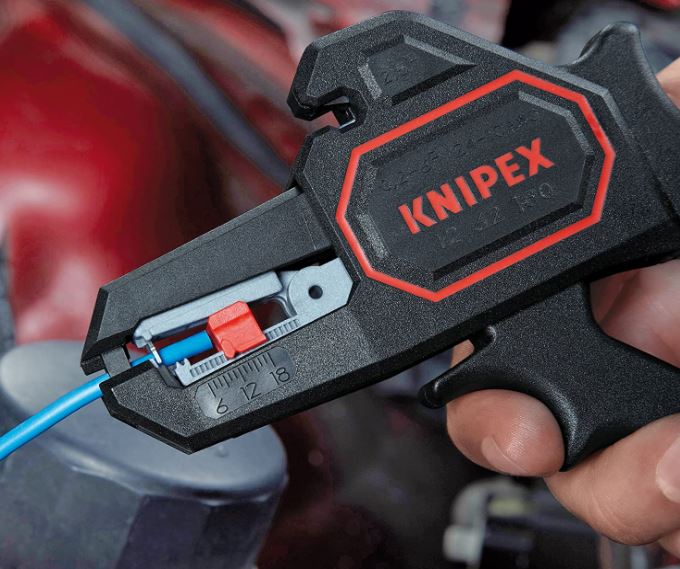 The clamp at the front grips your wire, which points directly back towards the handle. Once the clamp is secure, a set of blades pull the insulation back. This design allows you to work in tight spaces like an electrical box. Since you only need to reach the tip of the wire, you don't need extra slack for stripping.
The stripper can handle single, multiple, or fine-stranded cables from 10 to 24 AWG. That's quite a range! Furthermore, the length stop for the blade is adjustable from 15/64" to 23/32". This allows you to strip consistent lengths throughout the same project. It might not be a huge deal, but it can make for neater wiring.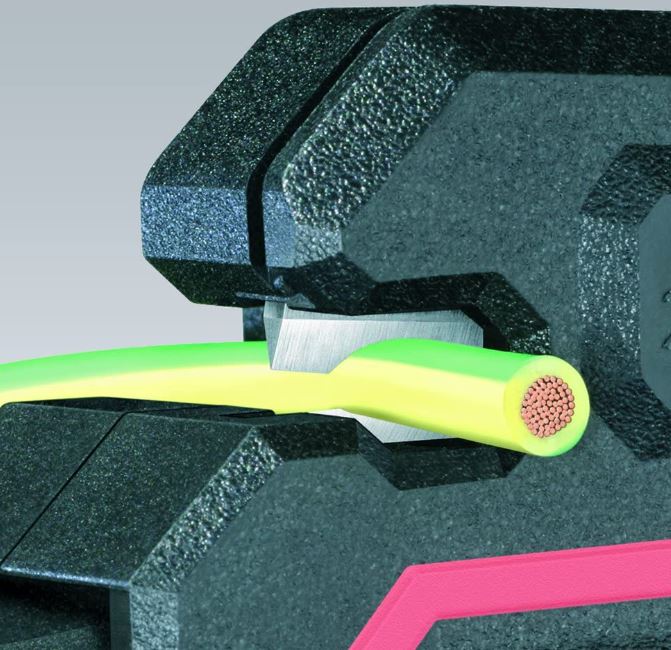 The KNIPEX stripper also has a wire cutter. It's built into the top of the frame a bit of a ways behind the tip, and it also faces forwards. It can cut wires as small as 14 AWG, but the placement is unfortunate, since it's hard to get into small boxes.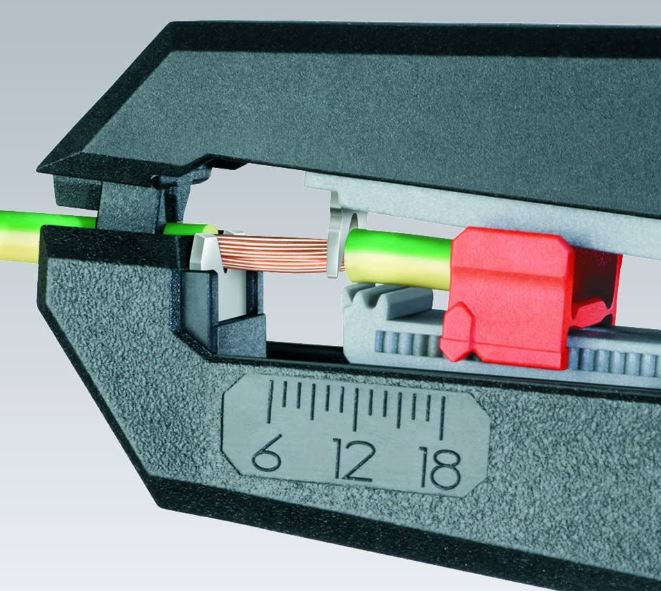 On the plus side, the blades are as durable as they come. They're made from a special steel alloy that's impregnated with chromium and vanadium for hardness. It also has a maximum of 0.8% carbon content, which makes it all but impervious to corrosion.
What We Liked:
Ideal for tight spaces.
Exceptionally durable.
Easy to get a consistent stripping length.
What We Didn't Like:
Awkward wire cutter location.
Klein Tools 11063W Self-Adjusting Wire Stripper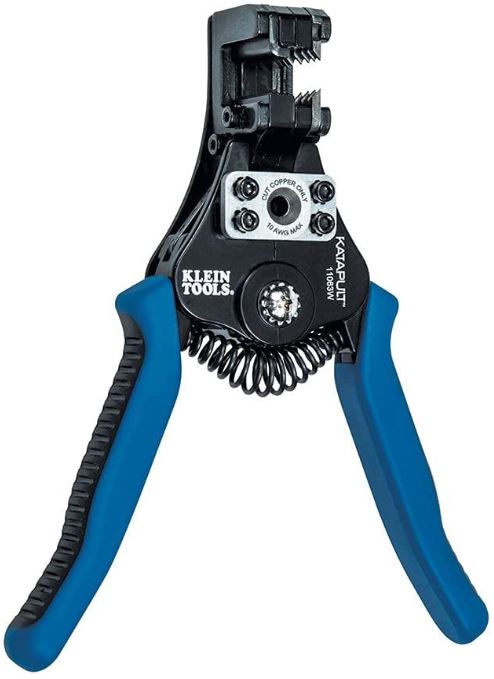 Key Features:
Traditional design with multiple blades in the jaw
Tension-loaded tip and single-squeeze operation
Strips 8 to 22 AWG
Wire cutter built into frame.
Klein Tools is a popular manufacturer of mechanical and electrical tools. Not long ago, we reviewed their digital multimeter, and we were duly impressed. So it only made sense to take a look at their wire stripper.
The Klein Tools 11063W Self-Adjusting Wire Stripper has a more traditional design. In fact, our only real "complaint" is that it's not truly self-adjusting. Instead, the jaws contain multiple sets of scalloped teeth for different wire gauges. That said, there's nothing complicated about it. Just put your wire in the corresponding part of the blade, and you're good to go.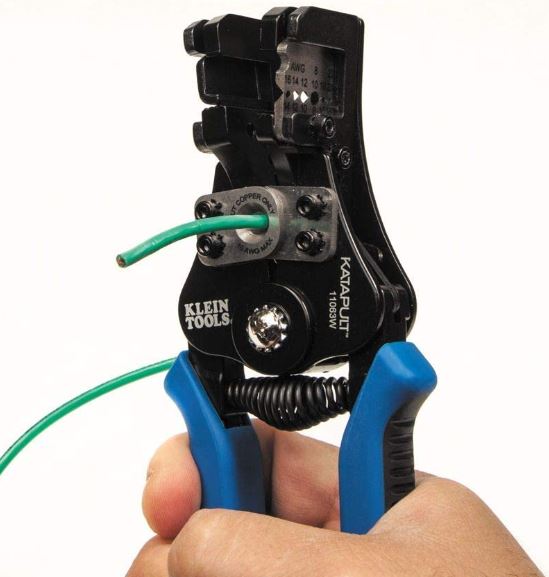 Squeeze the handles, and a blunt clamp will grab and pull the wire through the blades, stripping the insulation. The blue handles themselves are and plastic-dipped, which forms a comfortable, secure grip.
The 11063W can strip solid wire from 20 AWG all the way up to ultra-fat 8 AWG wires. It can also handle copper stranded wire from 10 to 22 AWG. The blades are very well engineered, and will cleanly remove the insulation without nicking the wire. The jaws are also nice and wide, capable of removing up to an inch of insulation in one pass.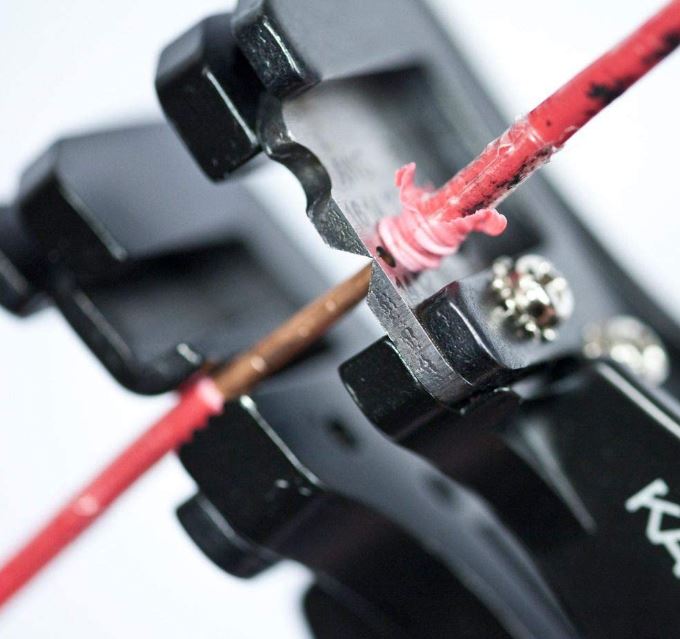 In addition, there's a wire cutter hole near the middle of the frame. Just push your wire through and cut down. This design is a bit inconvenient if you want to cut longer lengths. But it's great for trimming short bits of wire. The cutter can handle 10 to 22 AWG wires, and should only be used for cutting copper.
What We Liked:
Traditional design has zero learning curve.
Can cut and strip 8 AWG solid wires.
Sturdy and ergonomic design.
Simple spring-loaded, one-squeeze operation.
What We Didn't Like:
Not actually "self-adjusting".
IRWIN VISE-GRIP Wire Stripper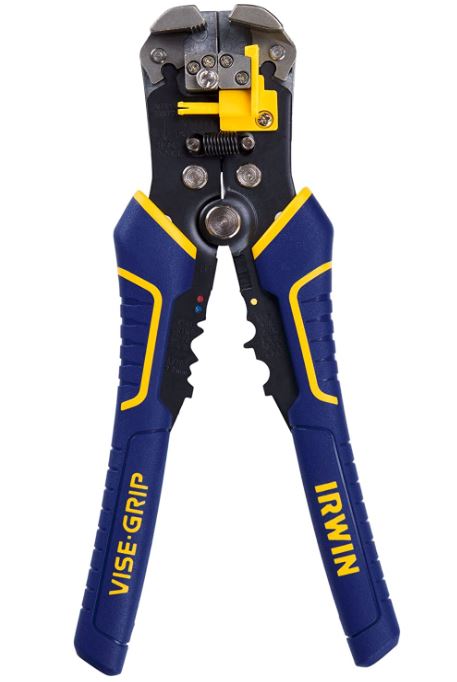 Key Features:
3-in-1 stripper, cutter, and crimper.
Manual tension adjustment dial.
Strips 10 to 24 AWG.
Large, ergonomic handles.
The IRWIN VISE-GRIP Wire Stripper comes from a brand that needs no introduction. This is a beefy tool constructed from tough black steel. The plastic handle grips are bright blue and yellow, with ridges that make them easier to hold. They're also nice and fat, which makes them great if you have larger hands.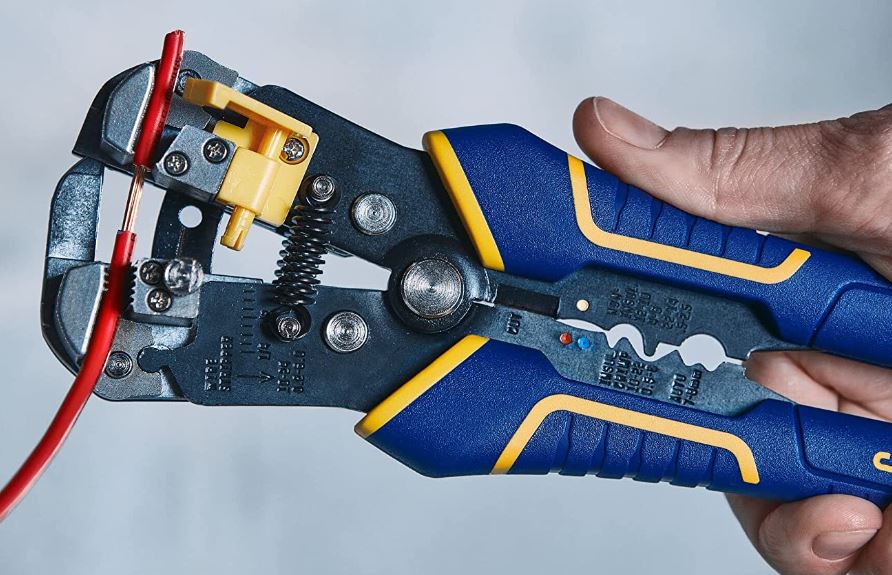 The jaws at the front are self-adjusting, and work the same way as the KAIWEETS jaws. There's even a metal dial on the side that you can make for fine adjustments. This is particularly useful for finer wires, smaller than 20 AWG.
In total, you can strip wires ranging anywhere from 10 AWG to 24 AWG. On the downside, insulation tends to get caught in the mechanism after it's stripped. You'll find yourself frequently shaking it out between uses.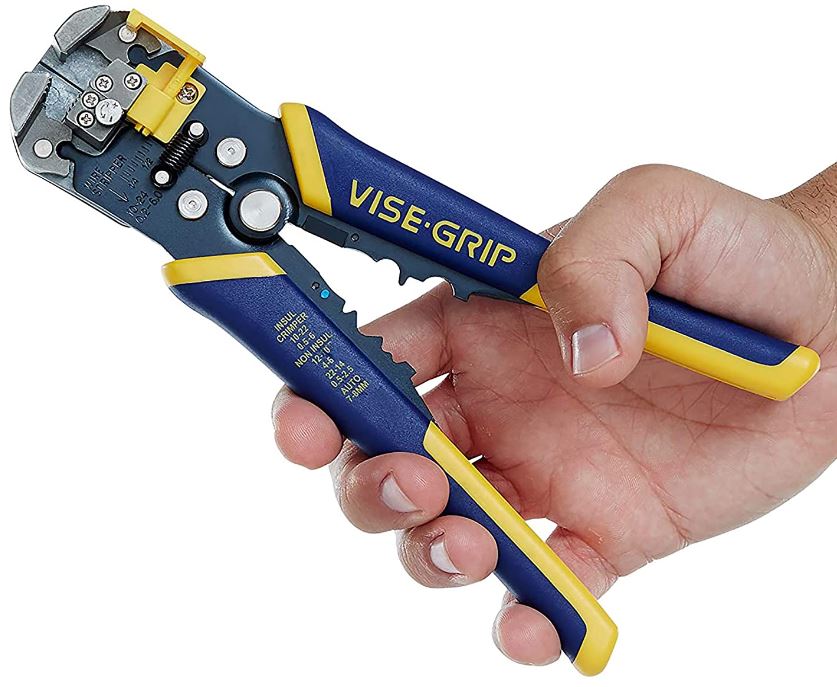 There's a row of crimping bumps and dips behind the hinge and ahead of the handle. Not only can it crimp 10 to 22 AWG terminals, it can also crimp 7mm to 9mm ignition terminals. A set of wire cutters ahead of the crimpers can cut anything you can crimp or strip.
What We Liked:
Cuts, crimps, and strips.
Adjustable tension.
Big, chunky handles.
Can crimp ignition terminals.
What We Didn't Like:
Stripped insulation tends to get stuck in the mechanism.
Choosing the Best Self-Adjusting Wire Strippers
Before we wrap up, we should talk about what makes one wire stripper better than another. Here are some things you should look at while you're shopping around.
Wire Compatibility
In the US, wire thickness is measured in AWG, which is short for "American Wire Gauge." But AWG sizing is unintuitive. Heavier wires have lower gauge numbers, and lighter wires have higher gauge numbers. 8 and 10 AWG wires are used for heavy 220 and 240-volt circuits. 20 AWG is a common size for thermostats and alarm systems.
So when you buy a wire stripper, look for one that will work on the type of wires you typically strip. These days, most good strippers are pretty versatile, and are compatible with a variety of wire gauges.
Cutting and Crimping Capabilities
If you're stripping wire, there's a good chance you're also going to want to cut that wire. So it stands to reason that a good stripper should have a built-in set of wire cutters. That way, you don't have to carry a separate wire cutter in your toolbelt. Just make sure you know what it's rated to cut. Just because a given tool can strip a thick wire doesn't mean it can cut it.
Along the same lines, many wire strippers have a built-in crimper. This won't always be necessary, depending on what you're doing. But if you're joining or replacing wire terminals, it's an invaluable feature. Once again, you're eliminating an entire tool from your toolbelt.
Other Considerations
As with any tool, you'll want to consider the overall quality of the build. How tough is the material, and is it ergonomic to use? It also doesn't hurt to check the warranty to make sure the manufacturer will back their product.
Finally, many wire strippers have a bolt/screw cutter built into the design. This is more of a specialized tool and not everybody will need it. If you do, you'll have to search much harder for the ideal wire stripper.
Final Verdict – Which Wire Stripper is Best?
As you can see, these are all great wire strippers. But which one is the best of the bunch?
We started out by reviewing the KAIWEETS KWS-302 Multifunctional Wire Stripper Kit. This is a great all-in-one tool that cuts, strips, or crimps 10 to 22 AWG wires. The sizing mechanism works well, and the accessories provide a great added value. We had some minor concerns about durability, but that's about it.
Next, we evaluated the KNIPEX Self-Adjusting Wire Stripper. This stripper is the best of the bunch if you often work in tight spaces. Not only that, but the adjustable length stop allows for remarkable degrees of consistency. And the chromium and vanadium-impregnated blades are as tough as they come.
After that, we looked at the Klein Tools 11063W Self-Adjusting Wire Stripper. This stripper isn't strictly-speaking "self-adjusting," but it's still a great choice. The traditional design means you'll have zero learning curve when using it. And the precision-cut blades and built-in wire cutter both perform very well.
Last but not least was the IRWIN VISE-GRIP Wire Stripper. This is similar in many ways to the KAIWEETS stripper. However, it can cut slightly smaller wires, all the way down to 24 AWG. On the downside, it doesn't come with other supplies, and stripped insulation tends to get stuck in it.
Meet Derek, "TechGuru," a 34-year-old technology enthusiast with a deep passion for tech innovations. With extensive experience, he specializes in gaming hardware and software, and has expertise in gadgets, custom PCs, and audio.
Besides writing about tech and reviewing new products, Derek enjoys traveling, hiking, and photography. Committed to keeping up with the latest industry trends, he aims to guide readers in making informed tech decisions.