ROCWARE RC08
Installation & Compatibility
8.5/10
Pros
3-in-1 webcam, speaker, and microphone.
360-degree camera rotation and portrait/landscape rotation.
Well-integrated mic and speaker for less crosstalk.
Easy to set up and use.
Very affordable price-point.
Cons
Videos can look washed out in bright lighting.
Many features require ROCWARE's software.
For a long time, webcams were viewed as optional accessories. You could use them to chat with friends and family. And if you were a content creator, you needed a high-quality camera. But for the average person, your laptop's built-in camera was good enough. If you're using it a couple of times a week for quick web chats, you don't need anything else.
But the Covid pandemic has changed our approach to online video chats. Instead of being an occasional thing, they became part and parcel of how we do business. If you're a busy professional, you may spend several hours a day on camera. In that case, it makes sense to look for a better-quality upgrade.
Today, we're going to review the ROCWARE RC08 3-in-1 Webcam. This is a three-in-one camera, microphone and speaker that replaces your computer's speakers. It's perfect for video chats, but what else is it capable of? To find out, we'll need to take a closer look at all of its features, benefits, and drawbacks. Let's take a closer look, and see what we find.
Overall Design
The ROCWARE RC08 3-in-1 Webcam has a broader design than most cameras. The housing is made from a black plastic, with an easy-to-clean satin finish. The front panel has a brushed grey finish, with a metallized appearance.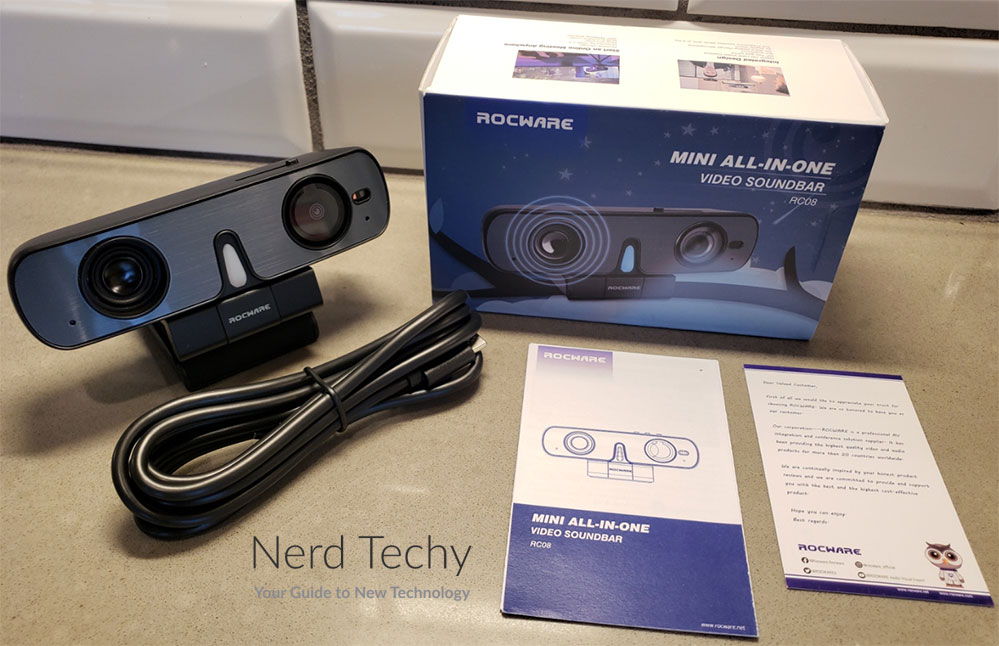 The entire thing is 4.75 inches wide, 1.26 inches deep, and 1.22 inches thick. And at 5 ounces, it's light enough to be easily portable. More importantly, it won't weigh down your laptop screen, even if you have a very small machine.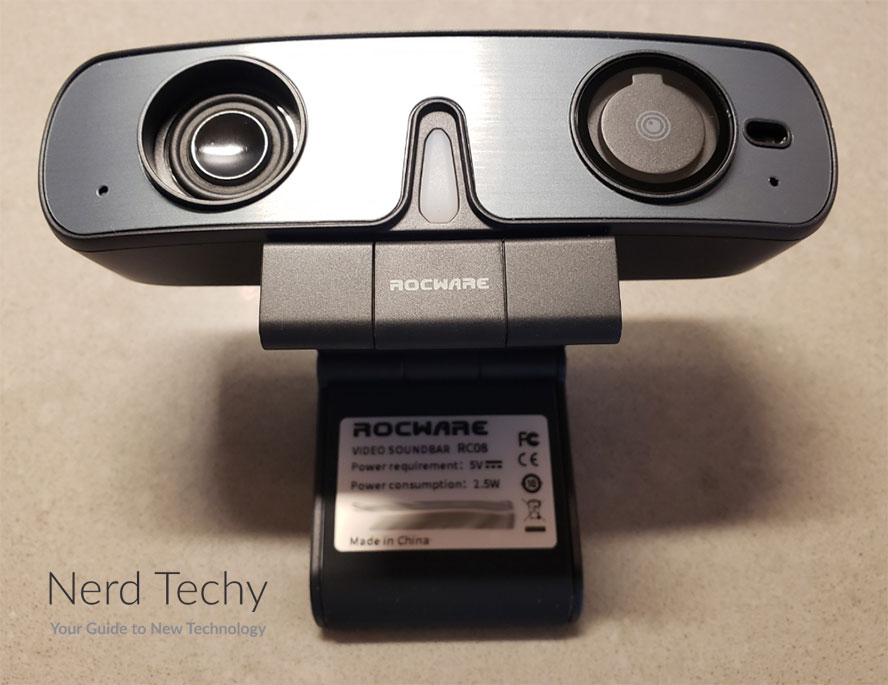 In terms of appearance, the RC08 looks a lot like the Pixar character Wall-E. There's a camera lens at the right and a round speaker at the left, and they look like little eyes. Between them is a vertical blue LED, which lights up whenever the camera is active.
But it also looks like a nose. At the bottom corners, you'll notice a set of tiny holes. These are the dual microphones, which we'll discuss shortly in more detail. There's also a laser sensor to the right of the camera lens, which is used for the autofocus function.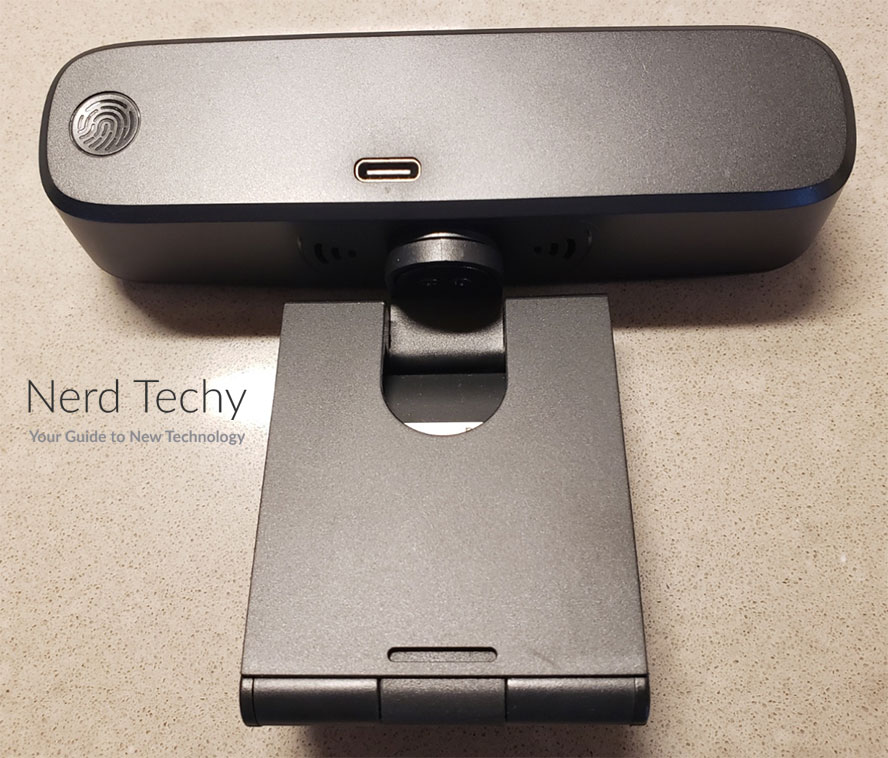 The bottom of the lens housing attaches to a black plastic base, which seems pretty sturdy. The word "ROCWARE" is printed in white across the front lip, which sits against the front of your monitor.
Behind this lip is a hinged plate that can be adjusted to fit your display's contours. You can make a wedge to support it on a laptop monitor, or open it wide for a fatter display.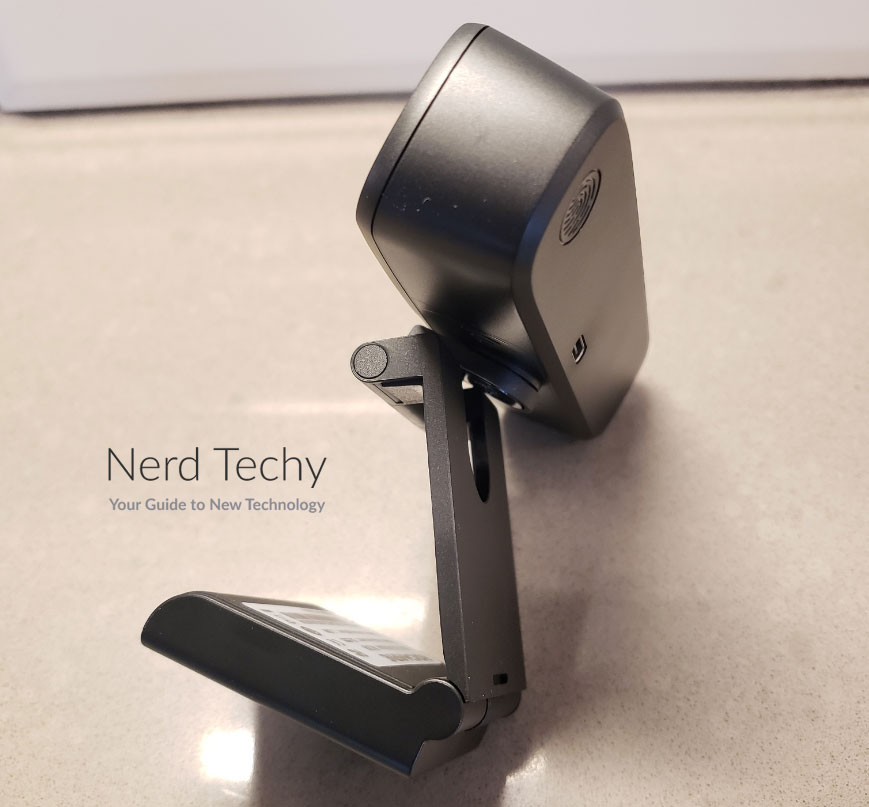 If you want an even more compact webcam, there are plenty of options. The eMeet C950 is a great example. Not only is it small, but it's collapsible for easy transport. As an added bonus, it will automatically shut off when collapsed. That said, it offers far fewer features.
Video Quality
The RC08's lens captures video in 1080p full HD. This is still pretty much standard for webcams, so there's nothing to complain about. You can also record at 30 or 25 FPS, the most common standards for online video platforms. As a result, you're looking at a solid camera for online chats and streaming alike.
The video quality in general is very good. The focus is crisp, and does a good job of keeping your face sharp instead of the background. Color clarity is also excellent. Vibrant colors look vibrant, and more muted tones are still easy to distinguish. And if you're using chroma key software, the greens will be nice and consistent.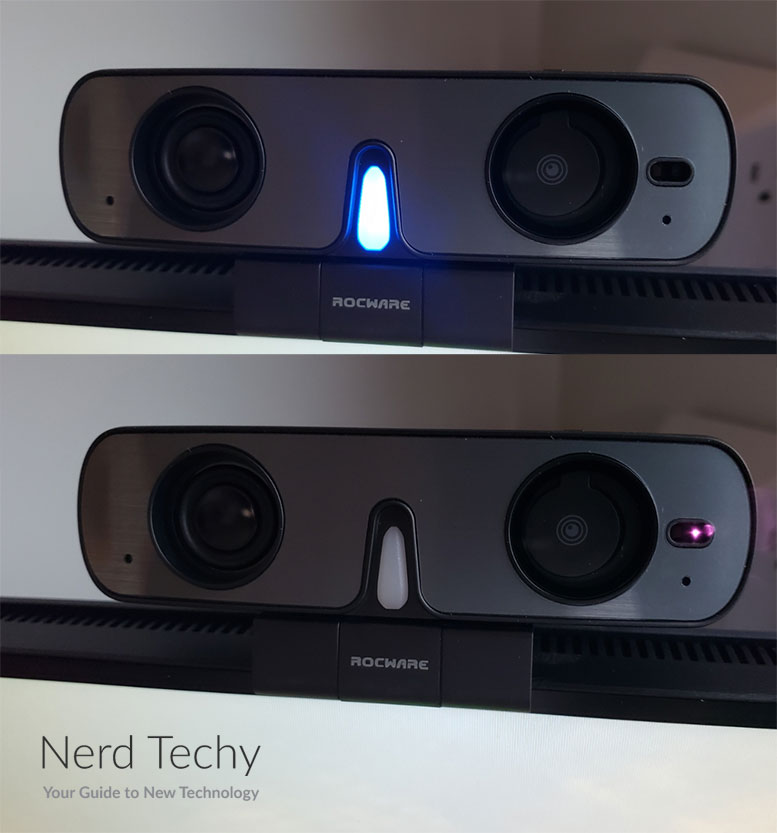 There is one area where the RC08 struggles, though. In very bright lighting conditions, it can start to look washed out. This won't be a problem if you're in a controlled environment where you can manage the light level. But if you're working in an area with natural sunlight, you'll notice some glare and washout.
The lens angle of 90 degrees is pretty much standard for a webcam. Bizarrely, ROCWARE advertises this as a "wide-angle" lens. It's not. It's the angle you want when you're a filming a single person at short to medium distances. A "wide-angle" webcam would have a field of view in the neighborhood of 120 degrees or more. This isn't a complaint, though. 90 degrees is ideal for the purpose.
If you need a higher-resolution camera, check out the eMeet S600. It's a 4K webcam that's compatible with tripods and other standard threaded mounts. It also sports a pair of dual ANC mics, but there's no built-in speaker.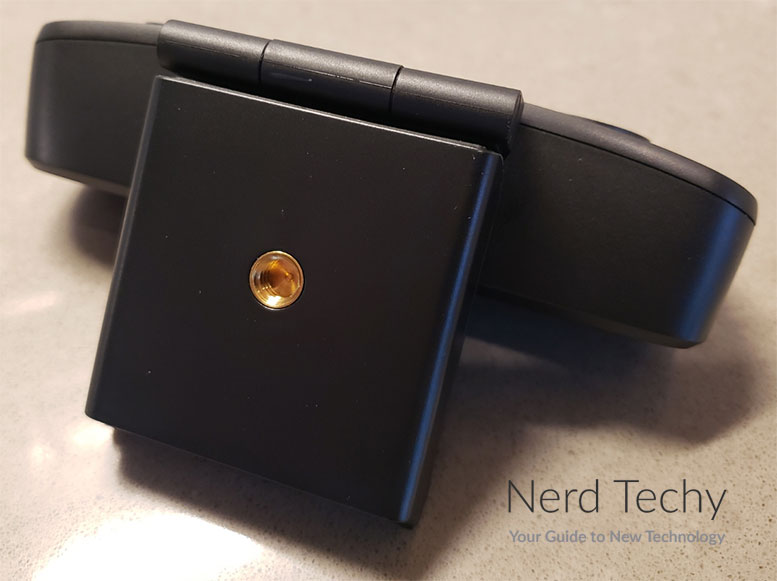 Audio Quality
The RC08's dual microphones don't just pick up sound from both sides. They actually pick up audio from all 360 degrees. This makes it suitable for use at a conference table. Someone speaking from behind the camera might be invisible.
But at least the person on the other end will be able to hear them. Along the same lines, the mics are surprisingly powerful. With three amps of powerful, it can pick up clear audio from three meters away. That's just a smidge under 10 feet!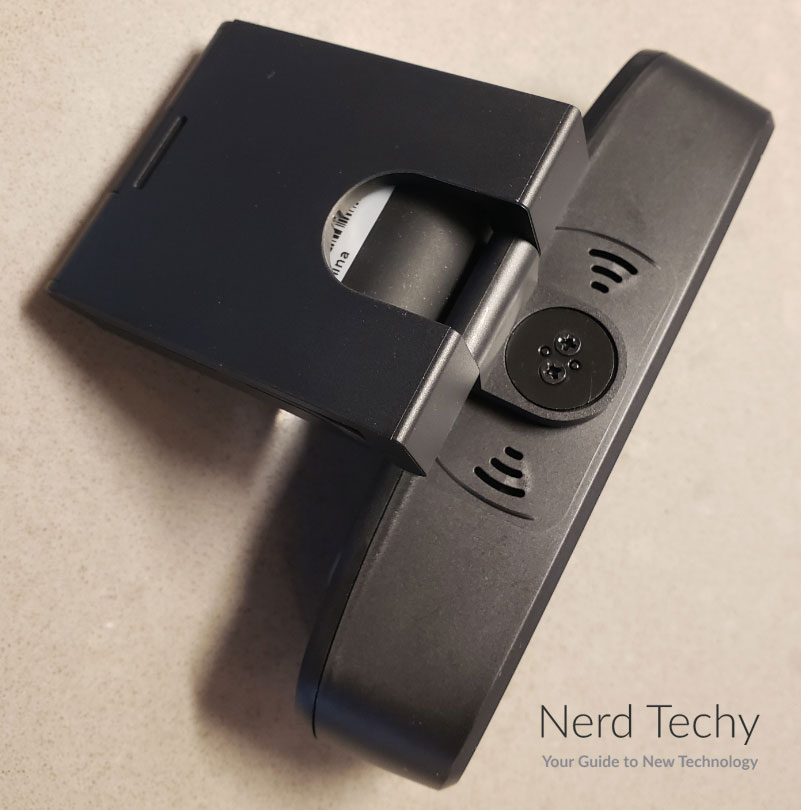 The 2-watt speaker is a bit of a mixed bag. On the one hand, it's optimized for voice. The mid frequencies are front and center. And even though it only draws two watts, it can pump out 82dB of noise.
That's the same noise level you'd hear inside a noisy radius. ROCWARE advertises that it's audible from 16.5 feet away, but that's just an average. It will be closer or further depending on the volume and your environment.
One thing we really liked about the webcam is the way the mics and the speaker work seamlessly together. Traditional webcams rely on your computer's speakers, which can cause the audio to go out of sync.
With the speaker and mics built into one machine, that's less of a concern here. Not only that, but the mic's electronics apply a series of processing methods to make the audio clearer. Echo cancellation and special noise reduction cut down on unwanted noise. At the same time, gain processing boosts the volume on your voice.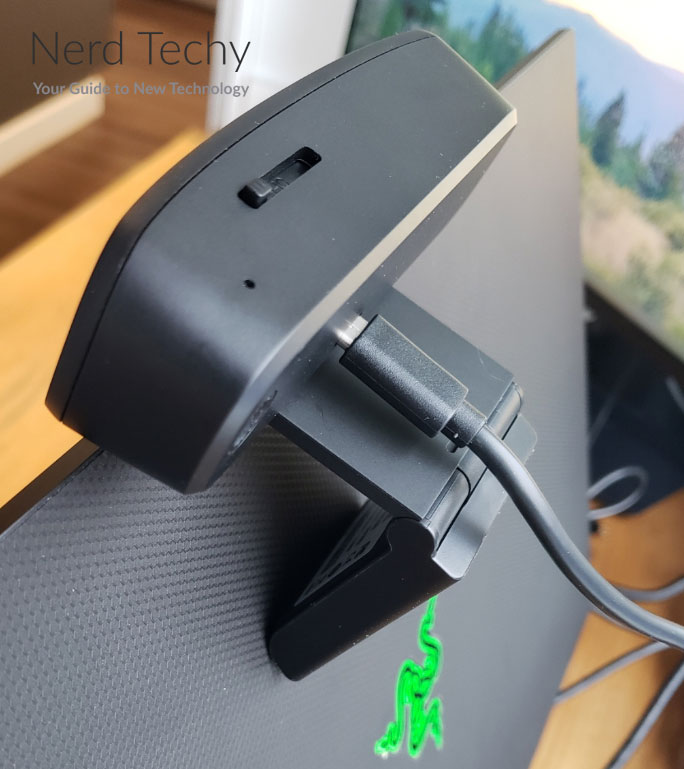 Connectivity and Compatibility
The ROCWARE RC08 is easy to set up. It's compatible with PC or Mac, and connects via USB. There's a little USB Type-C port in the back of the housing, and the connection cord is included. You won't have to install any drivers, either. Your computer will automatically detect the camera and install the appropriate drivers.
That said, ROCWARE also offers free software on their website. It unlocks extra features and allows you to have more finely tuned control over your camera. You can adjust the white balance or brightness. You can also perform manual color correction.
If there's too much green or blue in your shot, for example, you can roll that back. With the software, you can even apply a digital zoom of up to 4X. This can be useful if you're standing further back from the camera to give a presentation. Just keep in mind that at 4x zoom, you're filming in 540p, which is closer to SD than it is to HD.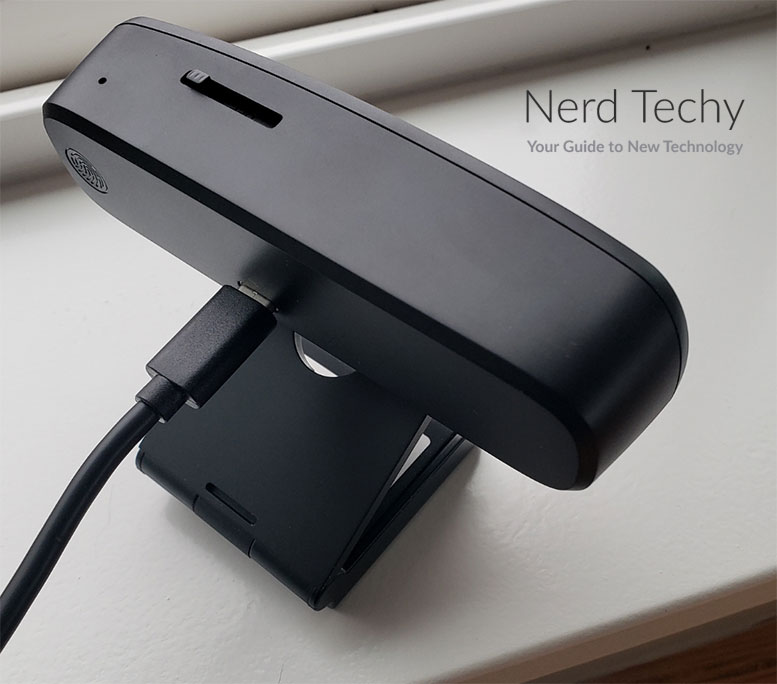 Extra Features
In addition to everything we've mentioned, there are a few bonus features that are worth mentioning. For one thing, the lens housing mounts to the base on a 360-degree swivel. As a result, you can pivot the lens to point in any direction, even behind your computer. That way, you can manually turn the camera to face anyone in the room who is speaking.
You'll also notice a black button on the back of the housing. This button serves two different functions. When you press it, it mutes the microphone. You can unmute the mic again with a second push. Press and hold the button for eight seconds, and it will switch between portrait and landscape mode. With portrait-oriented videos growing more and more popular, this can be a really handy feature.
Another noteworthy feature is the laser-assisted autofocus. A lot of webcams can take a few seconds to focus, and lag as you move around in front of them. The RC08's focusing mechanism responds in only 0.2-second. That's not instantaneous, but it's "blink and you'll miss it" fast. It seemed to work very well, and does a good job of focusing on human faces.
One additional feature is the sliding privacy cover. On the top of the webcam is a tiny protrusion. Use this to slide over a physical piece of plastic that blocks-out the lens. It's a great feature for added peace of mind and privacy.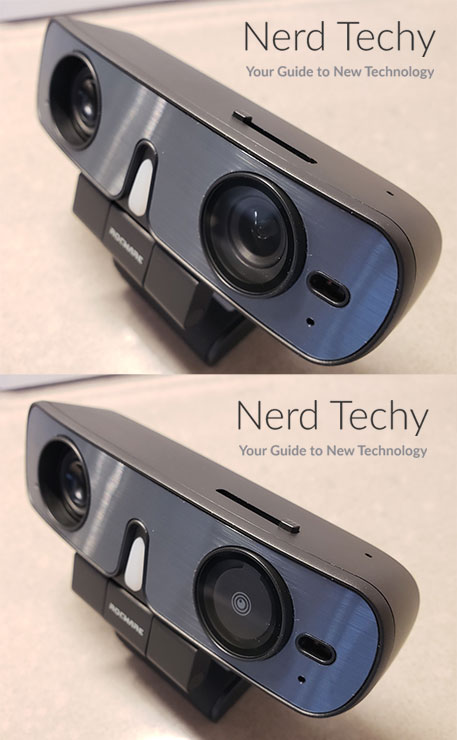 If you're looking for even more bonus features, consider the OBSBOT Tiny 4K. It's a high-quality 4K camera with a motorized mount and gimbal. Depending on your settings, it can automatically pan and tilt, and it responds to gesture controls. Then again, it's expensive; and there's no built-in speaker.
Final Verdict
The ROCWARE RC08 3-in-1 Webcam is a well-engineered device. The main appeal is its 3-in-1 design, with a camera, mic, and speakers. This means you don't have to mess around with three separate devices.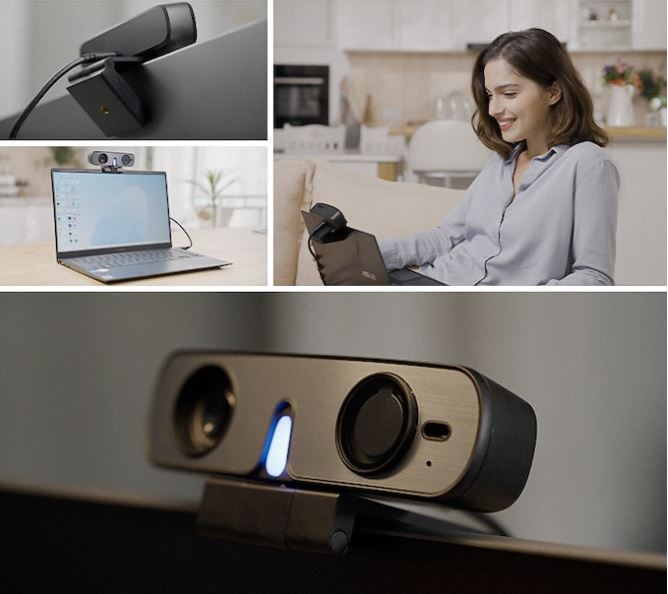 Furthermore, the integrated design allows for more seamless operation. For example, there's less cross-talk than you get on other devices, because the speaker and mics are synced. The 360-degree audio pickup doesn't hurt, either. Combine that with plenty of microphone power, and you can cover a large conference table with ease.
Setup is simple and straightforward. It's plug-and-play, so you don't need to download any drivers. Just plug it into your USB port and you're ready to go.
The video quality has some minor issues – we would have liked it to hold up better in natural lighting. Even so, we were generally happy with the quality. 1080p is all you really need for 90% of webcam applications. And in controlled lighting, you'll get a crisp focus and brilliant colors.
It's worth noting that the RC08 is available for purchase by the general public, it started as a Kickstarter project. At the time of this writing, there are still some Kickstarter rewards available if you decide to order it there instead.