eMeet C950
Installation & Compatibility
8.0/10
Pros
Crisp 1080p video with automatic dark correction.
Solid privacy feature that works on its own.
Powerful companion software.
Very affordable.
Cons
Audio sounds a bit reedy.
Cannot be mounted on a tripod.
Over the past couple of years, most of us have gotten a lot more comfortable with online video chats. During the midst of the pandemic, even the most hesitant of people had to invest in a webcam. There was just no way around it.
And even though most of us have returned to working in person, webcams are here to stay. Maybe you're a student, working with an online tutor. Maybe you're using your webcam to chat with a client on the opposite coast. Or, maybe you just want to catch up with your parents. Nobody things it's weird anymore. Video chat is just an easier way to communicate.
Note: At no extra cost to you, we may earn a commission for purchases using our links. Learn more.
The main advantage of video is that it gives you more bandwidth to communicate with. Think of the difference between a text and a phone call. The text has no inflection or tone of voice. It's easy to misinterpret someone's meaning.
On the phone, the conversation is smoother. Webcams simply add another layer. With video, you can see the other person's facial expression and body language. It's almost like you're sitting across the table from them.
That said, not all webcams are created equal. There are significant differences between different cameras, and you want one that meets your needs. On the most basic level, you need one that provides a good picture.
If your video stutters or is out of focus, it's worse than having no video at all, because it's distracting. You also want a camera that's easy to set up and protects your privacy. If a camera doesn't do those things, you should move on. If it does, it's worth a closer look.
eMeet C950 Webcam
We're about to review the eMeet C950 Webcam. This is an affordable little camera that records clear, sharp videos in 1080p. It also has a built-in mic, and it's designed to clip right to the top of your monitor. This camera is designed for entry-level use, and is compatible with both PC and Mac.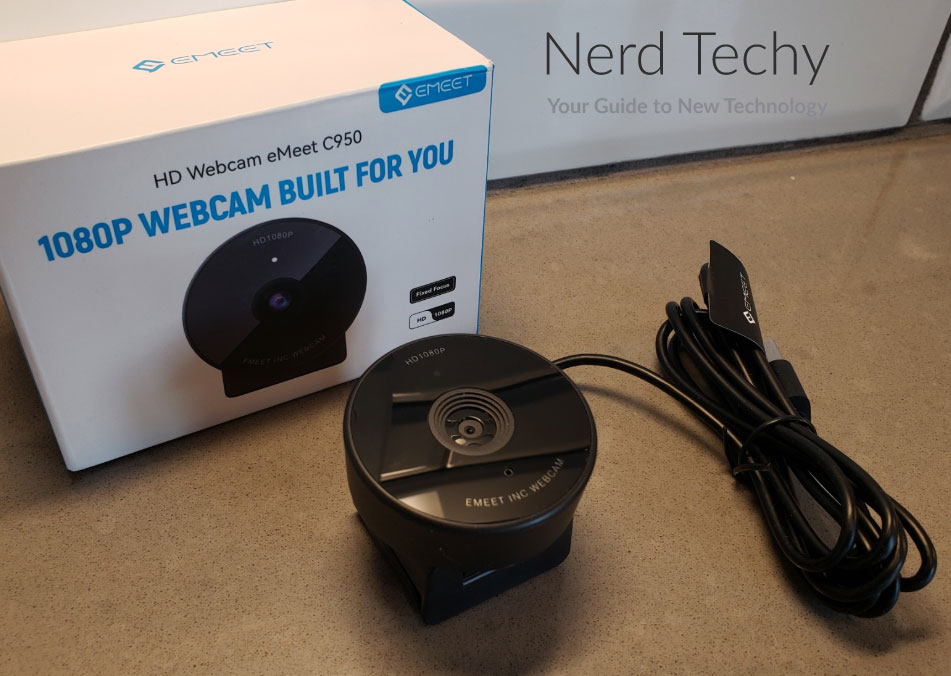 But is it the right choice for you? To find out, we'll have to dig a bit deeper. We'll need to look at the physical design, and how you mount it. We'll need to talk more about the video quality, and evaluate the microphone. Additionally, we'll need to discuss the privacy function, and any extra features we run into. At that point, we'll have a full understanding of what we're dealing with. Let's begin!
Overall Design
The eMeet C950 Webcam is compact and portable. The main lens housing is only 2 inches across and less than an inch thick. It's constructed from a matte black plastic, with a smooth finish that's easy to keep clean.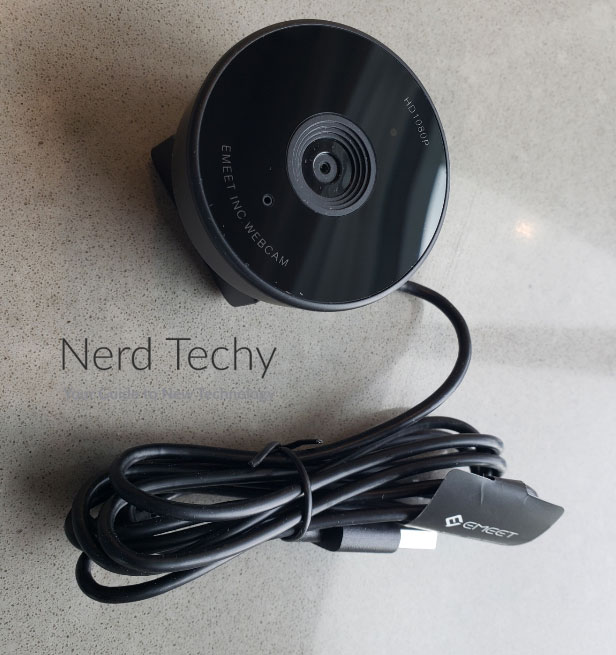 The lens is visible in the center, and is recessed to keep it safe from your fingerprints. Across the top of the front are the words "HD 1080P," printed in tiny white text. Across the bottom, it says "EMEET INC. WEBCAM." We appreciated the minimal branding and the overall clean look.
The main housing has a hinge at the bottom, where it attaches to a mounting base. The base is made from the same plastic as the housing, so it has a seamless appearance. The top half of the base is rectangular, and sits across the top of your monitor.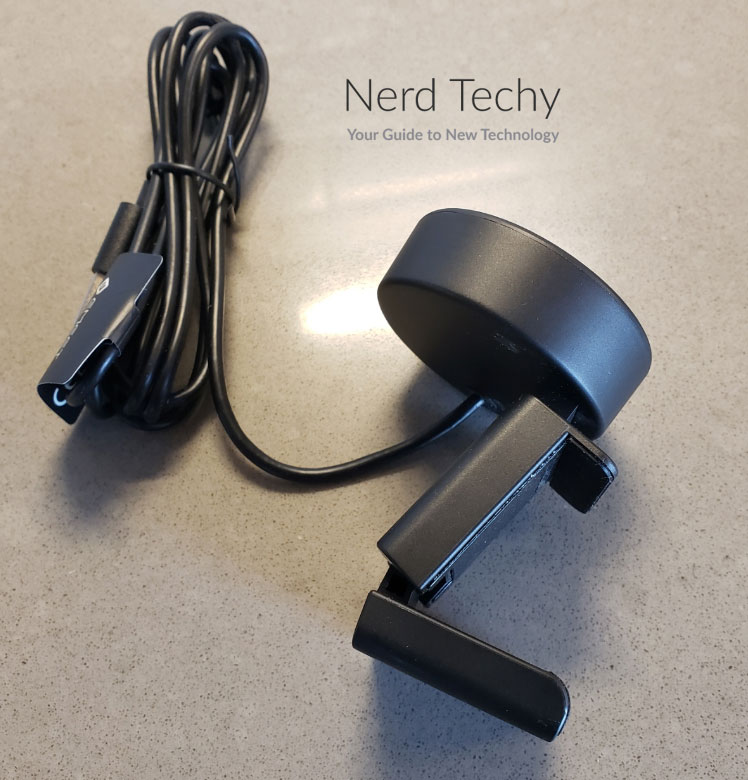 At the front bottom edge is a flange, which keeps the camera from falling off to the back. While the camera is attached to the front of the base, there's a second hinge at the back. This hinge connects another rectangular piece of plastic, which serves as a kickstand. You can adjust it to support your camera at the appropriate angle for any monitor thickness.
The design is entirely collapsible. Close both hinges, and the whole camera will shrink to a tiny block. We should also point out that the camera shuts off automatically when you flip the lens back.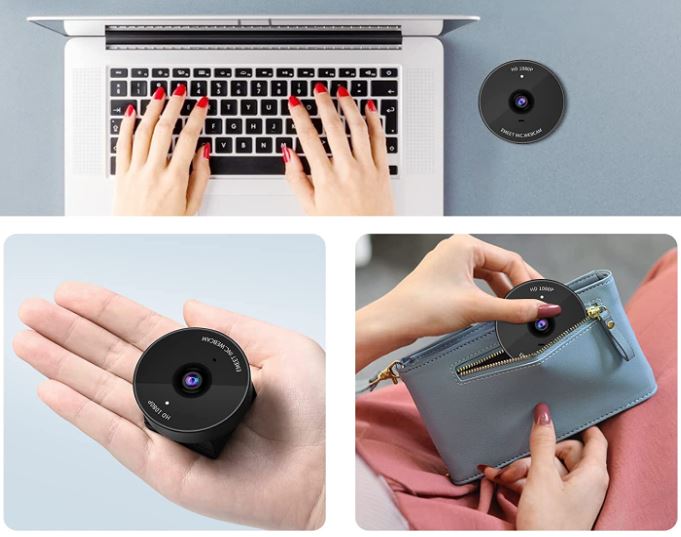 If it's within 15 degrees of the top of the base, the video and audio will automatically shut off. To resume using the camera, flip the lens back up. Within 3 seconds, it will reactivate. Above the lens is a white LED indicator light that turns on when the camera is active. When it's off, you know your camera is not recording.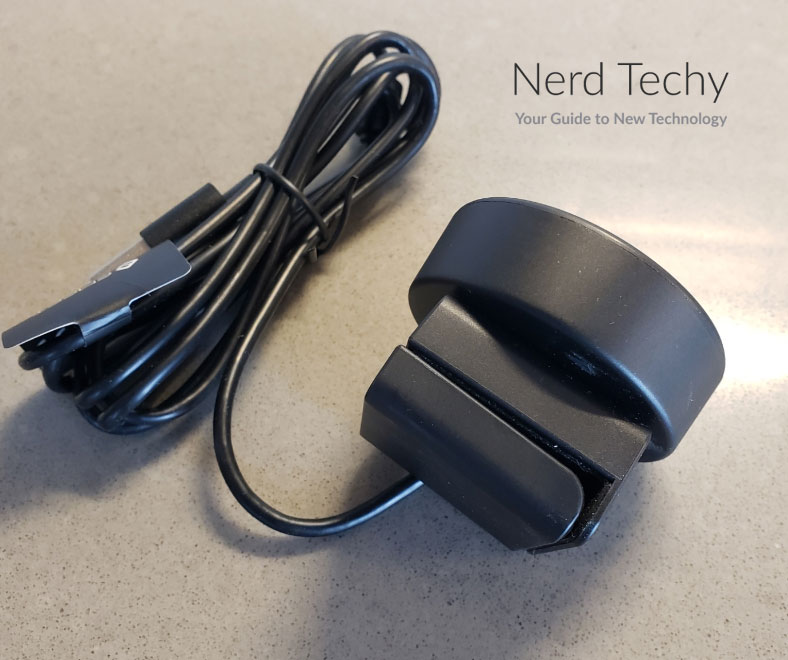 Video Quality
The C950 captures video or images at a resolution of 1080p. This is right in line with today's standards, and it's probably more than you'll need. Probably more important is the quality of the imaging technology, which is very crisp.
Given how affordable this camera is, we were very impressed. You won't see any artefacts or jagged edges, and the focus is very good. Keep in mind that it's designed for web conferencing, not professional photography. Get several feet away from it, and the auto-focus won't work properly. But at any reasonable sitting distance, you'll be in perfect focus.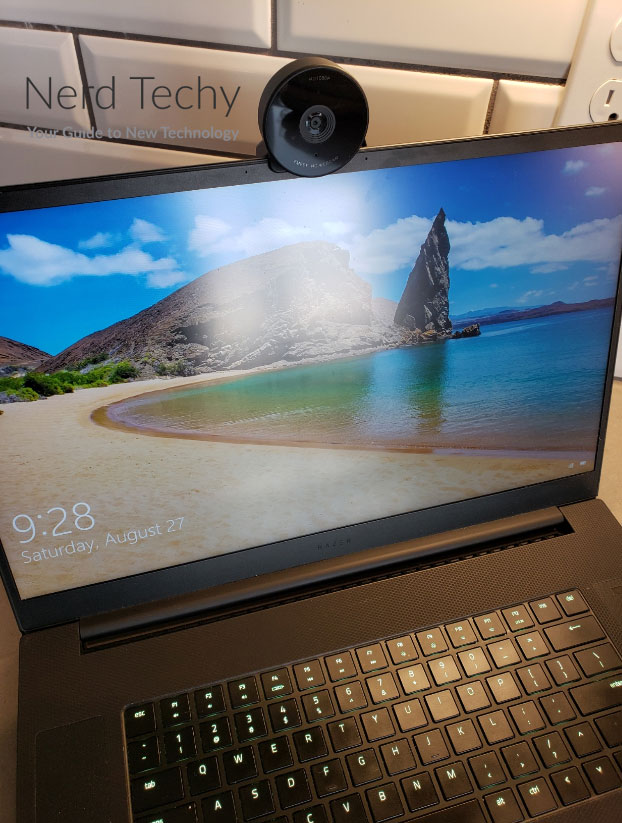 One thing we should definitely point out is the narrow field of view. At 70 degrees, it's about 20 degrees tighter than an ordinary single-person webcam. This can be a good thing or a bad thing depending on what you're doing. If you only need to focus on yourself, it's great. The other person will have a nice tight view of your face. On the other hand, it's not ideal if you have any visual aids or charts to show off. You'll end up struggling to get everything into frame.
The framerate of 30 frames per second is industry standard. There are some faster webcams out there, but 30 FPS is more than enough for web chatting. Moreover, the C950 also offers automatic low light correction. When the light level changes, the camera will automatically compensate so you don't fade into shadow.
If you want an even better picture, take a look at the WyreStorm FOCUS 210. It's a beautiful 4K camera with a 120-degree field of view and stereo microphones. It has a wide dynamic range for beautiful images in any lighting, and automatically follows you as you move. That said, it's significantly more expensive than the C950.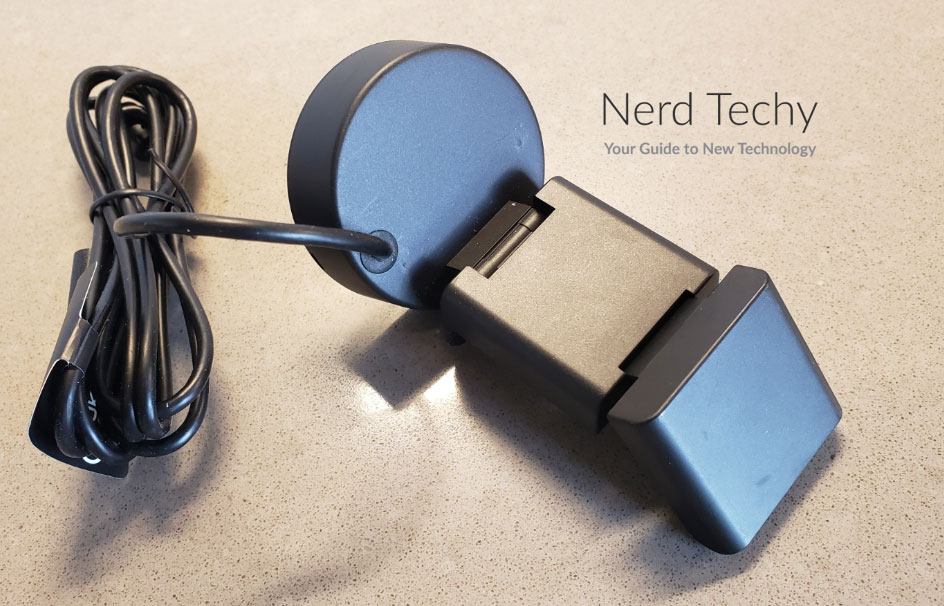 Audio Quality
The C950's built-in microphone is definitely made for web conferencing, and only that. The audio isn't terrible. You'll get plenty of volume, and the other person will be able to hear you clearly. It doesn't muffle you or cause distortion. However, there's no depth or richness to the audio, and it sounds pretty reedy. It's fine for online meetings or chatting with friends, but that's about it.
On the plus side, the noise cancelling function works very well. It does a great job of blocking out fans, air conditioners, and other background noise. Keep in mind that noise canceling technology works best for steady, consistent sound. It doesn't block out intermittent sounds like doors closing or loud conversations in the background. But in a typical home or office environment, it does a great job.
If you want even clearer audio, consider the eMeet HS100. It's a Bluetooth headset with good sound quality and a long-lasting battery. It has thick, heavy padding, and you're going to need some way to hear the other person anyway. Plus, it's also great for listening to music when you're not on a web chat.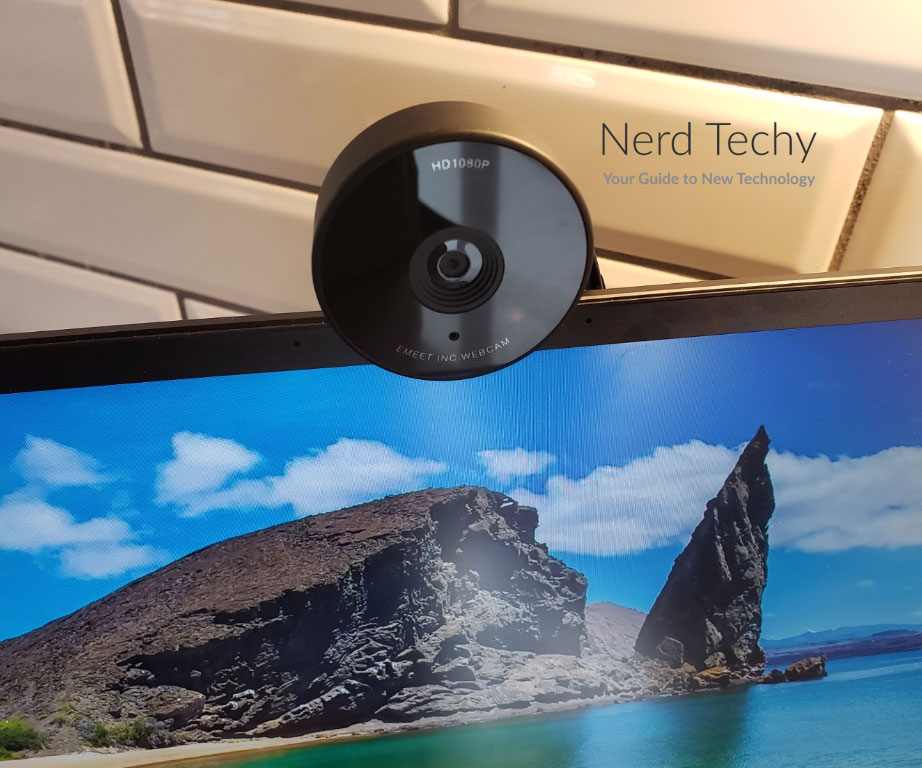 Connectivity and Compatibility
The eMeet C950 connects to your computer via USB. The cable is built into the back, and it's long enough to reach your computer in almost any configuration. All you have to do is set the camera on top of your monitor, adjust the kickstand, and plug it in. There's no Bluetooth or wireless option, but that's not a big deal.
This camera is compatible with most modern computer. If your Windows machine runs Windows XP or later, you're good to go. The same goes for anyone running Mac OS 10.4 or later. You won't need to download any drivers or install any extra software. It's plug and play and ready to go.
You shouldn't have any issues getting the camera to work with your video chat software. It functions as an ordinary webcam, so it will work seamlessly. You can use it with apps like Zoom, Skype, or FaceTime for professional work. Or, you can hop into Facebook or Discord and chat with your friends.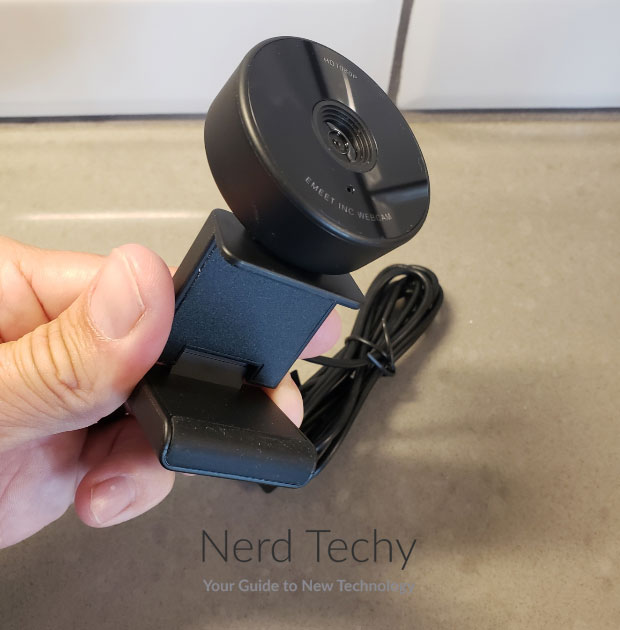 Extra Features
eMeet offers a program called eMeetLink for controlling your camera. This software is totally optional, and is in no way required to use the webcam. But since it's also totally free, it's worth downloading and installing.
Within the software, you can adjust many parameters that you normally can't change. You can adjust the resolution to 720p or lower the framerate if you have a slow internet connection. You can manually adjust the exposure, brightness, contrast, saturation, and white balance. Best of all, you can even rename the camera to something that's easier to remember.
In addition, you can search for and download new firmware for your webcam. This ensures that you're able to take advantage of any future updates. For example, suppose Zoom makes a change to their software that makes the C950 unusable. eMeet would need to fix this with a firmware patch. And with eMeetLink installed, you could quickly get your camera working again.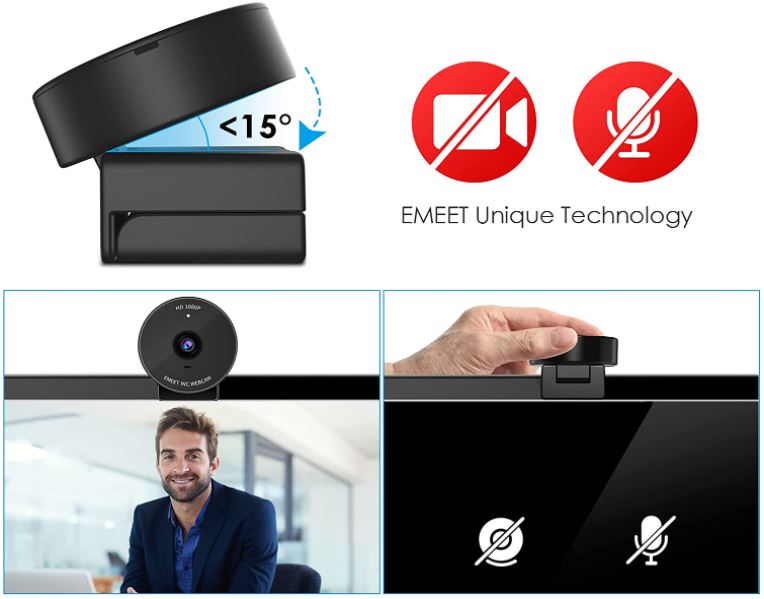 Our favorite feature might be the privacy protect mode. For such an inexpensive webcam, it's a nice feature to have. Basically, when you fold the camera to point upward, it'll automatically disable both the microphone and camera. In today's day and age, it's a smart addition that should be seen as a major benefit. Sure, you could physically cover the lens, but the webcam will still listen in. The C950 turns both the lens and microphone off at the software-level.
If you want even more advanced features, the OBSBOT Tiny 4K is a solid choice. As it's name implies, it's a 4K camera. It's also mounted on a motorized gimbal so it can follow you around the room. It even responds to hand gesture controls. Then again, these features don't come cheap.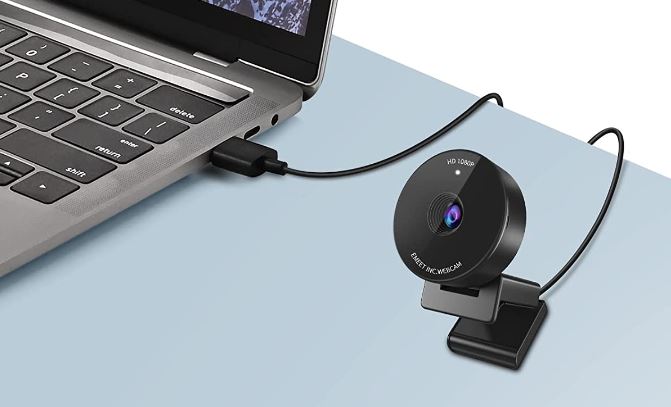 Final Verdict
The eMeet C950 Webcam is a great choice for an entry-level camera. The audio isn't fantastic, but everything else about it works very well. We were particularly impressed with the video quality, which is very crisp and clean.
We also liked the customization options in the free app, which is a cut above what many cameras offer. It's compact and easy to set up, with a folding, privacy-friendly design. All things considered, you can color us impressed.
Please consider sharing:
Note: At no extra cost to you, we may earn a commission for purchases using our links. Learn more.