WyreStorm Focus 210
Installation & Compatibility
8.5/10
Pros
Beautiful 4K UHD video quality with 120 degree field of view.
Noise-canceling stereo microphones.
AI backlight compensation & low light compensation.
Wide Dynamic Range (WDR) for clear image in any light.
Presenter tracking to automatically follow you in real time.
Cons
Digital zoom can distort the image.
Wider housing than many webcams.
When you're on camera, you want to look your best. This is true whether you're a professional YouTuber or whether you're Zooming in to a work meeting. Obviously, this means brushing your hair and putting on some decent clothes. But no matter how well you present yourself, an inferior camera can make it all fall apart. On streaming media, a low-resolution or poor quality camera could be the kiss of death for your channel. But even if you're just using your camera for work, you want your coworkers to see you clearly. And if you have to show a physical chart or picture from a book, you don't want it to be all blurry.
Point being, it's worthwhile to invest in a good quality webcam. And nowadays, there's no excuse not to. There are plenty of high-resolution, well-engineered options available at a reasonable price point. That said, it still pays to do your research. Different cameras have different features, and not all are ideal for the same purposes. Do you want the highest possible resolution? The best possible audio? Motion sensing and tracking features? A lot depends on how you're going to use your camera. A given camera might be perfect for office presentations, for example, but unsuitable for YouTubing.
Today, we're going to review the WyreStorm FOCUS 210. This is a webcam that records in full 4K UHD, with built-in stereo microphones. It's equipped with several intuitive features such as Auto Framing, Presenter Tracking and AI Noise Cancellation. Simply put, it does a great job of adjusting to different light levels, automatically focusing on talking subjects, tracking movement and intelligently cancelling background noise and audible distractions.
But to really understand whether or not this webcam is worth your while, we need to dig deeper. We'll also need to look at the physical construction, and how it's engineered. We'll have to look at the specifics of the video output, not just the raw resolution. We'll also have to talk about how it works with your software, and how it's connected. After that, we'll finally know enough to deliver a fair verdict. Let's get started!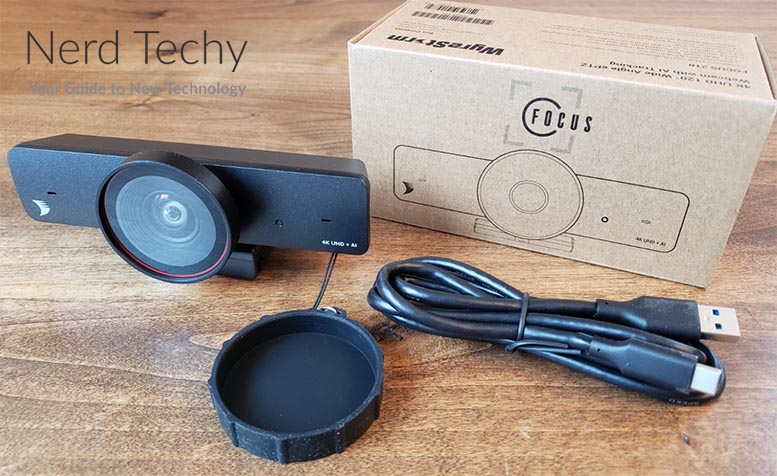 Overall Design
The WyreStorm FOCUS 210 is wider than most webcams, with a broad, 5 ½-inch housing. Despite its width, the housing maintains a narrow vertical profile, at only 1.2 inches high. This doesn't include the stand, which can be taller or shorter depending on how it's adjusted. The housing is molded from matte black plastic, and is reasonably durable. The soft matte finish is easy to keep clean, and will look right at home in a professional environment. Much of the reason for the width is to accommodate the pair of stereo microphones. Stereo requires some amount of separation, so the design makes sense, although a smaller camera would have been nice.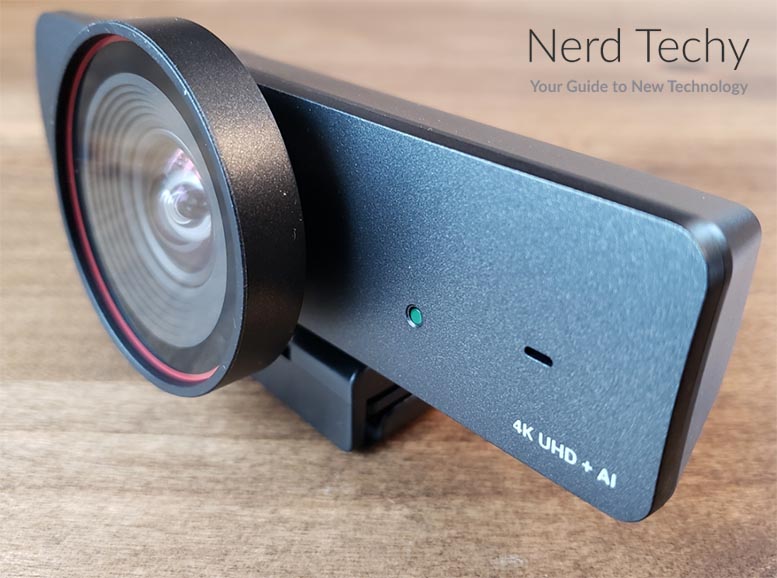 The lens itself is round and broad, with a black housing that sits on the front of the main housing. It's mostly understated, and blends in with the rest of the unit. That said, it's decorated by a red ring on the inside of the lens. This is the only color on the camera at all. The only other thing we could find that even resembled decoration was the grey WyreStorm emblem to the left. To keep the lens safe when the camera is not in use, a lens cover is included. It's made from hard black plastic, and it connects to the camera with a narrow cord. This ensures that you don't accidentally lose it or forget it somewhere.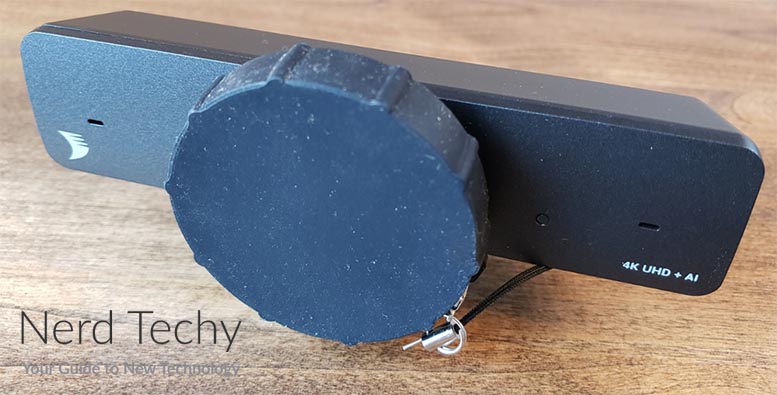 The FOCUS 210 comes attached to a stand, which is the same color as the camera. It's hinged where it meets the top of the stand, so it can be freely tilted up and down as needed. The stand itself is hinged at the back, and can open and close like a book. At the front of the top half, there's a little lip, which sticks downwards. This design allows you to clip it onto the top of a monitor or laptop monitor. If you want to set it on a flat surface, you can angle the lens upwards towards your face. Not only that, but the bottom part of the stand is threaded for a standard tripod attachment. This makes it easy to mount on most tripods and similar stands.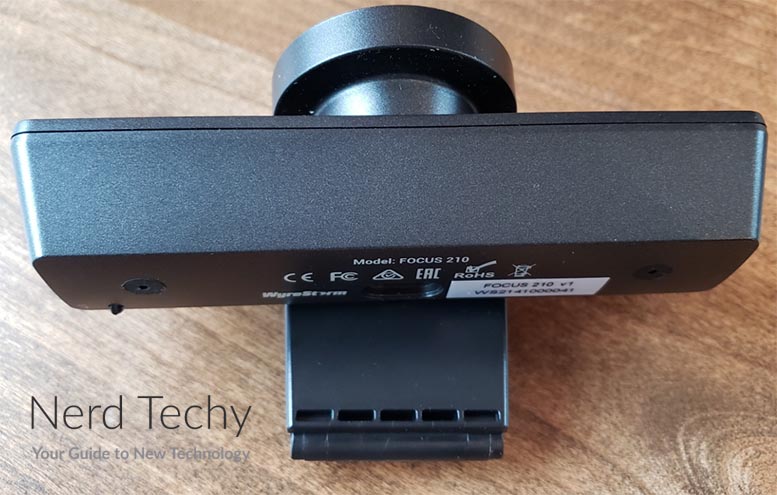 Video and Audio Quality
The WyreStorm FOCUS 210 records video in full 4K UHD. That's a resolution of 3,840 x 2,160 pixels, or four times the number of pixels you get with 1080p. As a result, you can record in the maximum video quality possible on the latest modern monitors. This high resolution is combined with a wide viewing angle of 120 degrees. To be clear, this isn't a "wide angle" lens in the sense of a fisheye lens. But it's wider than your typical 90-to-115-degree webcam lens.
Depending on what you're doing, you might not want to always record in 4K. That's because you'll get higher frame rates if you switch to a lower resolution. When you're in full 4K mode, your maximum frame rate tops out at 30 FPS. If you switch down to 1080p, you'll get 60 FPS. And if you want even faster frame rates, you can record in 720p at a blazing fast 90 FPS.
The 4K video quality of the FOCUS 210 is very impressive. This high resolution means that you're getting crystal-clear video with the ability to see more detail than you would otherwise. In comparison to other webcams on the market, the 4K resolution stands out from the rest. Whether you're on a conference call or streaming an instructional video, viewers are assured the highest possible clarity.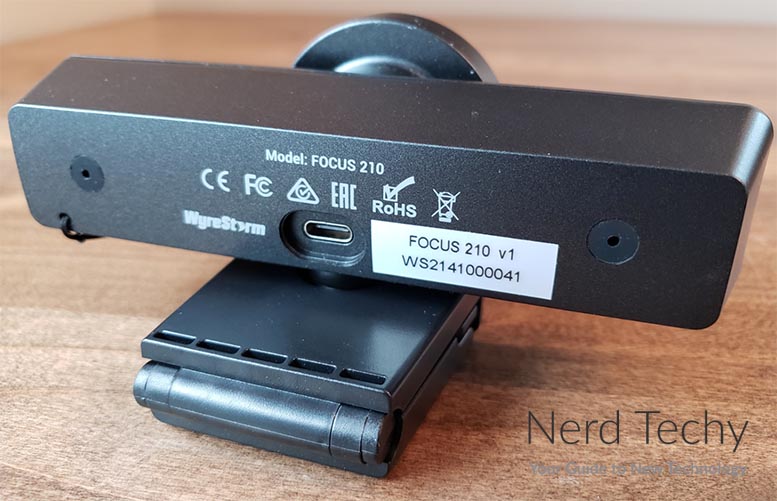 Another alternative to true 4K recording is using the digital zoom. Unlike an optical zoom, digital zoom lowers your effective resolution. So if you zoom in 4 times, you're only getting the equivalent of a 1080p image. It also slightly distorts the image. That said, digital zoom can help you focus in on a smaller area. This is great if you want a tighter shot, or if you want to show off something in your room. Just don't rely on it if you're trying to zoom in on fine details.
The FOCUS 210 does an excellent job of adapting to various light conditions. It supports wide dynamic range (WDR) technology, which allows it to adjust its sensitivity on the fly. This can be hugely helpful even when you lean forwards or backwards in front of the camera. As the light on your face changes intensity, the camera will adjust accordingly. You don't have to worry about your features getting washed out in bright light, or being hidden in shadow.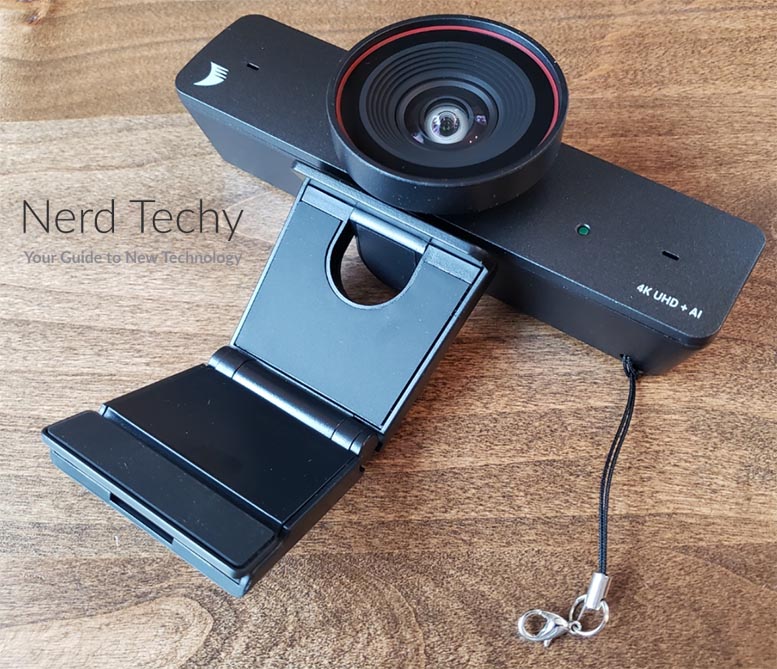 The stereo mics provide great clarity for simple voice recording. If you're on a Zoom call or chatting with your friends, they're all you'll ever need. The stereo effect is nice, and it's great to have the option to record dual-channel audio from a webcam. Best of all, the FOCUS 210 utilizes something called "AI noise-cancellation". It uses the built-in microphones to effectively filter-out background noises that aren't relevant and tend to be more of a distraction. Examples of this are noises from typing on a keyboard, a dog barking in the background, or simply distracting ambient noises that should never be part of your video call.
We found the AI noise-cancellation to be a nice addition to the slew of features that the FOCUS 210 offers. In fact, we were also quite impressed with the webcam's ability to pick-up clear voice from almost 16 feet away. Partially credited to the AI noise-cancelling, people's voices who are in front of the camera always seemed to be clear, vibrant and without any distortion. In scenarios where the subject is within a reasonable distance, the webcam intelligently knew to prioritize voice rather than ambient noises such as the door shutting or someone walking by and making noise.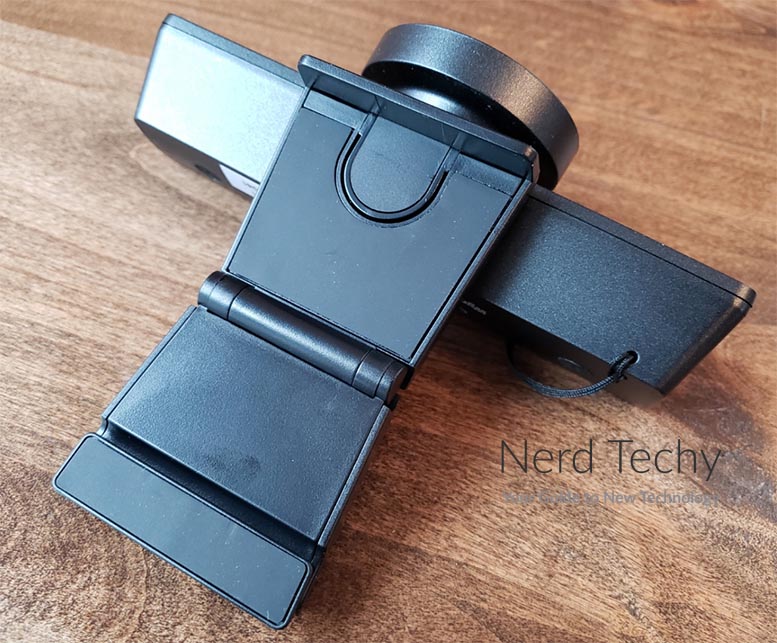 Connectivity and Extras
The FOCUS 210 connects to your computer via USB. There's a USB Type-C port on the back, and a Type-C to Type-A cable in the package. Just plug it into your computer, and you're ready to start recording or webcamming. It's plug-and-play with most popular software, including Skype, Zoom, Google Meet, and Microsoft Teams.
That said, technology is constantly changing, and there's a chance that future changes could make the FOCUS 210 incompatible. What happens then? In the event that a software upgrade causes the camera to stop working, you can download new firmware. On WyreStorm's website, you can download their WyreStorm FOCUS app for free. Once you've installed the app, you can use it to update your drivers and even the camera firmware. This ongoing support ensures that the camera will continue to work for years to come.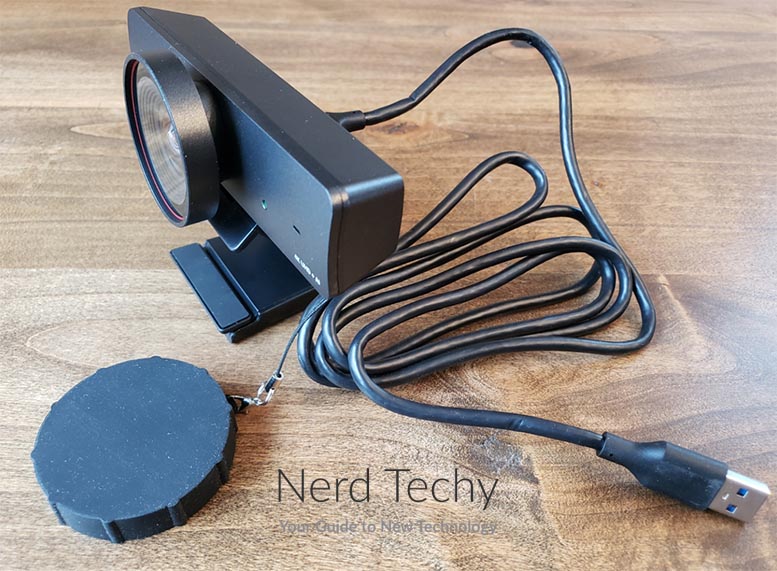 There are also some other benefits to downloading the app. To begin with, you can take advantage of electronic pan, tilt, and zoom (E-PTZ). E-PTZ works a lot like the digital zoom function, in that it's purely electronic, not mechanical. Still, you can pan and tilt the image, in addition to using the zoom function. This is particularly useful if you're streaming in 1080p or 720p, since you'll actually have room for panning. You probably won't use this feature much if you're just using the camera for business. But if you're a streamer, there are many potential applications.
In addition to E-PTZ, the app also supports automatic framing and presenter tracking. This is useful if you're walking around during a presentation, since the camera will follow you. The AI will also compensate for changes in back lighting. This further improves performance under irregular lighting conditions. What's best about this is that there's no need to manually adjust the focus. In fact, when a person comes into frame, the webcam will automatically focus on their face so the subject is clear and coherent. It's ideal for multi-person group meetings and conferences where multiple people may come and go into the field of view.
When we interacted on several video calls, we could immediately notice auto-framing and presenter tracking doing its job. Without any manual interjection, we found the camera to automatically target and focus in on people's faces rather than get confused and randomly focus on other objects in view. Often times, other webcams will have trouble determining the main subjects in frame and will nearly "get lost" and confused when it attempts to auto-focus. This simply isn't the case with the WyreStorm FOCUS 210. Each time we put it to use, it knew exactly who to focus on without becoming disoriented.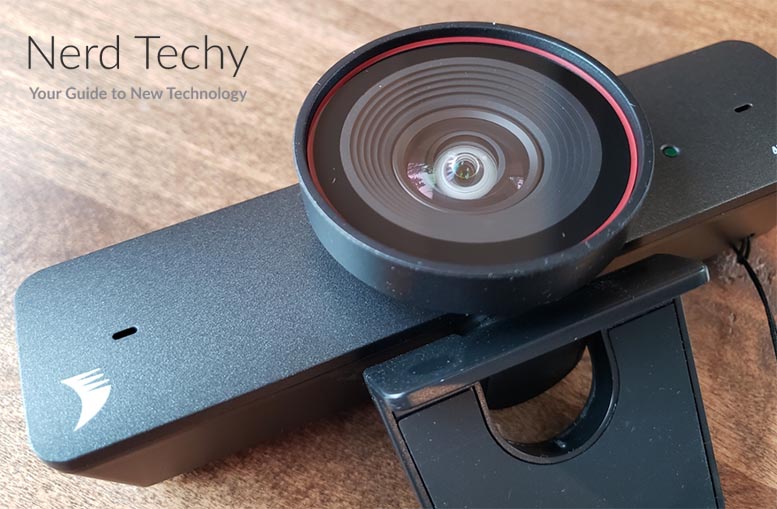 Presenter tracking is a very intuitive way that's worthy of enabling. Once activated, wherever you stand, the webcam will automatically stay focused on your face as you move around. The camera lens will automatically follow your movement in real-time so that your image remains in the center of the view. It's a very useful feature for staying focused on video calls with either one or several people presenting.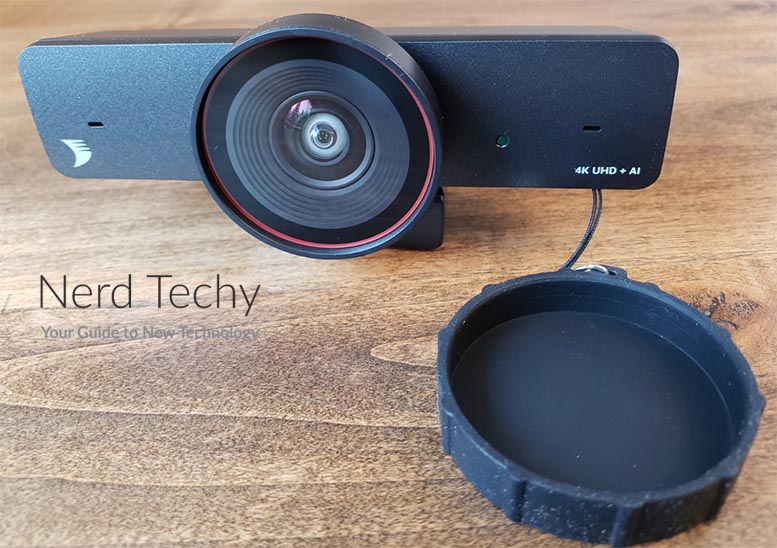 Final Verdict
The WyreStorm FOCUS 210 is a powerful 4K webcam with a lot going for it. Besides the 4K resolution, it comes with a lot of smart features, like presenter tracking and automatic framing. Images are crisp, clear and vivid in color clarity and accuracy. The massive 3,840 x 2,160 pixel resolution is superb; most webcams are not capable of such. That said, we consider this to be a high-end webcam, rather than an entry-level or even mid-tier webcam.
We're big fans of the AI Noise Cancellation feature which works well in busy environments. It's a much appreciated addition that intelligently distinguishes talking subjects and prioritizes their voice above anything else. It might sound a bit gimmicky, but in our testing, this kind of noise cancelling seems to be superior.
We could have done with a smaller design, and the stereo mics don't serve much practical purpose. Still, the housing is well put together, and the base is versatile enough for many applications. For most streaming and video conferencing purposes, you're going to be very pleased with the FOCUS 210; we can confidently say that.