As the last two years have shown us, working from home has its benefits and drawbacks. On the upside, you don't have to go into the office. You also get a lot more flexibility when it comes to caring for your family. If you're raising kids during the pandemic, the ability to work from home has probably been a game saver. On the other hand, working from home can make it harder to communicate. We aren't getting the same face-to-face interactions with our coworkers, which makes misunderstandings easier. For this reason, it's even more important to have the right equipment. This means using a high-quality webcam, and a good headset.
But what makes one headset better than the other? There are a number of things you'll want to consider. One of the most important is ergonomics. If you're going to be wearing a headset for most of the day, you want it to be comfortable to wear. Another major consideration is battery life. Performance is all well and good. But if your headset runs out of batteries in the middle of a call, you're going to have egg on your face. You'll also want a headset where the audio is balanced for the human voice. A lot of headsets are optimized for music, which can actually diminish your voice performance.
Today, we're going to review the eMeet HS100 Bluetooth Headset. This is a big, beefy headset with thick ear padding and a 24-hour battery. It's also optimized for the human voice, and supports a dual Bluetooth connection. But that just scratches the surface of what we're looking at. We need to talk about all aspects of the design, beginning with the physical construction. We'll have to look at the battery charging, and the various connection options. And we'll have to discuss not just the audio quality, but also the quality of the mics. Only after we've considered all of these things will we be able to render a fair judgement. Let's take a look under the hood, and see what we find!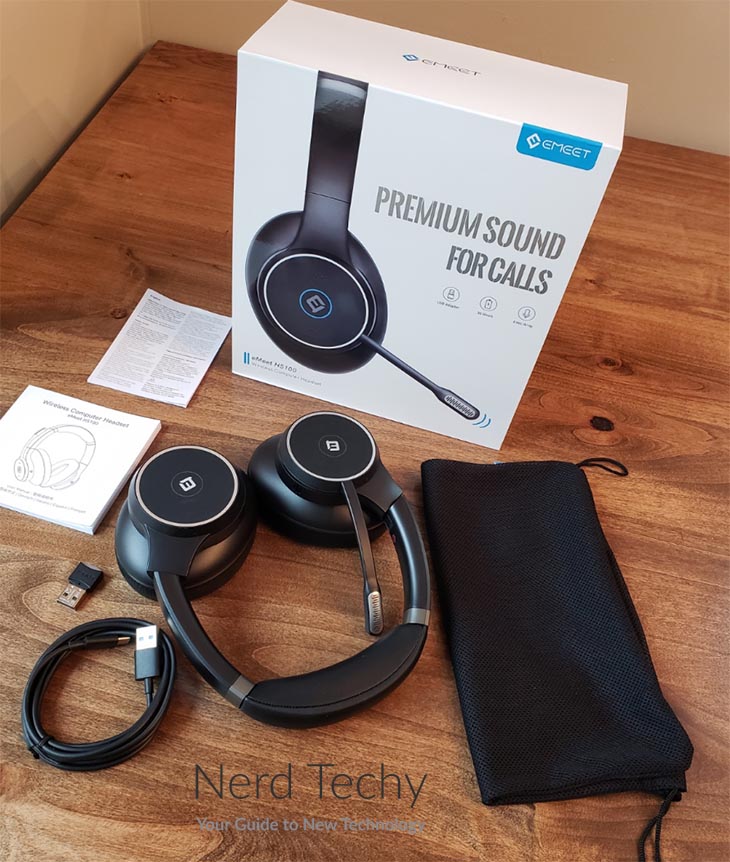 Overall Design
The eMeet HS100 Bluetooth Headset is big and beefy. The head band and ear cups are constructed from black ABS plastic, with a satin finish that doesn't collect fingerprints. In two places across the head band, you'll see a pair of silver rings. These rings mark the extension points, where the band can be pulled out. When you extend the band, you'll see the internal metal strap, which reinforces the plain plastic frame. Between the two silver rings, the main top part of the head band is thickly padded. This soft leather material is nice and thick and won't dig into the top of your head. The entire band has enough flexibility to fit most heads. But even so, it doesn't clamp down and cause discomfort.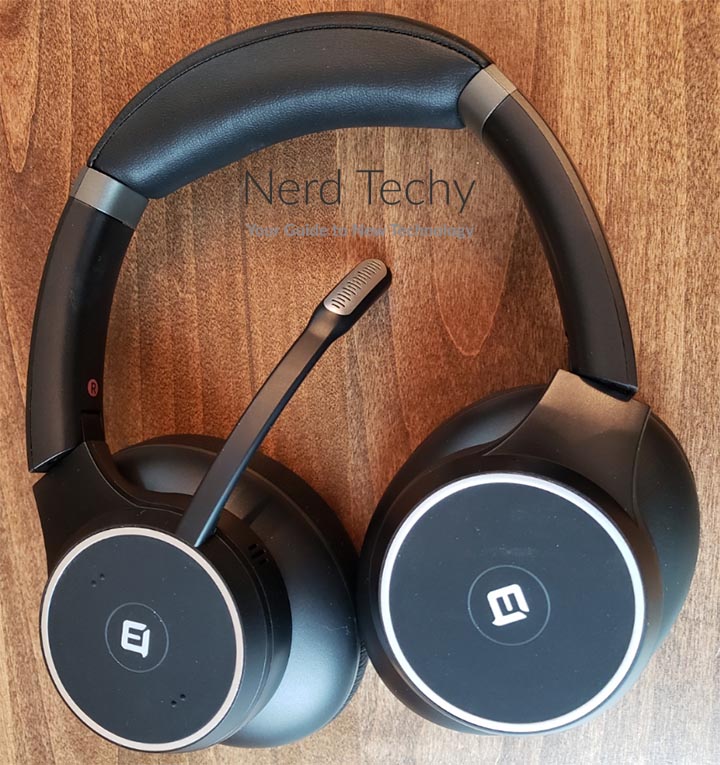 The ear padding is made from memory foam, and is covered with a breathable layer of faux leather. It's exceptionally thick, and big enough around to form a wide cup around your entire ear. Thanks to the extreme thickness, you don't have to worry about pressure points on your face or jaw. The fit is exceptionally comfortable for most head sizes, even if you're wearing the headset for a long time. That said, the sturdy design and copious padding does have a downside. The total weight of this headset is just over 2 pounds, which is decidedly on the heavy side. As a result, it's not going to be a good choice for children.
If you're looking for something a little less bulky, consider the New Bee H362. In addition to being smaller and lighter than the HS100, it also has superior audio quality. On the downside, there's no voice isolation, and you can only connect via a wire.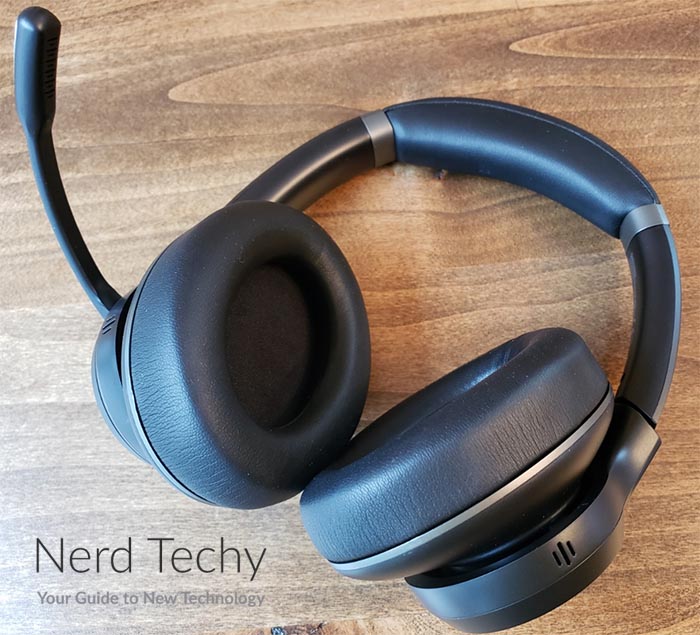 One other benefit of the large ear padding is that it provides an excellent seal against outside noise. If you're working in a loud environment, this can be essential for maintaining focus. In a call center, for example, you can avoid getting distracted by surrounding conversations. And if you're at home, you won't constantly get distracted by appliances, pets, and other people. To be clear, this isn't an active noise cancelling headset. Some background noise is going to bleed through. But you get some of the best passive noise isolation we've heard.
The HS100 ear cups are hinged where they meet the head band. This allows you to pivot them slightly for different head shapes. More broadly, though, it means the headset is totally collapsible for travel. There's even a little cloth drawstring bag included, so you can keep your headset safe during travel.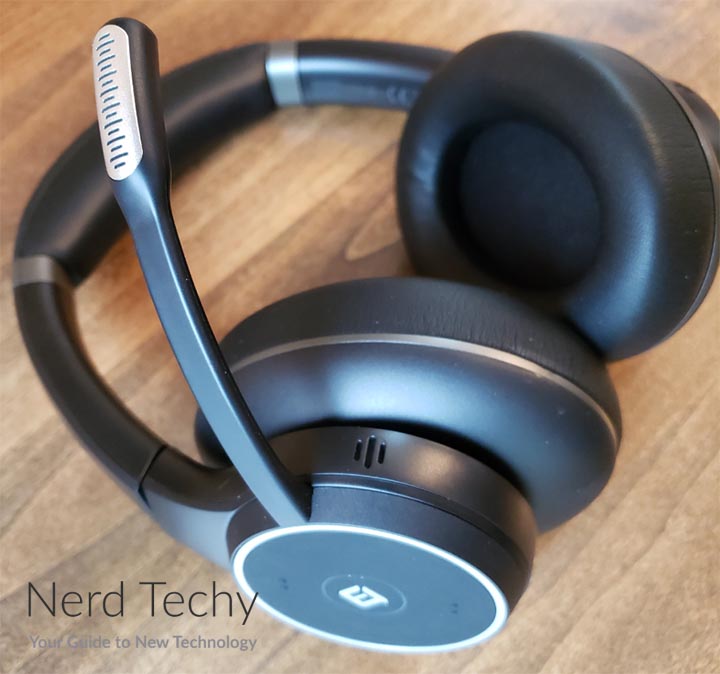 Connected to the right ear cup, there's a boom microphone. It's attached on a rotating ring, and can be swiveled 120 degrees to get the ideal placement. Most of the boom is the same black plastic as the rest of the housing. The mic tip, on the other hand, is silver, with dual mics on both sides. One neat feature we liked was the automatic mute feature. When you flip the boom all the way up, it will instantly cut off the mic. There's actually a similar function for video. When you remove the headset, any video you're watching will automatically pause. When you put the headset back on, the video will automatically resume.
Alternatively, you can mute the headset whenever you want by using the physical controls. On top of the right ear cup, there's a mute button that's easy to activate with your finger. On the bottom side, there's a simple power switch. You'll also find a pair of volume controls, without the need for a wire and in-line fob. On the backside of the right ear cup, there's a blue ring, with a white eMeet logo in the center. This is an additional control, to activate and deactivate transparency mode.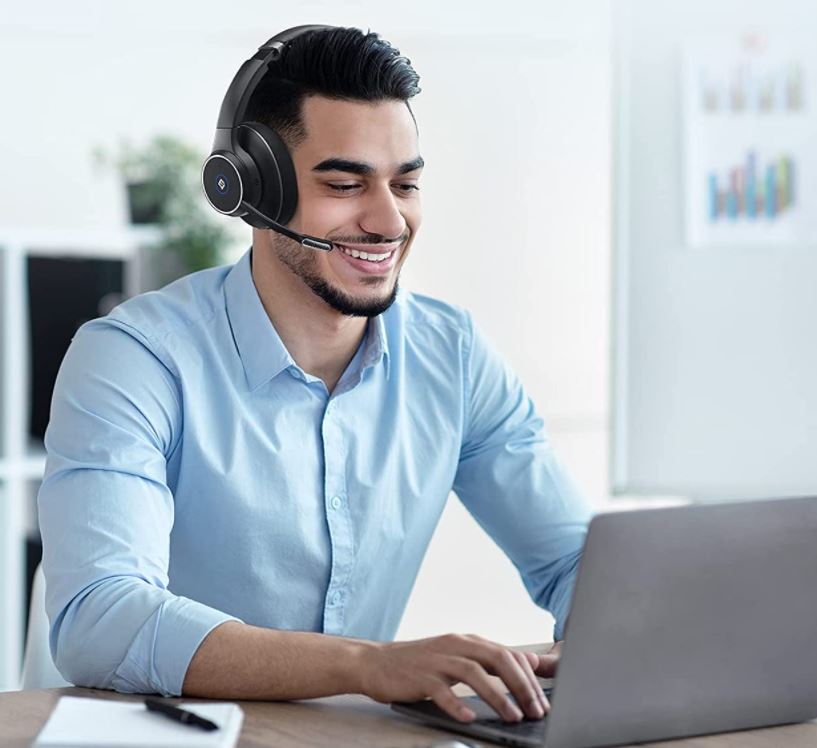 Battery & Connectivity
The HS100's internal battery will last for around 24 hours. As with any audio equipment, this estimate assumes that you're listening at half volume. In the case of this headset, it also depends on some of your other settings. For example, you'll use more power with transparency mode, and less if your mic is muted. Even so, you're looking at an absurd amount of battery life, and probably more than you'll ever need. Not only that, but you can connect via the included USB cable and use your headset indefinitely.
Charging is quick and easy, and utilizes the fast-charging USB Type-C standard. Assuming the battery is fully drained, you can get a full charge in around 2 ½ hours. And with a 15-minute quick charge, you'll have enough juice for 4 hours of use. That's enough to get a significant charge during your lunch break.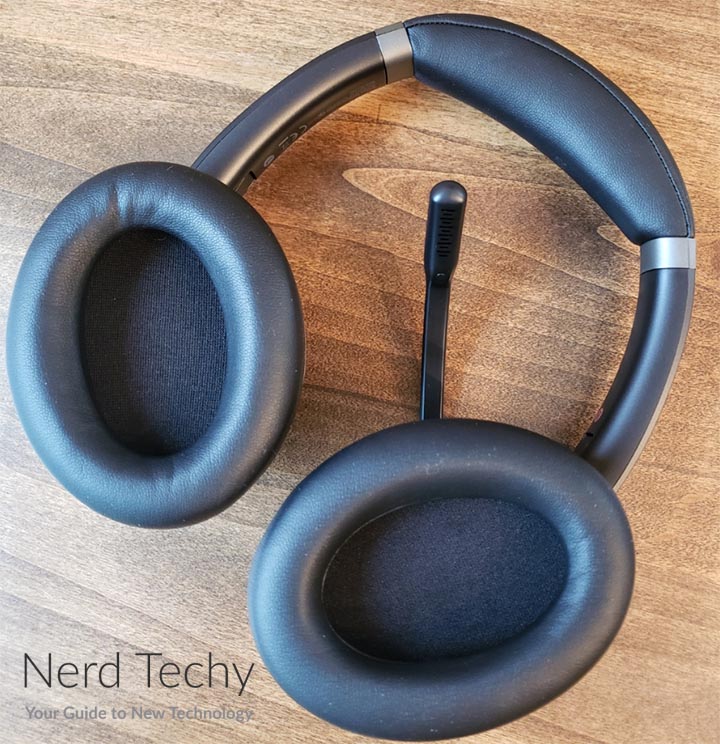 As for connectivity, you've got a few different options. To begin with, you can use Bluetooth 5.0. This is the current Bluetooth standard, and it's lower-latency than Bluetooth 4.2. It also provides a more stable signal, as well as a faster bitrate. With the Bluetooth option, you can connect to two devices at once. For example, you can use Zoom on your PC, but still remain ready to take phone calls. As another alternative, you can use the small USB dongle to make a wireless connection. This is great if your computer doesn't support Bluetooth. And you'll still be able to connect to your phone with Bluetooth. As a last resort, you can always use the USB cable to connect to any USB-capable device.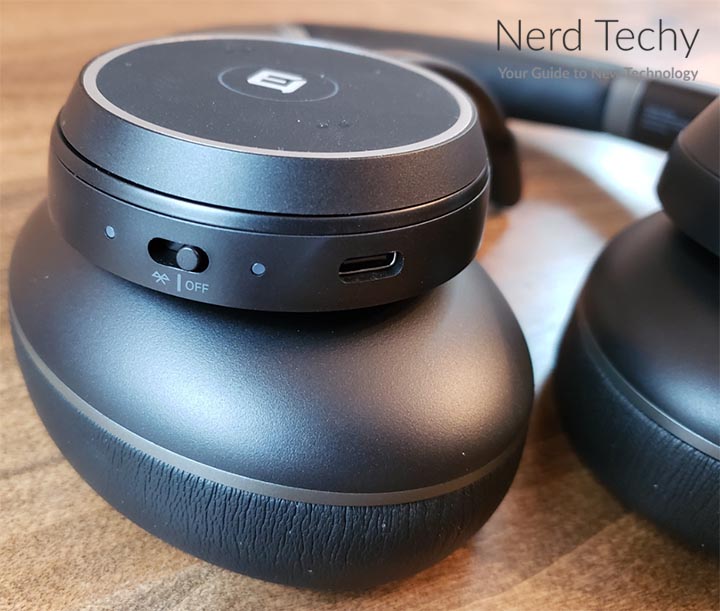 One thing the HS100 doesn't offer is a 3.5mm aux connection. If you're trying to connect to a game system or an older device, the NACON RIG 500 PRO HC is an excellent choice. With its 3.5mm aux connection and in-line controls, it's ideal for gaming. Then again, there's no wireless option.
If you want even more functionality, you can install the free eMeetLink software on your computer. When the software is active, you can get pop-up ow battery alerts, and advanced voice controls. You can also update your headset's firmware via USB, or rename it to something different.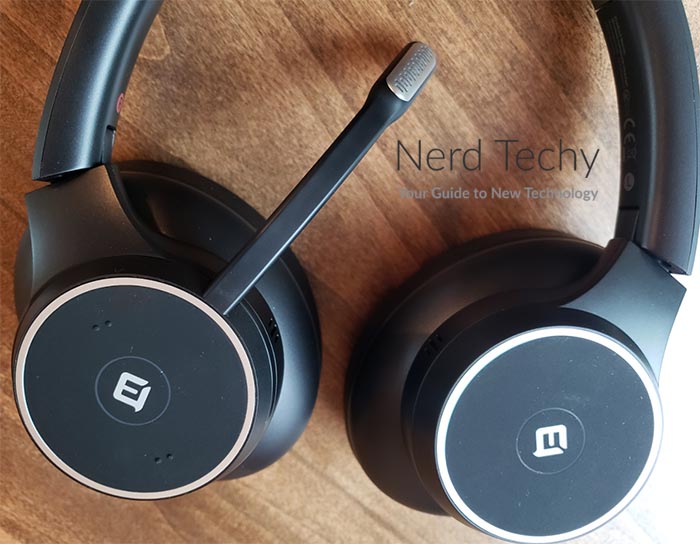 Audio Quality
When it comes to audio quality, we have to remember what we're dealing with. This is a voice headset, not a pair of headphones. As a result, it's optimized for voice, with the middle frequencies getting a bit of a boost. We're not saying it sounds bad for music and videos. It actually sounds pretty good. But if you want rich audio across different frequencies, you'll prefer something that's tailored for music.
In addition, you can take advantage of transparency mode. In this mode, the microphones will actually pass outside noise through to the speakers. This obviously is not good if you're trying to avoid distractions. But if you're multi-tasking, you'll have an easy time keeping tabs on your environment.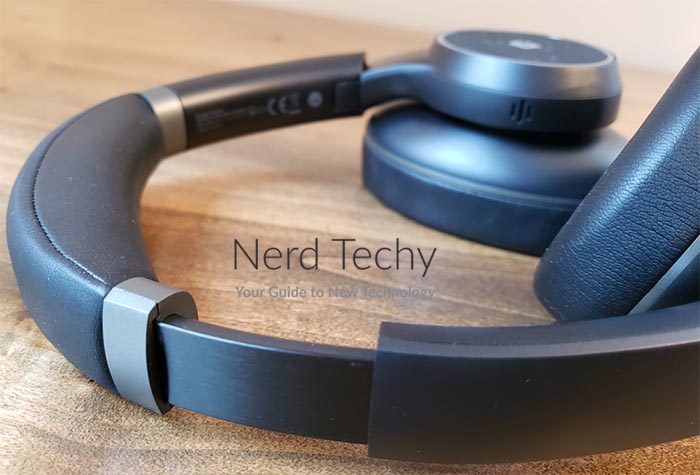 For voice, there's a total of four noise cancelling microphones: two on the boom, and two on the ear cups. These microphones work in concert to pick up your voice, along with any background noise. All of this gets sent to the proprietary internal circuitry, which isolates your voice from the noise. That way, the background noise gets cut out of your actual transmission. This doesn't work quite as well as Qualcomm's CVC technology, but it's reasonably effective.
If you're looking for something for a group conversation, the eMeet Luna is a better choice. It's a simple Bluetooth speakerphone, which is what eMeet is best known for.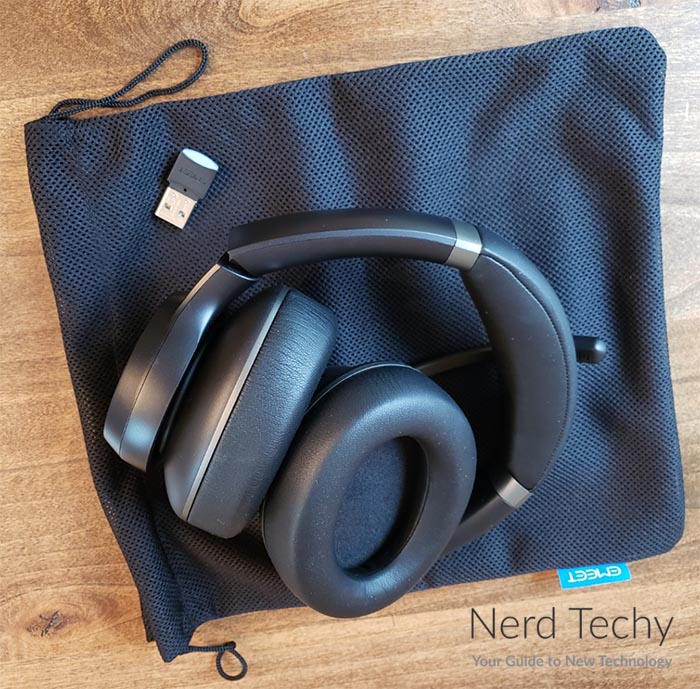 Final Verdict
The eMeet HS100 Bluetooth Headset is one of the most effective professional headsets on today's market. While it's not ideal for music or gaming, it's the perfect choice for communicating with coworkers. With multiple connection options, you can connect to almost any device. And with its thick, ergonomic ear pads, you'll be comfortable even if you're using it all day long. You also get the battery you need to do just that. There's a lot to like about this headset.