There's an old saying that an ounce of prevention is worth a pound of cure. This is especially true when it comes to events that are completely inevitable. And if there's any word that applies to foul weather, it's "inevitable." No matter where you live, there's some kind of disaster that's virtually guaranteed to happen. For example, if you live in most parts of Florida, the question isn't if you'll get hit by a hurricane, but when. The same goes for tornadoes in Oklahoma, crippling heat waves in Arizona, and blizzards in the upper midwest.
If you want to be prepared, it's good to have a NOAA weather radio on hand. But by its very nature, you're liable to be using one of these while the power is out. If you're desperately listening for up-to-date tornado information, the last thing you need is a dead battery. That's why a good NOAA radio should have a hand crank for emergencies. It's also useful to have a solar charger, since you never know how long the power will be out for. We've reviewed a handful of radio options in the past, including shortwave radios. Today, we've decided to try our hand at some weather radios.
We're about to review three of the best NOAA radios on the market today. We'll kick things off with the RunningSnail Emergency Radio. This radio uses an 18650 battery, which is both easy to replace and easy to recharge. Next, we'll look at the FosPower Emergency Portable Radio. This is an exceedingly durable option with a lifetime manufacturer's warranty. Finally, we'll review the Raynic Emergency Radio. The Raynic can run on AC power as well as batteries, so it's also great for fair-weather use. Which one of these NOAA radios was the best of the bunch? Let's dig a little deeper, and find out!
Weather Radio vs. Alert Radio
There's one bit of confusion we should clear up before we continue. NOAA is not a manufacturer. They simply give their seal of approval to radios that meet their specifications. There are actually two different types of NOAA weather radio: weather radios and alert radios. Both of them will receive on all NOAA bands, and will pick up local NOAA warnings. Most will work with Specific Area Message Encoding (SAME) technology. SAME is a system that encodes alerts for specific locations.
Some radios can use SAME technology to create personal alerts for you. These are generally referred to as "alert radios," and will play any local warnings, even with the power turned off. The options we're looking at today are not alert radios. They're designed for monitoring obvious threats, or for listening for relief after a disaster strikes. The focus is on light weight, solar charging, hand cranks, and other disaster recovery-type features. If you want better communication after a disaster, a HAM radio and the necessary power supply can also be clutch.
Types of NOAA Alerts
So, what type of information might you expect to receive on a NOAA weather radio? The answer is more than just weather. In fact, NOAA radios receive signals not just from the National Weather Service, but also the Emergency Alert System (EAS). EAS warnings cover a variety of warnings and advisories, not just weather-related events. The EAS also broadcasts AMBER alerts, silver alerts, and alerts about other major disasters. If you live near a nuclear power plant or inside an earthquake zone, you can expect plenty of relevant information.
Needless to say, any alert from your weather radio should be taken seriously. But not all alerts have the same gravity. Here's a breakdown of different alert types:
An advisory is the least serious type of alert. It's not meant to warn of life-threatening situations or other serious danger. Instead, an advisory will be issued when there's "nuisance" weather in the area. Light snow, fog, and other conditions that require caution will fall into this category. If conditions worsen, an advisory may be upgraded to a warning. So a high wind advisory ahead of a line of storms can become a tornado warning, for example.
A watch is issued when there is a high risk of weather that endangers the public, but details are scarce. For instance, the National Weather Service may know hours in advance that a line of thunderstorms is approaching. This line of storms may have all the characteristics needed to produce tornadoes. However, without more information on local conditions, it's impossible to say more. For this reason, watches typically cover a broad geographic area and a wide period of time. A severe weather watch doesn't mean that you need to seek shelter immediately. It does mean that you should remain alert and prepared for whatever may happen.
When you receive a warning, it's time to take action. Warnings are issued only when there's an event that poses a severe danger to the public. A warning is also only issued when the event is imminent. You'll rarely see a warning more than about two hours ahead of whatever is being predicted. Because they're more severe and more precise, warnings typically cover a smaller geographic area than watches. If you receive a warning, drop what you're doing and respond to the danger. Even if skies are clear right now, a warning is no joke.
Emergency alerts are sent out for conditions that are not themselves dangerous, but can cause danger. A major power outage, for instance, is just an inconvenience for most people. But if you have a CPAP machine, you need power to live. AMBER alerts, silver alerts, and other public health and safety messages fall into this category.
Statements are a special type of alert that's issued following an advisory, warning, watch, or emergency alert. Typically, they're sent out when a watch or warning is no longer in effect.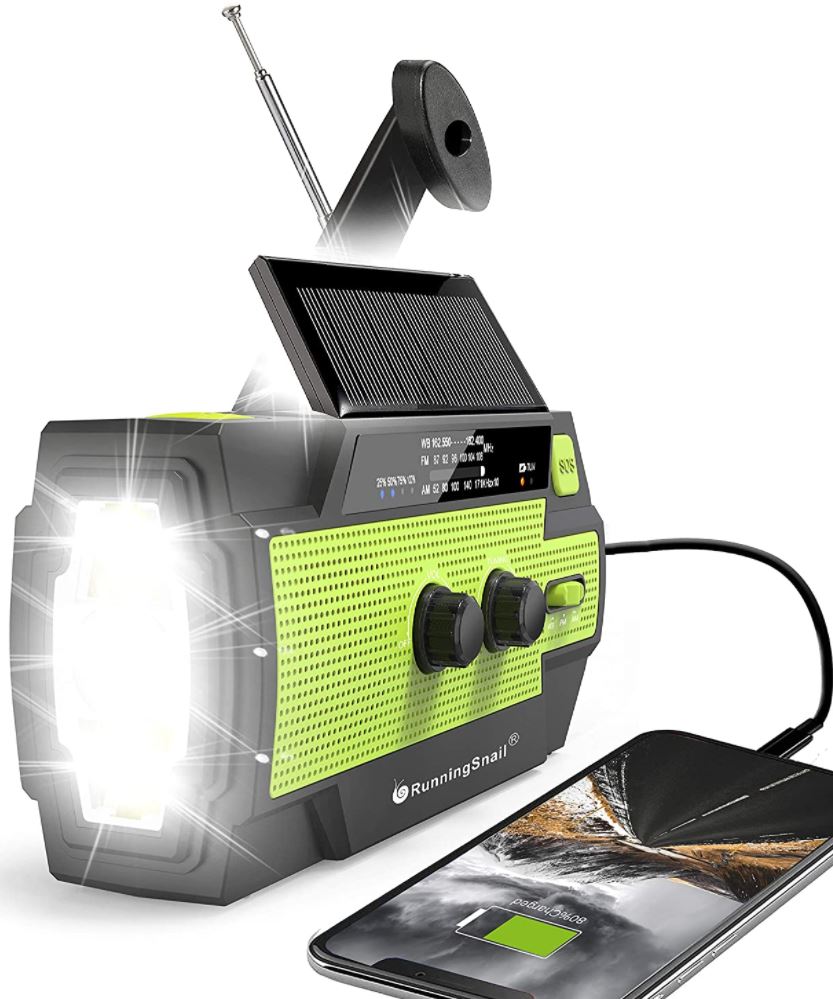 RunningSnail Emergency Radio
The RunningSnail Emergency Radio is a compact radio that's designed to be easily carried. It measures 6.3 inches wide, 3.19 inches tall, and 2.48 inches thick, and weighs less than a pound. As a result, it's very easy to transport. You can keep it in a duffel bag or with your emergency supplies, and it won't take up a ton of space. The housing is charcoal grey, but the large front speaker grille is high-visibility yellow. This makes it easy to spot in a cluttered basement or other dimly-lit area.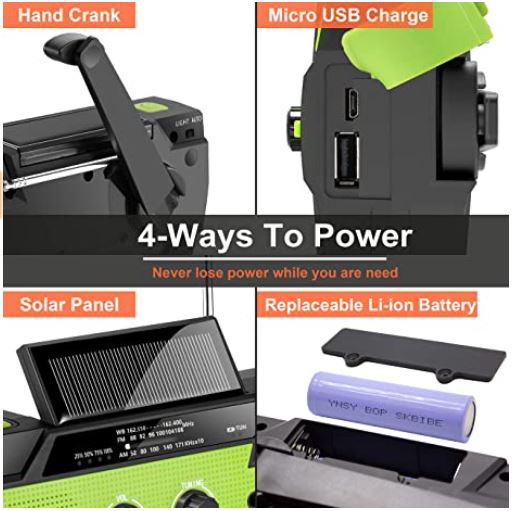 The battery is a rechargeable 18650, which can also be replaced easily. You can charge the radio in three ways: Micro USB, solar, or via the hand crank. The solar power panel on top is necessarily small, so the solar charge is very slow. In this mode, you'll basically need to leave the radio out all day. That said, you can always crank it for an extra boost. The whole unit is also protected by an 18-month warranty.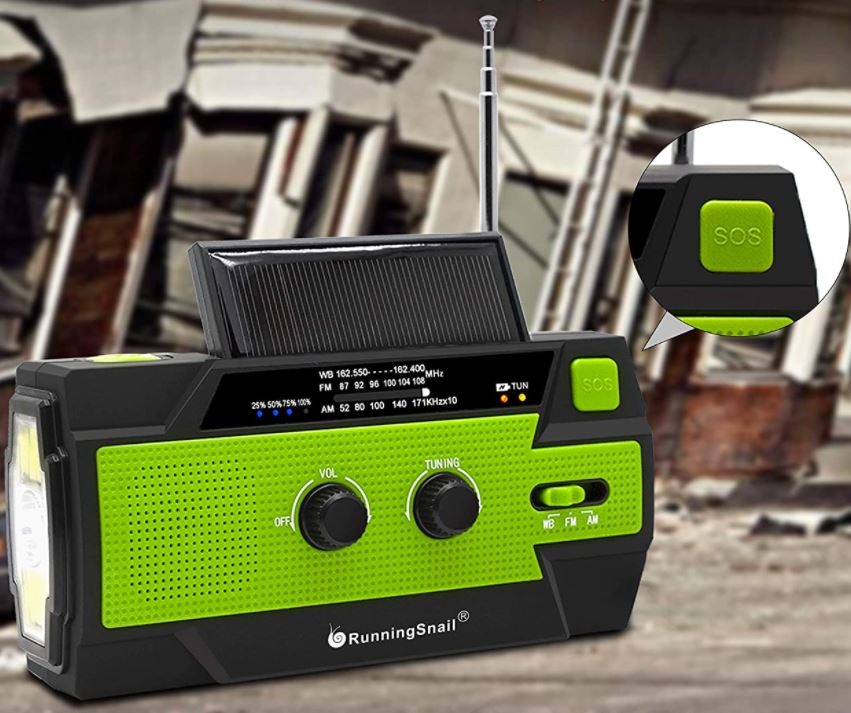 Radio Features
In addition to seven NOAA stations, the RunningSnail radio can also be tuned to ordinary AM and FM stations. Not only that, but it doesn't just function as an emergency radio. It can also be used as a power bank. Be careful, though. The 4,000mAh battery will only charge a modern smartphone a little more than one full cycle. Unless you want to totally drain the radio battery, you should use this feature sparingly.
The built-in flashlight has three different modes. In addition to full brightness, it can be dimmed and used as a reading light. It can also be used as an emergency signal by pressing the large SOS button. Finally, you can activate the motion sensor and use it as a night light. That way, it will trigger when you get out of bed, but remain off otherwise. Keep in mind that leaving the radio in motion sensor mode will slowly drain the battery.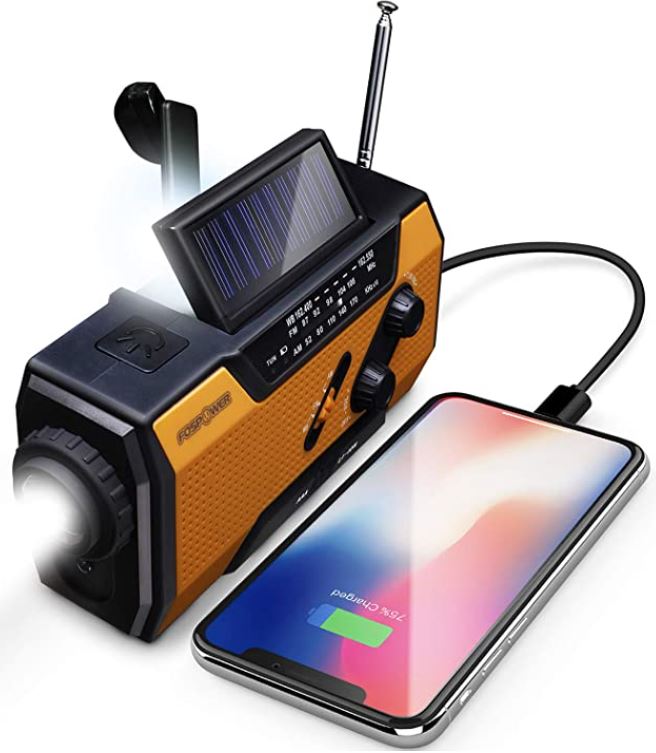 FosPower Emergency Portable Radio
The FosPower Emergency Portable Radio is similar in size to the RunningSnail radio, albeit about half an inch shorter. It's also correspondingly lighter, at 10.9 ounces. That said, it's exceedingly durable, with a tough black housing and construction orange speaker covers. It's IPX3 water-resistant, which means it's splash-proof, if not fully waterproof. Better yet, it's protected by a lifetime manufacturer's warranty.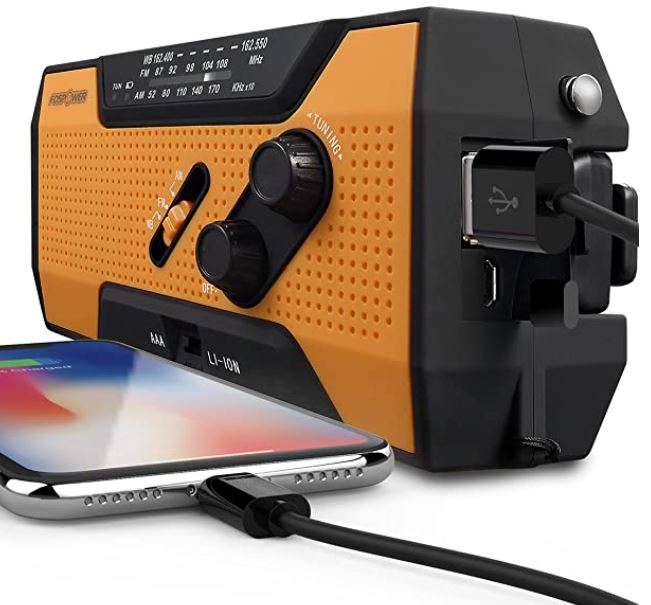 The internal battery pack recharges via Micro USB under normal conditions. Under more extreme conditions, it can also be charged via the crank or the small solar panel. In addition, you can install a set of AAA batteries. Normally, we wouldn't be too excited about a radio that can run on ordinary batteries. But in an emergency, we're stoked to have as many options as possible!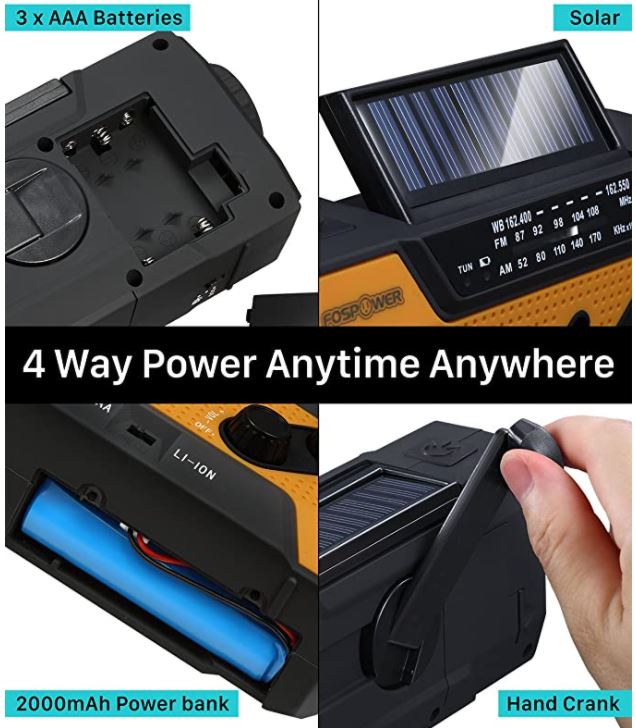 Radio Features
The FosPower radio offers many of the same features as the RunningSnail. It has a flashlight that can be either very bright or a simple dim reading light. The flashlight can also be set to SOS mode to signal for help. The battery pack can also double as a power bank. However, the total charge is only 2,000mAh, half of the RunningSnail's. It's also far less than the average smartphone battery. In other words, you can get off a few emergency texts or call for help, but that's about it.
In terms of actual radio performance, you get the same options as most other NOAA radios. In addition to emergency bands, you also get ordinary AM and FM stations. These can help for more mundane, everyday purposes, like checking your local traffic report.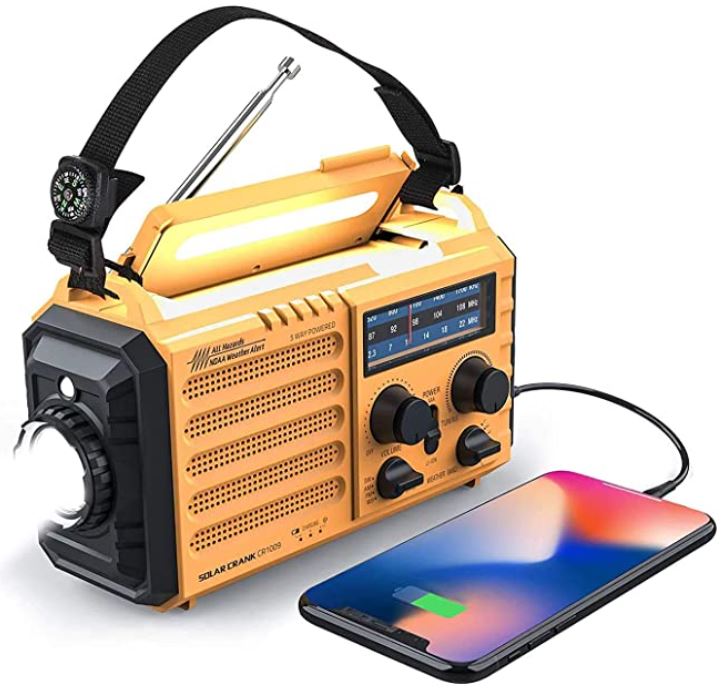 Raynic Emergency Radio
The Raynic Emergency Radio is a bit beefier than our last two options. It's 7.5 inches long, 4.7 inches high, and 3.5 deep. It also weighs in at over a pound, so it's nice and sturdy. Not only that, but the housing is IPX3-rated for water-resistance. It's not fully waterproof, but some splashing or rain splatter is not going to damage anything.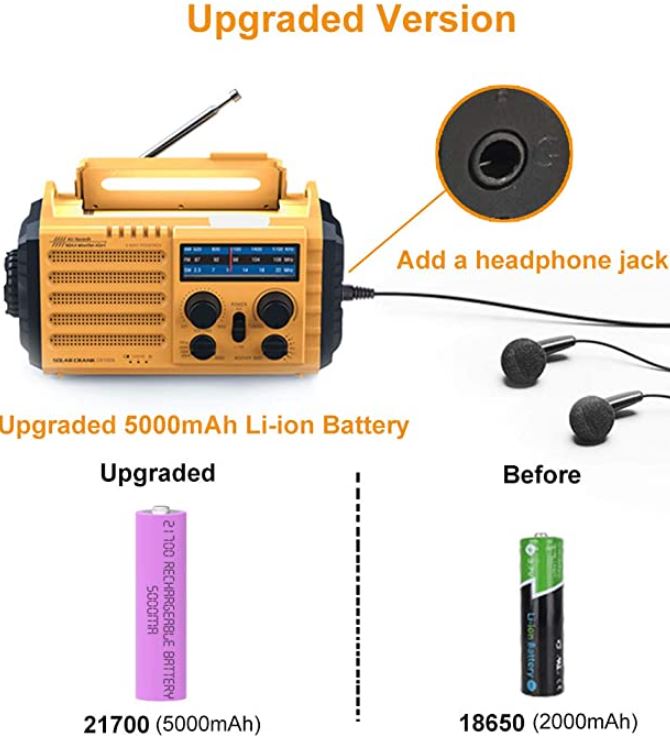 This radio has an internal battery pack, which can be recharged via solar panel, hand crank, or Micro USB. It can also run on simple AC power. If you'd rather not drain your radio battery at all, you can simply leave it plugged in. As long as the power is active, it will continue to function. When the power goes out, it will automatically switch to the battery. As an additional option, you can also use three AAA batteries, much like with the FosPower radio. With all these options, we'd be shocked if you ever need to resort to the hand crank.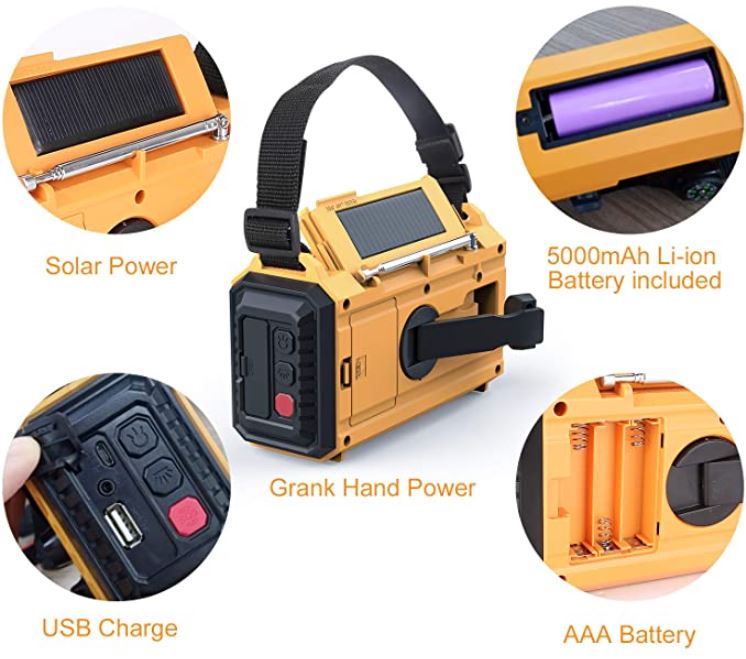 Radio Features
The Raynic Emergency Radio boasts a built-in flashlight with three modes. It works as a bright spotlight or as a dim reading light. It can also be used as an emergency signal when you press the SOS button. In addition, the 5,000mAh battery is exceptionally powerful. When used as a power bank, it can easily charge any smartphone on the market.
Final Verdict
In terms of pure radio performance, these three radios are roughly equivalent. They all allow you to listen on NOAA, AM, and FM bands. Beyond that, though, there are a few key differences. The RunningSnail Emergency Radio offers the best battery performance. The 18650 cell is easy to recharge and replace, and doubles as an emergency power bank.
The FosPower Emergency Portable Radio is a little bit different. It's the smallest radio of the bunch, with the most durable housing. The lifetime manufacturer's warranty offers a lot of reassurance in that regard. That said, its battery pack is fairly small. If you need to use the power bank function, you'll likely be disappointed.
The Raynic Emergency Radio is king in terms of both power supply and charging options. The 5,000mAh battery is exceedingly powerful, and lasts a long time before needing to be charged. You can even run the radio on AC power for convenience during non-emergency times. That said, it's noticeably larger and heavier than the other NOAA weather radios we looked at.
Meet Derek, "TechGuru," a 34-year-old technology enthusiast with a deep passion for tech innovations. With extensive experience, he specializes in gaming hardware and software, and has expertise in gadgets, custom PCs, and audio.
Besides writing about tech and reviewing new products, Derek enjoys traveling, hiking, and photography. Committed to keeping up with the latest industry trends, he aims to guide readers in making informed tech decisions.