Key Takeaways:
Shortwave radios might sound like something you'll never need to use. But they can be a crucial tool in times of emergency.
When local broadcasts are all out, you can still pick up signals from further away. This can at least help you get some idea of when the power will come back on.
Shortwave radios can also be useful in the wilderness. If you're way out in the middle of nowhere, there's not going to be an ordinary terrestrial radio signal.
Without radio or cell service, shortwave radio can provide weather reports and other crucial information. Besides which, you can pick up broadcasts from all over the world. Switching from channel to channel can be a lot of fun!
#1 – C. Crane CC Skywave SSB 2 Portable Shortwave Radio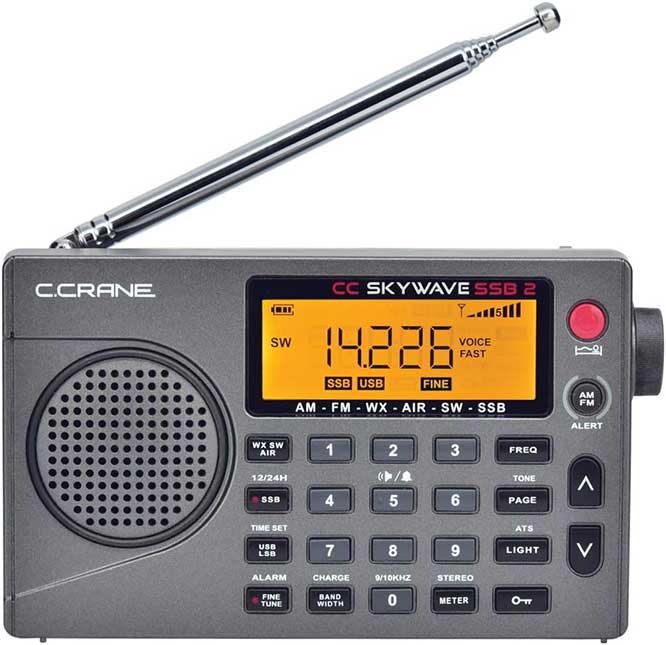 Key features:
2.3-26.1MHz frequency range.
Rotary and push button control options.
400-frequency memory bank.
Also functions as an AM/FM radio with VHF support.
Folding kickstand.
The C. Crane CC Skywave SSB 2 is a compact radio that's designed to provide good performance at a reasonable price. It has a basic AM/FM function in addition to shortwave. And in shortwave mode, you'll get reasonably wide frequency support, from 2.3MHz to 26.1MHz. It can even scan 30 different VHF aviation bands.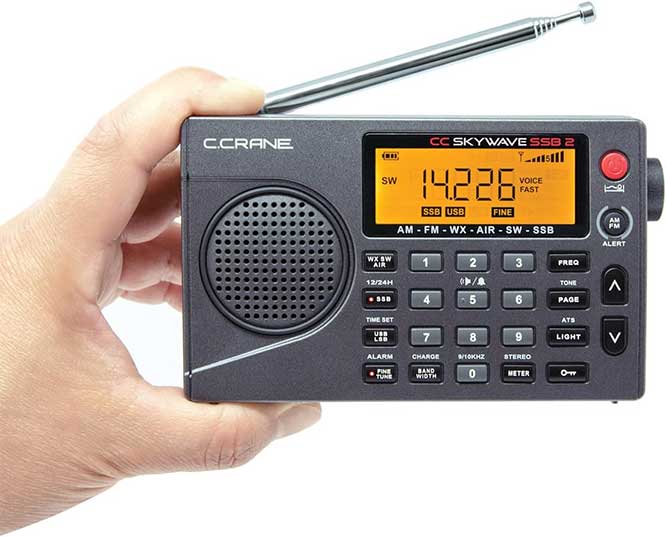 The housing is constructed from black plastic, with a large tuning knob on the top right. Just beneath it, you'll find a smaller volume dial. The current channel is displayed on a large orange LCD display on the front of the housing. If you don't want to mess around with the knob, you can punch in the exact frequency on the built-in keypad. Our only minor complaint is that the LCD backlight is a traditional bulb, not an LED.
On the back of the frame, you'll find a little kickstand. This kickstand supports the radio at an angle so it's easy to view the display. You can listen via the on-board speaker, or plug a pair of headphones into the 3.5mm aux jack.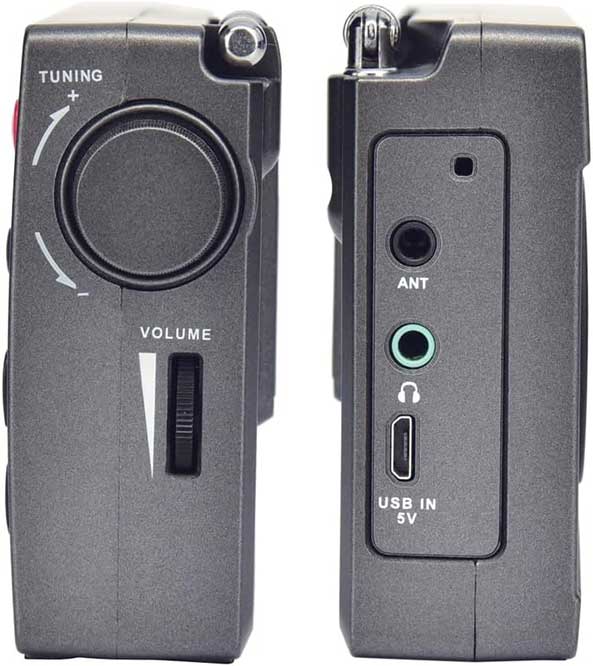 The on-board memory function allows you to pre-program 400 different frequencies. That's more than most people will ever need. You can also use the radio as an alarm or set a sleep timer when you go to bed.
There are two ways to operate the CC Skywave. First, there's a an AC/DC adapter with a barrel-style plug. That's great for around the house, but not for portability. It also won't help you when the power goes out.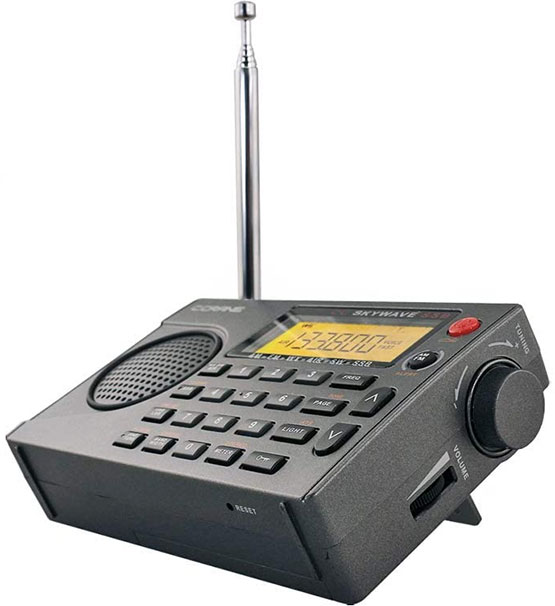 The best way to use this radio is to use a pair of AA batteries. These batteries will provide around 60 hours of listening time before requiring a replacement. As with any battery-powered device, this will largely depend on how you use it. Listen through the speaker on maximum volume, and your performance will suffer. Listen through earbuds on a lower volume, and the batteries will last longer.
#2 – Eton Elite Executive Portable Shortwave Radio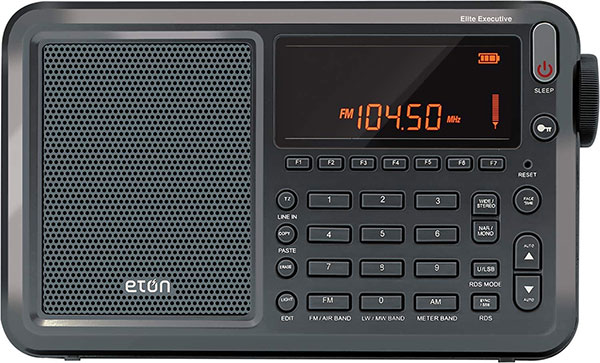 Key features:
Up to 137MHz frequency range.
Rotary and push button control options.
Doubles as an AM/FM and VHF aircraft radio.
The Eton Elite Executive is constructed from a sturdy matte black plastic. It's rectangular in shape, much like the C. Crane radio. However, it's a bit larger. It measures 13.11 inches wide, 7.4 inches tall, and 2.6 inches thick. On the right side is a tuning dial, with the volume dial underneath. The radio comes with a stitched leather case with a smooth, glossy finish. The case even has a little oval cutout at the top right, where the power button can peek out.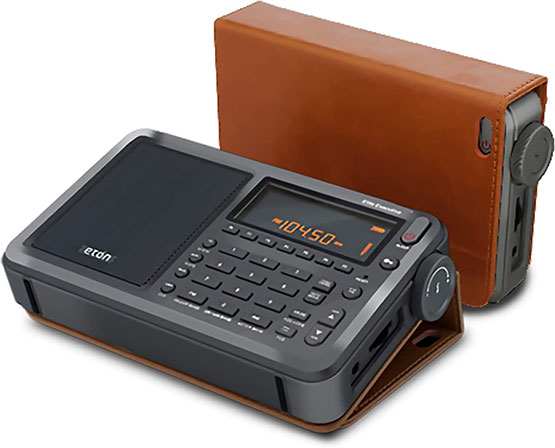 The left half of the housing is occupied by the speaker. To the right, there's an amber LED display at the top. This shows the frequency you're tuned into, as well as your battery level and signal strength. Beneath the display, there's a digital keypad that lets you tune to a precise frequency.
You can tune not just to shortwave radio, but also to AM, FM, VHF aircraft, and Single Sideband (SSB). These signals range from a 520kHz AM signal all the way up to a 137MHz aircraft band. This gives you access to anything but ultra wide-band signals. You can also take advantage of 900 memory settings. That's a big number, but it can come in handy if you're planning for multiple contingencies.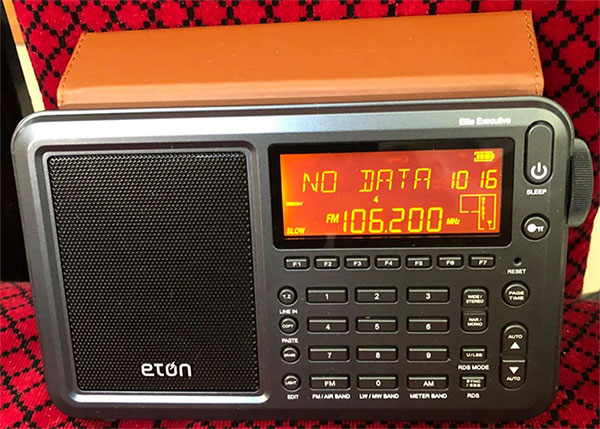 In addition to functioning as a radio, you can set up an alarm, or program a buzzer alarm. There's even a world time clock, which can come in handy. If the radio station tells you what time it is, you'll at least no what time zone they're broadcasting from.
The Elite Executive can run on AC power or battery power. It accepts four AA batteries, which provide around 96 hours of listening time. That said, this radio draws a ton of standby power. Even when it's turned off, the batteries will be dead in three weeks or less. We'd recommend leaving the batteries out until you actually use the radio.
#3 – Eton Elite 750 Portable Shortwave Radio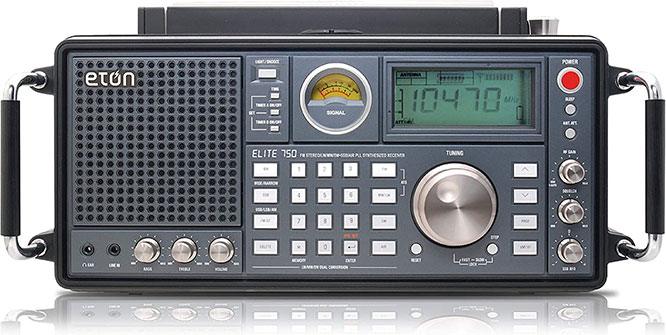 Key features:
520kHz-30,000MHz, 117MHz-137MHz frequency range.
Can connect to an external speaker.
Also works on AM, FM, SSB, VHF aircraft, and longwave bands.
The Eton Elite 750 is as tough as a radio can get and still be portable. It measures 14.65 inches wide, 7.25 inches tall, and 5.75 inches thick. It's also made of metal rather than plastic, which helps increase the weight to 7.1 pounds. It's still not too hard to carry around, though. A pair of built-in handles on both sides make it very easy to manipulate.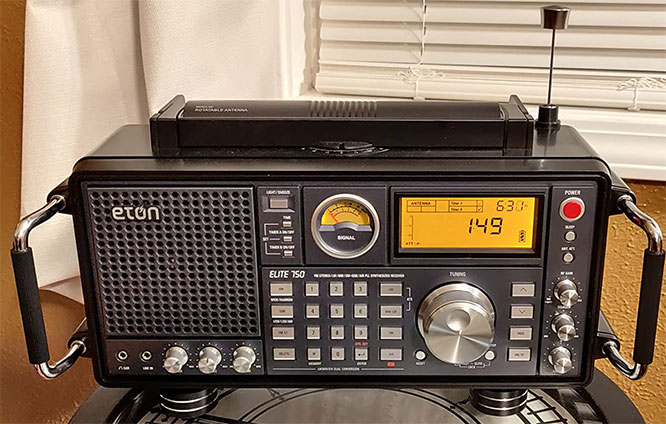 All of the controls are located on the front panel. At the top right is the LCD display, which shows a variety of data. You'll see your current frequency, battery level, and signal strength. You'll even see which of your antennas you're using. Just to the left of the display is another signal strength meter. This is an old school circular meter with a needle that pivots from side to side.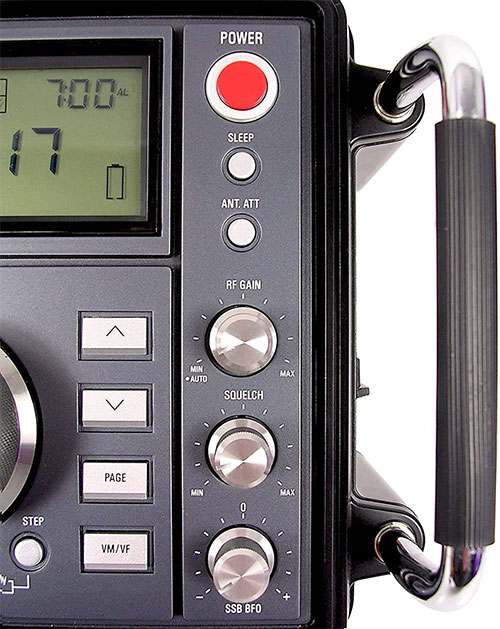 The controls are pretty straightforward. You can tune with a large dial beneath the display, or use the rubber buttons to the left. At the right are a set of dials for RF gain and other functions. If you're a shortwave radio power user, you'll have all the controls you were hoping for.
There's a built-in speaker to the left, with EQ and volume dials underneath. In the same area, you'll find a 3.5mm aux port for connecting your headphones. You can also connect a 3.5mm line in cable to provide audio from another source, such as a smartphone. If that's not enough, you can output your audio signal to a larger set of speakers. There's an RCA jack on the back that will work with most modern systems. On the right of the housing is a pair of traditional black and red tab-style connectors. You'll find a pair of shortwave and FM antennas in the same general area, along with a selector switch.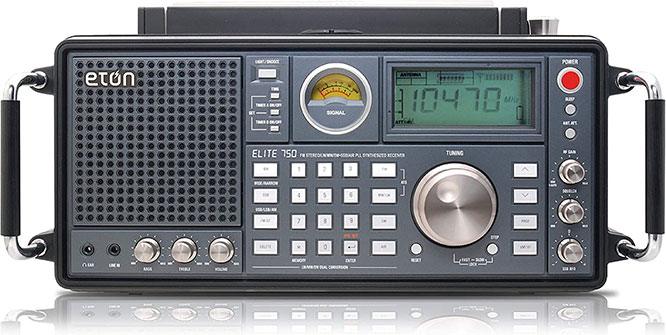 The total frequency range is 520kHz to 30,000MHz, with an additional band from 117MHz to 137MHz. This allows you to tune in to AM, FM, longwave, shortwave, SSB, and VHF aircraft signals. The AM antenna is built into the top of the housing, and can be rotated 360 degrees to optimize reception. You can store up to 1,000 channels in memory, which is a truly insane number.
The Elite 750 is expensive, but it's well worth the investment if you want a top-quality shortwave radio. It even comes with the same alarm functions and world time clock as the Elite Executive.
Power is supplied by a set of four D-cell batteries. These provide enough standby power to last for months or more. In active use, you can expect around 150 hours of listening time. You can also plug into an AC power outlet if one is available.
#4 – Tecsun Digital PL330 Portable Shortwave Radio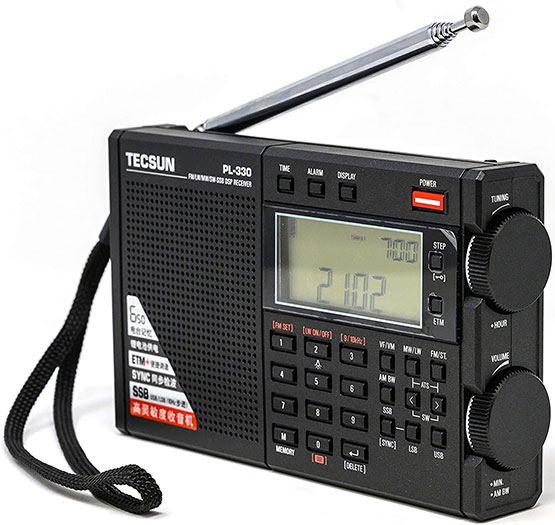 Key features:
520kHz-108MHz frequency range.
High-quality speaker.
Includes a soft carrying case.
The Tecsun Digital PL330 has a black plastic housing with tuning and volume dials on the right. You'll find an LCD display on the front, along with manual control buttons. At the top left is a telescoping antenna, or you can attach a 3.5mm mono antenna plug.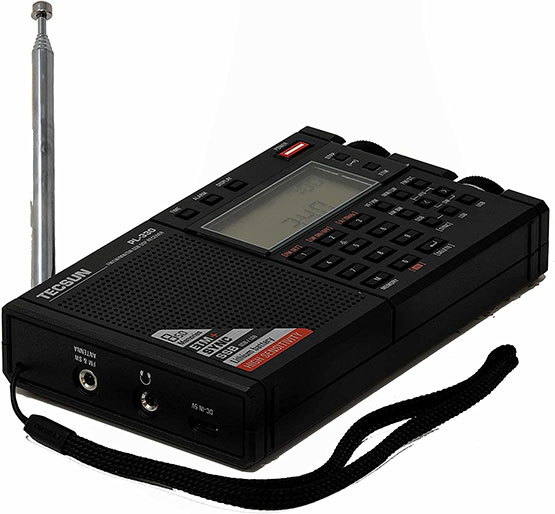 The frequency range runs from 153kHz longwave radio up to 29,999MHz shortwave radio. This includes AM and FM frequencies, and you can store up to 850 stations in memory.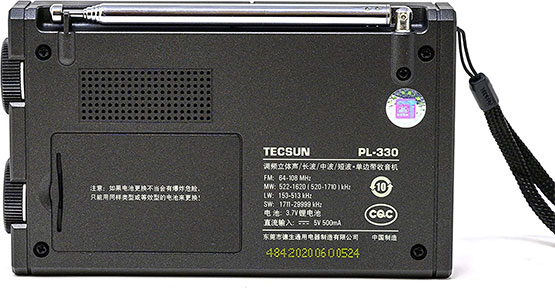 The most impressive part of this radio is the 250mW speaker. It delivers far better audio than we expected, although you can always plug in some earbuds for quiet listening. There's even a set of earbuds included in the package, along with a padded zipper case.
The Digital PL330 runs on an internal 1,000mAh battery. It will run for several hours, and can charge from any Micro USB power supply.
#5 – Greadio Portable Shortwave Radio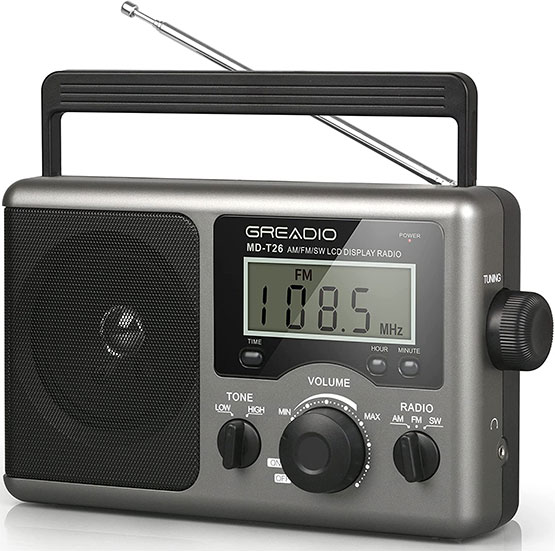 Key features:
520kHz-18,000MHz frequency range.
Telescoping handle.
Doubles as an AM/FM radio.
The Greadio Portable Shortwave Radio is an affordable option with a black plastic housing. It weighs just 1.68 pounds, and has a telescoping handle that makes it very easy to carry.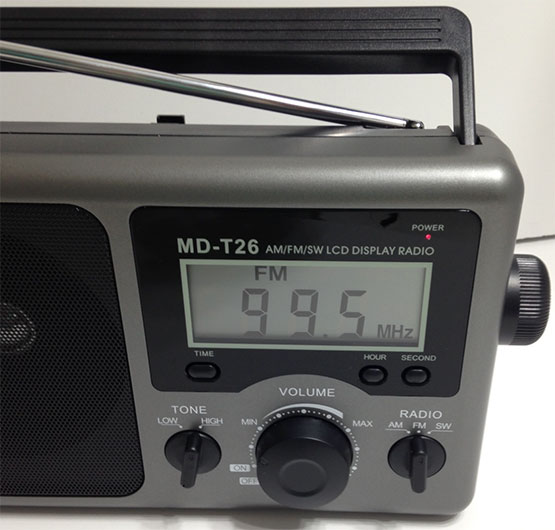 On the side is a tuning dial, with a volume dial on the front. Unlike our other options, there are no push buttons, but the display is easy to read. The speaker occupies the left side of the housing, and the Aux jack is on the right side.
The frequency range stretches from 520kHz AM stations to 18,000MHz shortwave stations. There are no memory stations. Then again, you're not spending much, and you get a 12-year manufacturer's warranty.
Power is supplied by a set of four D-cell batteries, which can run for days. Or you can use the AC power adapter, which is included in the package.
Portable Shortwave Radio FAQs
What is a portable shortwave radio?
A portable shortwave radio is a receiver that can pick up transmissions on the shortwave band of the radio spectrum, usually from 1.6 to 30 MHz, which allows for long-distance reception.
Why do people still use shortwave radios?
Despite technological advancements, shortwave radios remain relevant for remote communication, emergency information, international broadcasting, and for enthusiasts enjoying the hobby of DXing (long-distance reception).
How far can a portable shortwave radio receive signals?
A portable shortwave radio can typically receive signals from thousands of miles away, depending on atmospheric conditions, the power of the transmitter, antenna setup, and frequency used.
What features should I look for in a portable shortwave radio?
Key features to consider include frequency coverage, sensitivity, selectivity, tuning steps, memory presets, digital display, and battery life. Additional features may include Single Side Band (SSB) reception, digital signal processing (DSP), and built-in alarms.
Do I need a license to listen to shortwave radio?
Generally, no license is required just to listen to shortwave radio broadcasts. However, transmitting on shortwave frequencies typically requires a license.
Can I use a portable shortwave radio for emergency preparedness?
Yes, shortwave radios are valuable in emergencies for receiving news and information, especially when local broadcasts are unavailable or when other communication infrastructures fail.
How does weather affect shortwave radio reception?
Weather conditions, especially solar activity, can significantly affect signal clarity and reception range. Generally, nighttime and overcast conditions are better for shortwave reception.
What is SSB, and why is it important for shortwave radios?
SSB stands for Single Side Band, which is a more efficient mode of transmission for voice and data that utilizes less bandwidth and is less susceptible to noise, making it important for clear long-distance communication.
Final Verdict
As you can see, these are all great options for portable shortwave radios. But which one will be the right fit for your needs? Here's what we've learned today.
We started out with the C. Crane CC Skywave SSB 2. This is a great choice if you want plenty of features but don't want to spend a fortune. It's a solid, middle-of-the-road shortwave radio with good performance across an ample frequency band. It's easy to operate, with both dial and push-button controls. And it's small enough to take with you anywhere you travel.
Next, we reviewed the Eton Elite Executive. This radio offers many similar capabilities, but supports a wider frequency range. We particularly liked the luxury leather case, which also protects the radio from damage. The short standby time is annoying. But other than that, we were impressed with the features and performance.
After that, we checked out the Eton Elite 750. This is a premium shortwave radio that comes at a premium price. It's not the best choice for everybody. But if you're an enthusiast who wants a full suite of features, you'll be very pleased.
Fourth on our list was the Tecsun Digital PL330. It offers far superior audio quality to our other choices, and a wide frequency range. The features are somewhat limited, but it sounds great when you're listening to FM radio.
Finally, we looked at the Greadio Portable Shortwave Radio. It's the most affordable of the bunch, and is lightweight and portable. It's also easy to use, with a telescoping handle that's incredibly convenient.
Meet Derek, "TechGuru," a 34-year-old technology enthusiast with a deep passion for tech innovations. With extensive experience, he specializes in gaming hardware and software, and has expertise in gadgets, custom PCs, and audio.
Besides writing about tech and reviewing new products, Derek enjoys traveling, hiking, and photography. Committed to keeping up with the latest industry trends, he aims to guide readers in making informed tech decisions.