Ever wondered how gamers manage to expand and optimize their setups with multiple graphics cards? The secret often lies in a small but mighty component: the PCIe riser cable.
This crucial piece of tech allows users to connect their graphics cards to the motherboard in a more flexible manner, making it easier to arrange components and improve airflow.
Join us as we walk you through the best PCIe riser cables that have passed our rigorous hands-on tests, ensuring you get the most bang for your buck.
Key Takeaways:
Reasons to Use a PCIe Riser Cable
Vertical GPU Mounting: These cables are essential for vertical graphics card mounting, a popular choice for showcasing high-end GPUs.
Space Management: In compact PC cases, they provide the flexibility to position large components such as multiple graphics cards.
Improved Airflow: They're as thin as possible in order to necessitate for proper heat dissipating and cooling. Perfect for using with one of the best PWM fan controllers.
Aesthetic Enhancement: For custom PC builders prioritizing appearance, riser cables help achieve a cleaner, more organized look inside the case.
Ease of Access: Riser cables make swapping out components easier, especially in tight spaces, reducing the need to disassemble other parts of the system.
Differences Between PCIe 3.0 vs. 4.0
| Feature | PCIe 3.0 | PCIe 4.0 |
| --- | --- | --- |
| Data Rate (per lane per direction) | 8 GT/s (Gigatransfers per second) | 16 GT/s |
| Maximum Bandwidth (per lane per direction) | ~1 GB/s | ~2 GB/s |
| Maximum Bandwidth (x16 link) | ~15.75 GB/s | ~31.51 GB/s |
| Encoding Scheme | 128b/130b | 128b/130b |
| Max Throughput (x16 link) | 126.032 Gbit/s | 252.064 Gbit/s |
| Latency | Similar to previous generations | Similar to previous generations |
| Backward Compatibility | With PCIe 2.0 and PCIe 1.0 | With PCIe 3.0, 2.0, and 1.0 |
| Forward Error Correction (FEC) | No | Yes |
| Link Layer Retry Mechanism | Yes | Enhanced |
| Number of Lanes | 1, 4, 8, 16 | 1, 4, 8, 16 |
Best Overall: Corsair Premium PCIe 4.0 x16 Extension Cable

Key Takeaways:
Top-notch build from a reputable brand.
Benchmarks are the same as if the graphics card was directly plugged-into the motherboard.
Extended 300mm length for easy vertical GPU installation.
EMI shielded, ensuring undisturbed GPU performance.
When we got our hands on the Corsair Premium PCIe 4.0 x16 Extension Cable, the first thing we noticed was its top-notch build quality. It felt robust and well-made, truly living up to Corsair's reputation as a top-tier brand.
Imagine the superhighway of tech – this cable offers an impressive PCIe 4.0 bandwidth. That means your GPU gets a whopping 64GB/sec, which is a game-changer for performance!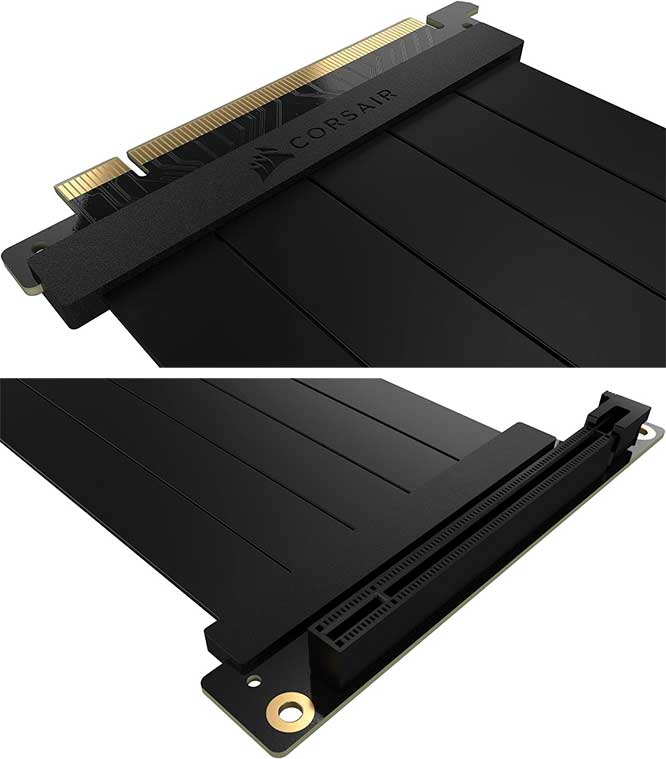 In fact, our testing with a RTX 2070 graphics card showed the same benchmark results regardless of if the graphics card was extended using the cable, or mounted directly into the motherboard.
But it's not just about speed. The cable's extended length of 300mm is ideal. We could easily install our GPU vertically in various cases without any fuss. This is an ideal length for most custom setups.
And guess what? The cable is even EMI shielded. In simple words, it protects against pesky signal disruptions, ensuring that your GPU works at its best. Not once did we discover any interference.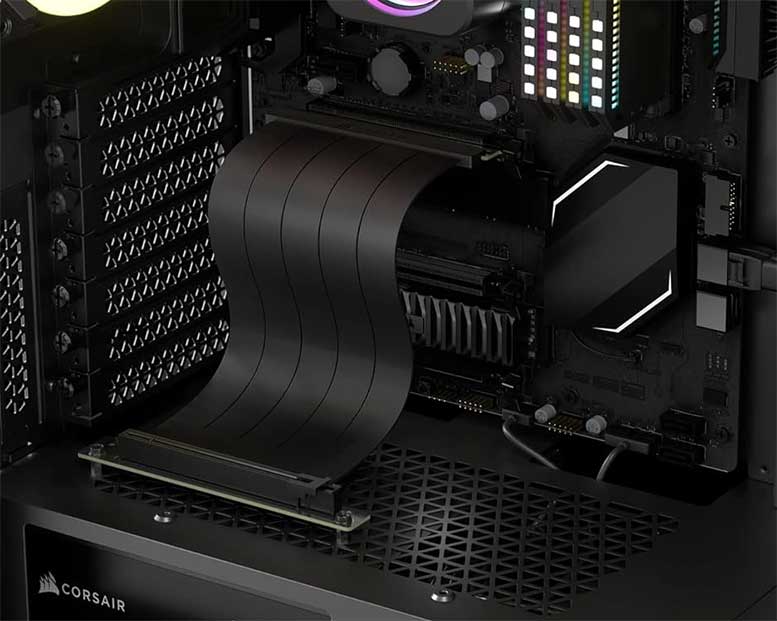 We also loved the 90° female PCIe connector. It felt like a thoughtful touch, reducing cable strain and making vertical GPU fitting a breeze. This sets it apart from the average cable by allowing it to conform to a tight space with ease.
After our hands-on experience, we can confidently say that the Corsair is a must-have for anyone serious about quality. While it does come at a steep price than your run-of-the-mill cable, we think it's totally worth it. You're getting a top of the line quality cable with a brand name that's well-known for their integrity.
Best Alternative: Thermaltake TT Premium PCI-E 4.0 Extender Riser Cable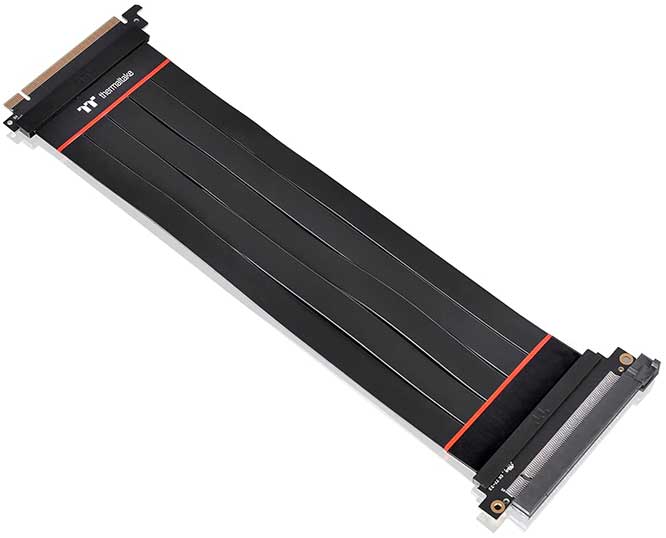 Key Takeaways:
Incredibly similar to the Corsair.
Identical benchmark results as if the graphics card was plugged into the motherboard.
Excellent build quality with extra material for rigidness around each connector.
Available in both 300mm and 600mm lengths.
EMI shielding works well.
Another great option is the Thermaltake TT Premium PCIe Riser Cable. It utilizes the same gold standard PCIe 4.0 version 64GB/sec. Right away, we noticed it bore a striking resemblance to the Corsair model we first looked at.
Most importantly, benchmarking results shows same readings whether the RTX 2070 graphics card we tested it with was directly on the board or in the extension.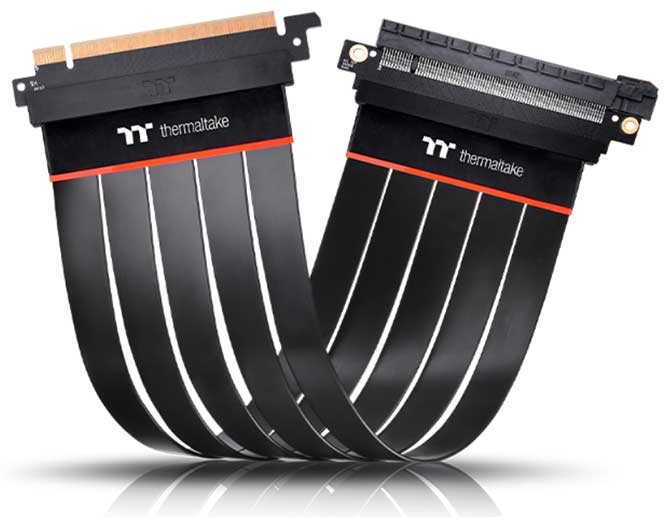 Its ribbonized format flat cable design was both flexible and rigid. We could easily snake it around other components without a hitch. Pressing it into the motherboard felt stiff, firm and gave us confidence that it was tightly in the proper position.
The flexibility was perfect. Especially when we had to navigate through tight corners in the case. Yet, it stayed rigid, not flopping around.
The EMI Shielding with Conducting Polymer on this cable, much like the Corsair, was a nice inclusion. It eliminated any interference without static. There was no interference when we tested it on 4 different custom PC builds.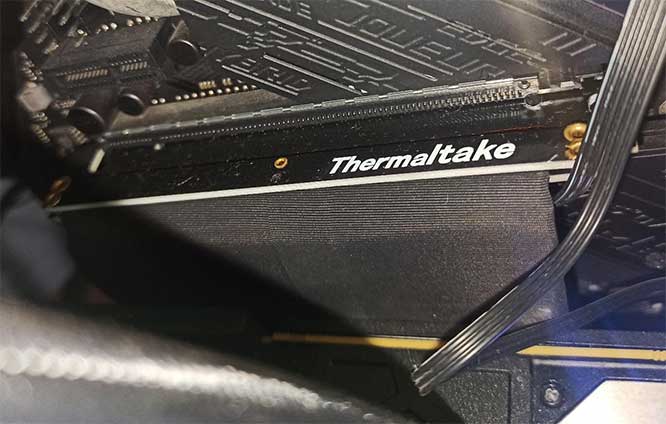 Like the Corsair, it's 300mm in length was ideal. But luckily, it's also available in a 600mm length if you find that you need double the length with twice the reach.
While it does cost around $10 more than the Corsair, the main difference is that it doesn't have a 90-degree bend for one of the connectors. It's a more-traditional variety that some may prefer. If you're a fanboy of Thermaltake and prefer their products over Corsair, this is the perfect alternative.
Best Budget: Qingsea PCIe Riser Extension Cable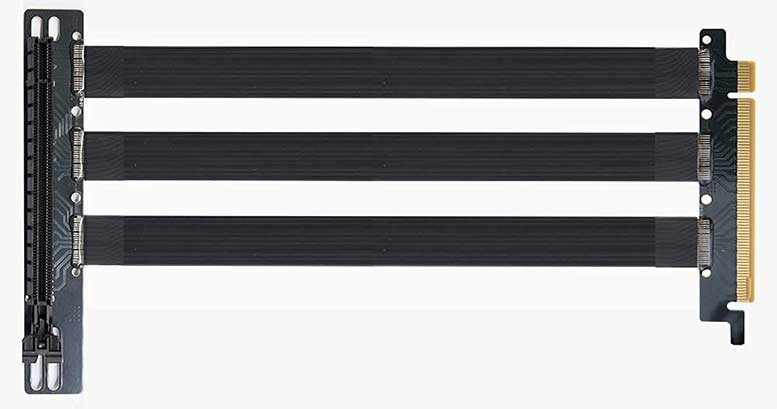 Key Takeaways:
Budget-friendly, half the price of premium brands.
90-degree bend for vertical GPU mounting.
Three flat cables promote excellent airflow.
Benchmark tests prove no degradation in speed.
EMI-shielded for interference-free performance.
When we got our hands on the Qingsea PCIe Riser Extension Cable, we were curious to see how it would perform. Especially compared to the more expensive options we've tried before. Right away, we noticed the price was significantly lower, almost half of what you would pay for the Corsair or Thermaltake. For budget-conscious PC builders, it's an attractive choice.
Like the Corsair, the Qingsea riser cable features a 90-degree bend, making it a breeze to connect to vertically mounted graphics cards. The cable itself is uniquely comprised of three flat ribbonized cables, spaced nearly 1cm apart. This design naturally promotes good airflow within the PC case, helping to keep temperatures down.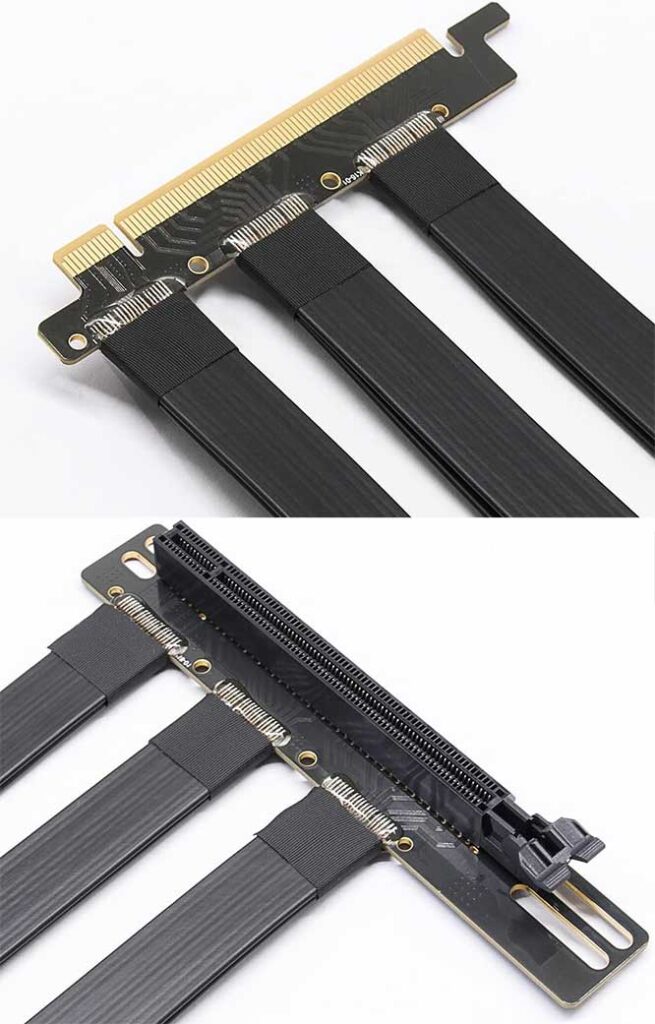 The cable is 250mm in length, slightly shorter than the Thermaltake and Corsair options, but we found it to be adequate for most scenarios. We didn't run into any issues with reach or flexibility during installation.
One of the highlights of the Qingsea riser cable is its quality hand-soldered gold-plated contacts. These ensure signal integrity and stable high-speed transmission. We ran benchmark tests to see if there was any degradation in speed when using the cable compared to when our RTX 2070 graphics card was directly plugged into the motherboard, and the results were reassuring. There was no noticeable difference in performance, proving that the Qingsea cable can hold its own in terms of speed and reliability.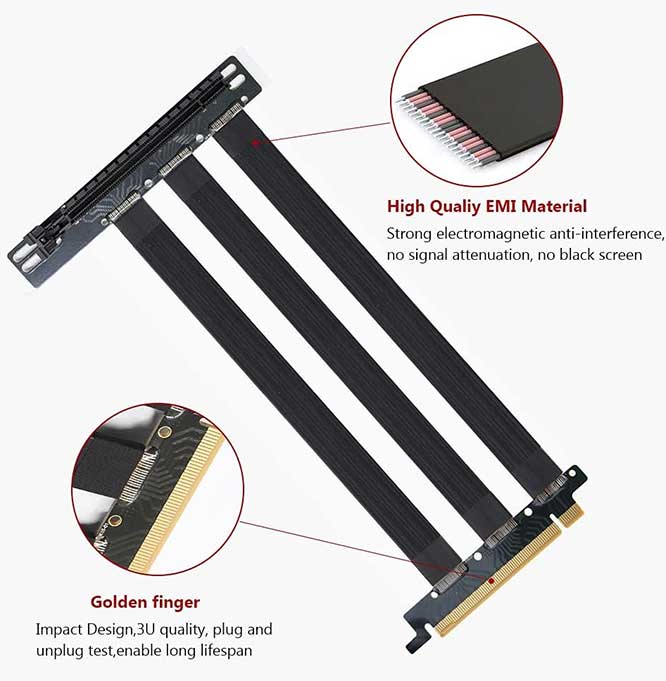 The EMI shielding on the Qingsea cable is on par with the more expensive options, providing excellent interference resistance. We experienced zero interference during our testing, which is always a good sign. In addition, we noticed extra material around the end of each ribbon cable where it's soldered. This clearly provides extra durability and protection against wear and tear.
All in all, the Qingsea PCIe Riser Extension Cable proved to be a reliable, budget-friendly option. It might not carry the name brand trust of Corsair or Thermaltake, but it delivers where it counts. A great choice for those who need a decent cable without breaking the bank.
PCIe Riser Cables FAQs
What is a PCIe 4.0 riser cable?
A PCIe 4.0 riser cable is a flexible extension that connects a motherboard to a PCIe 4.0-compatible device, typically a graphics card, allowing for flexible placement within a PC case.
Why should I use a PCIe 4.0 riser cable?
Using a PCIe 4.0 riser cable is beneficial for small or compact PC builds, improving airflow, enabling vertical GPU mounting, and aiding in creating a cleaner aesthetic inside the case.
Is there a performance difference using a riser cable?
Quality PCIe 4.0 riser cables are designed to provide the same performance as direct motherboard connections. However, low-quality cables can potentially cause signal degradation and affect performance. All of the options in this article proved to not alter performance based on our benchmark tests.
How do I install a PCIe 4.0 riser cable?
Installation involves connecting one end of the riser cable to the motherboard's PCIe slot and the other end to the PCIe device. Ensure a secure connection and proper cable routing to avoid damage.
Can I use a PCIe 4.0 riser cable with older devices?
Yes, PCIe 4.0 riser cables are backward compatible with PCIe 3.0 and earlier devices, though they will operate at the lower device's maximum speed.
Meet Derek, "TechGuru," a 34-year-old technology enthusiast with a deep passion for tech innovations. With extensive experience, he specializes in gaming hardware and software, and has expertise in gadgets, custom PCs, and audio.
Besides writing about tech and reviewing new products, Derek enjoys traveling, hiking, and photography. Committed to keeping up with the latest industry trends, he aims to guide readers in making informed tech decisions.