Energizer PPS320
Pros
Lightweight and easy to transport.
Powerful battery for the size.
Multiple charging methods.
LiFePO4 battery with multiple safety features.
Cons
Not suitable for high-wattage devices.
Not suitable for most CPAP machines.
Nowadays, we are more reliant than ever before on our electronics. When the power goes out for more than a few minutes, most people start to get nervous. Does my phone have enough charge? What about my laptop? When can I use my coffee maker again? These might sound like minor concerns, but think about what you do with your smartphone alone. It's a lot more than a mere communications device. Look through your list of apps, and you'll realize just how many things you use your phone for. It's your portal for banking, ordering food, paying your bills, and even streaming video. Without your phone, all of those tasks suddenly become more complicated.
A portable power station is an excellent solution to the problem. You'll be able to charge your phone, and even power small devices while the power is out. And this isn't just limited to your home. You can take a portable power station camping, or on vacation, or for a day at the beach. No matter where you go, you'll have enough power to meet your immediate needs. That said, not all portable power stations are the same. They have different ports and plugs. Some are smaller, and emphasize the "portable" side of their nature, while others lean harder into power. So before you choose one, it's important to find one that meets your specific needs.
We're about to review the Energizer P320 Portable Power Station. This is a compact power station that comes from one of the biggest brand names in the battery industry. It provides USB, AC, and DC power, and it has a built-in LED light. But to truly understand what it's capable of, we'll need to know a lot more than that. We'll have to talk about the basic design and construction, and how it's configured. We'll need to look at the capacity of the internal battery, and what wattage it outputs. We'll also have to talk about how you charge the battery, and the various safety features. Will this portable power station live up to our expectations? Let's take a closer look, and see what we discover!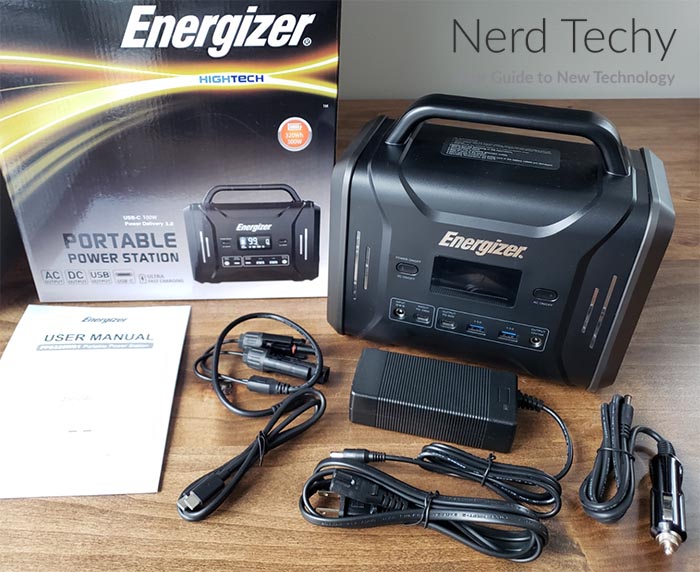 Overall Design
The Energizer PPS320 Portable Power Station looks a little bit like a portable stereo. It's rectangular in shape, with an attractive black housing and grey highlights. The total size is 9.1 inches wide, 7.9 inches tall, and only 5.1 inches in depth. Despite its compact size, though, it's surprisingly heavy. At only 9 pounds, it's not like you're carrying a lead weight. But it still feels pretty beefy for the size. Regardless, it's very easy to carry. There's a black molded handle on top of the housing, with a smooth, comfortable grip.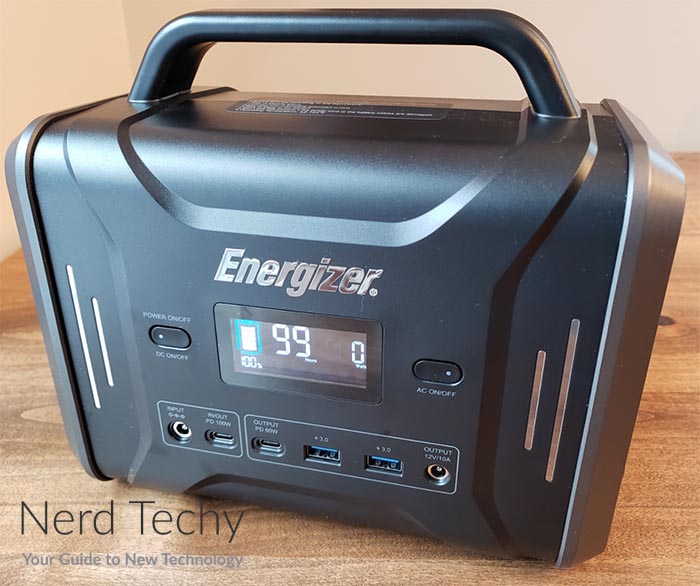 The sides of the housing are vented, with vertical vents along the entire top half. These vents allow for plenty of airflow, which keeps the internal electronics nice and cool. And because they're so large, the fan doesn't have to work too hard to provide sufficient air. As a result, the PPS320 is surprisingly quiet, even when you're drawing the maximum load.
Also on the sides of the unit are some important functional components. On the right side, below the venting, there's a pair of grounded, polarized AC outlets. These outlets are stacked one over the other, and share the same extra-wide hole for their grounding pins. Just to the front of those outlets, there's a single 12-volt DC automotive outlet, with a removable plastic cover. On the left side of the housing, you'll find a large rectangular LED light. This light casts a straight beam, not a wide one. So it's better for walking around than for actual ambient light. That said, it's convenient and easy to operate, with a single control button underneath.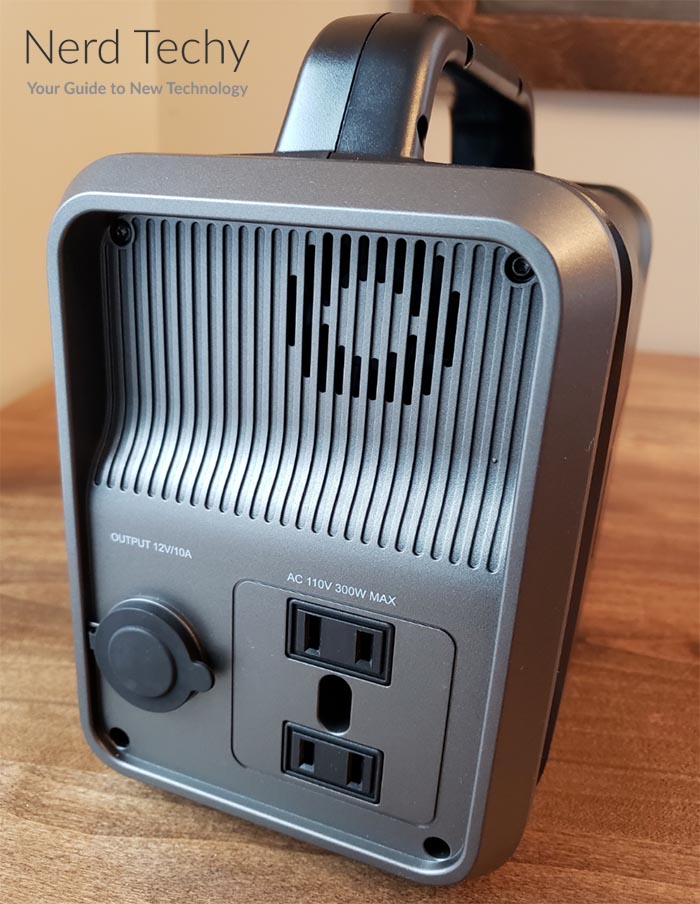 The rest of the important components are on the front side of the housing. Smack in the middle, there's a bright LCD display, with a lot of information packed in. At the left side of the display, there's a visual battery meter, with the percent remaining displayed beneath. Just to the right, in large numbers, is the estimated remaining hours of battery life. This is based on the percentage remaining, as well as how much power you're drawing. So it will change if you plug or unplug a device. To the right of this, in smaller numbers, you'll see the total load, in watts, that the power station is under. Along the bottom of the display, there's also a row of indicators, which tell you which ports are in use.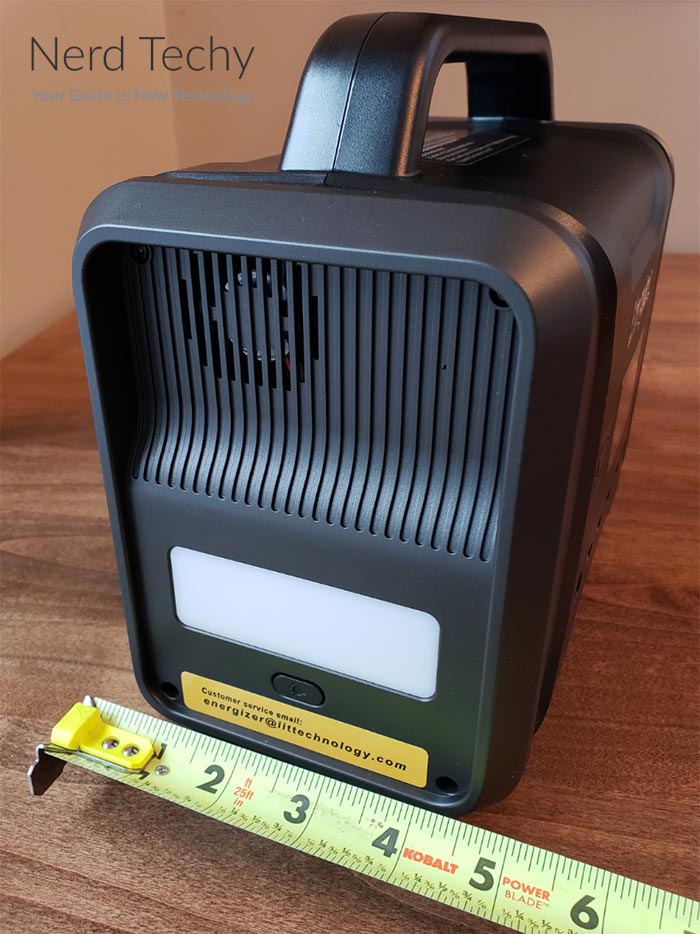 Beneath the display, you'll find the rest of the PPS320's ports. The one to the far left is a barrel-style charging port, which can be used with any of the included chargers. The next is a USB Type-C PD port, which can provide power, or be used to charge the internal battery. Following that, there's an additional USB Type-C charging port, and a pair of standard Type-A ports. The Type-A ports are designed with blue tabs inside, so it's easy to orient your plugs. The last port to the right is a barrel-shaped DC port for drones and similar devices.
There are separate switches located to the left and right of the display screen. The one to the left controls the entire power station, along with the DC and USB power ports. When it's activated, the entire power station will work, except for the AC ports. To use AC power, you have to activate the right switch. By leaving it off when the outlets are not in use, you prevent the power station from drawing vampire power.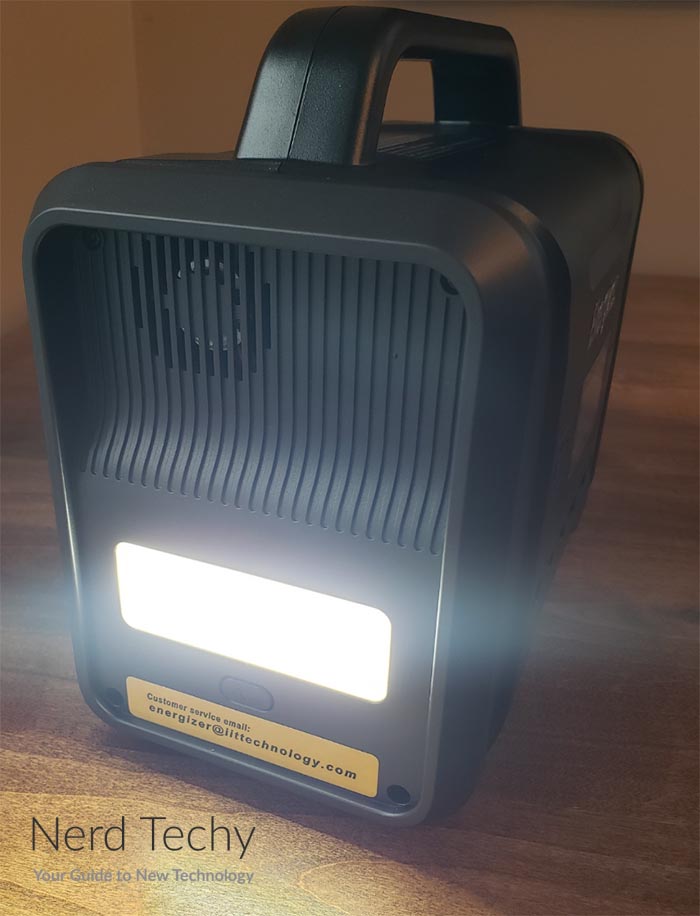 The kit includes a set of chargers for charging from just about any source. There's an AC charger and adapter for plugging into a wall outlet. There's a 12-volt DC charger for automotive use. There's a USB Type-C PD charging cable. There's even a solar charging cable, although you'll need to provide your own solar panel.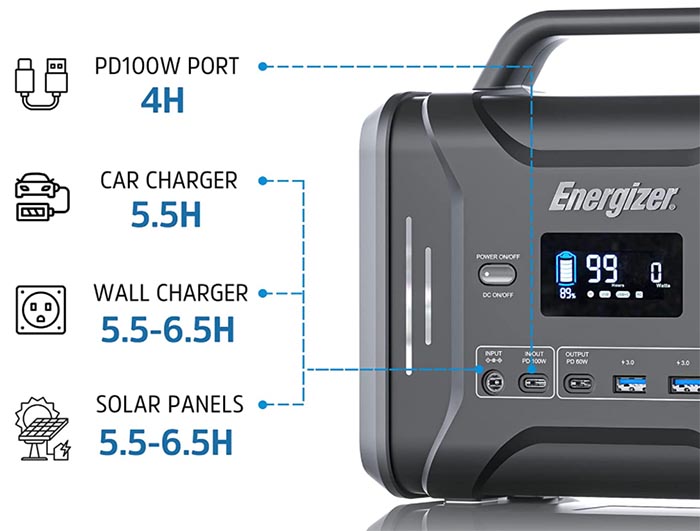 Battery Performance and Capacity
Ultimately, any power station is only as good as its battery and power delivery. So, what is the Energizer PPS320 capable of? Let's start with the total output. This power station can put out up to 300 watts of power at a time, across all ports. By contrast, a single AC wall outlet can provide up to 1,625 watts. That said, other than major appliances or space heaters, few devices draw that kind of power. You can easily run a laptop, or even a small mini fridge, with the PPS320. Just keep in mind that the 300 watts is shared. If you're powering multiple devices, that wattage gets divided up between them.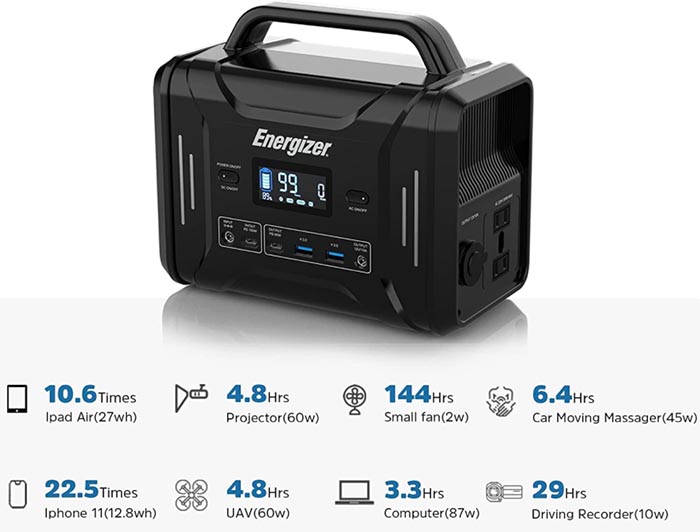 But output is only part of the equation. Just as important is the total amount of battery capacity. In this case, you're looking at 320 Watt-hours (Wh) of charge. This means that if you were using a one-watt device, it would run for 320 hours. If you were running a 320-watt device, it would work for one hour. What does this mean for your devices? For the typical smartphone, you can expect a little more than 20 full charges. For a mid-sized tablet, you'll get around 10. You could recharge a Macbook Pro 16" three times. For a lightweight 40-watt automotive fridge, you'd get eight hours of performance.
Now, let's look at what each of the ports is capable. The AC ports will run any 2- or 3-prong device, subject to the limit of 300 watts. The 12V DC outlet will run any device that's meant to plug into an automotive outlet. The two USB Type-A ports are a standard USB 3.0. This means they output a standard 12 watts of power. The two Type-C ports, however, are different. The outgoing-only port provides 60 watts, which is enough for most PD-powered devices. If you need more, the in/out port provides 100 watts, the maximum for PD power.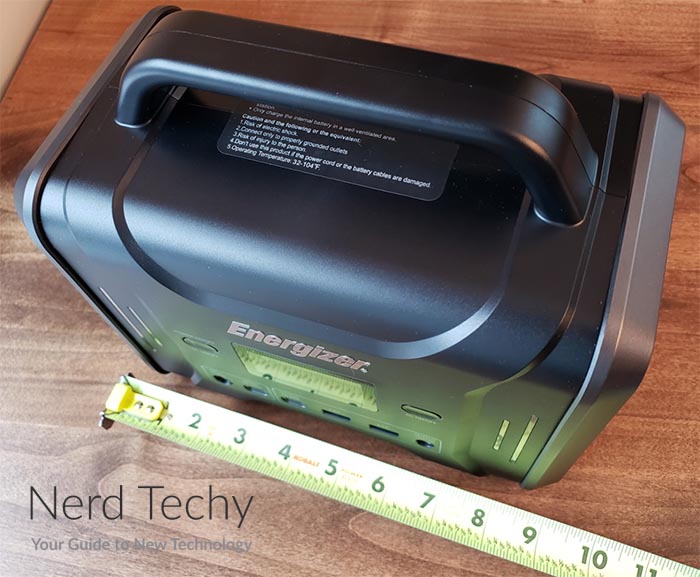 Charging and Safety
Powering your devices is all well and good. But when the battery is dead, you're going to need some way to top it up again. How long this takes will depend on the type of power source. Your fastest option is USB Type-C PD, which will fully charge a dead battery in just four hours. If you're using the car or the wall charger, this increases to about six hours. Solar charging can also take as little as six hours, but this depends on your system. If you're not getting peak efficiency, it will be slower.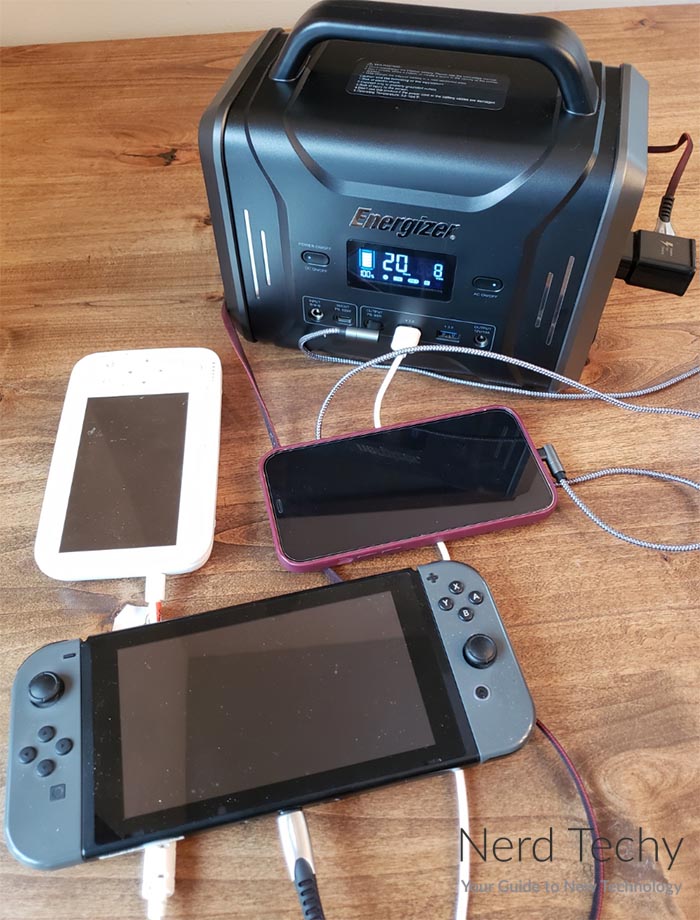 The PPS320 supports pass-through charging. This means you can charge the battery, while still using the charger to power your devices. Keep in mind that the efficiency will depend on the total incoming and outgoing wattage. If you're drawing more than your supplying, the battery will still drain; it will just drain slower.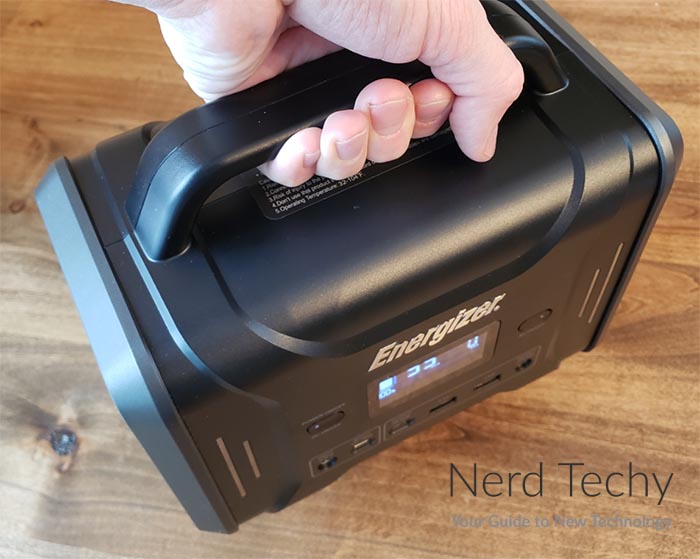 The internal battery is a Lithium-iron-phosphate, or LiFePO4 cell. This is the latest in Lithium technology, and is far safer than older Lithium batteries. It's also more durable, and will survive more duty cycles. In addition, the built-in battery management system provides multiple types of protection. It will shut things down if it detects over-charging, over-power, overheating, or over-voltage.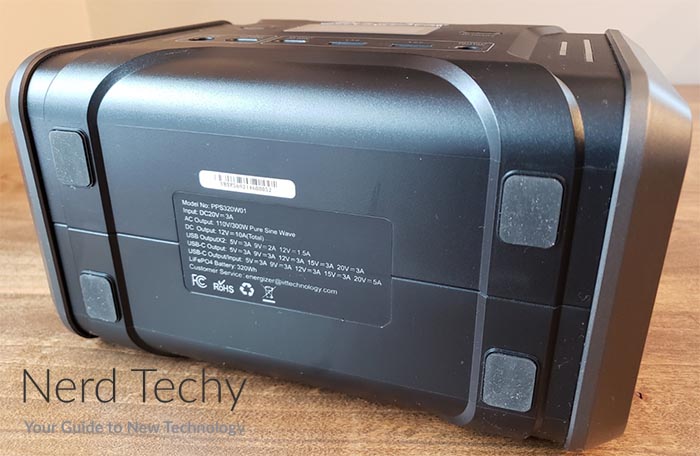 The AC power ports provide pure sine wave power. This means that unlike some power stations, it's safe to plug in sensitive electronics like medical devices. That said, keep in mind the battery capacity. If your CPAP machine draws 40 watts, it will have eight hours of power. But if it's larger than that, you won't have enough juice to get through the night.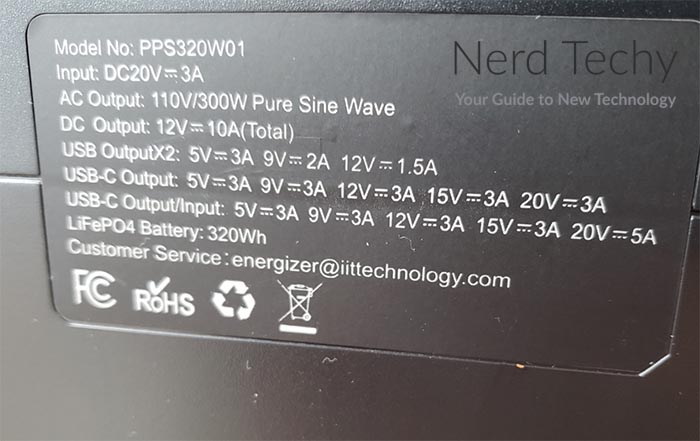 Final Verdict
As you can see, the Energizer PPS320 Portable Power Station is a robust little device. It's not suitable for high-wattage applications. But for your smaller electronics, it's a great way to take energy on the go. It's compact and easy to carry, and it can charge up to eight devices simultaneously. There are also plenty of charging options, so you'll always have a way to recharge. Overall, it seems to be built well and include a wealth of features at a favorable price-point. We wouldn't hesitate to recommend it to anyone looking for a reliable, well-built portable power solution.