Maono PM500S
Pros
High-quality 34mm gold condenser.
Virtually zero noise.
Durable zinc alloy housing.
Includes pop shield and shock mount.
Cons
Requires an audio interface to connect to PC.
Design is ill-suited for third-party shock mounts.
Podcasting and live streaming have come a long way over the last decade and a half. In the early days, almost everyone was using amateur equipment. You expected to hear popping, hissing, and background noise even in some of the most popular podcasts. But things have changed since then. Today's audiences expect a lot more. When you look at the top YouTubers and podcasters, they're all using professional quality equipment. If you want your content to be relevant, you've got to invest in a decent mic. If you're a singer, all of this is old news. You know you need a high-quality microphone to produce your best work.
So, how do you choose the optimal mic for your needs? A lot depends on your application. For instance, suppose you want a more portable, wearable mic. In that case, you'd want a lavalier microphone. If you want a microphone for live, in-person presentations, a dynamic mic is a better choice. But when you're trying to achieve maximum vocal quality in a controlled environment, a condenser microphone is what you need. You should also consider how you want your microphone to connect. Are you using a soundboard or USB audio interface? Do you want to plug directly into a phone or a PC? Those are just a couple of things you need to think about.
We're about to review the Maono PM500S LDC XLR Large Diaphragm Condenser Microphone. This is a studio-quality condenser microphone that's suitable for use at home as well. It's heavily shielded, and comes with a pop shield, shock mount, XLR cable, and carrying case. But those are just a few of the things we need to know about this mic. We'll need to talk about the design quality, as well as how it connects to your recording device. And it goes without saying that we need to take a listen to the audio quality. After we've considered all of those factors, we'll finally have a complete picture. Let's begin!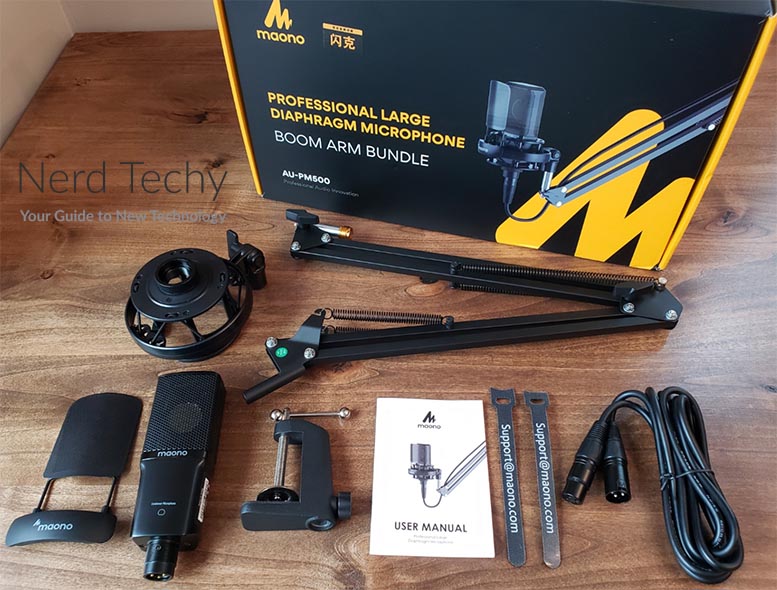 Overall Design
The Maono PM500S LDC XLR Large Diaphragm Condenser Microphone has a rectangular design. The body is constructed from a rugged zinc alloy, which is exceptionally tough. It has a black finish that won't be distracting on camera, and it's slightly tapered towards the bottom. Moreover, the zinc alloy material provides excellent electromagnetic shielding. This is essential on any microphone, but especially when you're working around a computer and other electronics. The bottom half of the housing is solid, so you can hold and carry it. Between the top and the bottom parts of the housing, there's a little band with "Maono" printed in grey. The top half is mesh, to provide an opening to the mic diaphragm. In fact, the diaphragm itself is actually visible inside, forming an attractive gold circle.
The kit comes with a shock mount, which is used for attaching your mic to a mic stand. The purpose of a shock mount is to isolate the microphone from bumps and other vibrations. It consists of two aluminum rings: an inner and an outer ring. These rings are connected by a net of elastic bands, but they don't actually touch. The outer ring has a standard threaded hole on it, and can attach to a mic stand or boom arm. The inner ring has a much larger threading, and the bottom socket on the microphone screws into it. Because the two rings aren't touching, any vibration in the environment is absorbed. Your mic simply floats on the elastic net.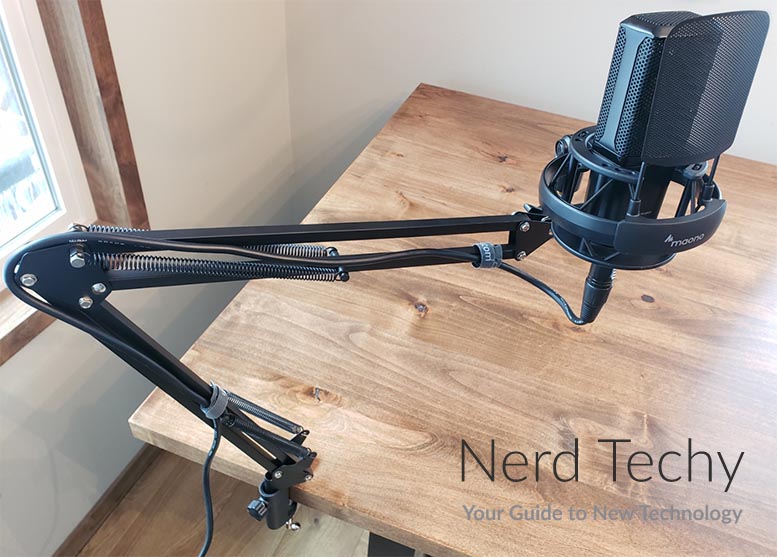 Shock mounts are standard for any condenser mic, and this one is highly effective. That said, round condenser mics can fit in aftermarket shock mounts. The mount for the PM500S is specific to this mic, so if it gets damaged, it might be hard to replace. In practice, this is unlikely, but it's something to be aware of.
The shock mount has a pop filter on the front, which mounts on the front part of the outer ring. It has a simple clamp-on design, and consists of a wire mesh that sticks up in front of the mic. The mesh is slightly curved, and follows the profile of the shock mount. It's also branded on the front of the bracket, with the word "Maono" again printed in grey. Because of the removable design, it's easy to switch out if you want to use your own personal pop filter. Then again, it's low-profile enough that you can double up if you want to.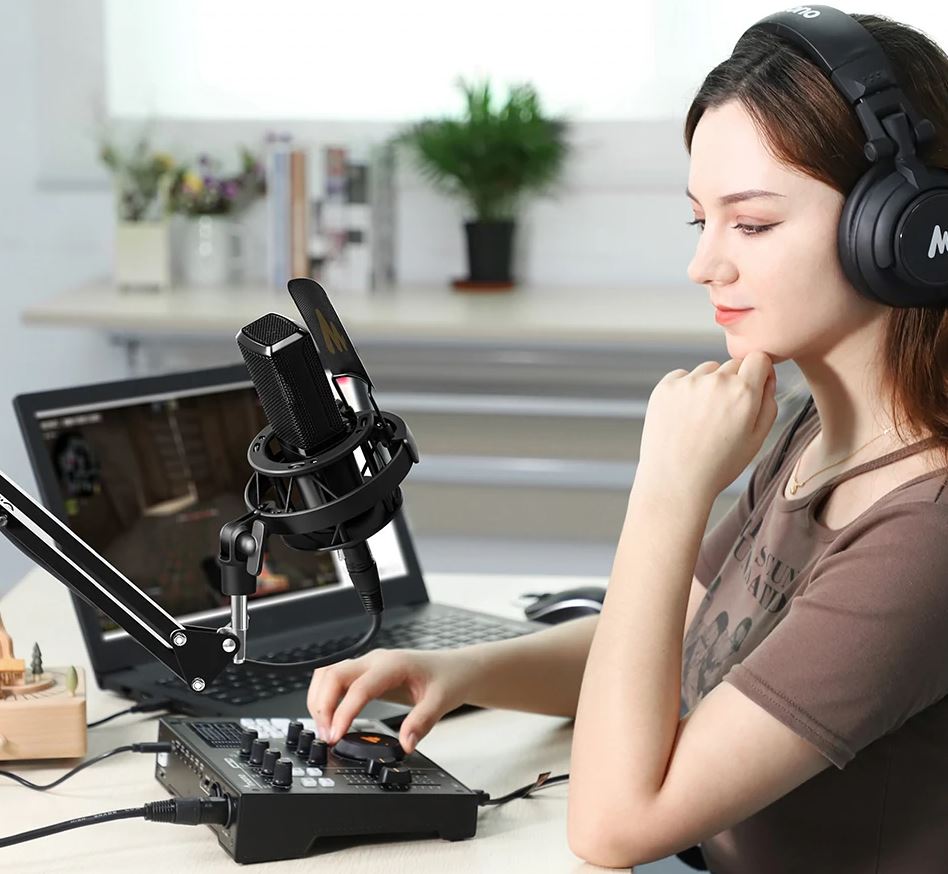 Also included in the package is an XLR cable. This is a simple, short cable, but it's well-shielded, and it works well enough for the task. The last thing you get is an aluminum carrying case, which is well-padded on the inside. It keeps your mic safe, and keeps the solid components from scratching each other. It's convenient for travel, or just for safe, everyday storage.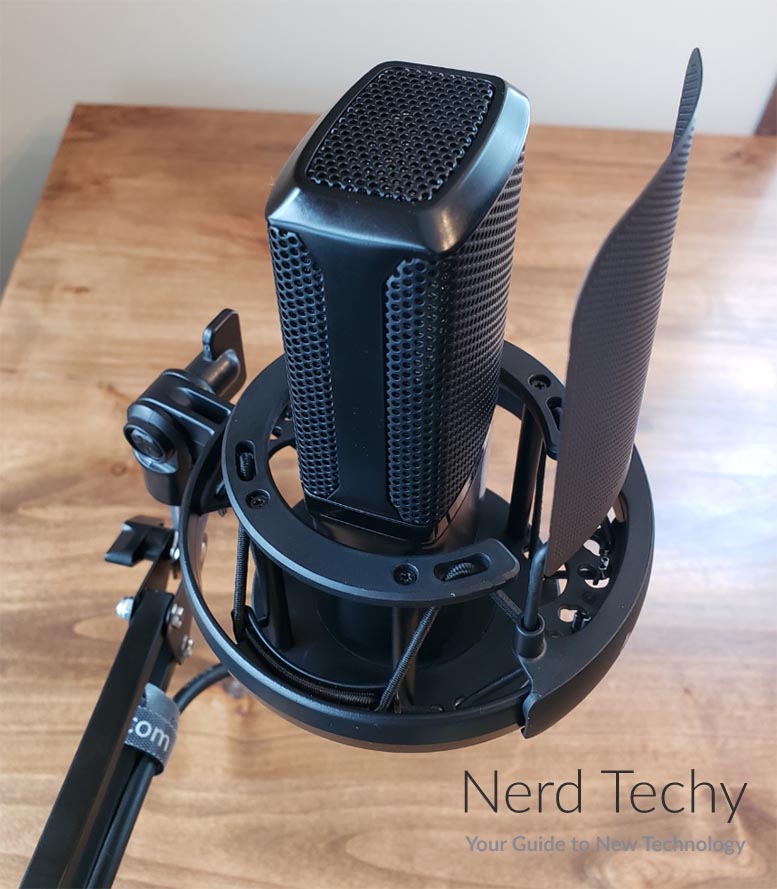 The Desktop Version of the Maono PM500 is also available on Amazon
Sound Quality
The heart of any microphone is the audio quality. Ultimately, you need to record the best audio possible. If the mic falls short in that respect, nothing else really matters. First off, we should talk about the mic's sensitivity. How sensitive is it, and where does it pick up sound? There are many types of microphone pattern. Some, like dynamic stage mics, are directional. If they're not pointed more or less directly at you, they won't pick up any sound. Other mics are omnidirectional. They pick up sound from all directions, which is great for a wearable mic or a room mic.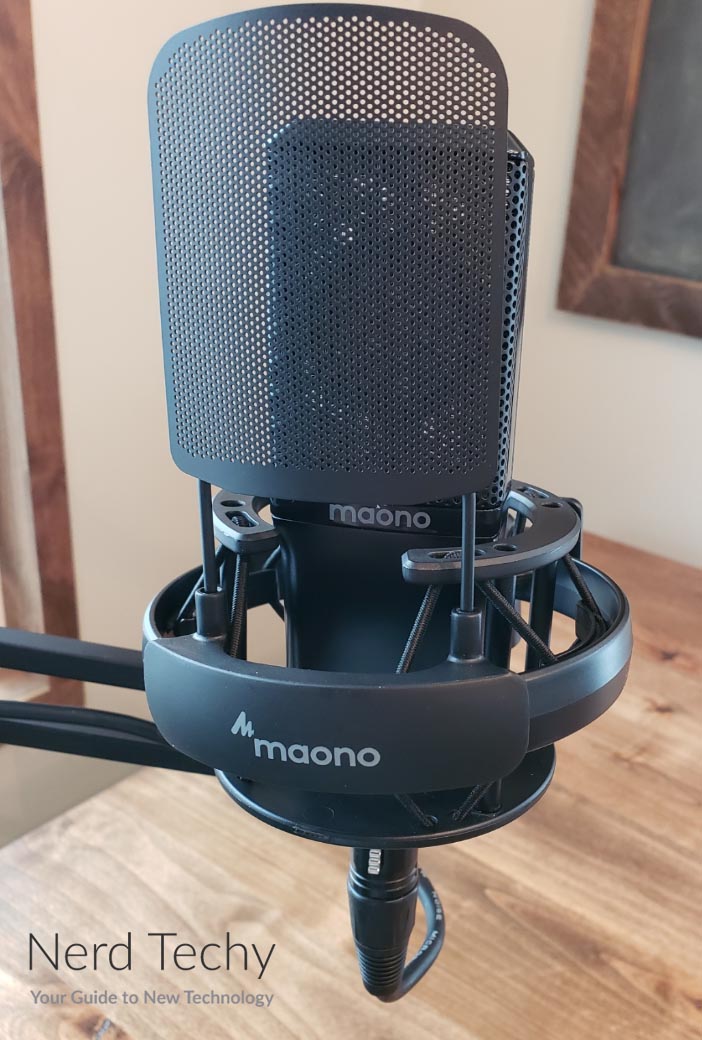 The PM500S falls somewhere between these patterns. Like most condenser mics, it has a cardioid pattern. This means that it's most effective when you're right in front, and it won't pick up noise from directly behind. However, there's a gradual fall-off as you move towards the sides. Out to around 45 degrees, you have about the same level of sensitivity as from the front. As you move closer to the sides, there's less and less pickup. As you move from the sides to the rear, the sensitivity falls off faster and faster. This pattern allows for use as a room mic, or for more than one speaker. But it's really designed with a single speaker in mind.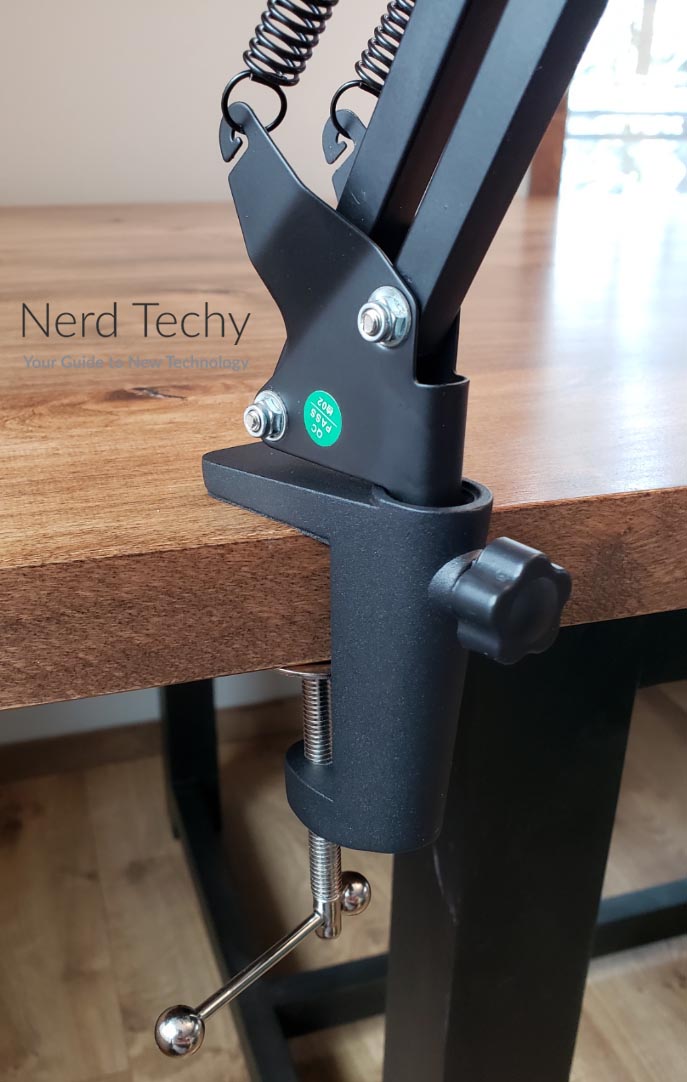 The reason for this is that condenser mics are inherently sensitive. If you turn up the gain too far, you're almost guaranteed to pick up unwanted background noise. This won't be the case in a controlled environment like a vocal booth. But if you're recording in your living room, you'll want to keep your mouth relatively close to the mic.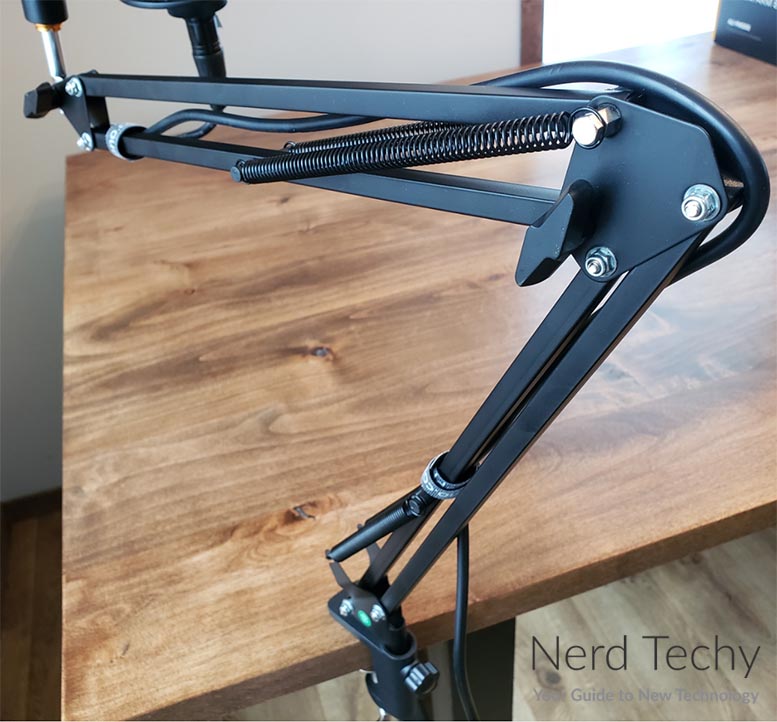 One thing we loved about the PM500S is that it features a gold-plated condenser capsule for maximum sensitivity. This provides superior clarity to most mics in this price range. It provides excellent audio response across low and high frequencies, for any voice type. This wide response also makes it good for recording musical instruments, like a piano or acoustic guitar.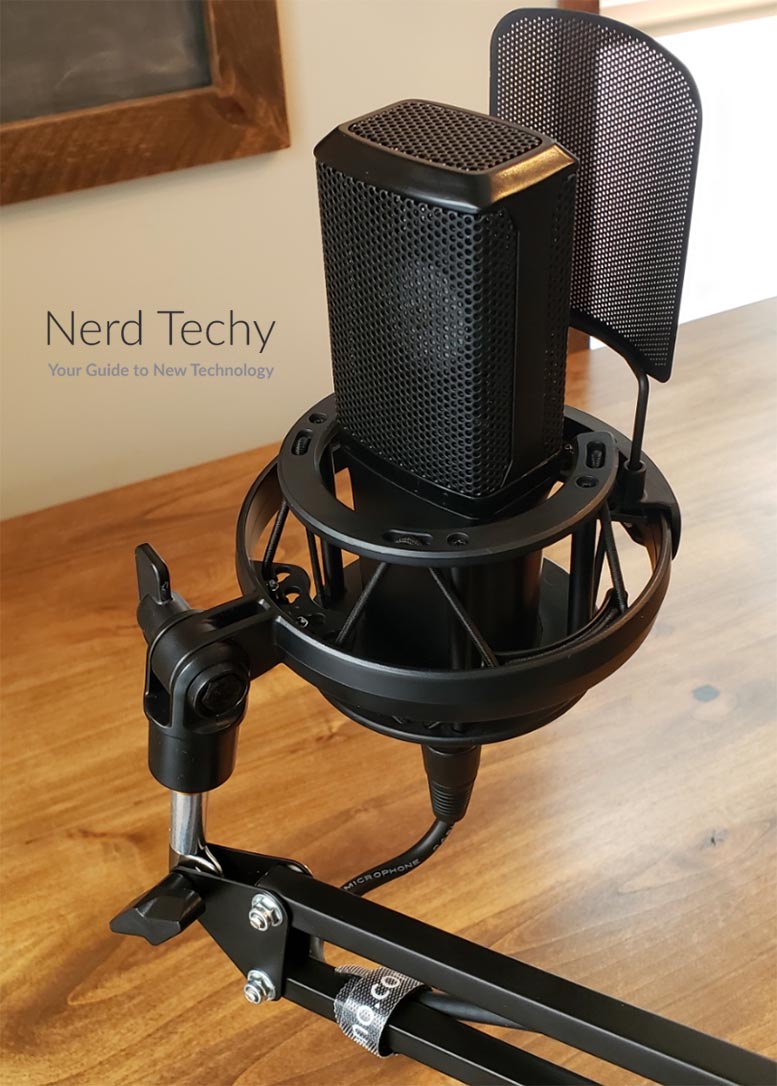 Another great feature of this microphone is the internal circuitry. The circuitry is shielded internally as well as externally, which makes it very low-noise. If you've ever used a noisy mic, you'll know how important this is. You also get reasonably good filtering of hissing and breathing. The filtering is by no means perfect, but it cuts down a lot on your editing work.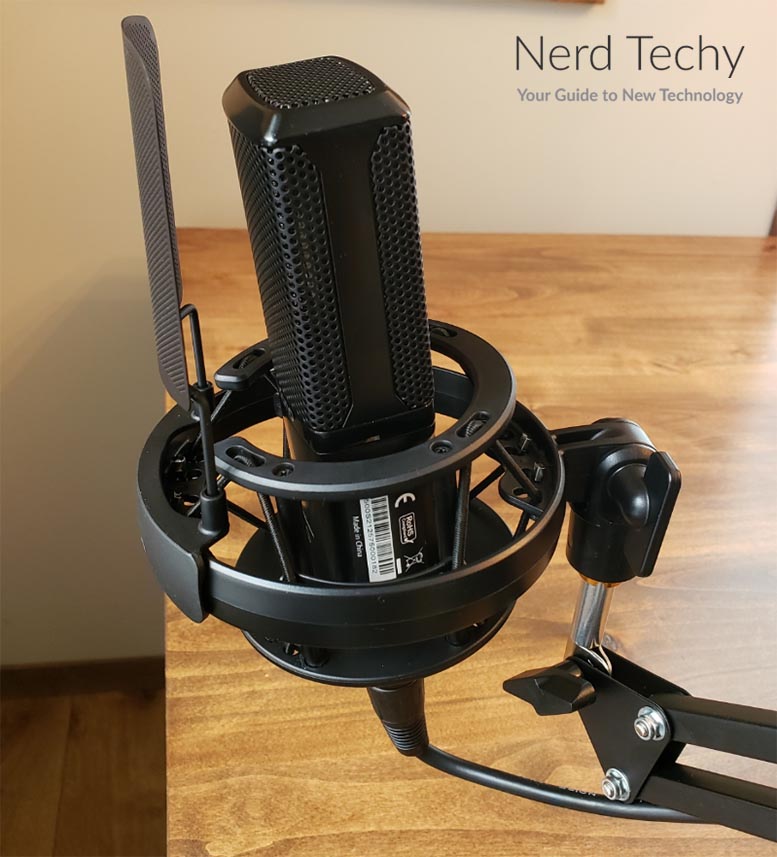 Compatibility
This is an XLR microphone, not a USB microphone. These are vastly different standards. XLR cables are designed specifically for audio. They have three pins, and connect with a large, circular plug. The plug has a tab on one side to secure it in place, and is one directional. In other words, there are male and female plugs, and male and female ports. The cable itself is also well-shielded. USB cables, on the other hand, are designed primarily for data. They have more pins, and the plugs are all male, while the ports are all female.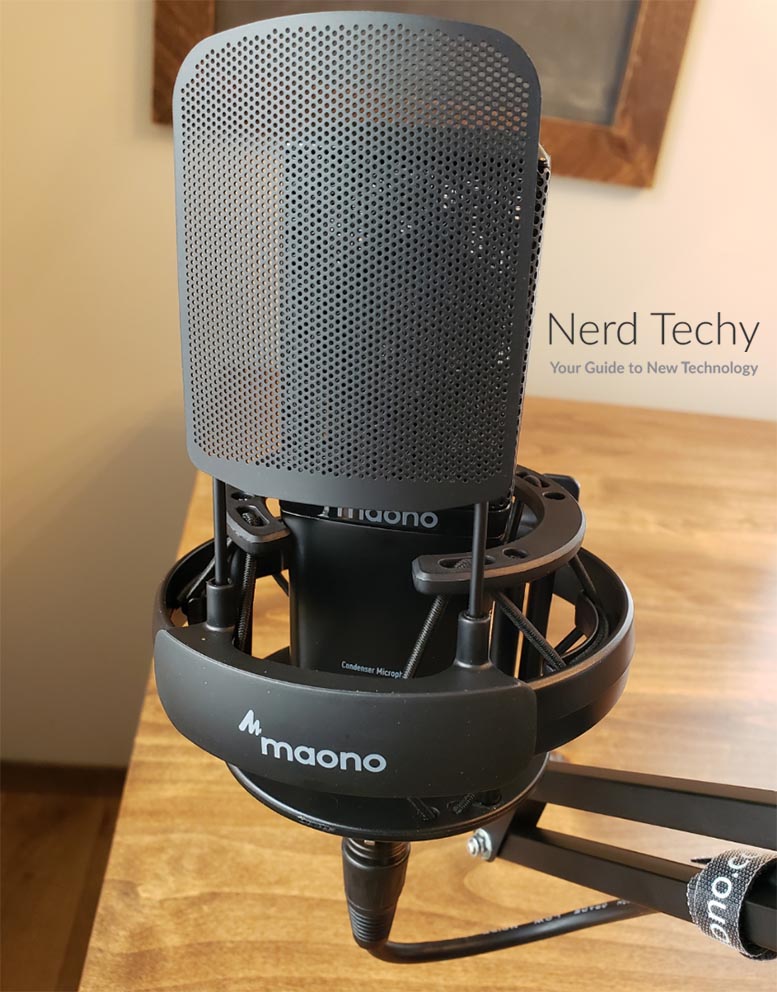 To connect to your computer or other recording device, you're going to need an XLR port. If you've already got a home studio, you probably have a sound board you can just plug into. But if you're setting up a single-person recording rig, this may be the first time you've dealt with XLR. In that case, you'll need an adapter, but you can't just use any adapter. You need to use a USB audio interface, like one of the Scarlett audio interface series.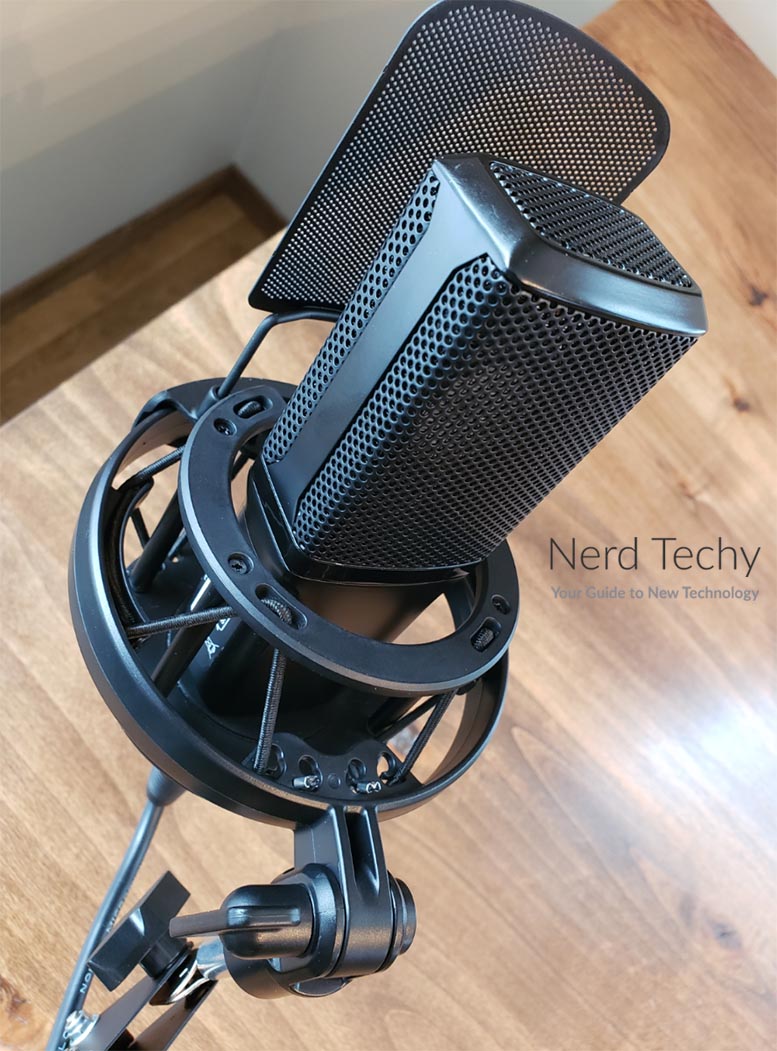 One reason you need a full-blown interface is that the PM500S requires phantom power for operation. This is 48-volt power, not 5-volt power like the power from your USB port. It's very low amperage, so you'll still have plenty of wattage. That said, your "adapter" needs to convert the voltage. Not only that, but the pure audio signal needs to be converted into a digital USB signal. Hence the need for a larger piece of hardware.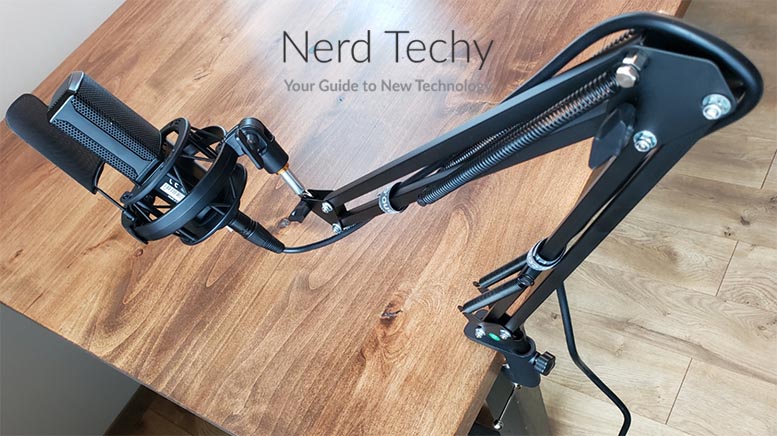 Final Verdict
The Maono PM500S is a well-engineered device. It captures audio with excellent clarity, across almost any frequencies. It has little to no noise, and the housing is durable and well-shielded. It even includes well-designed accessories to help you get started. Best of all, the PM500 is not only suitable for podcasters and live streamers, but also for vocalists and music instrument performers. If you're looking for a quality XLR mic that won't break the bank, the PM500S is a solid choice. Remember, if you prefer the desktop version, please check Amazon; it comes with a desktop stand rather than a boom arm.