RIG 500 PRO HC Gen 2
Pros
Sturdy steel frame.
Comfortable, thickly-padded ear cups.
Can be used on any platform with a 3.5mm aux connection.
Supports Dolby Atmos on compatible platforms.
Easy-to-use in-line controls.
Cons
Bass is lacking in richness.
Head strap fits tightly on larger heads.
If you're into online gaming, a good headset is a must. Sure, if you're a single-player only gamer, you can get away with some good headphones. But if you want to play with your friends, you need both speakers and a mic; that means a headset.
Along the same lines, a good headset has to do a couple of things. First, it has to provide good quality audio. You want to be able to hear your game, and you want a good sense of directionality. For example, if you're playing Warzone, you want to be able to hear where gunfire and explosions are coming from. At the same time, you want smooth communication, which mostly comes down to a good mic. This means a microphone that focuses on your voice, and doesn't pick up a lot of background noise. We all know that one guy who clutters up the team chat with his family members' conversations. Don't be that guy. Of course, a mic that has too high a threshold is also bad. It might fail to pick up your voice when it's needed.
But those are just the first things you need to consider. You also need to think about comfort, ergonomics, and portability. Compatibility is another key consideration. It doesn't matter how good your headset is if it won't connect to your game system. As you can see, there's a lot that goes into making a worthwhile headset.
We're about to review the NACON RIG 500 PRO HC Gen-2 Headset. As its name implies, this is an upgraded version of an earlier product. The original 500 PRO HC had a plastic frame, which was chunky and durable but not very flexible. The improved Gen-2 replaces this with a lightweight, flexible steel frame. Other than that, it remains the same headset that many gamers already know and love. Let's take a closer look, and see how well it performs!
Overall Design
The RIG 500 PRO HC Gen-2 Headset is built like a brick. Its steel frame can stand up to just about any abuse, as can the thick speaker housings. The interesting thing about this design is that it's actually fairly lightweight. Yes, steel is heavier than plastic. But it's strong enough that the band is very thin. To achieve the same level of strength, you'd need an absurdly thick plastic headband. The all-black matte finish is easy on the eyes without drawing too much attention. The only thing that isn't black is an understated grey RIG logo on the side of the frame.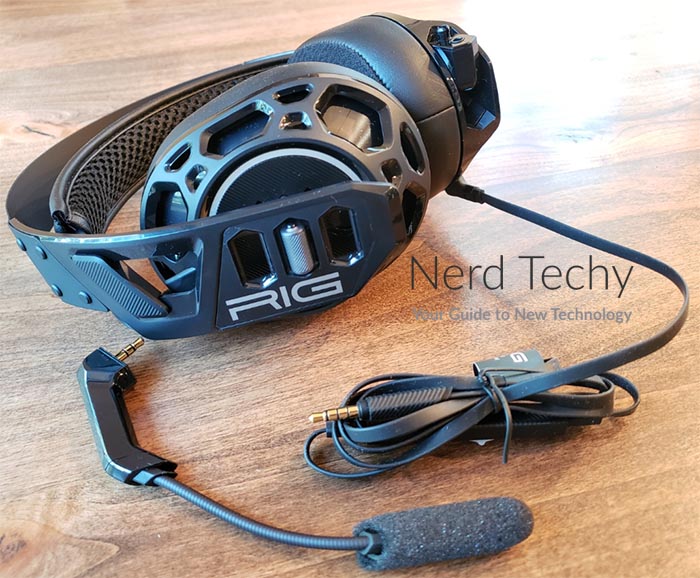 While the outer steel frame provides rigidity, it's not designed for comfort. In fact, it's oversized, and extends well over your head. Instead, the HC Gen-2 relies on an inner leather strap to cradle the top of your head. This strap is well padded, and fits very comfortably once you've gotten it adjusted. That said, the size range is surprisingly limited. If you've got a very large head, you may find that the fit is too tight. In this case, you'll want an oversized headset, like the EKSA E900 Pro. These are a great fit for larger heads, but have a less durable, plastic construction.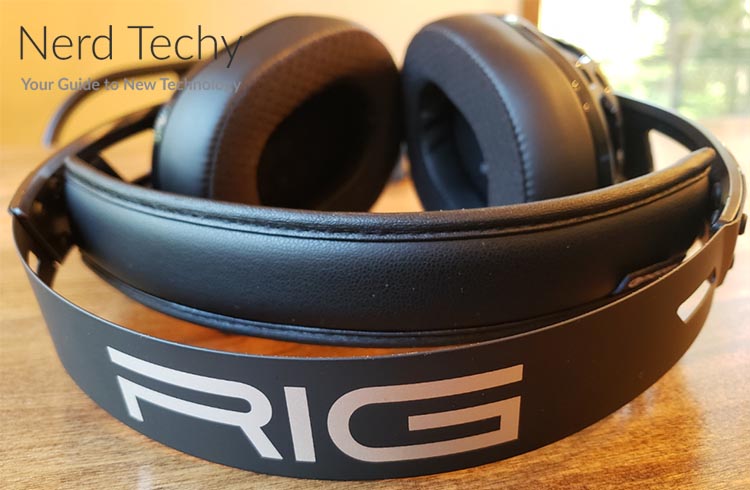 That said, for most people's heads, the HC Gen-2 headset will provide superior comfort to most other options. This is thanks in large part to the fat, chunky ear cups. They're constructed with fabric on the inside for comfort and breathability. On the outside, they're made of faux leather, keeping out sweat and other moisture. They're also wide enough and deep enough to accommodate fairly large ears. You can adjust them up or down as needed, and the frame is reasonably flexible. It provides enough pressure to get a good seal, without feeling like your head is in a vice.
The kit includes a 3.5mm aux cable for connecting to your device. This cable sports a small fob with in-line volume controls, and is well-engineered. The material is a durable nylon braid which is reasonably flexible and tangle-resistant. It's also 9.8 feet long, more than long enough for virtually any gaming setup. The tips are well-engineered, although we would have preferred to see more reinforcement where the wires connect.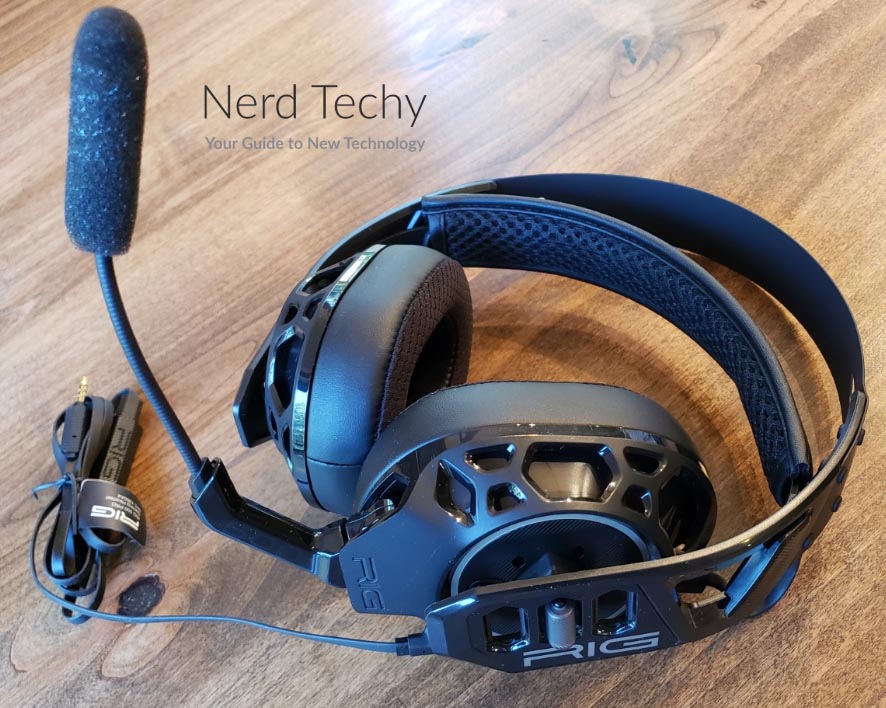 The boom mic is flexible, which allows for easy positioning. When it's not in use, it can be flipped up to keep it out of the way for storage or transport. Flipping the mic up will also automatically mute your voice. This is a great feature to have if you need to engage in a quick side-conversation while you're gaming. Alternatively, you can remove the mic altogether and use the HC Gen-2 as a simple pair of headphones.
Along with the headset itself, you also get a Dolby Atmos code for Xbox and Windows 10. We'll talk about Dolby Atmos more in a second. For now, just make sure you don't lose the download code. If you do, you'll have to buy your own Dolby Atmos license.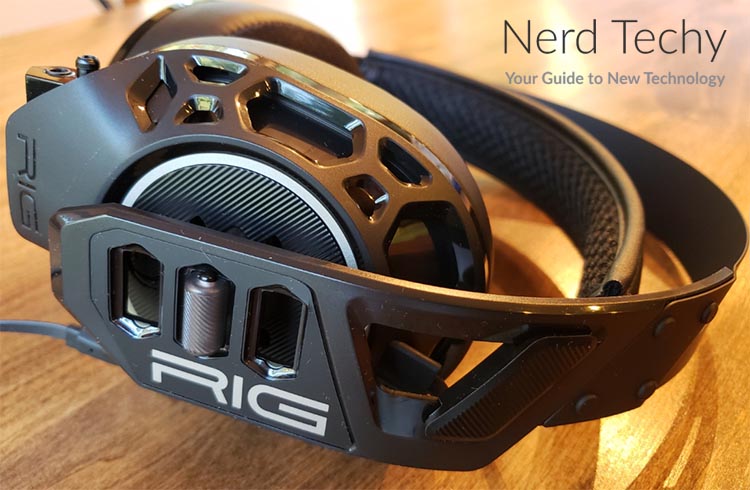 Connectivity & Compatibility
One of the things we most appreciated about the HC Gen-2 is how simple the connection is. Instead of USB, it uses a simple 3.5mm aux connection. This does have some inherent limitations. If you're a PC player, you won't be able to mute or adjust your PC volume using the in-line controls. They'll only affect your headset volume.
That said, 3.5mm aux cables can be used with a much wider array of game platforms than USB. With USB, you're more or less relegating to playing on a PC. A 3.5mm aux cable will also work with modern consoles. You can plug directly into your PlayStation 3, PS4, or PS5 controller. You can do the same for Xbox Series X/S controllers, as well as all but the original Xbox One controllers. You can even plug into your Nintendo Switch. RIG advertises that their headset will work with the Xbox 360. However, you'd need an adapter to plug into a 360 controller.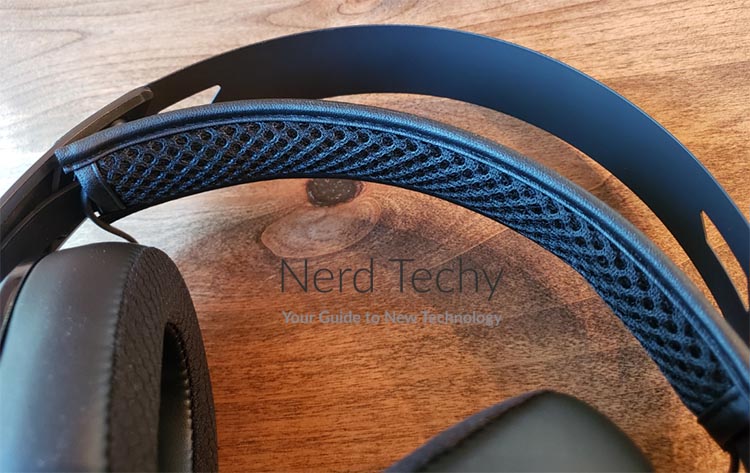 One of the most innovative features of the HC Gen-2 is the RIG game audio dial. This is a small dial located on the 3.5mm plug where it connects to your controller. Using the dial, you can adjust the headset volume without taking your hands off the controller. This saves you the need to fumble around for in-line controls in the middle of a match.
Of course, this isn't the only headset to rely on a 3.5mm aux connection. Another good example is the LucidSound LS10. In addition to using a 3.5mm cable, the LS10 also supports Dolby Atmos, just like the HC Gen-2. However, it has a plastic frame, so it isn't quite as durable.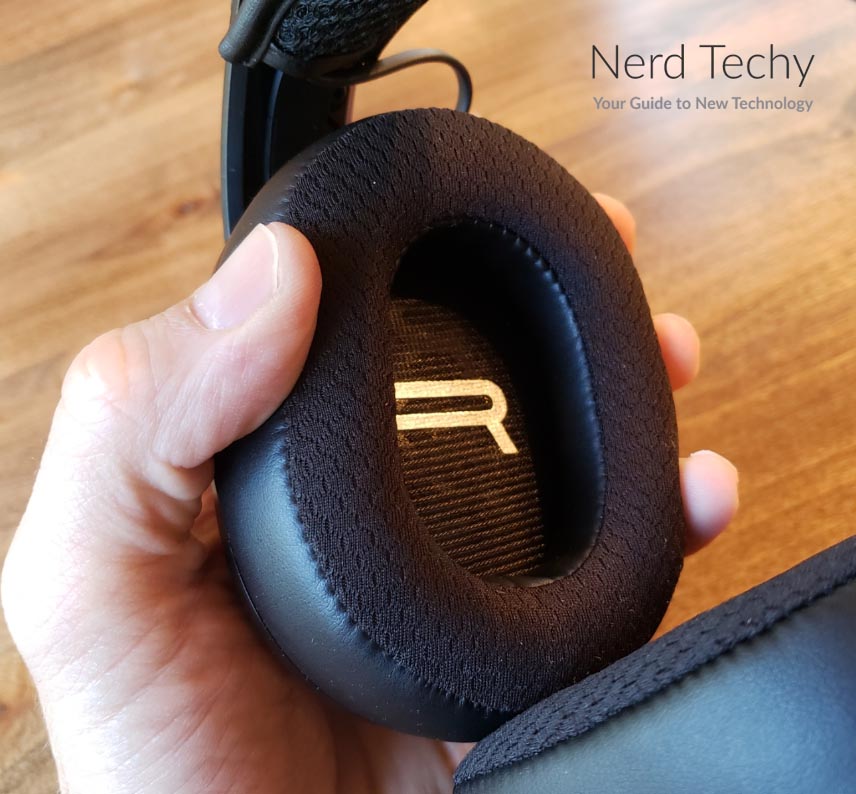 Audio Quality
The HC Gen-2 headset utilizes a pair of large, 50mm drivers. These are bigger than standard 40mm drivers, and produce correspondingly bigger sound. You'll have no issues getting as much volume as you want, even if you like your games very loud.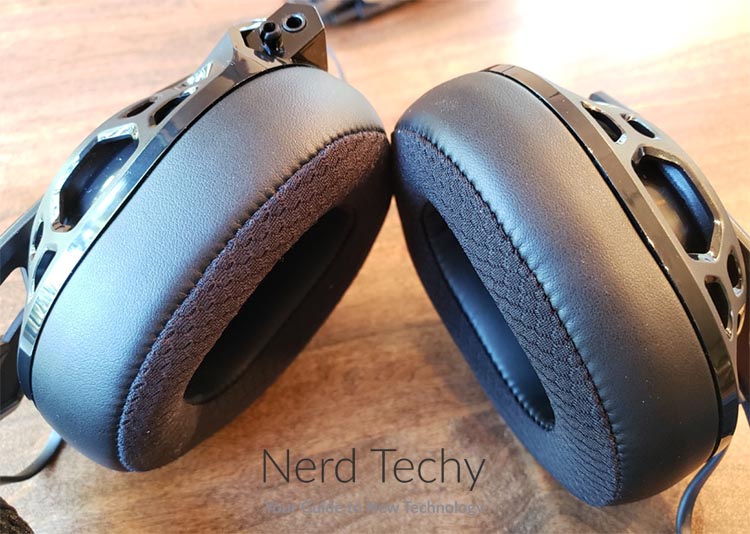 As for the quality of the audio itself, we were mildly disappointed. This isn't a super-expensive headset, but it's not cheap either, and we were hoping for more. Let's be clear. The audio is clear enough, and doesn't sound cheap. But the bass isn't as rich as it could be. When a tank rumbles past in Warzone, you know it's there and you know it's a tank. But the growl of the engine lacks the texture you'll hear on a higher-end headset. That said, the highs and the mids sound just fine, with as much detail and depth as you could ask for. The high and low frequencies also don't interfere with the mids. That's critical on a headset, since you need to be able to hear your teammates over the game.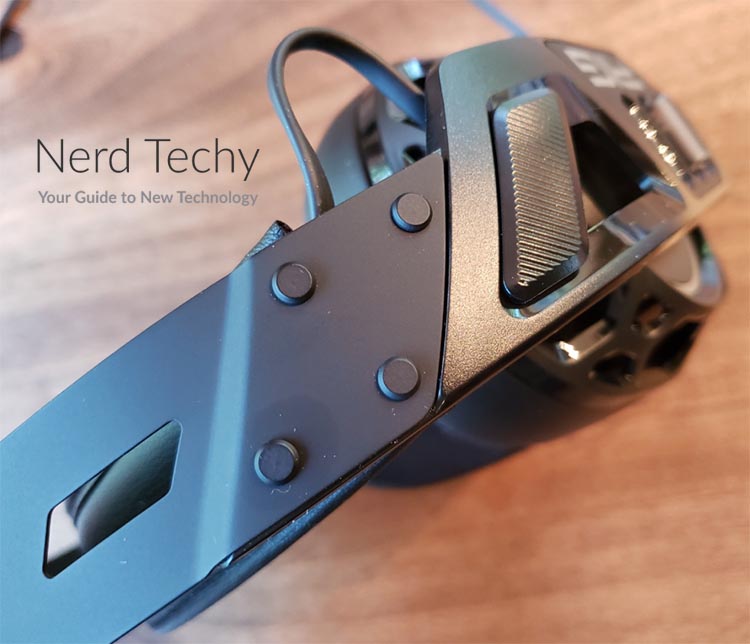 Where the HC Gen-2's audio really shines is the sense of space. This headset supports Dolby Atmos technology. This is the latest surround-sound technology from Dolby, and is designed to create a realistic sense of space. Once again, you're looking at a clutch feature for gaming. Surround sound can make a movie more immersive. But in a video game, being able to tell what's behind you is critical for maintaining awareness.
Keep in mind that Dolby Atmos is currently only supported on PC and the Xbox One/S/X. That said, rumors that Atmos is a Microsoft exclusive are false. It's possible, but not confirmed, that Atmos support may be coming to the PlayStation 5 and Nintendo Switch soon. It also only works with compatible games. The good news is that these tend to be the most popular AAA titles with the biggest budgets. If you're a fan of the latest shooters, your favorite franchise probably supports Atmos.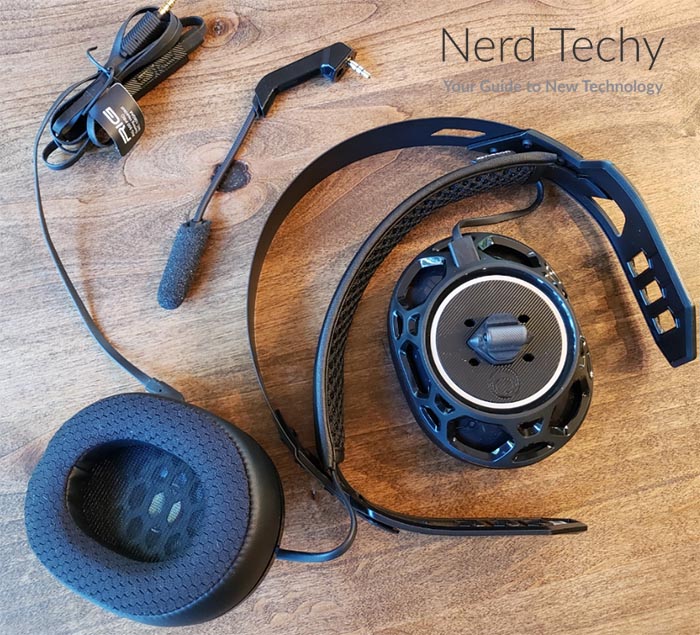 If you want to get similar audio quality in a more affordable package, there are options. One of these is the EKSA Air Joy Pro. While the audio and volume are on par with the HC Gen-2, the surround sound isn't. You only get surround sound on PC, and even then, it's older 7.1-channel simulated surround sound.
As for the mic quality, we had absolutely zero complaints. Mics can be hard to judge, since so much of your voice quality depends on the other person's headset. However, the directionality is excellent on the HC Gen-2. It doesn't pick up much background noise, and focuses on what's directly in front of it. Keep in mind that this means you'll have to make sure the mic is pointed at your mouth. If it's not, it might not pick up your voice.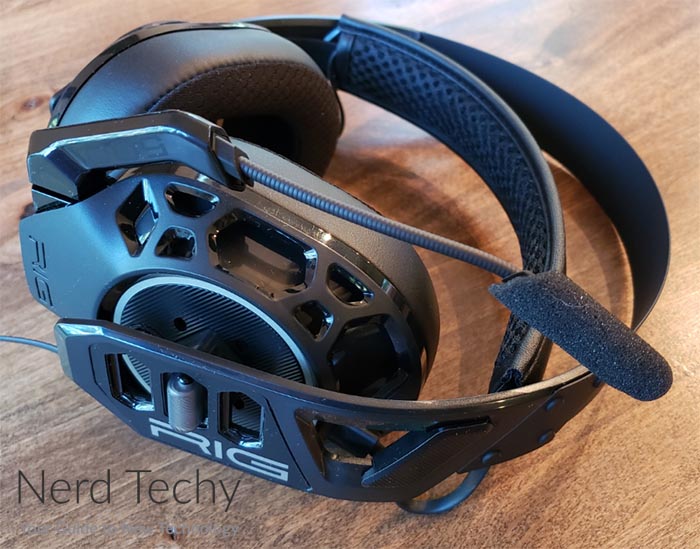 Final Verdict
As you can see, the NACON RIG 500 PRO HC Gen-2 is an excellent headset in most respects. Besides the sense of directionality, it's also very rugged and durable. Combine that with a universal 3.5mm aux connection, and you've got a top performer. Not only that, but it's comfortable to wear, provided your head isn't very large. For most people, this is all you'll ever need in a gaming headset.