ROCKPALS 500W
Pros
Very large battery capacity.
Charges via solar, AC, DC, or USB.
Can charge up to 9 devices simultaneously.
Pure sine wave AC power for sensitive electronics.
Cons
Not TSA-approved for air travel.
Pass-through charging only supported for DC and USB charging.
Electronic devices are part and parcel of everyday life. Look no further than your smartphone. What began as a portable version of a landline now serves as a portal to all kinds of services. Whether you want to check your bank balance or order Chinese food, you probably use your phone. As a result, it's essential to keep a full charge. It's no surprise that portable smartphone power banks are becoming increasingly popular. But if you're taking a long RV trip or other adventure, you may need more power than a smartphone requires.
This is where a portable power station comes in. Now, there's no "official" dividing line between a power bank and a power station. But generally speaking, a power station is designed for larger devices. Typically, you'll find at least one or two AC outlets and a 12-volt DC outlet in addition to USB. You'll also find a higher-capacity battery with a higher maximum wattage. As a result, you'll be able to power any kind of personal electronics. Depending on the power station, you can even run a refrigerator. Because of their larger capacity, power stations are often used for emergency backup power. You can use them to keep your food cool or run a CPAP machine during a power outage.
Today, we're going to review the ROCKPALS 500W Portable Power Station. This is a compact power station that's designed for easy transport. It's also fairly powerful for the size. But there are other factors that go into making a good power station. To fully evaluate this device, we'll need to consider device compatibility, safety, and maximum wattage. We'll also have to look at how you charge the power station, as well as how it's used. After that, we'll have a full understanding of what we're dealing with. Let's get started, and see how it performs!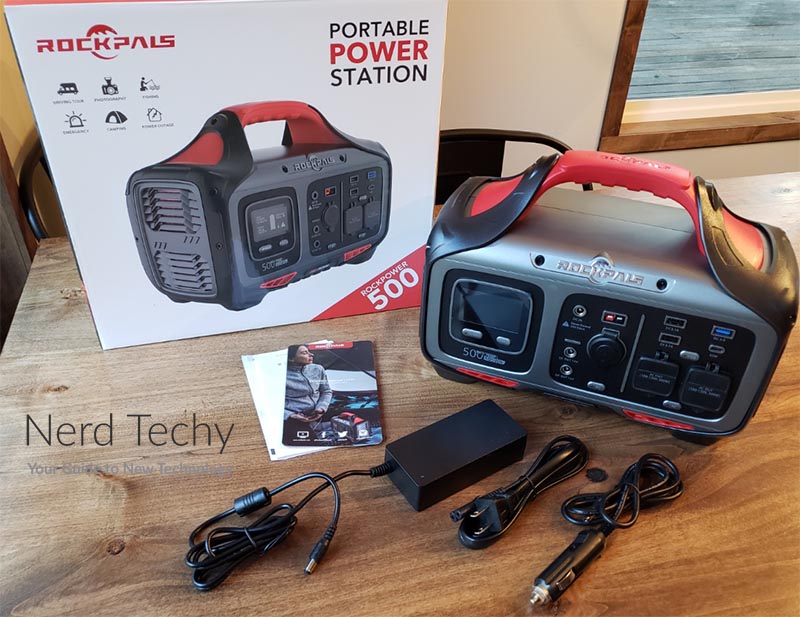 Overall Design
The ROCKPALS 500W Portable Power Station (Discount Code: VPDW5PBM) is built like an old-school boom box or portable CD player. It's rectangular in shape, measuring 11.8 inches wide, 7.9 inches high, and 7.1 inches deep. The housing is mostly matte black, with red highlights at the bottom and on the top handle. The handle itself is wide and comfortably molded, which – combined with a light, 10.4-pound weight – makes the unit easily portable. The plastic is good quality, and doesn't feel cheap. Think of a high-quality portable stereo like a Sony, and you won't be far off.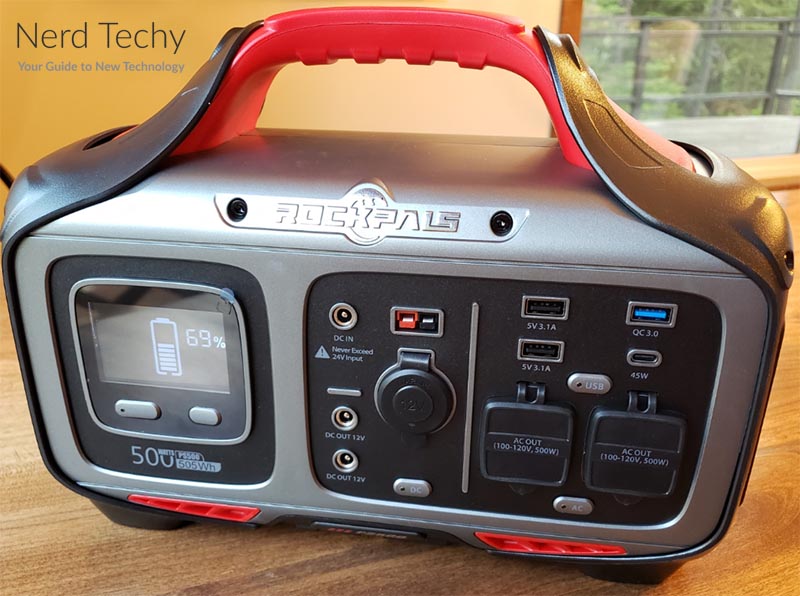 That said, you might want an even smaller power bank. They do exist, and the TrekPow G300 is a good example. It's more compact than the ROCKPALS power bank, and weighs even less. However, it has correspondingly lower battery capacity, and a lower maximum wattage.
The ROCKPALS power bank is remarkably quiet, thanks in large part to the oversized vents that occupy both sides. There are additional vents at the bottom of the front, which allow for even more airflow. This keeps the internal circuitry cool, without the need for your fans to run at high volume. At the same time, keep in mind that your performance will depend on conditions. If it's a hot day and you're running the power bank at maximum power, the fans will definitely be audible.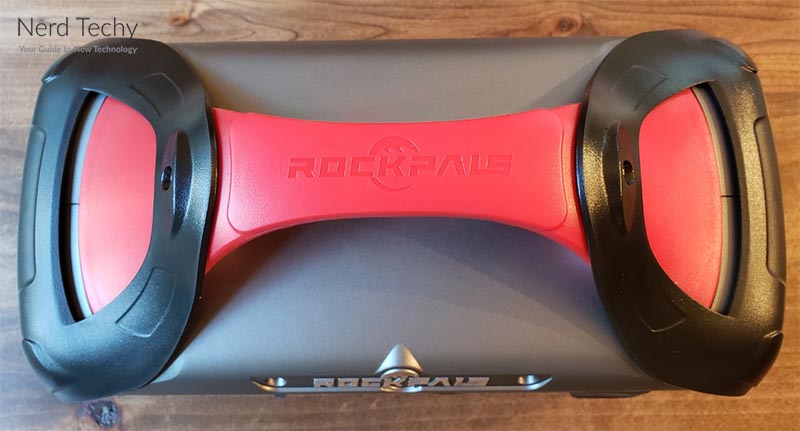 The front panel houses your power inputs, outputs, the controls, and the display. This makes everything easy to locate, since there's nothing on the back. The left third of the front panel consists primarily of an LCD display. This display shows you the current charge remaining, as well as input and output wattage. You'll be able to easily monitor everything you need to know about your power bank at a glance. You'll even see warnings if there are any issues. For example, if you exceed the maximum wattage and a breaker trips, the display will tell you. This makes it easy to diagnose problems when they arise.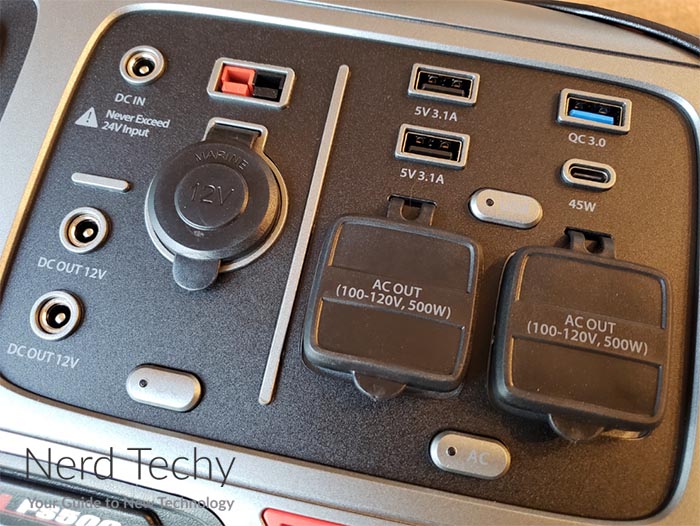 The rest of the front panel consists of all your power ports. DC inputs and outputs are located in the center, including a solar panel input and automotive output. AC outlets are located to the right, along with your USB ports. All three of these sections – DC, AC, and USB – have their own separate control button. Turning off sections that are not in use will help prevent standby power drain.
Along with the power station itself, you also get an AC power adapter. That said, there are several other ways of charging the battery. We'll talk about those methods momentarily.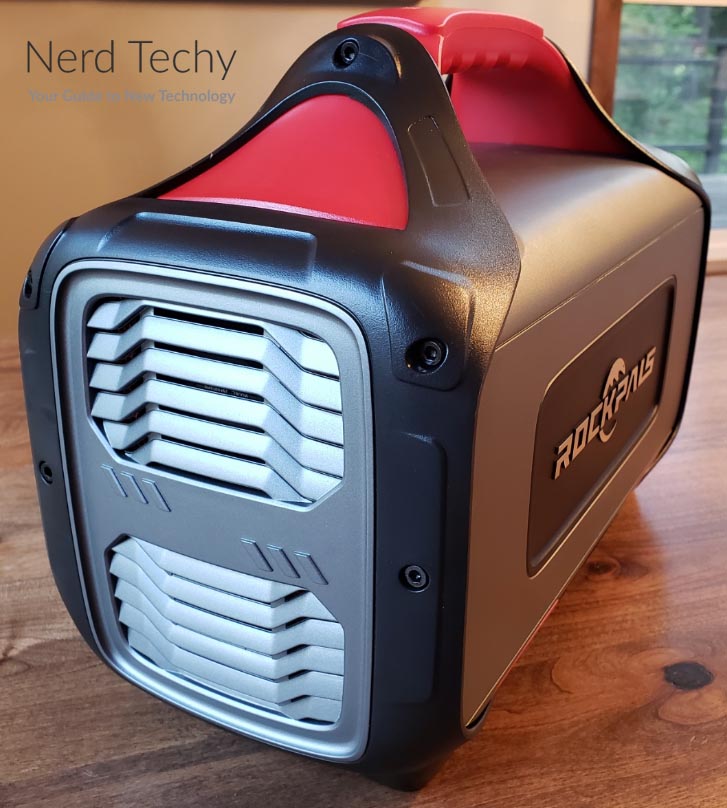 Battery Performance and Capacity
The battery of the ROCKPALS power station has a capacity of 500 Watt-hours (Wh), or 140,400mAh. This is sufficient to charge the latest iPhone as many as 50 times. It's enough for about nine charges on a 12" MacBook, or five charges on a MacBook Pro 16". It can even run a mini fridge or a CPAP machine overnight. This is a respectable amount of capacity, especially for a power station you can carry with one hand. At the same time, a high-capacity power station does have its downsides. The highest-capacity battery allowed by the TSA is 100Wh, 20% of the ROCKPALS'. Unless you have a serious enough need to obtain a TSA waiver, you'll have to fly with a smaller battery.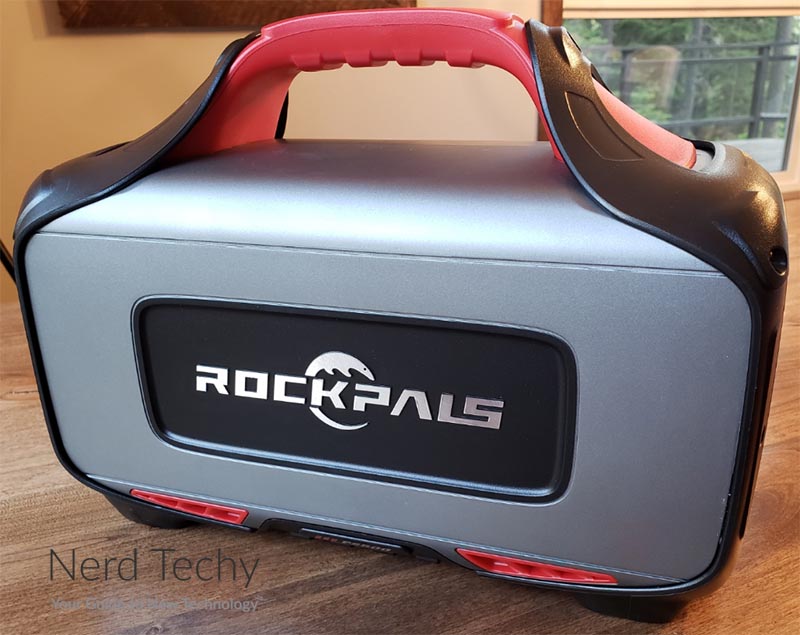 As for power delivery, there are two different measurements. The first is continuous power, or the amount the power station can deliver on a consistent basis. The second is peak power, or the amount that it can deliver in short bursts. Peak power comes into play when certain types of electric motors and compressors first start up. For example, a refrigerator's peak power can be several times its continuous power. The ROCKPALS power station has a maximum continuous power of 500 watts, and a peak power rating of 750 watts. Keep in mind that this is the maximum across all devices. If you draw 500 watts on a single outlet, you won't be able to plug in anything else.
If you want even more power, it's going to be tough to find at this size. The Bluetti EB70 is a similar size and capacity, but delivers up to 700 watts of continuous wattage. It also has a long-lasting LiFePO4 battery that's rated for 2,700 cycles. On the downside, it's a bit pricey.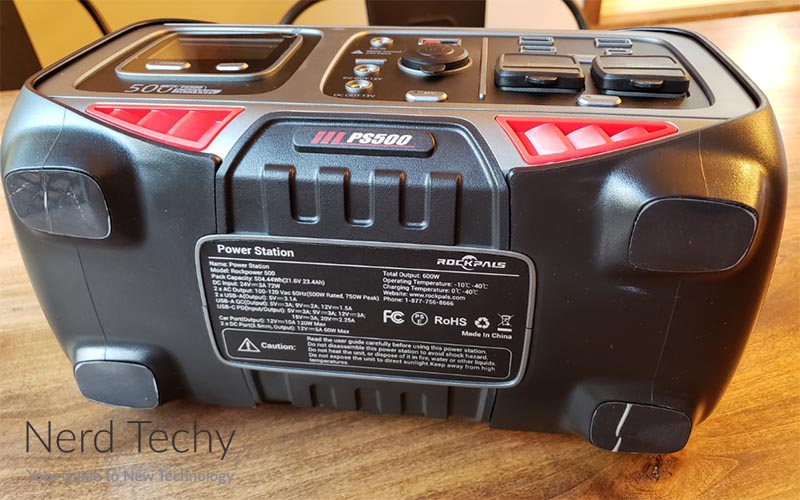 How long it takes to charge the ROCKPALS power station depends on how you're charging it. Using the wall charger that comes with the kit, it will take around eight hours. ROCKPALS advertises faster speeds for solar charging, but that assumes near-peak efficiency. Under normal circumstances, your performance will vary wildly depending on what you're doing. A 12-volt charger will take as long as 16 hours to fully charge the battery. Step that up to 24 volts, and you can cut the time by more than half. Other options include USB Type-C PD, up to 45 watts, and your 12V DC car port. These last two options will require a compatible cable, which isn't included. You can also combine USB charging with wall or solar charging to further increase your charge speed.
This power station supports pass-through charging. This means it can charge its own battery and other devices simultaneously. However, pass-through charging will only work with a DC power input. If you're plugged into a wall outlet, it won't work. On the other hand, if you're using a wall outlet, you're at home and you have power. Just plug your other devices into the wall.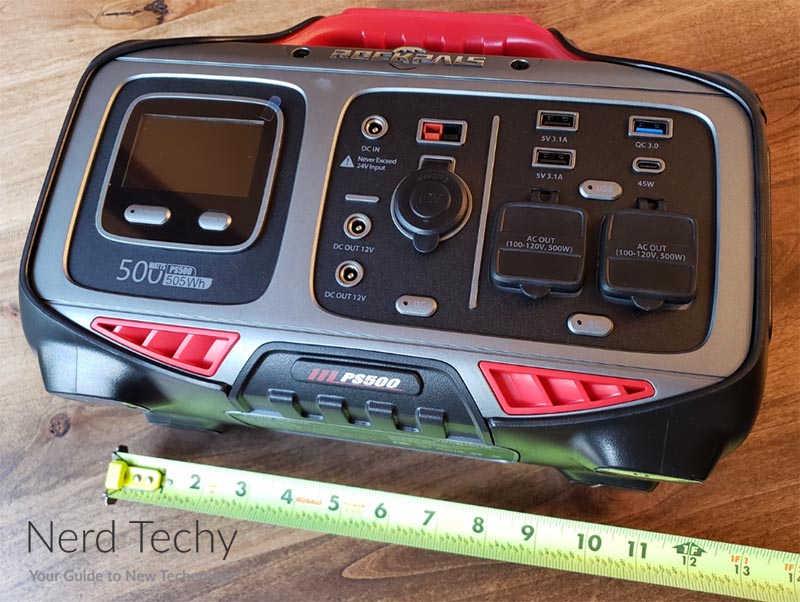 Compatibility and Safety
The ROCKPALS 500W power station has a variety of power ports to supply a variety of devices. At the bottom left, you'll find the two 110V AC outlets. These supply pure sine wave power, which means they're safe for sensitive electronics like CPAP machines. Remember the 500-watt maximum! Normal household outlets provide a minimum of 1,500 watts. So just because a device works on your home outlet doesn't mean it will work on the power station. On the DC side of the panel, there's a marine-grade automotive port, and a pair of 60W round plugs.
In total, there are four USB ports. The two on the left are ordinary USB Type-A ports, with a maximum of 12 watts. The top right Type-A port is a Quick Charge 3.0 port, and supports up to 18 watts. The bottom right Type-C port delivers up to 45 watts of PD power over compatible cables.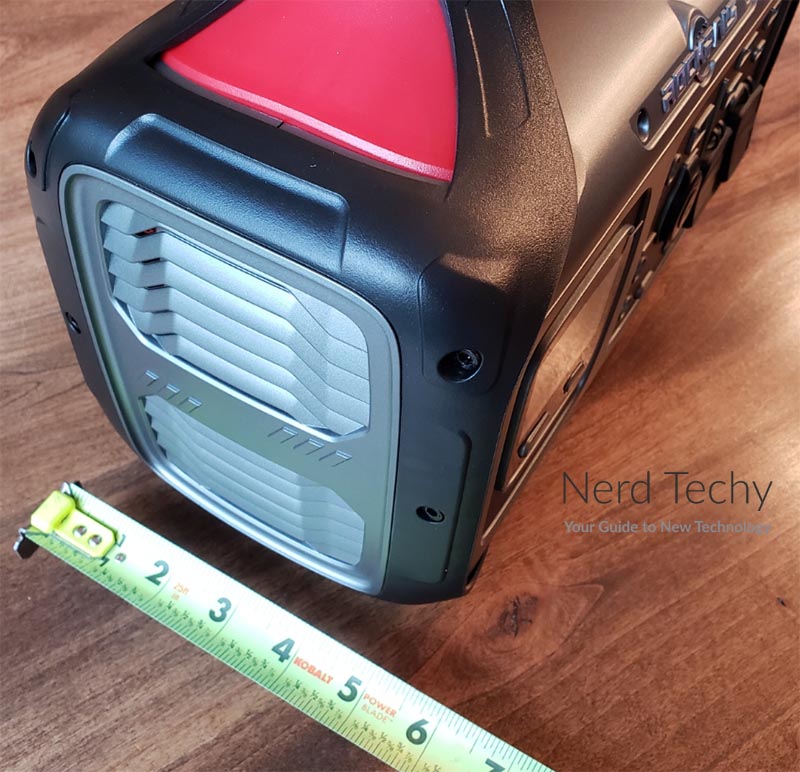 The internal circuitry includes a battery management system (BMS) with a number of safety features. To begin with, you get thermal protection. If for some reason the power station starts to get too hot, it will automatically shut down. You also get protection from short circuits, overcurrent, overvoltage, and overloads. This doesn't just keep the power station and the battery safe. Many of these features are key to ensuring your devices don't get damaged while they're plugged in.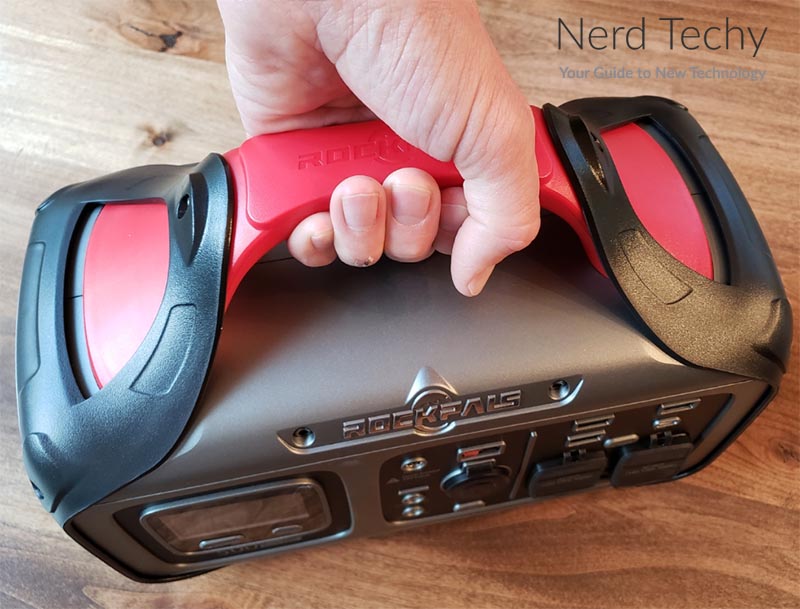 Another very safe power station is the Bluetti EP500. It's massive and powerful, with pure sine wave power and a 425,000mAh capacity. That said, it's expensive and heavy, best suited as a home backup supply and not for travel.
Final Verdict
As you can see, the ROCKPALS 500W Portable Power Station (Discount Code: VPDW5PBM) is very powerful for its size. With a capacity of over 140,000mAh, it's even strong enough to serve as an overnight backup for emergencies. And with pass-through charging, it's easy to install in an RV or camper. It also supports charging via solar and USB, so there are plenty of ways to keep the battery fully powered.
The 500W maximum power delivery is neither here nor there. We've seen better, but we've also seen worse. The 750W maximum peak power is a bit more impressive. This makes the power station capable of powering mini fridges and other devices with a high starting draw. In addition to that, you also get QC 3.0 and PD-capable USB charging ports. You can charge pretty much any device without hassle.