Travel routers don't have to be as powerful as stationary networking equipment. Because if you're traveling, it's not likely you're carrying an entire network with you. In most cases, what most people need is a router that can get them online, do it securely, and without a big hassle.
Choosing a Portable Mini Travel WiFi Router
Choosing a travel router is fairly similar to choosing any other router. You have to pay attention to the same critical issues pertaining to the strength and capabilities of the network. The only complication is you also have to pay attention travel related issues, like portability.
Note: At no extra cost to you, we may earn a commission for purchases using our links. Learn more.
Networking Capabilities
Nearly all of the best portable mini travel Wi-Fi routers will operate on AC750 architecture. Because it's hard to stuff more than a couple of antennas inside a small router, and it's probably unnecessary to begin with. Most people in most circumstances ought to be served by a 300Mbps connection.
But networking power isn't about bandwidth alone. Does the router let you create a private VPN? Can you share files across the network through USB? Is it a fast USB connection, or is it one of the older formats? These kind of details quickly add up.
Portability
Portable means different things to different people. If you're traveling from hotel to hotel, then your portability concerns are simple. You want to be able to stick your router into a pocket, or otherwise store it away without notice until it's time for use.
Size and weight are the most basic level of portability. But when you're doing more than traveling from hotel to hotel, you might need a router that can offer even more for people on the go. For instance, a router that's capable of operating on its own battery power.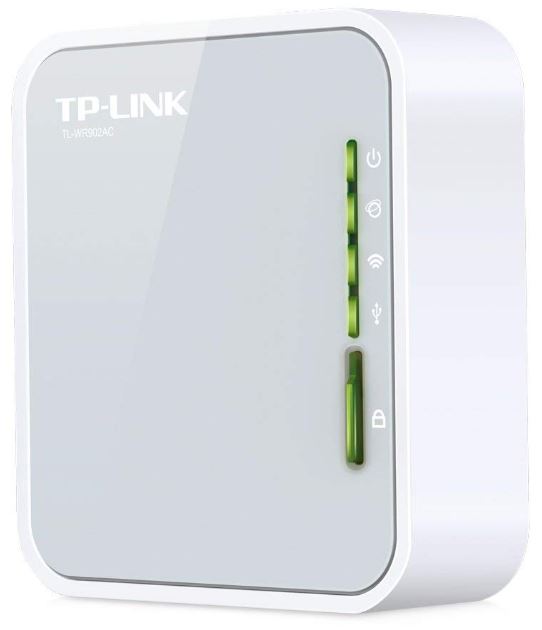 TP-Link (TL-WR902AC) AC750 Wireless Travel Router
TP-Link is a brand that needs little introduction, especially in the space of networking technology. And their TL-WR902AC is a testament to simple design done well. Though this router doesn't have exactly the same features as a full-sized TP-Link router, it does come incredibly close.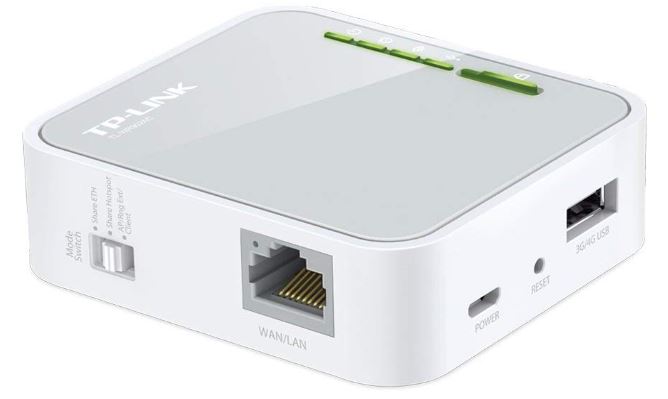 Build & Design
This router measures 2.64 x 2.91 x 0.87-inches, and weighs about half a pound. That easily makes it one of the most portable travel routers on the market. But portable doesn't mean it lacks power, in fact, it can even be turned into a full-fledged Wi-Fi network through the addition of an Ethernet cable.
The white chassis looks as bland and non-descript as most TP-Link equipment. The only real difference is this equipment looks miniaturized. On the backside, you'll find a single USB port that can be used to charge accessories like laptops. It port can also be used for Chromecast, Amazon Fire TV Stick, and so forth. Pretty handy.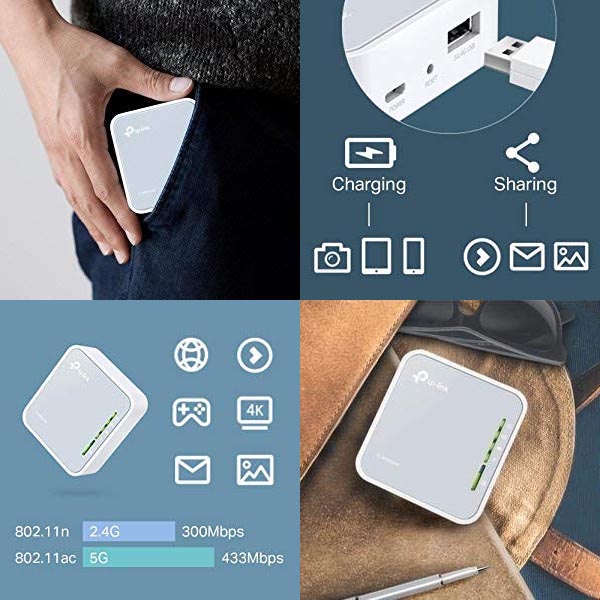 Networking Potential
The Dual Band AC750 core of this router allows for pretty powerful connections which, to most people, will fully compare to a full-sized router. True to its name, you're able to move bout 750Mbps across the network with this router. Though a little over half is on the 5GHz band, which means you'll want line of sight for any devices that intend to pull more than 300Mbps.
Additionally, there's a one switch design. Like you might imagine, it's pretty easy to become familiar with using. Similar to most of the best mini travel routers, the TL-WR902AC lets you switch between several different modes to better suit your current location.
The switch lets you toggle between share ETH, share hotspot, or AP mode. You can switch between extending the range of your router, switching over to requiring a wired connection, and turning the hardware into a wireless access point. Whether you're creating a network at a hotel or at home, that provides you with all the options you need.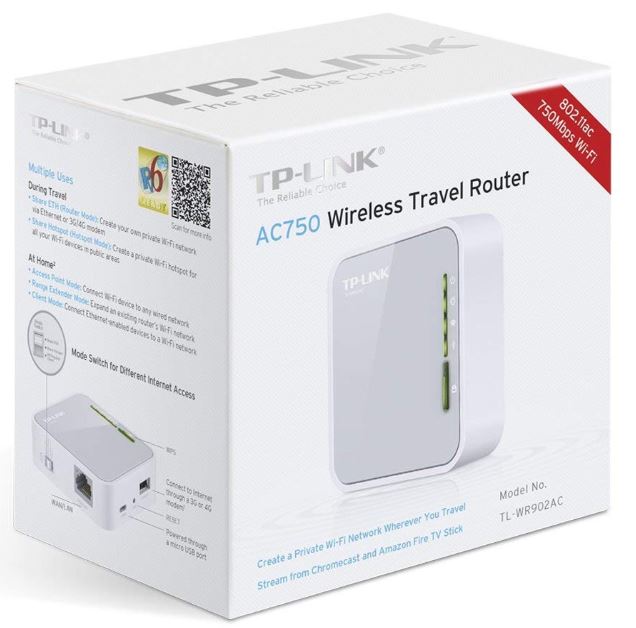 Other Considerations
The micro USB power-port has been recessed within the chassis quite a bit. This means the cable hardly plugs into the router at all, which makes it easy for the connection to slip out when the router is moved. This issue is eliminated by wrapping the wire in place with a rubber band, but it's a kind of design flaw that's atypical from a brand like TP-Link.
TP-Link includes a two-year warranty along with endless 24-hour tech support. However, there isn't much documentation surrounding this particular router. If you do encounter a problem, you may have added difficulty fixing it on your own.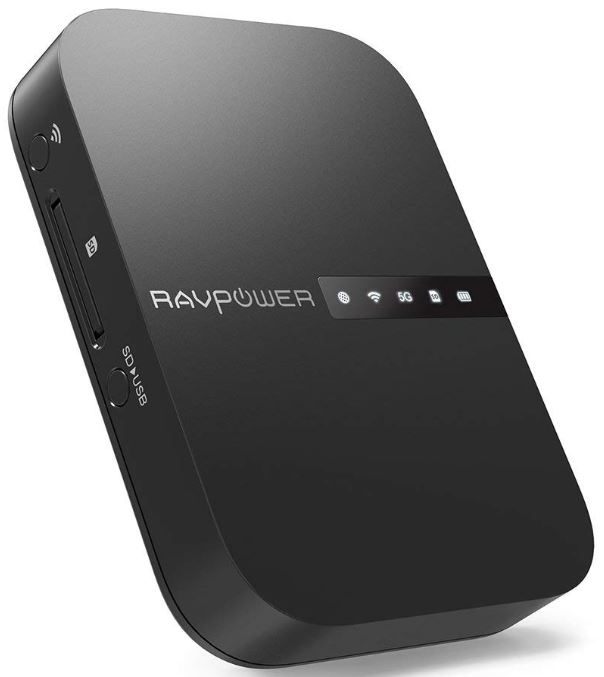 RAVPower FileHub (RP-WD009) AC750 Wireless Travel Router
Even though most people have never even heard of the brand, the RAVPower FileHub is stunningly popular. Because it provides all the essentials of a good router, combines them with features that make everything easy, and then add a battery on top.
Moreover, the RP-WD009 provides data backup. But it's not just data backup, it's one key backup. With a little configuration, the AC750 will automatically backup your photos to HHD or SD card using the RAVPower FileHub software. And all of that is just for starters.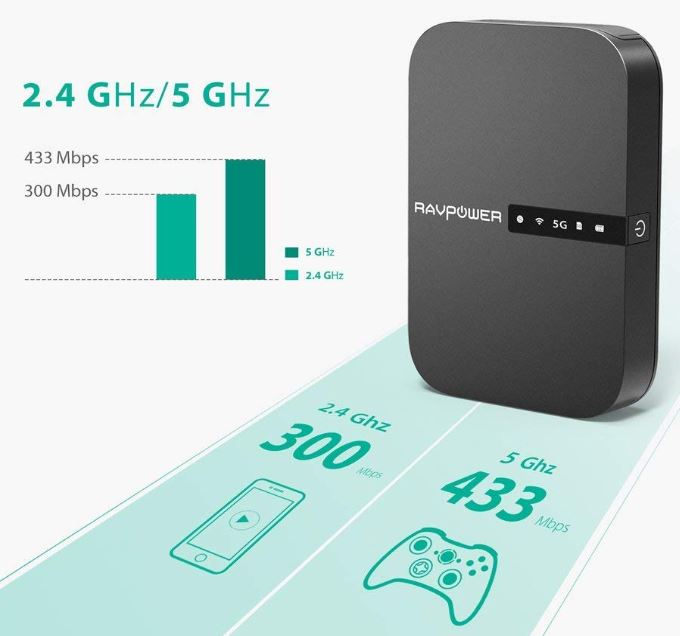 Build & Design
The RP-WD009 measures 3 x 4.4 x 0.91-inches, and weighs about half a pound. It's pretty fair to call this a highly portable router because it's not tough to shove inside of a pocket, or otherwise carry with you as you would a smartphone.
Similar to a full-sized router, along the front, there are a number of LEDs to help you make determinations about the status of your network. Nothing terribly original, though you should notice there's a 5G icon, indicating the health of 5.0GHz connections. Whether you're using the 2.5GHz band or the 5Ghz band, you'll want to keep your devices to be within about 30-feet of the router.
Along its side, you'll find an SD card port, a power button, a broadcast button, and a function button. Basically everything necessary to quickly setup a network, without any extra configuration to confuse things. None of the buttons are too small, though several come close.
Rather than using a traditional power supply, this router operates with the help of a 6700mAh External Battery. Because it's an external battery, you're hypothetically able to swap-in another battery, which adds an enormous amount of utility, and also a smattering of networking potential.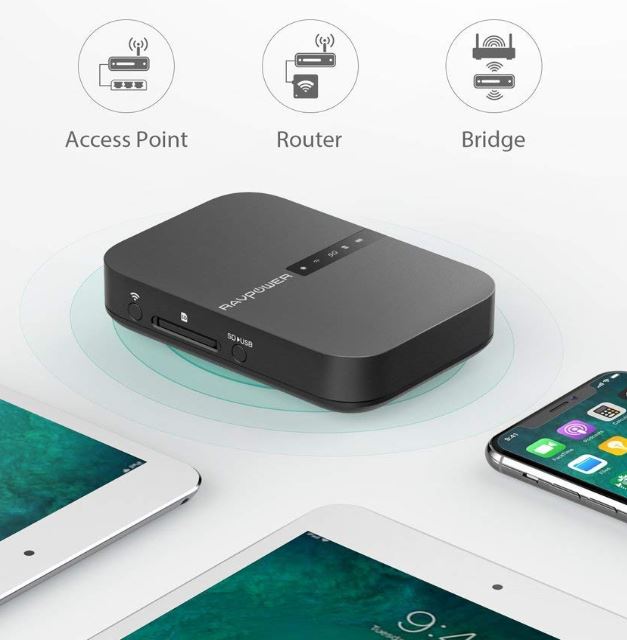 Networking Potential
The AC750 can be switched between three modes: bridge, router, and AP. The router mode works basically like running an ordinary router. The bridge mode allows you to connect the AC750 to an existing network and broadcast a new signal. By plugging in an Ethernet cable, the AP mode allows you to take wired signals and make them wireless. However, the 5GHz band is not available when you're using bridge mode. It would be nice to blame that on RAVPower, but it's really just a limitation of the technology.
Additionally, the AC750 architecture includes a 300Mbps Wi-Fi chipset for the 2.4GHz band, and an additional 433 Mbps used on the 5.0GHz band. Pretty good support on both ends, and you're able to instantly convert your wired network into a private network as well.
The wireless backup storage feature of the AC750 means you can transfer movies, music, files, and so forth. And you can move them between all the devices on your network, laptops, tablets, phones, HHDs, flash drives, and so forth.
Wired backup is just as speedy. You can upload content from an SD card to your HD in only a couple of seconds because the AC750 supports 12-18 MB/s speeds. Even if you're trying to more an extremely large 20GB file, you'll have no problem speeding it across the network.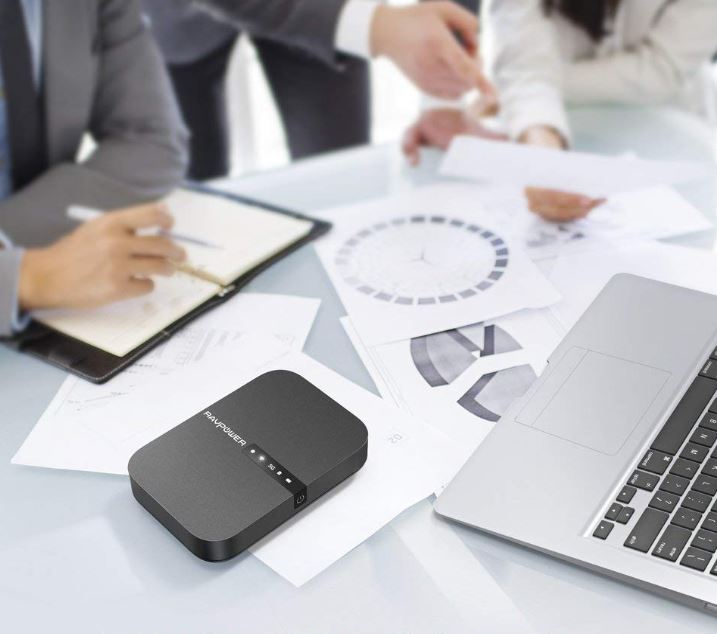 Other Considerations
Using their media share and cloud app, you can share that content with your family, or integrate with Chromecast, Roku, and similar web apps. There's a maximum of five devices allowed for cloud network support. A reasonably high ceiling.
If you want to reset this router, you'll have to do it software side. That doesn't sound like a big problem, and it won't be a big problem for most people in most circumstances. But there are a few longshot situations, rare circumstances, where you need a reset button on your hardware.
Though RAVPower isn't exactly a big name when it comes to router equipment, they do come through when it comes to warranties. In fact, the AC750 includes a lifetime warranty, far exceeding what you'll find from almost any other manufacturer. It also includes a USB cable to help charge the router.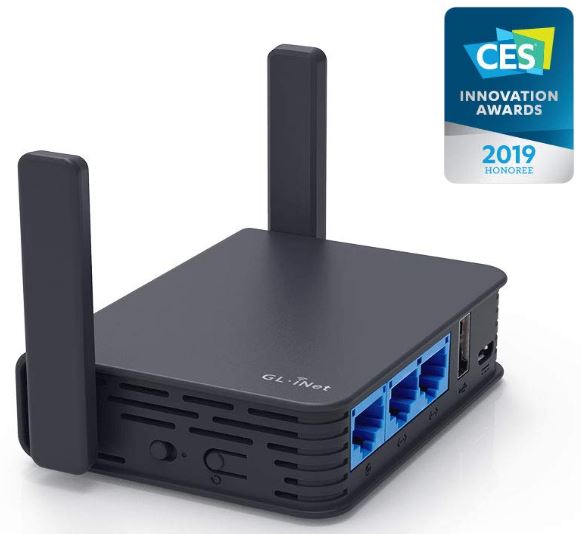 GL.iNet GL-AR750S-Ext Gigabit Travel AC Router
Similar to the RAVPower FileHub, GL.iNet is another name that not many people are familiar with. But their GL-AR750S is a diamond in the rough. Even within their relatively crowded industry, this Gigabit Travel AC Router is still managing to turn heads. It was even nominated for, but ultimately lost, an innovation award.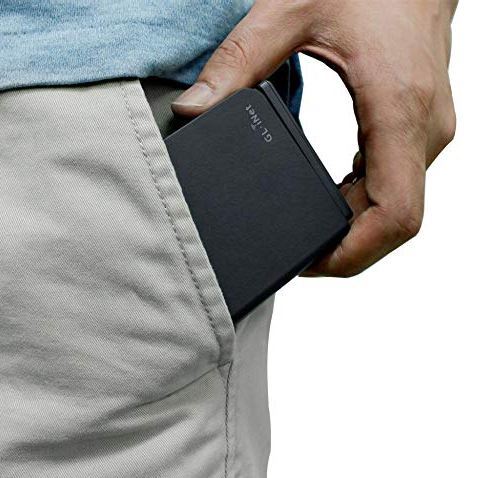 Build & Design
What makes a router innovative? In this case, it's the open source code on which the hardware is built, and the fully programmable design which emerges as a consequence. If you want for a router that's capable of operating well within a smart-home, then programmability certainly doesn't hurt. It doesn't hurt if you're trying to play videogames while traveling, either.
If you're not looking for that kind of extreme adaptability, you'll be pleased to know it includes pre-installed OpenWrt software so you can basically treat this router as plug and play.
Physically speaking, the GL.iNet Gigabit Travel Router measures 3.94 x 2.68 x 0.94-inches, and weighs about three ounces. Though its dimensions are not terribly unusual, it's easily the lightest travel router on this list. It's slightly larger than some of the other travel routers on this list, but it's also got slightly greater internal capacity for memory and storage.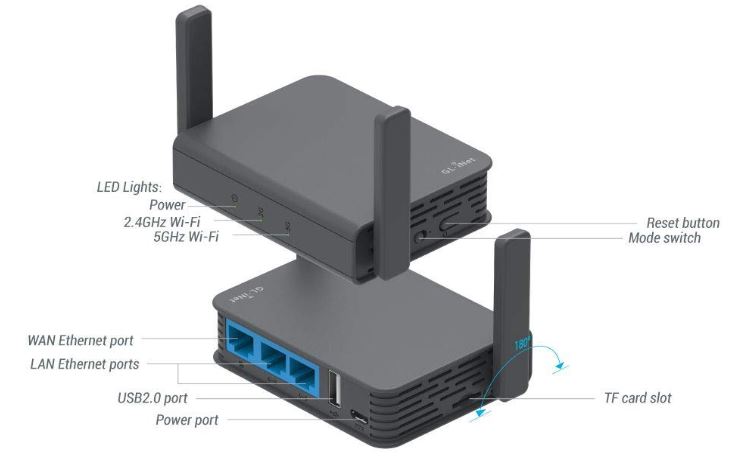 Networking Potential
It offers 802.11N connections using both the 2.4 GHz and 5.0 GHz band. Like the other travel routers on this list, you're only getting one connection on each band. In other words, about 300Mbps through the 2.4 GHz band and 433Mbps through the 5GHz band. Pretty much all the power you need to setup a mobile network anywhere you go.
In addition to 128MB RAM, this router has a total of three Ethernet ports available to it. Not a bad option for someone with a traveling companion. But the option for growth aren't all hidden on the hardware side. This router can work as a VPN client and server, and it comes preinstalled with OpenVPN software. That's capable of connecting with more than two dozen different VPN providers.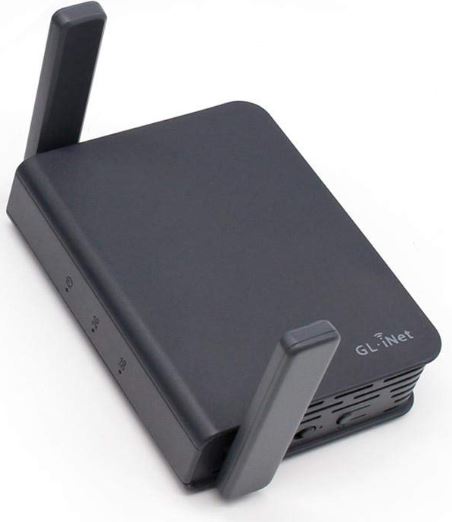 Other Considerations
Mixing both Cloudflare DNS and TLS is actually novel, it's never come pre-configured on a router before. That makes this a travel router which is better suited to conducting business, and for people who are interested in data security.
A firmware update has been released since the router was originally manufactured, so you want to take the time to update the firmware before you start setting up your network. In addition, the GL.iNet GL-AR750S-Ext includes a one-year warranty, the necessary DC power adapter, a USB cable, and a short Ethernet cable.
Choosing Between the Best Portable Mini Travel WiFi Router
The GL.iNet GL-AR750S-Ext Gigabit Travel AC Router is a little bit pricey. It's nearly twice the cost of some pretty effective entry-level mini travel routers. But it also has nearly twice the capabilities, especially if you're looking for VPN support, open source architecture, or a programmable network interface. It's also the right choice for someone who prioritizes security concerns above all else.
The TP-Link TL-WR902AC is an excellent choice for someone who's looking for a simple, high quality travel router. It's not loaded with extra features, and the power cord can be a hassle to deal with. But it provides everything the average internet user wants from a router, and it does so with a price that's easy to swallow.
Finally, there's the RAVPower FileHub (RP-WD009) AC750 Wireless Travel Router. When it comes to features and network accessibility, this router compares favorably with the other equipment on this list. But it's not exactly like the rest. The RAVPower FileHub lets you create a network without dependence on cords, which makes it a great choice for someone who's looking for portability and power independence above all else.
Note: At no extra cost to you, we may earn a commission for purchases using our links. Learn more.