When you go on the road, you may get stuck relying on a public network. This can expose you to all kinds of risks you don't have to worry about at home.
For one thing, you have no idea who else is using the network. Hackers routinely connect to public networks and try to infiltrate people's computers.
One minute you're checking your email on the airport WiFi network. The next minute, a hacker is making unauthorized charges on your credit record.
You can solve this problem by using your own router. This puts an extra layer of protection between you and the other people on the network.
Having your own travel router could be useful in other situations, too.
You can use one in a hotel or a coffee shop. They can also come in handy for connecting other devices that require a WiFi connection. For example, a portable WiFi printer.
Today, we're going to review four of the best wireless travel routers we could get our hands on. All of these are great for connecting your computer when you're on the go. But which one has the features that you need?
To answer that question, we'll have to look a lot closer at the details. After we've scrutinized all four of these options, we'll have enough information to deliver our verdict. Let's begin!
Best Overall: GL.iNet (Slate AX) WiFi 6 Travel Router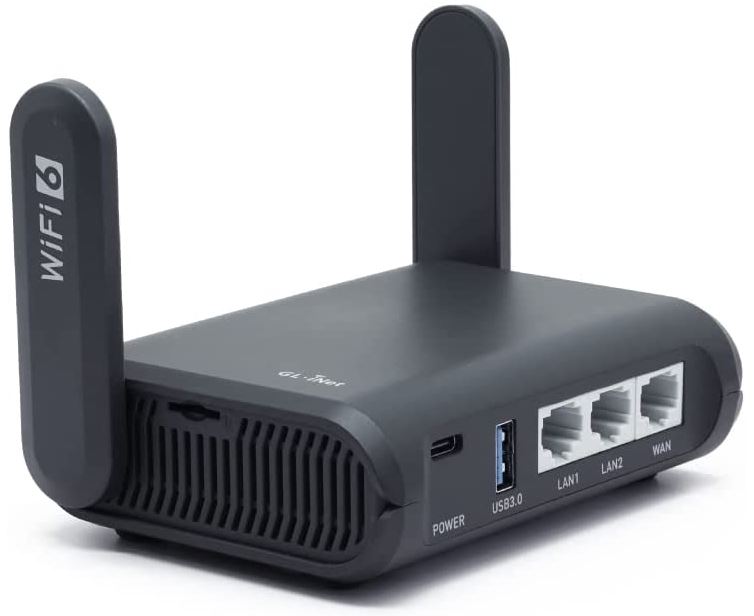 Key features:
1,800Mbps total bandwidth
Two LAN ports
Pre-installed VPN services and Cloudflare encryption
Works as a WiFi repeater for captive networks
Pre-installed AdGuard Home
The GL.iNet (Slate AX) WiFi 6 Travel Router is a pocket-sized WiFi router with a matte black plastic housing. It measures 4.92 inches wide, 3.22 inches deep, and 1.41 inches thick. And at 8.64 ounces, it's lightweight enough that you'll barely notice you're carrying it.
The sides of the housing are vented, and a cooling fan draws air through them to maintain temperature. The fan is reasonably quiet, and it doesn't run constantly. It only kicks in when the internal temperature reaches 167 degrees Fahrenheit.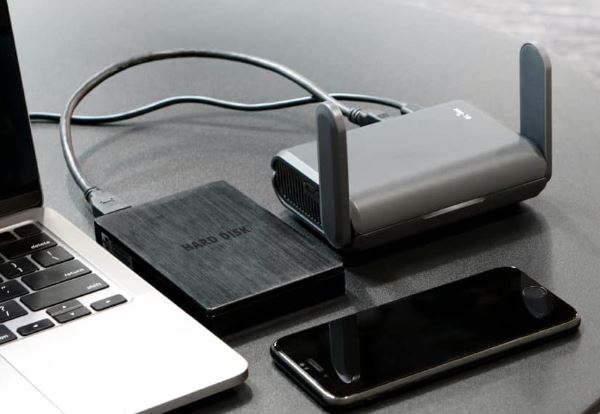 In the left side, you'll notice a Micro SD slot. This can be used to add network storage directly to the router. It's like having an external hard drive and a router all in one.
Meanwhile, there's a pair of antennas attached near the backs of both sides. They're broad and flat, and can be swiveled up and down. When they're down, they neatly cover the side vents, which is ideal for storage and transport.
The ports are located across the front of the housing. At the left is a USB Type-C port, which is used to deliver power. Next is a USB Type-A port with a blue internal tab that makes plug orientation simple.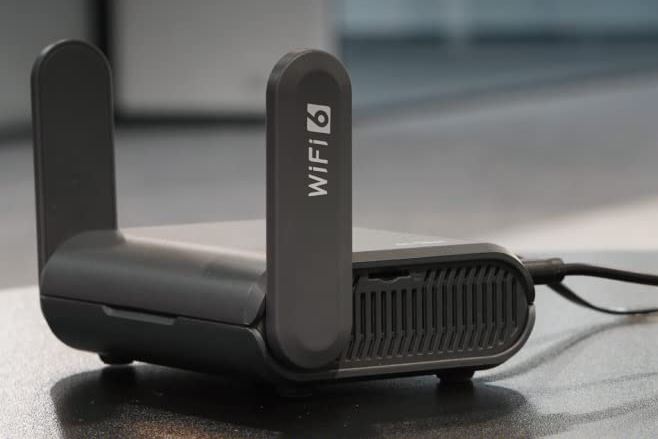 This port can be used to connect a thumb drive or external USB hard drive. Next there are three Ethernet ports with grey frames. The two on the left are LAN ports for connecting your computer or other devices. The one on the right is a WAN port for connecting to your router.
Along with the router, you get a semi-rigid carrying case. It's made from heavy-duty nylon, and is form-fitted to hug the router's profile. The material provides a reasonable degree of scratch-resistance. And a black zipper makes it easy to access.
GL.iNet provides a 12-month manufacturer's warranty. If it fails, you'll be fully protected from any defects.
Networking Capabilities and Extras
The Slate AX is a WiFi 6 router, which means it supports the latest version of WiFi. Of course, it's still compatible with older versions of WiFi like 802.11c/g/ac. With a WiFi 6 connection, you can take advantage of MU-MIMO support.
Without going too far into the weeds, this allows you to connect up to 120 devices at the same time. That's more than you'd ever need on a travel router, but it beats running out of capacity.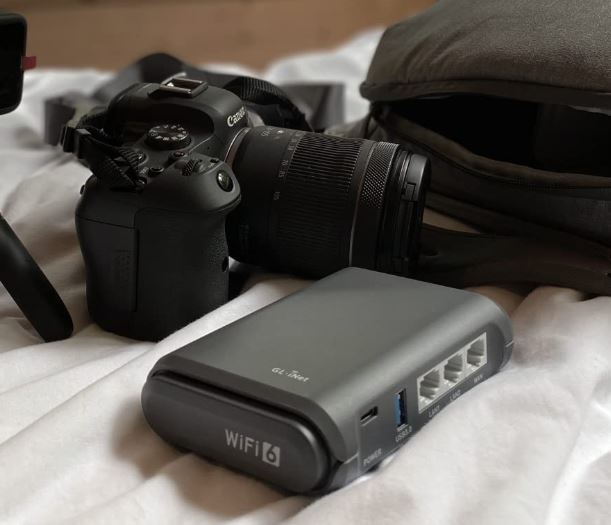 In addition, this router offers impressive speeds. You get 600Mbps of bandwidth on the 2.4GHz channel and 1,200Mbps on the 5GHz channel. Combined, this amounts to 1,800Mbps of bandwidth. That's pretty run of the mill as full-sized routers. But for a compact travel router, it's insanely fast. The LAN ports, meanwhile, provide a standard 10/100/1000 rating.
The hardware isn't all you're getting. The Slate AX comes with OpenVPN and WireGuard already installed. These are popular VPN services that keep your personal information safe while you're browsing. The OpenVPN speed is limited to 120Mbps, and WireGuard can support 550Mbps.
Alternatively, the router supports more than 30 other VPN services. Even better, all your connections are Cloudflare-encrypted. This gives them the same level of security as an "https" website.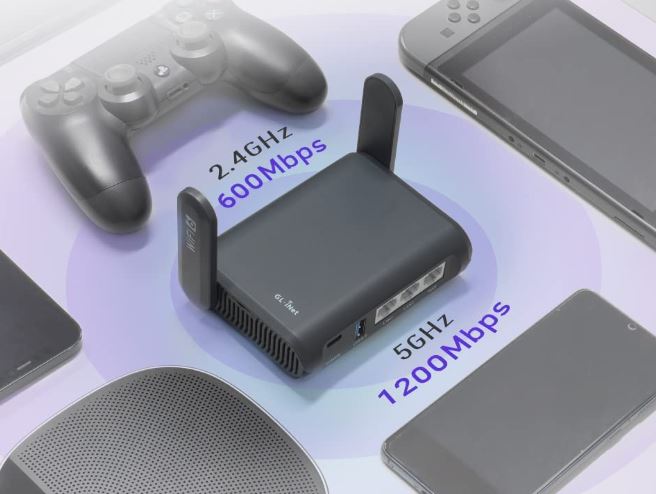 In addition to using the Slate AX as a standalone router, it can also be used as a secure repeater. Connect it to a public WiFi network, then connect to the router behind your VPN. The router will even work with captive portals. These are the paid connections you use in hotels and other locations that charge for internet.
Finally, the router comes with AdGuard Home already installed. It will automatically remove ads and keep sites from secretly tracking you. And since it's happening at the router level, it won't hog your computer's resources.
What we liked:
Fast connection speeds
Plenty of VPN support
Built-in ad blocking
Can support a large number of devices
What we didn't like:
Best Runner-Up: GL.iNet (Beryl) VPN Wireless Little Travel Router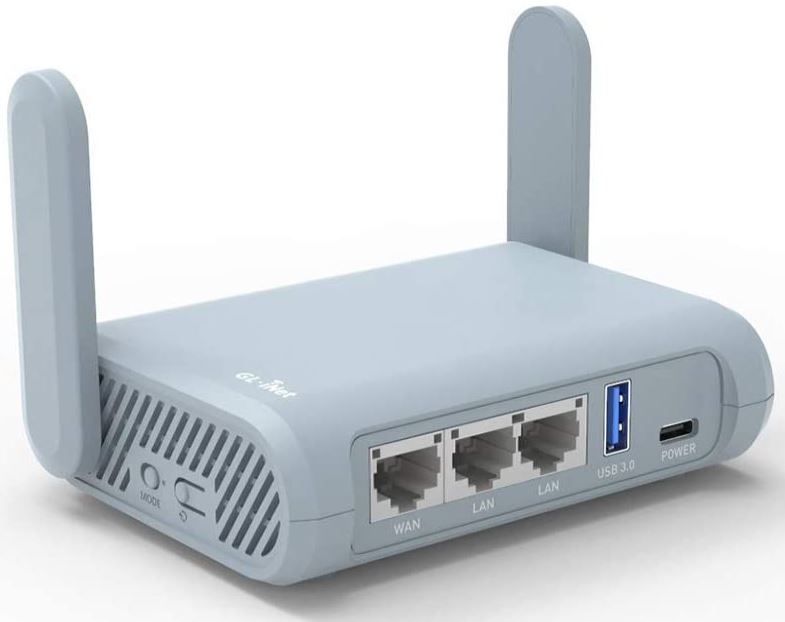 Key features:
1,267Mbps total bandwidth
Two LAN ports
Built-in VPN and TOR capability
Can work as a WiFi repeater
The GL.iNet (Beryl) VPN Wireless Little Travel Router is similar in many ways to the Slate AX. It has a rectangular housing with antennas at the back corners that fold down to form solid sides. The sides are vented, with a Micro SD card slot in the right. On the left is a button to switch between different modes, including VPN and Tor modes.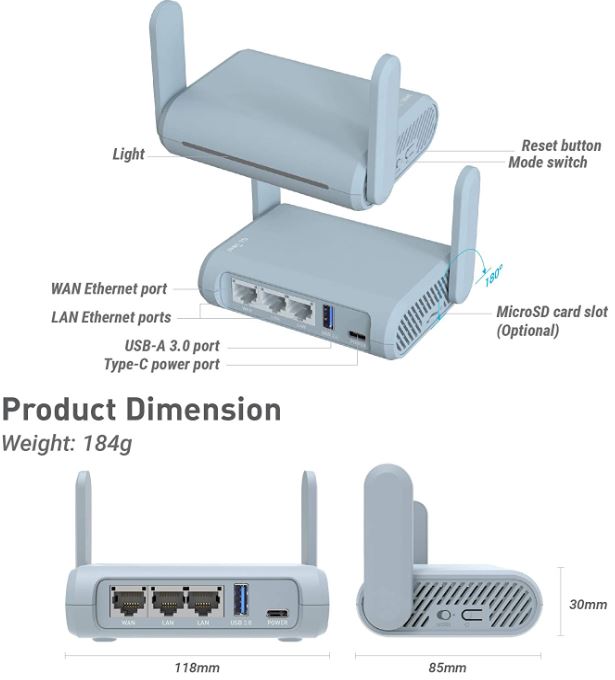 Besides the mode button, there are a few other differences worth pointing out. To begin with, the ports across the front are reversed. The WAN port is on the left, and the USB power port is all the way to the right.
The housing is blue grey instead of black, although it has the same easy-to-clean matte finish. It's also a tad smaller, at 4.64 inches wide, 3.34 inches deep, and 1.18 inches thick. The weight is correspondingly lower, at just 6.49 ounces.
There's nothing smaller about the warranty, though. The Beryl is backed by the same 12-month warranty from GL.iNet.
Networking Capabilities and Extras
The Beryl has somewhat more modest capabilities than the Slate AX. The total bandwidth works out to 1,267Mbps. That's 400Mbps on the 2.4GHz channel, and 867Mbps on the 5GHz channel. The Ethernet ports are of the normal 10/100/1000 variety.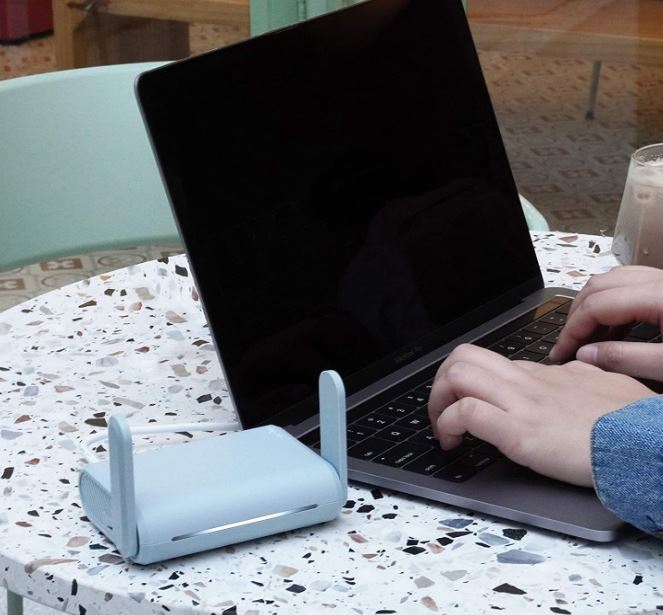 This router comes with some of the same features as the last one. OpenVPN and WireGuard are pre-installed. Keep in mind that you're subject to speed caps with the VPNs, but that's a necessary tradeoff.
The Beryl doesn't come with AdGuard installed, which we admit was a bit disappointing. It also won't work on captive portals. But it works fine as a repeater on other captive networks. And for the security conscious, you even get a pre-installed Tor app.
What we liked:
VPN and TOR for secure browsing
Dual LAN ports
WiFi repeater function
What we didn't like:
Repeater function won't work with captive portals
Best Alternative: NewQ Filehub AC750 Wireless Travel Router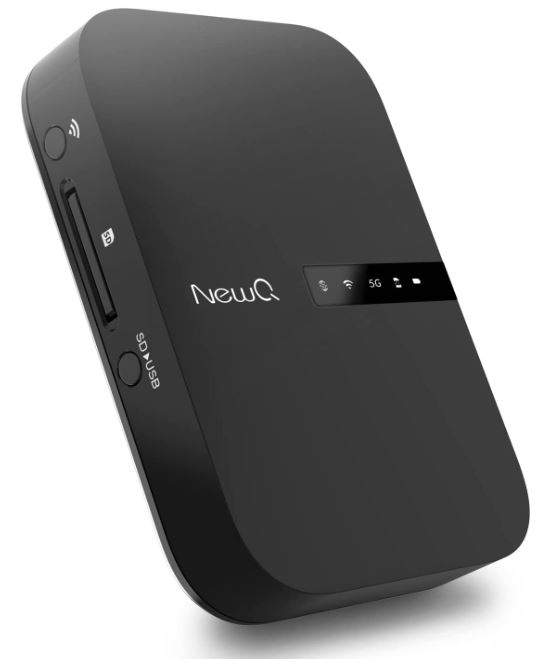 Key features:
733Mbps total bandwidth
6,500mAh internal battery
Access point, router, and bridge modes
The NewQ Filehub AC750 Travel Router has a more straightforward design, with no external antennas. It's just a glossy black rectangle, with an ultra-smooth finish and rounded corners. The overall size is 4.44 inches wide, 3 inches deep, and 0.88-inch thick. At 9.6 ounces, it's a hair heavier than the others. But even so, it's light enough to carry with you anywhere you go.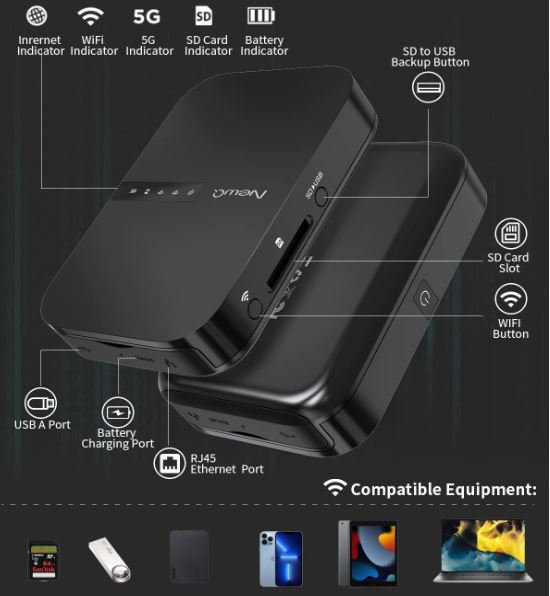 On top, there's a white NewQ logo, along with a series of LED indicators. The indicators let you know when you're connected to the web, when the WiFi is active, and other important data.
On the front is a Micro SD slot for network storage. The ports are located on the left side of the housing. At the back is a USB Type-A port for storage, followed by a USB Type-C power port. Towards the front is a WAN port.
Networking Capabilities and Extras
The AC750 has 300Mbps of bandwidth on the 2.4GHz channel, and 433Mbps on the 5GHz channel. That's a total of 733Mbps, which is a bit slow but still fast enough to be useful. It can be used as an access point, router or bridge.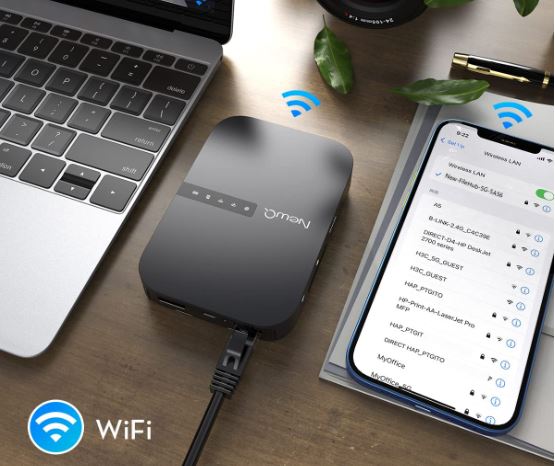 The NewQ Filehub also doubles as a power bank. The 6,500mAh internal battery can charge the average smartphone and still have juice to spare. It will also run your router for around four to eight hours without needing to be plugged in.
What we liked:
Doubles as a power bank
Works as a router, access point, or bridge
Does not require a power supply
What we didn't like:
Slow maximum bandwidth
No LAN connection
Best Budget: TP-Link Nano Wireless Travel Router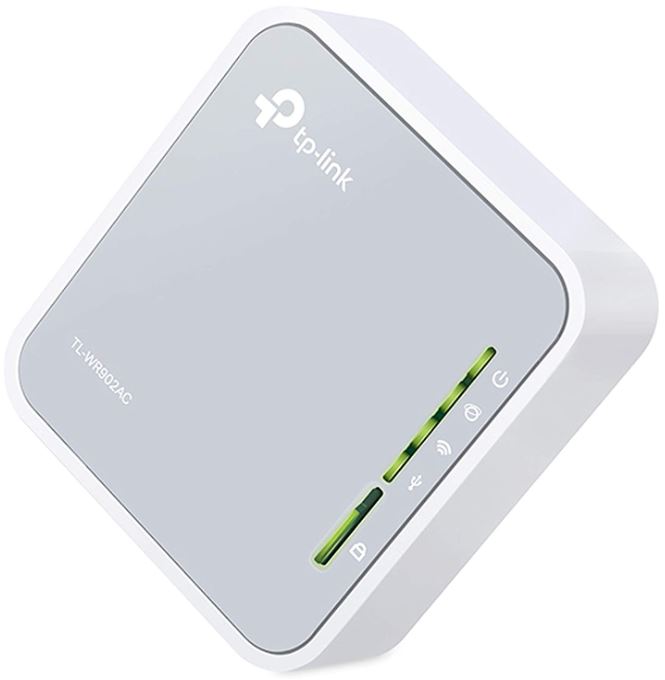 Key features:
733Mbps total bandwidth
One dual-function Ethernet port
Very affordable
The TP-Link Nano Travel Router has a compact white and grey housing. It measures just 2.64 x 2.91 x 0.87 inches, and tips the scales at a modest 8 ounces. On the front is a USB Type-A port at the right, with a USB Type-C port at the left for power. On the left side is a mode switch, along with a dual-function LAN/WAN port.
Be aware that this travel router is slightly outdated. Then again, it's very affordable, and it's hard to beat for the price. If you're someone who only needs basic WiFi with acceptable speeds, this may be the ideal choice.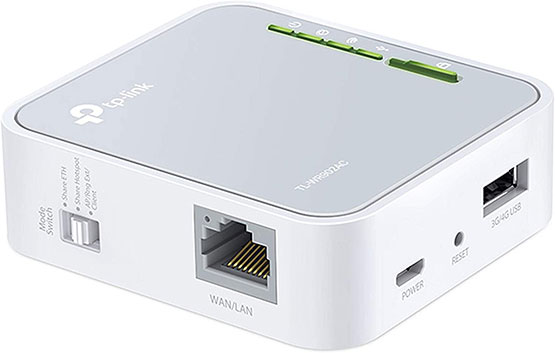 Networking Capabilities and Extras
The Nano Travel Router has the same bandwidth as the AC750. However, it also supports an Ethernet connection. Keep in mind that there's a trade-off here. If you plug your computer into the Ethernet port, you'll have to connect the router to your network via WiFi. If you plug the router into a modem or wall socket, you can only connect your computer via WiFi.
What we liked:
Versatile design
Dual-function Ethernet port
Very affordable
What we didn't like:
What's the Best Wireless Travel Router to Pick?
These are all good quality travel routers. But which one should be your next travel companion?
Here's what we've learned about all of them, starting with the GL.iNet (Slate AX) WiFi 6 Travel Router. This was our top choice, and it isn't even close. There are so many extra features, beginning with not one, but two built-in VPN services.
Pre-loaded AdBlock Home keeps advertisers from tracking you, and removes most ads from websites. The 1,800Mbps of bandwidth is very impressive for a travel router. And with support for captive portals, you can use the Slate AX just about anywhere.
The GL.iNet (Beryl) VPN Wireless Little Travel Router was our next favorite choice. This router is even smaller than the last, which is good news if you're looking for the tiniest router possible.
It doesn't come with AdGuard or captive portal support. But it makes up for that with a nifty Tor app. And while the maximum bandwidth isn't mind-blowing, it's still faster than the average travel router.
The NewQ Filehub AC750 Travel Router isn't as fast as the other two. With 733Mbps of bandwidth, it will be noticeably slower than your home network. That said, it's battery-powered, so you can use it without needing to find a power outlet. And the battery even doubles as a power bank.
The TP-Link Nano Travel Router is also a bit slower, but it's very affordable. While it's inexpensive, it would still make a great option for those who don't need to absolute fastest speeds. And unlike the NewQ, you can connect to it via an Ethernet cord.
Meet Derek, "TechGuru," a 34-year-old technology enthusiast with a deep passion for tech innovations. With extensive experience, he specializes in gaming hardware and software, and has expertise in gadgets, custom PCs, and audio.
Besides writing about tech and reviewing new products, Derek enjoys traveling, hiking, and photography. Committed to keeping up with the latest industry trends, he aims to guide readers in making informed tech decisions.