In gaming, sound is one of the most important aspects of creating an engaging and immersive experience. While lots of people invest in fancy speakers and powerful headsets, some are sad to realize that the sound coming out of their computer is still sub-par. The good news is it's a common problem that has a solution. In many of these cases, you might need to upgrade the internal sound card in your PC.
What is a Sound Card?
A sound card (aka an audio card) is a peripheral device that attaches to the ISA or PCI/PCIe slot on a motherboard and allows the computer to input, process, and deliver sound.
Its four key functions include acting as a synthesizer, as a MIDI interface, analog-to-digital conversion (inputting audio), and digital-to-analog conversion (outputting audio).
Why is My Computer's Sound Having Problems?
Many PC users encounter issues with their sound because of two reasons. First, their internal sound card may be inferior quality or defective. A lot of budget gaming computer manufacturers will cut corners and put inferior cards to save on cost. Some may not even put a sound card in at all, instead relying on the motherboard to do the heavy lifting.
Why is Choosing the Right PCIe Sound Card Important?
Neither of these are ideal especially when you're trying to have a great gaming experience. Most games comprise a vast network of complex musical scores, sound effects and sound beds. Most consumer-grade sound cards are simply not going to handle that kind of load.
Whether you are upgrading your current PC or building a new one, choosing the right sound card can mean the difference between a good and bad audio experience. Low-quality cards or "on-motherboard" sound cards will not cut it.
When you search for a gaming PC sound card, you'll quickly realize there are a mountain of options. With gaming gear, marketing and advertising hype is rampant. There are a lot of sound cards that make outlandish claims and it is hard to discern which ones actually live up to the hype.
To help make this decision-making process easier, we've done exhaustive research and compiled a list of the 4 best PCIe sound cards for gaming currently on the market in 2022.
Best PCIe Sound Cards
We've only included products in our roundup that we feel offer the best value and performance for our readers. Our team has used specific criteria to make our selections, which include:
Quality Materials: It's important that components are high quality and sourced from reputable sources. This plays a big role in overall sound quality input and output.
Up-to-Date Technology: We only included internal sound cards that have the latest technology and sound processing protocols.
Futureproof or Scalable: A quality sound card is going to be an investment so we've included cards that have the latest tech and hardware onboard to increase the odds of being a powerful tool for years to come.
Brand Track Record: The products included on this roundup come from manufacturers that have a track record of producing a quality product. It's important not to be married to a brand simply for the name. We've included a few lesser known brands that also have a solid track record.
Price/Value: You're able to pick up a solid sound card at nearly any price range. Going with the most expensive options doesn't always mean it's the best. We've included some high-quality options to fit a range of budgets.
Be sure to hang out towards the end of this roundup if you still need help to decide. While you can't go wrong with any of the options featured, we'll have some additional guidance on how to choose the best one for you.
Best High-End: Creative Sound Blaster AE-7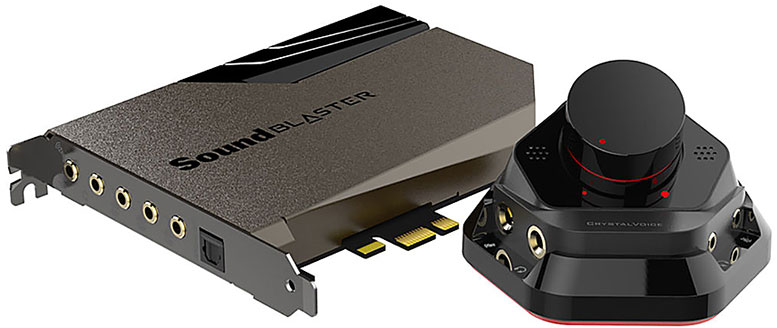 Key Features:
PCi Express x4.
Surround, Dolby Digital.
Can be used on multiple platforms and gaming consoles.
127 Db Dnr Hi-Res 32 bit audio.
Dsd64 Playback Support.
Headphone Bi-Amp.
Quad-core processor.
One user referred to the Creative Sound Blaster AE-7 as a sound card with a genius brain. After running it through the paces, we agree with that sentiment. The first thing you'll notice is the powerful yet elegant way this sound card manages sound from an infinite number of sources.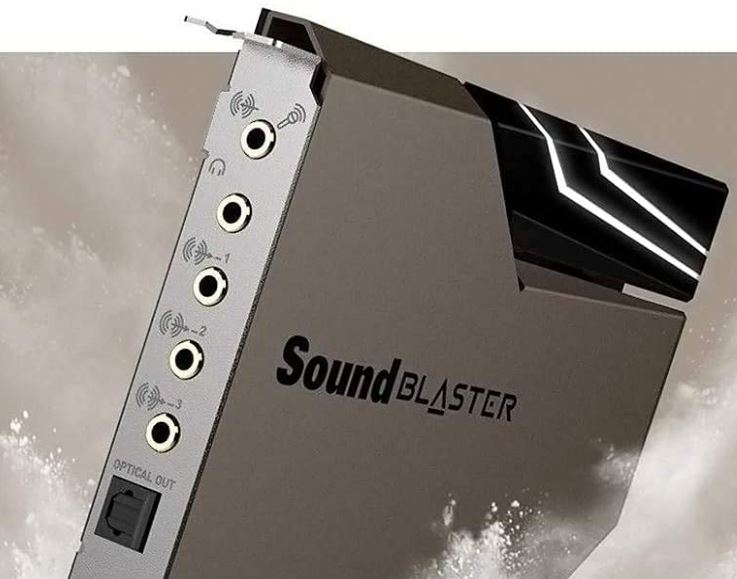 Creative has a long track record in the sound card industry and it shows with this model. With 127 Db Dnr Hi-Res 32bit audio, this card taps into the highest levels of audiophile level sound quality.
The AE-7 comes equipped with a powerful bi-amp which can fuel any headset with ease. This model leverages Creative's software by pairing it with powerful hardware including its own quad core processor to do the heavy lifting. This translates into less load on your PC's main processor to boost overall performance.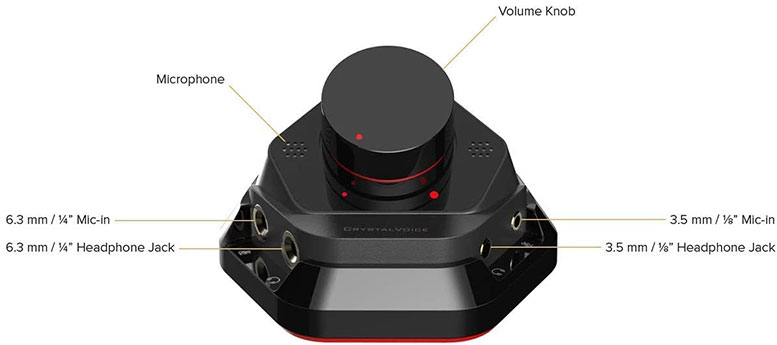 It comes by the best high end position on this list honestly. The price point is much higher than other sound cards on this list it backs it up with tremendous value and versatility.
What We Liked:
Next level sound processing.
Comes with an on-board quad processor.
Sleek design.
Packaged in an external form factor for use on multiple systems.
Powerful headphone amps.
What We Didn't Like:
Expensive.
Can be hard to get the drivers to work on different systems.
Best Runner-Up: Creative Sound Blaster Z SE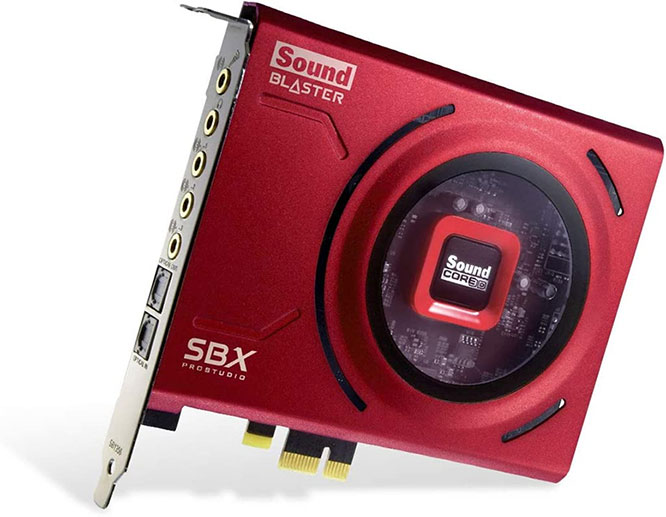 Key Features:
PCI Express x 1
116dB SNR at 24 bits
Gaming Optimized Sound Profiles
Surround Sound
Pre-installed Microphone Presets
The Creative Sound Blaster Z SE comes in as a close runner-up to the top sound card on our list. Even though it comes in second, it contains many of the same features and tools that the Sound BlasterX G6 has without some of the added bells and whistles.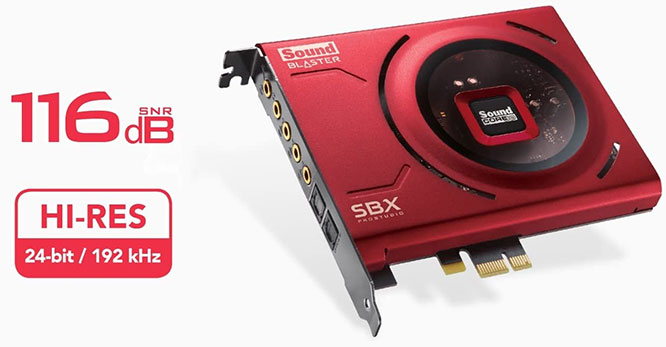 We were impressed by the overall sound quality produced from this card. Especially in gaming where sound processing can easily get out of hand, this model from Creative handles waves of different audio like a champ. The onboard SBX gaming EQ profiles are a great added feature, providing settings optimized for popular games like Apex Legends, Fortnight, Overwatch and PUBG.
With up to 116dB signal-to-noise ratio (SNR) at 24 bits, this card consistently puts out pristine audio with low latency at a very affordable price point.
What We Liked:
SBX gaming EQ profiles save time.
Microphone profiles provide a great chat experience.
Good number of ports.
What We Didn't Like:
Premium price point
Amps leave a little to be desired
Best Alternative: Creative Sound Blaster Audigy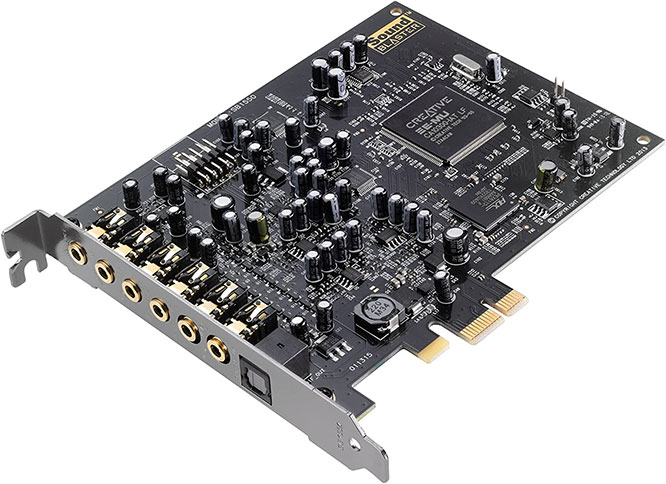 Key Features:
Contains the EAX reverb engine
7.1 Multi-Channel Audio
106dB SNR
600ohm Headphone Amp
The Creative Sound Blaster Audigy is an incredible option for gaming computers. However, the reason it takes the spot as the best alternative is because of its ability to a host of other audio functions extremely well. If you're looking for a great gaming sound card that can pull double duty for things like podcasting, this is a solid option.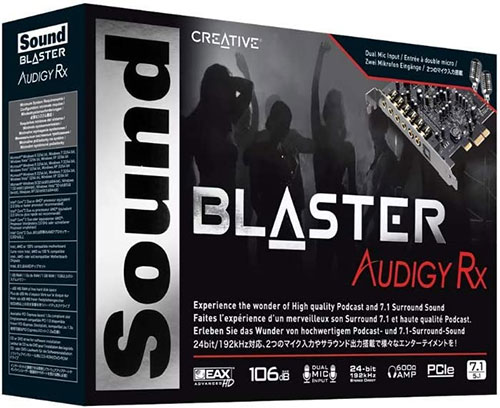 What sets this card apart is that it is one of the few models out there that have Creative's proprietary EAX reverb engine onboard. To make things even better, this model has a E-MU chipset for advanced effects processing. These features open up a world of possibilities in both gaming and audio recording.
What We Liked:
Strong with gaming and audio recording tasks.
The EAX reverb engine is great for gamers that stream.
Headphone amp provides solid power.
Low latency and pristine sound.
What We Didn't Like:
Lack of gaming specific audio profiles (more fine tuning on the user side required).
Some users report a less than 7.1 audio experience due to compatibility with some hardware.
Best Budget: ASUS XONAR SE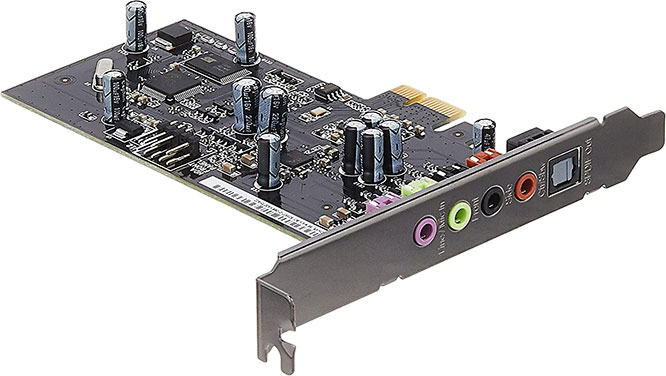 Key Features:
5.1 Channel, 192kHz/24-bit Hi-Res Audio.
300ohm Headphone Amp.
116dB signal-to-noise ratio (SNR).
Hyper grounding technology.
Low-profile bracket.
We've crowned the ASUS XONAR SE as the best budget sound card currently on the market. When looking for a cost effective solution, it's often best to stick with larger, more established brands that can provide the cost savings because of their manufacturing quantities without sacrificing in significant areas.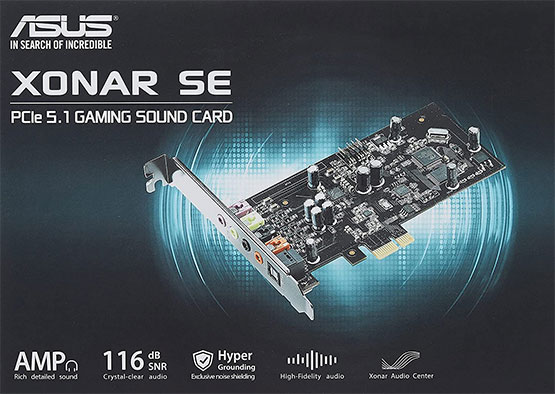 ASUS does a great job of balancing power and value in the XONAR SE. While not as high as the other sound cards on this list, it's 5.1 channel still does a great job at providing a high quality immersive audio experience for most games. The ASUS hyper grounding technology excels at providing a consistent low-noise and distortion free signal.
While the headphone amp is less powered than other options, it does a fantastic job delivering adequate power for most gaming headsets. Overall, you'd be hard pressed to find a more solid option at this price.
What We Liked:
Extremely budget friendly.
Hyper grounding technology works well at eliminating distortion and noise.
Easy to install low-profile bracket.
116dB signal-to-noise ratio.
What We Didn't Like:
Some gamers experience minor latency during extended heavy gameplay.
5.1 is nice but 7.1 would be better.
Best Portable Gaming: Sound BlasterX G6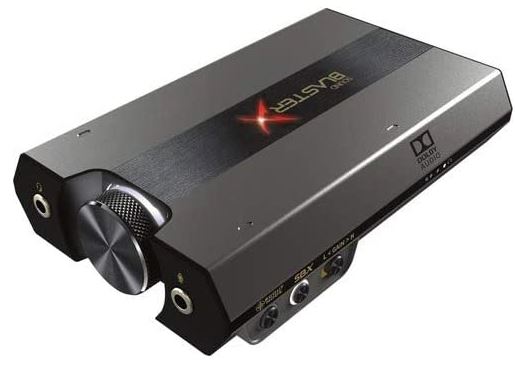 Key Features:
Surround, Dolby Digital
Compatible with computers, laptops and gaming consoles like the PlayStation, Nintendo Switch and Xbox.
Sidetone volume control
7.1 Surround Virtualization
Has a discrete headphone amplifier
The Sound BlasterX G6 by Creative tops our list as the best portable gaming sound card on the market. Although it's not technically a PCIe variety, it carries all the power of an internal sound card in an external body that allows it to be used on multiple platforms including game consoles. This plug and play functionality may help justify the premium cost by allowing you to leverage its capabilities on a host of different gaming platforms.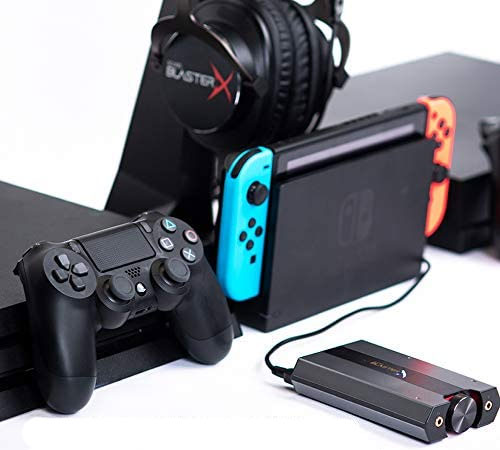 The Sound BlasterX G6 has a host of game-centric features including side-tone volume control to personalize your in-game audio experience. The included powerful headphone amplifier can support high-end headsets with ease, delivering enough power to take advantage of everything it offers.
Where this sound card really shines is in its audio processing technology. This card handles multiple audio sources simultaneously incredibly well. Even during heavy gameplay, users have found no lag or sound degradation. It's a solid choice for anyone that wants the power of an internal sound card in a portable unit.
What We Liked:
Robust audio processing
Can be used on multiple platforms and gaming consoles
Has side-tone volume control.
Portable design.
Includes a headset amplifier.
What We Didn't Like:
Premium pricing.
Software support can be lacking.
Final Thoughts on the Best Gaming Sound Cards
As you can tell, there are a lot of options when it comes to the ideal sound card for your gaming setup. If you're considering one of the cards in this roundup, it's a good idea to take stock of your needs, your gaming style and prioritize what is important to you in terms of sound. This will help you narrow down your options and get you in the correct ballpark.
The Creative Sound Blaster AE-7 takes the audiophile standard to a higher level for those that don't mind the luxury price tag. The Sound Blaster Z SE and the Audigy are both sound cards that leverage Creative's legendary sound profiles and pairs them with high-quality components.
For those that simply want a solid step away from on-board and into quality audio, the ASUS XONAR SE is a brilliant mix of value and performance.
Our best portable pick, the Sound BlasterX G6 does all the basics exceptionally well and then turns up the volume on everything with added features and advanced audio processing capabilities. Although it's not technically a PCIe card, it's amazing for console gaming.
We hope this roundup helps you find your next sound card for gaming to take things to the next level. Let us know which one you choose.