Ethernet cables are one of the most ubiquitous types of technology on the planet.
Most people think of them for home networking. You connect your computer to a router and your router to a modem. But data centers are also jam-packed with Ethernet cables. A rack full of network switches can contain literally hundreds of short and medium patch cables.
Ethernet has also changed a lot over the years. Cat 4 cable gave way to Cat 5, and now Cat 6 is the norm. With transfer speeds of up to 10Gbps, they can handle 10 times the data of Gigabit Ethernet. Best of all, you can use Cat 6 cables with the same standard ports as older standards.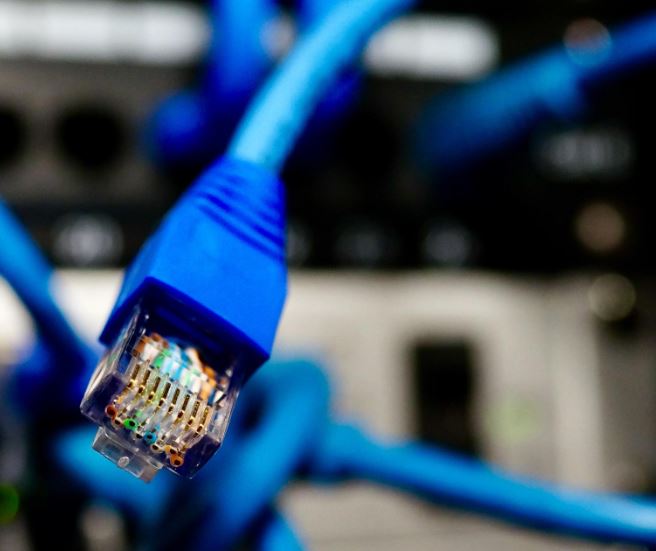 That's because all Ethernet standards use the same standard connector, called the RJ45. The RJ45 is an 8-pin tip that's similar to older phone cables, but larger. These connectors are reliable and easy to use. However, they have one major drawback. With so many pins, they can be a real pain to attach to your wire without a good quality crimper.
Today, we're going to review three of the best RJ45 data cable crimpers that money can buy. For the right person, any one of them might be the best.
But which one is the best fit for you? To find out, we'll have to take a deep dive into each of their benefits and drawbacks. We'll also discuss what makes a good RJ45 crimper in the first place. Let's get started!
Best Overall: Klein Tools Ratcheting Modular Data Cable Crimper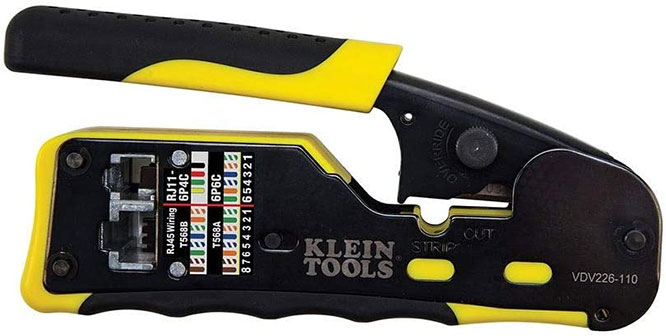 Key features:
Crimps RJ11, RJ12, and RJ45 connectors.
Heat-treated blade rated for 2,000+ cuts.
Wiring diagram on body.
Klein Tools is one of the best-known names in the world of home improvement. Among their other offerings, we've recently reviewed their self-leveling laser level. As we expected, it impressed us. So we were eager to see what their RJ45 crimping tool had to offer.
The Klein Tools Ratcheting Modular Data Cable Crimper is constructed from tough black steel. It's designed to take a beating, as well as to be easy to manage. The outside of the housing is coated with yellow plastic. On the back of the handle and foregrip, you'll notice additional black rubber padding. This provides a secure grip, and won't make your hand sore after hours of work.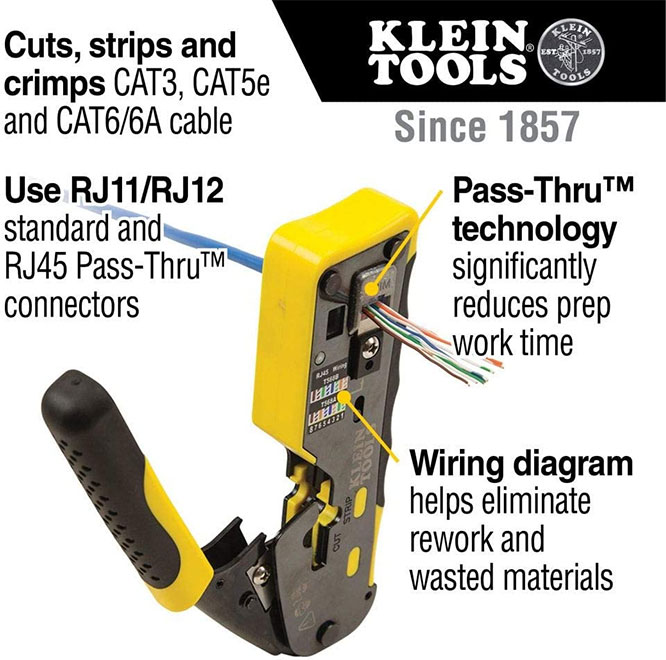 At the front of the housing, you'll find the crimper itself. This area has two sockets: one for RJ45 connectors, and one for RJ11 and RJ12 connectors. It supports 4-, 6-, and 8-pin connectors, as long as they have a pass-through design. One thing we really liked was the printed wiring guide on the side of the tool. It has a convenient colored diagram for the four most common types of wiring.
The cutting and stripping mechanisms are located behind the crimper sockets. Both use the same blade, which is fairly long. In the cutting area, the blade sinks down inside the housing. Behind the cutting area, there's a semicircular cutout in the housing to put your wire for stripping. This hole is a bit small, however. If you squeeze down all the way, you won't just strip your cable – you'll cut into the inner wiring.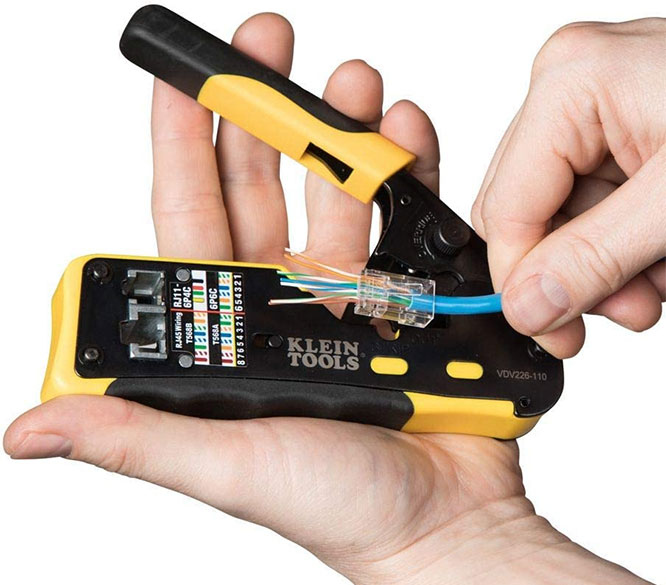 Just apply gentle pressure and give your cable a twist, and this won't be an issue. On the plus side, the heat-treated blade is incredibly durable. It's rated for 2,000 cuts, and can be replaced in the future when it eventually gets dull.
Using the Klein Tools crimper is straightforward. Cut your cable to the desired length, then strip an inch or so of insulation to reveal the inner wires. Put your pass-through connector into the socket, and insert the wires according to the diagram.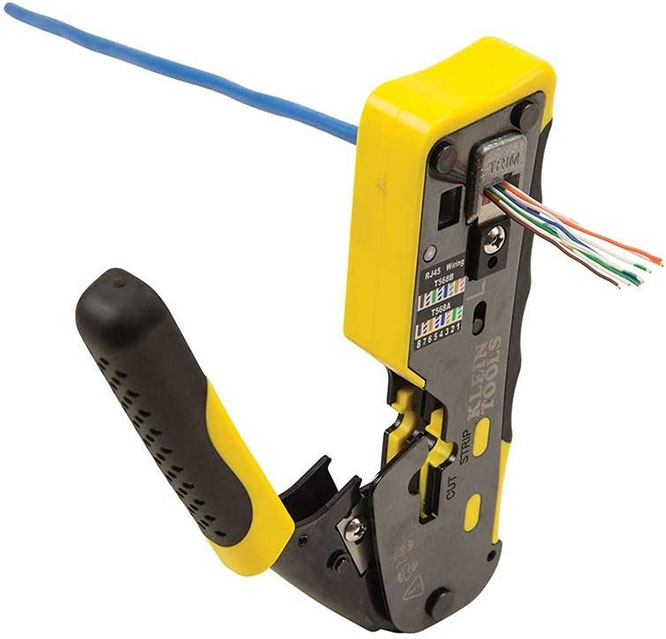 Then squeeze firmly on the handle. In one motion, the connector will be crimped, and blade will trim excess wire off the end. This leaves the wires flush with the end of the case, with nothing protruding. A built-in ratcheting mechanism ensures that you complete the motion. That way, you know your crimp is secure.
What We Liked:
Long-lasting blade.
Reliable ratcheting operation.
Wiring diagram makes connections error-free.
What We Didn't Like:
Stripper opening is small.
Best Runner-Up: Paladin Tools Modular Data Cable Crimper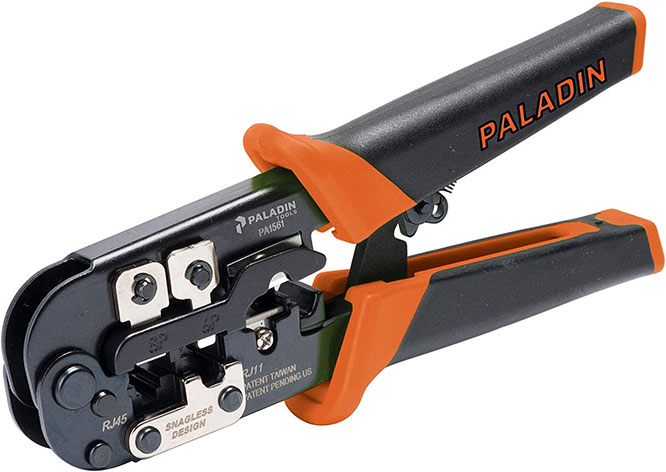 Key Features:
Crimps RJ11, RJ12, RJ22, and RJ45 connectors.
Soft cushioned grip.
The Paladin Tools Modular Data Cable Crimper has a similar black metal frame. However, the design is a little bit different. The ratcheting mechanism is completely visible in the middle of the jaws, rather than mostly concealed. The handles are symmetrical, with an orange and black cushioned grip.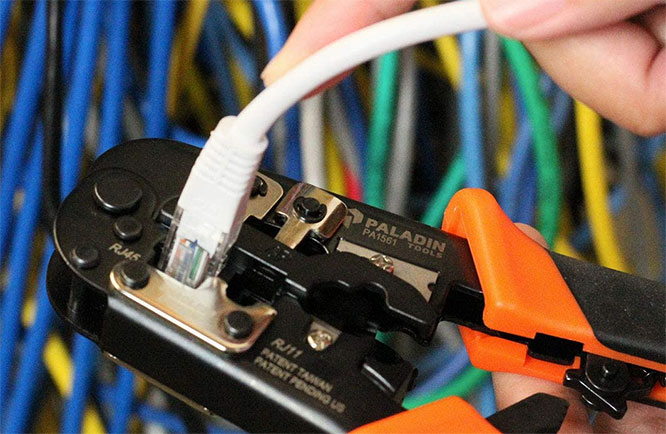 You also get a bit more compatibility. While the crimping mechanism has two connector sockets, it supports four varieties. In addition to RJ45, RJ11, and RJ12, you can also crimp RJ22 connectors. As before, make sure the connectors you buy are pass-through. Otherwise, they won't work properly.
The wire cutter and stripper are located further back in the jaws. Like with the Klein Tools crimper, they both share a single blade. However, the cutout for your cables is a little deeper, which makes stripping easier. The other major difference here is the blade, which is essentially a utility blade. It's nowhere near as long-lasting. But replacements are dirt cheap and very easy to swap out.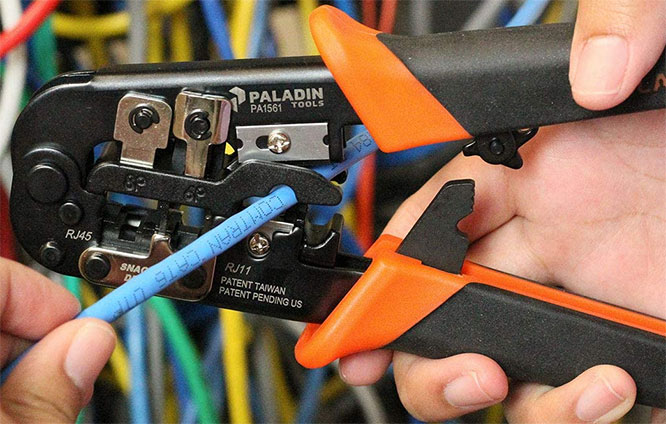 The crimper operation itself is the same as before. You put your connector in the matching socket, strip the cable, run your wires, and clamp down. When the ratcheting mechanism reaches the end of its motion, you know you're done.
What We Liked:
Crimps a wide variety of plugs.
Ratcheting design for reliability.
Comfortable, ergonomic grip.
What We Didn't Like:
Best Alternative: Southwire Data Crimp Tool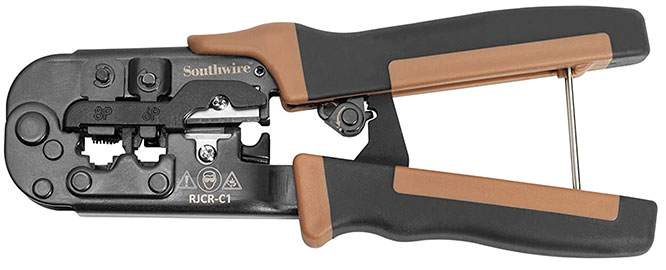 Key features:
Crimps RJ11, RJ12, RJ22, and RJ45 connectors.
Handles lock closed for easy storage.
Southwire is another well-known manufacturer, most famous for their electrical equipment. A while back, we reviewed their continuity tester, and we liked what we saw. So decided it would be a good idea to check out their data cable crimper.
The frame of the Southwire Data Crimp Tool, just like the last two crimpers', is made from a rugged black steel. It has a pair of black handles with orange highlights, molded to fit your hands.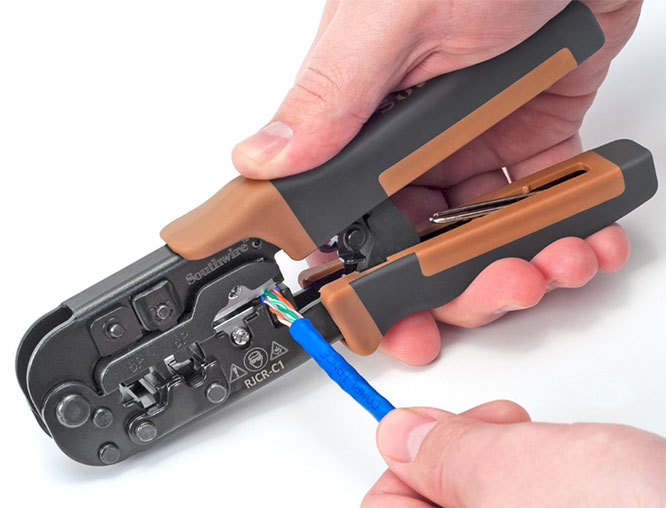 The handle material is a soft rubber, which makes it very comfortable to grip. Not only that, but there's a locking mechanism built into one of the handles. When the tool isn't in use, you can connect both handles together to keep it safer for storage.
The two connector sockets are near the front. You can use them for RJ45, RJ11, RJ12, or RJ22 plugs. Operation is pretty straightforward, with a ratchet that lets you know when the crimp is secure. Just make sure to use pass-through connectors, and everything will be fine.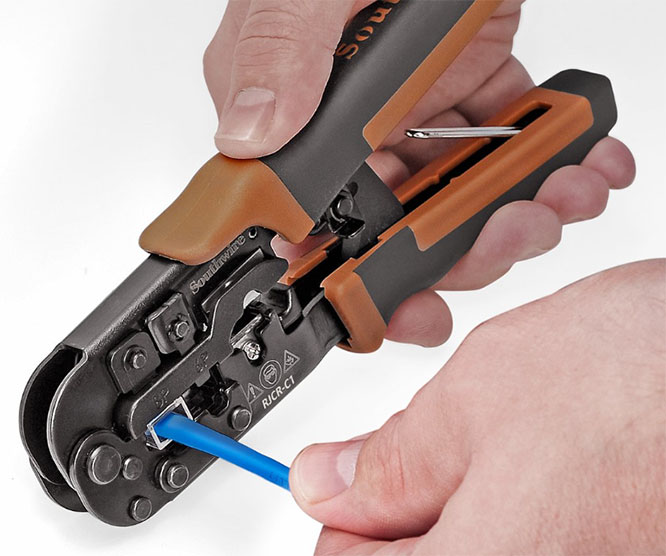 As with the last two crimpers, the cutting and stripping mechanisms are located behind the jaws. However, instead of a single blade, the Southwire Data Crimp Tool uses a pair of blades, which makes the cuts much cleaner. On the downside, you'll have double the number of blades to replace when the time comes. On the upside, the replacements are pretty affordable.
What We Liked:
Easy locking design.
Reliable ratcheting system.
Crimps a wide variety of plugs.
What We Didn't Like:
Won't work with some connector brands.
Best Budget: UbiGear Network Crimping Tool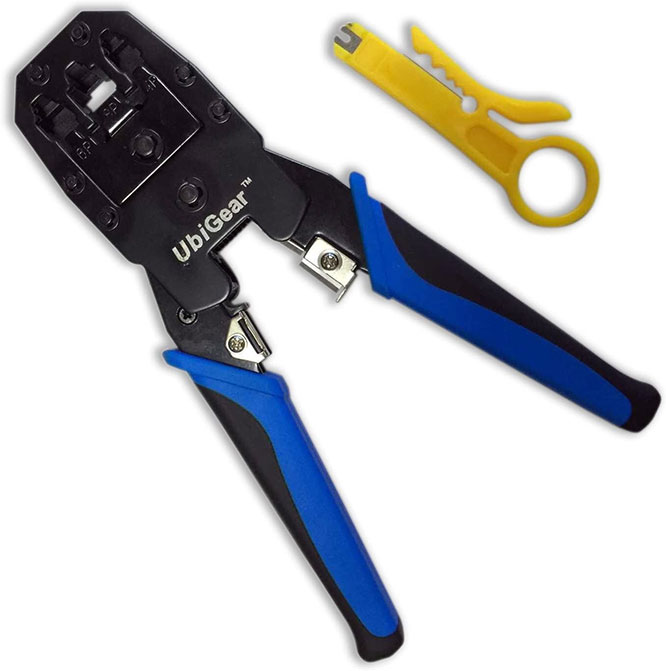 Key Features:
Crimps RJ11, RJ12, RJ22, and RJ45 connectors.
Includes a separate wire stripper.
The UbiGear Network Crimping Tool has a black steel frame just like the other tools. However, the crimping head has three sockets, one each for four, six, and eight-pin connectors. This makes it easy to use with RJ45, RJ11, RJ12, and RJ22 connectors alike. As long as it's a pass-through connector, it's going to work.
The blue and black handles are thick and rubbery, and provide a comfortable grip. In between them towards the hinge, is a wire cutter with a removable blade and anvil. Both are replaceable, but the design seems pretty durable.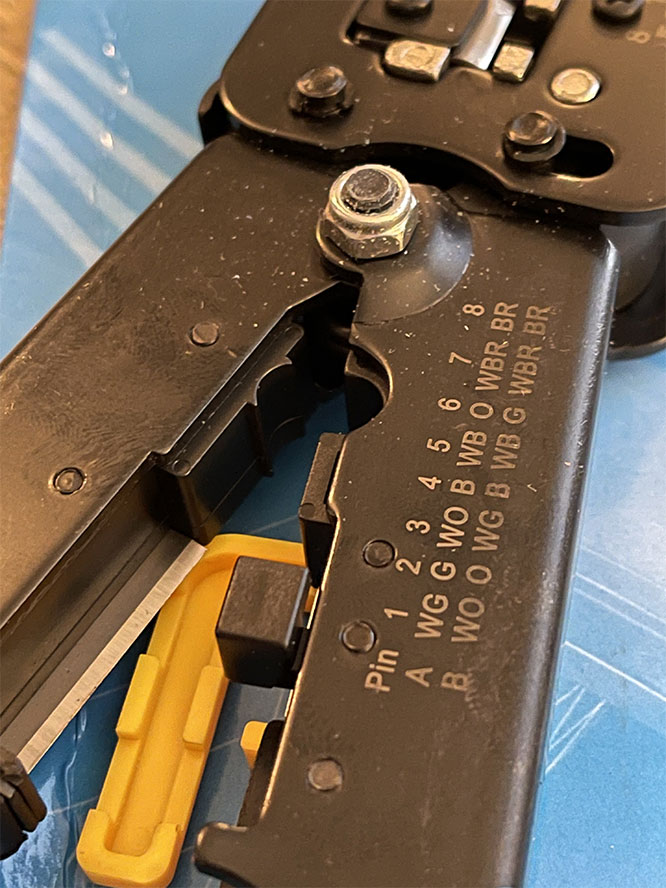 The price is very affordable, which is great for one-off projects. However, like most budget-priced options, the UbiGear crimper is imperfect. The tip is designed with a pair of little tabs that can block the outside wires on your connector.
When you're feeding the wires through, you have to align them perfectly. Unless they're exactly in the right place, they can snag, bend, and jam the whole mechanism. Then you need to remove the wires from the connector and start all over again. But as long as you're very careful, this shouldn't be a problem.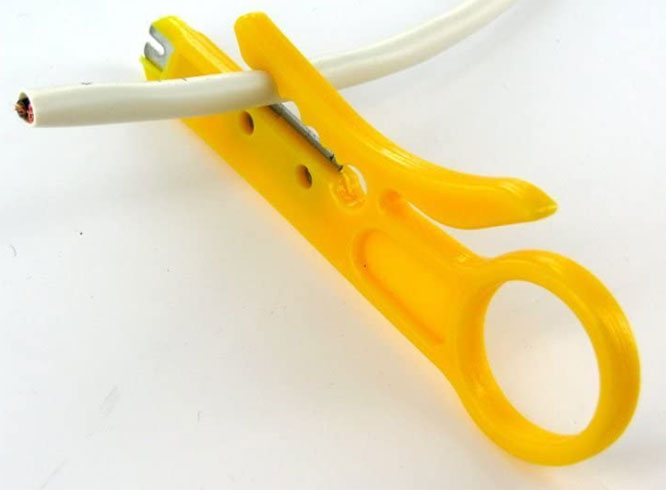 Along with the crimper itself, the kit includes a separate wire stripper. It's a simple yellow plastic stick with a cleft in the middle and an embedded blade. To one side of the blade, the plastic is scalloped, which allows you to strip multiple cable sizes. It's nothing fancy, but it gets the job done.
What We Liked:
Cuts, strips, and crimps a wide variety of connectors.
Affordable.
What We Didn't Like:
Unreliable crimping mechanism.
How to Choose the Best Data Cable Crimper
All four of these data cable crimpers are solid choices. But what if you're looking for something different? How do you choose the best crimper? Here are some things to look out for:
Connector Support – In addition to RJ45 connectors, you may also want to work with other varieties. RJ11 and RJ12 plugs are still pretty common, and it's smart to have a crimper that supports them. It also doesn't hurt if your crimper works with RJ22, RJ10, or RJ9 connectors.
Pin Support – Different wiring schemes use different numbers of wires – sometimes on the same connector. To make sure you're able to work with all varieties, make sure your crimper supports 4-, 6-, and 8-pin schemes.
Durability – If you're buying a crimper for a one-off home project, durability is a minor concern. But if you're going to use your crimper day in and day out, you want it to be able to take a beating. Look for solid steel construction. The handle can be plastic- or rubber-coated for comfort. But if there's any plastic on the frame, look elsewhere.
Ergonomics – An uncomfortable grip or awkward design could lead to severe discomfort after extended use. Look for a crimper that's comfortable and easy to hold. Again, this is more of a concern for professionals who will be using their crimper regularly.
Final Verdict
So, which of these RJ45 data cable crimpers is the right fit for you? Let's go over what we've learned today, starting with the Klein Tools Ratcheting Modular Data Cable Crimper.
This was our top choice overall, mostly because of the wiring diagram. A diagram won't be necessary for seasoned professionals. But if you only need to crimp a data cable now and then, it's nice to have handy. We also liked the heat-treated blade, which is replaceable if need be. This makes it more long-lasting than typical crimpers, where a dull blade is dull forever.
The Paladin Tools Modular Data Cable Crimper is another excellent choice. It doesn't have any wiring diagram. But it has a similarly reliable ratcheting mechanism. It also supports RJ22 connectors. The blade isn't as nice, but it's very easy to replace. And with its big, comfortable grips, it's great for large projects.
The Southwire Data Crimp Tool has its own strengths and weaknesses. It's as versatile as the Paladin Tools crimper, but with an upgraded double-bladed wire cutter. If you often have trouble making clean cuts, you'll be very pleased. We also liked the locking mechanism, which makes it easier to carry around.
The UbiGear Network Crimping Tool is the most affordable data cable crimper on our list by far. For most applications, it will get the job done without any problem. We particularly liked the wire cutter design. That said, it can be a bit finnicky when you're feeding your wires through a connector. That's not a dealbreaker for small projects, but it's a problem if you're going to use your crimper a lot.
Meet Derek, "TechGuru," a 34-year-old technology enthusiast with a deep passion for tech innovations. With extensive experience, he specializes in gaming hardware and software, and has expertise in gadgets, custom PCs, and audio.
Besides writing about tech and reviewing new products, Derek enjoys traveling, hiking, and photography. Committed to keeping up with the latest industry trends, he aims to guide readers in making informed tech decisions.