So, you're working on your home's wiring, and you come across a dreaded rat's nest of wires. Which ones go where? How do you trace them from room to room? In that case, a good continuity tester will make quick work of even the most challenging wiring scenario. Similarly, suppose you've got a box of old fuses. How do you know which ones are still good? A continuity tester will give you the answer.
Today, we're going to be looking for the best continuity tester on the market. Before we go any further, let's be clear. These are not multimeters. They should never, ever be used on a live circuit. Using them on a live circuit will damage the tester and void your warranty. If the tester isn't lighting up, there are two possibilities. First, there's no connection; the wire or fuse is broken. Second, the tester battery is dead, or the tester is defective. Regardless, connecting a continuity tester to a live circuit is a bad idea.
With that out of the way, let's look at today's offerings. To begin with, we'll look at the Extech CT20. This is a rugged tester that comes with a fob for testing very long runs. Second, we'll be reviewing the Sperry Instruments CT6101. This is a smaller tester, designed mostly for testing automotive circuits or fuses. Last but not least, we'll examine the Southwire Tester 40040S Continuity PRO. This is a larger tester, with a detailed readout for testing multiple wires at once.
So, which one is the best choice for you? To find out, we'll take a close look at each tester's features, benefits, and drawbacks. After we've taken all of that into consideration, we'll be able to render our final verdict. Let's get started!
Extech CT20
Extech is known for producing a variety of high-quality industrial measurement equipment. In the past, we've reviewed their light meters, and we were duly impressed. So, we were excited to see how the Extech CT20 continuity tester performs. This is a handheld tester, and it's designed to carry in your pocket if need be. Even the cables aren't too long for easy carrying, although they will dangle a bit. That said, the lightweight design is a godsend. You can even leave the CT20 hanging from a wire without damaging it.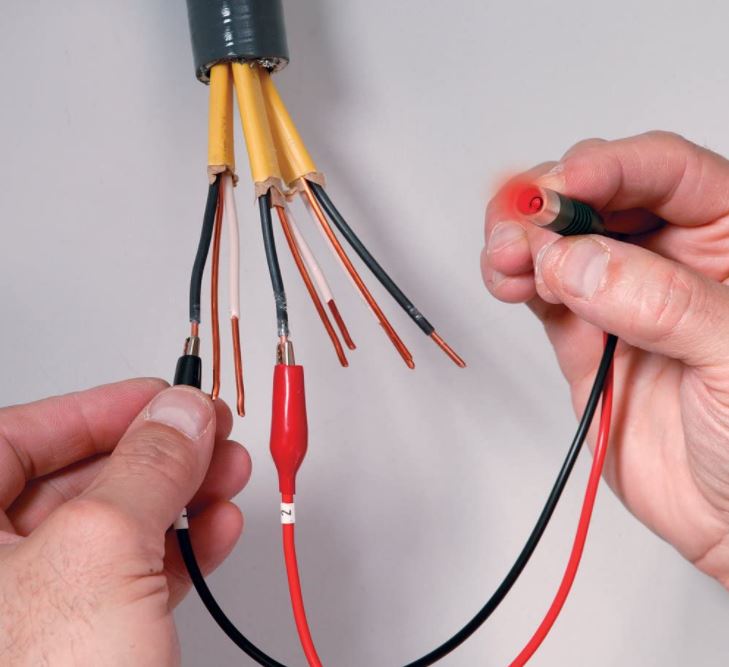 The case of the unit is constructed from dark green plastic, with an Extech Continuity Tester logo on the front. The device itself is easy to hold in your palm, with a simple on/off switch on the top. To the right side of the switch, there's a bright green LED that lights up when the unit is powered on. To the left, there's a red LED that illuminates when there's a connection. The CT20 is powered by a single 9-volt battery, which is housed in the back of the unit.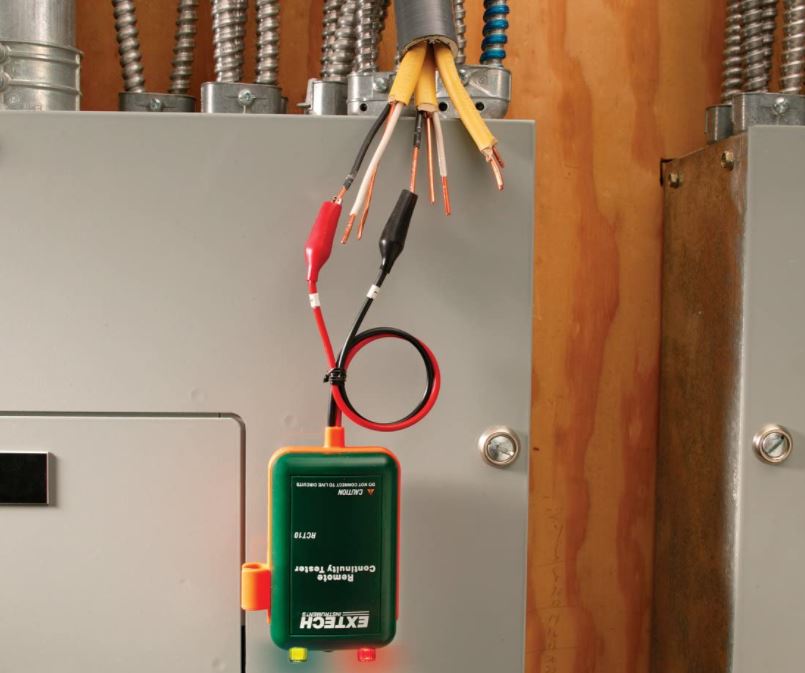 The two main cables extend from the bottom of the unit. They're about a foot in length, and they're reinforced on both ends. At the tips, they have a set of alligator tips for easily connecting to a wire. On the right side of the CT20, there's an orange plastic clamp that holds the remote probe in place. The remote probe is easy to remove and use when needed. It can be used on very long runs, as much as 10,000 feet. It can also be used on very small wires, as small as 26-gauge. This makes it useful even for very low-voltage applications, such as speaker wires.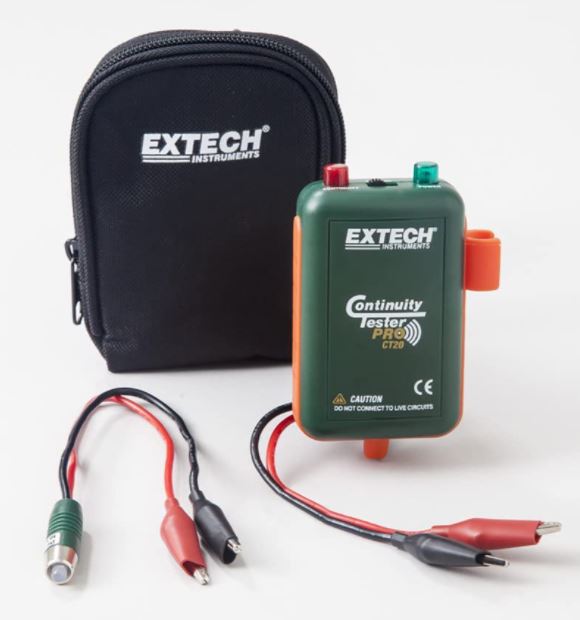 When there's an active connection, a loud beeping alarm will sound. It's quite piercing, and a bit much for using around the house. But if you're on a busy, noisy job site, you'll definitely be able to hear it. Not only that, but the flashing LED is very bright and difficult to miss. On the remote probe, there are not one but two LED colors. By connecting both the main unit and the probe and reading the light colors, you can test three wires simultaneously. This is a huge benefit if you're dealing with a long run, since it means less running back and forth.
The kit includes everything you need to get started. In addition to the CT20 itself, you get a carrying case, as well as a 9-volt battery. Pop in the battery and you're ready to start testing wires! And while the case is nothing fancy, it's sturdy enough to protect against everyday dings and scratches.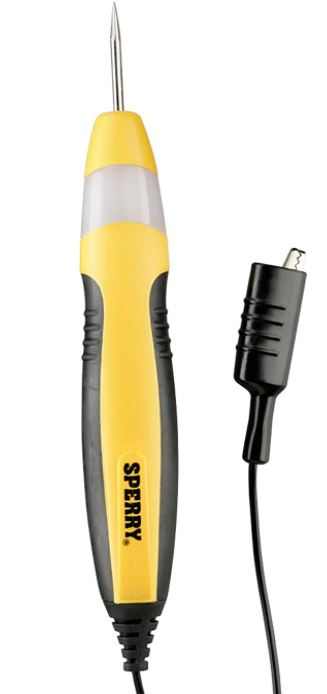 Sperry Instruments CT6101
Sperry Instruments is well-known in the electrical industry. They produce many types of accessories, such as their GFCI outlet testers that we've already reviewed. The Sperry Instruments CT6101 is a compact, affordable tester that's designed for smaller applications. On the one hand, this means you're not going to be using it to test any long runs. It's just not made for that. On the other hand, if you only need to test short runs or fuses, why pay for more advanced features? For testing fuses, or for short automotive runs, the CT6101 is going to get the job done without any issues.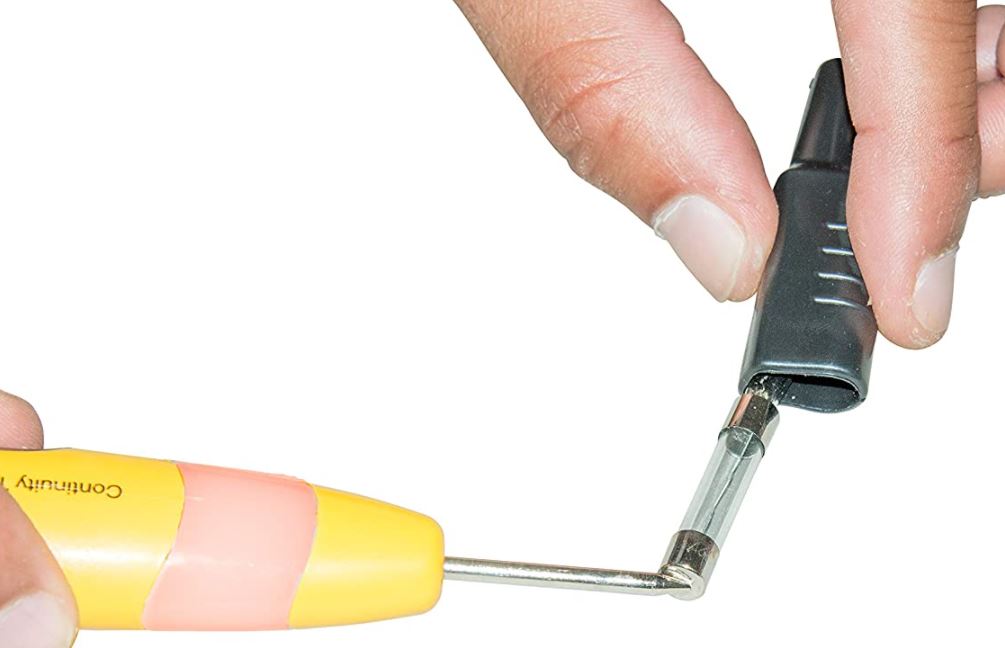 The main body of the unit is shaped and sized like a fat marker. The bulk of the housing is high-visibility yellow plastic. The side grips are black and rubbery, and this material extends to the back of the unit. There, it reinforces the base of the three-foot extension cable. The cable is black and smooth, doesn't tangle easily, and is easy to untangle. At the end, you'll find a well-insulated alligator clip for attaching to a wire or touching to a fuse. The other, primary contact is located on the front of the main sensor unit. Instead of the tip of a marker, it's a long steel probe that's easy to touch to the end of a wire or fuse.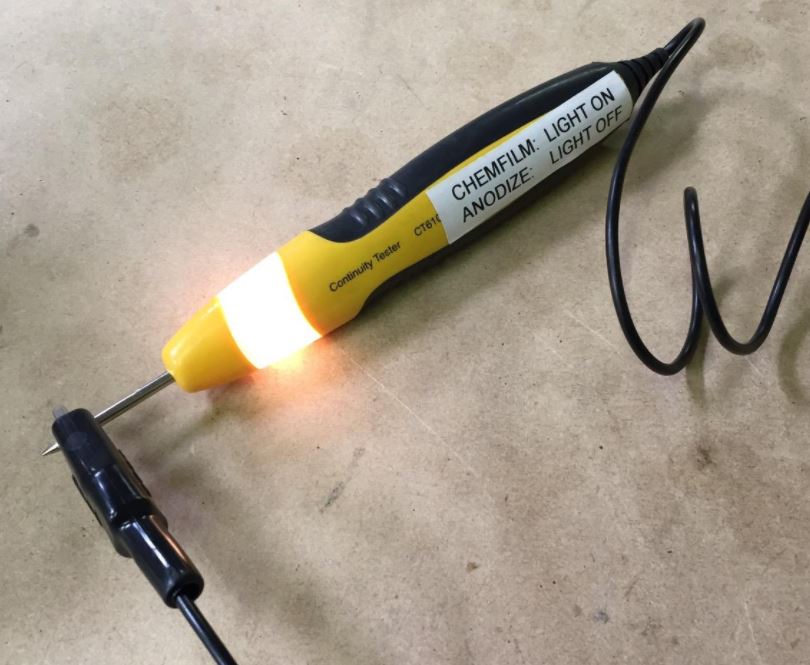 The kit includes a pair of AAA batteries, which are required for operation. Snap them into the battery compartment, and you're ready to get started. When there's an active connection, a bright, 360-degree light will illuminate in the tip of the sensor. There's no audible indication. However, if you're paying attention, the visual indicator is pretty hard to miss. Not only that, but the CT6101 is easy to carry, with a pocket clip for added security. This will keep the probe from slipping down into your pocket and jabbing you.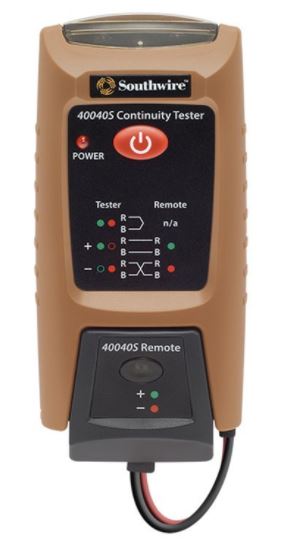 Southwire Tester 40040S Continuity PRO
Southwire Tester is yet another well-known manufacturer of testing equipment. In the past, we've reviewed their coaxial cable testers, and we liked what we saw. The Southwire Tester 40040S Continuity PRO, as its name implies, is a pro-grade tool. The brown plastic housing is nice and sturdy and easy to grip. The remote fob is black in color, and clips neatly into the bottom of the main housing. This makes it easy to keep track of, without a bunch of pieces to manage.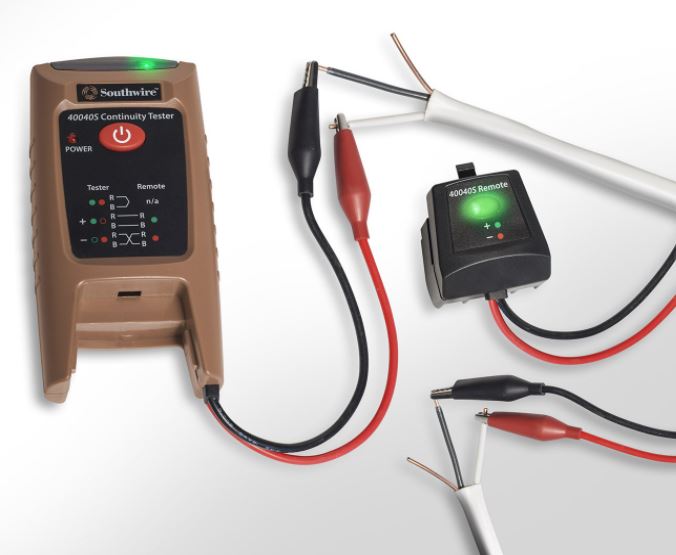 The cables, both on the fob and the main unit, are only about a foot long. The different cables are black and red respectively, so it's easy to know what's what. Moreover, the short cables aren't a limitation. Because the remote fob is separate, you can test a run of up to 10,000 feet. You can also test very small, 26-gauge wires. This makes it roughly comparable to the Extech CT20 in terms of performance and versatility.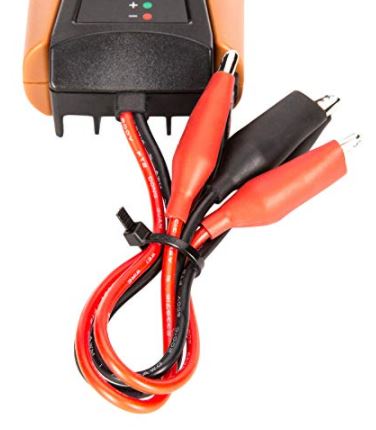 There are dual indicator LEDs on both the main sensor and the remote fob. With the combination of these LEDs, you can easily track up to three wires simultaneously. Even better, there's a cheat sheet printed right on the front of the sensor. It shows you, in easy-to-read terms, what each combination of lights means for your wiring. Even a total beginner will be able to know if wires are crossed, disconnected, or shorted out. As with the CT20, there's also a loud beeper when the tester detects an active current. This makes it easy to use even in noisy environments.
In addition to all this, the Southwire Tester 40040S Continuity PRO is easy to use. All you have to do is connect the alligator leads to the wires you want to test, and press the "on" button. The lights illuminate or don't, and you have your results. It runs on a single 9-volt battery, which is included in the package.
Final Verdict
So, which one of these continuity testers is the best of the bunch? As is so often the case, it really comes down to what you need. The Extech CT20 is an excellent choice both from a portability perspective and for long runs. Since it can test up to a 10,000-foot wire, it's powerful enough for even large commercial applications. And since it can read wires as small as 26-gauge, it's suitable for low-voltage work. Testing multiple wires at once requires a bit of a learning curve. But all in all, if you know what you're doing, it's easy to figure out. And once you've got the hang of it, the CT20 is a highly effective tester.
The Sperry Instruments CT6101 is an entirely different matter. Where the Extech tester is made for large jobs, the CT6101 is made for smaller ones. With a 36-inch cable, you can really only measure up to a three-foot run. For most household applications, this makes it a poor choice. On the other hand, it's an excellent choice for automotive use, or even for small engines. It's also much more affordable than the other two testers we looked at. Why pay a bunch of extra money when a small tester will get the job done? Moreover, the CT6101 is straightforward and easy to use. With just a single light indicator, even beginners will have no problem understanding it.
Our third option is the Southwire Tester 40040S Continuity PRO. This is a heavy-duty tester that's suitable for commercial use. It can support the same length and type of run as the Extech CT20. However, it also sports a nifty chart so you can easily understand what you're reading. The remote fob also snaps into the main unit for easy storage. All in all, it's a good choice if you need a powerful, versatile continuity tester.