Overall Design -

9/10

Air Pump -

9/10

LED Lamp -

8.6/10

Noise Level -

6.7/10
Summary
FLEXTAIL's Tiny Pump 2X is a wonderful addition for anyone looking for a portable air pump with extra functionality. Although it's a bit loud while operating, the inclusion of a bright LED lamp, magnetic base and blower work well for a wide range of scenarios. A built-in battery with USB-C re-charging nicely compliments its multi-purpose abilities.
Pros
Incredibly small, compact size.
Easy single-button functionality.
Plenty of attachments included.
Charges quickly via USB-C.
IP44 rated for outdoor use.
Cons
Relatively loud.
Charging block/adapter not included.
If you've spent anytime in the great outdoors, you know that luxuries go a long way. Whether you're hiking long distances or camping in your car, chances are, you're going to be using an inflatable mattress pad. But after a long hard day of adventure, nobody wants to blow their lungs out, manually filling up an inflatable.
This is where the FLEXTAIL Tiny Pump 2X comes into the picture. It's a mini device that goes above and beyond your standard portable air pump. In fact, it's a multifunctional unit with a built-in LED lamp and the capability to both inflate and deflate virtually anything. Today we're going to take a deep-dive and explore all of its capabilities and how it actually works in reality. Let's get right into it.
What's Included?
Inside the box, there are several noteworthy inclusions:
The FLEXTAIL Tiny Pump 2X itself
USB-C to USB-A charging cable
5 different nozzles/tips in various sizes
Durable nylon carrying pouch (with drawstring)
Multilingual user manual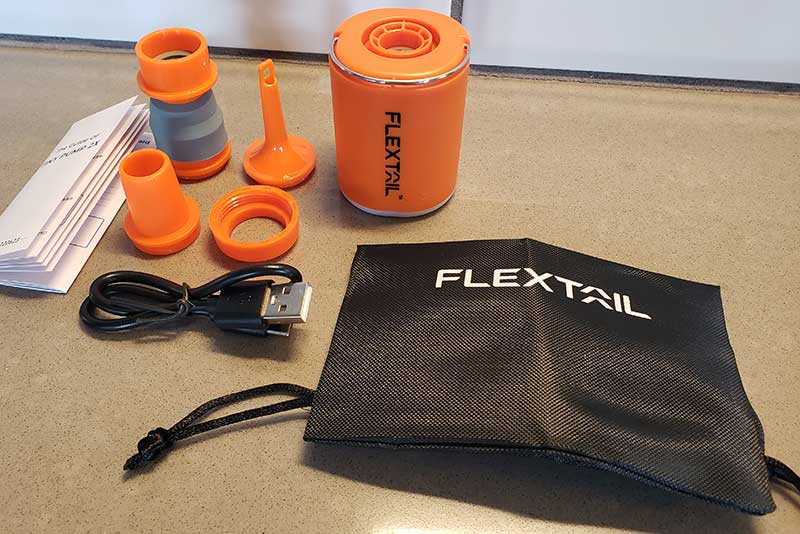 You can also choose to purchase it with several optional accessories:
Lampshade/light diffuser
Vacuum bags for storage purposes
Zero mattress and zero pillow
Overall Design and Layout
The FLEXTAIL Tiny Pump 2X is marketed as a purposeful, multi-use product that's ideal for camping, backpacking and general outdoor use. Although it can also be used for storage purposes with the optional vacuum bags, most users will likely rely on it for its powerful inflating/deflating capabilities or its built-in LED lamp.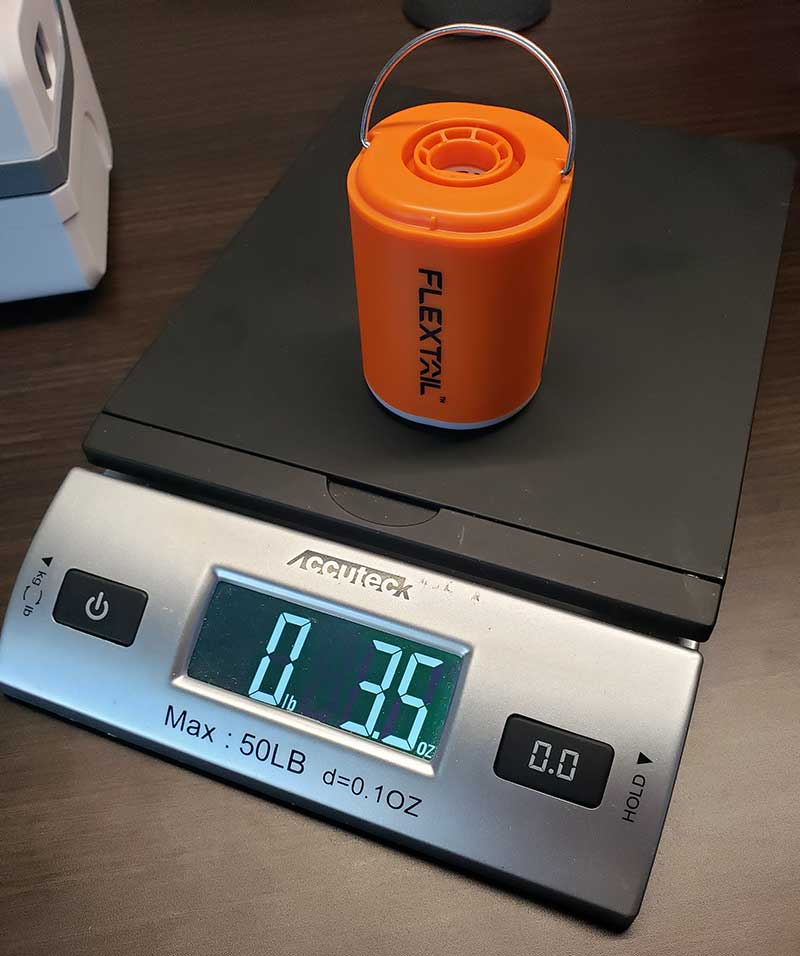 Weighing in at 3.5 ounces and measuring just 1.8″ x 1.7″ x 2.3″, it's extremely portable and ready to toss into any backpack or pocket without taking up noticeable space. Available in white, black or orange, it fits comfortably in the palm of your hand with two vents on each end. One is where air goes in, the other is where air goes out; both at high velocities. The top is equipped with a built-in metal hook while the base has its own LED lamp. And although it may not look like it, the top is fully magnetic, making it easy to stick-on to metal surfaces for quick and temporary installation.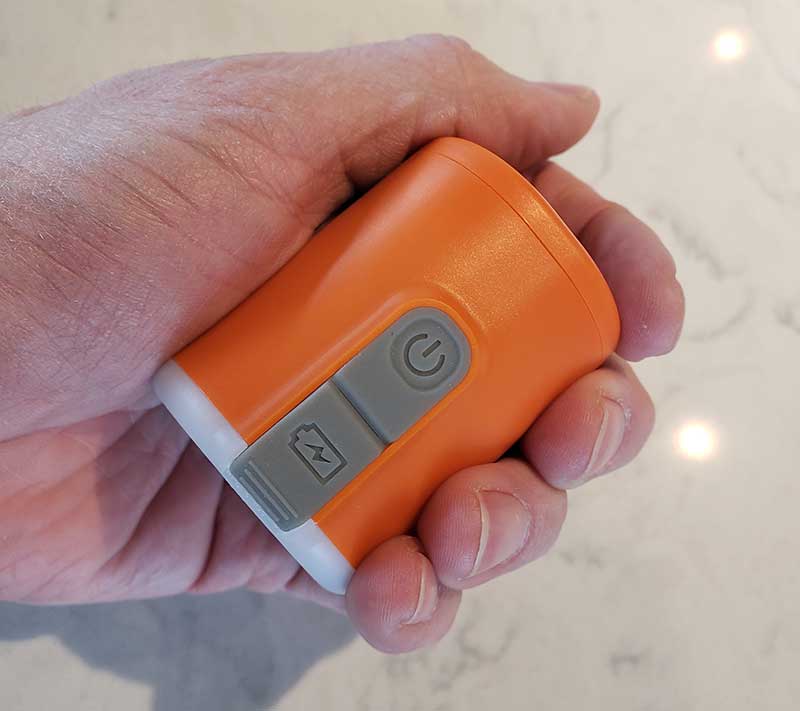 On one side, you'll see the FLEXTAIL logo. Opposite to this is a single power button along with a rubber flap that covers the USB-C charging input. Around the corner is a small black sticker that displays the airflow direction, for quick and easy reference. This is nice to have, as you won't need to test it before use – you can clearly see which end air will shoot out of.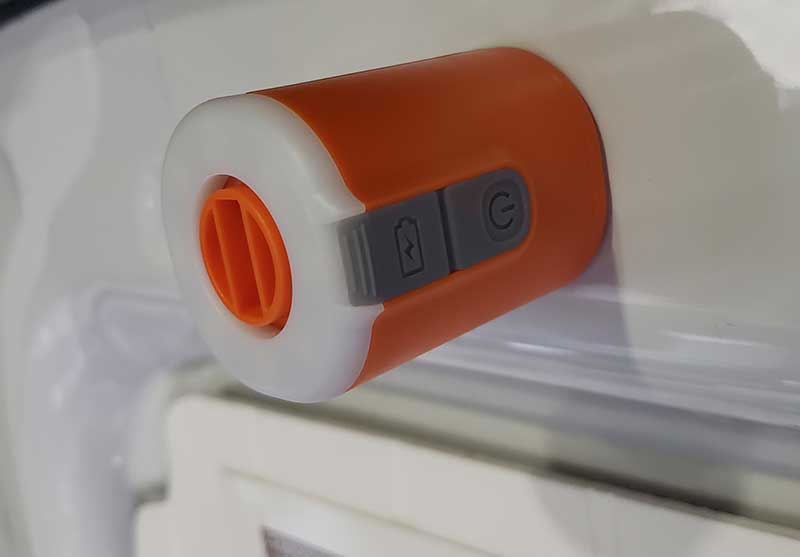 The overall feel is very high quality. There's nothing cheap or off-putting about any of the aesthetics or design that FLEXTAIL chose. In fact, we really love how solid, durable and seemingly indestructible it seems.
Use code "NerdTechy15" for a 15% discount when you order the Tiny Pump 2X from the official FLEXTAIL website.
Attachments
On each end of the FLEXTAIL Tiny Pump 2X you'll notice a small groove near each vent. This is for the variety of nozzles that come with it. Included are:
One thin nozzle for inflating pool toys or small holes.
One nozzle used alone for inflatable boats or used with an included adapter for outdoor air cushions.
One nozzle for vacuum storage bags.
Two different-sized nozzles for air beds.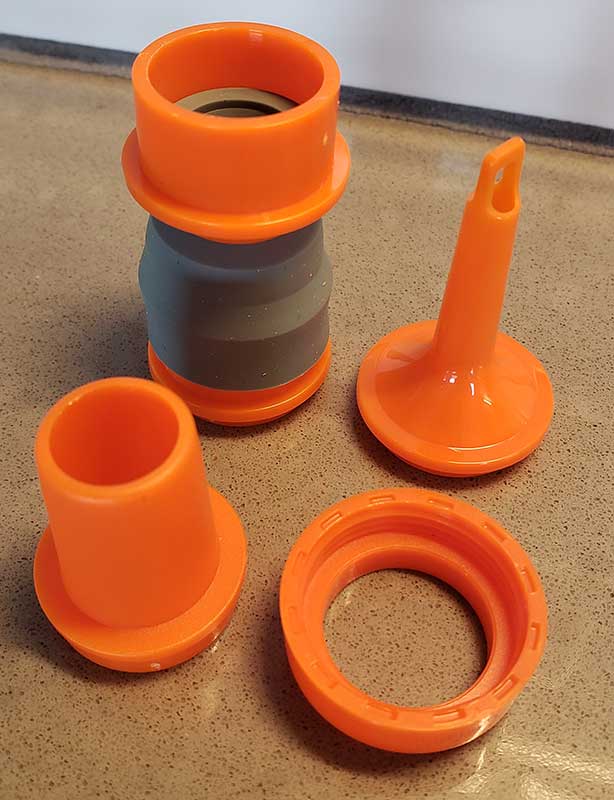 Each nozzle presses into position by inserting it into the aforementioned grooves. It creates an airtight seal that adapts to a wide variety of sizes for different applications.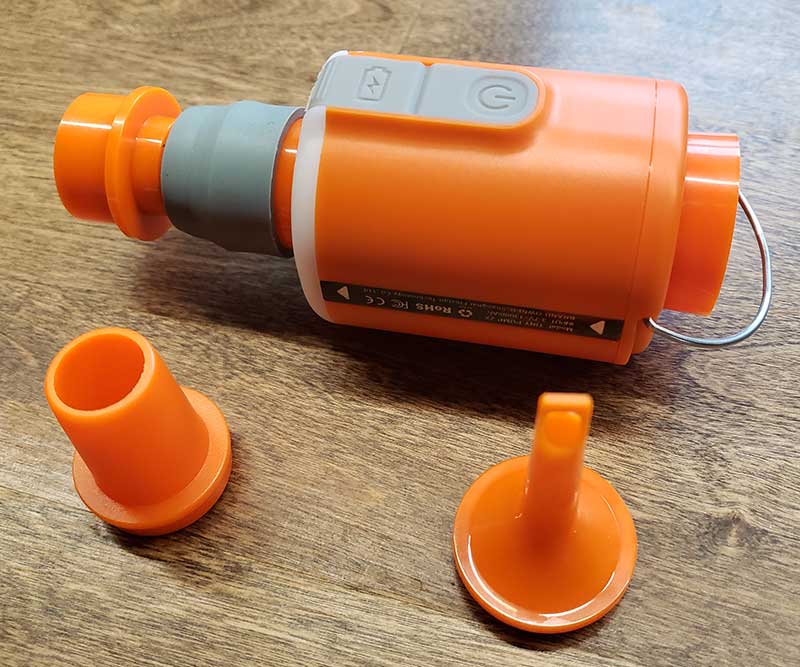 Using the FLEXTAIL Tiny Pump 2X
Since there's only a single button on the device, it's used to carry out all of the functionality.
Two quick double-presses will activate the air pump. There's only one speed for this – on or off.
By pressing and holding the button, the LED lamp will turn on. You can then cycle through brightness settings by tapping the button once again. There are three brightness modes that you can toggle through; 40 lumens, 160 lumens, or 400 lumens. Each one is noticeably brighter, but be warned; the brighter the output, the more it will drain the battery.
Air Pump Mode
The main purpose of the FLEXTAIL Tiny Pump 2X is the air pump feature. When I first double-pressed the power button to activate the pump, I was astounded at how much air it could actually push. At 4KPa or 0.58 PSI, the airflow is noticeably great. I was immediately impressed with the amount of air it could move. However, one thing I also noticed was how loud it was. At first, it's almost startling when booting it up for the first time. Just be aware that you'll want to keep it away from your ears.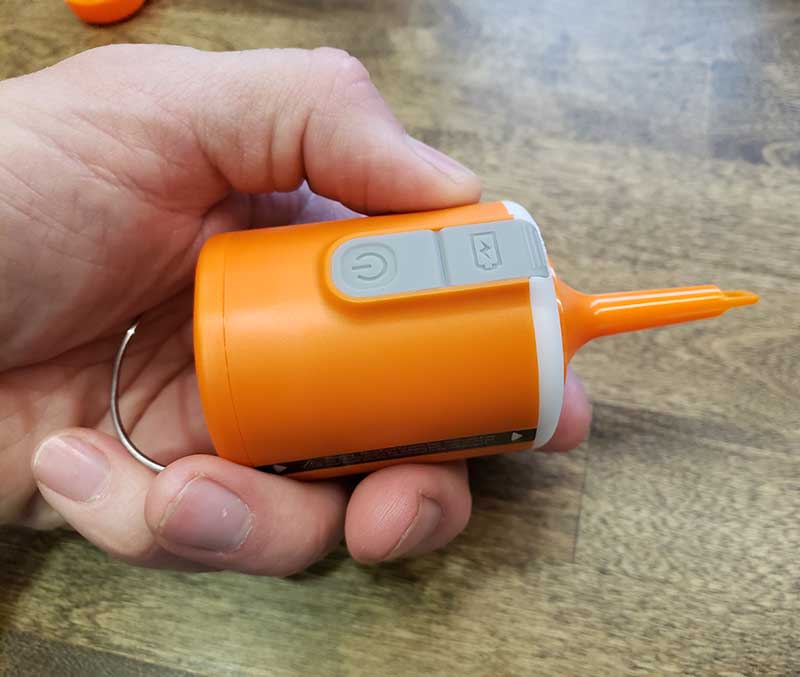 Using it as a portable air mattress inflator was the main reason I was excited to test out the Tiny Pump 2X. I tested it out on a regular-sized Big Agnes Air Core sleeping pad and found it to work very well. In a matter of 15 seconds, the entire pad was completely filled and ready to go. Next, I tested it out on a small kids' pool float. Needless to say, it made quick work of it and had it filled up with ease, in just 9 seconds.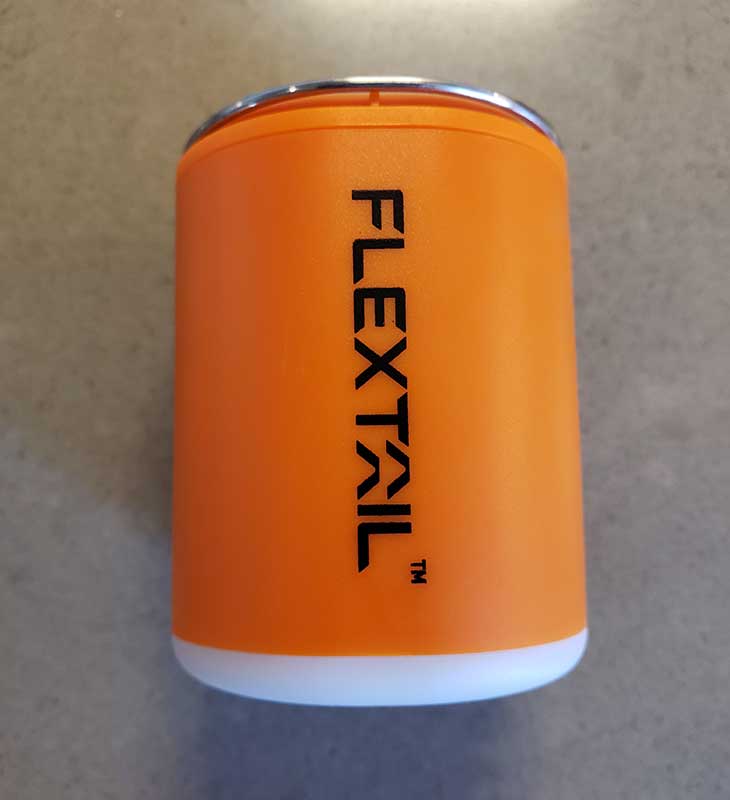 It can also be used to deflate virtually anything it can inflate. Simply reverse the unit and it'll vacuum all of the air out in the same amount of time it took to inflate whatever you're trying to fill. Best of all, the Tiny Pump 2X can also be used to "stoke" fires. Using the blower function, you can precisely direct airflow to feed the flames and get a campfire started without any guesswork. Pretty sweet!
This brings us to its next purpose – for storage. Using one of the optional vacuum storage bags, I placed a hefty amount of clothing inside, zipped the top, connected the proper adapter, hooked it up to the bag, and let her rip. With the pump in "deflate mode", the vacuum bag quickly compressed.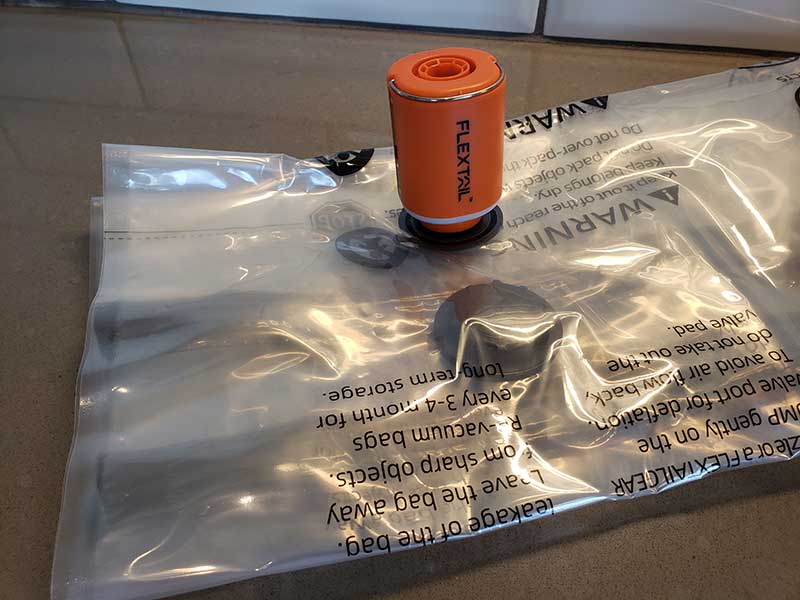 Although FLEXTAIL advertises an 80% reduction in volume, I would object and say that it reduced the volume by about 40-50%. While you may experience better results with objects that are squishier, standard cotton clothes do compress, but not quite as much as you may expect. Still though, this is a nice function to have.
Light Mode
The LED lamp that's built into the bottom end of the FLEXTAIL Tiny Pump 2X is a very nice inclusion. Turning it on and swapping through brightness settings is a breeze. From 40 to 400 lumens, there's a setting for virtually any scenario, whether you're in a tent or inside a camper van.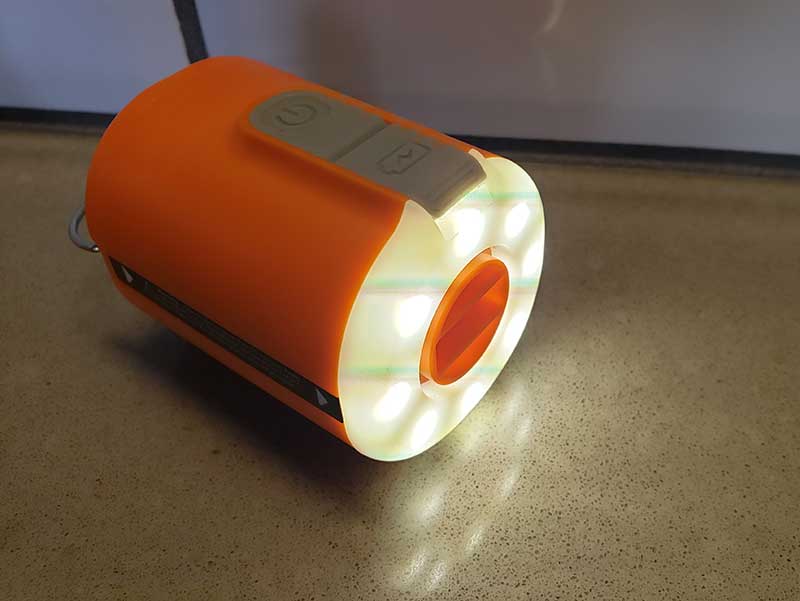 I especially liked using the light with the magnetic metal base. I could quickly slap it to any metal wall inside my camper van and give light to any area. When used along with the optional lamp shade, it diffused the glow in an evenly distributed manner. While not necessarily a requirement, it's a smart addition that makes the light inviting in small spaces.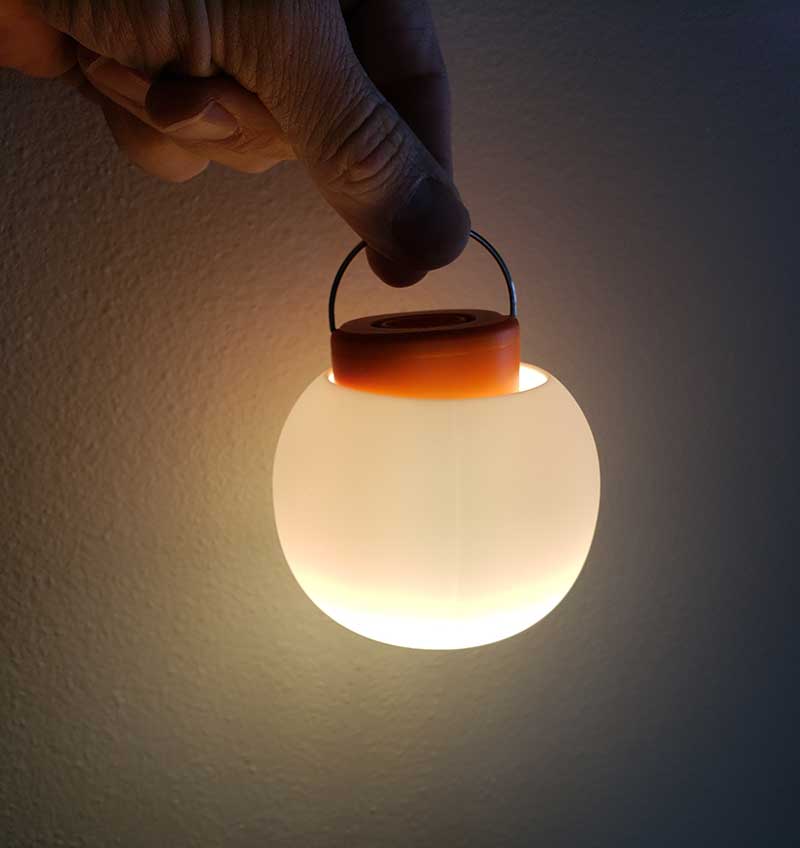 Battery Life
Inside the Tiny Pump 2X is a 1300 mAh rechargeable battery that re-charges via USB-C. I found that a full re-charge from empty to full capacity takes around 3-4 hours. In my opinion, this is acceptable in most regards. Although a charging adapter/block isn't included, you can plug it into any USB-A port that you have access to.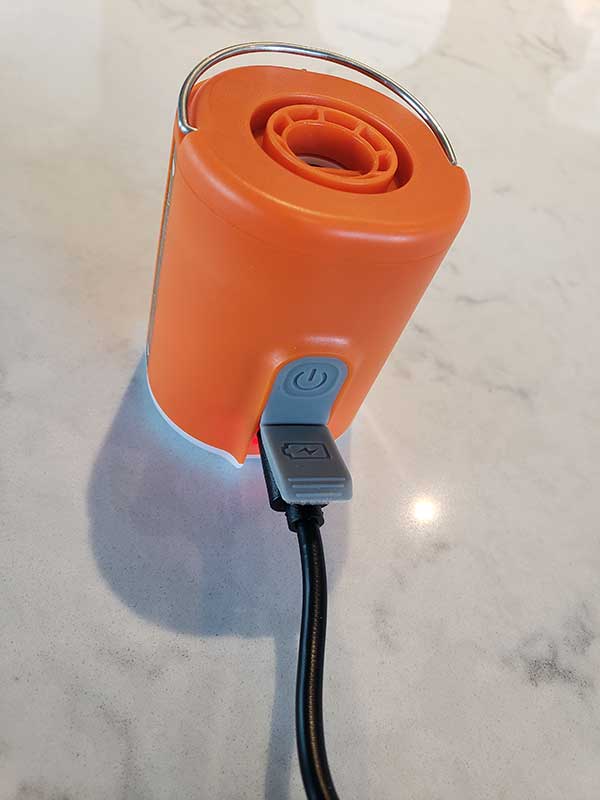 FLEXTAIL claims that you can achieve around 40 portable air mattress fill-ups on a single charge. While this depends on a variety of factors, even 30 fill-ups on a single charge is commendable. In reality, I tested it out myself to see how long it could last. After 34 fill-ups to my Big Agnes air mattress, it was in need of a charge – right inline with my expectations.
When it comes to battery life in regards to the LED lamp, it greatly depends on the brightness mode you're using. On full brightness at 400 lumens, it lasted 50 minutes on a full charge. At medium power, or 160 lumens, it lasted a hair over 2 hours. On its lowest setting of 40 lumens, it achieved a full 8 hours before the internal battery was depleted. Not bad!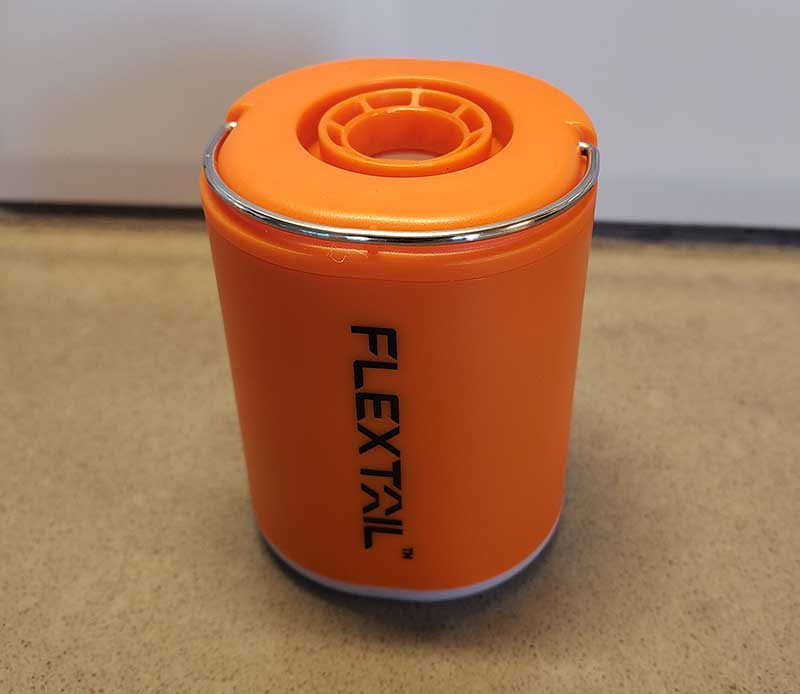 Final Thoughts
Throughout the course of two weeks while testing and using the FLEXTAIL Tiny Pump 2X, I fell in love with it. It's incredibly compact, lightweight and purpose-built. Although it's definitely louder than I expected, everything else checked out and surpassed my standards.
Although I wouldn't rely on it as my sole source of light, the LED function is very nice to have. I love how it's magnetic base makes it easy to quickly setup without any guesswork. And with the ability to both inflate and deflate virtually anything it can fit with the included attachments, it's useful for a wide range of scenarios.
Use code "NerdTechy15" for a 15% discount when you order the Tiny Pump 2X from the official FLEXTAIL website.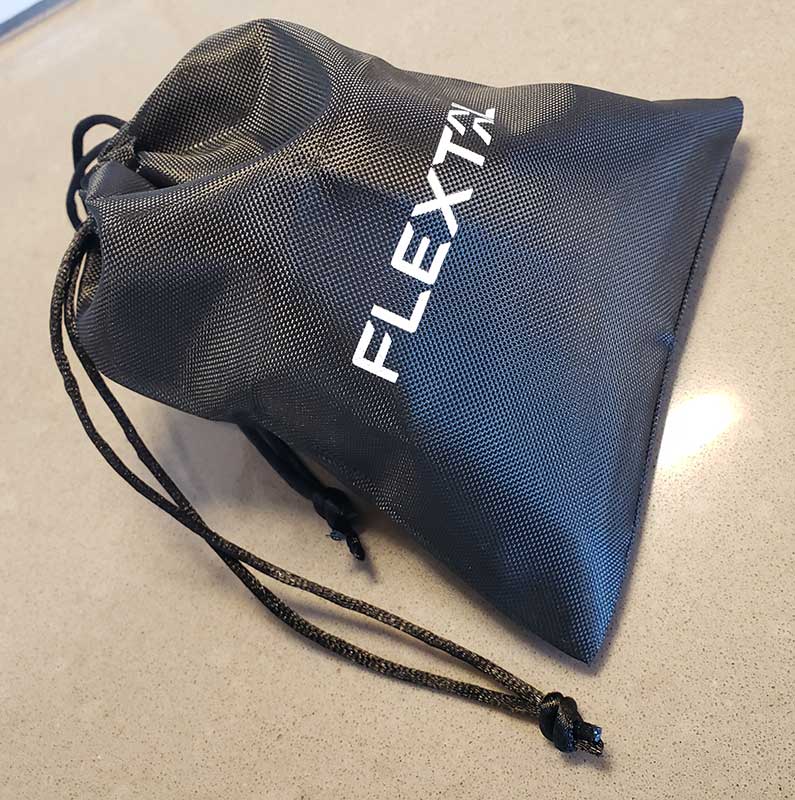 The ability to use with FLEXTAIL's vacuum bags is a nice bonus, as is the lamp shade that comes as an upgrade. Best of all, USB-C charging makes it easy to keep the internal battery at full capacity in a relatively short time. With the inclusion of a nylon pouch, everything is easy to stow and pack without taking up much precious space. For camping, bike-packing or vanlife living, the Tiny Pump 2X is an affordable and highly capable addition that I can easily recommend to anyone. Simply put, FLEXTAIL knocked it out of the park with this one.
Meet Derek, "TechGuru," a 34-year-old technology enthusiast with a deep passion for tech innovations. With extensive experience, he specializes in gaming hardware and software, and has expertise in gadgets, custom PCs, and audio.
Besides writing about tech and reviewing new products, Derek enjoys traveling, hiking, and photography. Committed to keeping up with the latest industry trends, he aims to guide readers in making informed tech decisions.