Whether you're a do-it-yourselfer or a construction professional, you need the right tools for your job. And for many framing, plumbing, and electrical jobs, those tools include a laser level. A self-leveling laser level projects horizontal and/or vertical lines around your work area.
Because it's self-leveling, you know these lines are accurate. As you might imagine, the applications for this kind of tool are endless. You can use them to level studs, or to make sure a door frame is plumb. You can build a retaining wall or set up a fence on uneven ground, and keep the top level. With the right design, you can even make sure pipes are sloped at the correct angle.
That said, there are many possible features for a self-leveling laser level. Depending on what job you're trying to do, any given level might be a better or worse choice. With that in mind, we're going to review not just one, but three of the best self-leveling laser levels available.
To begin with, we'll look at the Kaiweets Self Leveling Laser Level. This is a no-nonsense 360-degree level with one horizontal and two vertical lines. Next, we'll examine the Bosch GLL30. This is a more affordable level designed for interior jobs. Finally, we'll check out the Klein Tools 93LCLG. This is a robust level with a magnetic base and vertical plumb dots. After that, we'll sum up what we've learned. Let's get started!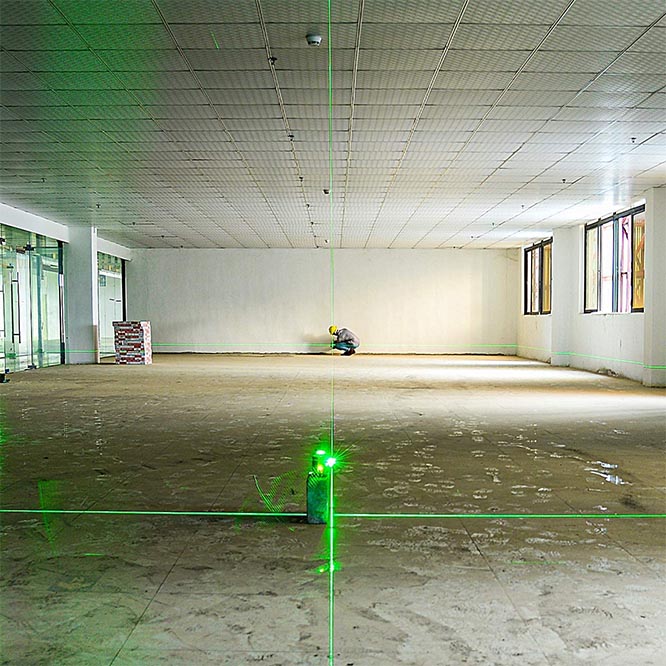 What to Look for in a Self Leveling Laser Level
Before we look at our individual choices, let's talk about self-leveling lasers, and what you should expect. There are a number of factors to consider, and manufacturers offer all kinds of bells and whistles. In that sense, every laser level is unique. But there are also some features you should be looking at in every laser level. You need to consider the accuracy, the type of laser light, the laser's range, and the quality of the build. Let's take a look at each of these.
Accuracy
Accuracy in a laser level is expressed based on accuracy at a certain distance. This is because a small error becomes bigger and bigger the further you get from the laser. For example, a level might be accurate to 1/8th of an inch at a distance of 30 feet. Generally speaking, a good budget level will be accurate to around ¼-inch at that range. The better-engineered the level, the more accurate it will be.
Laser Color and Brightness
Most laser levels are made with either red or green lasers. This is because those wavelengths are the ones that are most visible to the human eye. But even the most easily visible laser can be hard to see in the outdoors.
This is because the sun is 10 times as bright as ordinary interior light. You don't notice it when you step outside, because your eyes adjust in a few seconds. But the sheer intensity of the sunlight will block out all but the brightest laser levels. And even levels that work outdoors will have much shorter range than they will indoors. For this reason, some levels come with white or reflective panels to project the laser onto.
Laser Range
Next, you need to think about the range of the laser light. This will be a combination of brightness and accuracy. At the point where the beam is no longer visible, or wildly inaccurate, it can no longer be used. Professional-grade outdoor levels will be effective to at least 100 feet, and sometimes as far as 300 feet. Indoor levels will typically have a much shorter range, since a longer range is usually pointless.
Quality of Engineering
Finally, look at the overall quality of the build. Is the level water-resistant? Is it designed for tripod mounting? What are your other mounting options? Is there a carrying case? Can the level withstand a drop? These types of considerations are particularly important when you're using your level outdoors. However, even an indoor level is subject to abuse, and will benefit from good mounting options.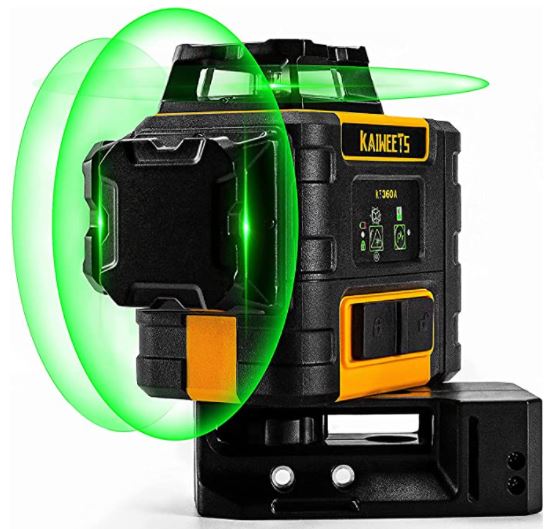 Kaiweets Self Leveling Laser Level
The Kaiweets Self Leveling Laser Level is a rugged level with a beefy housing. It's constructed from black ABS plastic, with controls and a battery meter on the side. These include a small power button, and a large locking and unlocking switch. The laser lights are mounted separately on the top, front, and the opposite side from the controls. Each laser emitter protrudes from the unit, and projects a circular beam around the room. Since these beams go out along all three axes, it's a true 3-axis level.
Order directly from the Kaiweets Website and use code NT10 for 10% off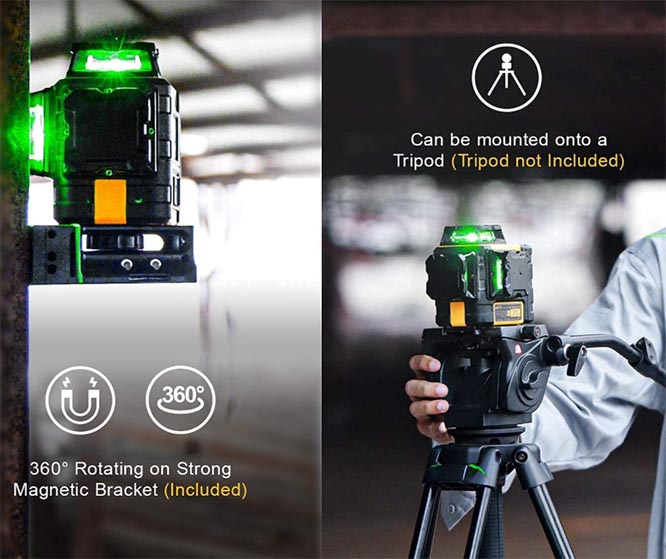 The laser lights are green, and are exceptionally bright. Even outdoors, they can extend as far as 196 feet, so you can work in very large areas without any trouble. As befits a long-range laser, the accuracy is also excellent. Each individual laser emitter is mounted in its own little gyroscope. This allows for all three axes to automatically settle to within 4 degrees of accuracy. That works out to an accuracy of less than 1/8-inch at a distance of 32 feet. Not only that, but the housing is IP54-rated for weather resistance. Rain and dust won't pose any threat to this level.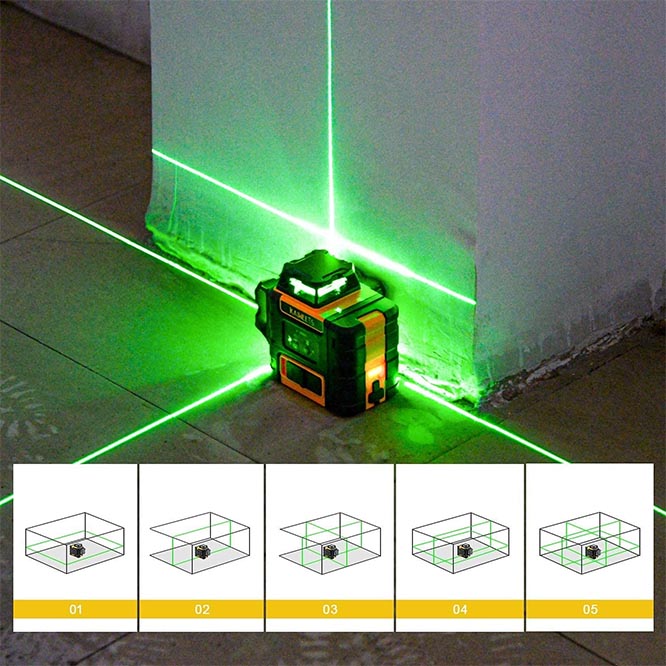 The main level housing is built into a flat base, which can be placed on the ground. It's also compatible with both ¼- and 5/16-inch tripod mounts. And if that's not enough, the base is magnetized, so it can be attached to a metal stud, pipe, or junction box.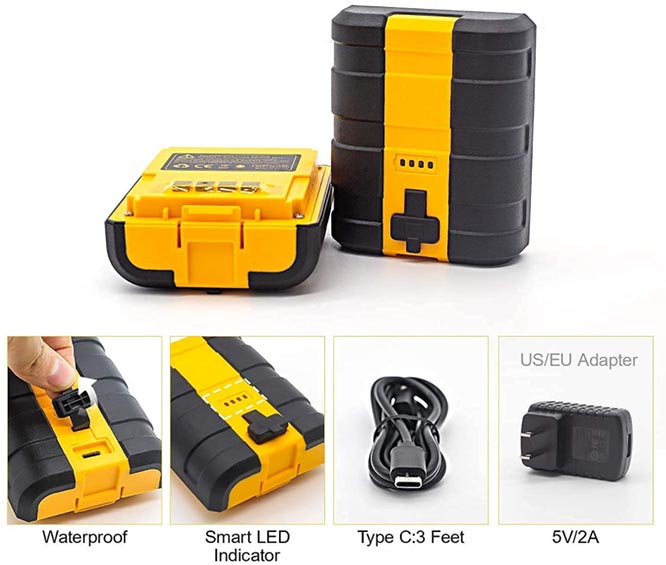 The kit includes two rechargeable batteries, each of which will last for at least 20 hours. There's also a USB Type-C charger, a nylon carrying bag, and a target plate for outdoor use. All of this is covered by an extensive three-year warranty, one of the best in the business.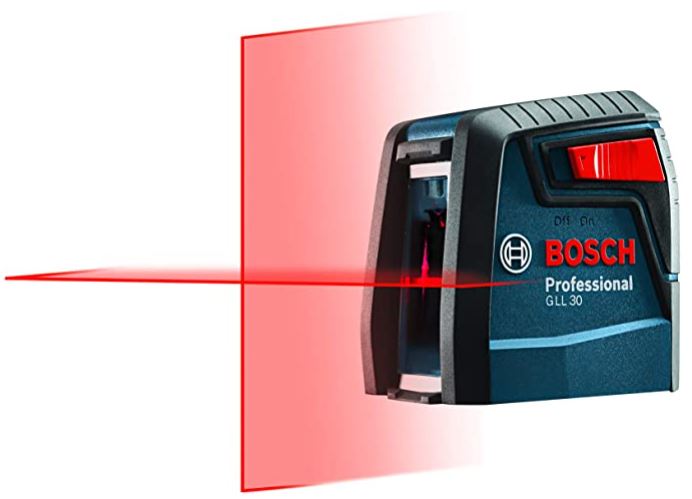 Bosch GLL30
Bosch is a respected tool manufacturer, mostly marketing their tools to homeowners. The Bosch GLL30 is a small laser level designed for small to medium-sized indoor projects. The housing is constructed largely from blue plastic, with black rubbery bumpers around the edges. The only control is a bright red on/off switch, so the level is easy to use.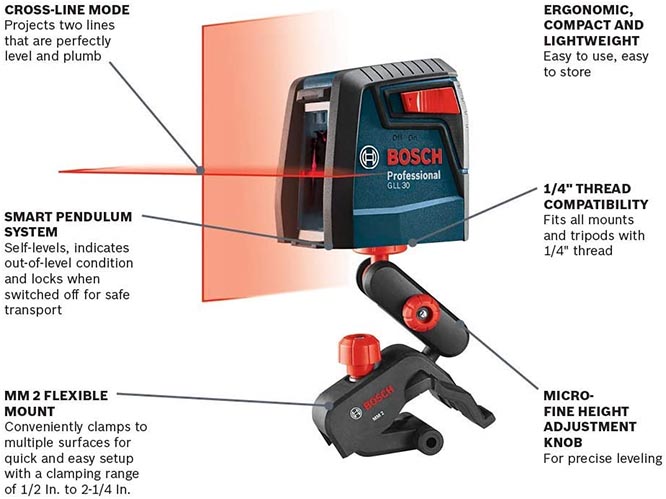 This ease of use is mostly because the design is so simple. The GLL30 projects a single cross from the front of the unit, with a vertical and a horizontal line. Other than an on/off switch, there's not any other control you'd need. The laser emitter itself is housed in a gyroscope inside the unit. Even when the main housing is tilted, the laser will remain level – at least to some extent. Thankfully, you don't have to guess whether you're actually level or not. When you're out of level, the lights will blink. So as long as you're getting a good, steady beam, you're doing just fine.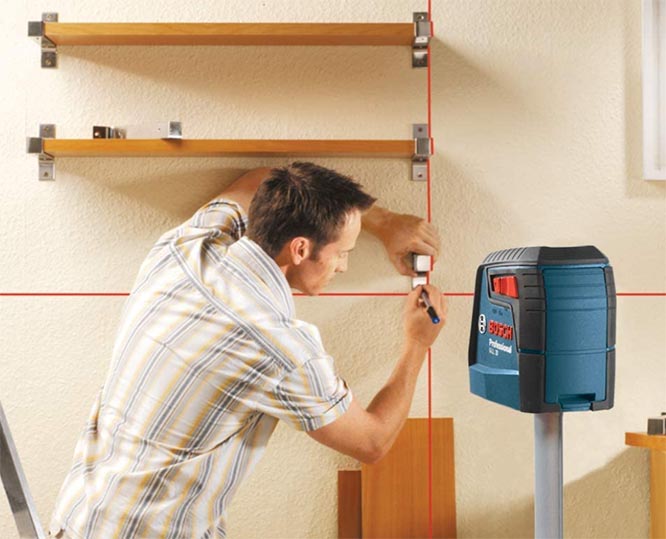 The laser lights are visible to a range of 30 feet, enough for a large, 60-foot room. At that distance, they're accurate to 5/16 of an inch – acceptable for most purposes. That said, you won't be able to use the GLL30 outdoors. It's simply not bright enough to be visible more than a few feet away. The level mounts on a clamp mount, which can be twisted and adjusted for height. It can be attached to a stud, pipe, conduit, or any other convenient surface. It's also pre-threaded for a standard ¼-inch tripod mount.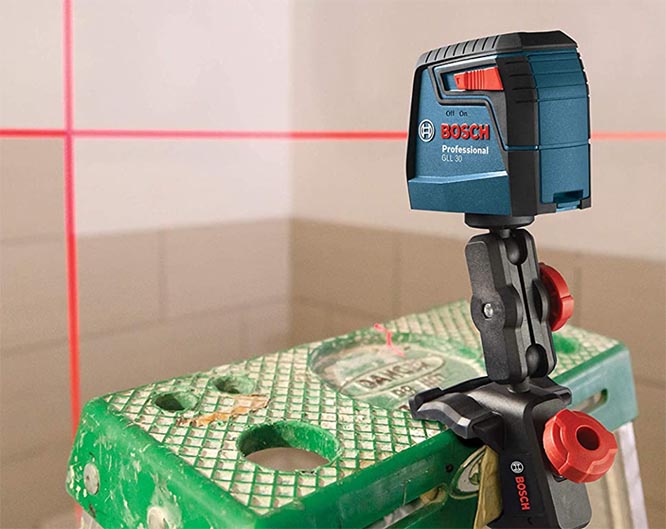 This level is powered by a pair of AA batteries, which are included in the package. They'll last for up to 100 hours, which equates to years of use for some people. In addition, the level and mount are both protected by Bosch's two-year manufacturer's warranty. If there are any defects, you'll receive a refund or a replacement.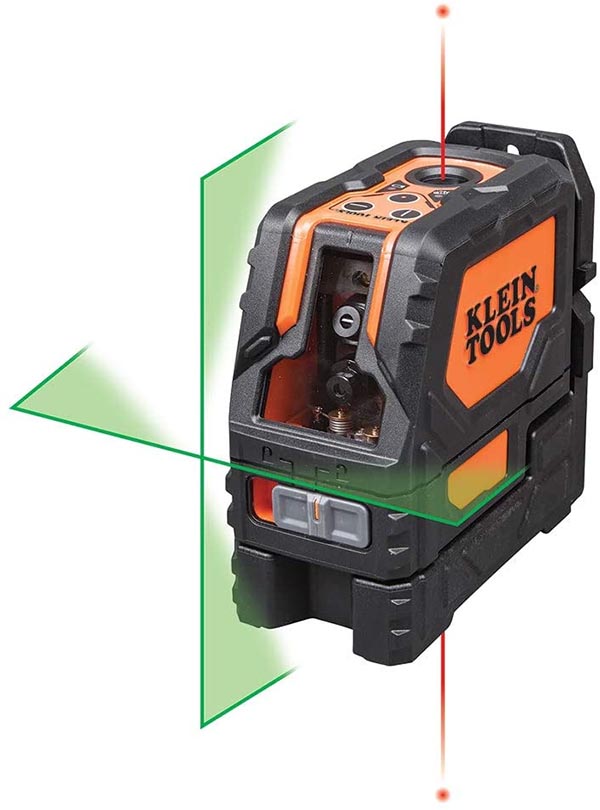 Klein Tools 93LCLG
Klein tools is another respected manufacturer, producing everything from power tools to USB power testers. The Klein Tools 93LCLG is a well-engineered laser level, with an orange and black housing that can take a beating. It projects a green, cross-shaped laser out the front, and is self-leveling. The overall range is 60 to 80 feet indoors, depending on the lighting. Outdoors, you can use it at about 40 feet, more if you have a reflective surface to point it at. The vertical and horizontal lines can be turned on and off independently as needed for your job.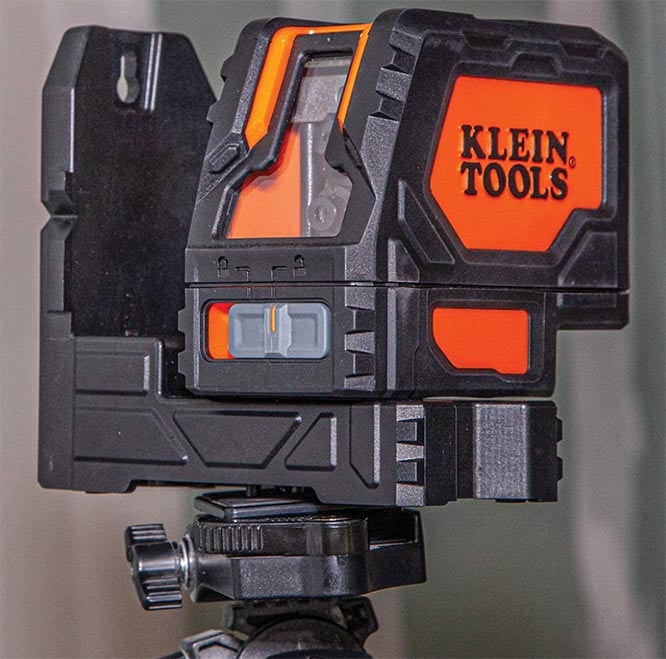 In addition, the 93LCLG projects red plumb spots from the top and bottom of the unit. This allows you to find corresponding points on a floor or ceiling. It's perfect for running pipes, or for other free-standing vertical applications. Not only that, but the level is water and dust-resistant, ideal for plumbing jobs or working outdoors.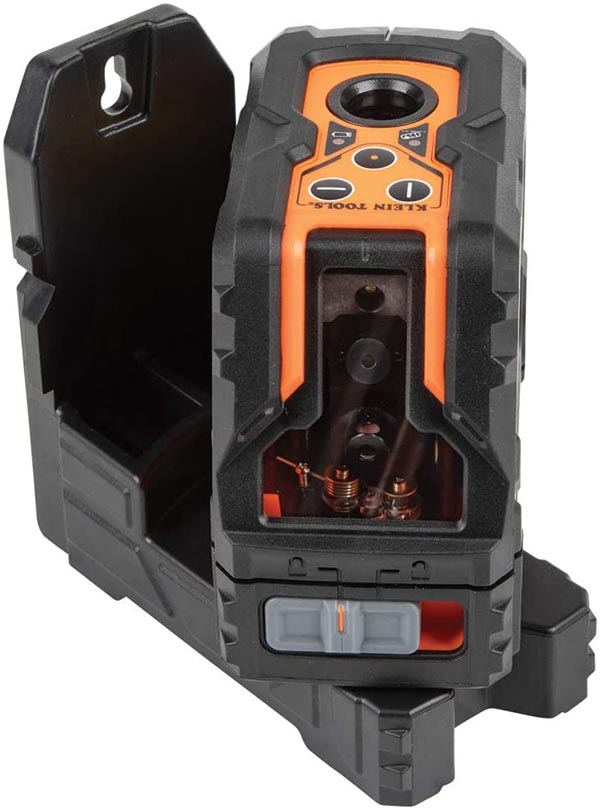 The integrated mounting bracket is one of the most versatile we've seen. For one thing, it pivots 360 degrees, so you can aim the level in any direction. For another thing, it boasts ¼- and 5/8-inch threaded tripod mounts. There's a built-in magnet, for attaching to metal objects. And for wood, there's a screw keyhole for easy hanging.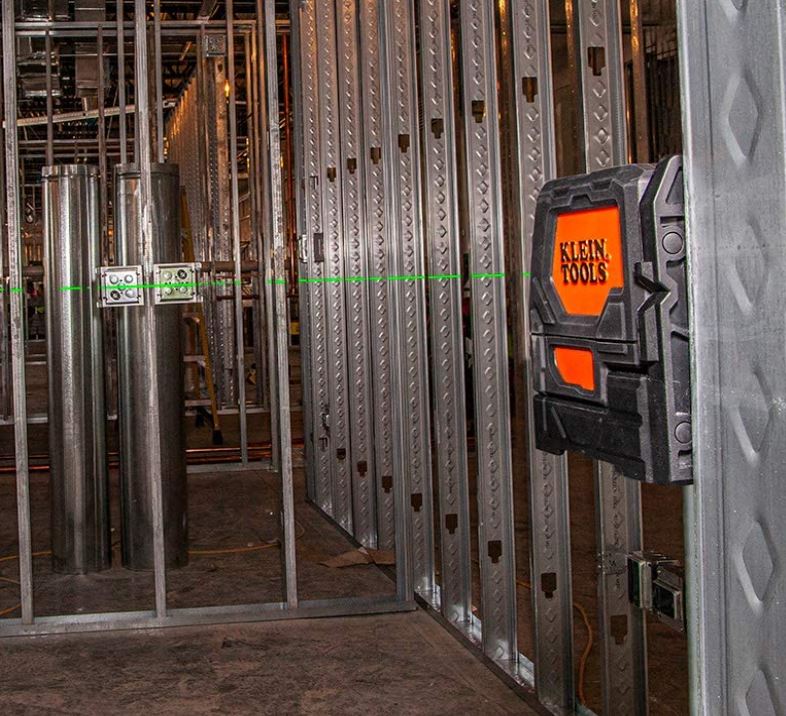 The kit includes a hard plastic carrying case to keep everything safe. It also includes 3 AAA batteries, which will last for up to 50 hours. However, the batteries will drain if they're left in the level during storage. Take them out when you're done, and you won't have any issues.
Final Verdict
As you can see, each of these self-leveling laser levels has its own strengths and weaknesses. We started out by reviewing the Kaiweets Self Leveling Laser Level, which is a beast of a level. It's tough, it's rugged, and it's water-resistant. It also has an exceptionally long range, as well as a 360-degree projection. It's a bit pricey, but it's a great choice for professionals, or for large outdoor projects.
The Bosch GLL30 is a fine tool for homeowners who are working on an indoor project. It's not suitable for outdoor use, and it doesn't have any extra bells and whistles. But if all you need is a straightforward interior laser level, it will get the job done just fine.
The Klein Tools 93LCLG is the most versatile of the bunch, with its vertical red plumb spots. It's also reasonably durable, and can be mounted in many ways. It can even be used outdoors, although it's not as powerful as the Kaisweets level. But if you're running vertical pipes or conduit, it's an ideal choice.