Traveling on the road can be a fun and exciting experience, whether you're exploring new places or just enjoying the freedom. If you're planning to spend time in an RV, it's important to make sure you have all the necessary equipment to keep you safe and comfortable. One of the key things you'll want is a reliable propane leak detector.
Propane is an essential fuel source for many RVs, powering everything from the stove to the water heater and furnace. However, propane is a highly flammable gas. That said, it's important to make sure there are no leaks in any components to prevent serious accidents or injuries.
When choosing the best RV propane leak detector, there are a few important factors to consider:
Type of detector: There are several kinds of propane leak detectors which include handheld, hardwired, or plug-in variations. Each one has its own advantages and price tag associated so it's best to determine which application would be best for your needs.
Sensitivity: Each detector will have its own level of sensitivity as a result of different factors including hardware. While there are sensitive detectors at different price points, higher performance usually comes with a more expensive cost. There are also situations when sensitivity can be too high for your desired purposes. You'll want to consider what level of sensitivity is right for you.
Ease of installation: Regardless of what kind of propane detector you use, the one you choose should be easy to install and configure.
Price/Value: More expensive options tend to have more advanced features. However, it's important to choose one that only includes the features that are a priority to you. This will keep the price lower while also reducing the likelihood of something not working correctly.
With so many options available, it can be overwhelming to determine which one is the best fit for your needs. To help you make an informed decision, we've compiled a list of the best RV propane leak detectors currently available. Each product has been chosen for its ability to meet the above criteria as well as address the different needs of various users. Let's get started.
Best Handheld: TopTes PT210 Propane Leak Detector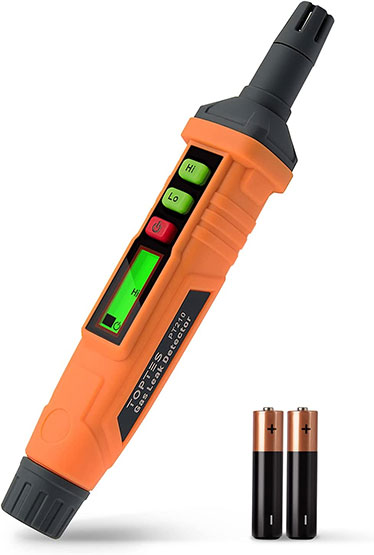 Key features:
Low and high modes
Bright LED display
Portable, handheld design
Size: 7.09 x 1.26 x 1.26 inches
Power source: Two AAA batteries (included)
Our top choice for a handheld propane leak detector is the TopTes PT210. This model is designed to be both portable and simple to operate. It features a bright LED display that shows if there's propane or other flammable gas within just a few seconds. This unit comes configured with two levels of sensitivity. You can switch between both modes manually by pressing the corresponding button. We found the backlit display was very helpful, especially in low light surroundings.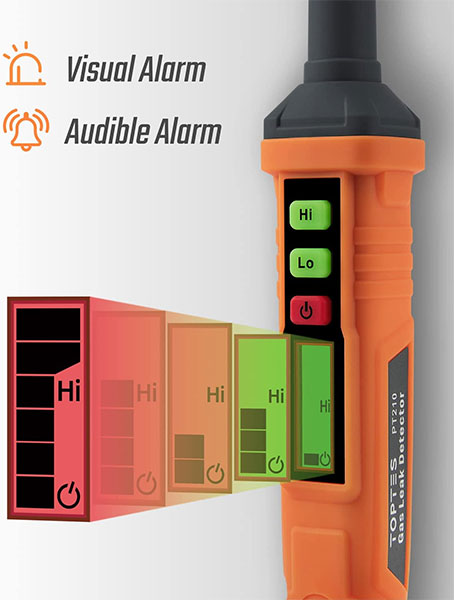 Its compact, pen-style size and lightweight design make it easy to take with you wherever you go. Ultimately, making it an ideal choice for people who want a way to prevent a leak in the first place. Rather than relying on an in-wall or hanging unit that will only alarm at the point where people need to leave immediately. A portable gas leak detector like this provides the greatest initiative in prevention.
Our team felt that the form factor and materials were high quality and intuitive. The battery ensures that you can use it anytime, anywhere without the need to hardwire or look for an outlet. We were able to get over 20 hours of constant use before needing to replace the battery.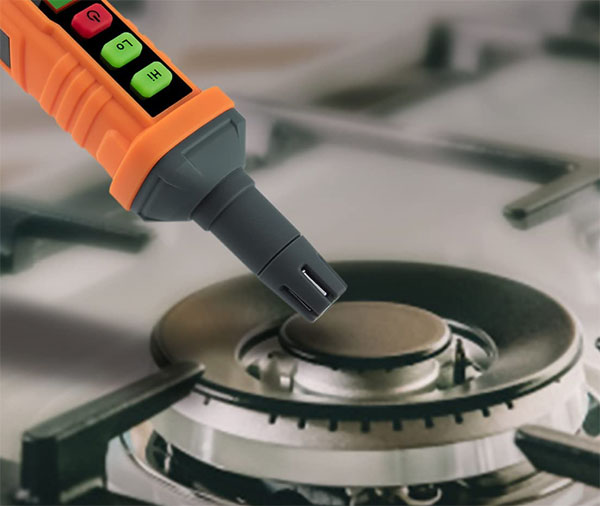 In addition to the LED display, the audible and visual alarms provide feedback that complements the on-screen reading. Once it's triggered, the 75 decibel tone is not easily missed.
One of the standout features is its exceptional sensitivity. Real world users who purchased other models in the past stated the accuracy and high sensitivity mode on this one is superior. It can detect even the smallest of leaks with precision, ensuring that you can quickly identify and address any issues with your propane system. Although there are more expensive options on the market, we feel that this unit strikes a solid balance between price, value and performance.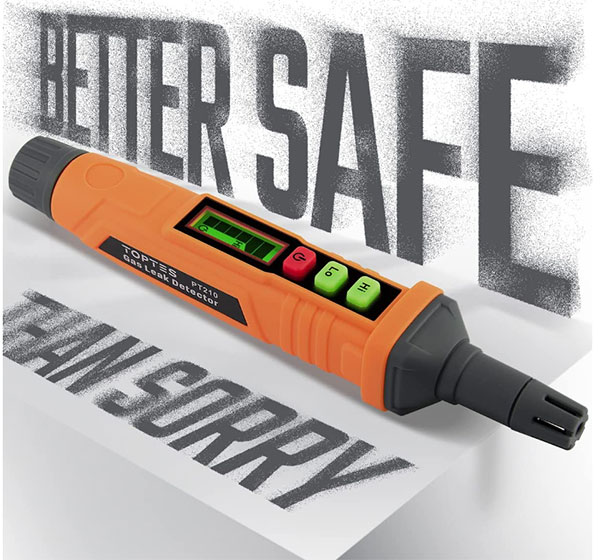 Overall, the TopTes PT210 is an ideal choice for anyone that's looking for an accurate, portable solution. Its advanced features and reliable performance justify its price point. Additionally, the quality materials and craftsmanship should make it last for many trips to come. One thing to keep in mind is that this is a spot detector that only measures propane levels when turned on. For continual, real time peace of mind, have a look at our next few selections.
What we liked:
Two sensitivity modes that can be manually toggled.
Bright LED display also provides visual alerts.
Portable and easy to handle.
Long battery life.
Batteries included.
What we didn't like:
Handheld design means that it's not "always on"
Best 12V Hardwired: Funomo RV Propane Gas Detector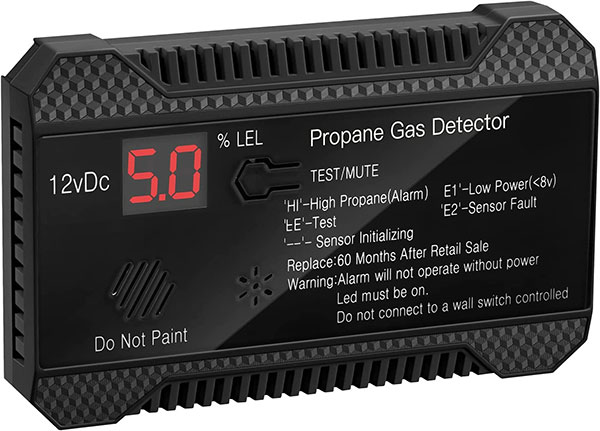 Key features:
12-volt hardwired installation.
Audible and visual alarms.
Size: 4 x 2.6 x 0.8 inches.
Comes in either black or white.
The Funomo RV Propane Gas Detector is a 12V hardwired propane leak detector that's designed to be permanently installed in your RV. Hardwired options provide constant monitoring and do not require any hands-on intervention once properly installed.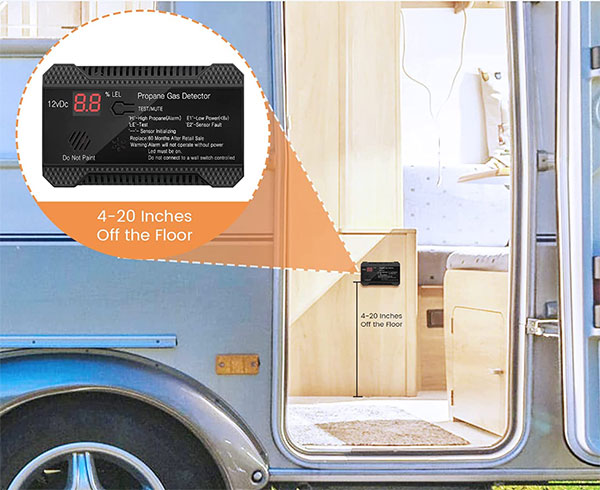 One of the advantages the Funomo has is its ease of installation. It comes with everything you need to install it, including mounting hardware. Its compact size means that it won't take up too much space. Keep in mind that this is a surface mount device that should be placed 4-20 inches off the floor. Luckily, it comes with clear instructions and a responsive customer support team that can help offer guidance as needed. Once installed, it's easy to use and provides reliable performance.
The bright screen displays real-time propane values which is an important tool to respond to issues sooner rather than later. We found that the audio alarm was significantly louder than the TopTes. However, there's no visual alarm capability, other than the percentage display.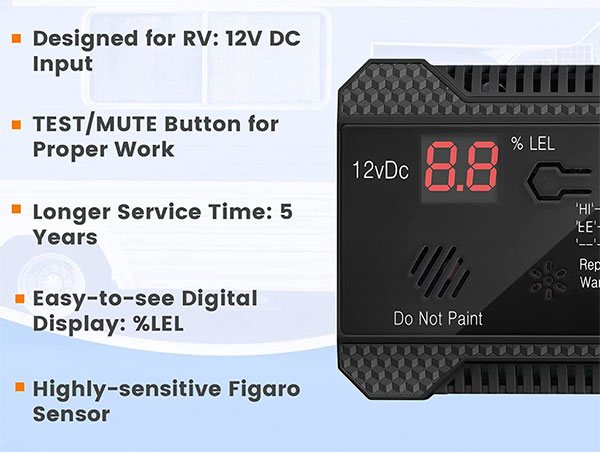 The Funomo stands out for its combination of reliability, accuracy and sensitivity. It may be somewhat more-involved than other options, but its advanced features and reliable performance make it well worth the investment. Best of all, the loud audible alarm easily cuts through any music or background noise, providing peace of mind even in busy environments.
What we liked:
Easy hardwired installation.
Accurate, sensitive sensor
Audible alarm is loud and attention grabbing.
What we didn't like:
Must be replaced 60 months after installation.
Best 12V Hardwired Runner-Up: Briidea Propane Gas Detector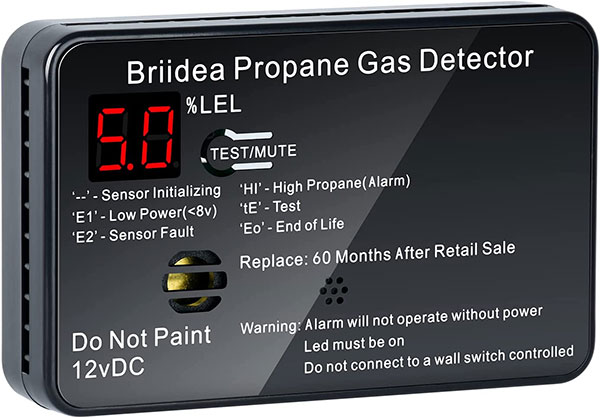 Key features:
12-volt hardwired installation.
Customizable audible alarm.
Size: 4 x 2.5 x 0.75 inches.
Only available in black.
The Briidea Propane Gas Detector is another solid hardwired option. While very similar to the aforementioned Funomo propane leak detector, it differs only slightly. What sets it apart from competitors is its ability to be tailored to your preferences.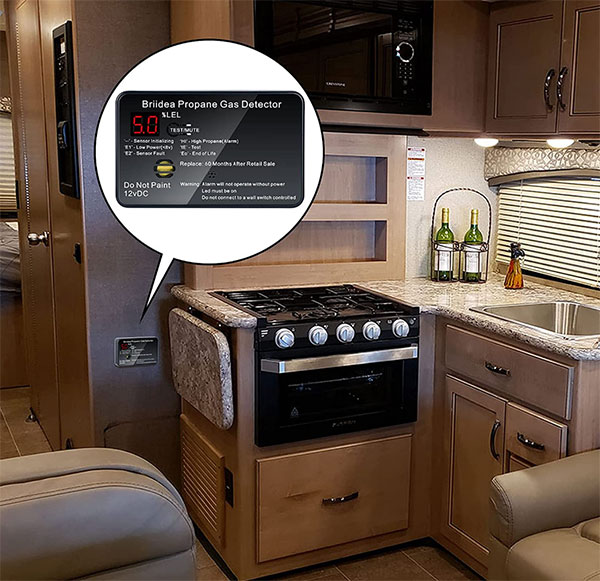 Other models make it hard to customize the audio alarm settings. This detector allows you to adjust the propane level alarm to a range of levels with only a few button taps. This is an important feature for anyone wanting even more advanced notice than is provided by default in other devices. Many of the units we tested did not allow you to make this adjustment.
Like our previous choice, it has a bright number display that gives you an accurate, real-time propane value reading. While it's on the smaller side, we felt that it was still easy to view the number readings from a distance of 10 or 12 feet.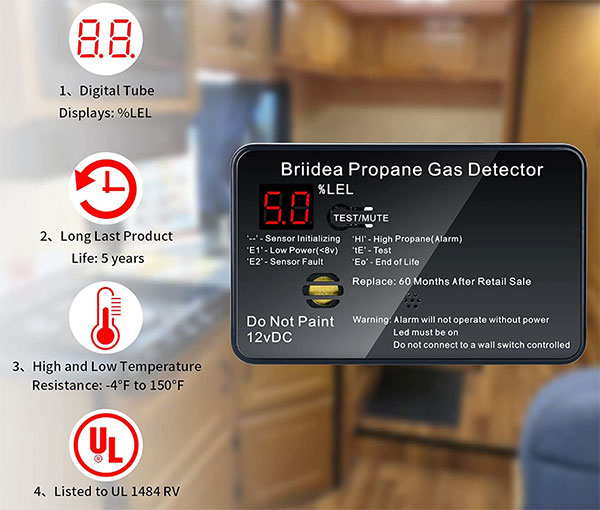 The Briidea is a great choice for RVers who want a permanent and reliable propane leak detector. Its hardwired installation ensures that it's always on and always working to detect any potential issues with your propane system. In addition, it's highly sensitive and can identify even the smallest of leaks.
What we liked:
Easy to operate and adjust settings.
Easy installation.
High sensitivity.
Loud audible alarm.
What we didn't like:
Must be replaced 60 months after installation.
Best Plug-In: EG Propane Leak Detector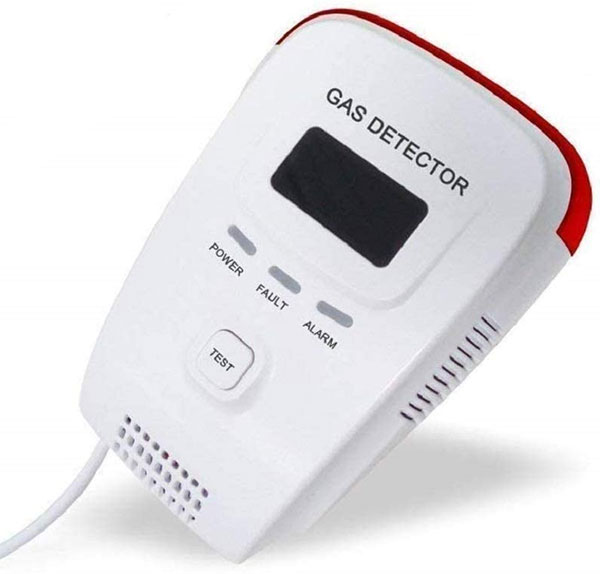 Key features:
Plug-in installation.
Audible and visual alarms.
Size: 5.2 x 3.6 x 1.6 inches.
Weight: 7.4 ounces.
Color: White.
Power source: 120V AC outlet.
Plug-in propane leak detectors provide constant monitoring without the hassle of trying to hardwire it into your RV. Some users prefer having a solution that can be removed and relocated as desired. With the EG Propane Leak Detector, simply place it at an outlet and you're all set.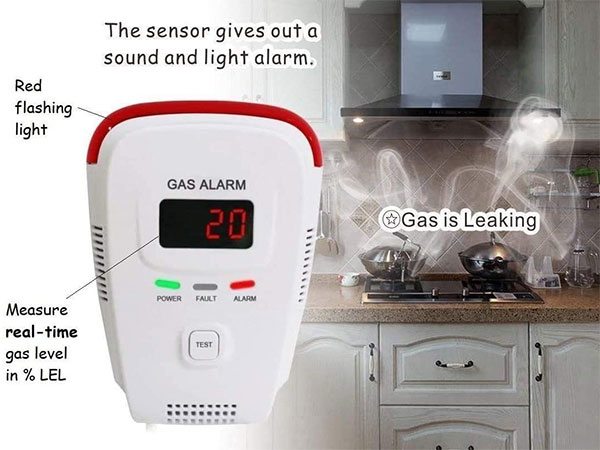 One of the best features is the large red light positioned at the top of the unit. Most options don't offer a visual alarm like this. The EG makes this a priority by including a light that's clearly visible. While an audio alarm covers most bases, adding a visual alarm ensures that you have additional peace of mind. When it's mounted using the detachable back plate in a visible location, the light is able to draw attention when activated. Paired with a loud audible alarm, it will not be ignored when propane is detected.
The one challenge of this unit is the inability to customize when alarms are triggered. When the gas level reaches 5%, it will begin to sound. Many users don't find this to be a problem. However, it may not be an ideal choice for those that want a detector that sounds before that point.
For users that may have multiple RVs or want the option to move it to different locations, the EG includes a removable back plate that allows you to relocate easily. Being that it simply plugs into any available outlet, it can easily be moved to and from your home without complication. In addition, it has a 6 foot cord so you can move it away from an outlet to a specific spot.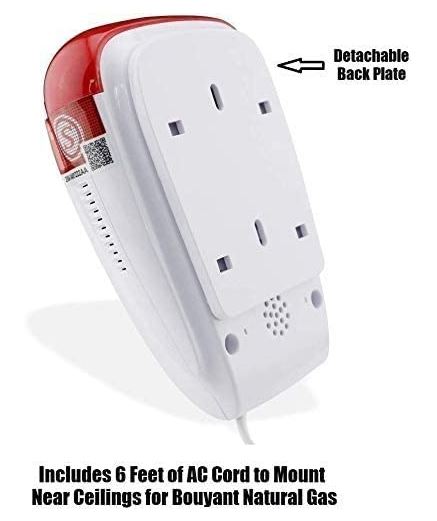 The EG Propane Leak Detector is a great choice for RVers who want a reliable option that's powered through an outlet. Its plug-in installation ensures that it's always on and always working to detect any potential issues. In addition, with its highly sensitive sensor, it can identify even the smallest leaks.
What we liked:
Easy to install and use.
Large red light is hard to miss.
Detachable back plate makes it easy to move around.
What we didn't like:
No way to adjust alarm settings.
Best Runner-Up Plug-In: GasKnight Propane Detector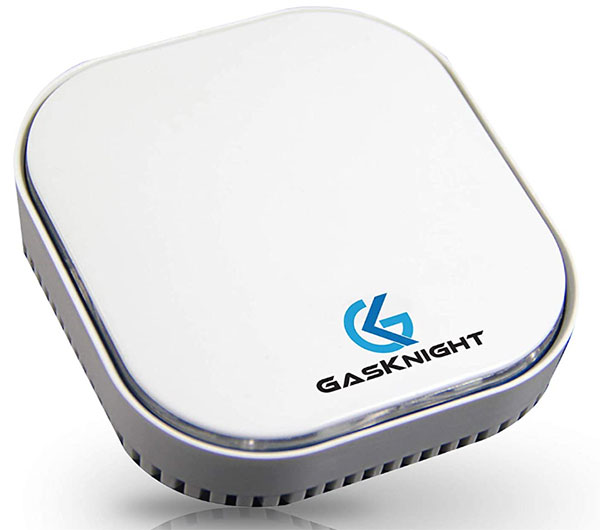 Key features:
Plug-in installation.
Audible and visual alarms.
Size: 3.4 x 3.2 x 1.2 inches.
Color: White.
Power source: 120V AC outlet.
As one of the best looking units we've explored, the GasKnight Propane Detector features a sleek white, minimal form factor that blends seamlessly into most environments. The futuristic design makes it look more like a WiFi hub rather than a traditional propane leak detector. Ultimately, this makes it a great choice for design conscious individuals.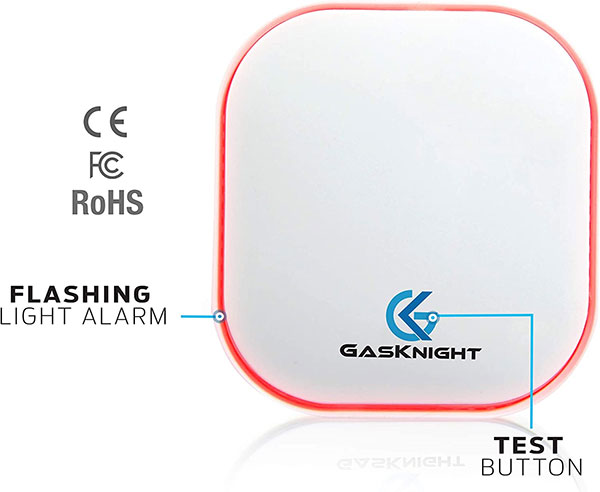 Beyond the aesthetics, this model has a solid feature set that's on par with the best detectors currently available. The plug-in design lets you set it up without the need for complicated wiring. In fact, the prongs for powering it are built directly into the backside of the device.
GasKnight is a long running, reputable brand that provides clear instructions and helpful customer support. In fact, it comes with an extensive manual that outlines best practices and how to get the most out of it, which is often lacking in other products. Users mention that customer support is quick to respond and address issues that might come up.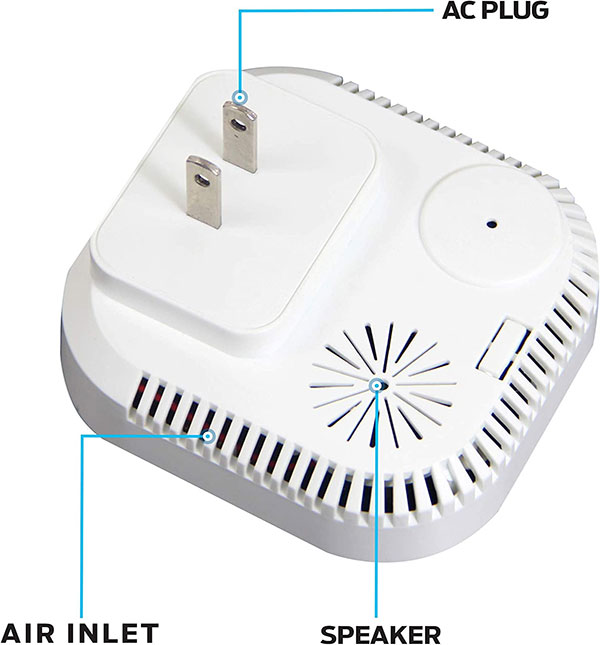 With an audible alarm level of ≥85dB, it provides the same loudness as the Funomo. In addition to sounds, it also outputs a voice warning which can be helpful in identifying the source of the alarm. The reason it's a runner-up in this category is because of the visual alert system. Although it works very well, the lights are not as bright or attention-grabbing as the EG.
Overall, the GasKnight Propane Detector is a great choice. Its plug-in installation, easy-to-use design, and highly sensitive sensor make it an ideal option for those wanting simplicity.
What we liked:
Plug-in installation.
Prongs built into the back side.
Very small form factor.
Audible alarm is loud.
Modern, minimalist design.
What we didn't like:
Visual alarm not as bright as it could be.