If you're a motorcyclist, you know how important it is to have the right gear. You need a good helmet and a heavy jacket to protect you from injury. You need a good pair of boots that can grip the pavement when necessary. You've got to carry some basic tools with you. And if you want a jump starter, you'll need a compact, portable one. Communications can also be tricky. You can't just throw on a regular Bluetooth headset. It probably won't fit under your helmet, and the wind will make communication almost impossible. And even if you could circumvent both of those issues, you'd still need a motorcycle-friendly way to control your headset.
Today, we're about to review the three best motorcycle Bluetooth headsets and intercoms for your helmet. These headsets are designed for phone calls, easy communication between bikers, and even listening to music. We'll start off with the Fodsports M1S Pro. This is a tough, durable controller, with big, beefy buttons that are easy to use with gloves on. Next, we'll look at the Sena 30K. This is a low-profile headset that's designed to be discreet. Finally, we'll examine the FreedConn TCOM-SC. This headset has a small built-in LCD display, for easy operation when you're off the road. Which one is the best? To find out, we'll need to look a little closer!
Note: At no extra cost to you, we may earn a commission for purchases using our links. Learn more.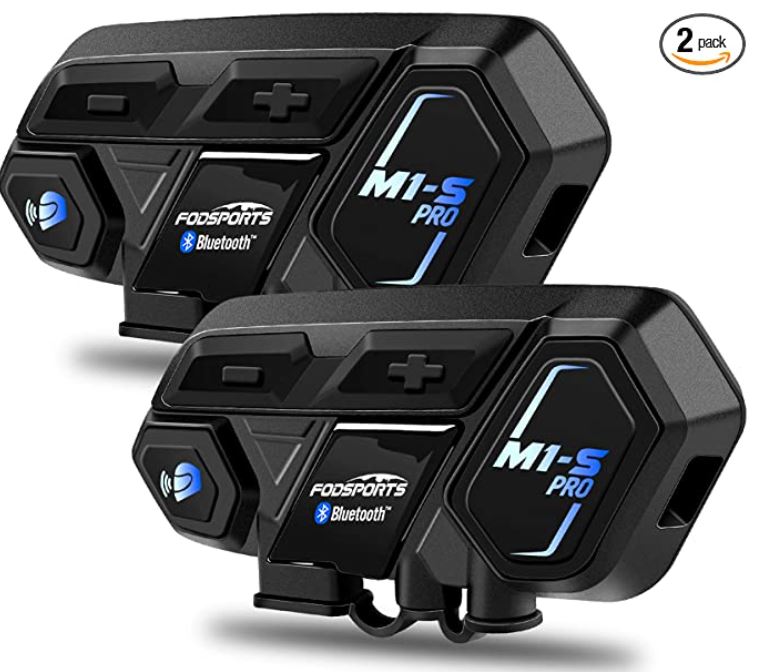 Fodsports M1S Pro
The Fodsports M1S Pro is a chunky black headset unit that's designed for easy operation. It sports big, rubbery buttons to adjust the volume, answer calls, or engage the intercom. It comes in a 2-pack, so it's a great choice for you and a friend. Alternatively, it's also compatible with most other Bluetooth intercom systems.
The main unit is waterproof, and clips onto the outside of your helmet. Once the clip is installed, the unit slides easily on and off. This makes it easy to remove for charging. The speakers adhere to your helmet lining with velcro, and are connected with a proprietary cable. Take your time routing the cables so they're well hidden. You don't want them getting snagged while you're putting the helmet on or taking it off.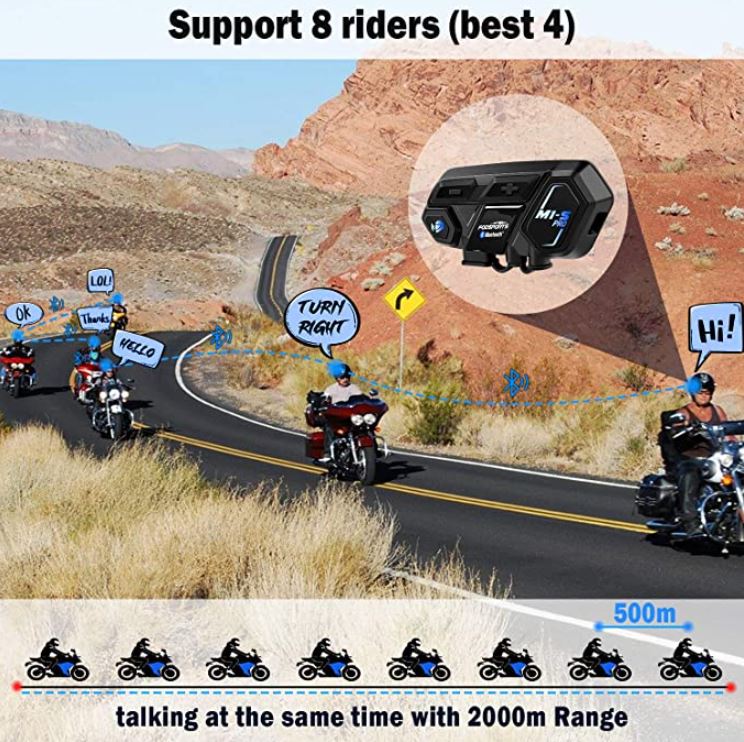 There are not one, but two microphones included in the kit. One is a highly-flexible "soft" mic. This mic is designed to tuck inside a closed-face helmet, so it's right next to your mouth. The other is a "hard" mic, designed for open-face helmets. Like the speakers, these mics use a proprietary connection. They're also easily interchangeable. If you use different helmets for different riding conditions, you'll be able to switch back and forth easily.
Power Supply and Connectivity
The M1S Pro has an internal 900mAh battery. This rechargeable battery is rated for 20 hours of phone conversation or 12 hours of intercom use. It will also work for 16 hours of music playback. Keep in mind that these are all estimates based on ordinary use. Cold temperatures and constant loud volumes will drain the battery faster. Conversely, it will perform better at low volumes and in warmer weather. Either way, it's easy to recharge via USB Type-C. Just plug it in, and it's ready for the road again in about three hours.
The Bluetooth connection uses the older Bluetooth 4.1 protocol. This means it won't provide quite the same audio quality as newer Bluetooth versions. On the other hand, it performs very well for intercom use. The signal is rated for 500 meters, or a little over a quarter mile. You can also connect up to eight riders into one intercom system. When daisy-chained this way, the signal can cover a group spread out over 2,000 meters, just over a mile. These distances assume a clear line of sight. But if you're in a reasonably tight grouping, even hills and trees won't be an obstacle.
With the Bluetooth connection, you can pair with two phones simultaneously. Answer a call on one, and music will pause on the other. You can even connect a phone, MP3 player, or GPS unit with a 3.5mm aux cable. This can also extend your battery life, by putting less demand on the Bluetooth card.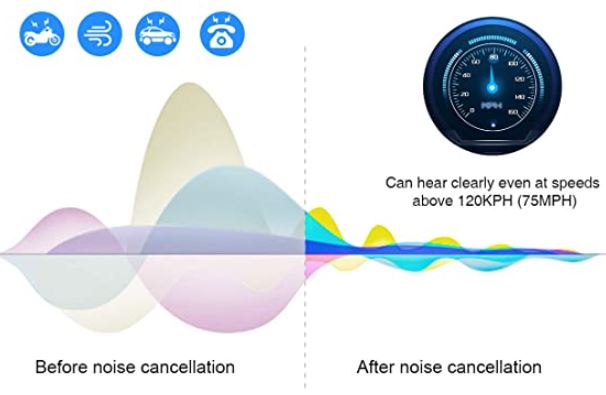 Audio Quality
When compared to an ordinary headset, such as a gaming headset, motorcycle headset developers face unique challenges. Specifically, the rush of air over a rider's face can drown out even the best smartphone mics. If you're riding at 75 miles per hour, that's the equivalent of talking on the phone in a hurricane. Throw in a healthy dose of traffic noise, and your mic has a lot to overcome! The M1S has CVC mics that are rated for use at up to 75MPH, so you don't have to worry. Even if you're racing down the open highway, you can still carry on a coherent conversation.
Similarly, the 40mm speaker drivers are very powerful. If you crank up the volume, even the loudest road noise won't be an issue. The speakers provide rich audio across the spectrum, including plenty of bass. That's a must on a motorcycle, where bass can get lost in the rumble of the engine. Be careful about listening at very high volumes, though. You don't want to drown out your surroundings to the point that you get blindsided.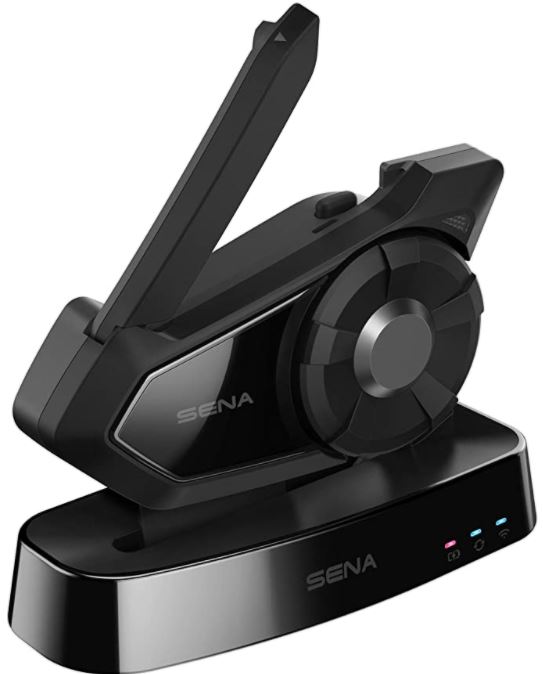 Sena 30K
The Sena 30K is more compact than the M1S. It forgoes large, rubbery buttons for a low-profile design that hugs tight to the side of your helmet. Instead of buttons, it has a single wheel that operates all the controls. There's a bit of a learning curve here, but it's really not all that difficult once you get the hang of it. Like the M1S, it installs with a clip, and there are multiple clips in the package to assure proper sizing. Once the clip is installed, the headset can be slipped on or off at will. You can order the Sena 30K individually or in a two-pack, depending on your needs.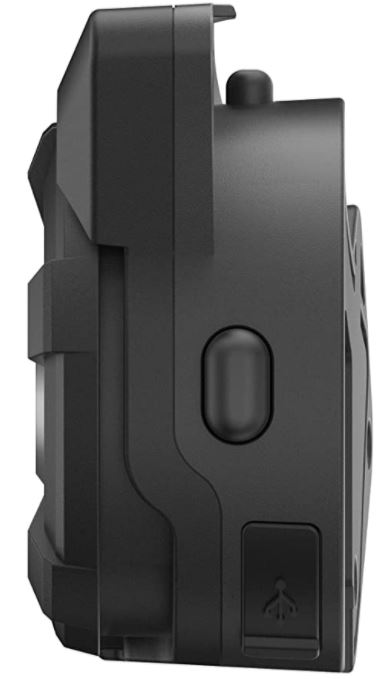 Along with the headset itself, you get a charging base. This base goes in your house, or anywhere with a power outlet, and allows for easy charging. Just drop the headset in, and the battery fills up. You also get speakers, wires, and velcro for installing them. There are also three different microphones, which attach to a proprietary boom. The mics are of different lengths and thicknesses, to work well with different types of helmets. The 30K is also compatible with other Sena accessories, such as their Handlebar Remote. The remote does not come in the package, though.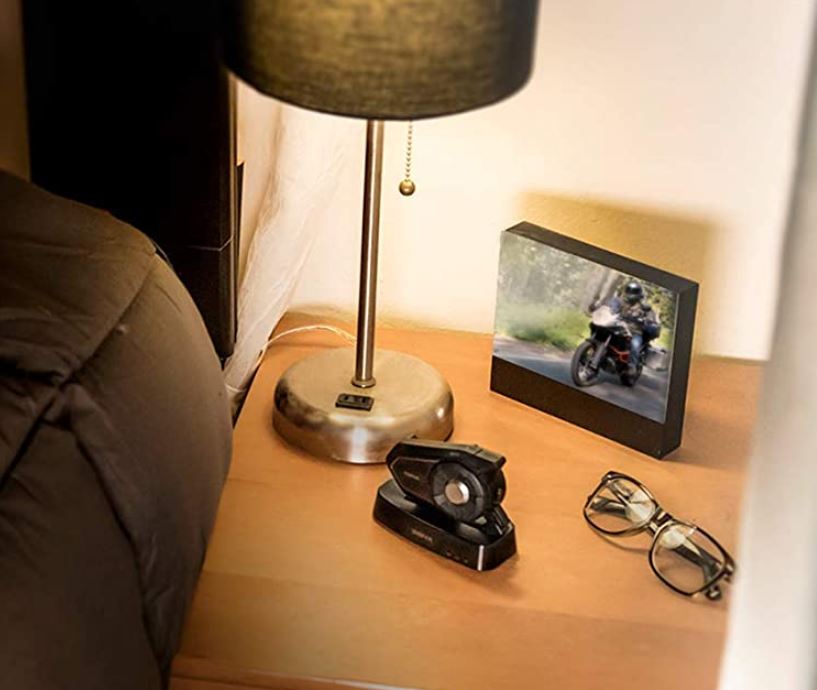 Power Supply and Connectivity
The 30K has two different connection modes: WiFi and Bluetooth. The Bluetooth 5.0 connection is good for up to 1.2 miles, assuming there are a few people in your caravan. With WiFi, the range extends up to five miles, with a minimum of six riders. This type of network can include up to 24 riders, which is virtually unheard-of. That said, they'll need WiFi-compatible headsets. Otherwise, you'll need to use Bluetooth.
The battery life depends in large part on what type of connection you're using. A full battery will last for about three hours in WiFi mode, or five hours in Bluetooth mode. Moreover, it charges very quickly. Just 20 minutes on the charging base will have you ready to get back on the road again.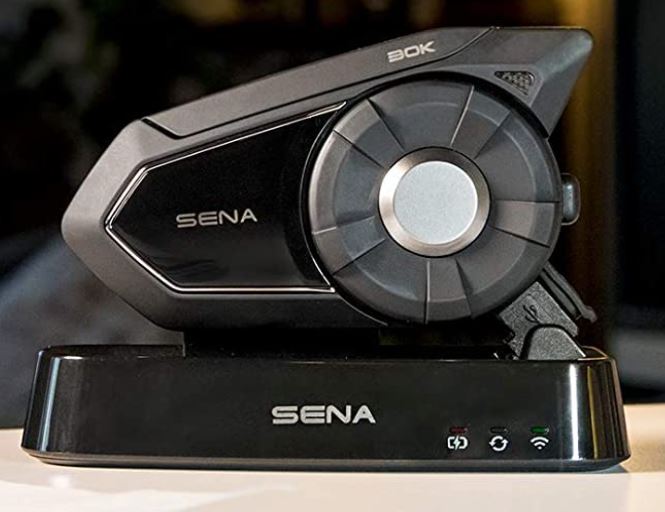 Audio Quality
The Sena 30K works very well, with CVC noise control technology to block out wind and traffic. There's no official speed rating, but we didn't have any issues. It works fine up to about 80MPH, although voice controls start to get twitchy around 55MPH. In addition to your phone or MP3 player, you can also listen to the radio. The 30K has a built-in FM receiver for tuning to your favorite stations.
In theory, you can switch seamlessly between music and the intercom mode. However, this only works if everyone else in your group is using the 30K. Otherwise, your results will be patchy at best.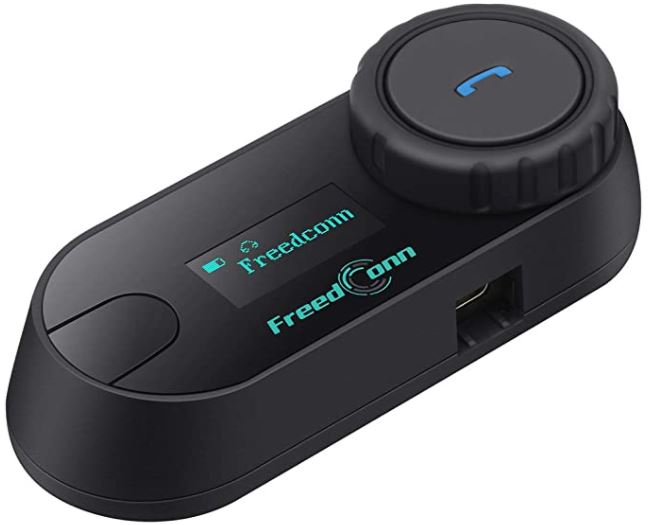 FreedConn TCOM-SC
The FreedConn TCOM-SC has an even smaller design than the Sena 30K. It's very compact, with a small control wheel and single call button for controls. These are generally easy to operate, but can be clumsy if you're wearing heavy gloves. The headset comes individually, or you can order a two-pack for you and your riding buddy. Like the others on our list, the TCOM-SC is also waterproof. Riding in the rain is no issue.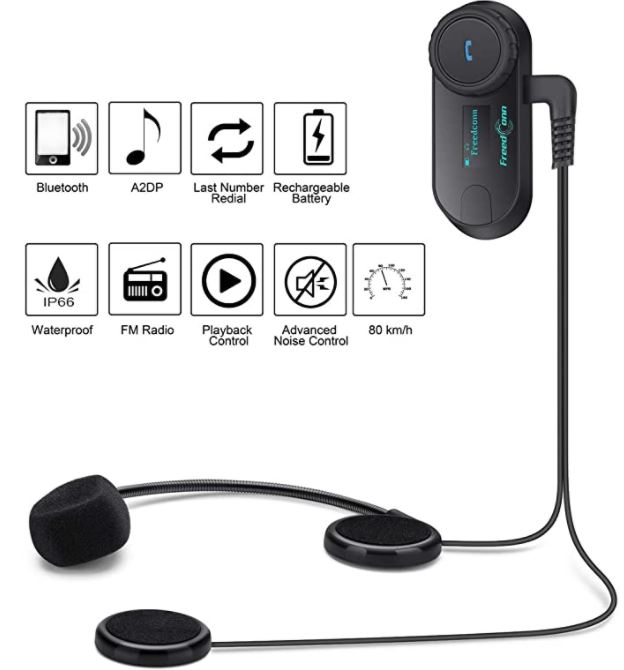 There's only a single microphone with the TCOM-SC, and it's wired right into the same harness as the speakers. This makes installation a bit more permanent than the other headsets. If you want to switch helmets, you'll need to remove the speakers and mic as well. On the other hand, there's an LCD display that makes the headset very easy to monitor and adjust. It won't help much while you're riding. But if you have to pull over and make some adjustments, it's quick and easy. This is particularly useful for checking the battery status.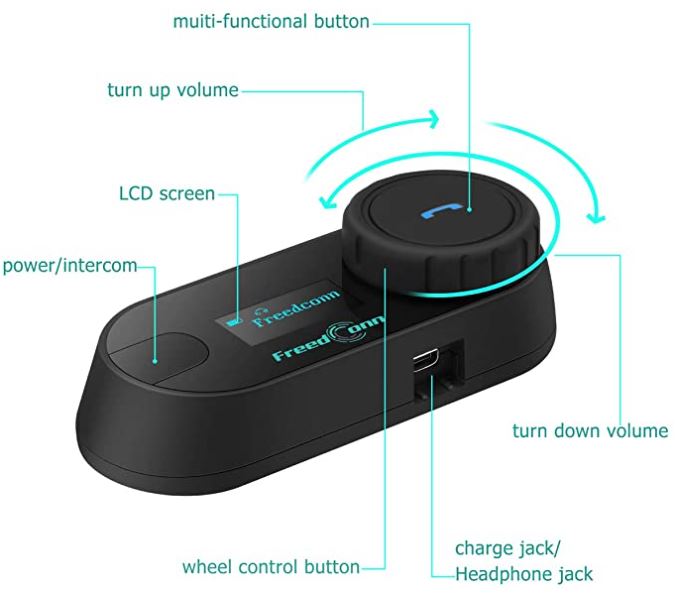 Power Supply and Connectivity
The internal 400mAh Lithium-Polymer battery has enough charge for 10 hours of phone calls. In intercom mode, you'll get about four hours of communication. This isn't as impressive as our other headset choices, but it's more than enough for most rides. Charging is also easy, and takes just 2 ½ hours.
The TCOM-SC is best suited for smaller groups, since it supports a maximum of three riders. That said, the maximum range of 800 meters is not bad at all. You also connect up to two devices. Use a phone and GPS at the same time, or use one phone for music and the other for calls.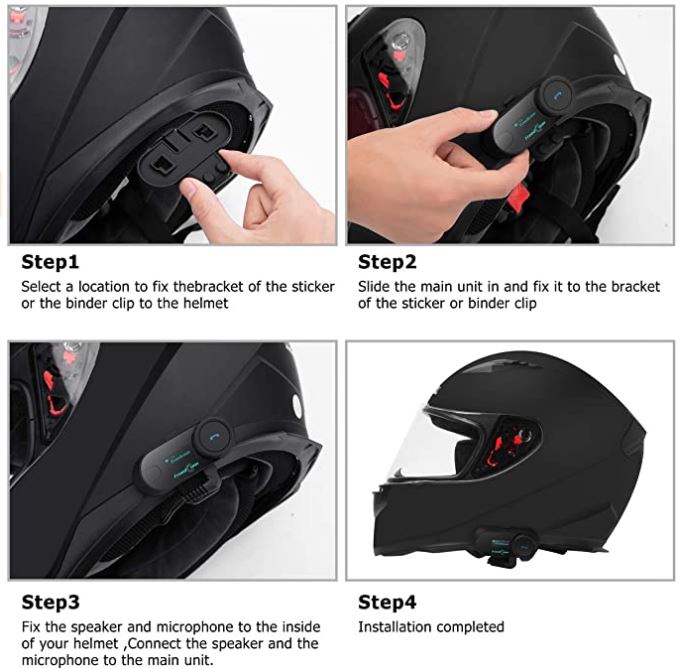 Audio Quality
The audio quality on the TCOM-SC is reasonably good, with rich music in any genre. Bass, middle, and high frequencies are all well-represented. In addition to listening on your phone or MP3 player, you can also use the built-in FM receiver. You can listen to your favorite radio station, or check on traffic conditions as needed. Switching between devices is painless. If you get a call on one phone, the other will temporarily mute. Similarly, you can switch instantly between the intercom and listening to music.
In addition to good audio, the TCOM-SC also has a surprisingly effective microphone. It will suppress wind noise at up to 74 miles per hour, faster than most highways. Under most conditions, the person on the other end won't have any trouble hearing you.
Final Verdict
As you can see, each of these Bluetooth motorcycle headsets has a lot to offer. We started out by reviewing the Fodsports M1S Pro. This headset has a large, rugged design, and the buttons are easy to operate. The two mic options are suitable for both open- and closed-faced helmets. The speakers provide plenty of punch, and the audio quality is good. We would have liked to see a Bluetooth 5.0 connection instead of Bluetooth 4.1. On the other hand, this older Bluetooth version is compatible with older phones and GPS units. The noise cancellation is also excellent, allowing conversations at up to 75MPH.
The Sena 30K comes with advanced WiFi capability for longer ranges and larger groups. You can chat with up to 24 riders, over ranges as great as five miles. Even in Bluetooth mode, this headset performs very well. You won't have any issues with large groups or long distances, assuming nobody strays off too far. Our only complaint is that the "seamless" transition from music to intercom is only seamless sometimes.
The FreedConn TCOM-SC is an ideal choice for casual riders or small groups. With support for a maximum of three intercoms, it's somewhat limited. That said, the audio is excellent, and the connection is very stable. Moreover, the LCD display makes it easy to make changes between rides. Finally, it switches easily between devices, a necessity if you have more than one phone.
Note: At no extra cost to you, we may earn a commission for purchases using our links. Learn more.