Narwal T10
Cleaning Performance
8.5/10
Pros
Powerful mopping performance.
Self-cleaning mop heads.
Multiple smart app features.
Long-lasting battery.
Excellent build quality and construction.
Cons
Mediocre vacuum suction.
Too thick to fit under most furniture.
A bit expensive.
When it comes to technology, our devices provide all kinds of benefits. Our smartphones alone perform many tasks, from online banking to GPS navigation to entertainment. But it's easy to get caught up on the most exciting, flashy technologies. Think about the last time a new iPhone came out. You couldn't read a single tech website without running into oodles of articles. The same thing happens when a new game system or high-end graphics card gets released. This is understandable, but it's also somewhat unfortunate. Sometimes, the best technologies are the least exciting, because they're doing something mundane.
Robot floor cleaners fit squarely into this category. After all, nobody gets excited about vacuuming or mopping. It's just another chore you have to do as part of taking care of your home. It's like doing the dishes, or scrubbing out your toilet. Unfortunately, nobody has invented an automated toilet scrubber yet. But at least you can automate the process of cleaning your floors. At the same time, it's important to remember there are multiple types of cleaners. Do you need a vacuum, a mop, or some combination of the two? And what type of automated features do you need? The answers to those questions will help steer you in the right direction.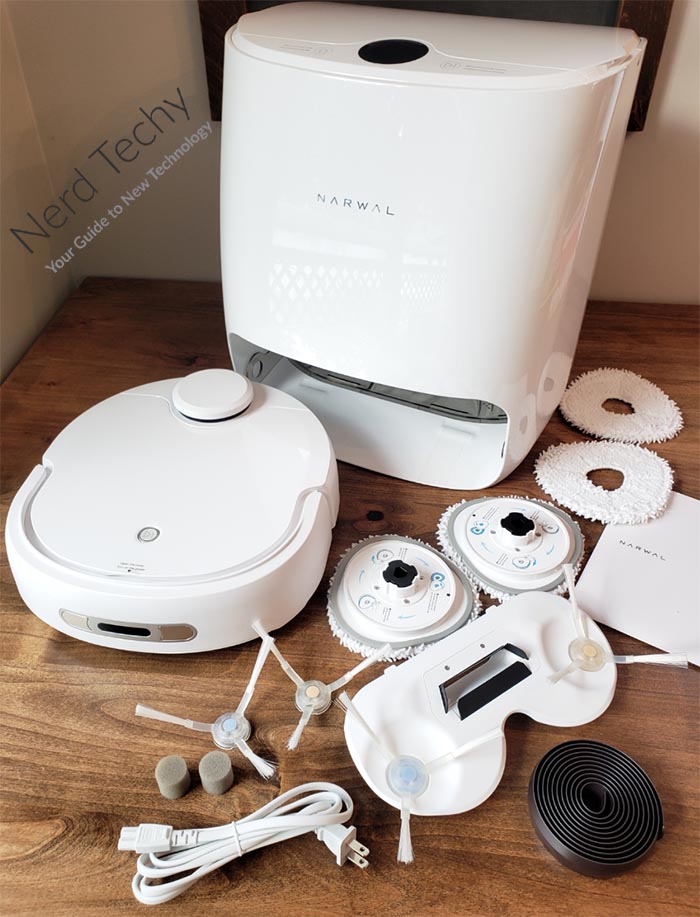 We're about to review the Narwal T10 floor cleaner. This is the successor to the original Narwal Mopping Vacuum, which we reviewed in the past. It's a powerful combination of a mop and a vacuum, with a self-cleaning function and big reservoirs. The T10 has been upgraded with larger tanks, as well as with significantly smarter software. But how well does it perform in practice, and how does it work? To find out, we'll have to take a much closer look, starting with the physical design. We'll look at the vacuum function, as well as how the mops work. We'll talk about the battery life, the app, and all the other features. After that, we'll be prepared to render a fair verdict. Let's get started!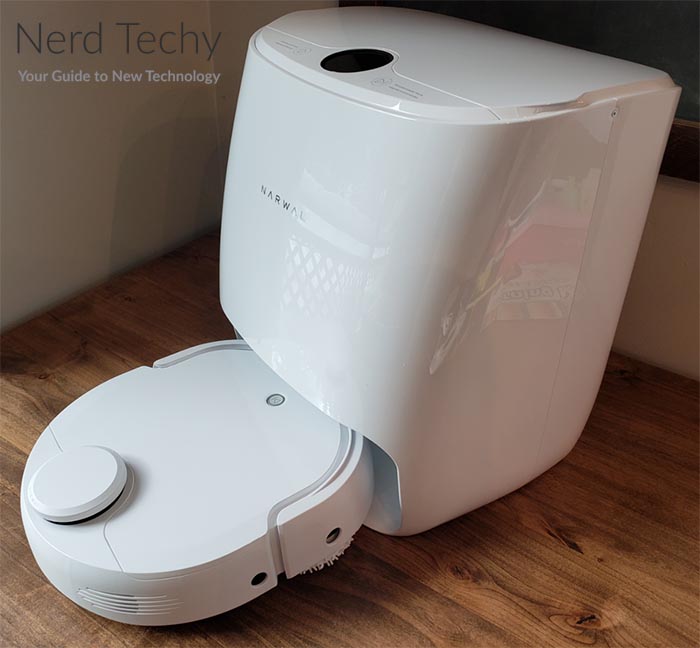 Overall Design
The Narwal T10 has an unusual shape for a robot vacuum. Instead of being round, it's oblong, so it looks a bit bigger and beefier. In point of fact, it is pretty chunky, with a length of 12.36 inches and a width of 13.58 inches. And at 4.21 inches high, it's unusually thick. This allows for it to retain a large amount of water, which is always a good thing. But on the downside, it's too thick to fit under a lot of furniture. The housing is a glossy white plastic, which is attractive and doesn't attract a lot of dust. There's a little tower on top for the main LIDAR sensor. And along the front of the housing, there's an infrared sensor with a silver-grey border.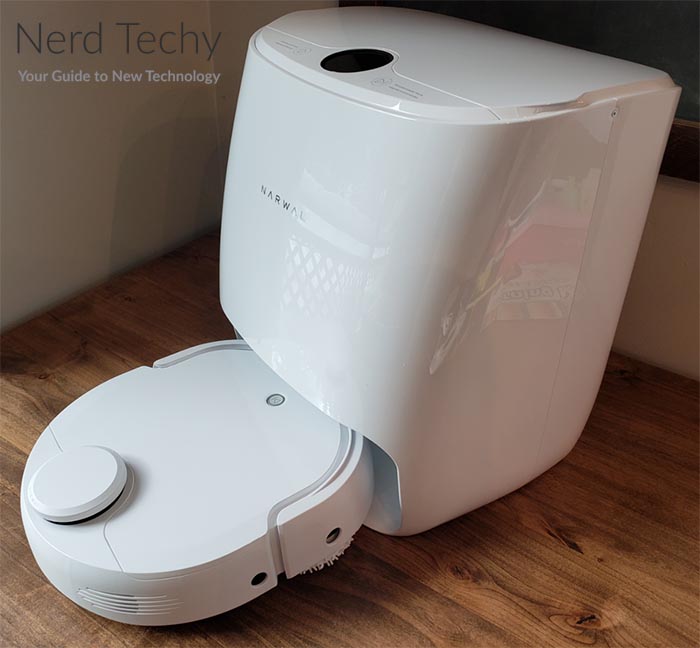 The neat thing about the bottom of the housing is that it's actually modular. Instead of either a mop or a vacuum, you'll have either one or the other. This has a disadvantage, because you can only do one or the other at a time. But on the plus side, the mopping function is more robust than most robot vacs. Typically, you'd see a little pad that oscillates back and forth. At worst, the pad might just drag along your floor. The T10, on the other hand, has two big round mopping pads, which rotate in circles. As we'll see, this allows for significantly better cleaning performance than most mopping vacuums.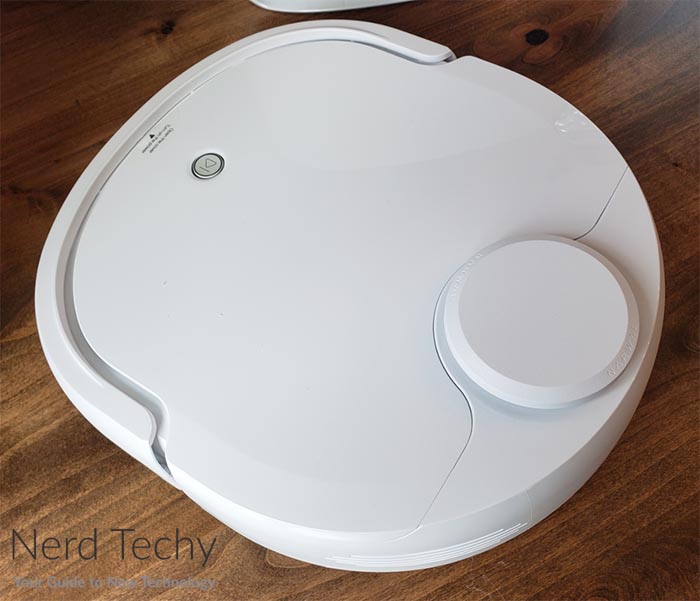 If you remove the mopping pads, there's space to attach the vacuum plate. This plate has a single suction slot in the center, with no roller brush. However, there are two horizontal brushes to the sides, which swing around like helicopter blades. They don't do much for you on a carpet. But on solid floors, they sweep dust, dirt and debris neatly into the center slot. Changing from vacuum to mop and vice-versa is simple and straightforward. You can do it in just a few seconds.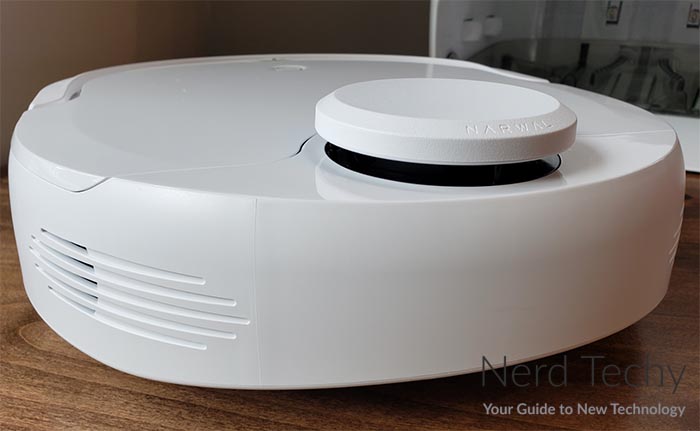 The two main drive wheels are located to the sides, just behind the T10's center line. They're big, black, and tough, with deep ridges that give them plenty of traction. They can also handle a reasonably large transition, up to a height of 0.6 inches. The steering wheel is located right at the front center of the unit, and it's much smaller. It's also motorized, and swivels to automatically steer the unit.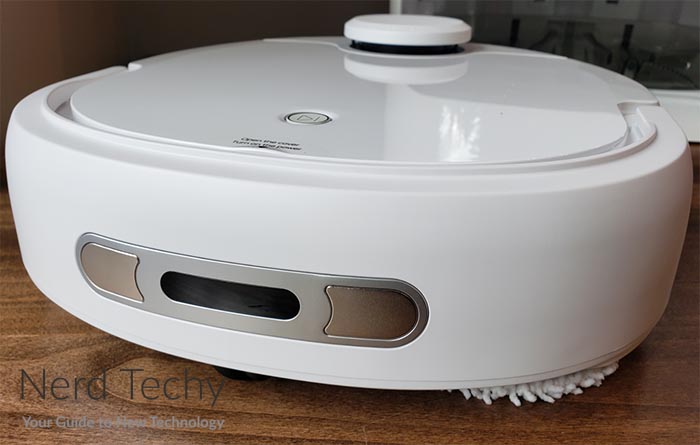 One thing you'll notice about the T10 is that it doesn't have a standard docking station. The dock is very large, standing 16.81 inches high, with a length of 15.79 inches and a width of 14.09. This gives it enough capacity for the clean and dirty water tanks, which are located in the top of the housing. They can be accessed through the top, under a lid that flips open easily. The housing itself is the same white material as the vacuum, with a silver Narwal imprint on the front. There's a gap in the bottom that's tall enough for the cleaner to fit inside. This is where it will live most of the time, whenever it's not in use. Just plug the station into your wall, and you'll be ready to start.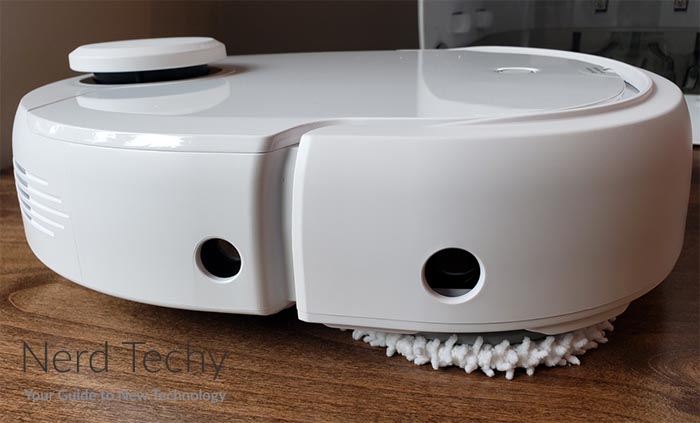 Cleaning Performance
The T10's performance can be divided into two categories: vacuuming and mopping. As far as the vacuum performance goes, it's a little bit hit or miss. With 1,800Pa of suction, you're not looking at a whole lot of power by today's standards. You'll still be able to pick up dirt, dust, and lighter debris like rice or dried beans. Your performance will suffer on carpets, though, due to the lack of a roller brush. This means you won't get the same powerful cleaning you might get from a traditional vacuum. On the other hand, the brushless design also has a major advantage; it's literally tangle-free.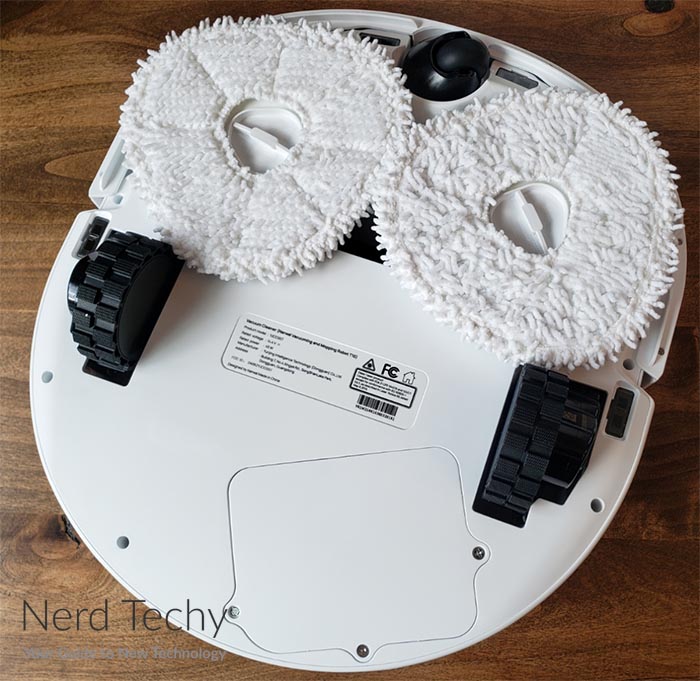 If you prefer a more traditional design, take a look at the Amarey A980. It has a more straightforward design, with a standard roller brush and plenty of suction. On the downside, it has no mopping function whatsoever.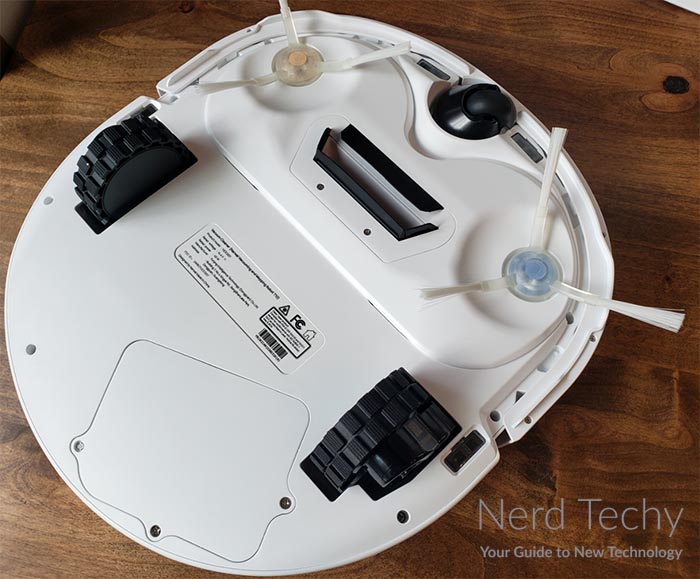 And make no mistake, it's the mopping function that makes the T10 stand out from the herd. The two mop heads are made of a shaggy microfiber material, and are exceptionally durable. You can run hundreds of full cleaning cycles before you have to even think about replacing them. They rotate at a rate of 180 RPM, or three times per second, which is pretty speedy. As a result, you're looking at some pretty impressive performance, on virtually any kind of mess. You can clean up spills, and even mop up caked-on dirt that other robot cleaners can't handle.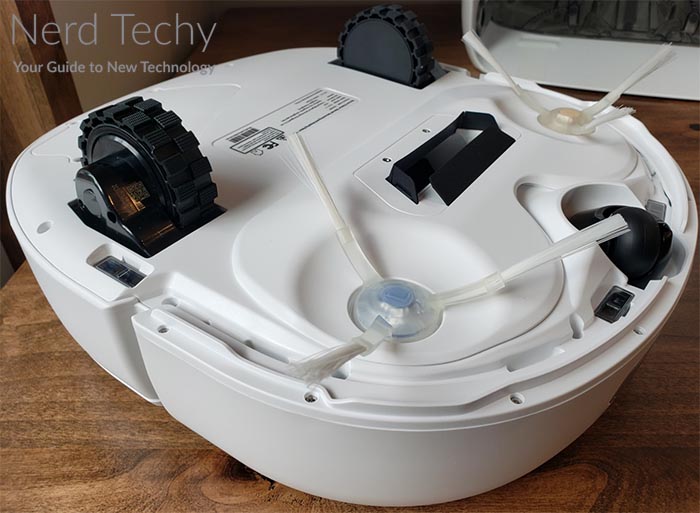 Another thing we liked about this floor cleaner is the battery life. On a full charge, it can mop for 2.5 hours, which is longer than most robot vacs. That's enough to clean almost any floor plan, but don't fret if your cleaner returns to base. If the robot runs out of battery during its current vacuum section, it doesn't need to be fully charged before it resumes to finish the task at-hand. The robot will charge the needed amount based on the remaining cleaning task.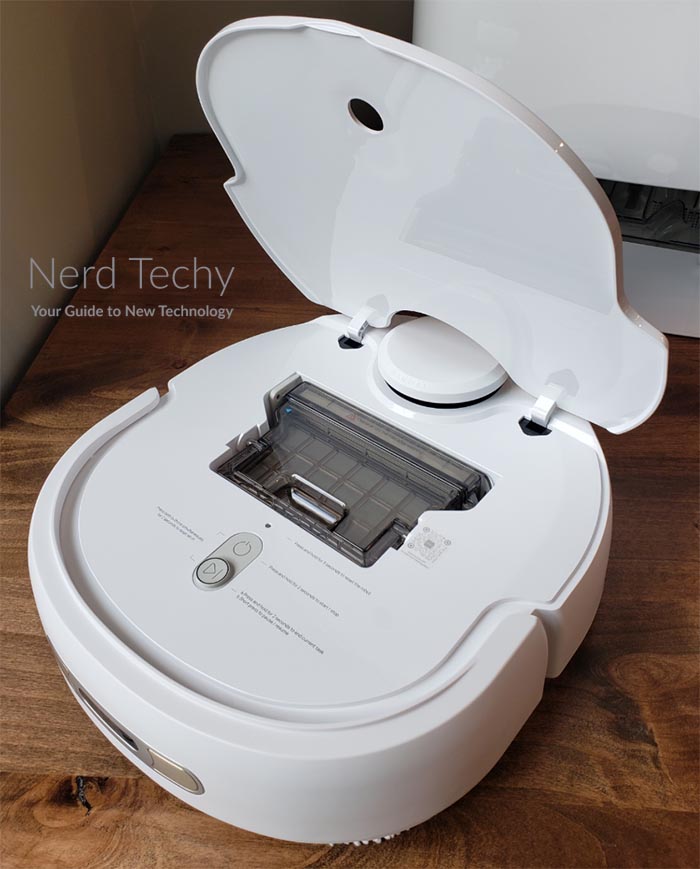 The battery life should be less a concern since the vacuum charges every time it comes back to the base station for self-clean. However, it will charge the battery from empty to full in about 2.5 hours. In vacuum mode, you'll actually get shorter battery life, since the vacuum motor will be running. But even so, you're looking at very decent battery performance.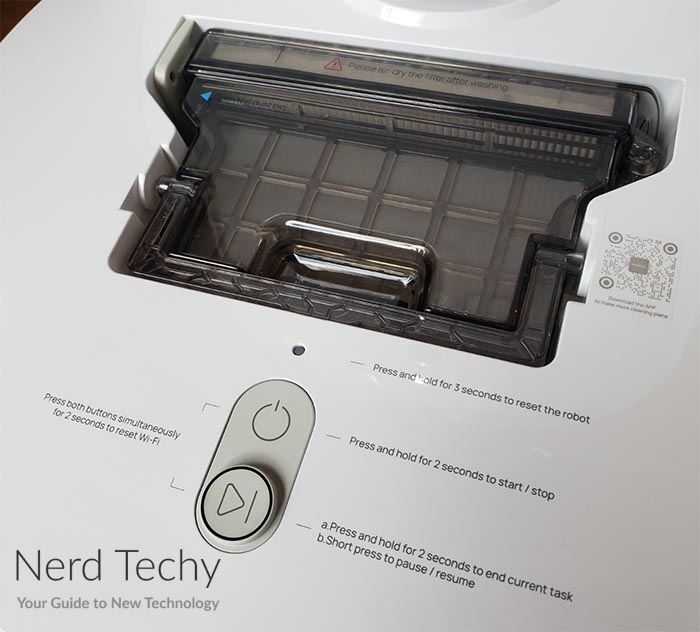 The battery life isn't the only thing that changes depending on your operating mode. The noise level also varies considerably. When mopping, the T10 produces only 45dB of noise, which is the volume of hushed conversation. In vacuum mode, it produces 65dB of noise, which is noticeably louder. That said, it's still quieter than an upright vac, and you can carry on a conversation while it's in the room.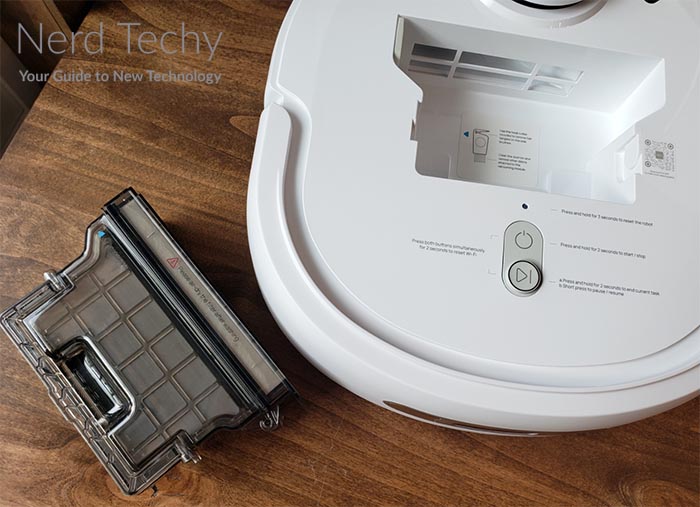 Inside of the housing, you'll find a removable HEPA filter. This filter removes particles as small as 0.3 microns, which includes most common allergens. It's also washable, so you can reuse it many times before it needs to be replaced.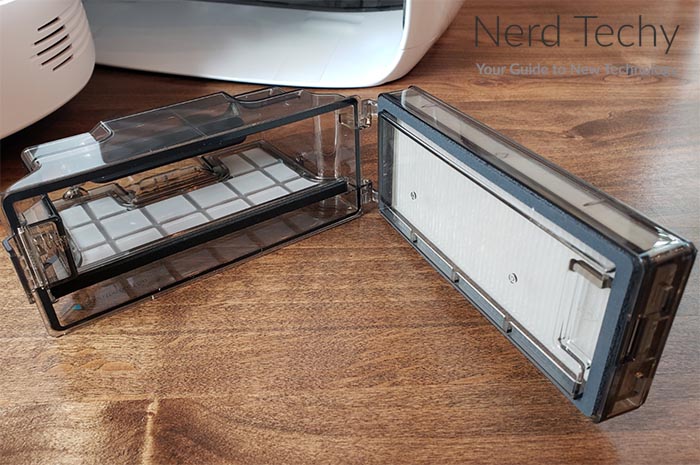 Setup and Everyday Use
Like most smart devices, the Narwal T10 has a smartphone companion app. Without it, all you'll be able to do is press the button on top of the housing to start a cleaning cycle. But when the app is set up and paired with the cleaner, you'll have access to many more features. The first time the T10 activates, it will roam around your house and map your floor. You can then view this floor plan in the app. Then, you can create virtual rooms, set no-go zones, and schedule your cleanings. As an added bonus, you can adjust the vacuum suction level, or change the mopping wetness. You can also view a report of your previous cleanings.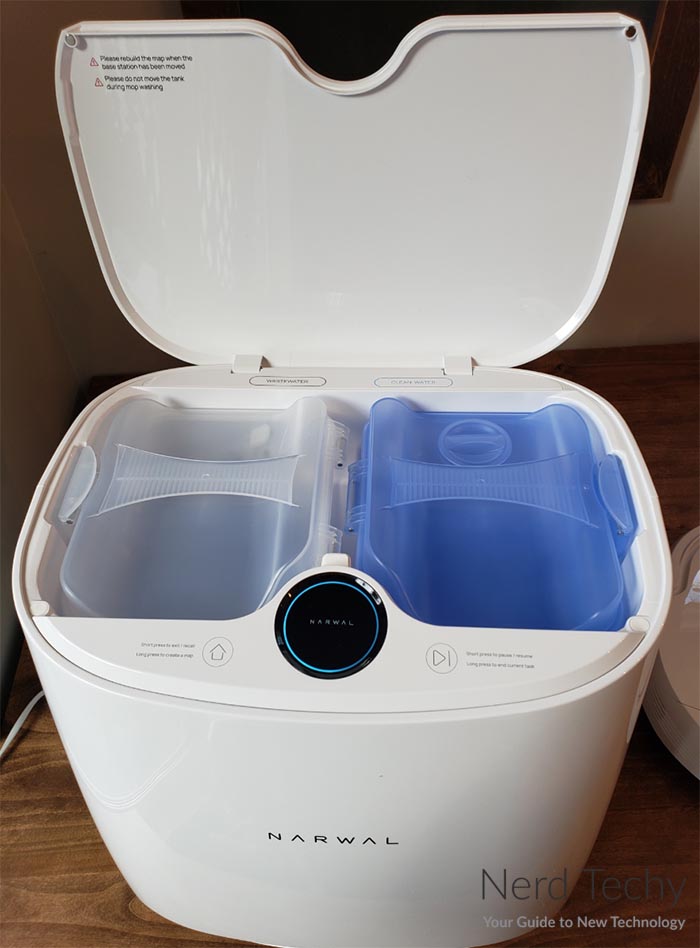 One other feature worth mentioning is the self-cleaning function. With most mopping robot vacs, you have to clean the mop pads manually. This can be messy, and it's also somewhat time consuming. The T10, on the other hand, has a built-in cleaner in the base station. The bottom of the docking bay is textured, to act like an old-school washboard. Meanwhile, a pump can move water from the 1.3-gallon clean water tank down to the bay. The mop pads spin in place on the washboard, freeing up dirt and debris. Then, a second pump extracts the dirty water into the 1.3-gallon dirty water tank. The process is automatic, and it only takes about a minute to complete.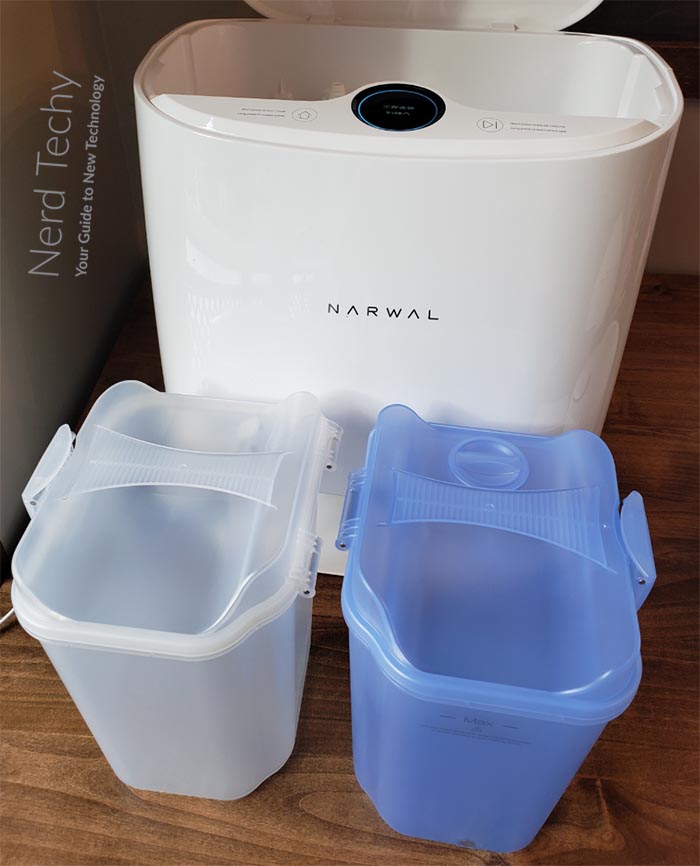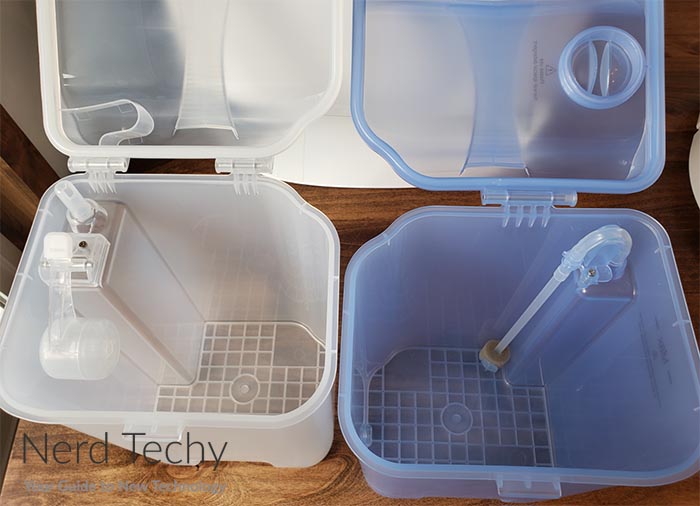 If you're looking for different features, consider the Prembot P3. This is a more traditional robot vacuum/mop combination. It comes with superior vacuum performance, but only a basic mopping pad and no self-cleaning function.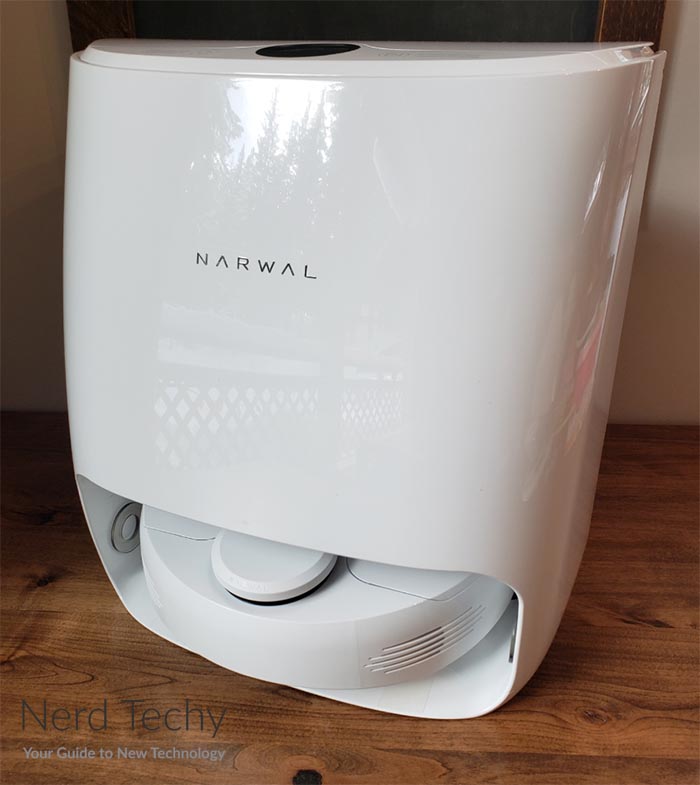 Final Verdict
All things considered, the Narwal T10 is a well-equipped cleaner. Considering the high price, we would have liked a more powerful vacuum function. But if you're looking for a top-tier mop, it's hard to go wrong here. The self-cleaning function and app both add a lot of value. And with a powerful battery and large water tanks, you can clean even a very large floor plan. You can opt to order it from Amazon or simply order directly from the official Narwal T10 website.