Okaysou Apollo 630
Pros
Very large coverage area.
Simple, straightforward controls.
Ultra-powerful H13 HEPA filter.
Can change all three filter stages separately.
Build quality is superb.
Cons
No smartphone app.
Highest setting is fairly loud.
Only available in white.
These days, people are paying more attention than ever to their indoor air quality. There are a couple of reasons for this, and the first is a social phenomenon. People are becoming more health-conscious overall. We're getting more exercise, taking our vitamins, and avoiding – or quitting – smoking. So it only makes sense that we'd be concerned about allergens and pollutants inside our homes. But there's also more to the story. In fact, our homes really are becoming more toxic, and it's happening for a surprising reason.
In recent decades, new housing codes have been designed to make our homes more energy-efficient. Modern homes are thoroughly insulated, entirely wrapped, and have energy-efficient windows. This is a blessing for the planet as well as our energy bills. But drafty windows actually had an upside; the air in your house was constantly being cycled in and out. Nowadays, when contaminants get into your air, it takes much longer for fresh air to cycle in. Depending on your lifestyle and where you live, your indoor air is probably dirtier than it was 20 years ago. Thankfully, a good air purifier can help to rectify the issue.
Note: At no extra cost to you, we may earn a commission for purchases using our links. Learn more.
Today, we're going to review the Okaysou Apollo 630 Air Purifier. This is a big, powerful air purifier that covers a much larger area than most competitors. It also has one of the highest-grade HEPA filters available on today's market. But is it the right purifier for your home? A lot of that depends on what you need. To help you make the right decision, we'll take a close look at all of the Apollo 630's features. We'll look at how it's put together, and the way the controls work. Next, we'll examine how much air it can purify, and how the air is distributed. Additionally, we'll also check out the filter system itself, and how you maintain and change it. Once we've done that, we'll know everything we need to know. Let's begin!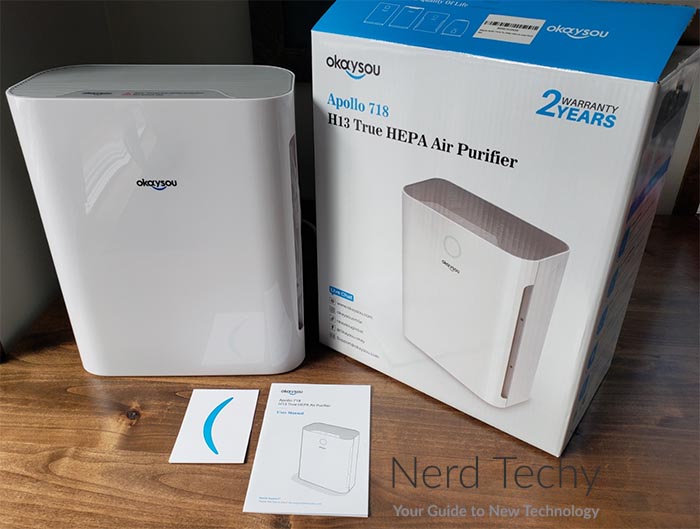 Overall Design
The Okaysou Apollo 630 Air Purifier has a rectangular design, with rounded corners to avoid sharp edges. It stands 17.32 inches tall, with a width of 13.78 inches and a thickness of 8.47. This makes it bigger than many air purifiers, and it's correspondingly beefy, weighing in at 9.68 pounds. That's still not actually heavy, though, and anyone can carry it around with ease. The intake vents are tall and vertical, and are located on both sides of the front panel. Air flows out through horizontal slits in the top panel. Because it gets sent out vertically, the air will distribute evenly throughout the room. And because it only intakes from the front, you can set it with its back against the wall. That way, it won't be in your way.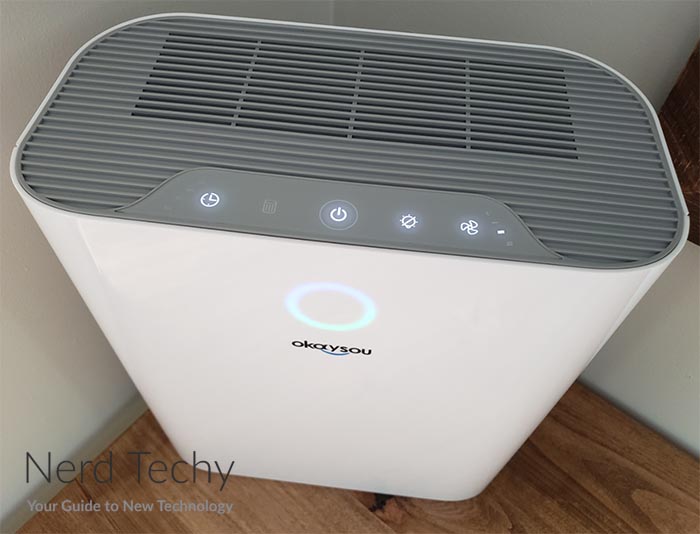 On the front panel, at the top center, there's an LED light ring. This ring changes color depending on your current air quality. It gives you a quick gauge of whether or not your air is clean. Just beneath this indicator is an Okaysou logo. Other than that, there are no visual markings on the housing, which we actually appreciated. The power cord comes out of the back, and is about five feet in length. That's not incredibly long, but it should be long enough for most circumstances.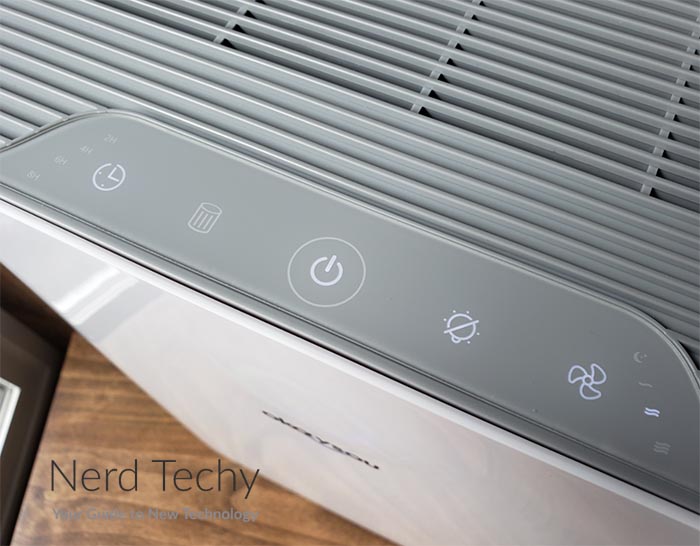 The control panel is located on the top, and is a narrow band at the front of the outflow vents. There, you'll see a row of five soft touch buttons, with high-visibility LED backlighting. The first of these is used to set the timer, and will not be lit if the timer is inactive. Next to it, there's a row of small indicator lights, which indicate the timer's setting. The second button is the filter reset button. It will light up whenever you need to replace the main filter or clean the pre-filter. When your filter issue is fixed, press the reset button to turn the light off. The third button, right in the center, is a simple power button.
The fourth button in the row is a light override button. If you want to turn the LED backlights off, you can use this. Keep in mind that the filter indicator will still function. The last button is used to adjust the fan speed. Much like the timer, it has a small set of indicator lights, so you can check the current status.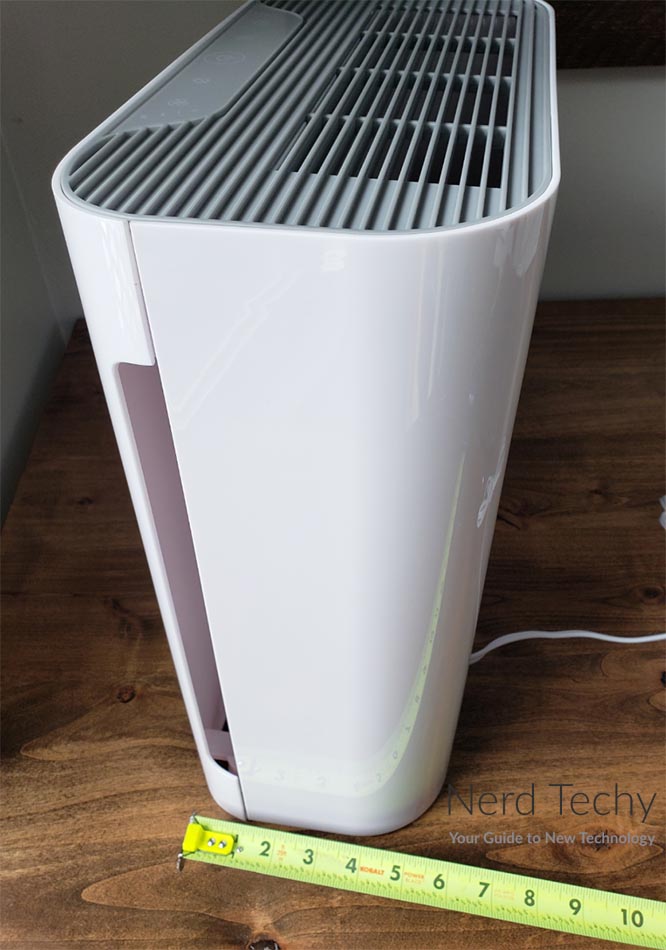 If you need a more compact air purifier, consider the Acekool D01. It's a smaller purifier that's small enough to sit on your desktop. It's also easy to move around from room to room. That said, it doesn't have a very large coverage area.
Everyday Operation
So, how does the Apollo 630 work? To begin with, you can simply turn it on. It will keep on running indefinitely, or at least until the filter gets dirty. That said, most people don't want to run their air purifier 24/7. Usually, you use it overnight, or while you're occupying a particular room. In that case, you can take advantage of the timer function. Pressing the timer button will start a 2-hour countdown, after which the motor will shut off. Pressing it again will add two more hours, for a total of four hours. You can do this up to three times, for a total of eight hours.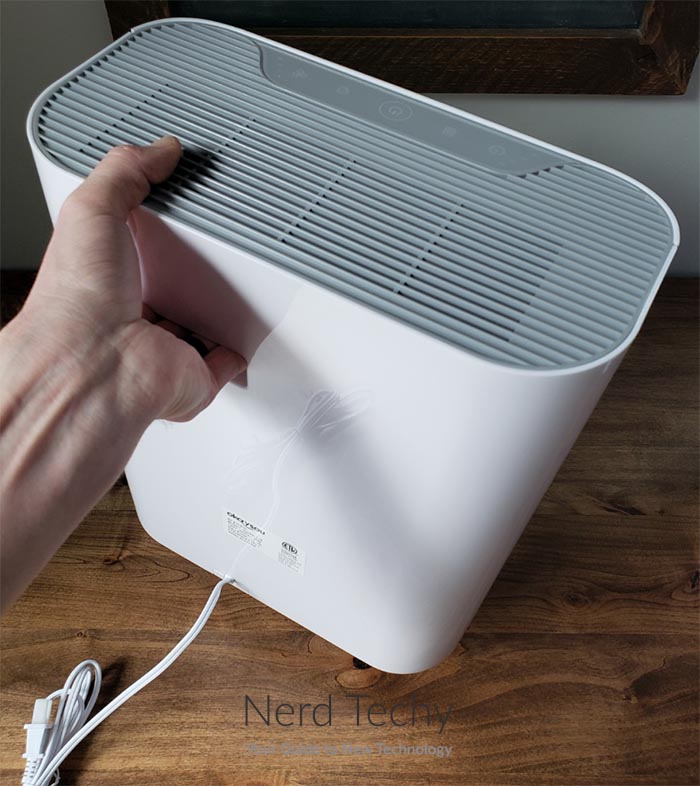 In addition to setting a timer, you can also adjust the fan speed. There are three primary settings: high, medium, and low. All of these are self-explanatory. The fourth mode, with the crescent moon indicator light, is the specialized sleep mode. This will turn the motor to its lowest possible setting to remain as quiet as possible. It will also temporarily deactivate the LED lights, including the filter indicator. If noise keeps you awake, you'll love this setting; the motor only produces 23dB of noise. That's literally whisper quiet. On the flip side, this purifier is fairly loud when it's running on its highest setting.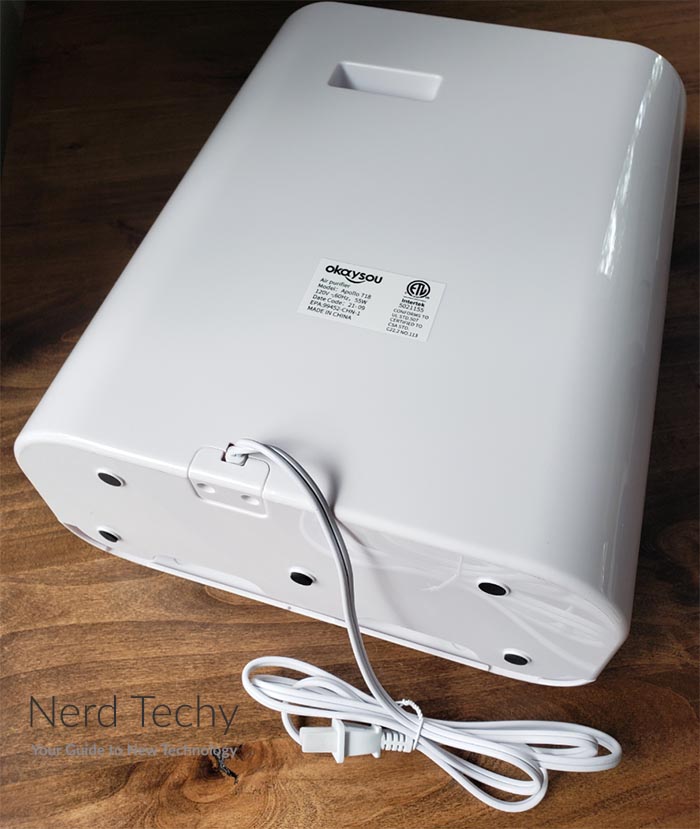 In terms of coverage area, you're looking at a very powerful machine. It's rated for 130 cubic feet per minute (CFM). Assuming ordinary, eight-foot ceilings, you can purify up to an 800 square foot space. That said, a lot of this depends on how much you want to cycle the air. In an 800 square foot space, you'll only be cycling the air once per hour. In a 500 square foot space, you'll be cycling it every 30 minutes. And in a 300 square foot space, you'll cycle all the air in 15 minutes. This might sound a bit weak, but a 300 square foot room is a big space in its own right. And an 800 square foot space is bigger than most one-bedroom apartments.
One thing the Apollo 630 doesn't have is any kind of app controls. If you're looking for a remote-controlled air purifier, take a look at the Xiaomi Mi Air Purifier 3C. It only has a very limited number of physical controls, but it has a number of powerful app controls. It can even automatically adjust its fan speed based on your current air quality.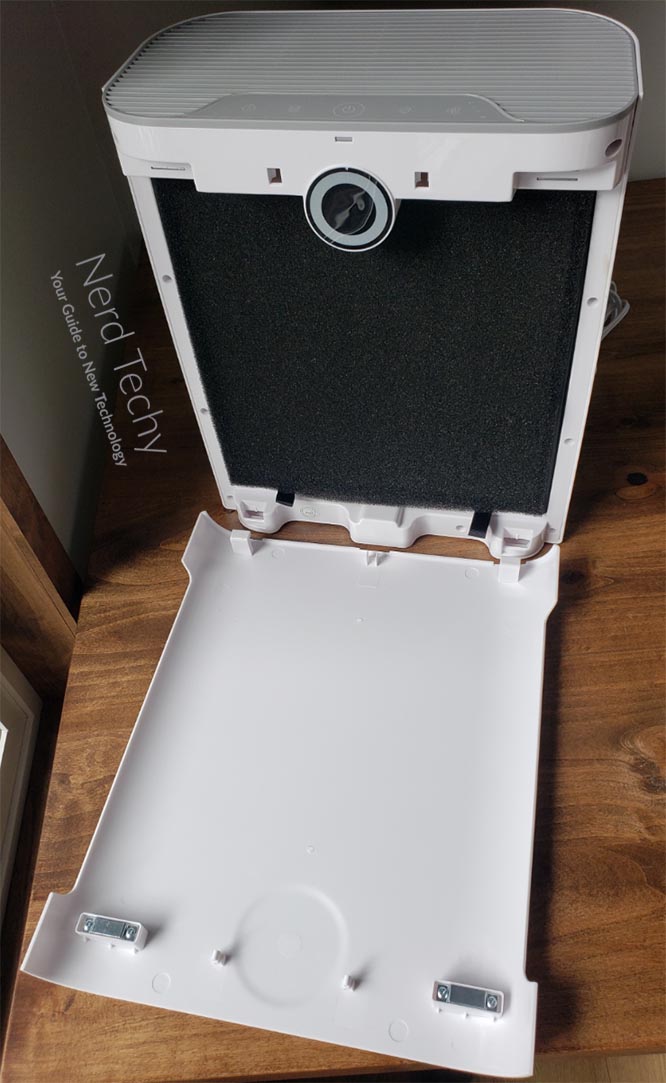 Filtration System
Like most modern air purifiers, the Apollo 630 has a three-stage filter system. But whereas most purifiers use a single cartridge, this filter is three discrete parts. That means you can save money by only replacing the layer you need to replace. The filter fits behind the front panel. It's large and flat, occupying the whole front part of the filter housing. It's also easy to access, because it's magnetic. Instead of having to press a button or undo a clasp, you just have to pull the panel off.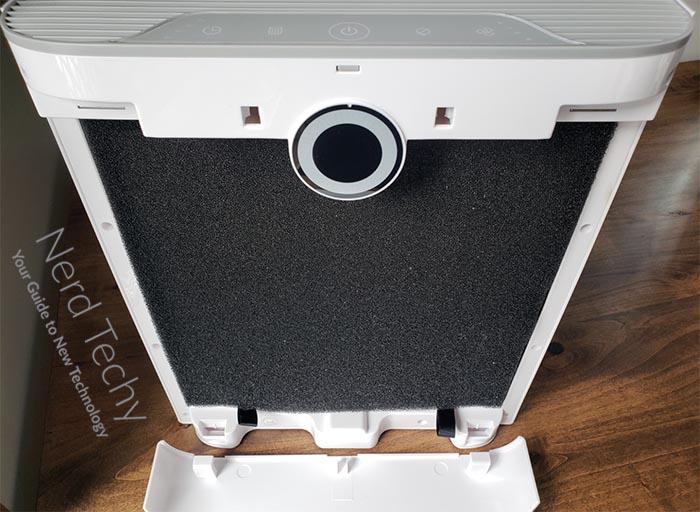 The first, outer layer is the pre-filter. This is designed to remove the largest debris from your air, and keep the inner filter from getting clogged. Cat hair, dust, and other large contaminants will get trapped here. The pre-filter is washable, so you'll rarely have to replace it. Just run some water through it from the back side, to remove debris from the front. Once it's dry, you can put it back inside the housing and set it to work.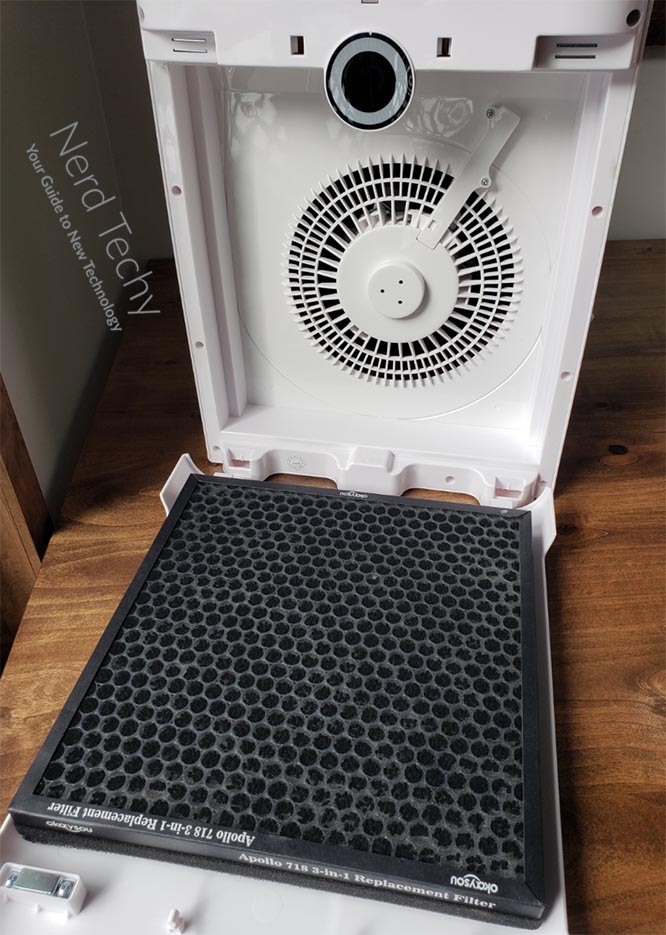 The next layer is a white, accordion-style filter that looks like a furnace filter. This is the true HEPA filter that does most of the work. It's an H13-grade HEPA filter, which means it's technically capable of medical-grade filtration. It removes 99.95 percent of particles, down to a diameter of 0.2 microns.
This is significantly smaller than a standard 0.3-miron HEPA filter. It will remove virtually all mold, pollen, smoke particles, and other tiny contaminants. It will even remove most bacteria. That said, it's only truly medical-grade if it's installed in a medical-grade purifier, which the Apollo 630 is not. The HEPA filter is not washable, and needs to be replaced when it's dirty.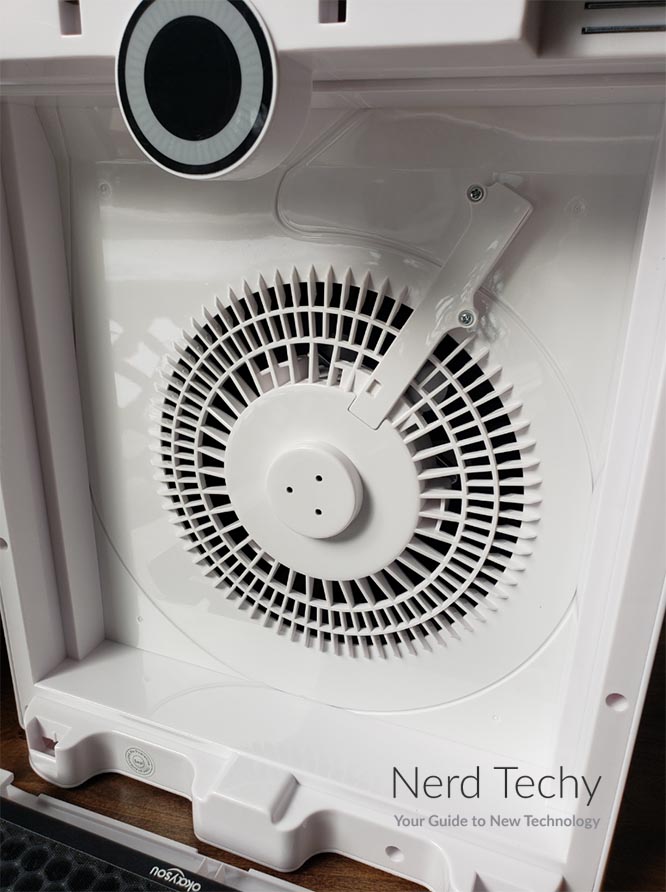 If you do need a medical-grade filter, Okaysou has you covered. The Okaysou AirMax 8L is a truly medical-grade air purifier, and can even be used in hospitals. Then again, it has significantly less coverage area, and it's only suitable for one room.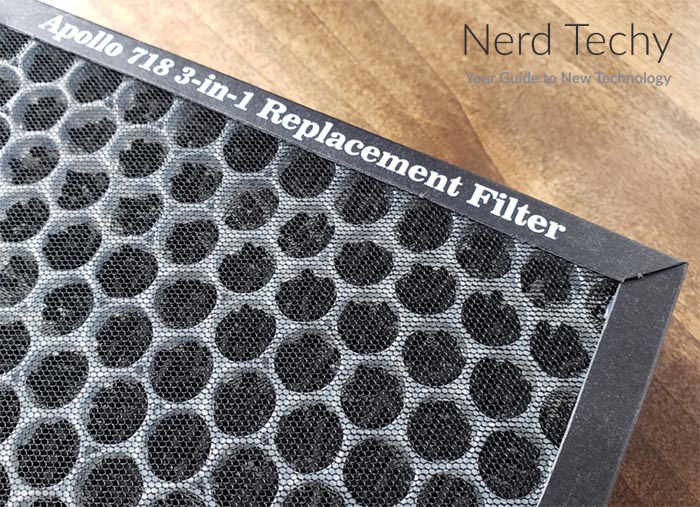 The Apollo 630's third layer is an activated carbon filter. This is a honeycomb-style grid of activated carbon, which absorbs chemicals and odors. It can help with animal urine, cooking odors, and contaminants like formaldehyde. If you're worried about the VOCs in your home's interior air, the carbon filter is a great solution. Like the HEPA filter, this filter also needs to be replaced once it's been used up.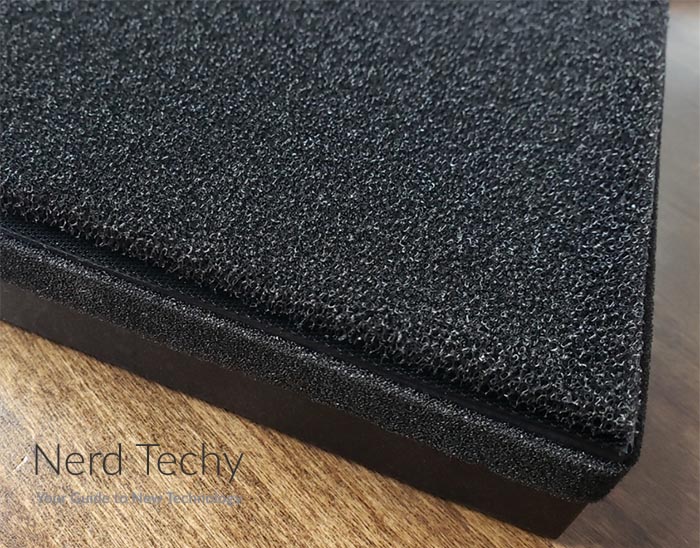 Final Verdict
The Okaysou Apollo 630 Air Purifier is a powerful, impressive machine. At 800 square feet, it has a larger coverage area than almost any other air purifier. Not only that, but it removes particles that other purifiers will leave behind. The modular filter design helps you to save money, and the controls are easy to use. An app would have been nice, but all in all, there aren't many features missing. At the end of the day, we were pleased with what we got.
Please consider sharing:
Note: At no extra cost to you, we may earn a commission for purchases using our links. Learn more.