Evatronic Digital Frame
Pros
Bright, vibrant colors.
Supports up to 30 users.
Works in many positions.
Built-in weather app, alarm clock, and other extras.
Cons
Unusual 16:10 aspect ratio.
Only connects to 2.4GHz wireless.
Only available in one color scheme.
A picture, they say, is worth a thousand words. If that's the true, some people on Instagram have written tens of millions of words worth of pictures. But most of us are taking more pictures than we did 10 or 20 years ago. With the ubiquity of high-quality smartphone cameras, there are just so many opportunities to snap a photo. Many of us use these photos to document our lives. If we go on vacation, we share those pictures on social media. We take pictures of weddings, concerts, and other exciting events. All of that turns into a visual record of our lives – at least those parts of our lives that we want to photograph.
This is great news for those of us who are constantly plugged in to social media. But it's also changed the way we think about our home décor. Think about the pictures on your walls. They're probably from major life events. You may have a wedding photo, or a "first picture" of your child, or a graduation photo. But there's a limit to how many pictures you can hang on your walls. There's only so much space, so you have to be choosy about which photos you hang. With a digital picture frame, you don't have that limitation. You can have as many photos as you want, and update them just like social media.
One such frame is the Evatronic Digital Picture Frame. This is a blue plastic frame with white matting and a full HD display. It comes with a companion app, which allows up to 30 people to upload and share photos to the frame. But there are many other features we're going to have to think about. How can you hang the frame, and can it be set on a table instead? How much storage space does it have, and how do you add your photos? What do the colors look like, and are there any other functions? After we've discussed all of these things, we'll have a more complete picture of what we're looking at. At that point, we'll be in a position to render our final verdict. Let's begin!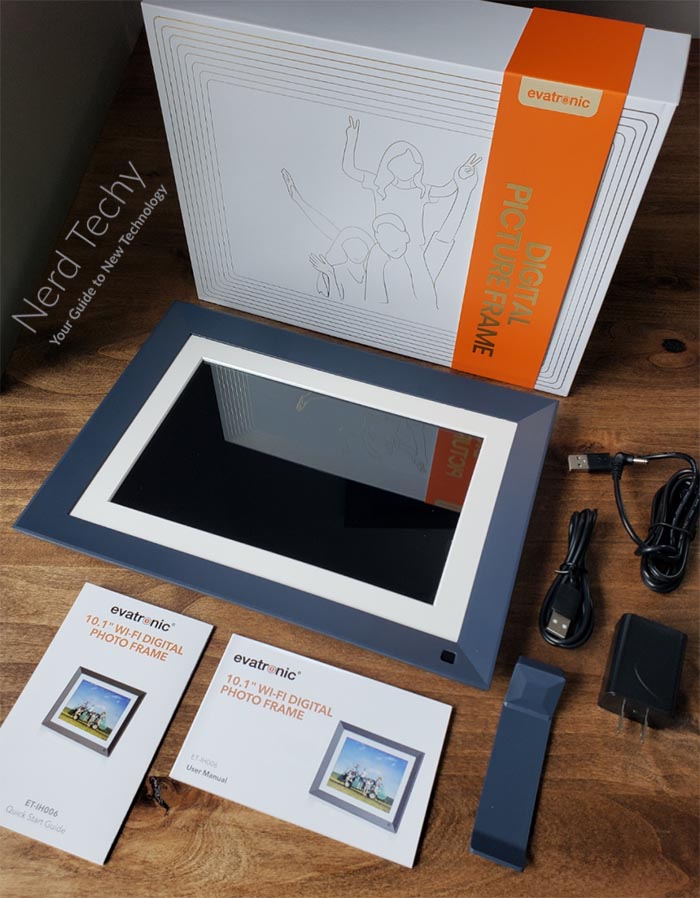 Design & Construction
The Evatronic Digital Picture Frame is constructed from an attractive midnight blue plastic. It has a satin finish, which is a good balance between luster and washability. The frame's total size is 1.8 inches thick, and 8.64 inches high and 11.8 inches wide in landscape mode. It has a beveled design, with a thin, flat outer edge and a wider, sloping bevel down to the screen surface. The only thing that mars the appearance is a little square motion sensor in one corner. This sensor has some useful functions, though, so we're willing to allow it.
Inside of the blue frame material is a white border that surrounds the display. This border has a matte finish, and it's designed to look like the matting in a traditional picture frame. Inside of this "matting" is the display itself. This area has a diagonal measurement of 10.1 inches, standard for traditional portrait prints. It's an IPS panel, which provides for a very wide viewing angle of 178 degrees. Even if you're almost all the way to the side, none of the colors will be distorted. The screen also serves as your primary control method. You can tap or swipe to access almost all of your functions. The controls are intuitive, so you won't have to endure much of a learning curve.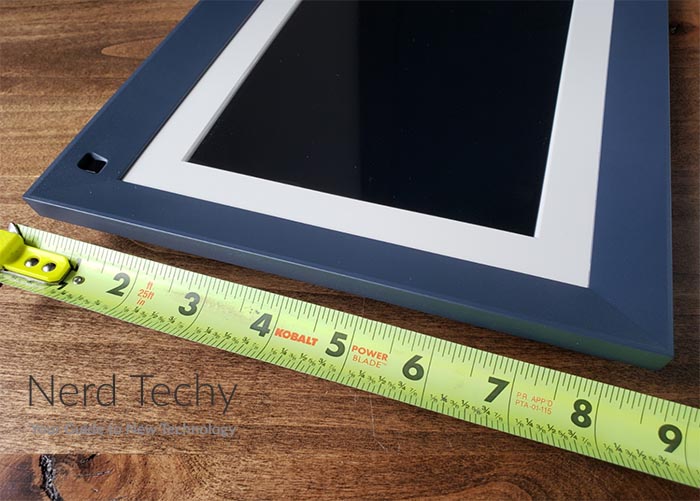 This is a very attractive frame, but it's also decidedly contemporary. What if you want something that looks a little more traditional? If that's what you're looking for, look no further than the Pastigio WiFi Frame. It's made from real wood, with a sharp, black stained finish. On the downside, the resolution is also old-school, at only 720p.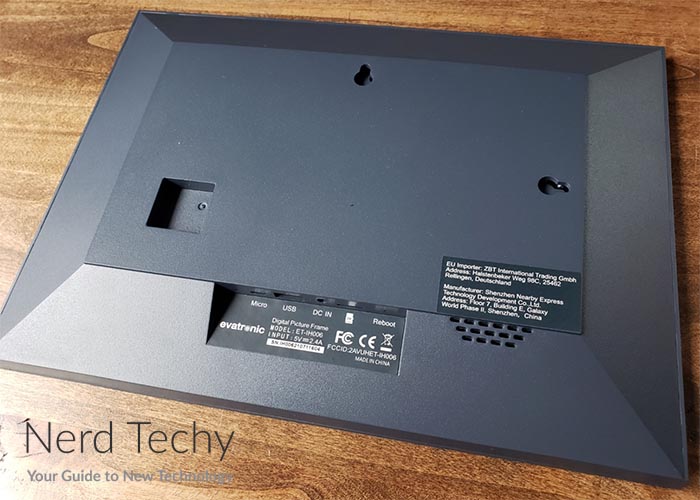 One great feature of the Evatronic frame is that it can be placed in multiple positions. It has screw slots in the back, so it can be wall-mounted. There are two different sets of slots, so you can hang it in either a portrait or landscape configuration. Internal sensors will automatically change your image orientation to match the frame's position. In addition, the kit includes a removable kickstand. This stand is designed so that it will support the frame in portrait or landscape orientation. Once again, your bases are covered.
Also on the back of the housing are a Micro SD slot and a USB port. These can be used to expand your storage, or for uploading new photos. There's also a power port for connecting the AC power adapter, which is included in the package.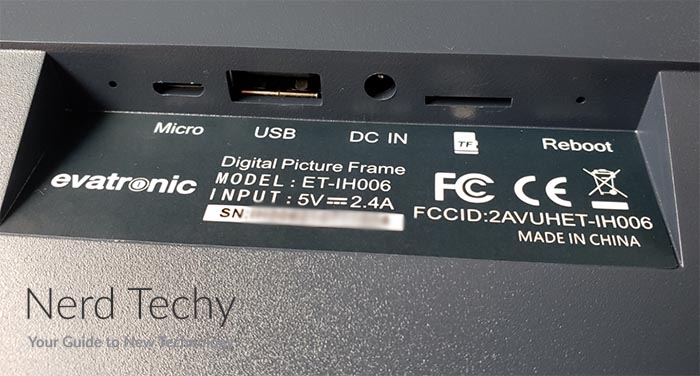 Connectivity & Storage
In order to use the Evatronic frame, you're going to have to upload your pictures. Let's take a look at how that works. First, plug in the frame, and the screen will turn on. You'll need to be in range of a WiFi router to proceed. The Evatronic connects via the 2.4GHz band, which is the longer-range band. Just keep in mind that it can't connect via the faster, but shorter-range 5GHz band. Tap the screen, and you'll be prompted to connect to your network.
Once the camera is online, you'll see two things on the screen. The first is your frame's connection code. Write this down, because you'll need it to connect your smartphone. The second is an email address. This address is unique to your camera. If you email a photo or video to the address, it will automatically be uploaded.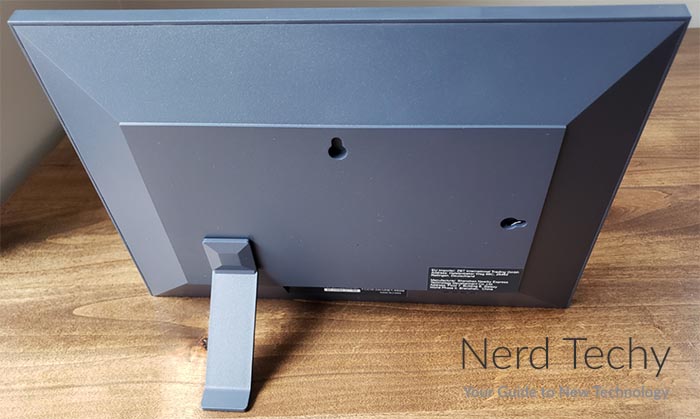 That said, you can't make any other changes via email. For more in-depth control over the frame, you're going to need the app. The Vphoto app is free to download on Android and iOS, and it's easy to install. Once inside the app, you'll be prompted to enter your frame's connection code. Punch it in, and you'll be connected. After that, you'll be able to upload new pictures to the frame from anywhere in the world. You'll also be able to change your frame's settings, and go into the different modes we'll discuss later on. The Evatronic frame can be connected to up to 30 phones simultaneously. That way, the whole extended family can keep grandma updated on their photos. And if a 31st person ever needs to add a photo, they can send it to the email address.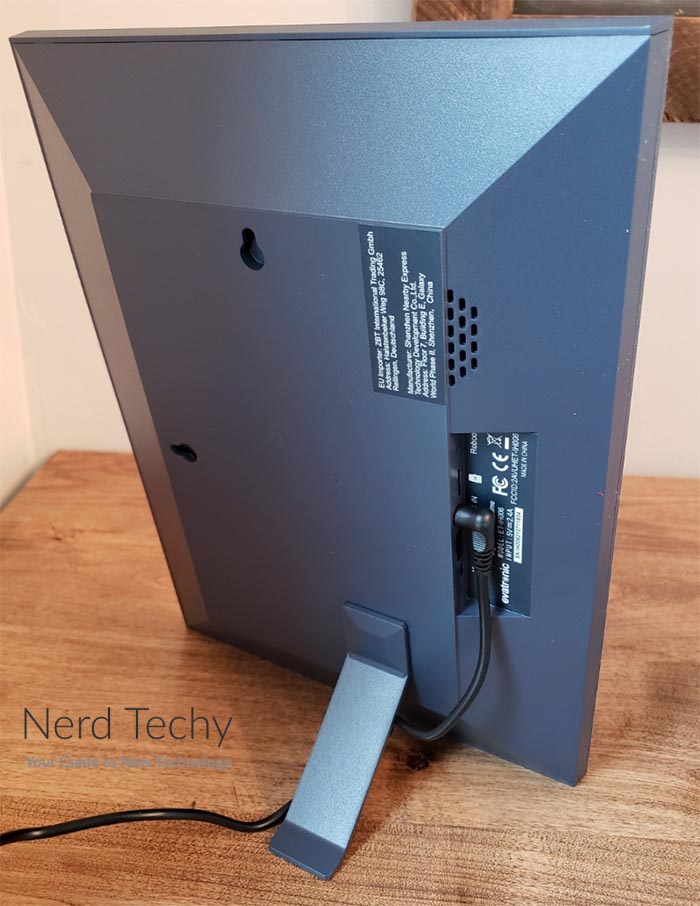 This frame has 16GB of internal memory, which is enough to hold thousands of photos. The exact number will depend on the image quality and compression ratio. But even in very good quality, it's doubtful you'll ever run out of space. If you do, you can insert an SD card into the slot to expand your storage. You can use the same slot to add photos, if you want to add them straight from a digital camera. Another option is to use the USB port, which supports any device that acts as a drive.
But suppose you want an even larger amount of capacity? Are there any cameras that have more to offer? If that's what you want, take a look at the Aura Frames Carver. It comes with free unlimited cloud storage, so there's no limit to how many photos you can add. On the downside, it only supports landscape orientation.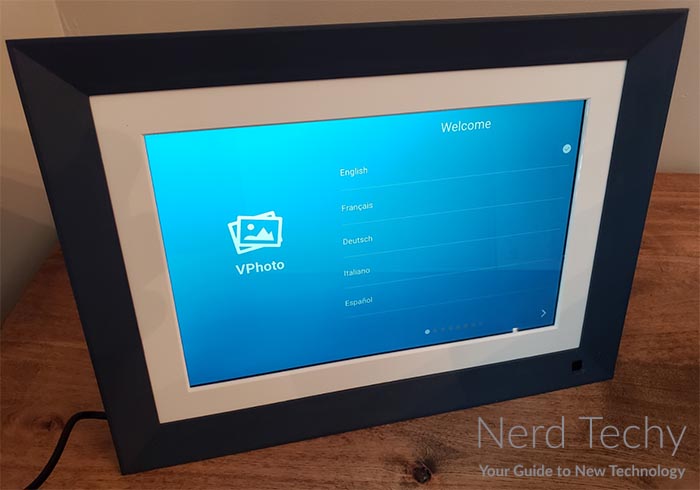 Image Quality & Extras
The Evatronic digital frame has a resolution of 1,920 x 1,200 pixels. That's equivalent to full HD, but it provides for a little more space. Instead of a standard 16:9 aspect ratio (1080p), it has a 16:10 aspect ratio. This is an odd choice, since modern smartphone pictures are all in 16:9. When a picture is oriented the same way as the frame, there will be little black bars at the top and bottom. Then again, when a picture is oriented the opposite way as the frame, slightly less of it gets cropped. Regardless, the images look gorgeous, with plenty of sharpness and bright, vibrant colors.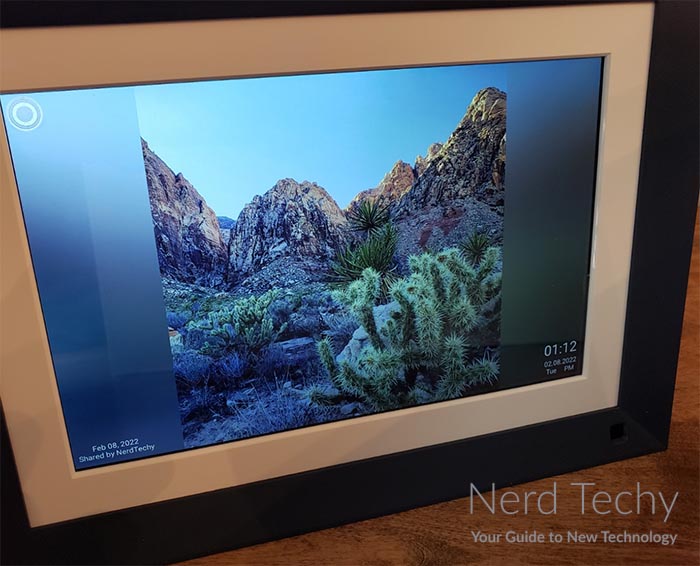 Full HD resolution looks great on a screen of this size. But what if you want the crispest, sharpest images possible? In that case, consider the AEEZO Smart Digital Frame. It supports up to 2K resolution, or 1440p. On the downside, you have to be connected to the same WiFi network to upload photos.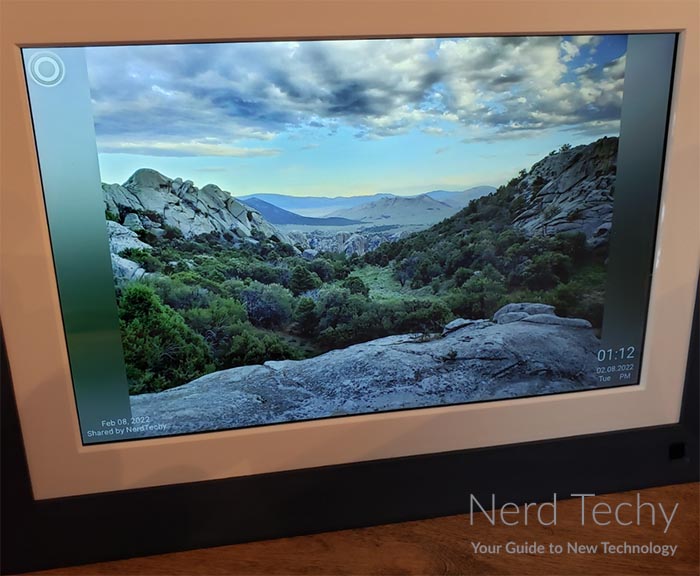 The Evatronic frame is easy to turn on and off. You simply have to wave your hand in front of the motion sensor, and it will wake up or go to sleep. This is convenient if the frame is on your nightstand, and you don't want the light keeping you awake at night. And speaking of night time, there's a built-in alarm clock function with a customizable alert. You can also switch over to a weather mode, as long as you're willing to share your location. There's a simple clock display as well, if you don't want to view your pictures at the moment. You can even upload music and use the frame as a small desktop speaker.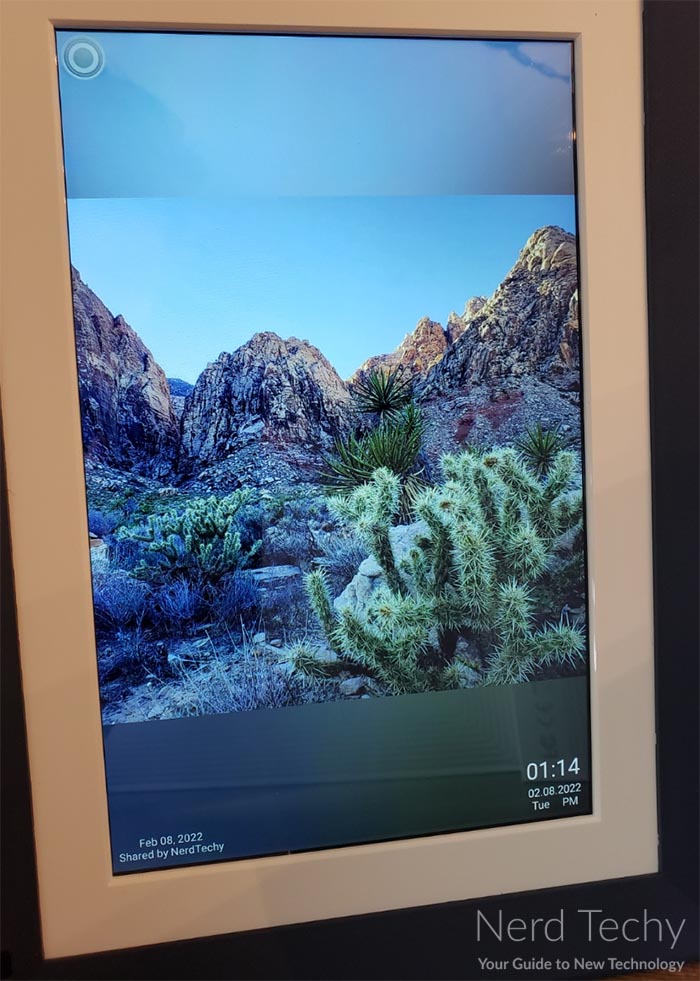 Within the app and the in-frame menu, you can make a number of adjustments. For one thing, you can adjust the brightness, which is a critical feature depending on your lighting conditions. You can set an automated timer if you want to save power. In this mode, the screen will turn off after not seeing motion for a specified time. You can choose how long each image remains on screen in slideshow mode, and change the transition type. And if you've uploaded music, you can choose background music for your slideshow.
Final Verdict
The Evatronic Digital Picture Frame is an attractive, versatile little device. For one thing, the image quality is excellent, which is the first thing you want to look for. For another thing, the physical design itself is easy on the eyes, with a simple, non-distracting aesthetic. The app and email allow even large groups of people to share their photos. And with all of those extra features, you get a lot more than just a picture frame.