Nowadays, most of our electronics are rechargeable. This has marked a major shift from the days when replaceable batteries were the norm. On the one hand, it's much better for the environment and your finances. With rechargeable batteries, you don't generate a bunch of landfill waste. You also save money over time, since you don't have to purchase replacement batteries. That said, it can leave you in a pickle when you don't have access to a power outlet. Since you can't replace your device's internal battery, you need to have some way to charge on the go. This can be troublesome on day trips, or even during a power outage.
A portable power station is an excellent solution to this problem. With a power station, you have a source of electricity where and when you need it. That said, there are many power stations on today's market, with a wide variety of capabilities. Before you order any particular one, it's smart to look at all the features, and make sure it's right for your needs. For instance, some power banks are designed primarily for USB power. Others put more of an emphasis on AC charging for larger devices. Some have built-in lights and other bonus features, while others are more stripped down. So it helps to weigh your options.
Today, we'll be reviewing the ISSOMI Portable Power Station. This is a compact power station with a surprisingly high capacity. It has a built-in handle for easy transport, and you can charge up to six devices simultaneously. It has a splash-resistant housing, and can even be used as an emergency jump starter. Of course, there are a lot of things we'll have to look at before we can render a fair verdict. Therefore, we'll have to look at the design, and how the power station is put together. We'll look at the controls, and the various ports that are available. We'll discuss the charging performance, and what kind of devices you can connect. After all of that, we'll have a full picture of what we're dealing with.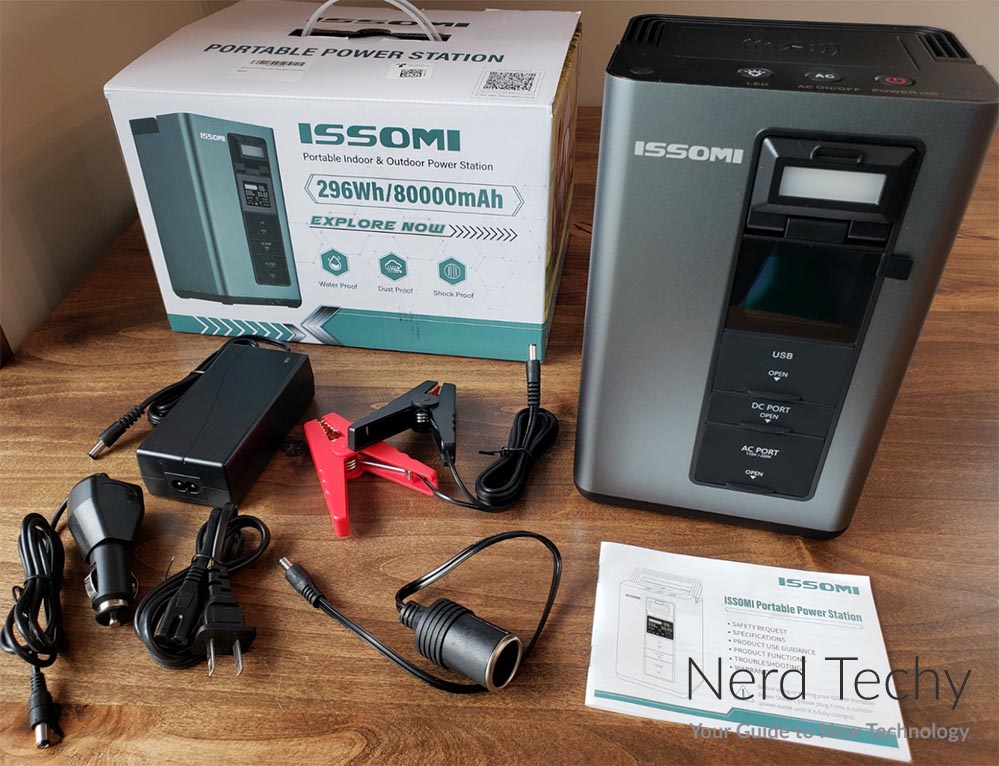 Overall Design
The ISSOMI Portable Power Station has a pale blue-grey housing with a black top panel. The matte finish is easy to keep clear of dust and fingerprints, which is always a welcome relief. The overall shape is rectangular, but with a vertical rather than a horizontal orientation. It measures 11.41 inches high, 9.05 inches wide, and 7.28 inches thick. At 10.87 pounds, it's reasonably light for the size, and it's also easy to carry. There's a folding black handle built into the top, so you can tote it around in one hand.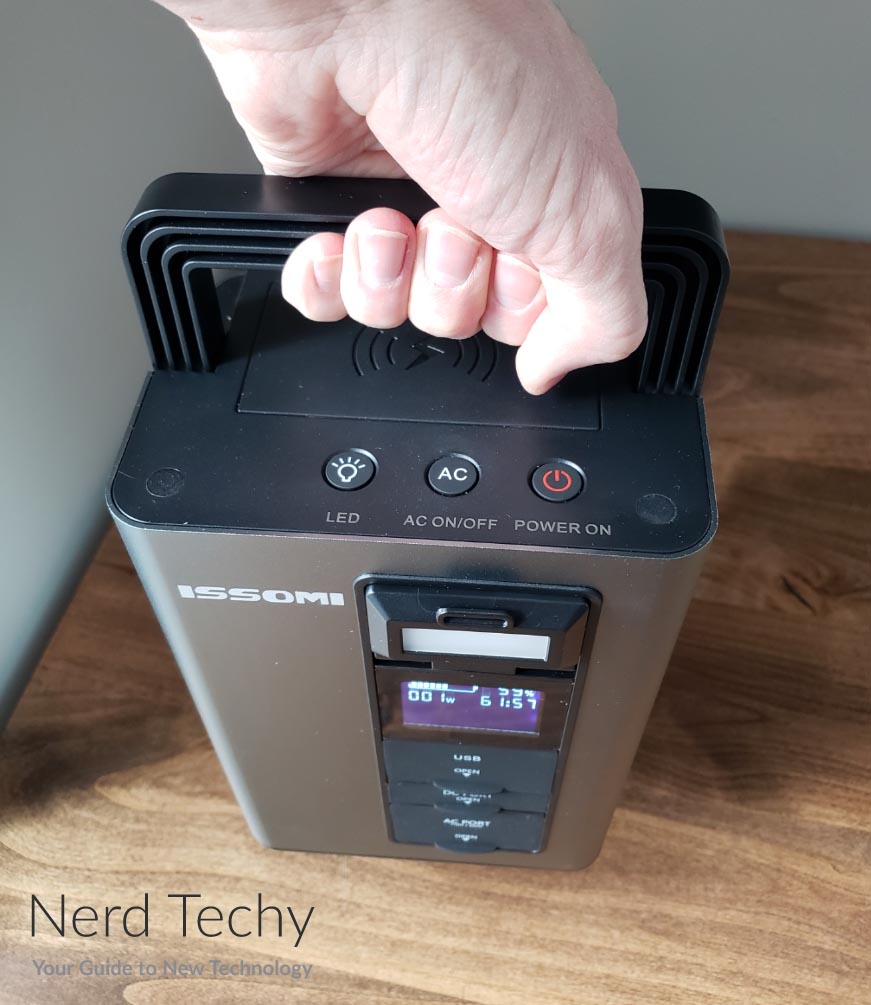 Unlike a lot of power stations, which have ports on multiple sides, all the action here is on the front. Near the center, there's a rectangular LCD display, which is bright and easy to read. The top of the display has a visual battery meter, along with a percent readout. Underneath that, you'll see how many watts are currently being drawn, and the estimated battery life. This last number will change when devices are plugged and unplugged. Underneath that, there are indicators for the LED light, and to show you which ports are in active use.
The power ports themselves are covered by a set of sealed doors. These doors are easy to open, and there are separate doors for USB, DC, and AC power. When the doors are closed, the power station is IP63-rated for weather-resistance. This means it's impervious to dust, as well as splash-resistant. You don't want to leave it out in the rain or anything like that. But it's not going to get damaged by a little bit of moisture.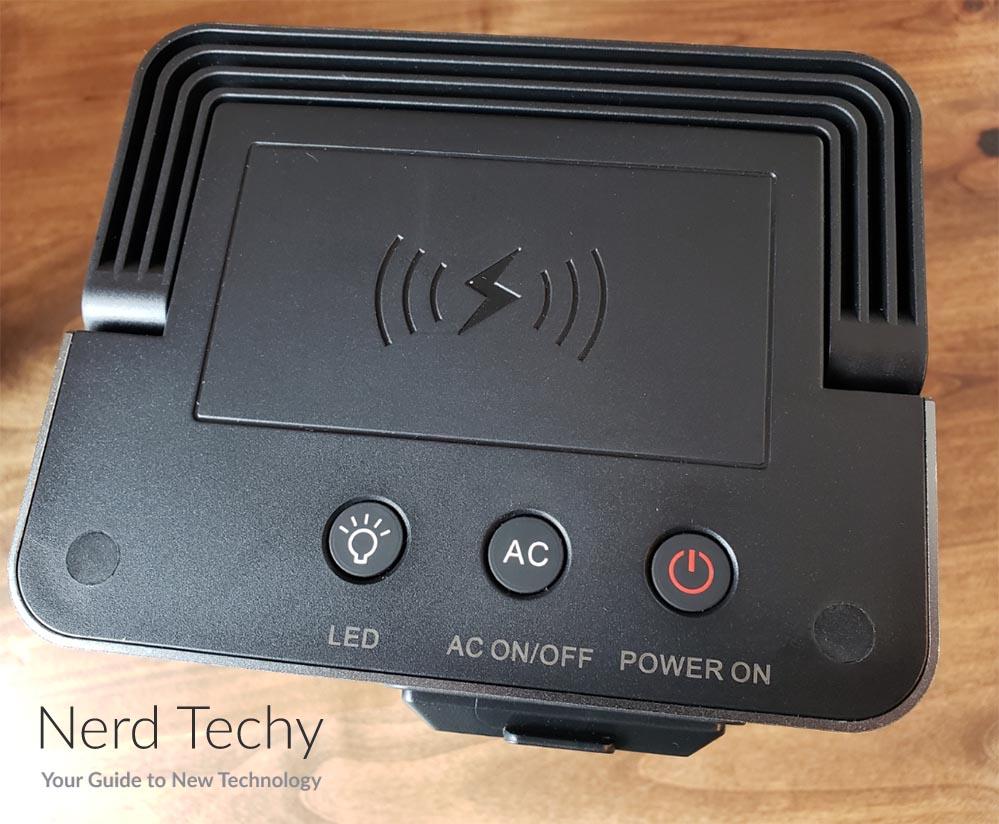 The top door opens to reveal a set of USB ports. Three of these are standard Type-A USB ports, while the fourth is a Type-C. The second door covers a pair of barrel-style DC ports. One of these is for charging your devices, and the other is for charging the power station. It's important to note that there's no DC automotive power outlet. This was a bit disappointing, since it's common enough on many power stations. The third door covers the single three-prong AC power outlet. In addition to that, the top of the housing serves as a wireless charging pad.
If you need a power station with an automotive outlet, consider the EcoFlow RIVER Mini instead. It has a similar size and output, but with more ports, including an automotive port. Then again, it only has about 2/3 of the capacity of the ISSOMI, which could be a drawback for some people.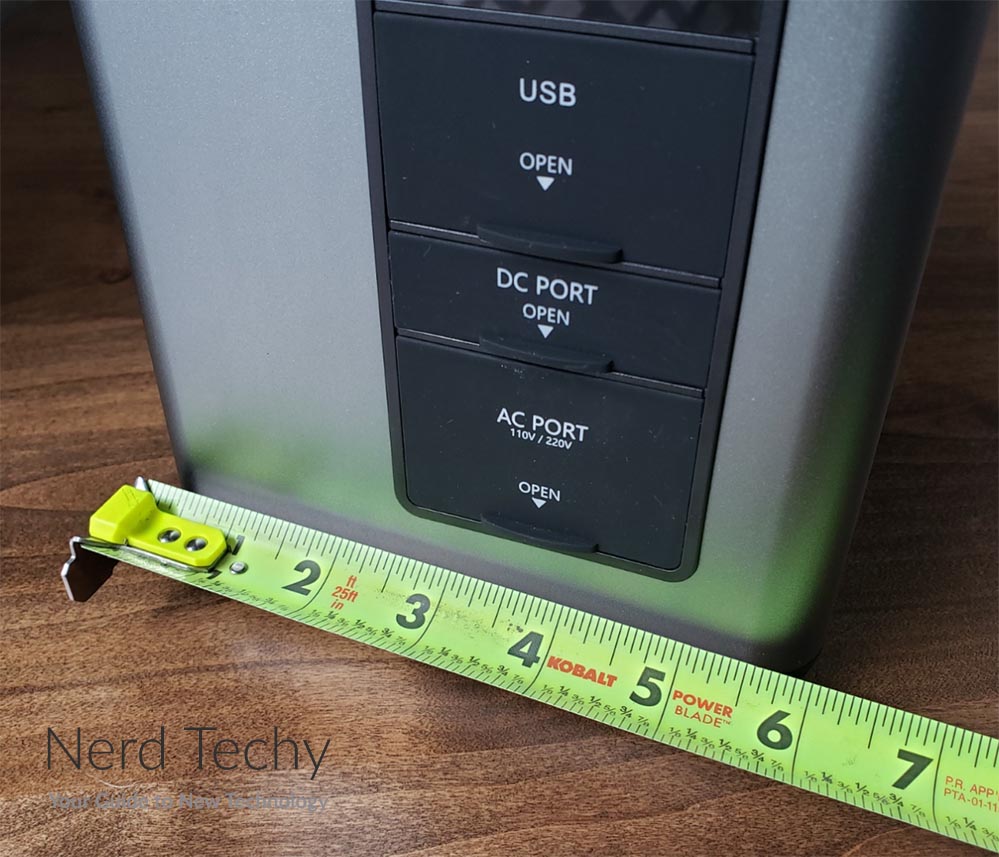 On the front panel of the ISSOMI's housing, just above the LCD display, there's a rectangular LED light bar. This bar can be adjusted between three different levels, and is operated by a button on top of the housing. You press and hold the button for three seconds to turn the light on and off. Tapping on the button cycles through the three different light settings. A second button is used to activate or deactivate the AC power outlet. By leaving it off when it's not in use, you prevent it from passively draining your battery. A third button is used to turn the entire power station on and off. Again, you'll save battery by leaving it off when nothing is plugged in.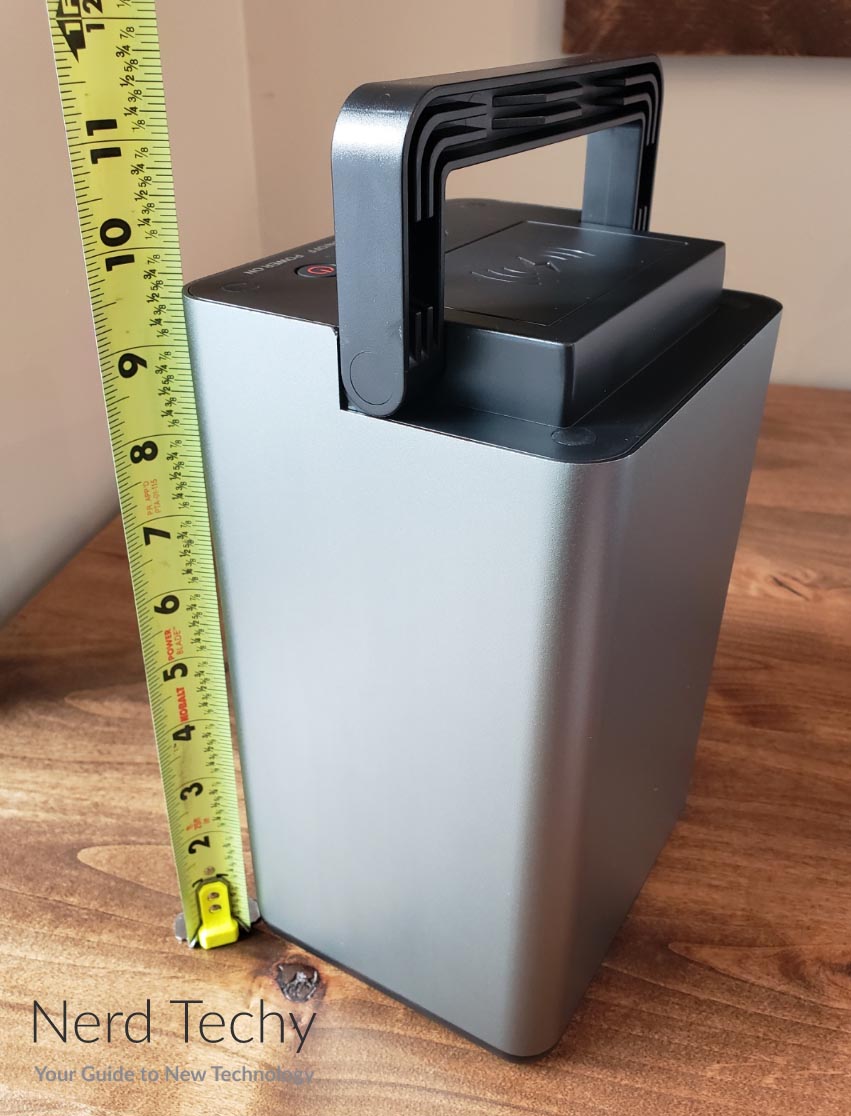 The kit includes all the adapters you'll need to charge the battery. There's an AC/DC adapter for charging from your wall outlet. There's a DC charger for using in your car. And there's a solar adapter, for connecting to an MC4-compatible solar panel. There's also a jumper cable attachment, which we'll discuss more in a second.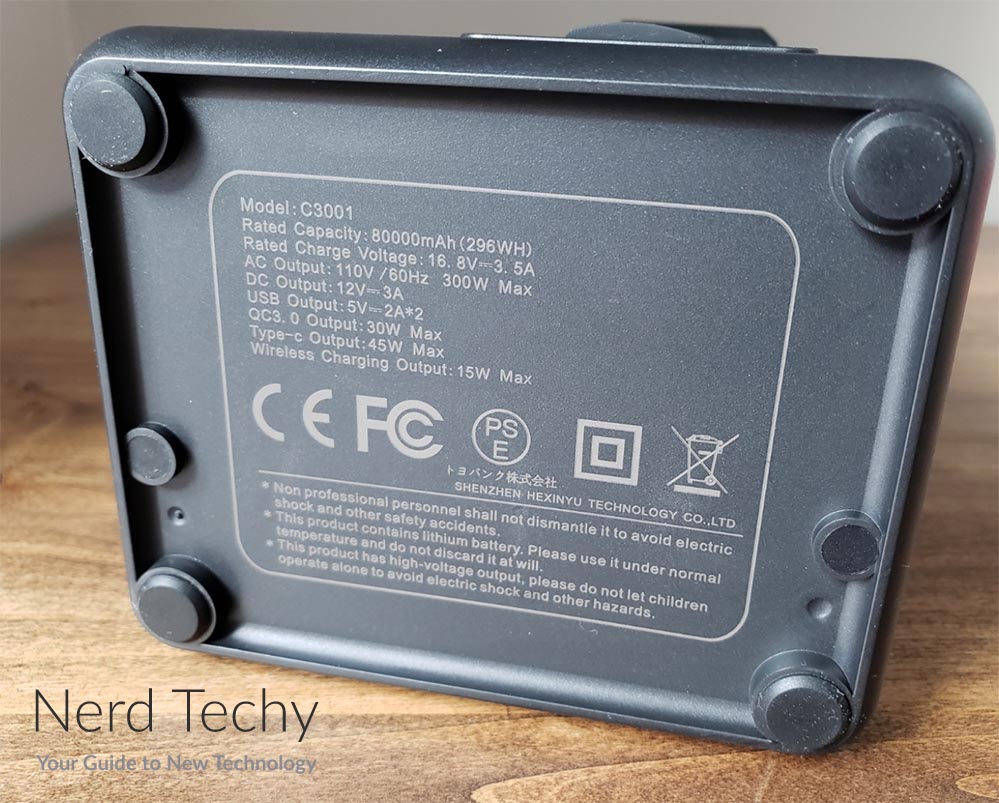 Battery Performance and Capacity
The ISSOMI power station has a total capacity of 80,000mAh, or 296 Watt-hours (Wh). So, what does this mean in practice? It means you can charge an iPhone 13 22 times. You can also charge a MacBook Pro 16" 8 times. If you're running a low-wattage, 30-watt CPAP machine, you'll get a little less than 10 hours. That's a surprising amount of performance for such a small, lightweight power station.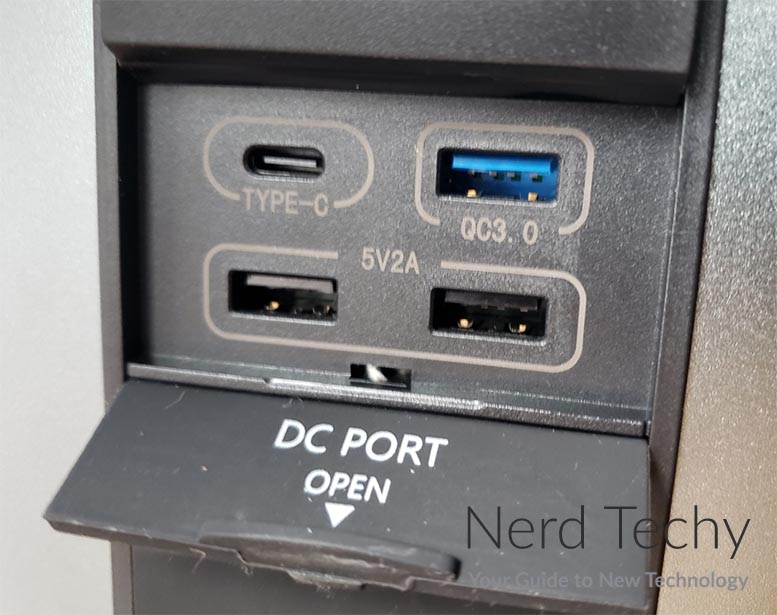 The entire station has a maximum continuous output of 300 watts. That's shared across all the ports, but it's enough to use them all at once. In addition, you get the benefit of up to 600 watts of surge power. This is useful for short spikes in power, such as when a cooler compressor kicks in. Unless the power surge is sustained, you won't have any interruptions in power delivery. You can't power anything large, like an A/C unit. You can't even run most mini fridges. But you can power a small cooler or projector without any serious trouble.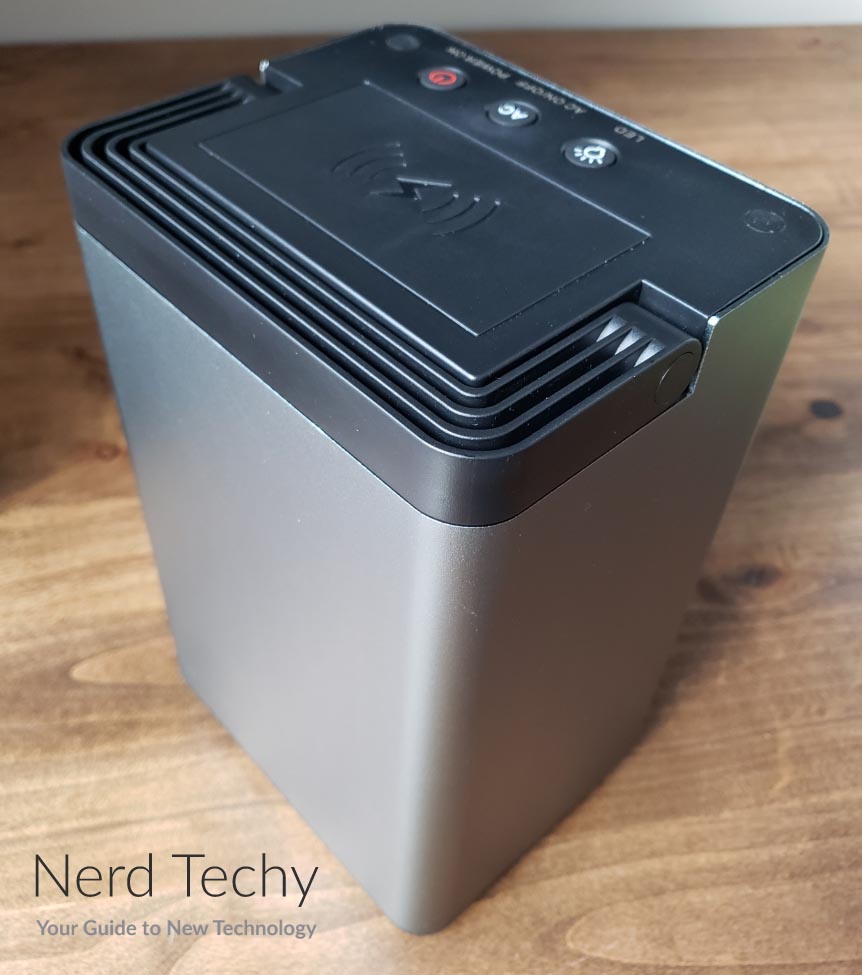 But what if you need to run high-wattage electronics, or you need a bigger battery? In that case, the Jackery Explorer 1500 is an excellent choice. It has a robust, 1,500Wh capacity, along with 1,800 watts of continuous output. There's even 3,600 watts of surge power! On the downside, this power bank is significantly bigger and heavier.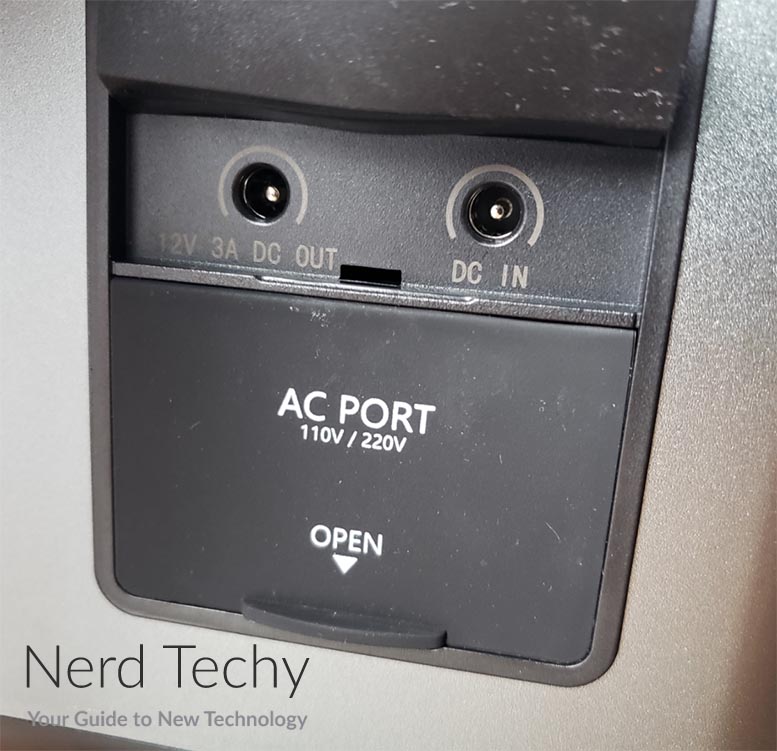 Standard jumper cables aren't any good if there's nobody around to give you a jump. As we already mentioned, the ISSOMI power station is designed to work as an emergency jump starter. You simply connect the jump starting attachment and clamp the jaws onto your battery terminals. This is great news if you get stranded in a remote area.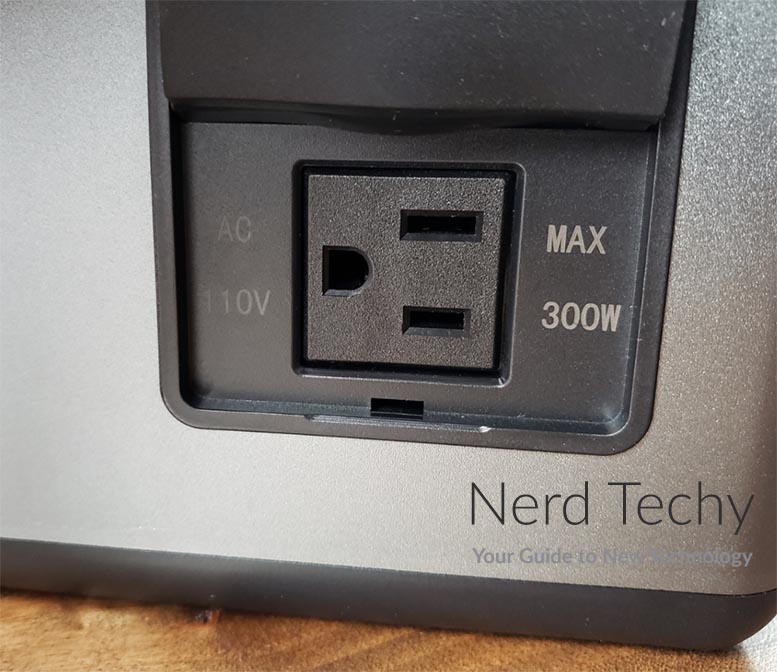 Charging the ISSOMI station itself is simple and straightforward. You can charge with the AC adapter, and plug directly into your wall outlet. You can plug into your car's DC automotive outlet. Or, you can charge off-grid with a solar panel. Charging time varies depending on your method. AC charging is the fastest, while DC is potentially the slowest. Solar charging will typically fall somewhere in-between. But in bad enough weather conditions, DC charging can sometimes be quicker.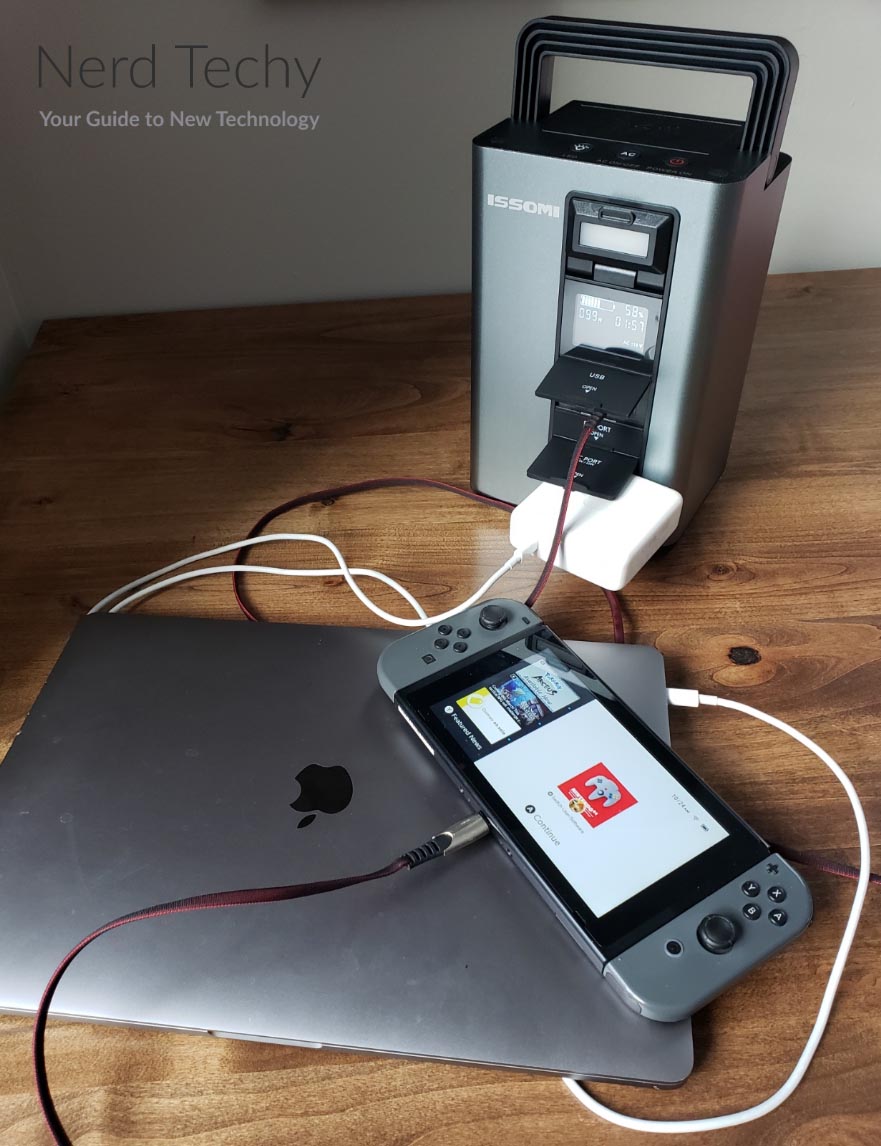 Charging and Safety
So, we know how much battery life you have, and how much you can charge your devices. But how quickly do the power ports work? To begin with, there are the two standard USB Type-A ports, which have the black inner tabs. These are actually somewhat disappointing, since they only supply 10 watts. Most USB Type-A ports these days offer 12 watts of power. The blue USB Type-A port is a QC port, with up to 45 watts. That's more than most QC ports, and it's great for iPhones and many other devices. The Type-C port is a PD power port, and delivers 65 watts maximum. That's enough for most USB Type-C laptops to play and charge at the same time.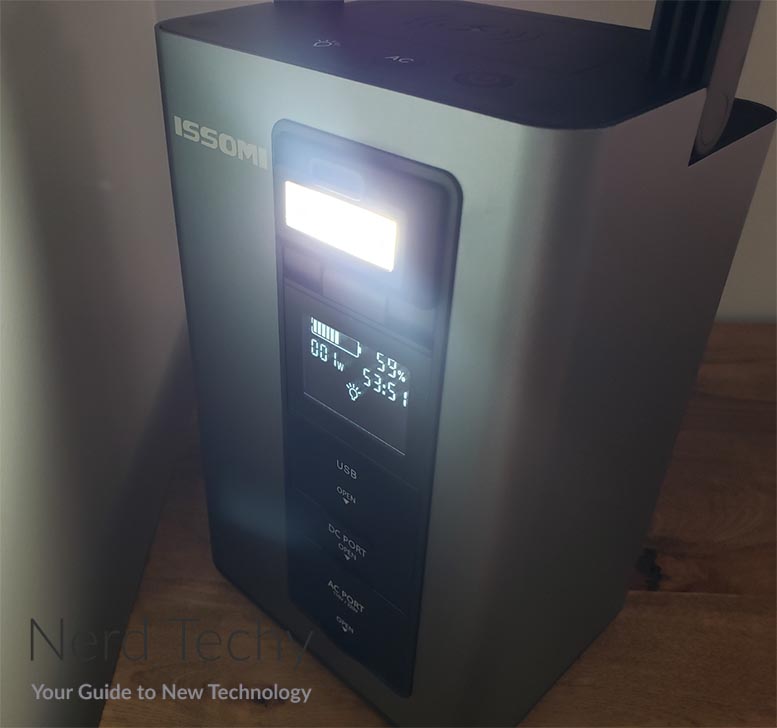 The DC power port provides 36 watts of power. This is great for quick charging on drones and many digital cameras. The AC port provides standard, 110-volt power. Just keep in mind that you're subject to the power bank's 300-watt overall limit. The wireless charge pad provides 15 watts, which is fairly high. This can vary, though, depending on the thickness of your phone case and other factors. Incidentally, the AC outlet delivers pure sine wave power. As a result, it's safe to use with sensitive electronics like CPAP machines. That said, this is only a good idea if you have a low-wattage, 30-watt machine. Otherwise, the battery might not last through the night.
If you need a slightly different port selection, check out the Energizer PPS700. This power bank has a similar size and power delivery, but there are more ports. In addition to others, there are two barrel-style DC ports as well as an automotive port. This makes the PPS770 suitable a great choice for drones and car accessories.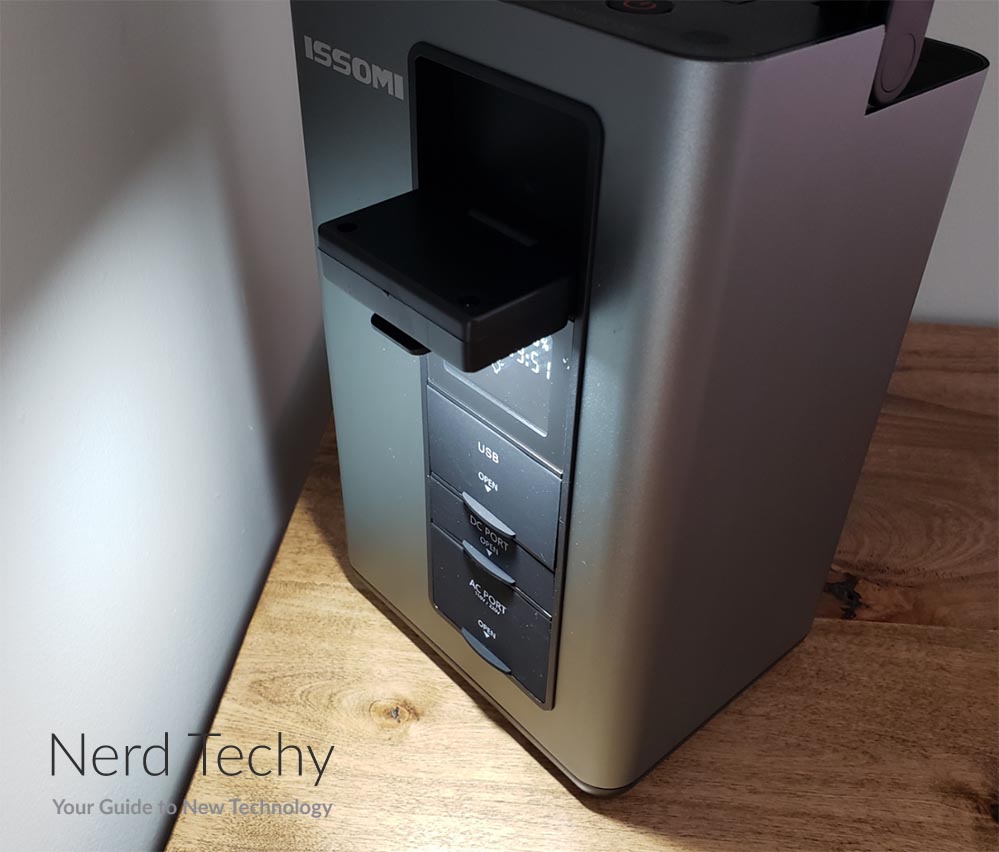 Final Verdict
The ISSOMI Portable Power Station is a surprisingly compact, lightweight device with a lot of power. It's splash-resistant, with an attractive design and easy-to-use controls. You can power almost any low-wattage device, except those that rely on automotive power. And with the ability to function as a jump starter, you get a lot of added value.