ALLPOWERS S2000 Pro
Pros
Powers up to 12 devices simultaneously.
Equipped with a 30A output for RV use.
AC re-charging is incredibly fast without a bulky adapter.
Relatively portable design with built-in handles.
Vibrant display screen.
Cons
Android app is buggy.
Cooling fan is on whenever AC output is activated.
No wireless charging pad.
Having access to power is a huge benefit these days. Much of everything we use or carry with us on a regular basis requires electricity.
From your smartphone to your hair dryer and maybe even your toothbrush; these devices need a reliable source of power to operate.
This may be something you never think of if you spend a lot of time at home. But the moment you go on a weekend camping trip, you'll soon realize that portable power is relatively essential.
And even if you don't leave your home too often, power outages can occur unexpectantly. Rather than relying on an outdated, loud and smelly gas generator, most people are opting for their very own portable power station.
These devices typically have a wealth of outputs for charging and/or powering the majority of small appliances and gadgets found in the average home. Best of all, they're much easier to manage and can be used indoors in a variety of scenarios.
But there's one potential problem. The market is literally flooded with power stations from countless manufacturers. As a result, it can be extremely intimidating to select the right one.
Whether you're browsing Amazon, Facebook or Instagram, you've likely come across a brand called ALLPOWERS. They're no stranger to this industry and have been at it for years. You may have even heard of they're newest model; the S2000 Pro.
The S2000 Pro is a portable power station that seems to have all the boxes ticked. With a wealth of high-end features and a promising list of specs, we were lucky enough to get our hands on a unit.
Today we're going to dive right in and see what it offers, how it works and if this is the right portable power station for you. Let's jump into it.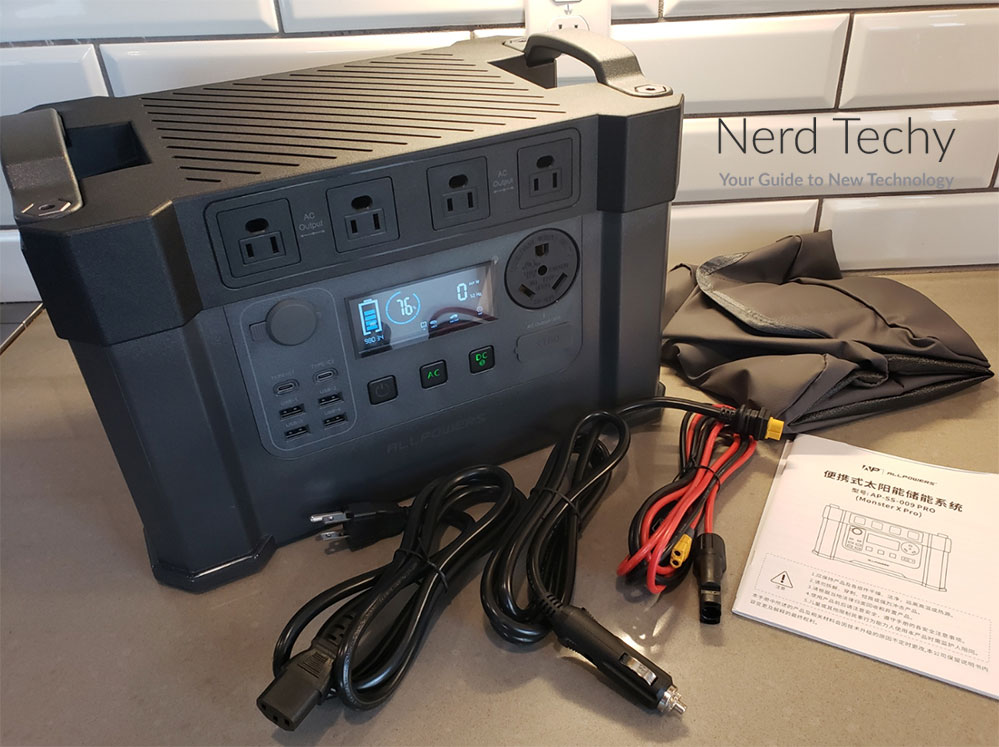 First Look
The ALLPOWERS S2000 Pro is comprised mostly of high-grade plastic with a dark gray and black, matte exterior. We like the choice of materials as nothing seems to attract excess dirt or even show fingerprints.
It's built in a rectangular shape measuring about 15″ wide, 10″ tall and 10″ deep. And with its weight being nearly 32lbs, it's a good thing that there are two handles built into the top. These provide a sturdy and reliable way to lug it around.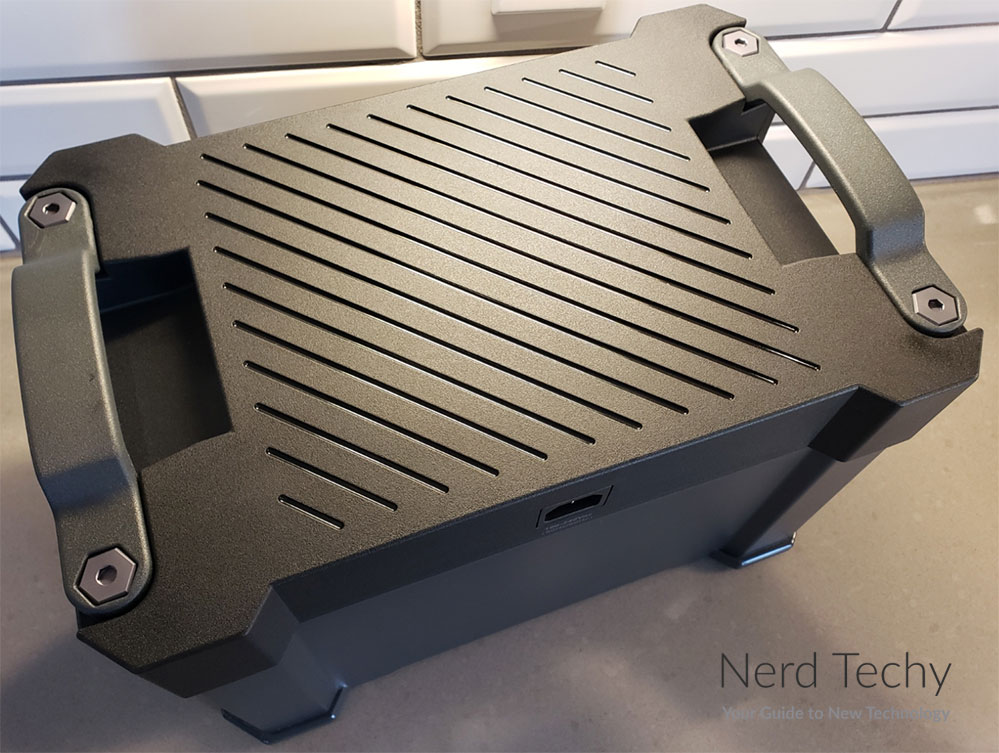 Sure, it's somewhat heavy, but for its size, it's not quite as bulky as other power stations in the same class. The box it ships in is relatively large, but once you pull it out, you might be surprised on how much smaller it seems in person.
There's two main ventilation slits on each side, with a cooling fan built into one end. It moves air from one side of the unit to the other, providing proper heat dissipation to its internal components.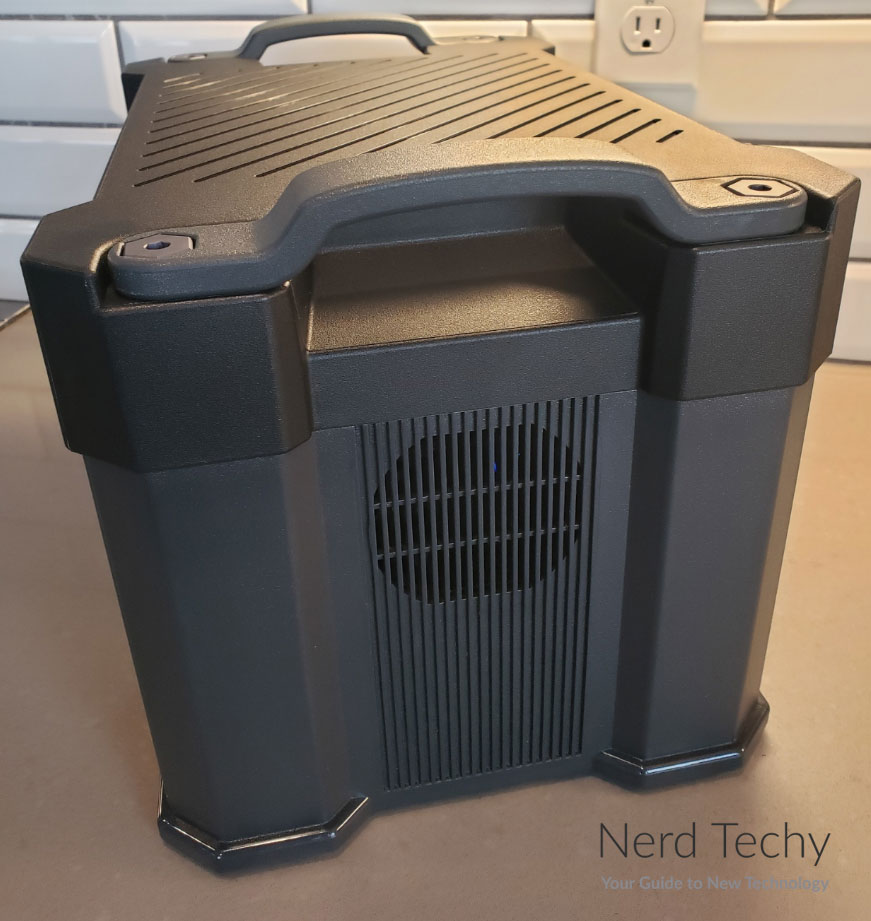 One thing we noticed was that the cooling fan is somewhat noisier than other power stations we've tested in the past. And unfortunately, it automatically turns on whenever the unit is re-charging from an AC wall outlet or whenever the AC output is turned on.
We would have liked the cooling fan to turn on only when under a high load. Simply put, we don't think it should have to turn on if the AC output is only drawing a few watts. However, this could be seen as a preventative measure in order to boost its longevity for years of future use.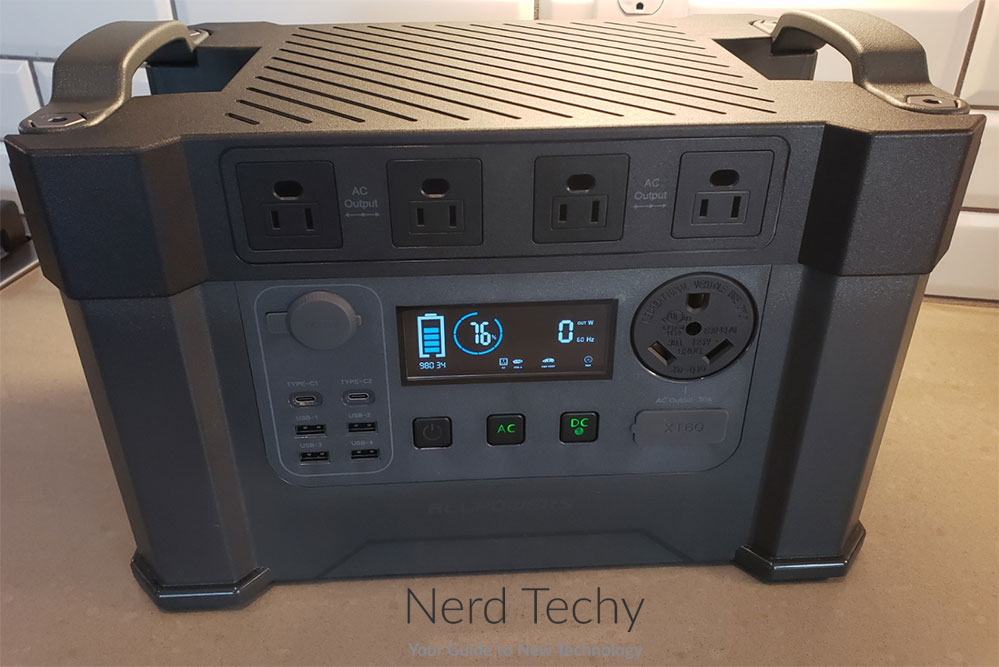 Capacity and Output
The S2000 Pro boasts a large capacity of 1500 watt hours, which is exceptional. This is enough energy storage for running most devices and small appliances for several hours, or even days at a time.
In terms of output, the built-in pure sine wave inverter provides up to 2400W of AC power. And with a surge rating of 4,000W, it can handle unexpected burst of energy without issue.
All of the outputs for providing power are available on the front. We like to see them here as it offers easy, quick access for charging or plugging in your appliances. There's a row of four grounded AC outlets on the top followed by a section of 12V outputs. These include a standard 12V barrel output in addition to two USB-C and four USB-A ports.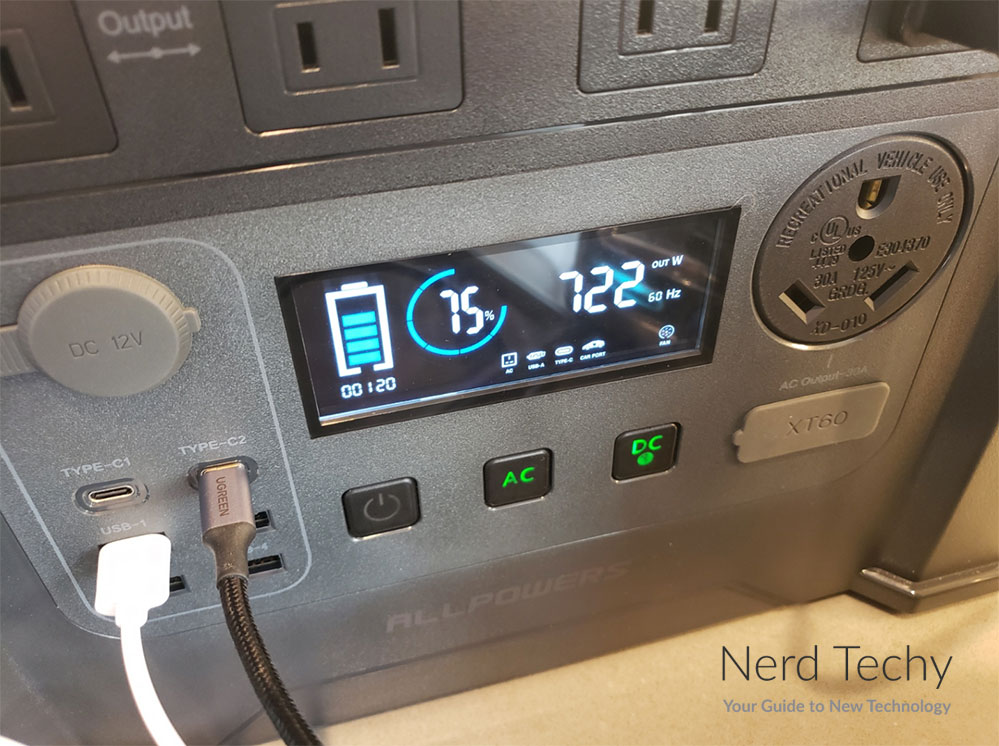 Best of all, the USB-C ports both offer 100W of power delivery and the USB-A are all Quick Charge 3.0. For smartphone users, these are the ideal variety that offer the fastest charge times, as long as you use the proper cable with it.
Surprisingly, there's even a 30A charging port for connecting the unit to your electric car or for powering your RV. This is something that we don't often see in most portable power stations. Although the capacity may deplete quicker than expected if you use the 30A to its full demand, it's still a very nice feature to have.
Directly below the 30A port is an XT60 plug for connecting solar panels, right next to three buttons. There's a main power button as well as both an AC and DC button. These illuminate when activated, clearly indicating which outputs are currently active.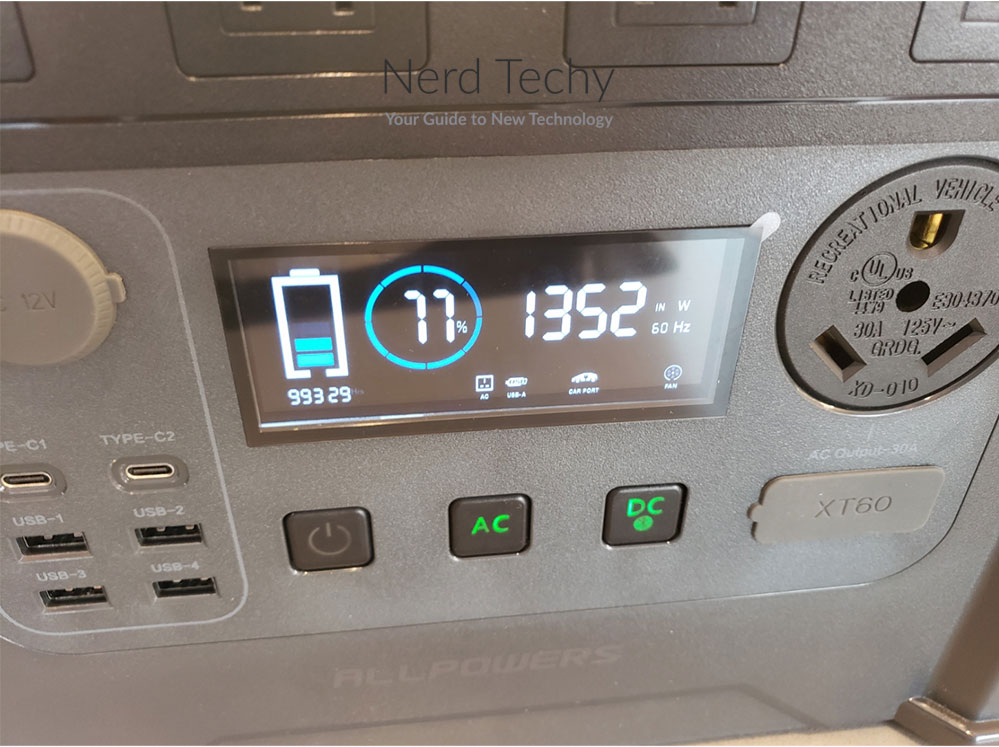 Display Screen
All of the ports are centered around a vibrant display screen. The screen provides a clear insight into the current draw (input/output), a percentage of remaining battery life, a visual battery icon as well as a "time remaining" in hours. There's also a variety of small icons that are displayed when either AC/DC or the cooling fan is activated.
The screen appears nice and vivid and in two colors; blue and white. While the screen is a bit glossy, we found that it's still quite easy to read in bright light or direct sun. However, it's not touch-activated, so keep that in mind.
Use code "2NT15" for a discount when you order from the official ALLPOWERS website.
Re-Charging the S2000 Pro
On the back of the unit is a single AC input. Here, you connect the provided AC power cord to a standard wall outlet for quick re-charging. Thankfully, there's no clunky AC adapter or brick to deal with; just a simple heavy-gauge cable.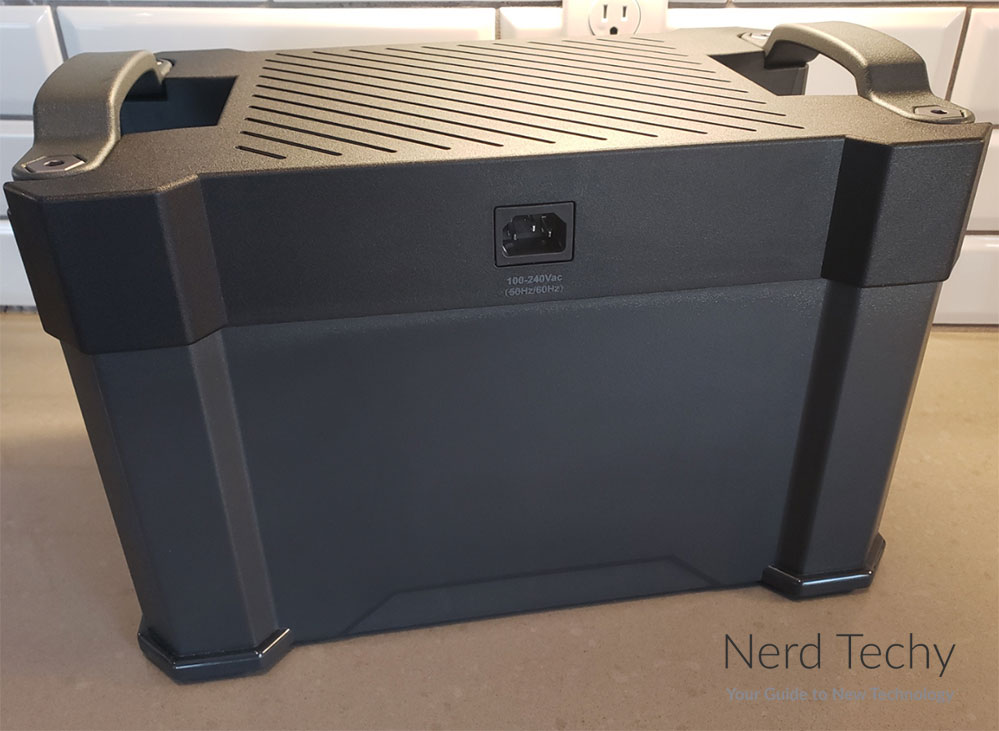 Re-charging the S2000 Pro from 0% to full 100% capacity is actually relatively quick. Since it draws a maximum of 1500W, it can top-off the internal cells within 90-120 minutes. Simply put, this is phenomenal.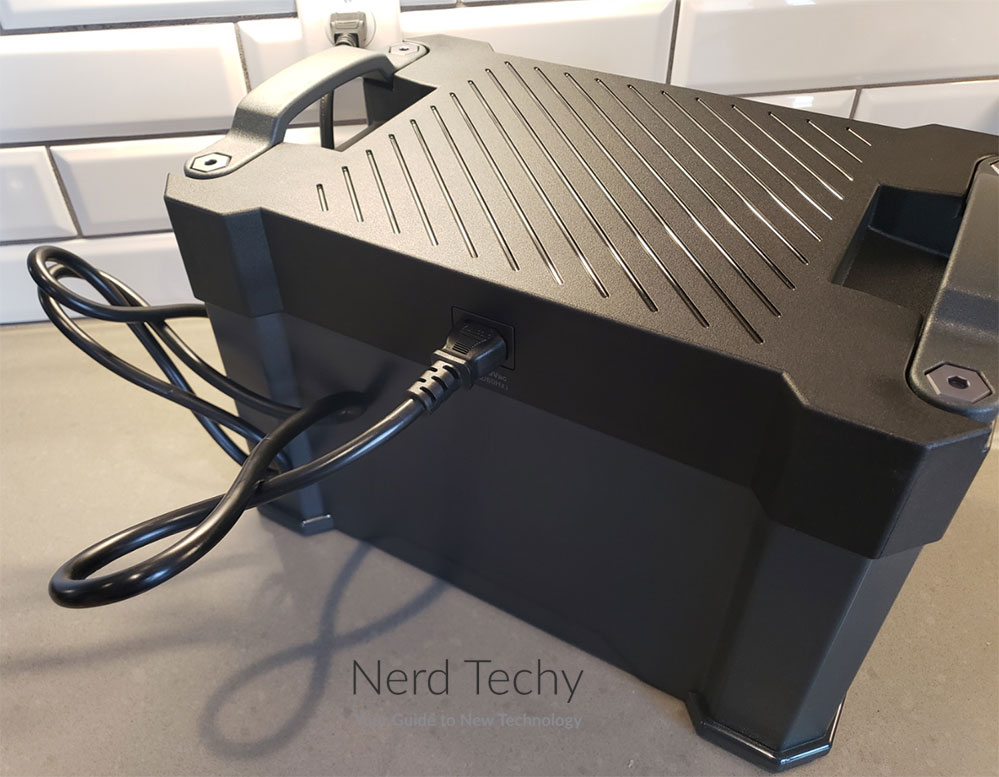 Typically, standard power stations can take anywhere from 5 to 10 hours to fully re-charge, which in our opinion, is unacceptable. We're really happy to see that ALLPOWERS made sure to equip this power station with phenomenally fast re-charging so you don't have to spend all day waiting around for it.
The next fastest method of re-charging is to use solar and take advantage of the internal MPPT charge controller. By connecting up to 650W of solar panels to the XT60 input port, the capacity can be replenished within 3-4 hours. However, this is under ideal sunlight conditions without clouds and in the middle of summer.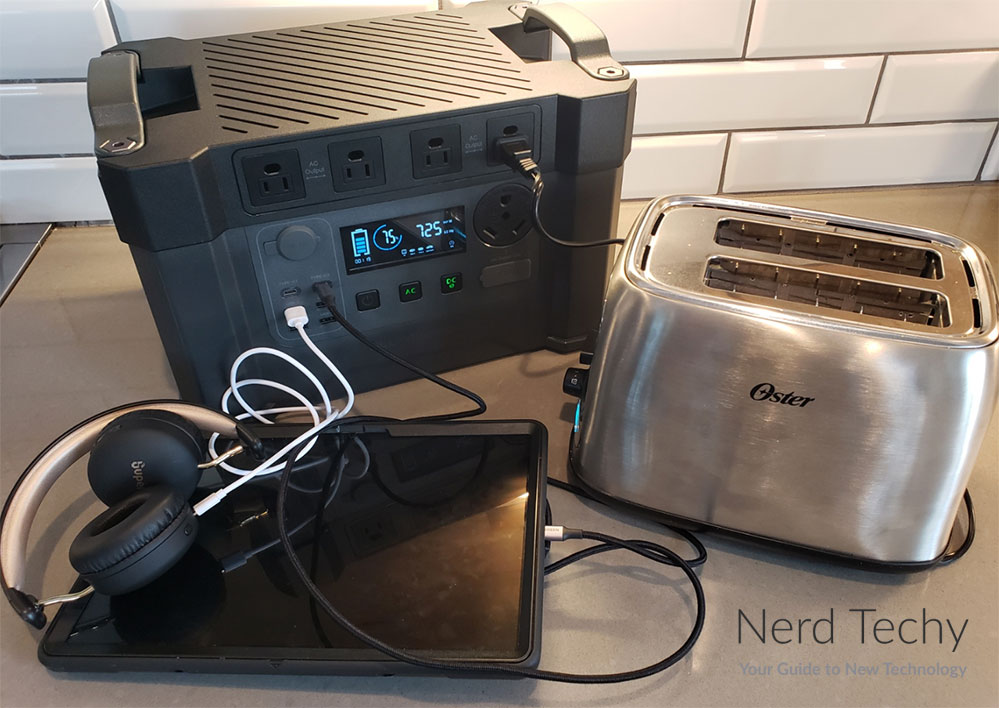 Needless to say, solar is very dependent on a multitude of factors such as light angle, season, ambient temperature, geo-location, cleanliness of the panels, etc. However, we love the fact that it can support up to 650W of solar input. This isn't the most we've seen, but it's definitely near the high-end.
Lastly, you can opt to use the provided 12V car charging cable to re-charge the S2000 Pro. By connecting it to the XT60 port, you can hook it up to your vehicle's 12V output. However, this is the slowest method that may take 10-12 hours. While this may not be the ideal method, it's nice to see it available as an option.
UPS Feature
For those who are looking to use the S2000 Pro at home or off-grid, it works very well as a uninterruptible power supply. By plugging the AC power cord into the back of the unit and into a wall outlet, it can supply backup battery power at a moments notice.
Therefore, when you plug your computer, TV or other electronics into any of the outputs, it will automatically provide constant power. It does this all without a hiccup.
As a result, if a power outage occurs, your plugged-in devices will not turn off; they will simply sip energy from the S2000 Pro. Once the grid power kicks back on, the unit will then re-charge and be ready to go for any other future outages.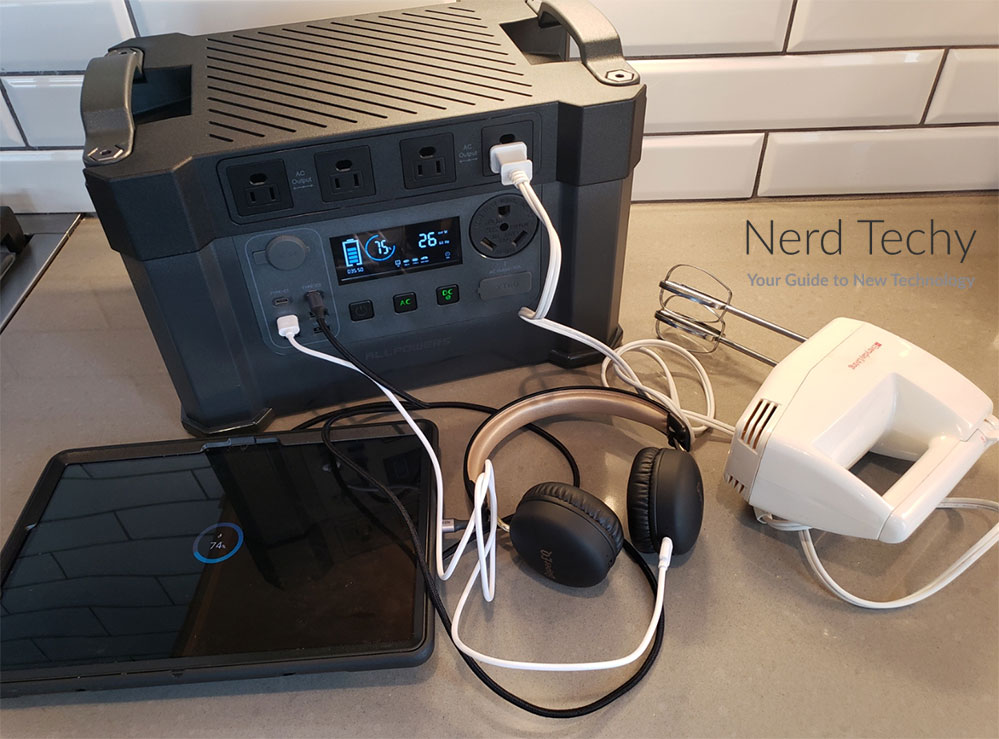 Battery Chemistry
With any portable power station, it's important to know and understand the kind of battery that's inside. With the ALLPOWERS S2000 Pro, it's equipped with a ternary polymer lithium battery.
While this isn't quite as sought-after as a LiFePO4, it's much more compact and reliable than you may imagine. Therefore, you're getting an overall higher capacity with a smaller size. Hence, ALLPOWERS ability to keep the dimensions down while still providing plenty of capacity.
LiFePO4 batteries tend to have the best longevity, but ternary lithium batteries are nearly just as efficient. The cells within the S2000 pro are rated for 2,500 discharge cycles before any kind of capacity related issues occur. After 2,500 cycles, the overall capacity is said to diminish by ~20%, which is quite acceptable in our opinion.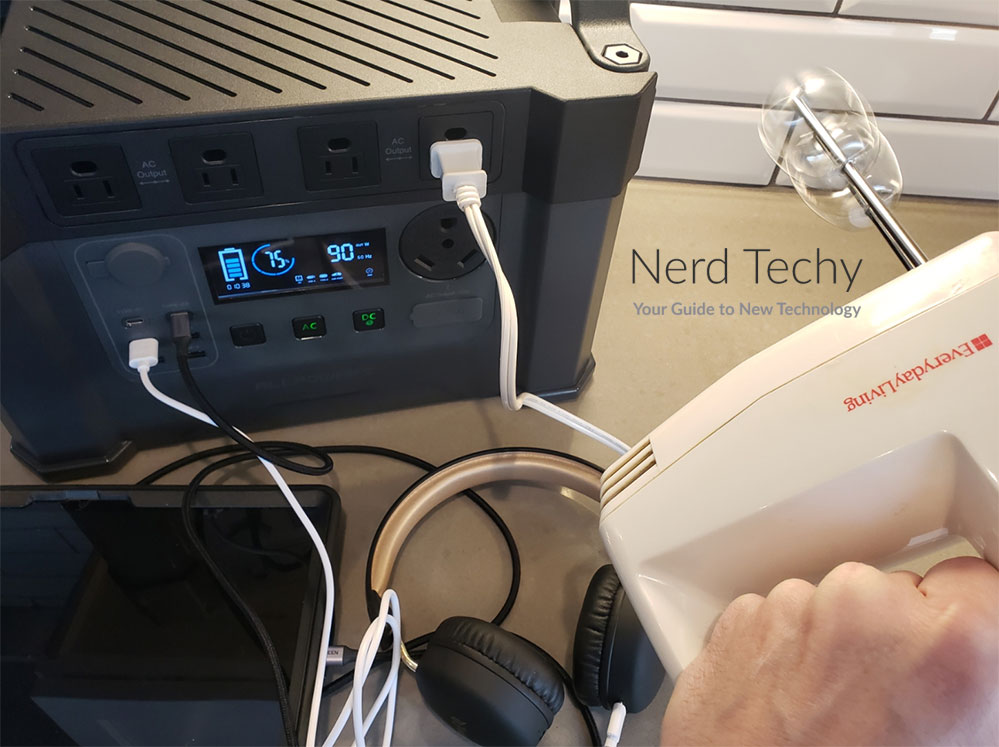 Remote Control via the App
Although the control scheme of the S2000 Pro is very straightforward, some may opt to use the ALLPOWERS app. While it isn't a requirement, the app opens up a more in-depth experience to using and analyzing the precise power input/output of the unit. It connects via Bluetooth and opens up a visual control panel at your fingertips.
Available on both iOS and Android devices, we tried both versions. The iOS app paired with the power station without any issue and carried out all of the functionality with ease. However, the Android app was a much different experience. That said, it didn't work well at all. The Android version had trouble pairing the power station as it didn't even show it as an available connection.
While the iOS app worked nearly flawlessly, the Android app needs to be re-vamped to work more-smoothly. Regardless, it's a feature that lets iPhone and/or iPad users remotely control the power station from up to ~30′ away. Once paired, the interface lets you accurately view the remaining battery life and view any current input or output power draws.
Fabric Cover
As an added bonus, ALLPOWERS gives you a black fabric cover that fits right over the entire unit. Branded with their logo, it keeps minor scratches and scuffs at bay while providing a durable layer that also looks great.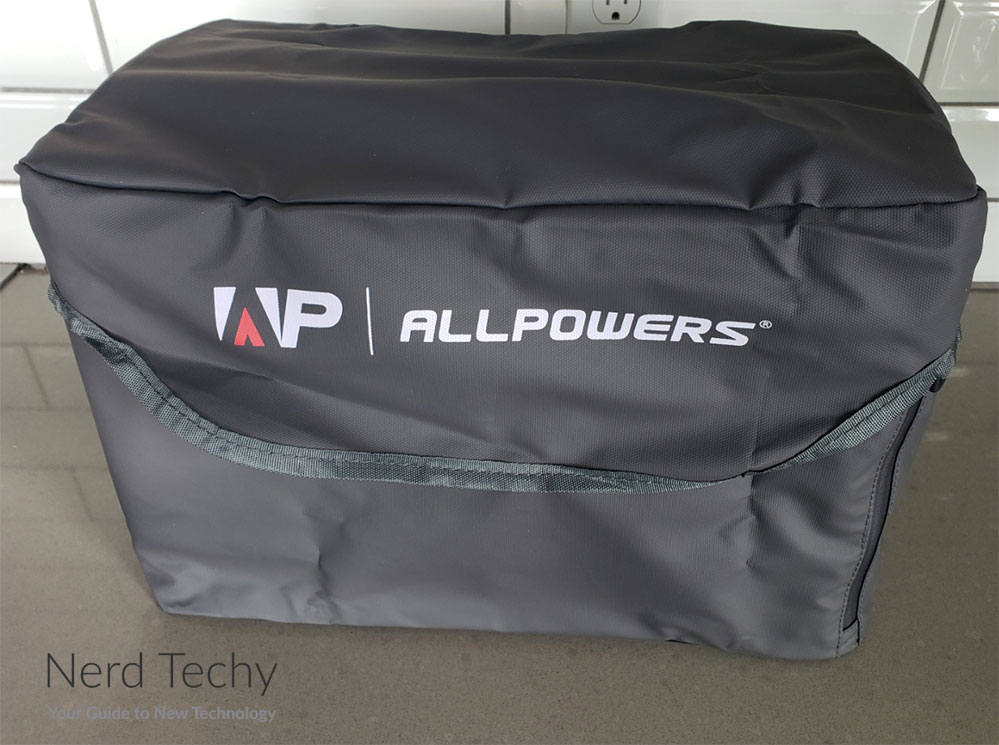 The fabric cover goes around the entire exterior, but doesn't open up to reveal any ports or inputs unless you partially remove it. Therefore, it's ideal to use when the power station isn't actively being used. Regardless, the inclusion of this extra bonus is nice to have, especially considering the price you're paying for it.
Final Thoughts: Our Experience Using the S2000 Pro
Overall, we feel that ALLPOWERS did a great job at designing and manufacturing the S2000 Pro. While it's definitely a heavy unit, it's relatively small in dimensions for the amount of power it can provide. With 1500Wh of capacity and a wide assortment of outputs, it can easily power any device or appliance that draws under 24000W.
We love the inclusion of a 30A output. This is something you don't see everyday on a power station of this stature. And with dual 100W PD and 4 AC outlets, there's plenty of versatility that it offers.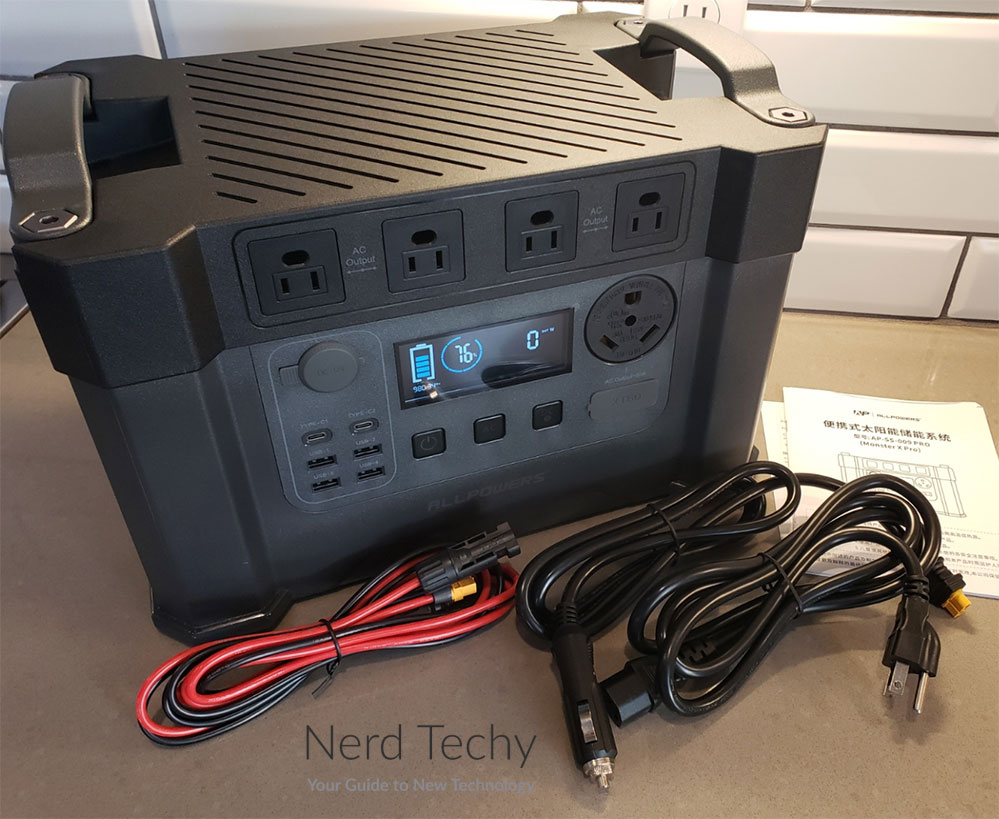 The simplicity of the AC power cord is commendable. There's no clunky AC charging brick, just a simple cable that plugs right into the back of the unit; out of sight and out of the way. Best of all, it re-charges incredibly fast so there's minimal wait time to replenish the internal cells.
While the Android smartphone app has a bit of work to make it useable, the iOS app seems to work flawlessly. The app interface offers a clear and concise view that are very helpful for remote control. We hope that future updates will make the Android app more-useful, but in the meantime, all of the functionality without the app seems to be up to par.
Use code "2NT15" for a discount when you order from the official ALLPOWERS website.
We would have liked it if the cooling fan didn't turn on every time you used the AC function, but it's not that big of deal. Sure, it's a little noisy, but it ensures that everything inside is under ideal temperatures.
All in all, you're looking at a well-built, fast-charging portable power station with plenty of power to deliver. While the price may be somewhat steep, it's much more affordable that most other power stations with the same energy storage and output capacity.
Meet Derek, "TechGuru," a 34-year-old technology enthusiast with a deep passion for tech innovations. With extensive experience, he specializes in gaming hardware and software, and has expertise in gadgets, custom PCs, and audio.
Besides writing about tech and reviewing new products, Derek enjoys traveling, hiking, and photography. Committed to keeping up with the latest industry trends, he aims to guide readers in making informed tech decisions.