Syntech Steam Deck Dock
Pros
Can connect a monitor, peripherals, and storage simultaneously.
Lightweight, portable design.
Won't block your Steam Deck's cooling vents.
Style matches perfectly with the Steam Deck.
Also compatible with phones, tablets, and laptops.
Cons
No USB Type-C data input.
Doesn't include any charging cables.
Released in February of last year, the Steam Deck has surprised many people with its strong sales. Valve shipped over a million units in the first six months. That number doesn't include units sold since October, including the all-important holiday season. It wouldn't be surprising if the Steam Deck had shipped two million units by now.
The Steam Deck followed up on the Steam Machine, a similar system that launched in 2015 and failed badly. But the Deck has a distinct advantage over the Steam Machine – it's smaller, about the size of a Nintendo Switch. This allows you to play Steam games with a handheld system, so you can take them pretty much anywhere. That said, you might want a nice place to keep your Deck when you're playing in desktop mode.
The Syntech Steam Deck Docking Station is the solution to that problem. It's a little base where you put your Steam Deck, and it has a little tether that plugs into the USB Type-C port. You can leave all your peripherals attached to the docking station, and freely dock and undock your Deck. But how well does it work, and what can you do with it? Let's take a closer look, and see how it shakes out!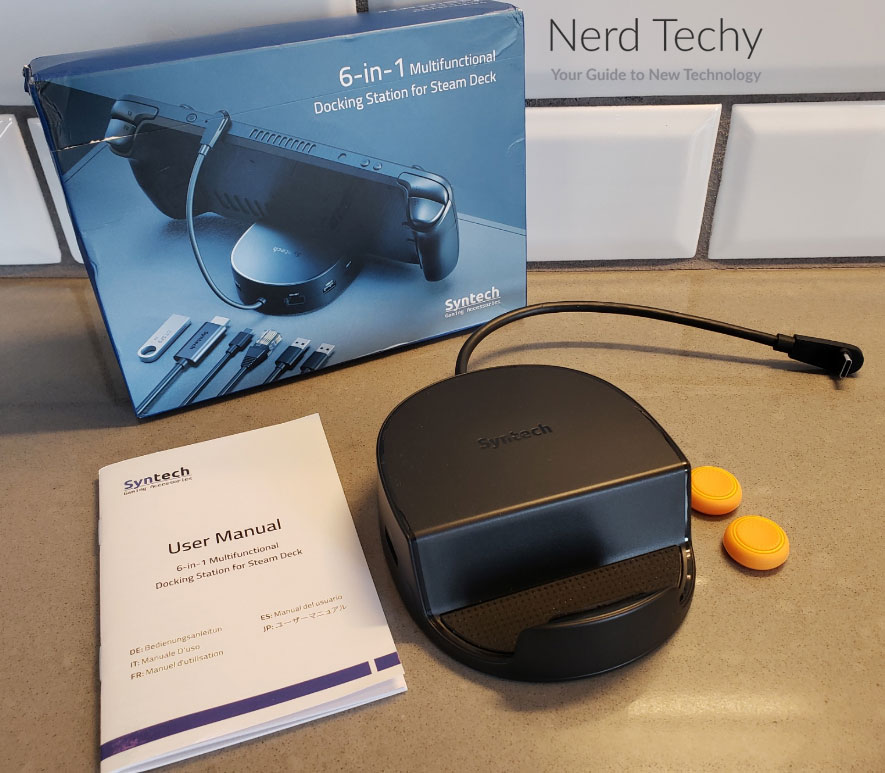 Overall Design
The Syntech Steam Deck Docking Station has a circular footprint. The overall profile is roughly cylindrical, but there's a cutout towards the front. This cutout is angled slightly backwards, and is wide enough to accommodate a Steam Deck. It has a short lip at the front, to keep your Deck from sliding out. The cutout is also lined with a soft silicone lining, which protects your system's shell. You don't have to worry about it getting scratched while it's sitting in the docking station.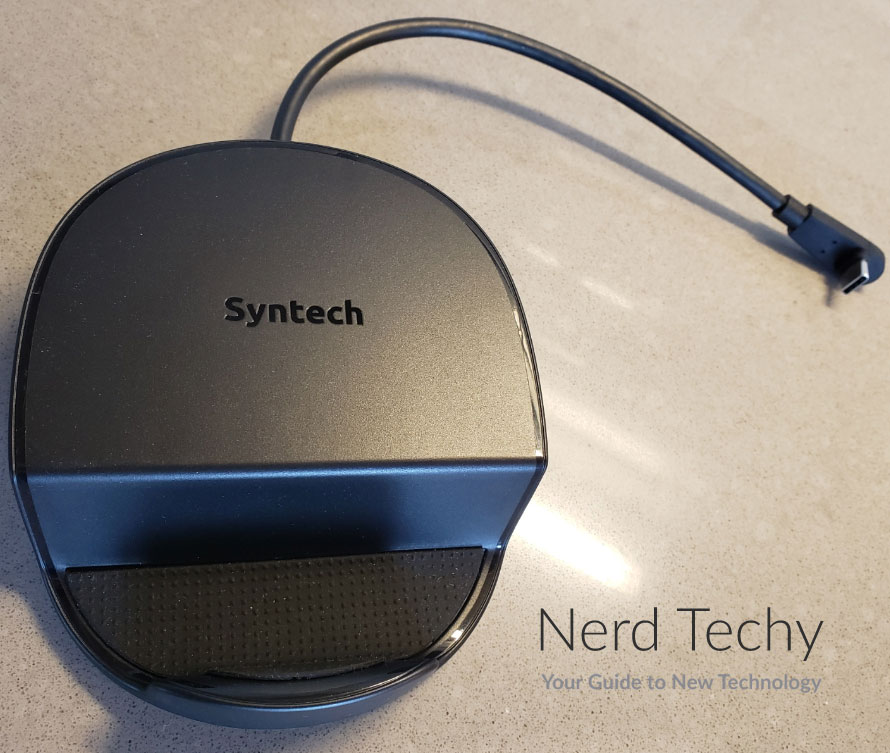 The material is a combination of ABS plastic and polycarbonate, and it seems very durable. It's also lightweight. If you carry your Steam Deck in a backpack, you can throw the docking station in and you'll barely even notice it. Better yet, there's no ugly branding. There's just an embossed "Syntech" imprint on the top, which is so unobtrusive that it's practically invisible. We also appreciated that the exact shade and sheen of the black plastic perfectly match the Steam Deck.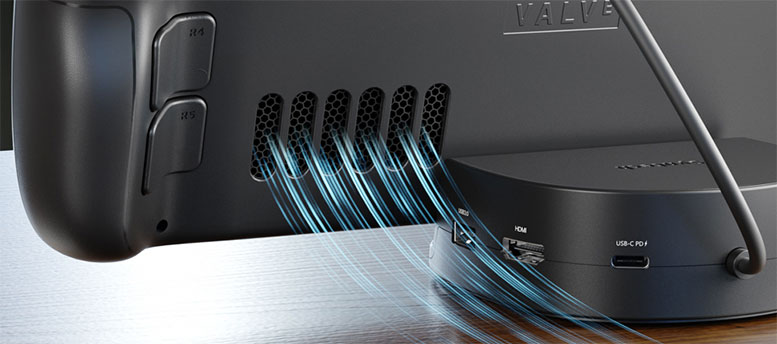 The round profile isn't just a cosmetic choice; it's intentional. Many Steam Deck docking stations are rectangular, and they end up blocking your Deck's cooling vents. This can cause your system to overheat and even permanently damage the inner hardware. Because the Syntech dock is curved, it doesn't obstruct your cooling vents, which allows plenty of air flow.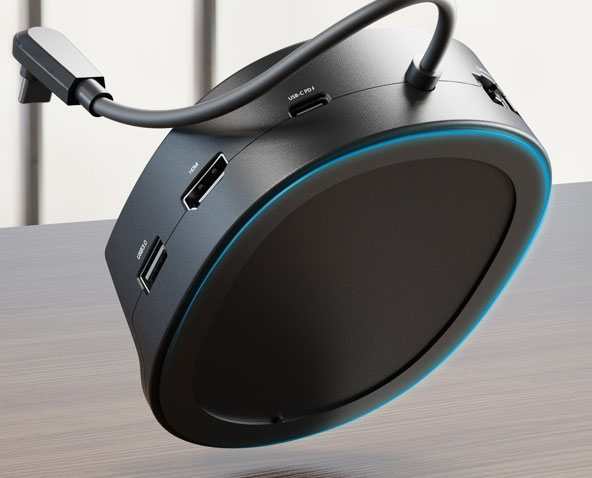 On the bottom of the base is a silicone ring. This ring provides a secure surface so your Deck won't slide around. It also protects your desk or other surface from getting scratched over time.
As you can see, this is a good system for keeping your Steam Deck safe and connected at home. But what do you do when you're on the road? If you want to travel with your Steam Deck, check out our list of the best Steam Deck protective cases. They'll keep your system from getting damaged while you're getting where you want to go.
Ports and Connectivity
To use the Syntech docking station, first set your system into the slot. Next, plug it into the dock. There's a little pigtail cable on the back with a 90-degree tip on the end. It plugs into the port on the top of your system, and you're ready to go. Of course, connecting your Steam Deck to the docking station alone doesn't accomplish anything. To get the most out of this dock, you'll need to connect your peripherals.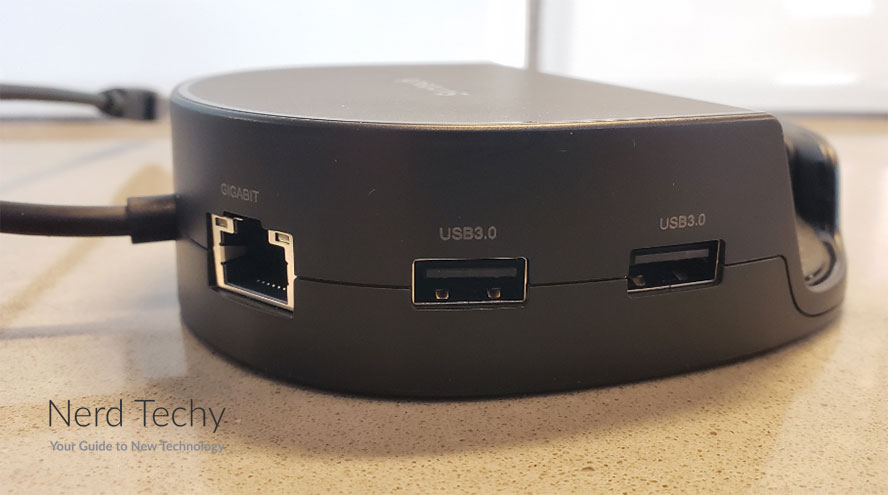 There are six ports, all located on the sides of the housing. On the right side is a USB Type-A port, an HDMI port, and a USB Type-C port, going from front to back. On the left side, also from front to back, are a pair of USB Type-A ports and a Gigabit Ethernet port.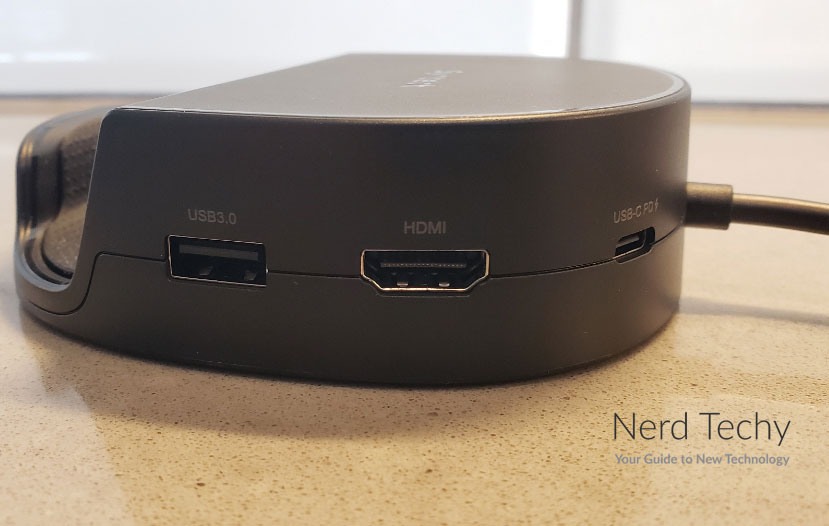 The USB Type-A ports are designed primarily for peripherals. You can connect your mouse and keyboard and use them instead of the Steam Deck's on-board controls. You can also connect a thumb drive or other USB storage. This allows you to store additional games and save files without cluttering your system's on-board storage.
With the HDMI port, you can connect to an external monitor. This is a huge benefit, since the Steam Deck's built-in display is fairly small. Using a larger display can provide a more immersive experience and make you feel like a part of the action. Meanwhile, the Gigabit Ethernet port provides a faster, more stable connection than WiFi. Use it, and you'll have less lag during multiplayer matches.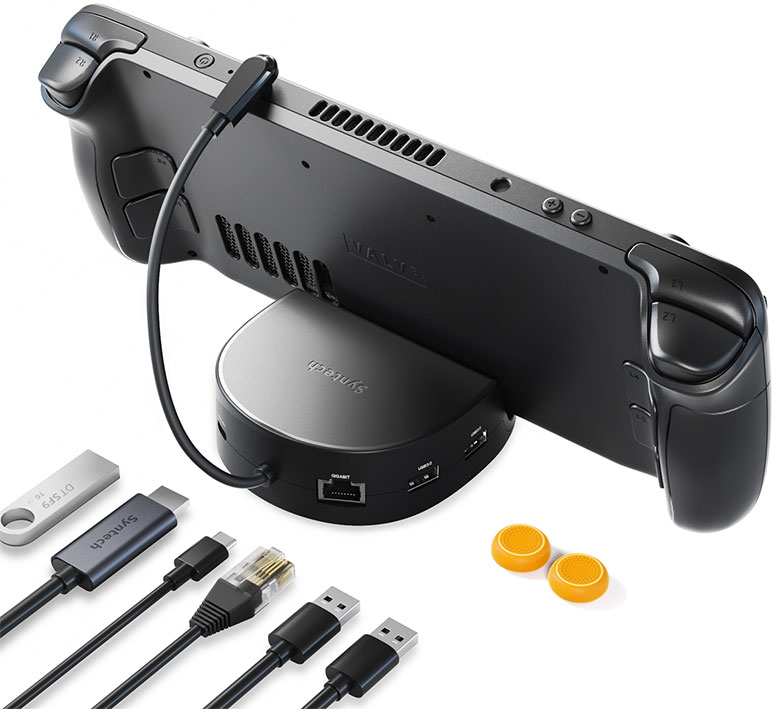 One thing you should be aware of is that the USB Type-C port on the base is not for a data connection. It's for providing power to your system, so you can charge your battery. It's a PD port, capable of carrying up to 100 watts of current. There's no charging cable or adapter included, but that's no big deal. You can just use the charger that came with your Steam Deck.
If you don't already have a mouse and keyboard for your Deck, you really should. Check out our list of the best mice and keyboards for Steam Deck for some ideas.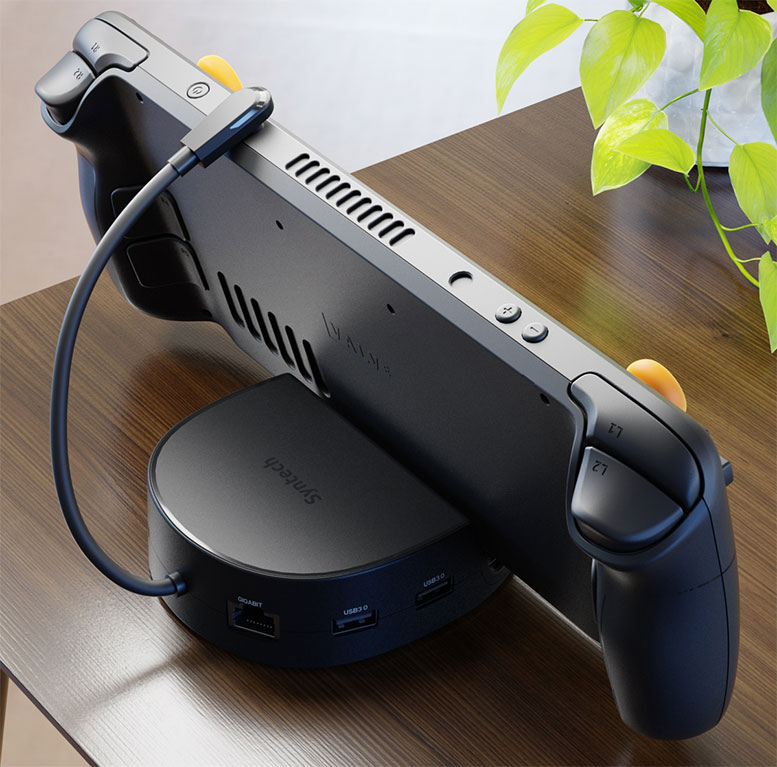 Compatibility and Extras
Believe it or not, the Syntech docking station isn't exclusively for the Steam Deck. It's certainly optimized for the Deck, but you can use it with most other USB Type-C devices. Admittedly, the short pigtail limits its practicality. But if you want, you can use it as a dock for your smartphone, tablet, or USB Type-C laptop. It probably won't be your go-to, but these are useful secondary applications.
The package also includes a pair of orange anti-slip thumb grips. These grips go over the thumb sticks and make it easier to control your games. Not only are they textured, but they also slightly heighten the thumb sticks as well. This can make it easier to make quick, accurate movements. The grips won't be much help while you're using the dock. But when you go into handheld mode, they come in handy.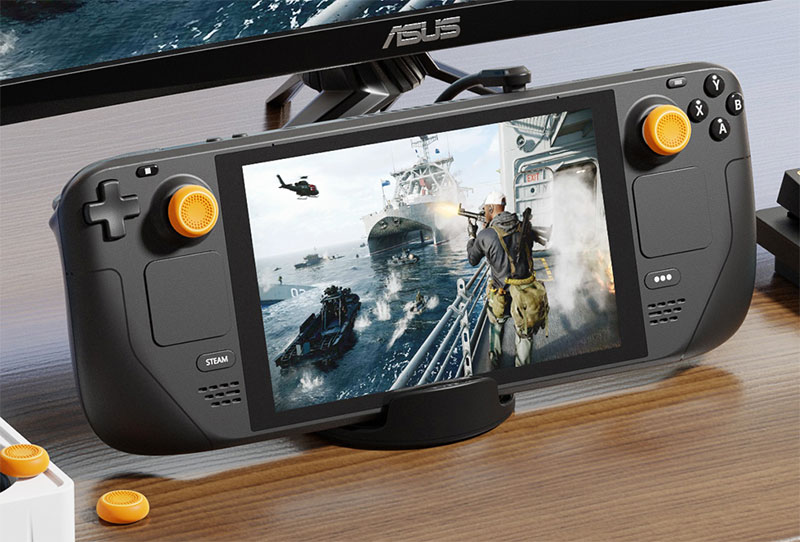 While you're using the grip covers, you may also want some protection for your trackpads. Take a look at our list of the top Steam Deck trackpad covers. They'll keep your pads safe and still provide plenty of sensitivity for gaming.
What is the Steam Deck?
Before we wrap up, let's talk about the Steam Deck for those who might not be familiar with it. The Steam Deck is a hybrid gaming system, similar to the Nintendo Switch. It can work in both handheld mode or when connected to a monitor. You can even connect controllers or a mouse and keyboard to it.
The neat thing about the Deck is that while it's a Linux-based system, it's designed specifically for Steam games. This means you can use it to play most games in Steam's library. It's like owning a quality gaming PC at a fraction of the cost.
When we say "most" games, the collection is growing. Valve maintains a list of games that have been verified on the Steam Deck. Games with a green check mark next to them are verified, which means that they work exactly as intended. Games with a yellow "i" next to them are playable, but have known issues. For example, there might be texture pop-in or multiplayer functionality may be limited. That said, some games remain unsupported, although Valve continues to work with developers to get them working.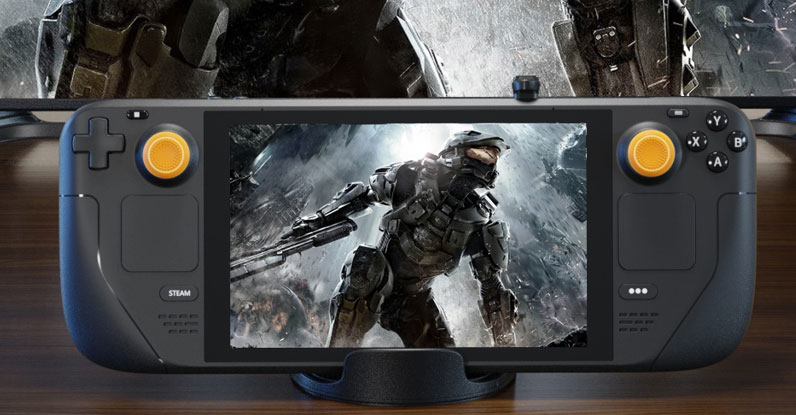 What Are the Steam Deck's Specifications?
Under the hood, the Steam Deck runs on an APU. This AMD-manufactured bit of hardware is both a CPU and a GPU. In fact, the AMD APU is the heart of the Steam Deck. Until AMD developed it, it was impossible to make a proper gaming PC of this size. The graphics performance is on par with a midline graphics card. And the quad-core GPU clocks between 2.4GHz and 3.5GHz.
There are 16GB of RAM, but the amount of storage available varies depending on which version you buy. The most affordable version has a tiny 64GB eMMC drive. If you want more capacity and faster load speeds, you'll want one of the SSD versions. The midrange model has a 256GB SSD, and the most expensive one has 512GB of storage. You can expand your storage with a Micro SD card on any version. Just keep in mind that games on Micro SD won't load as quickly as games in the on-board storage.
Performance varies from 30 to 60 FPS, depending on your settings and what games you're playing. Battery life is also highly variable. If you're playing a AAA game with advance graphics and high CPU loads, it can be as little as 90 minutes. Some games can last as long as 7 hours. Then again, you don't have to worry about that if you're using a docking station.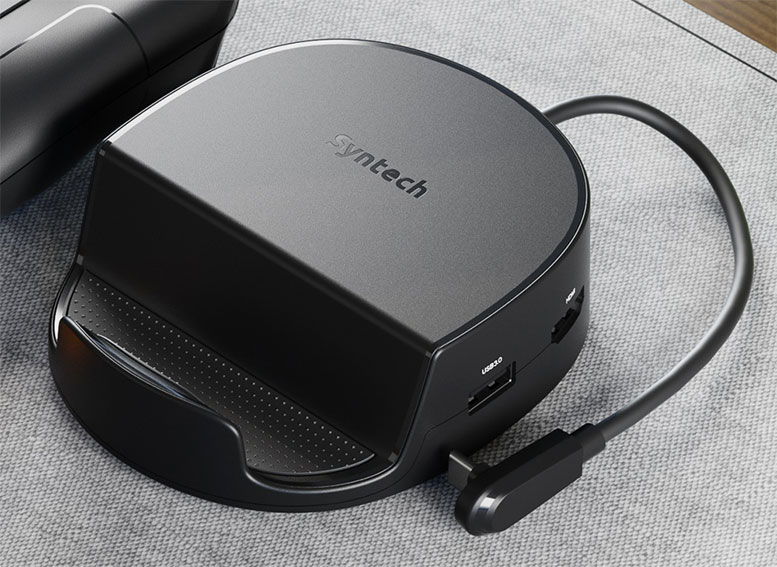 Final Verdict
The Syntech Steam Deck Docking Station is a nifty little piece of equipment. For one thing, we loved the quality of the design. The housing perfectly matches the color and finish of the Steam Deck. That's the kind of little detail most manufacturers wouldn't bother with. But it really stood out in our minds. The cutout is also well-designed, and holds your screen at the perfect angle. And the silicone lining ensures that your system won't get scratched up.
As for connectivity, the sky is the limit. You can hook up a mouse, keyboard, monitor, and thumb drive, with charging and wired internet. And you can do all of that at the same time. That's a lot of capability for one little dock!