The Steam Deck was released in February to a lot of fanfare, and it has not disappointed. In hindsight, this might seem like a foregone conclusion. But at the time, a lot of people questioned Valve's new game system. They actually had a good reason to.
Way back in 2015, Valve produced their first piece of hardware: the Steam Machine. But as it turned out, few people wanted to buy it.
People who wanted an affordable game system already had a PlayStation, Xbox, or Nintendo console. People with huge Steam libraries already had gaming PCs. The Steam Machine was a well-engineered piece of equipment, but there was no market for it.
Valve decided to go with a portable system, so Steam gamers could play their games from anywhere.
But the technology for such a powerful micro-PC didn't exist until 2021, when AMD developed a powerful new mini CPU. With most of the rest of the design already in place, Valve was able to release the Steam Deck a year later.
If you own a Steam Deck, you probably want to keep it safe. That's why we reviewed some of the best Steam Deck trackpad and joystick cover protectors.
To find out which set is the right fit for you, we'll have to take a deeper dive into each of them. Let's take that close look, and see what we learn!
TouchProtect Steam Deck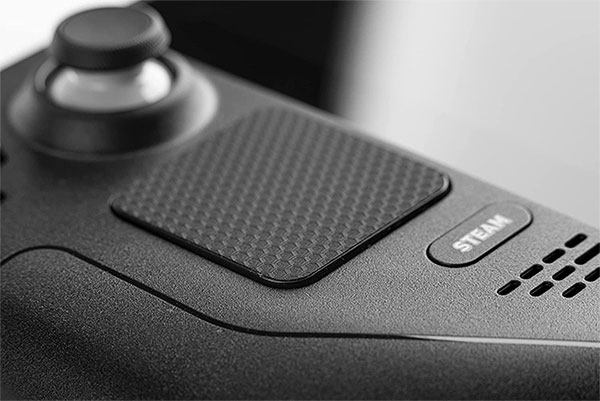 Key Features:
Dual touchpad protectors.
Multiple colors and textures.
Made from automotive vinyl.
The TouchProtect Steam Deck is a pair of textured pads that go over your Steam Deck's trackpads. They're a surprisingly thin material, but that doesn't mean they're not durable. In fact, they're made in the USA from automotive vinyl. If it's tough enough for a truck wrap, it's though enough for your trackpad.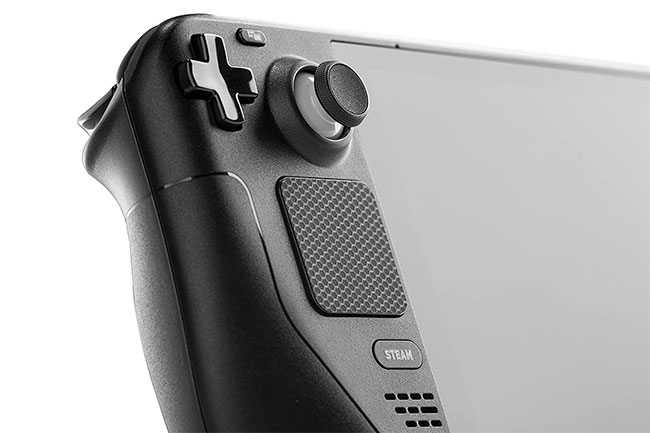 The surface of the material is textured, which makes it easier to feel your own movements. To begin with, you can order an carbon fiber-style texture in black, blue, or red. This same pattern is also available in an orange and blue combo.
In addition, there's a hex pattern, available in black, blue, or silver. The mini hex pattern only comes in black, as does the camo pattern. You can also order the rough-textured "tactical" pattern in black or green.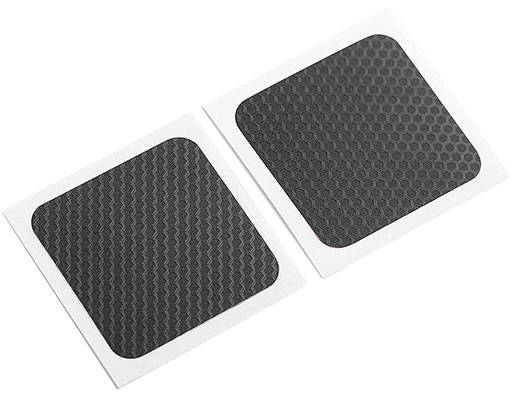 Regardless of the texture you choose, it's very well-engineered. The feel is consistent across the entire surface, with no random warps or irregularities. The cut is also very accurate. TouchProtect says it's precise to 1/1000th of a millimeter, and we have no way to confirm that. But we didn't notice any overhang or shortfall.
Our only complaint with the manufacturing is the backing paper. It sticks too well to the adhesive, and tends to shred when being removed. Be careful, or things could get messy.
On the plus side, performance is excellent once the protectors have been applied. While you can feel the texture, there's no change in the actual trackpad function. Even the lightest brush of your finger will register, so your controls won't fail you while you're gaming.

One thing we really liked about the TouchProtect pads is the adhesive. You can peel the pads away, and they won't leave a sticky film all over your trackpads. You can even move them to a different Steam Deck. Just use a hair dryer to loosen them up so they peel off cleanly. Then stick them to a piece of wax paper until you're ready to apply them.
What We Liked:
Durable material.
High-quality texture.
Excellent touch sensitivity.
What We Didn't Like:
Backing paper is hard to remove.
TouchProtect GripBacks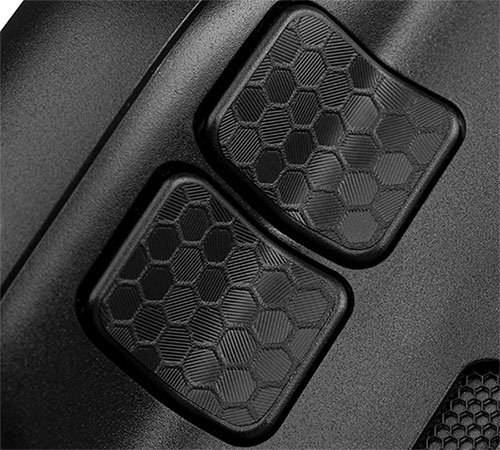 Key Features:
4-pack of back button protectors.
Multiple colors and textures.
Made from automotive vinyl.
As you probably guessed, the TouchProtect GripBacks come from the same manufacturer. They're made in the same factory, from the same ultra-rugged automotive vinyl. However, they're designed to cover your Steam Deck's back buttons instead of your trackpads.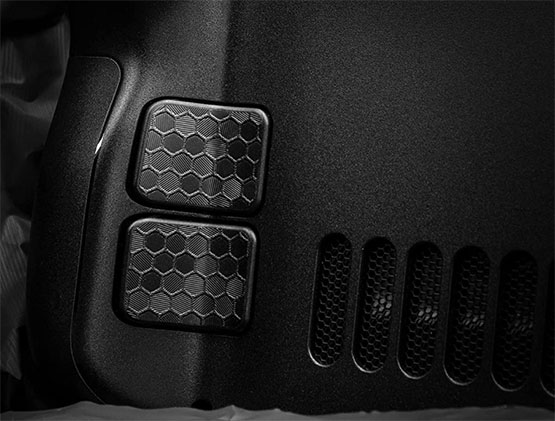 You can choose from a selection of textures depending on your tastes. There's a carbon fiber pattern that's like a tiny set of offset blocks, and it comes in black, blue, or red. The hexagonal pattern is available in black, blue, and silver.
The mini hex pattern, for whatever reason, is only available in black. That's less choices than you get for the trackpad covers. But the texture maintains the same consistent quality. You don't have to worry about irregularities throwing off your game.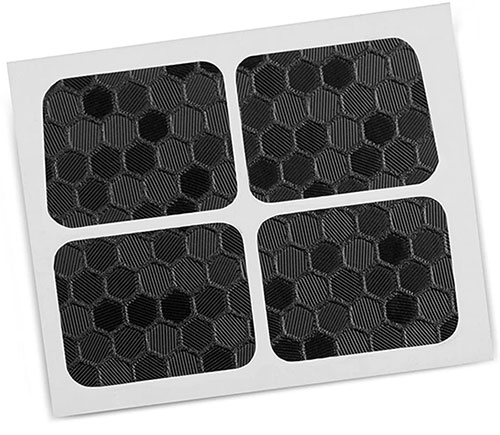 As before, the backing paper can be difficult to remove. The adhesive itself, though, is easy to reapply. You can remove the GripBacks and reposition them, or switch them to a different Steam Deck.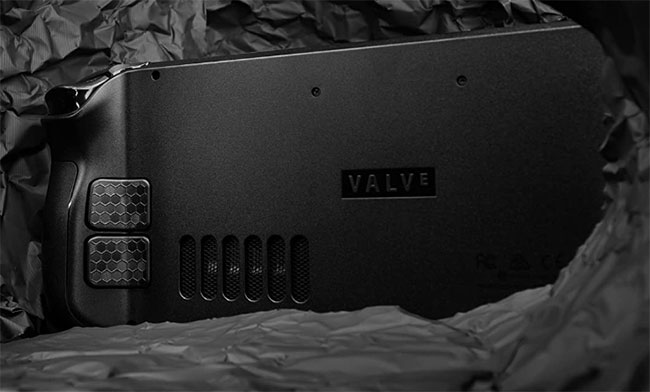 The cut is very precise, and fits cleanly over the back buttons. And despite its durability, the material is very thin. It won't make your buttons feel overly thick and mess up your play.
While you're protecting your buttons, you may want to protect your Steam Deck's most vulnerable point: the screen. In that case, a Steam Deck screen protector is the ideal solution.
What We Liked:
Durable material.
High-quality texture.
Won't obstruct your button operation.
What We Didn't Like:
Backing paper is hard to remove.
Setex Gecko Thumbstick Grip Covers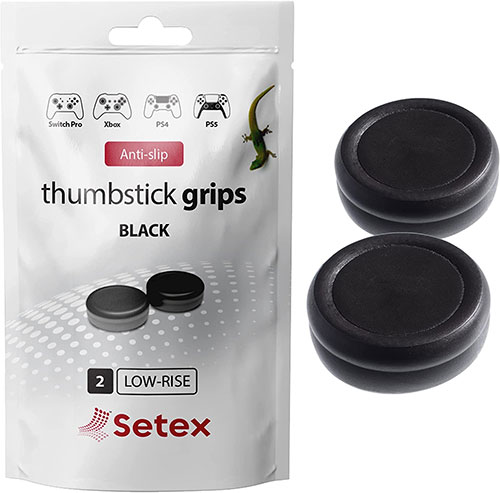 Key Features:
2-pack of thumbstick caps.
Unique "gecko" surface with individual gripping fibers.
Compatible with multiple controllers.
The Setex Gecko Thumbstick Grip Covers are a pair of two thumbstick caps. You can choose them in three colors: black, blue, or red. We liked the choice of colors, since you can pick one that suits your personality.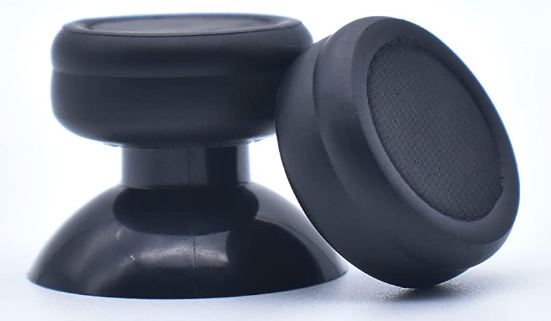 Installing these thumbstick covers is pretty straightforward. The outer portion of each cover is a smooth rubber ring, and is exceptionally flexible. To attach a grip, you first flip it inside out. Then put it on top of the thumbstick, and flip it back the other direction. You may need to fiddle around and adjust it a little bit, but it will quickly fall into place. If you ever need to remove the covers, just flip them inside-out again and they'll pop right off.
The main attraction of these thumbstick covers is the unique "gecko" surface material. Instead of smooth rubber or even a texture, the material is designed like a gecko's grippy toes. There are more than 4,000 individual fibers, each of which functions like a tiny suction cup.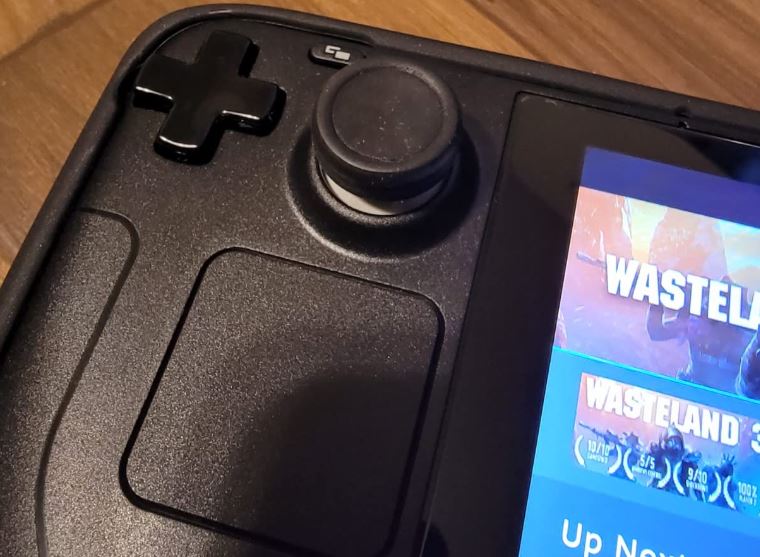 When you have sweaty hands, you'll still have a secure grip on your thumbsticks. You won't lose a match just because your thumbstick slipped. Then again, the special material doesn't just stick to your fingers. It's also a dust magnet, so you'll find yourself cleaning the grips a lot.
Another nice thing about these grip covers is that they're universal; you can take them from console to console. They're compatible with the PS4, PS5, Xbox One, Xbox Series X/S, Nintendo Switch, and the Switch Pro Controller.
If you want to use your Steam Deck for several hours at a go, you'll want a battery backup. We recently reviewed the best Steam deck power banks, so you can keep gaming for longer.
What We Liked:
Unparalleled gripping performance.
Easy to put on and take off.
Compatible with Xbox, PlayStation, and Switch controllers.
What We Didn't Like:
Gecko surface tends to gather dust.
ECHZOVE Steam Deck Protection Kit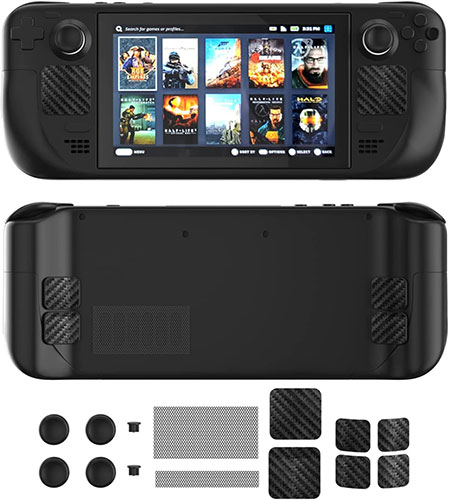 Key Features:
4 thumb grips, 2 trackpad skins, and 4 back button skins.
Includes dust vent covers and audio/charging port plugs.
ECHZOVE is well-known for their high-quality video game console accessories, including their popular Steam Deck carry case. The ECHZOVE Steam Deck Protection Kit is an all-black kit that includes multiple components.
To begin with, there's a set of four thumb grips. They're made from flexible rubber, are easy to fit, and provide a better grip than the bare thumbsticks. Then again, ECHZOVE missed an opportunity. All four covers are the same thickness; they could have been different heights. Furthermore, the black dye seems cheap, and rubs off on your thumbs.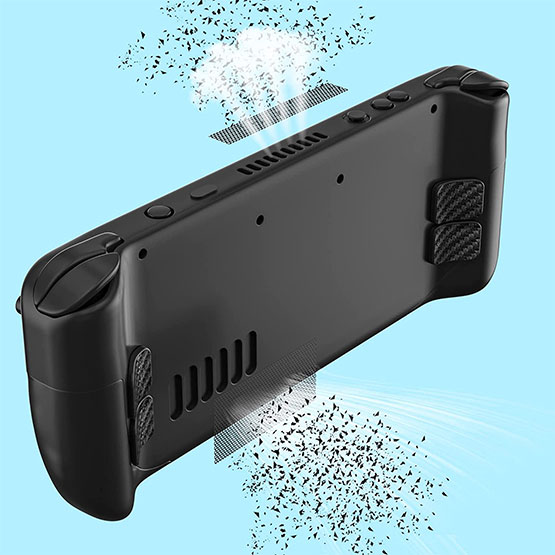 The two trackpad skins have a carbon fiber texture. They're easy to install and seem to provide good protection. They also offer reasonably good performance, albeit nowhere near as precise as the TouchProtect covers. The four back button skins have the same carbon fiber texture.
There are two mesh dust filters to go over your air vents. The larger one sticks over the vent on the back, while the narrow one covers the top vent.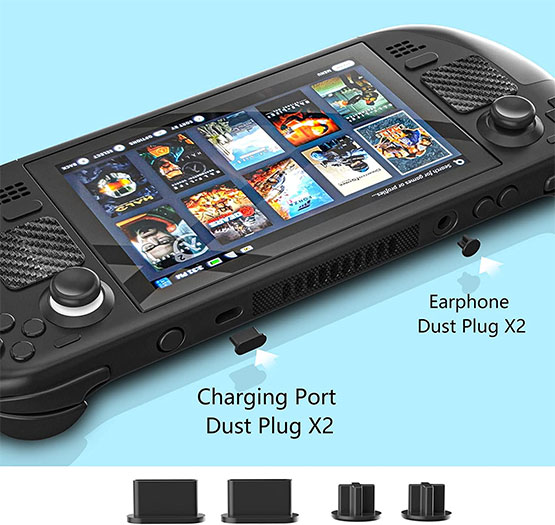 Along with everything else, you get a set of four rubber dust plugs. There are two each for your USB port and 3.5mm aux port, to keep them clean when they're not in use.
What We Liked:
Includes thumb grips, trackpad and back button covers, and dust filters.
Easy to install.
Very affordable.
What We Didn't Like:
Engineering quality is only so-so.
Final Verdict
All four of these Steam Deck trackpad and joystick cover protectors are optimal in some situations. But which is the right choice for you?
Let's review what we've covered, beginning with the TouchProtect Steam Deck. This pair of trackpad covers is made from tough automotive vinyl, so it provides excellent protection. It also has a finely-cut surface texture and ultra-thin material. This makes the controls very responsive even as it protects them.
Next on our list were the TouchProtect GripBacks. These are made from the same material as the Touch Protect Steam Deck. But they're designed to cover your back buttons, and the color and texture selection is different. As a matter of fact, both TouchProtect protectors together make a great kit.
After that, we looked at the Setex Gecko Thumbstick Grip Covers. These thumbstick covers provide unparalleled grip, even when your hands are sweaty. They're also easy to put on and take off, and are compatible with almost any controller. If you have problems with your thumbsticks, these could be the solution.
Finally, we reviewed the ECHZOVE Steam Deck Protection Kit. This is a complete kit, with covers for your trackpads, back buttons, thumb sticks, ports, and vents. In that regard, it offers the most complete protection of anything on our list. Then again, none of the individual components is particularly impressive.