Released on February 25th, the Steam Deck is perhaps the most anticipated piece of gaming hardware all year. The Steam Deck is the successor to Valve's 2015 Steam Machine. This was a Linux-based game system that was designed to run Steam games. Unfortunately, the Steam Machine didn't sell very well.
Most people who wanted an affordable, non-PC gaming option already owned a console. Meanwhile, most people who prefer PC gaming were unwilling to invest in a second, redundant system. Because there wasn't much of a market, Valve quietly retired the Steam Machine in 2018.
But Valve remained dedicated to provide gamers with a more affordable way to access their library. Ultimately, they decided on a handheld system that still plays every game in the Steam library. This was no small task. In fact, it wasn't until 2021 that AMD produced a small enough, powerful enough processor for the job. The result, the Steam Deck, is smaller and lighter than a gaming laptop, and more powerful than most. Instead of competing with PCs and consoles, it's meant to compete with the handheld market.
So far, sales seem to have been strong. Gamers are eager to take their favorite PC games and play them on the go. As a matter of fact, demand has far exceeded Valve's expectations. At the time of this writing, there's a seven month wait list! Much like with the Xbox Series X/S and PlayStation 5 in the early days, many gamers are still waiting.
Best Steam Deck Protective Case?
But if you've already gotten your hands on the Steam Deck, you might be disappointed with the carrying case. There's nothing wrong with it per se. It's slim, and it makes it easy to carry your Steam Deck around. But it's not incredibly durable, and there's no added storage or extra features. For this reason, a lot of people are looking for an upgrade.
We're about to review the best aftermarket Steam Deck protective cases we could find. For the cases, we looked for ones with more protection than the original. A little bonus storage space was also a plus in our book. For covers, we looked for options that are slim and don't interfere with your operation. And of course, scratch and drop protection were at the front of our minds.
But those are just some of the design aspects we need to be looking at. We'll need to talk about the fit and finish, as well as the design materials. After we've thoroughly examined every feature of their designs, we'll provide a final comparison. Let's get started!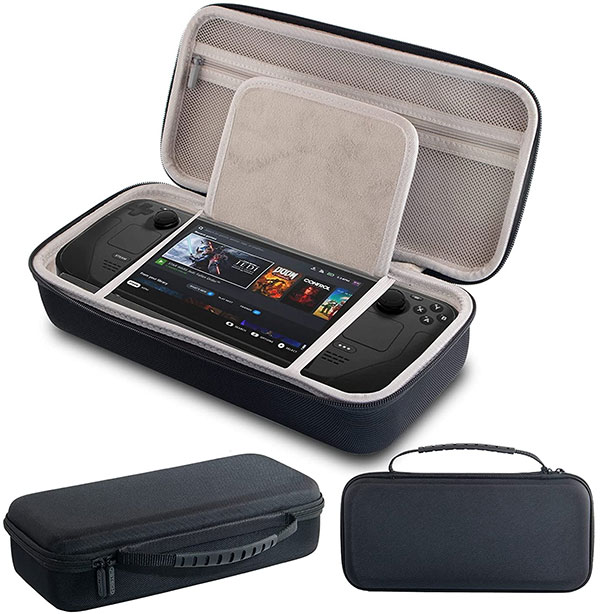 Best Hard-Shell: ECHZOVE Carry Case for Steam Deck
ECHZOVE is a manufacturer with plenty of experience manufacturing aftermarket gaming accessories. Not long ago, we reviewed their PS5 Game Organizer. This organizer impressed us, with the ability to hold not just multiple games, but also two headsets and four controllers. So when we learned that ECHZOVE was making a Steam Deck case, we were eager to take a look.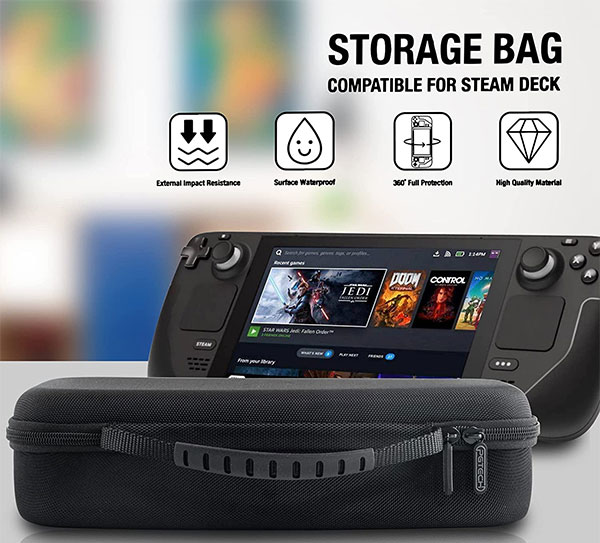 The ECHZOVE Carry Case for Steam Deck has a semi-rigid build. There's a little give to it, but the sides of the shell still prefer to stay stiff and straight. The outer shell is constructed from a black EVA material, with a dense black weave.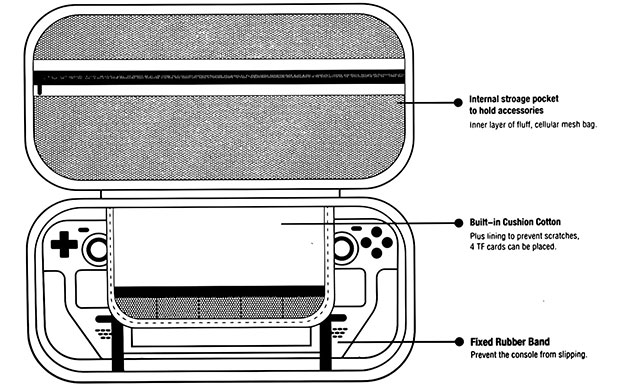 This is a heavy duty material, and it can take a serious beating if need be. It provides excellent protection against drops and shocks. Not only that, but it's scratch and slash-resistant, so it's very difficult to damage. The outside dimensions are 12.8 inches long, 6.3 inches wide, and 3.2 inches thick. That's a lot bigger than the Steam Deck, but that's because you're getting plenty of padding.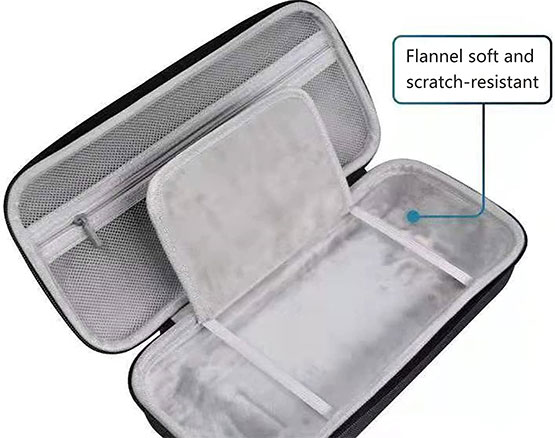 The zipper closure is very high quality, with big, fat teeth that won't break easily. The pulls themselves actually have fat rubber tabs on them, so they're easy to use. At the back of the housing, there's an EDA weave handle, with a rubber cover in the center. It's comfortable to hold, and it makes it very easy to transport from place to place.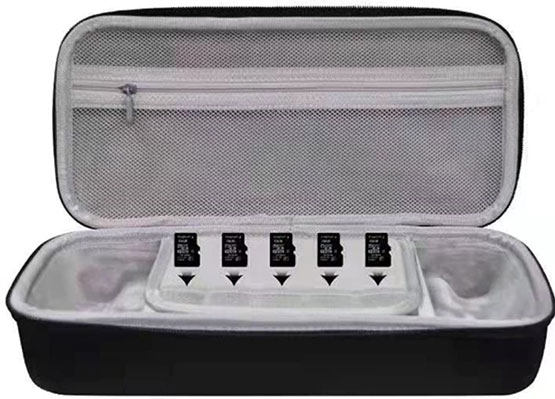 When you open the ECHZOVE case, you'll find a well-padded interior with a tan flannel lining. This lining is very soft, the kind of material you might even make a shirt out of. It won't scratch your Steam Deck's finish or mar any of the buttons. As you can see, this is already a very secure, very protective case. But to help your system stay in place, there are a pair of straps. These are slim elastic bands that sit just inside your Steam Deck's thumbsticks.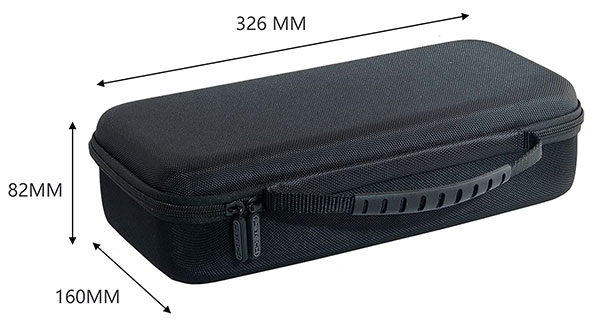 In addition to that, you'll find a little flap that projects from the hinge at the back. This flap is made from the same soft tan vinyl as the liner, and it's designed to cover your screen. This provides a little bit of added protection to the most vulnerable part of your Steam Deck. In the top of the flap, there's a row of five little pouches stitched into the fabric. These are the perfect size for Micro SD cards, so you can carry extra Steam games in your case with you.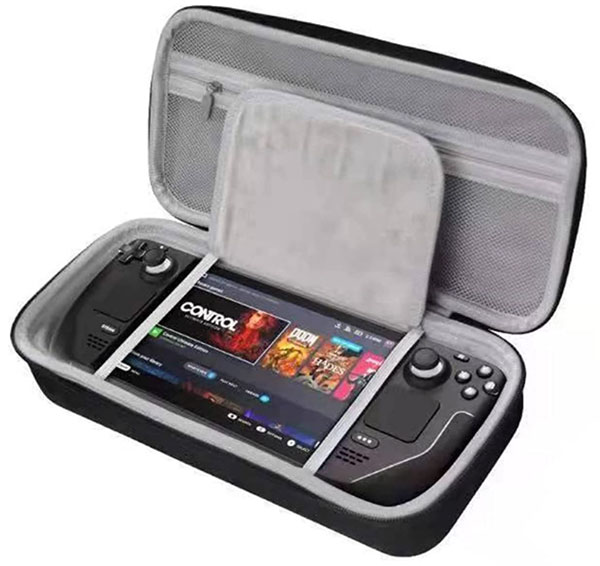 In the inside of the lid, there's a mesh pocket, which covers the entire inner surface. There's a horizontal zipper across the top, which allows you to store all kinds of accessories. The most obvious thing you'd want to carry is a power cord, but there's plenty of space in the pocket. If you want to carry something bigger like a Steam Deck power bank, you'll be able to.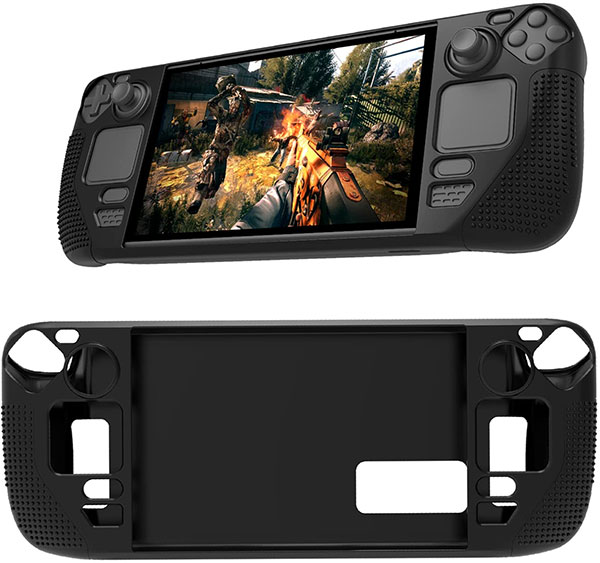 Best Soft Silicone: Lystin Protective Case for Steam Deck
The Lystin Protective Case for Steam Deck is a different thing entirely. Instead of a carrying case, this is more of a sleeve or skin, which hugs tight to your system's housing. The material is a black silicone, which is both stretchy and flexible.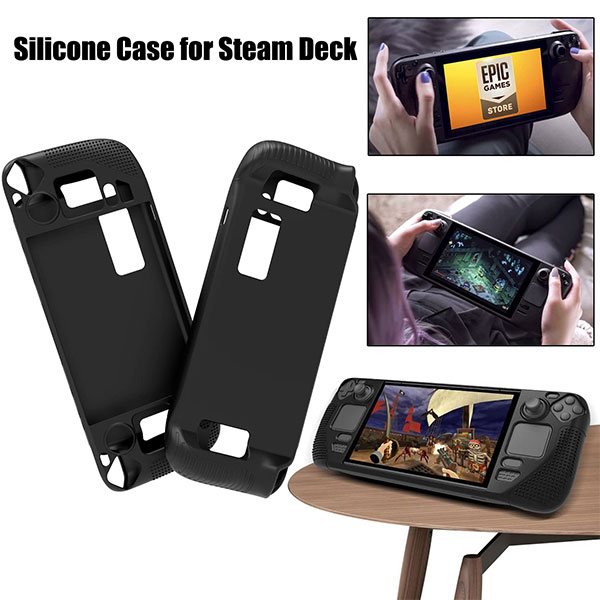 The total size is 11.81 inches wide, 4.72 inches tall, and 1.57 inches thick. That's barely larger than your Steam Deck, which is one of the attractions of this case. It's actually compact enough that it can fit inside the stock Steam Deck carrying case. Basically, you're getting a little bit of added protection, as well as an improved grip.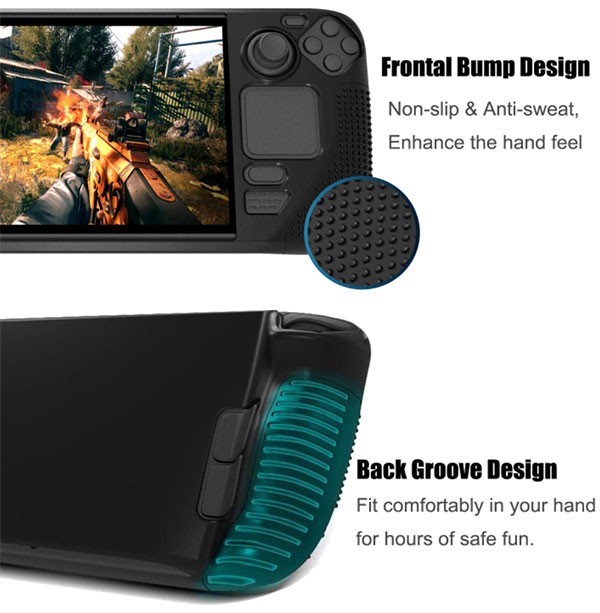 This sleeve is easy to put on and take off. Because the material is so flexible, you just stretch it out and slip it over the Steam Deck. There are cutouts for all the features you need to access. The thumbsticks, display, buttons, touchpads, triggers are unobstructed.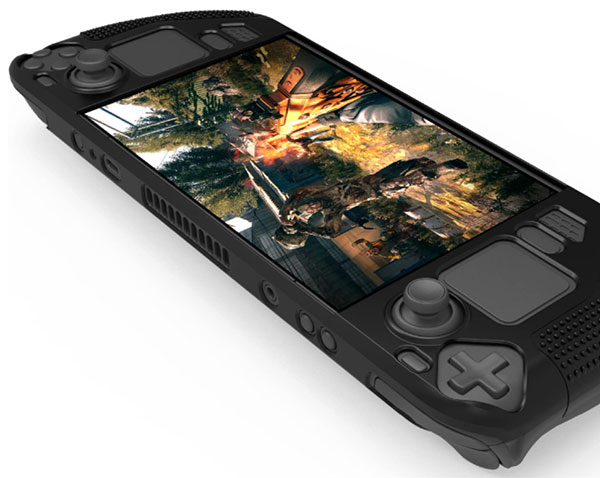 There's even a little cutout for the fan, so you get plenty of ventilation. All in all, it's very well designed, and it's not going to interfere with your gaming experience. Keep in mind that all of the holes and slits will need to be lined up properly for this to work. You might have to wiggle it around a little bit to get it into place.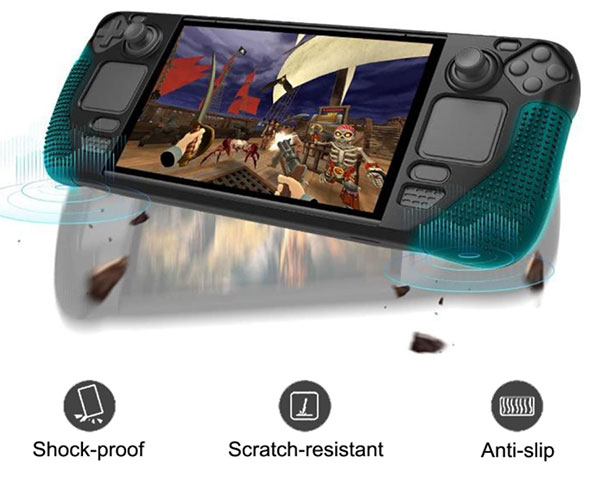 Once the Lystin case is in place, you'll find that your Steam Deck is easier to grip. The front surfaces of the grips have a dense, checkered texture, so they won't slip out of your hands. The backs of the grips have big, fat ribs, further securing your hold on the system. The corners are also made from a thicker material than the rest of the case. This adds a bit of extra shock resistance and drop-proofing.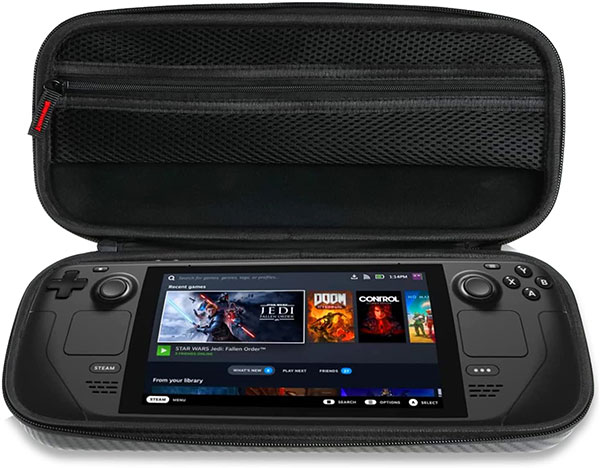 Best Alternative: COKPAPA Steam Deck Carrying Case
The COKPAPA Steam Deck Carrying Case is similar to the ECHZOVE case in that it's a complete carrying case. However, it has a more compact design, at just 11 inches wide, 5 inches tall, and 2 inches thick. It's also much stiffer, with a solid EVA shell that's particularly rugged.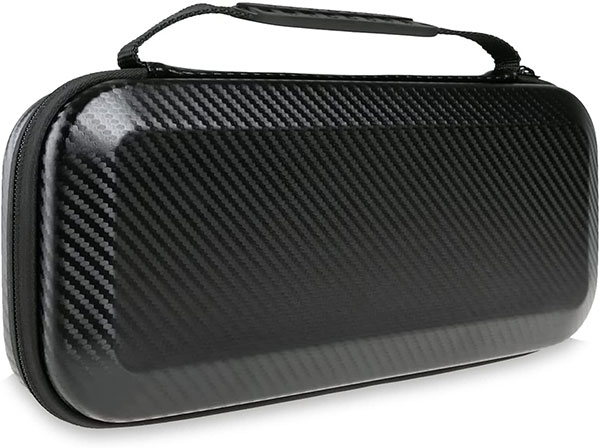 This shell is shock and scratch-resistant, and can take a significant beating. It's also splash-resistant. You can't immerse it in water, but if you spill something on it, your Steam Deck isn't going to get ruined.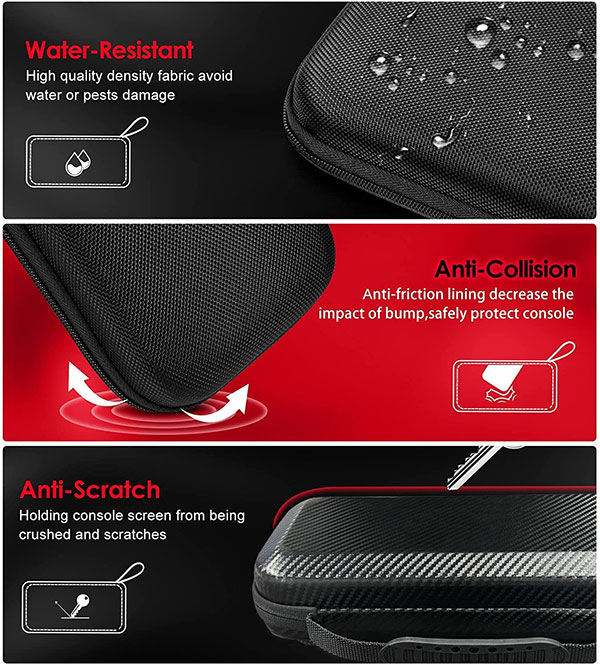 The material is black, and it's secured with a tough, beefy zipper that's meant to handle abuse. At the back, there's a wide handle, which is covered with rubber for most of its length. The handle is comfortable to carry, and provides a convenient way of transporting your game system.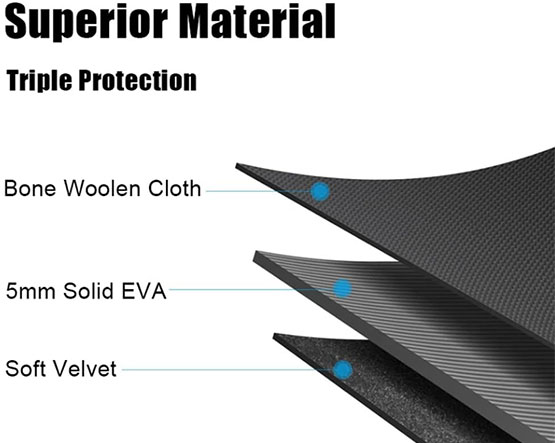 The inner lining is a soft, thick velvet that's surprisingly rich and plushy. We didn't have any concerns about the Steam Deck's housing getting scratched. It has a black color to match the outside of the housing, and it hugs close to your system's housing.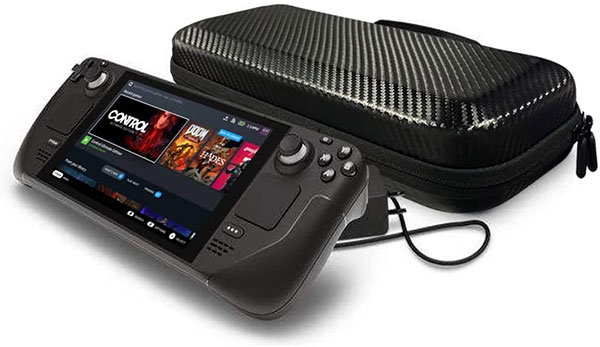 When the Steam Deck is sitting in the open case, it almost looks like the bottom of the case isn't there. In the top of the lid, there's a zippered mesh pocket for your accessories. This pocket is relatively small, and only occupies about half of the lid's inner surface. Still, it's big enough for your power cord, or even small accessories like wireless earbuds.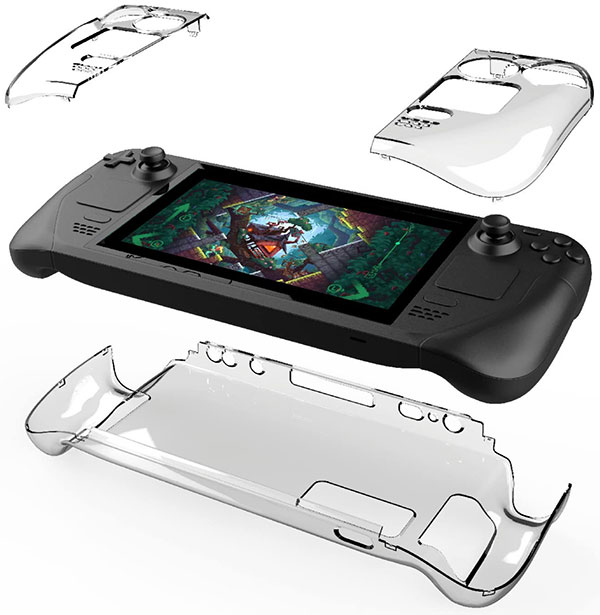 Best Hard-Cover: NANOHERTZ Steam Deck Clear Cover Hard Case
The NANOHERTZ Steam Deck Clear Cover Hard Case is a simple hard case that snaps over your system. This is a clear solid cover, with a three-part design. The first is a large panel that fits over the back of the Steam Deck. The other two parts snap over the hand grips. They actually extend 2.5 inches into the front surface, all the way up to the edges of the screen.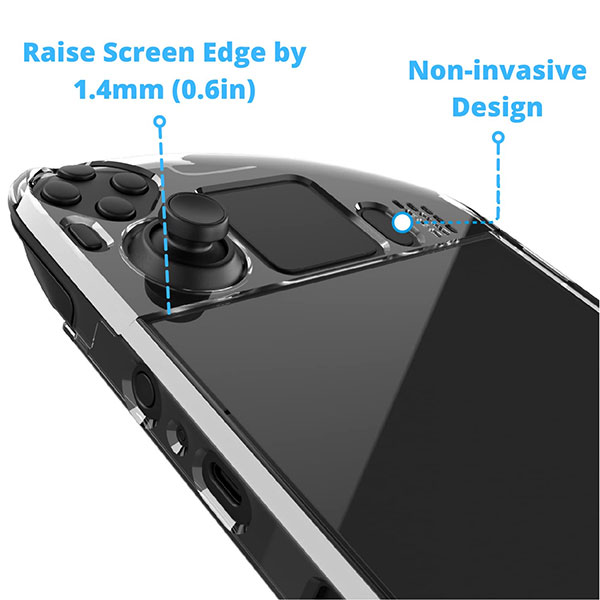 The transparent design doesn't change your Steam Deck's color, but it does add some shine. This makes it a great cosmetic add-on. It's also surprisingly durable. The material is scratch- and drop-resistant, and it's tough enough for everyday use. It's not bulletproof, but ordinary bumps and dings won't do any damage.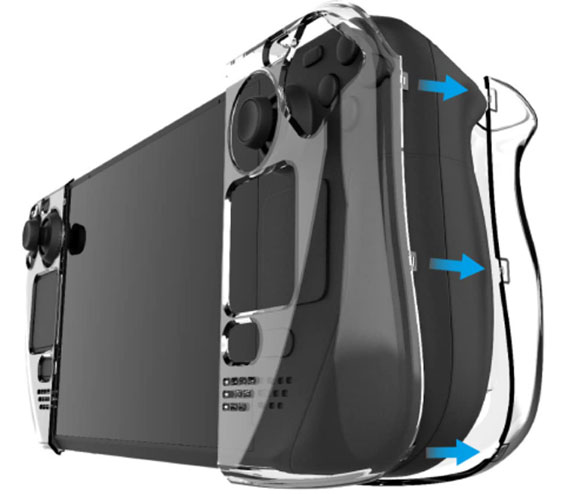 The NANOHERTZ cover is only 1.4mm thick. That's enough to be reasonably durable, but it doesn't significantly fatten the Steam Deck. As a result, this cover can be left in place while you're using the stock carrying case. It's also designed with cutouts for your thumbsticks, air fan, buttons, and other necessary features. You won't lose any of your Steam Deck's functionality when the cover is in place.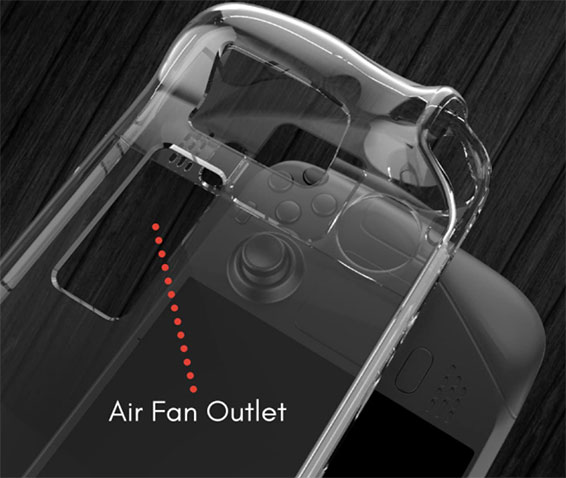 Actually installing this cover can take some elbow grease. It fits extremely snugly, and you have to press down hard to get the parts to snap together. It's also difficult to remove. You have to pry very hard, and it's easy to damage the locking tabs in the process. We'd recommend leaving it in place unless absolutely necessary.
Which Steam Deck Case is Best?
Both of these cases and both of the covers have their own unique benefits and features. But which one is the best choice for you? Let's go over what we've learned.
We started out with the ECHZOVE Carry Case for Steam Deck. This is the beefiest of the bunch, with the largest overall dimensions, and plush padding. It also has the most storage, with a mesh pocket covering the entire lid, and five Micro SD card slots. If size is no issue, this is an ideal case for you.
The Lystin Protective Case for Steam Deck is a great little protective sleeve. It's easy to put on and take off, and the silicone material provides plenty of grip. It also provides a bit of drop protection, albeit not as much as the other cases. But if you're looking primarily for an improved grip, it's a great choice.
The next case we looked at was the COKPAPA Steam Deck Carrying Case. This case fully encloses your Steam Deck, and has a carrying strap. Its rigid design provides excellent shock and scratch-protection, and it's even splash-proof. There's not as much internal storage as we would have liked. Then again, less storage is part and parcel of the compact design, which we liked.
The NANOHERTZ Steam Deck Clear Cover Hard Case is light, durable, and keeps a low profile. It protects your Steam Deck from damage without altering the look or feel very much. It's a bit of a pain to install and take off, but that's not a big deal. It's not like you'll be taking it on and off all the time anyway.